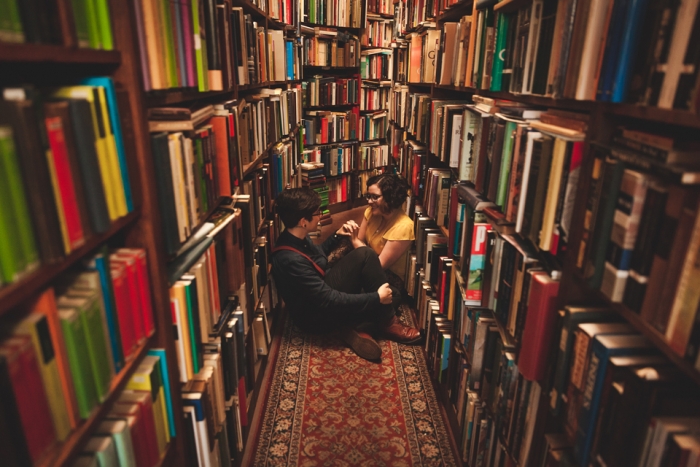 This is an Evite paid post.
Engagement photos are all about capturing the essence of you as a couple. That's why it so important to choose a location that means a lot to you. Maybe it's the cafe where you first met, or a restaurant that serves up your favorite Friday night comfort food. Perhaps it's the cottage that you rented on your first vacation together or the jazz club where you first locked eyes (we loved La La Land so much, we just had to add in that last one.)
For bibliophiles Rachael and Sam, the logical choice was a bookstore. Sam is a teacher and Rachael studied English Lit in college, so choosing to have their engagement shoot at a bookstore made the most sense.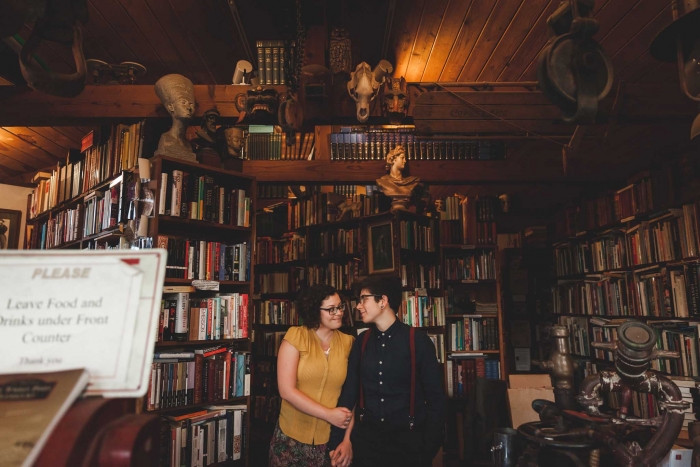 "D.G. Wills in downtown La Jolla, California is one of the coolest bookstores I have ever set foot in and I could not think of a better backdrop for two bookworms if I tried," says photographer, Paige Nelson.
We love how Paige really captured the intimacy of the couple as they huddle together in a cozy nook to share a private moment. It's as if all those beautiful books are sheltering the two love birds from the outside world, letting them dwell in their own secret love oasis.
Once you've nailed down your own perfect location and hired the best photographer you can afford, you'll want to show off those fab shots with your friends and family. What better way to do that than with Evite's line of wedding stationery?
Just like your engagement photos, your wedding stationery should reflect who you are as a couple – and Evite makes it easy to do just that. Whether you looking for the perfect save the dates, bachelorette party invites, shower invites or wedding invitations, Evite offers a fantastic variety of wedding stationery that will make a lasting impression on your guests.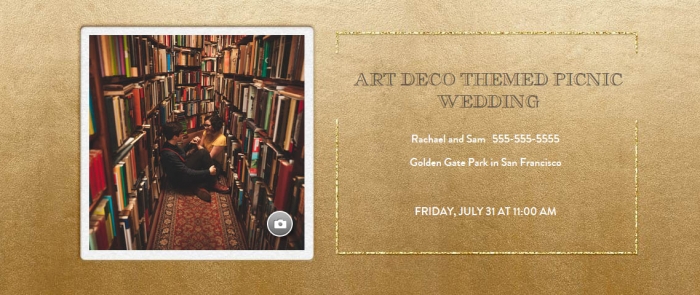 You can choose from dozens of free digital invitations, or make your big day extra-special by selecting one of their elegant premium online invitation designs. You can personalize your invitation by uploading a sweet photo of you and your spouse-to-be. Just fill in the details of your event, or add a personal touch to your wedding invites by writing a custom message to send to your guests. With Evite, your guests can easily RSVP for themselves as well as their plus-ones so you can begin organizing venue seating as soon as possible.
Lucky for you, Evite has just launched the #NeartheKnot photo contest inviting newly engaged couples to share a photo of themselves for a chance to be featured on a Premium Evite wedding invitation.
The winning couple will also receive the following:
a "Date Night" all expenses paid by Evite
a complete Premium invitation suite specially designed for their wedding events
one year of free Premium invitations for events leading up to the big day
To enter the contest, go to Evite's #NeartheKnot photo contest. Why not give it a shot?
Save
Save
Save
Save
Save
Save
Save
Save
Save
Save
Save
Save
Save
Save
Save
Save
Save
Save
Save
Save
Save
Save
Save
Save
Save
Save
Save
Save
Save
Save
Save
Save
Save
Save
Save