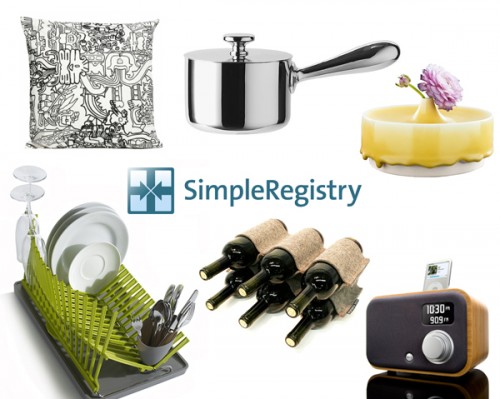 When Darin and I registered for wedding gifts (way back when) we walked around a major department store with a gun. (Not a real gun.) It was fun to find things we liked and zap them into our registry. But we were limited. There were so many things we would have loved to register for – like river-rafting on the Fraser River or wine and sushi in Tofino, BC (where we went for our honeymoon), but the option wasn't there. That, dear readers, has changed.
The world is your oyster with SimpleRegistry, an online registry that lets you easily add any item from any store to one simple registry. Saving for a down payment on a home? Why not register for it? Want some help with your honeymoon? Why not add that to your list? Whatever you can dream up (and assign a price) you can add to your registry. You can even add handmade items from Etsy!
If you choose big-ticket items for your registry, SimpleRegistry lets you split the cost into manageable pieces to easily allow group gifting.

To make things even easier, SimpleRegistry has a mobile application to allow members to snap a photo or bar code of any item or experience anywhere in the world and instantly add it to their registry page.
Want to know more? Check out SimpleRegistry.
Sponsored Post.