It's no secret that we love Joshua Tree weddings! The beauty of the desert provides the perfect backdrop for an intimate wedding. Today's wedding, photographed by Paige Nelson, just might have you planning a wedding in southern Cali!
Here's what Paige had to say about the wedding:
Janice & Austin's Rimrock Ranch wedding in the high desert of Pioneertown felt more like an intimate dinner party than a wedding. With only 25 of their closest family and friends, the love showered on these two all day was palpable.
Janice was my first bride who asked for a true, documentary style approach to their wedding. Her and Austin both wanted a low-key day to fully enjoy with their loved ones. That meant getting rid of a few formalities, like most formal wedding party and family pictures, in favor of more candid moments. We took couple portraits in 10-minute spurts throughout the day, but even that time was pretty hands off. For the most part, I quietly observed as events unfolded in front of me.
These two got ready together at Los Vientos Hideaway, a few miles away from Rimrock Ranch. This cute little secluded house has incredible panoramic views of the surrounding Pipes Canyon desert.
Janice's three sisters and the couple's adorable "flower" dog, Mishka, kept them company during preparation. The Bloomin Gypsy created Mishka's dog wreath and Janice's incredible trailing bouquet, inspired by the one her grandmother carried on her own wedding day. Janice also helped design her handmade, custom dress with Mary Evelyn at Stitch in Savannah.
Janice shared an emotional first look with both of her parents at the venue. Then all of the sisters and I took advantage of the miles of desert acreage around the property for some low-key bridesmaid photos.
Guests enjoyed a "pre-ceremony" cocktail hour while we were taking photos. Janice and Austin chose to let the desert backdrop be the main focus of their ceremony decor. Austin walked in with Mishka, then Janice was escorted in by her dad. Mishka had his own little blanket to lay on while they exchanged vows. He also photobombed their ring exchange and first kiss. 🙂
Emily and Amber at Karson Butler Events did an incredible job styling the intimate dinner set up. The tabletop florals from The Bloomin Gypsy added the perfect pop of color on their long table. Mojave Monaco also catered some of the most DELICIOUS family-style food I've ever had.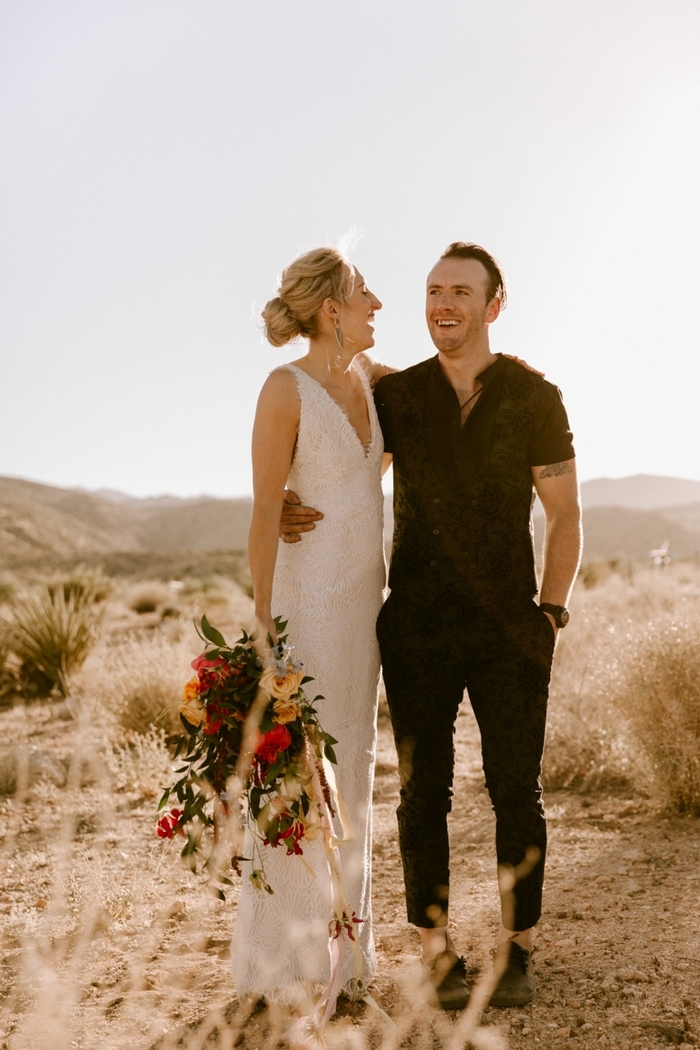 Janice, 27 & Austin, 29
Location: Rimrock, CA
Wedding Date: May 12, 2018
Number of Guests: 24 (+ 1 large dog)
Wedding Cost: $60,000 (for the whole weekend, including rehearsal dinner and 2 brunches)
Wedding Ceremony Location: Rimrock Ranch
Wedding Reception Location: Rimrock Ranch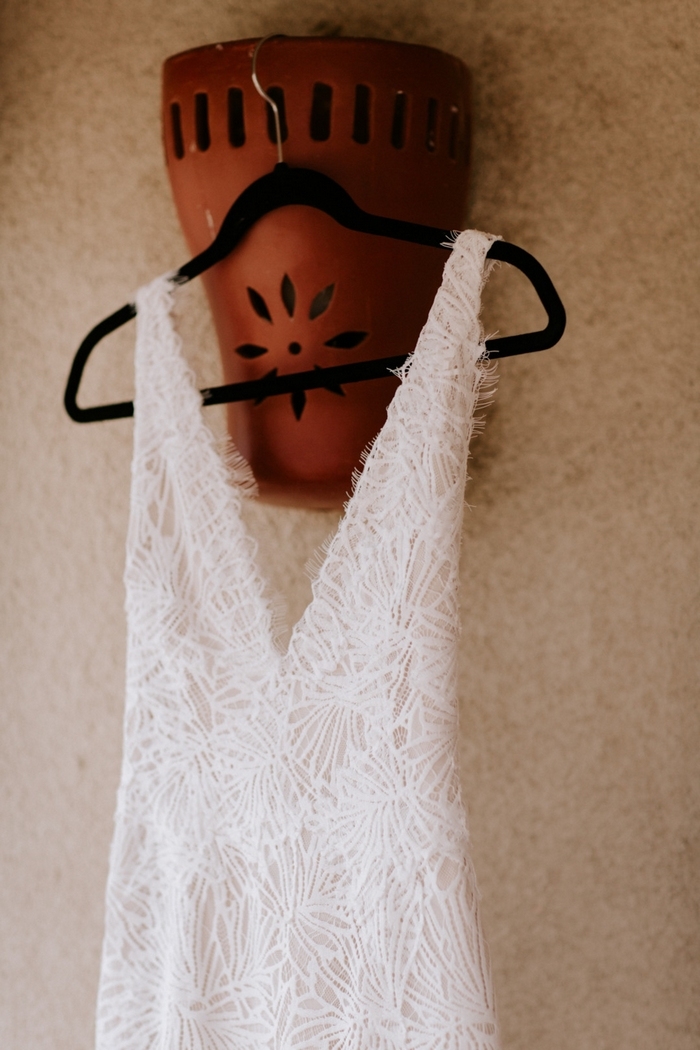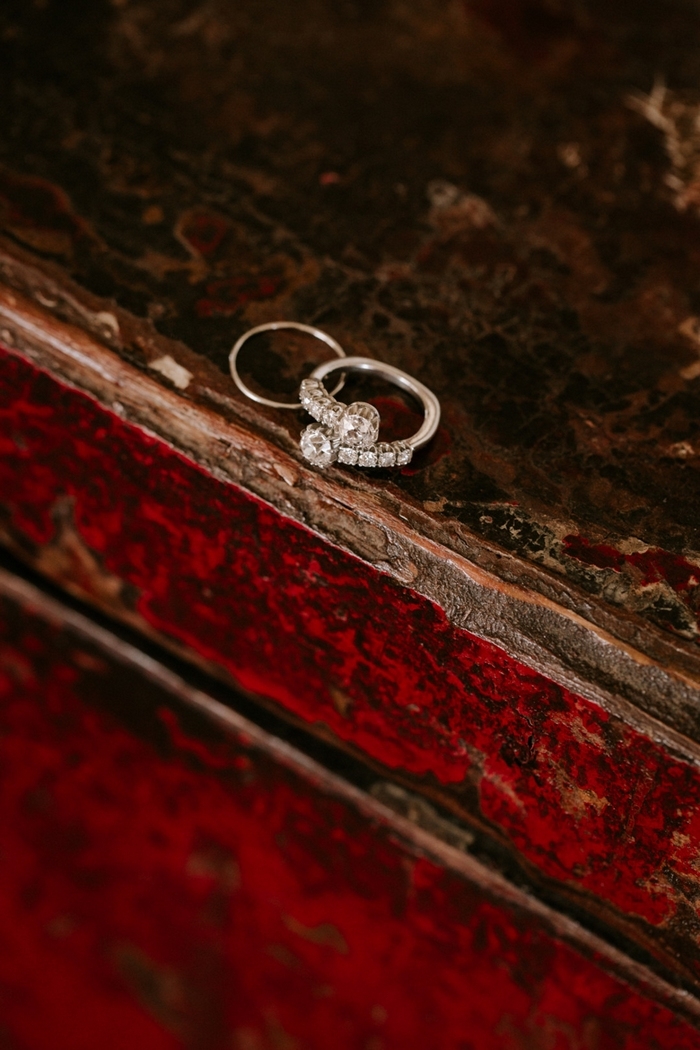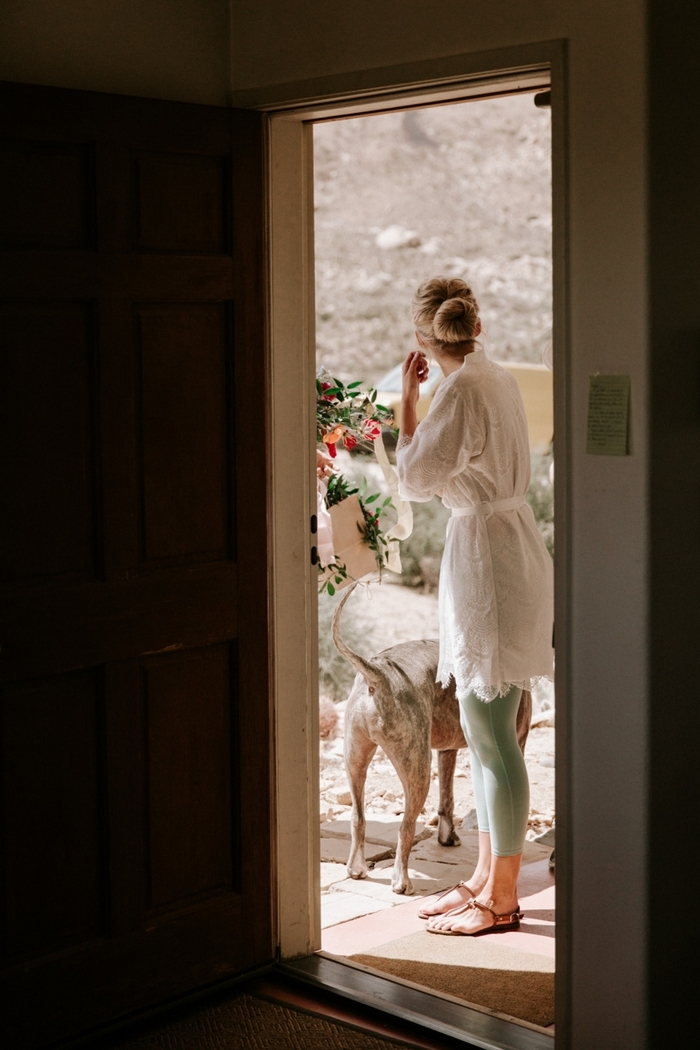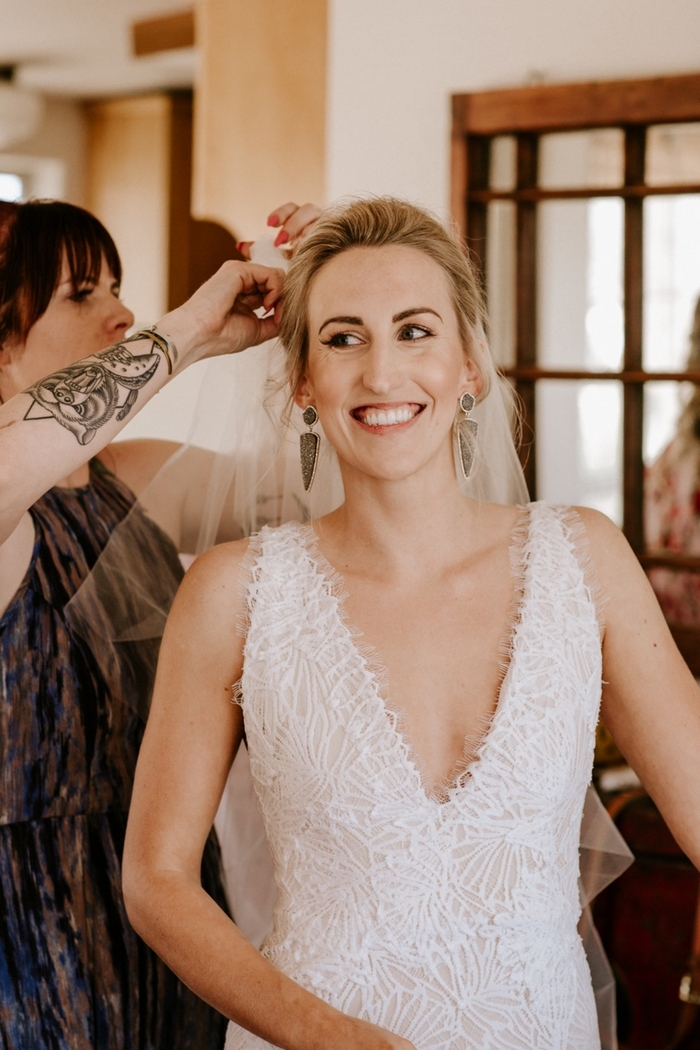 Why did you have an intimate wedding?
My husband and I are extremely private people. He hates being the center of attention , and we wanted a wedding that was truly us and not a cookie cutter version. Plus, I wanted individual chocolate lava cakes for every person because I despise wedding cake and it was way easier to convince a caterer to make 24 lava cakes in individual ramekins than if i had said 100 (shout out to Merilee for making it happen!).
The other reason is I had spent 3 years at PA school in Savannah, GA just prior to the wedding, most of my family and all of my close friends live in Cleveland, OH. For three years I missed every birthday, anniversary party, Christmas, Thanksgiving, Fourth of July, baptism etc because I had to spend all of my time studying or in school. I wanted our wedding to be a time to really re-connect and get to spend quality time with the people we hold dearest whom we hadn't seen in such a long time. I wanted a full weekend of intimate conversations and catching up about the good stuff, none of the quick kiss and hello you're forced to do with a 200 person wedding.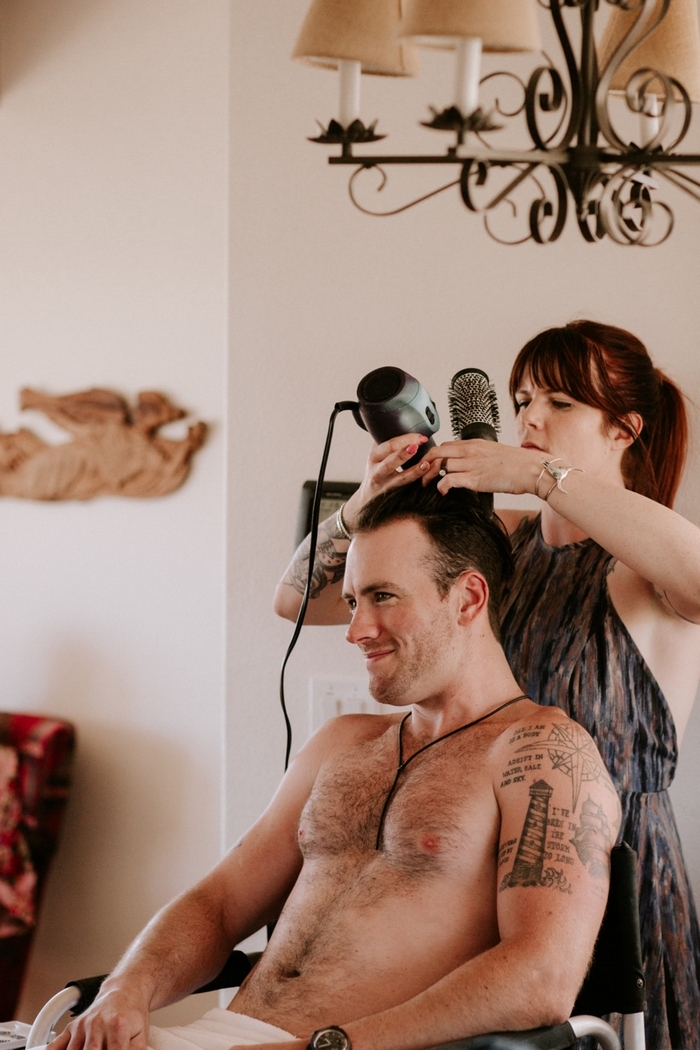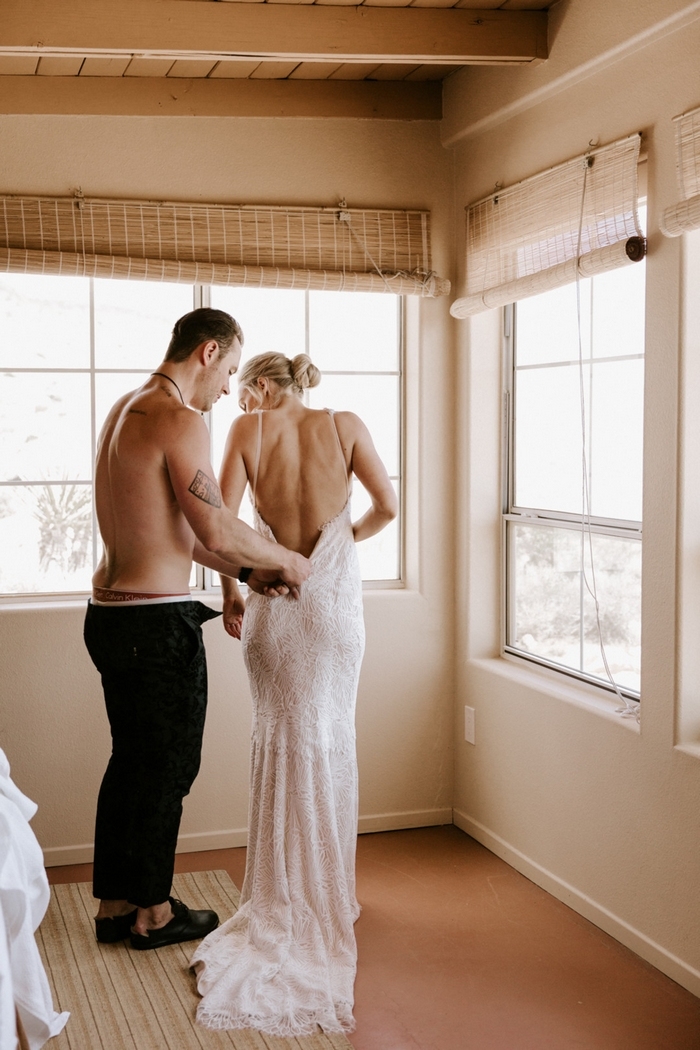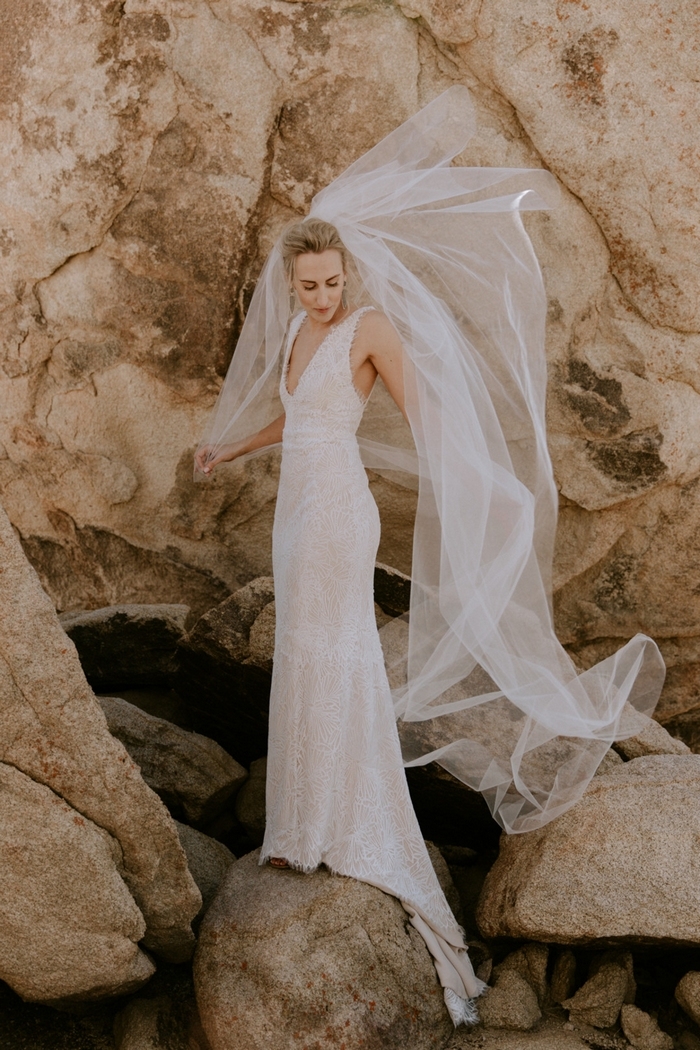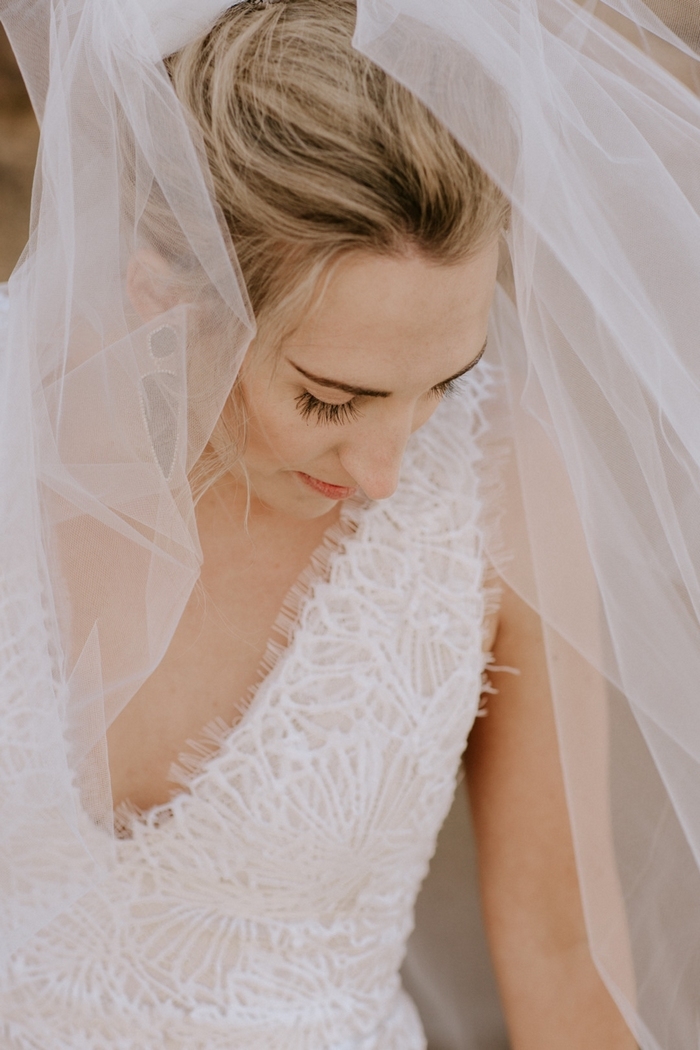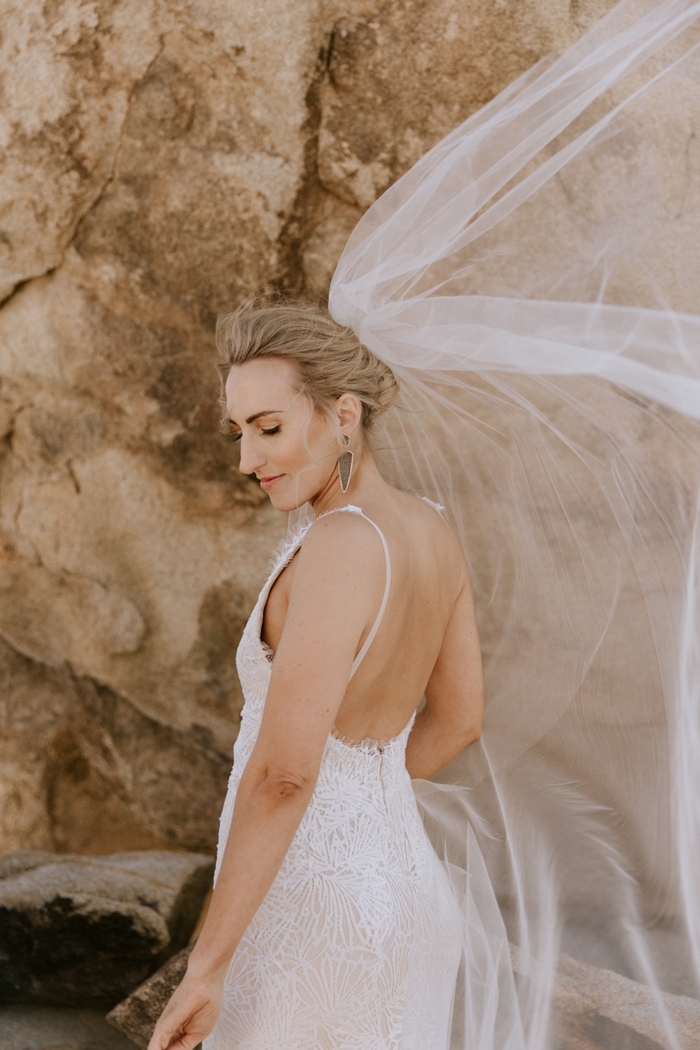 What are some the challenges that you faced planning an intimate wedding?
Explaining to my parents that we weren't inviting grandparents. Our wedding was outside in 80+ degree heat more than 45 minutes away from the closest ER. I don't like to be morbid but as a medical professional I didn't want to spend my day worrying about what if someone got hurt, so only able bodied individuals made the cut.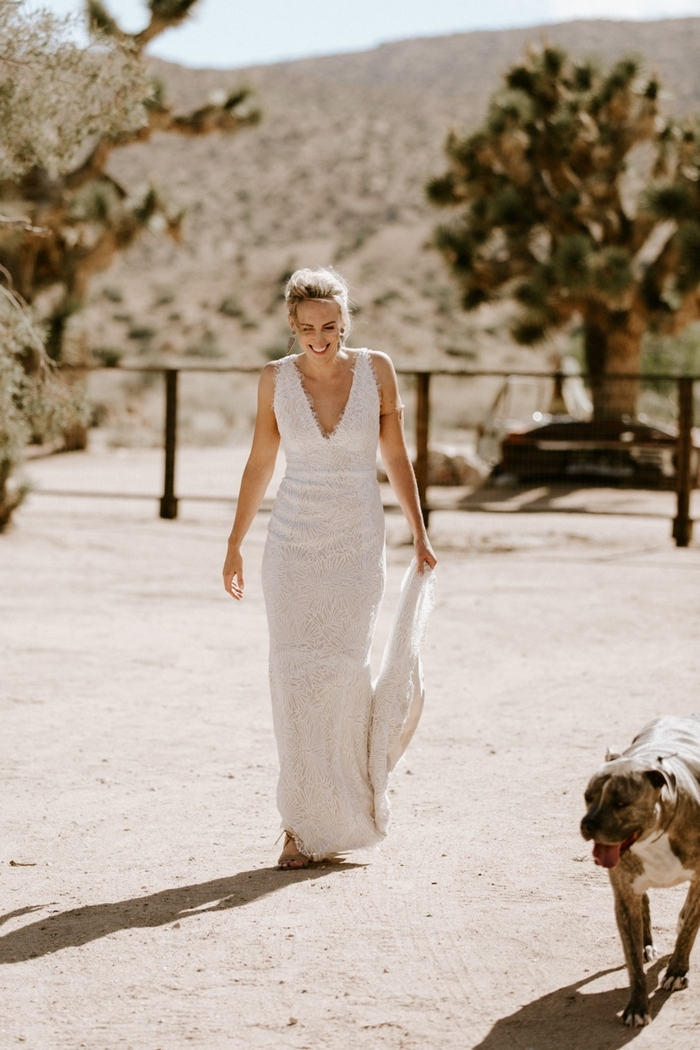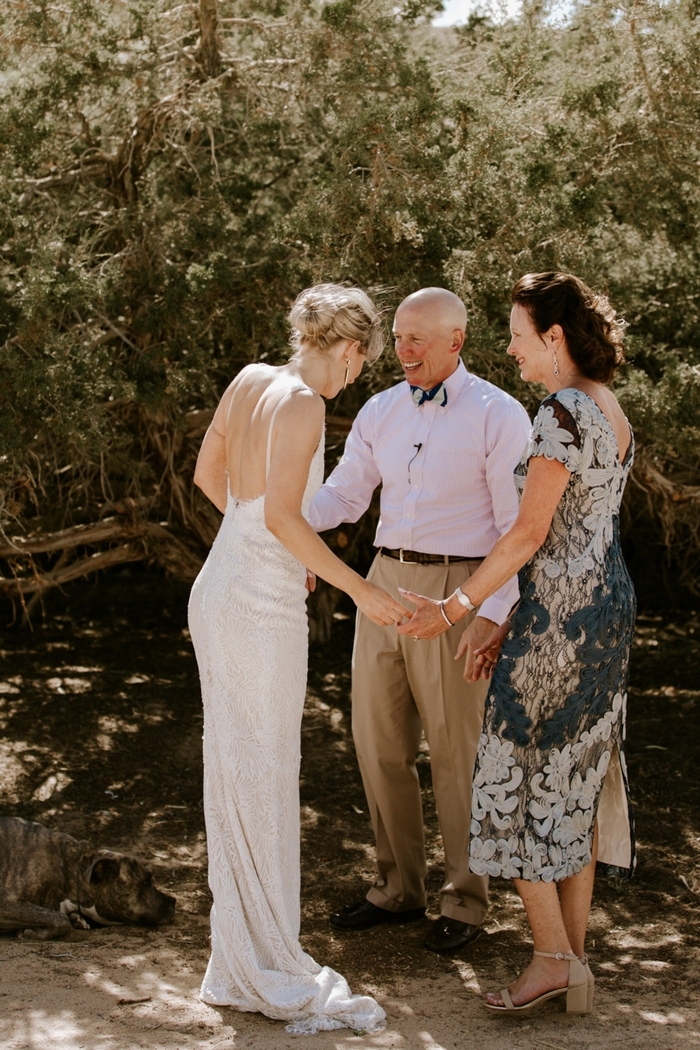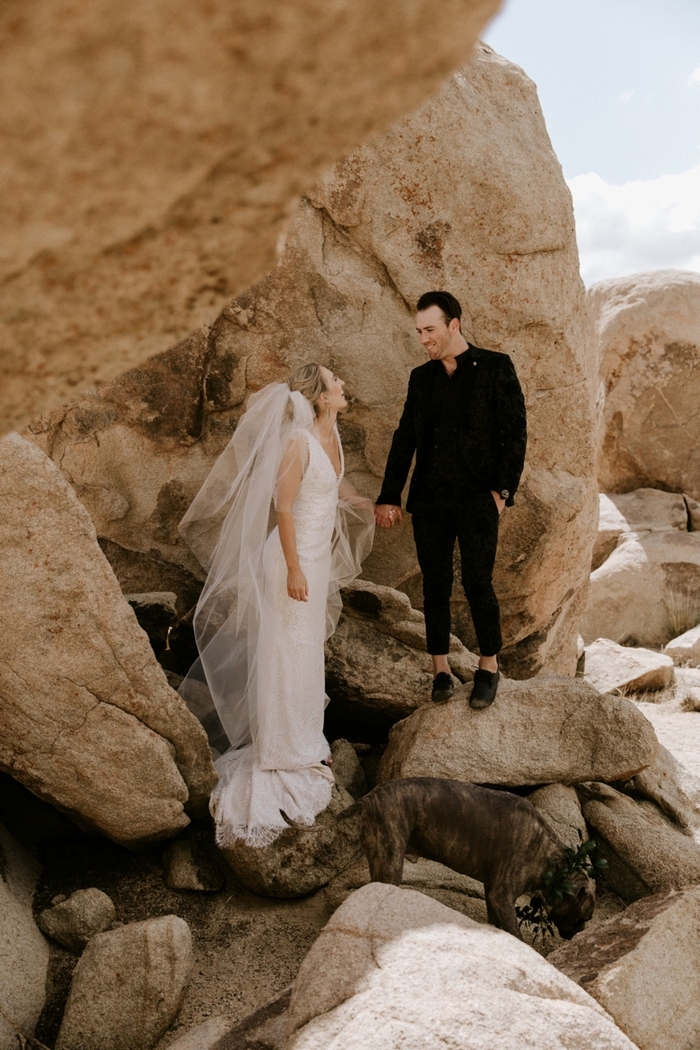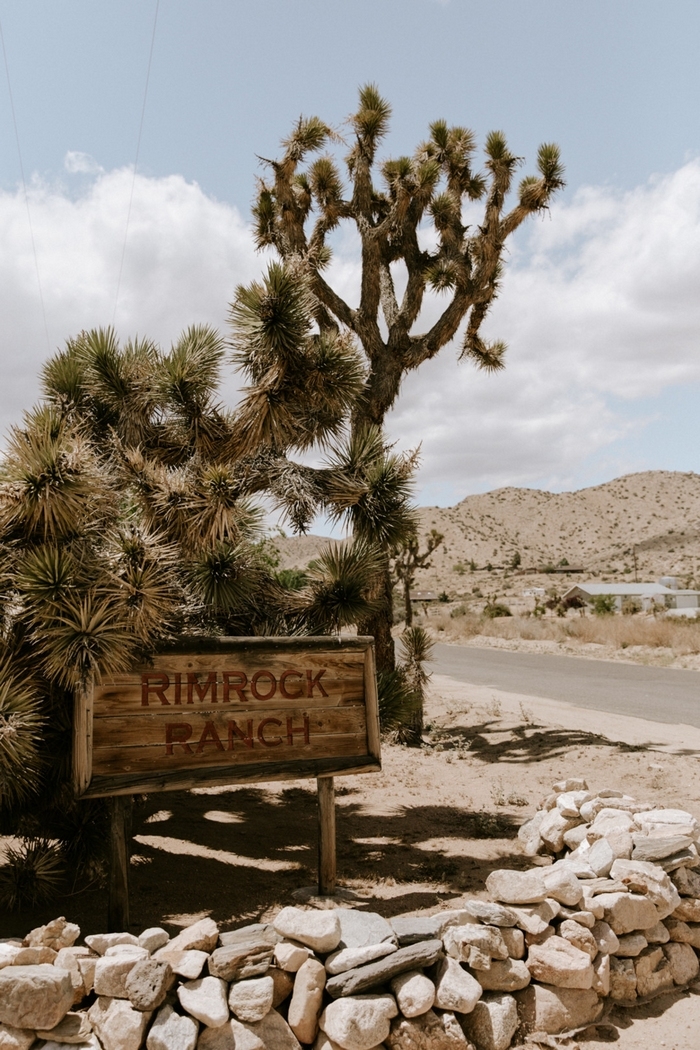 Was it difficult to pare down the guest list?
Honestly not at all. Being away from everyone for three years had already helped us pare down to only being close with a very small group of people. You tend to lose the "fringe" friends when you don't see them for three years. Really though, we've both been quality over quantity people, a few good friends are much more valuable than dozens of good-time-only crews.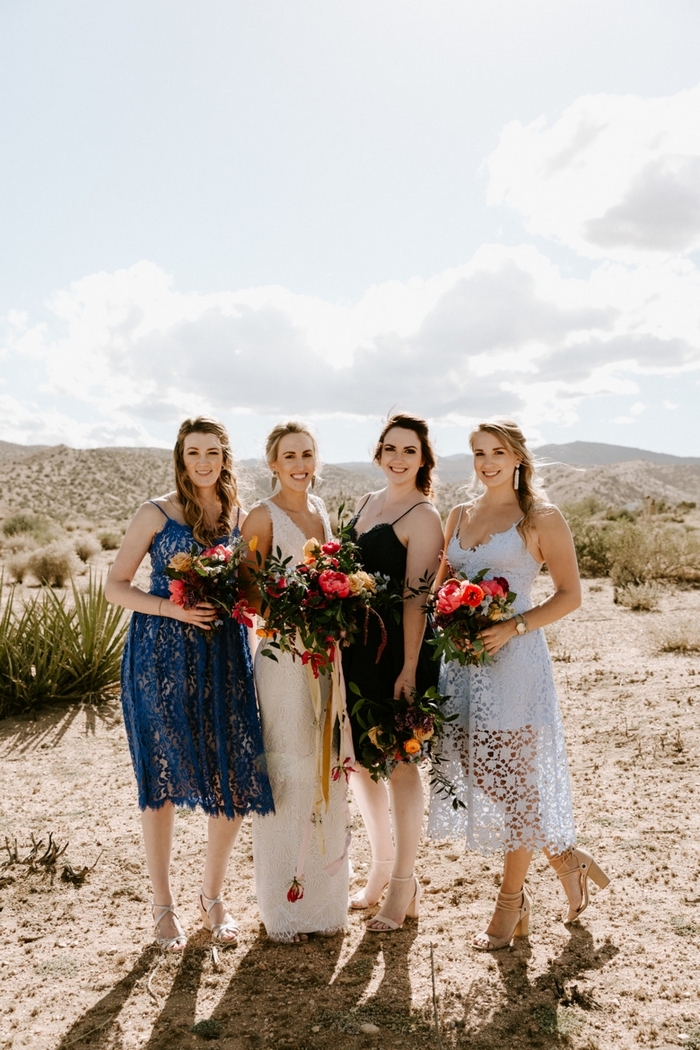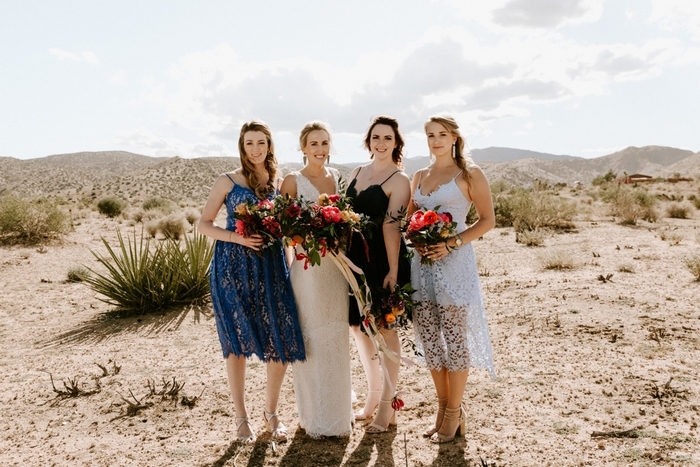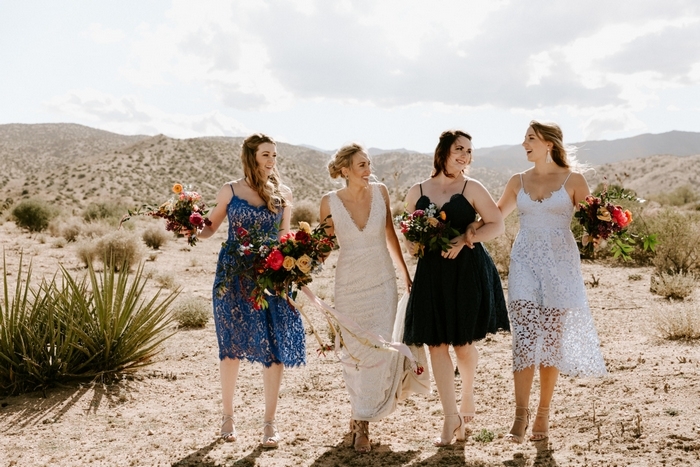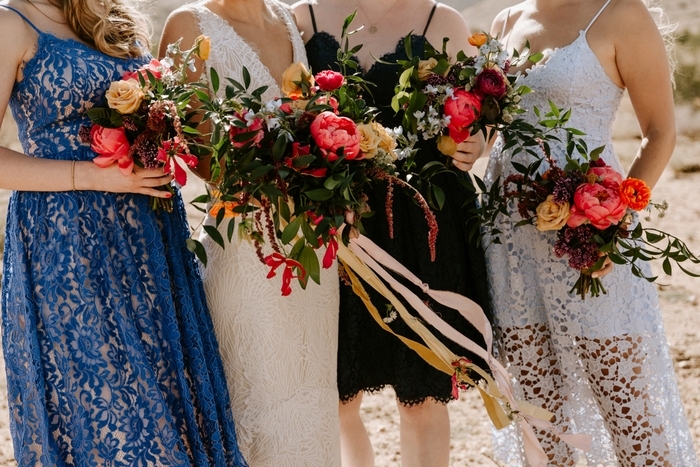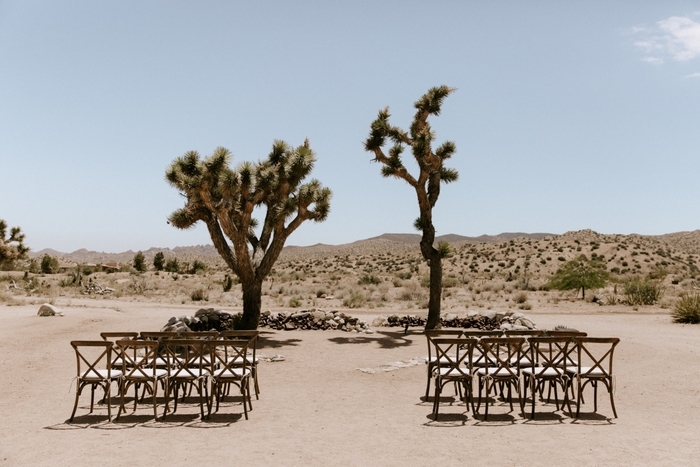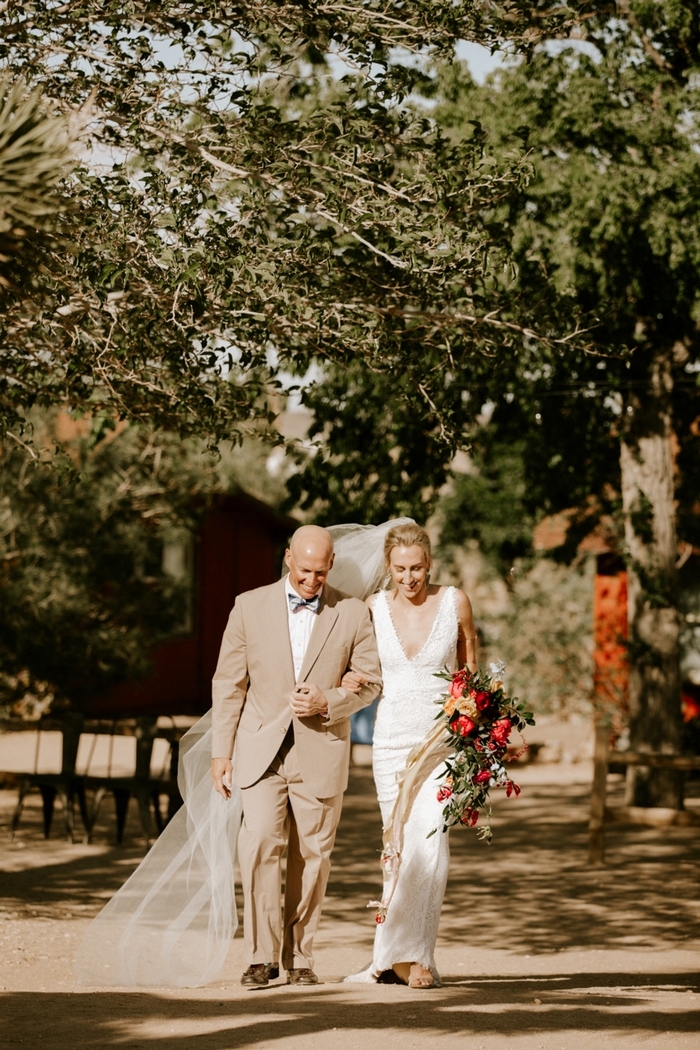 Did you have any 'issues' with the small guest list from friends and family? If so, how did you address them?
I explained to the family that this was OUR wedding, and while we love them and appreciated their support we knew that they would understand that the wedding itself was going to be very small. It helped that our wedding was in the middle of the desert in California, this made it cost and location prohibitive for a lot of people anyway so I think they were probably grateful that they didn't have to spend the money to come out there. Also, as the first of three sisters to get married, I told my parents they could have the big wedding for one of them (sorry girls!).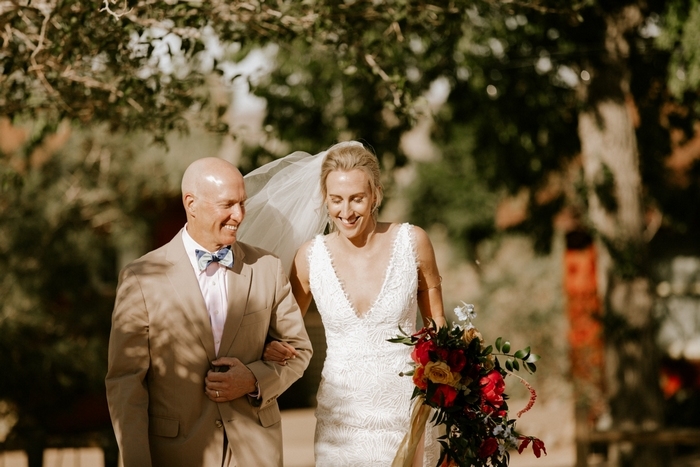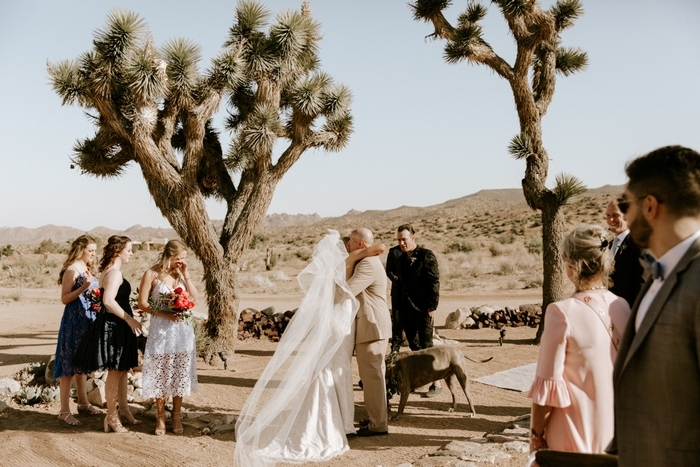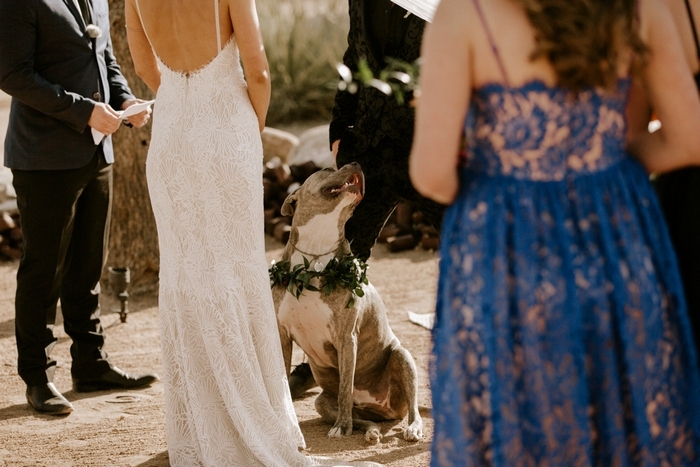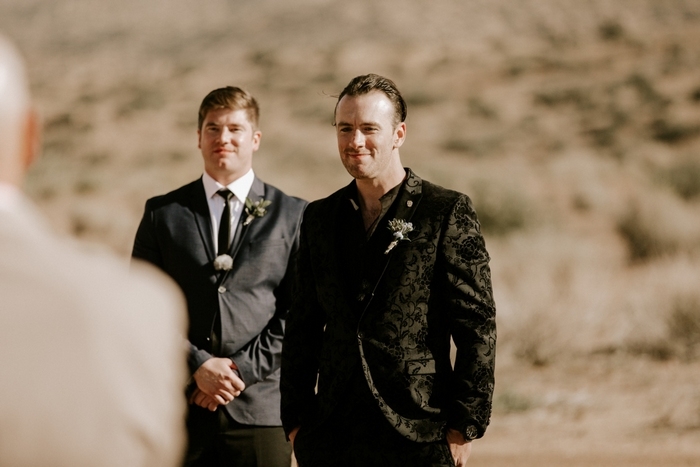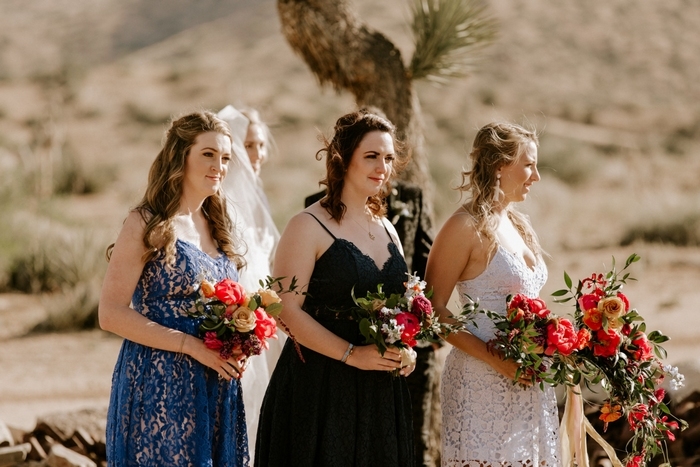 What were the highlights of the ceremony?
Our dog!!! He was the best "dog" and walked my husband down the aisle. During our first kiss, he photo bombed me during the dip and he sat next to me at attention during the vows; it was adorable. And I could see everyone. There were only 12 people actually sitting down during the ceremony, so I could see all their faces and the emotions and that was really cool.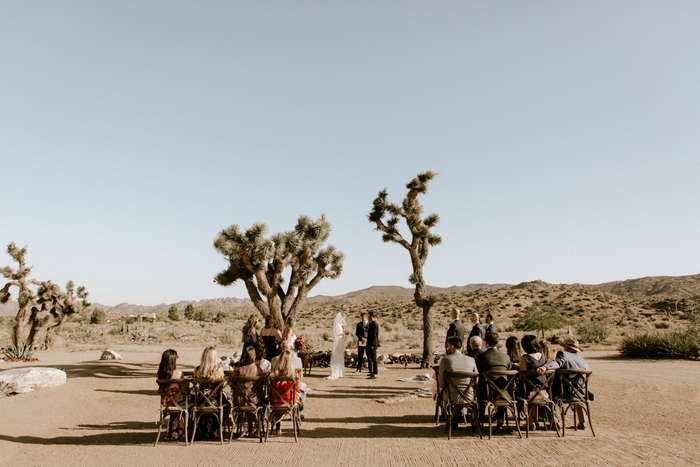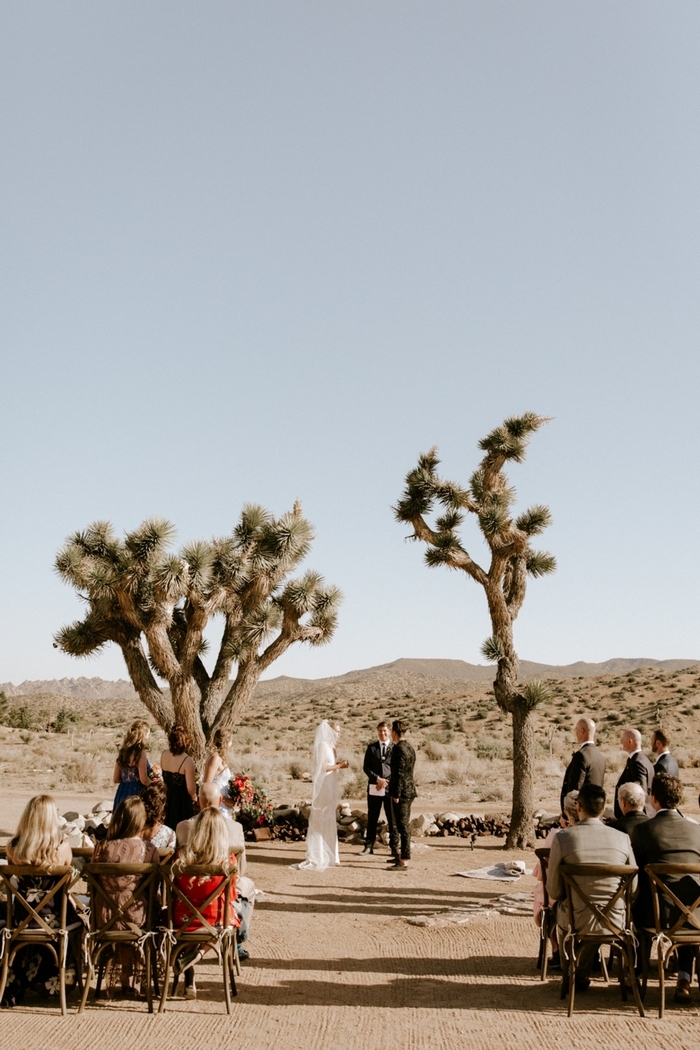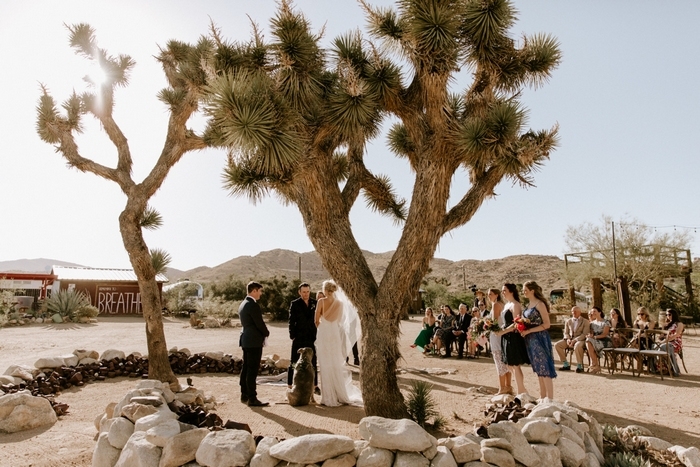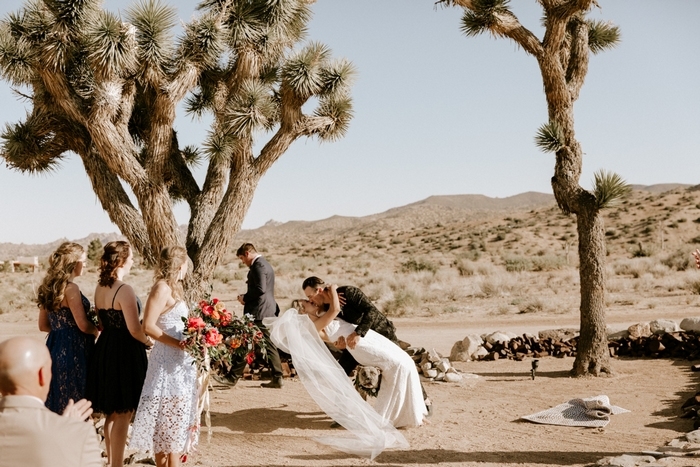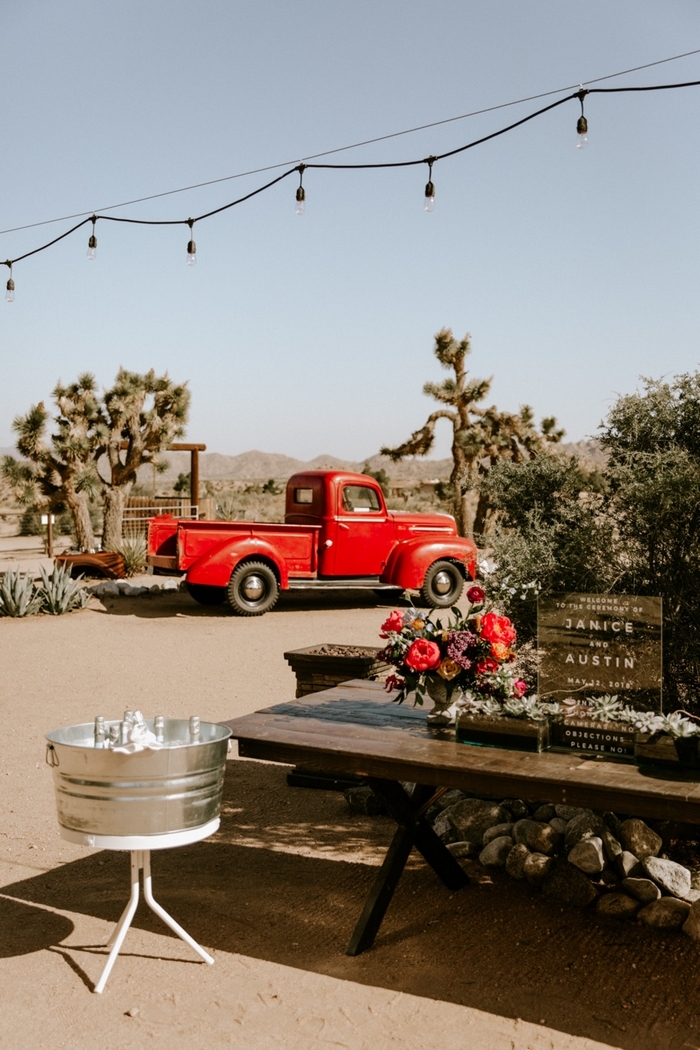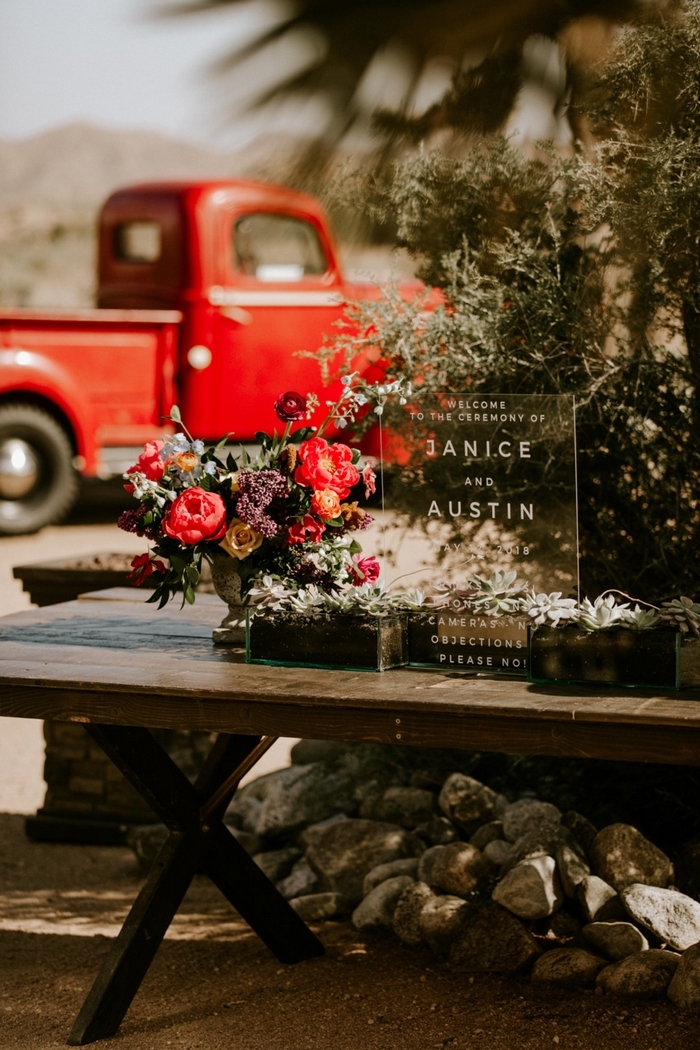 What were the highlights of the reception?
The speeches! Having only 24 people meant people could get really personal and deep; no need to be cautious or PC when you truly love deeply every person there. My husband also surprised us all with an impromptu speech; it was almost 25 minutes.. He's very quiet around most people and at most parties, but seeing how comfortable he was with everyone there was really special for me that he could be open and honest. It was a really good way to start our married life together.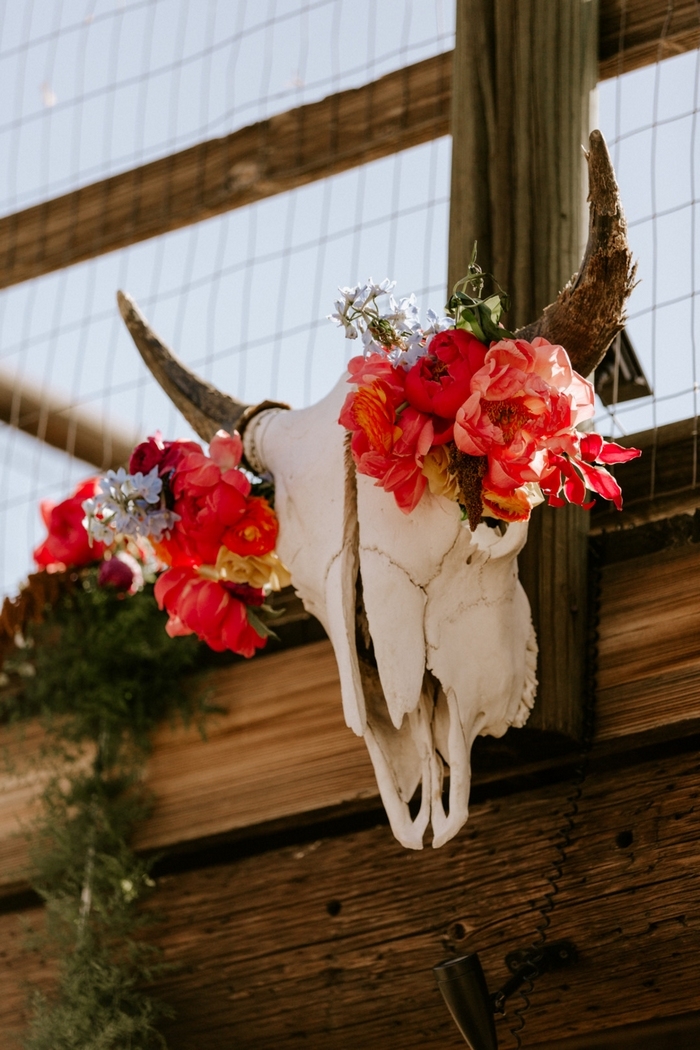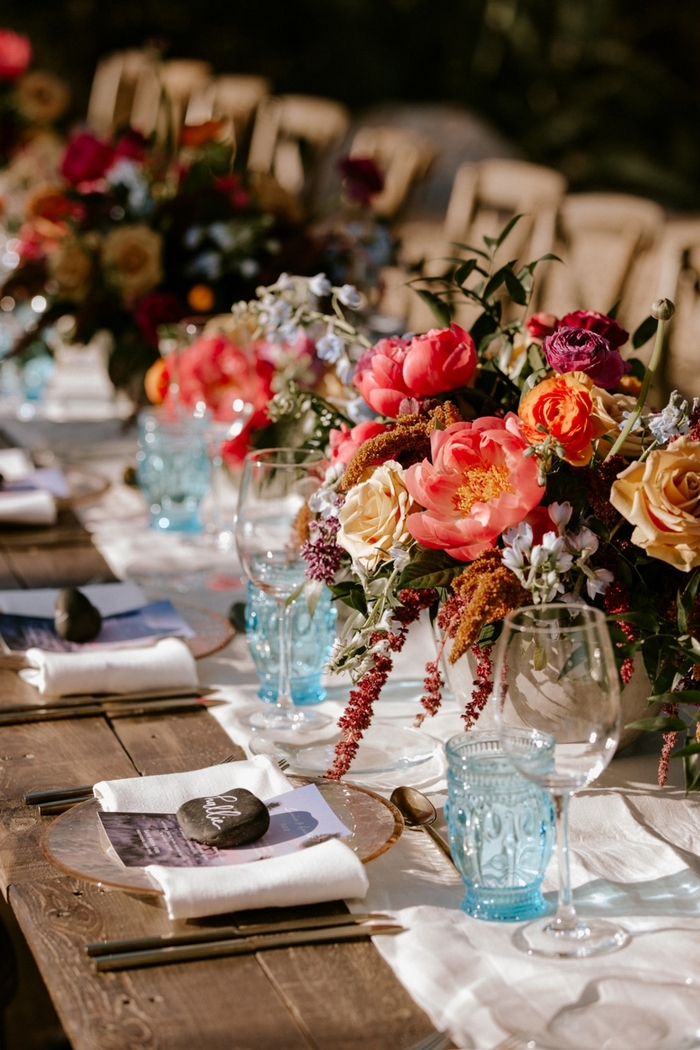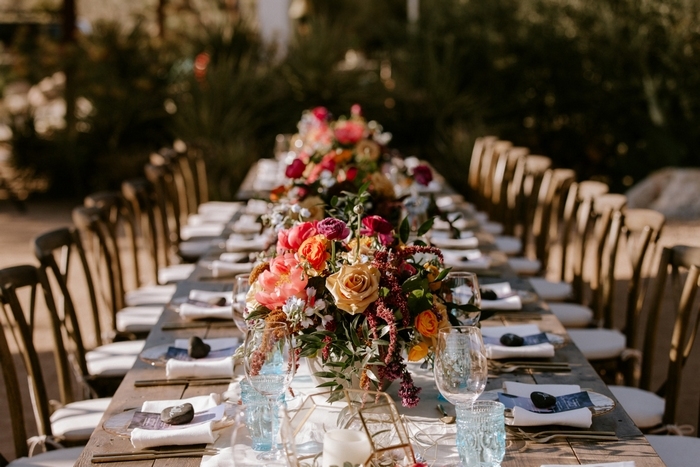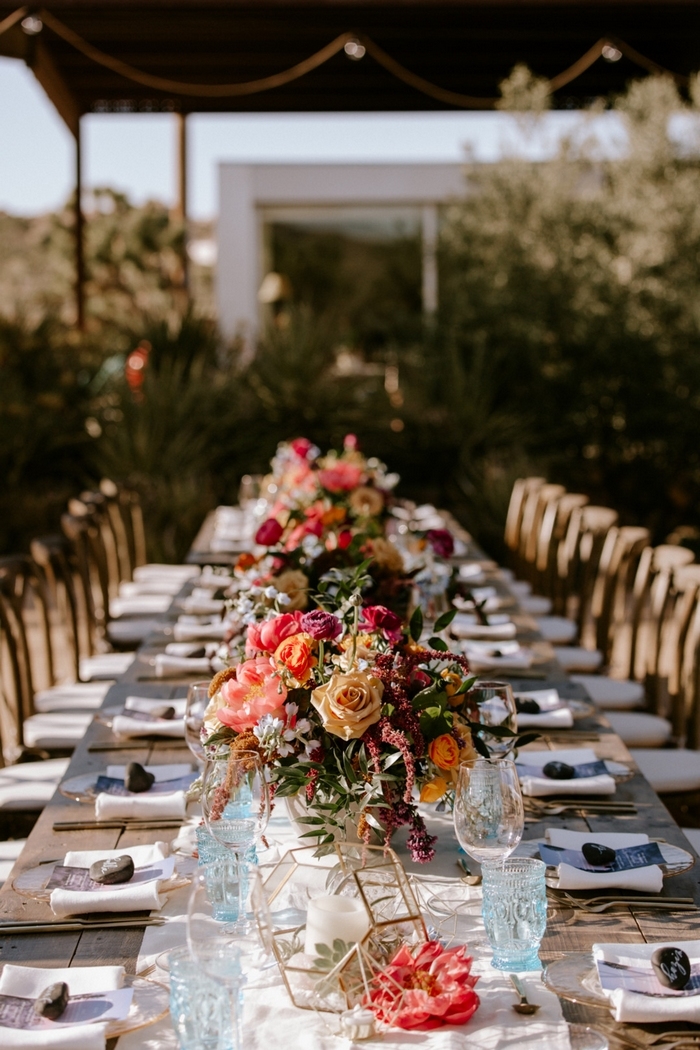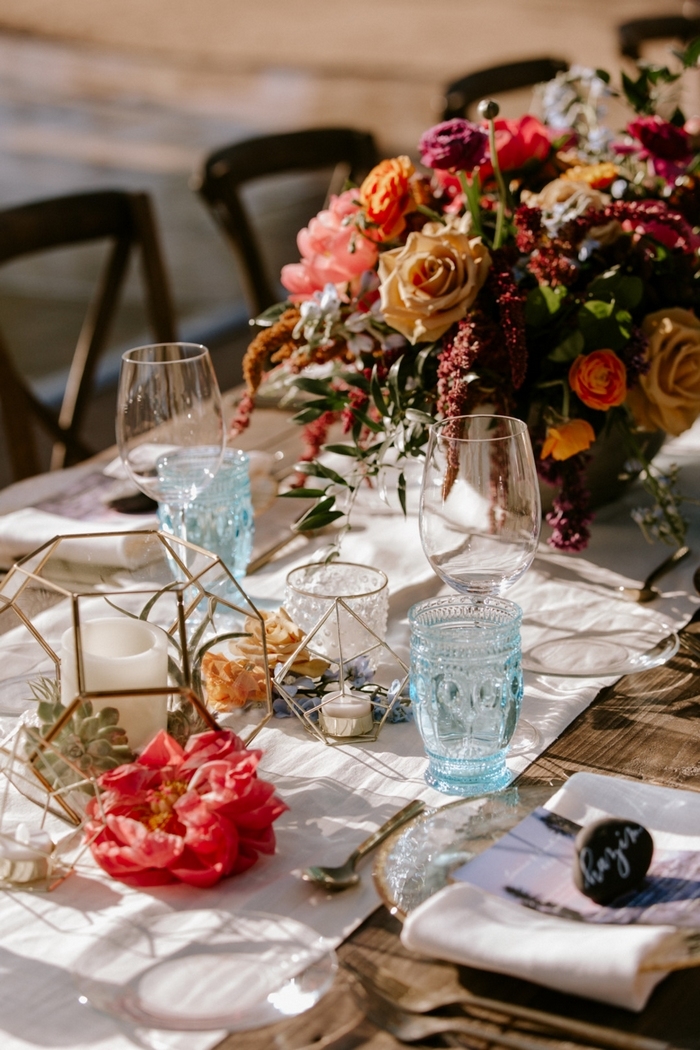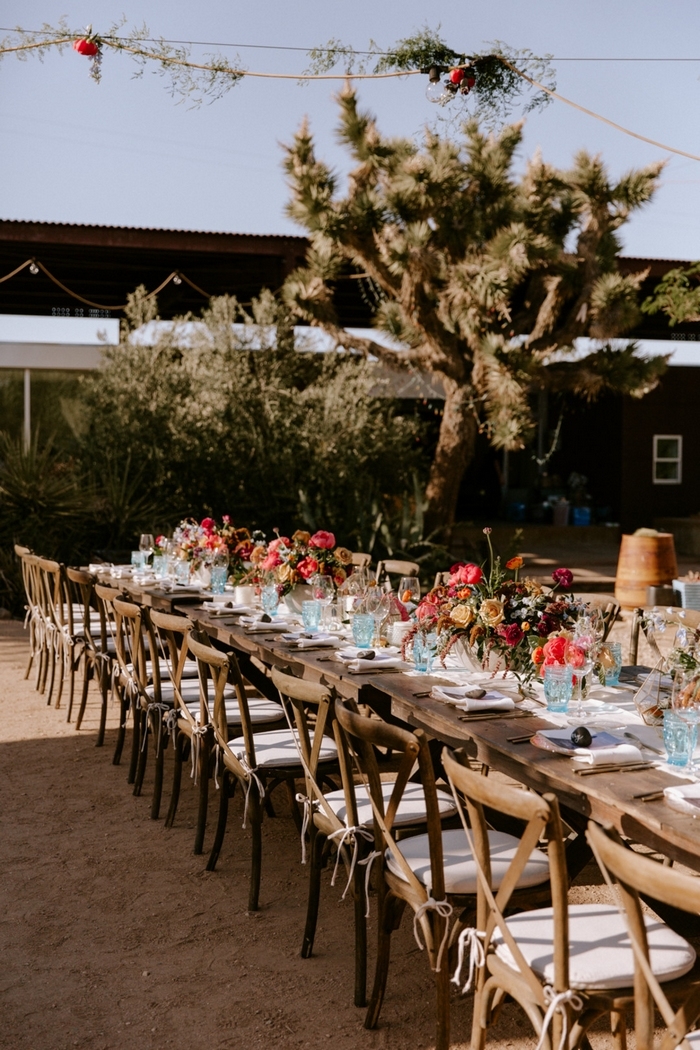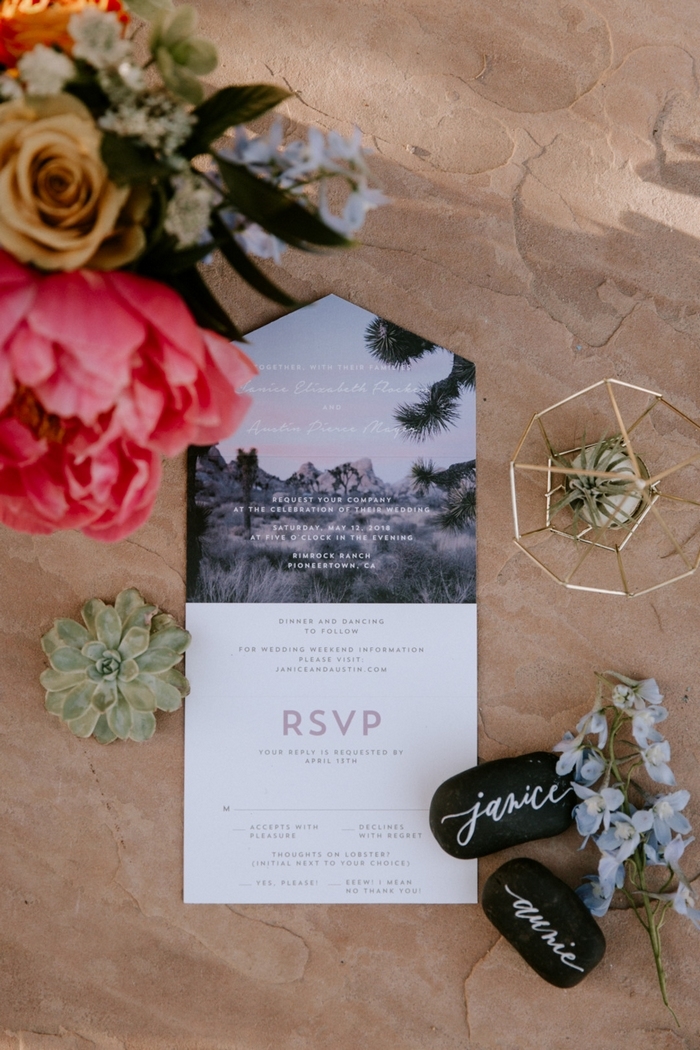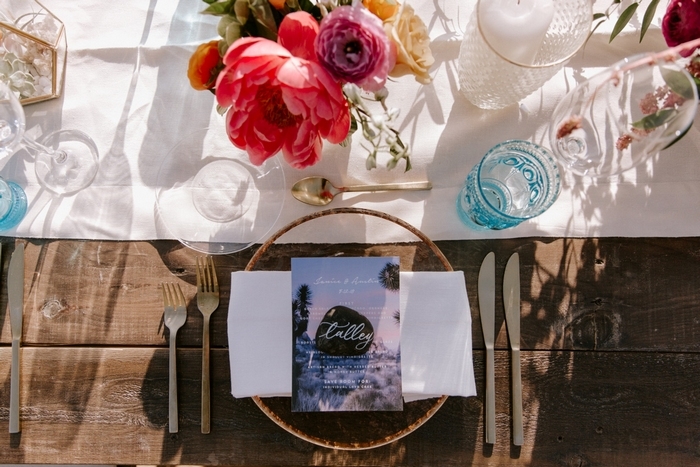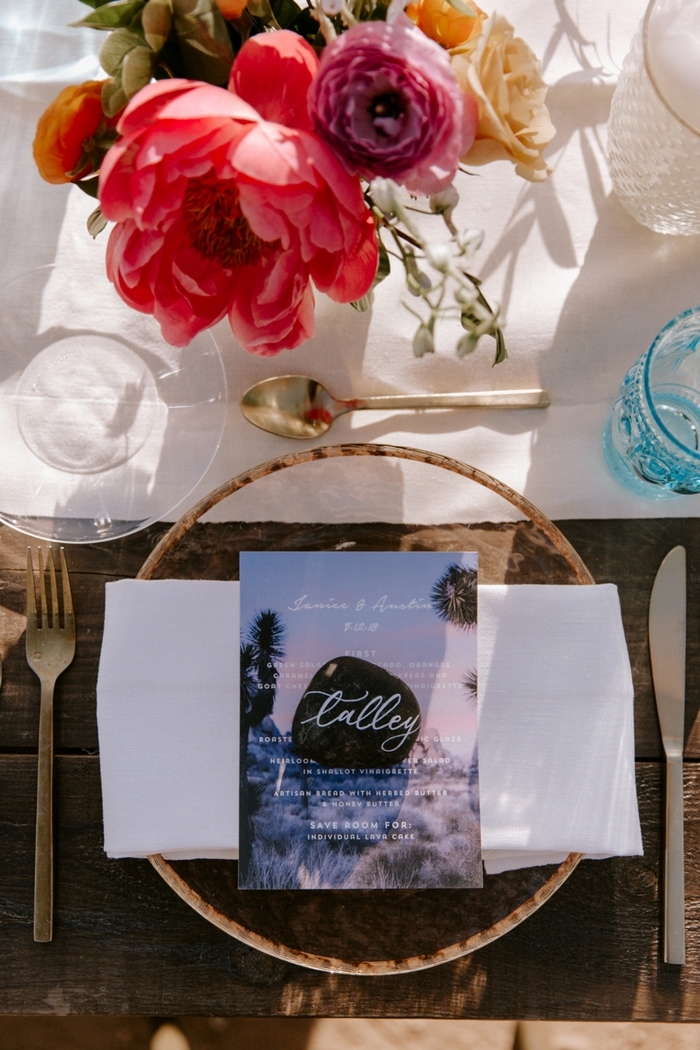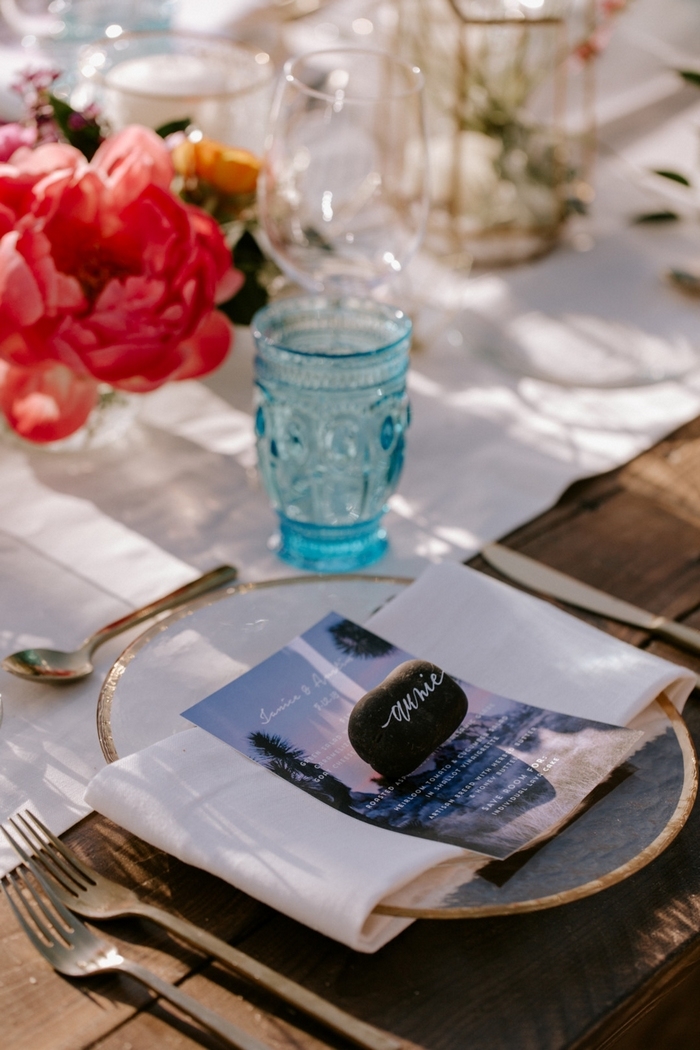 What was the best thing about having an intimate wedding?
More money to spend on food. Just kidding! But seriously, instead of one party, we got to have everyone for two dinners and two breakfast extravaganzas and spend all day with the people we love leading up to the wedding. Seriously, the quality time was the best, and I think everyone felt appreciated. They spent a lot of time (PTO hours, airline hours), money, and energy traveling from Cleveland, Rhode island, Zurich Switzerland, DC, Atlanta, and Chicago. For them to all come out to the desert was incredible for us, and I like to think that they were able to understand how important it was because of the time we spent with them.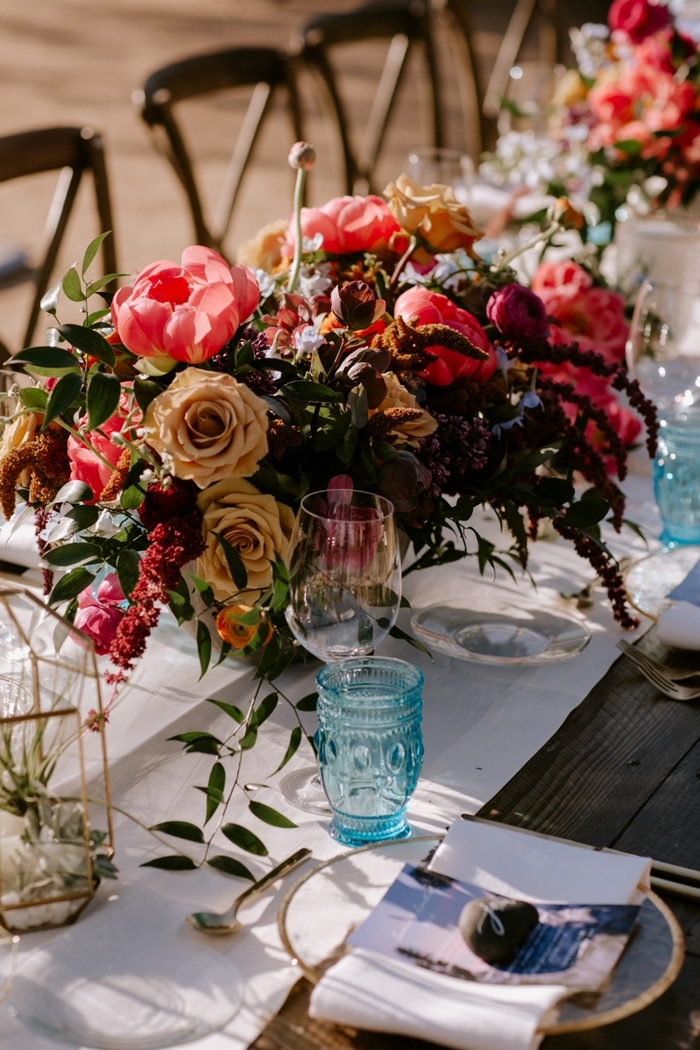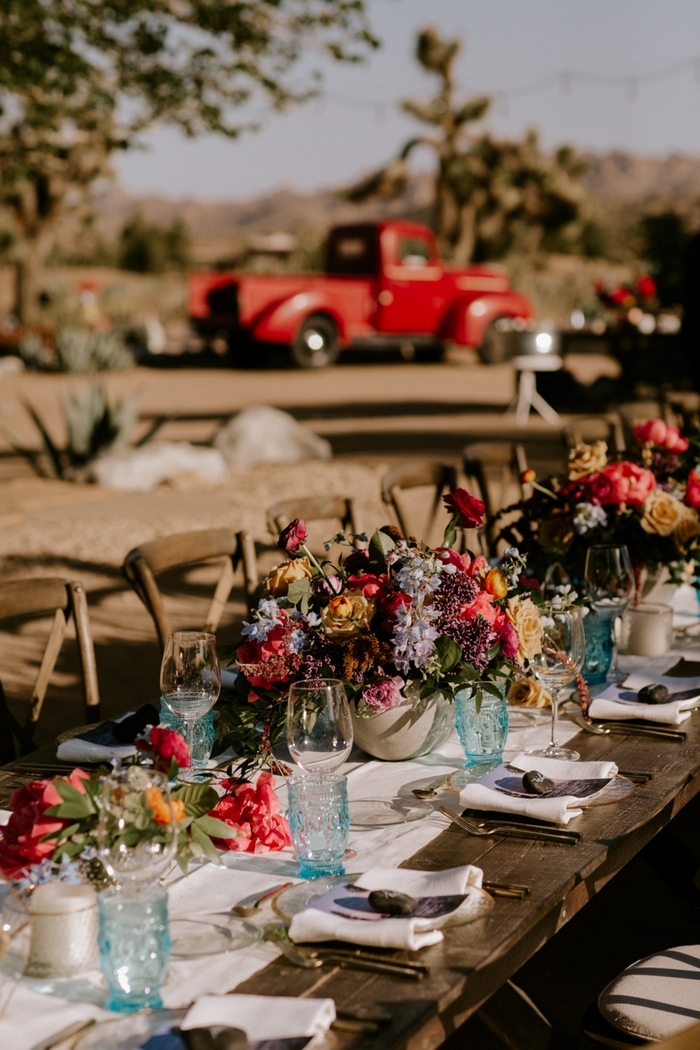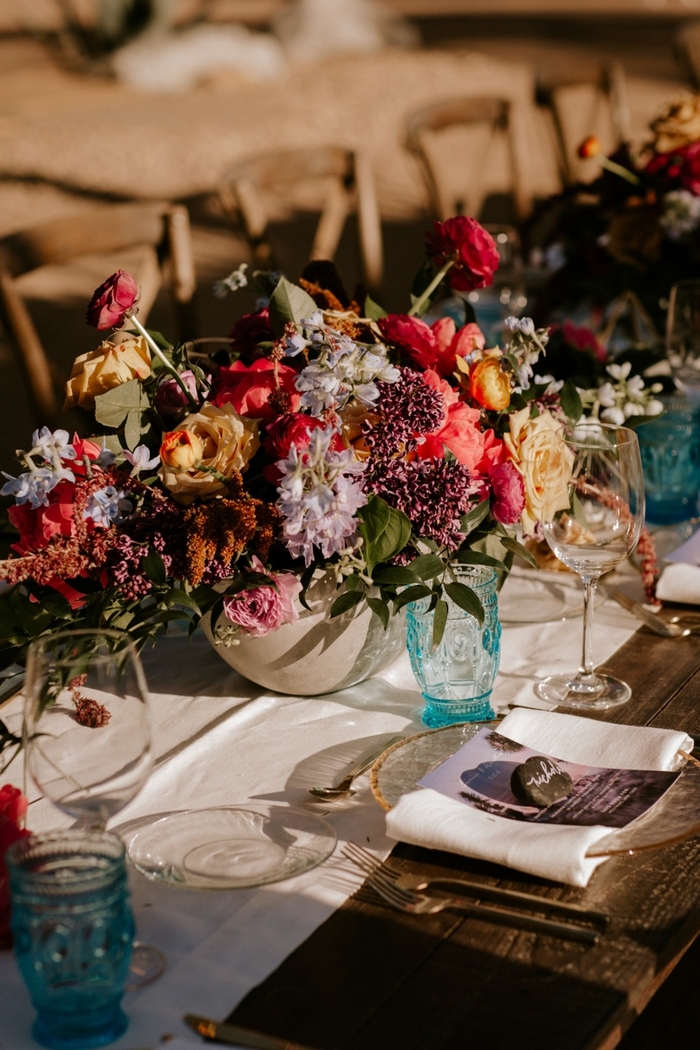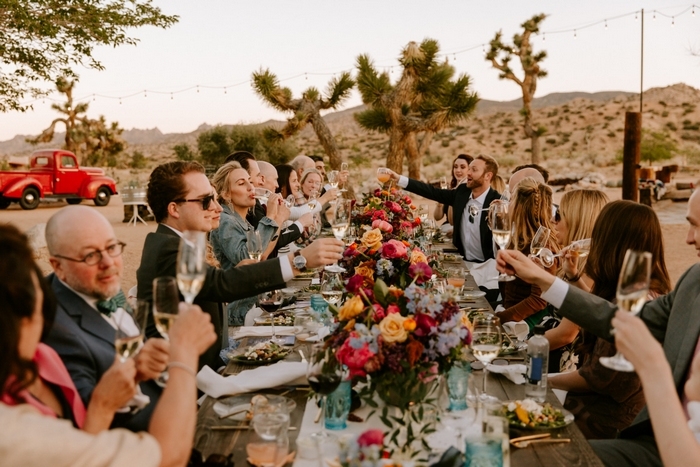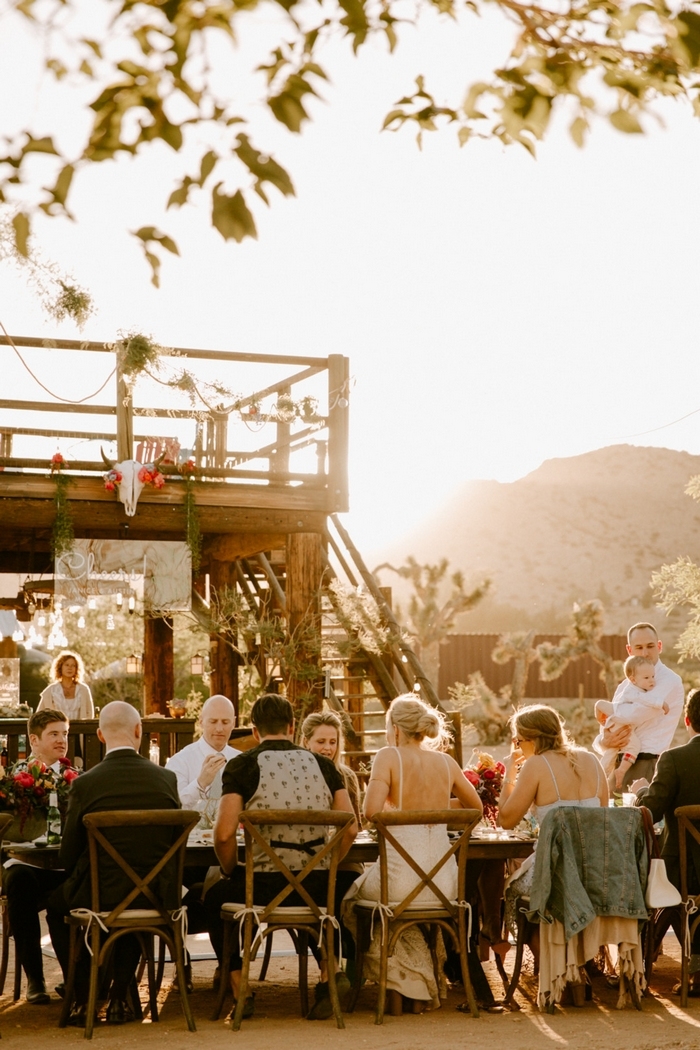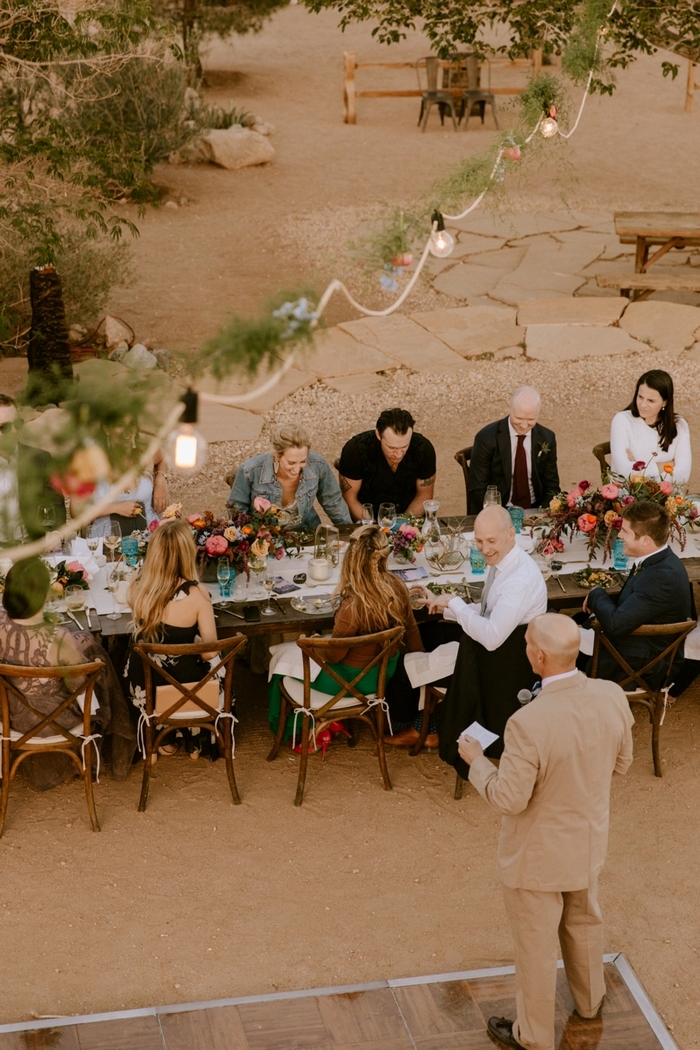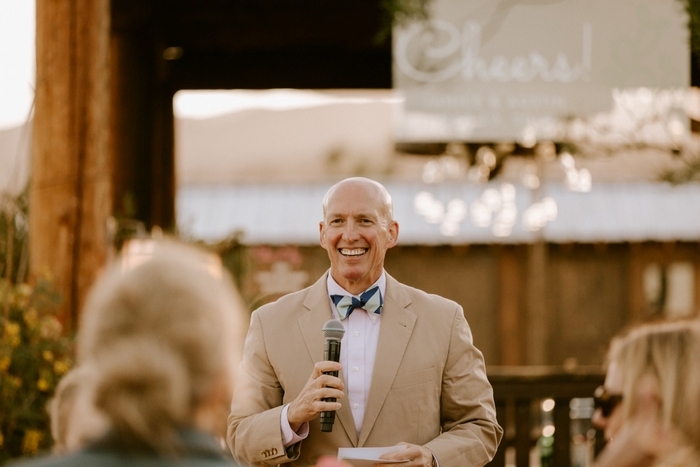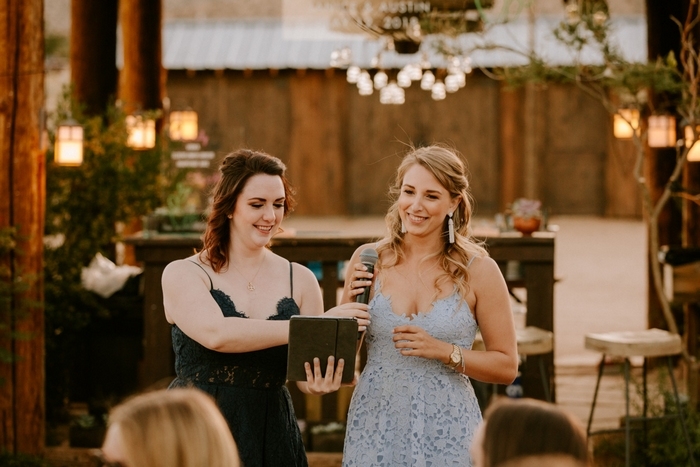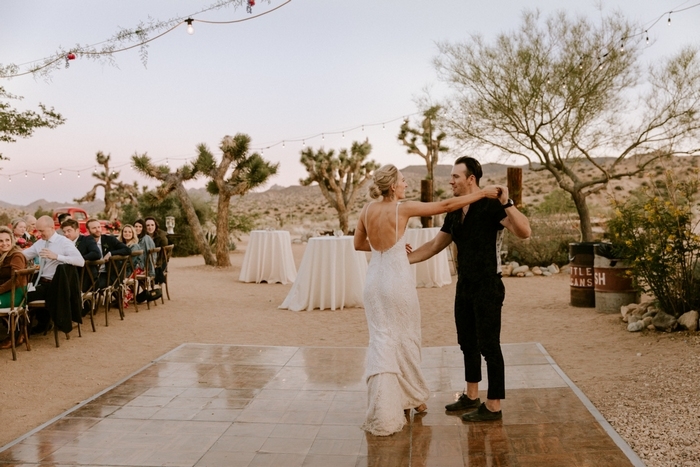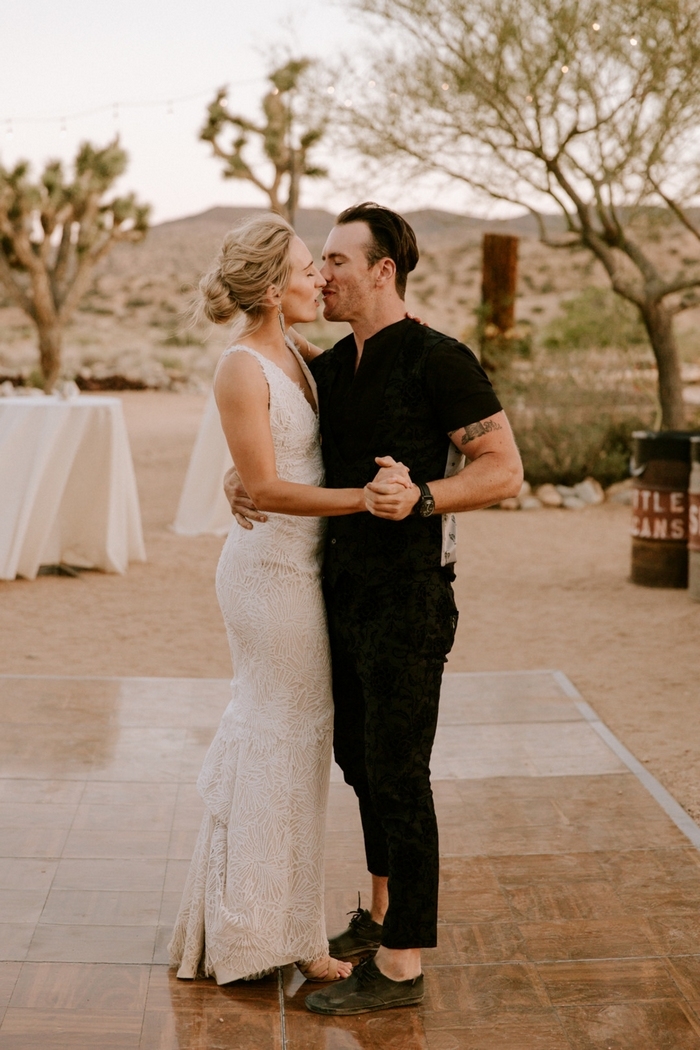 What advice do you have for couples who are considering an intimate wedding?
Do it! The smaller the better. I tell every bride to be, nobody has every said to me "I wish i had a bigger wedding"; what everyone tells me is the opposite. Surround yourself with people who will be there for you when it's not your wedding day, and it will make your wedding day even better. Oh, and include your pets. Always include the pets. Also, find vendors that will blend seamlessly with your crowd; when you have 200 people it doesn't matter if your second photographer is awkward. When there are 24 people they are going to be visible. Find people you truly enjoy spending time with and it will feel like an extension of the party.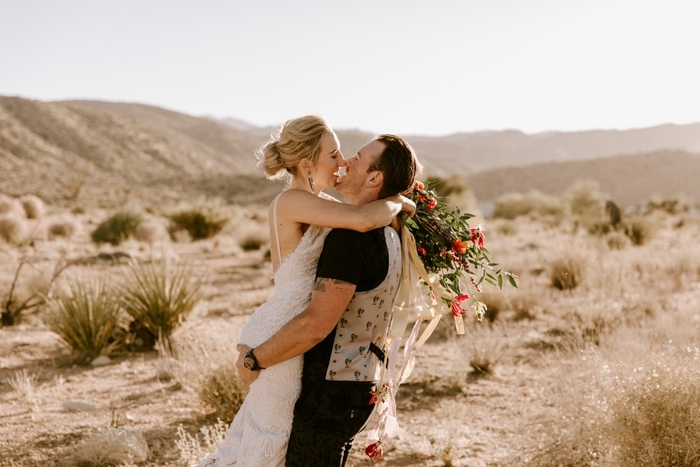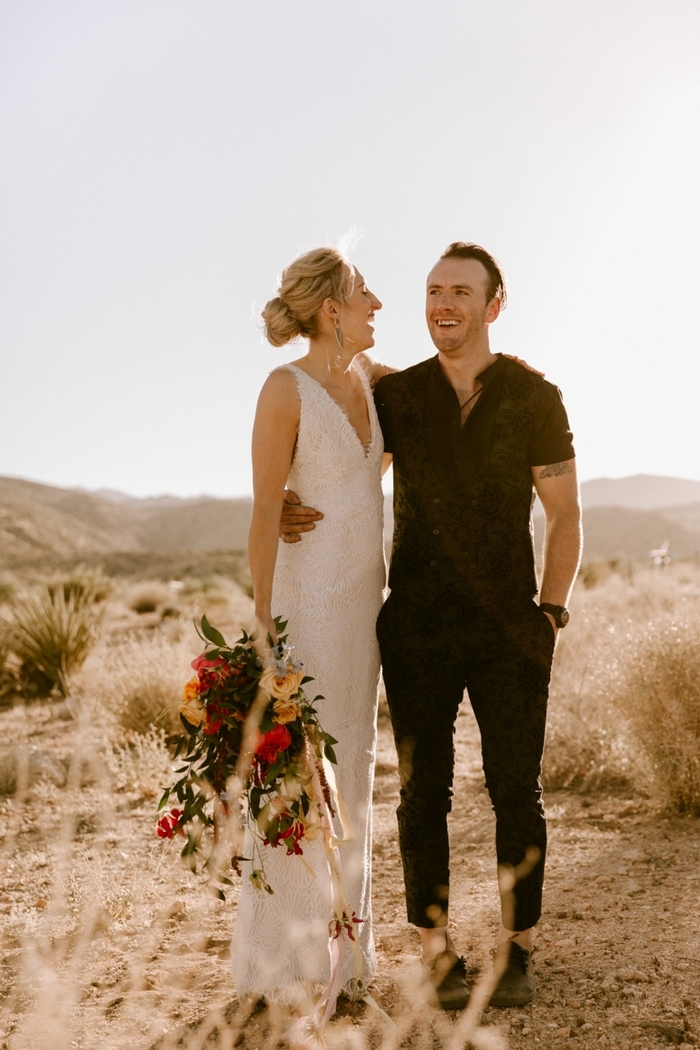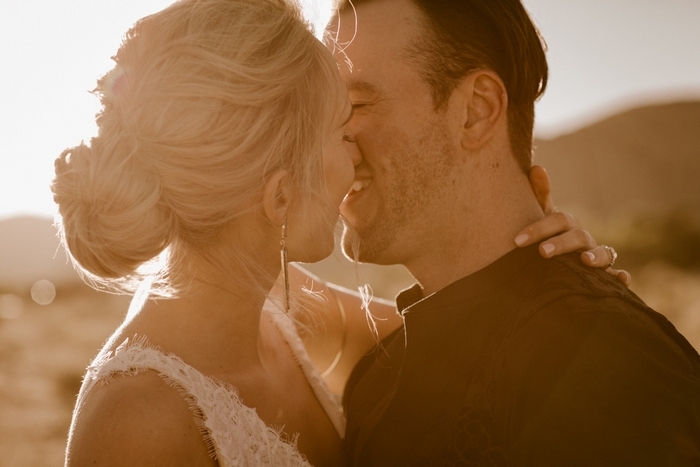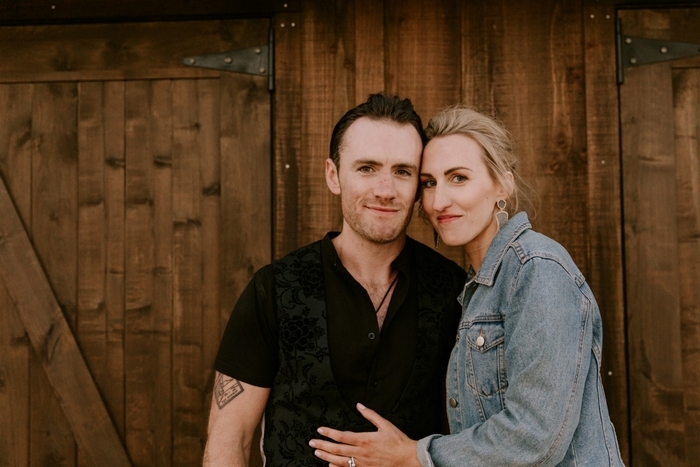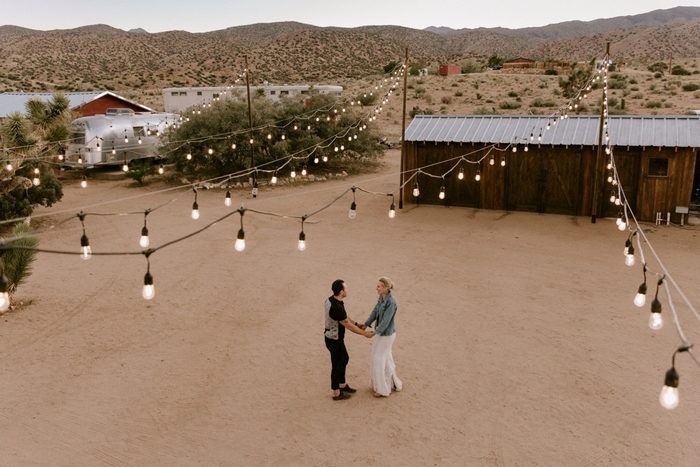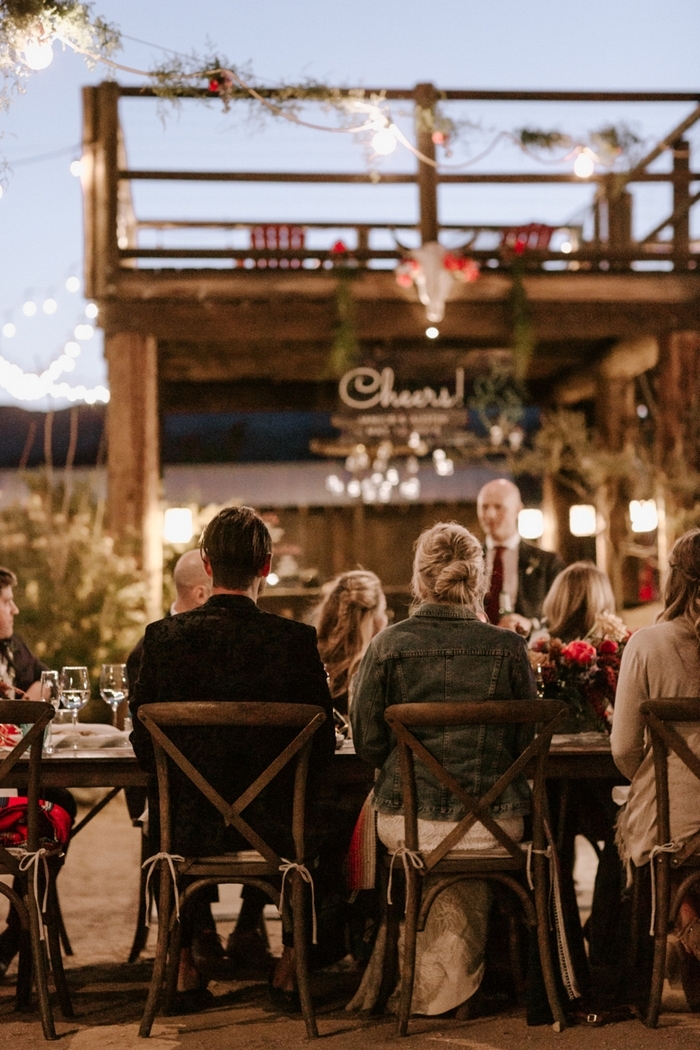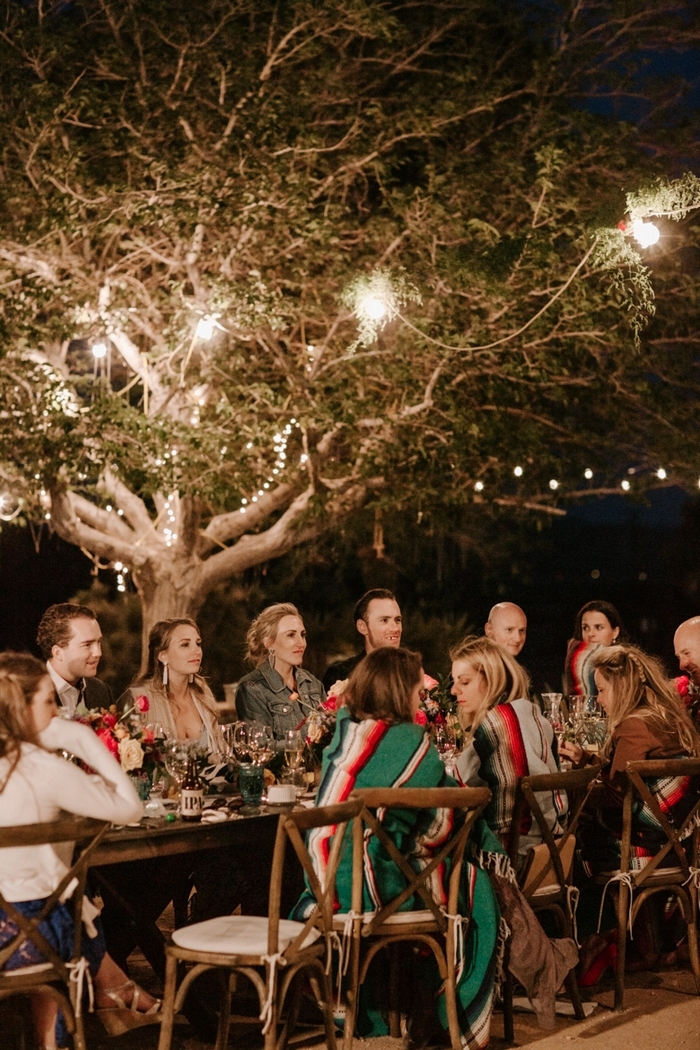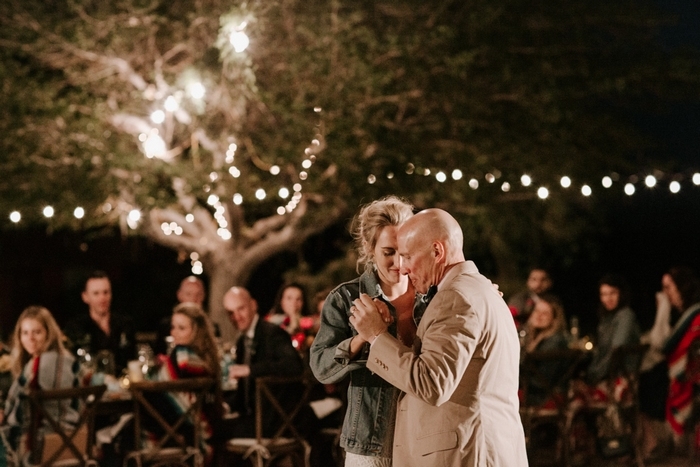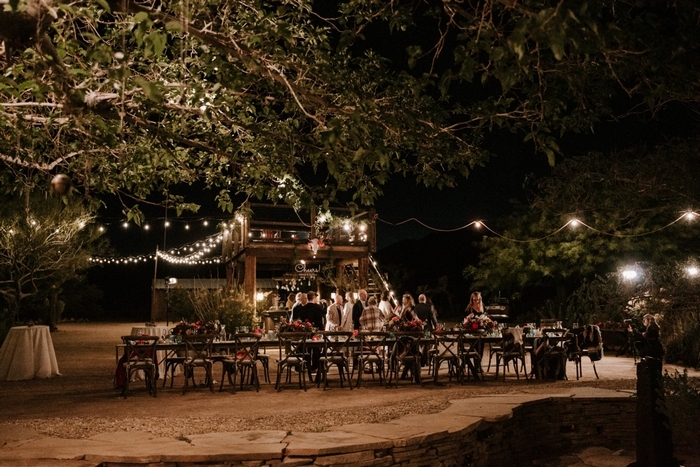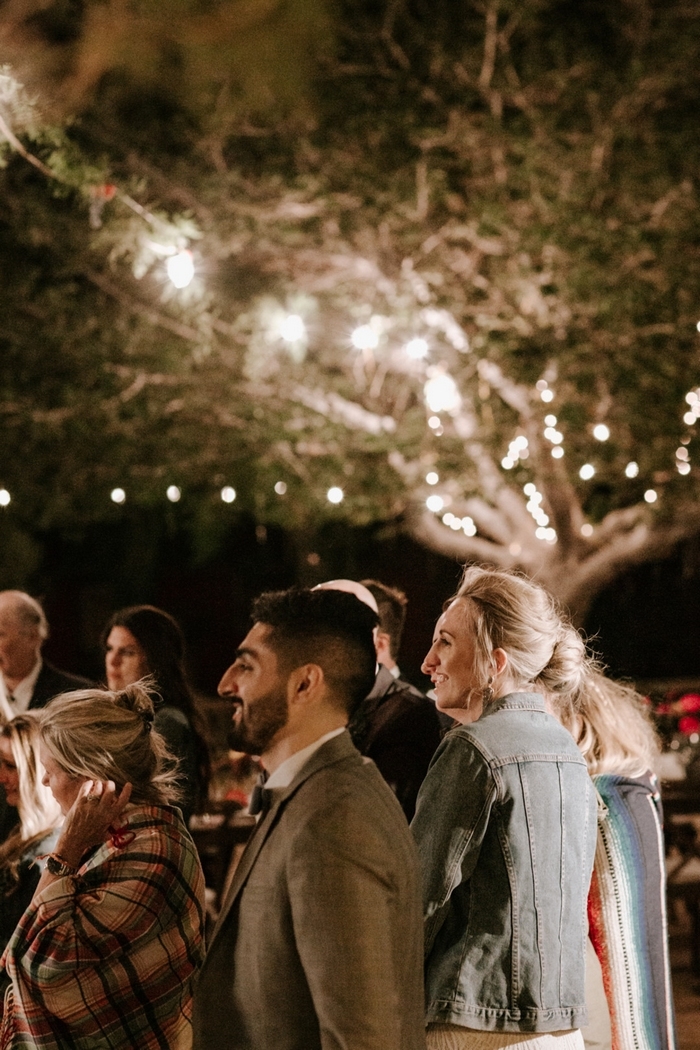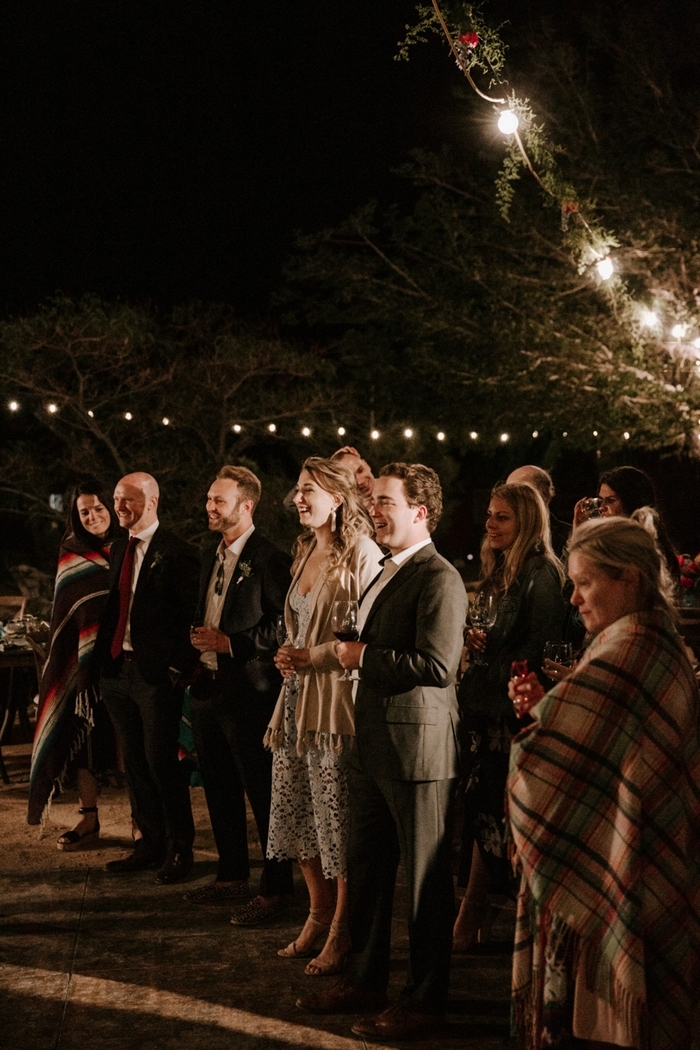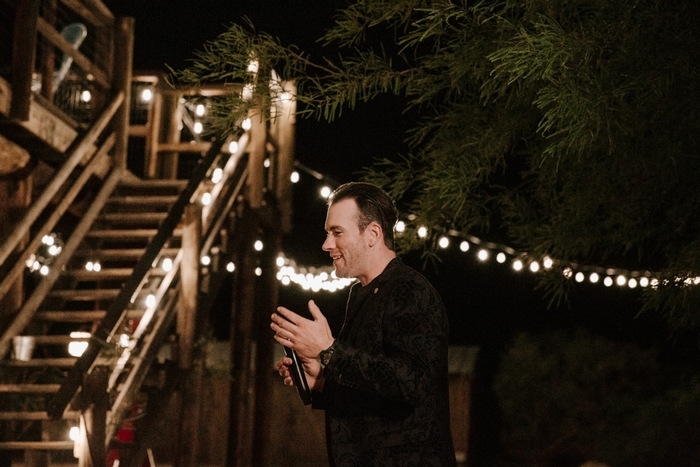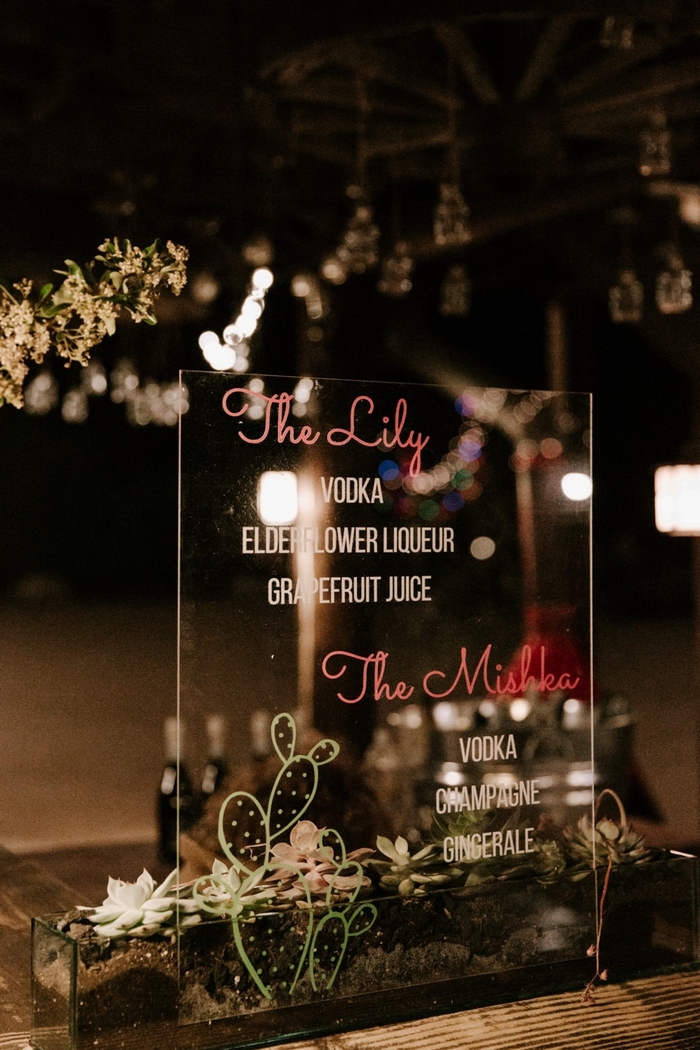 Vendors:
Photographer: Paige Nelson Photography
Event Venue: Rim Rock Ranch
Linens and Coverings: La Tavola Linen
DJ: Dart Collective
Caterer: Mojave Monaco
Hair Stylist: Tanya Marie
Dress Designer: Stitch
Event Planner: Karson Butler Events
Cinema and Video: The Quail and The Dove
Floral Designer: The Bloomin' Gypsy