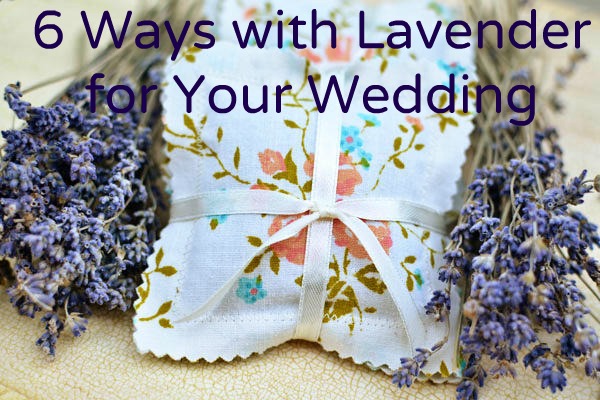 I am a lavender freak. In fact, I am tossing around the idea of devoting a good portion of my backyard into a very LARGE lavender patch. I've got more than 20 plants growing as we speak, but that's just the beginning.
The scent of lavender instantly calms me and takes me to a lovely place where I am centred and life is good.
I fell in love with lavender as a child when my mom used to buy English Lavender soap. In my early twenties I made lavender soap of my own using lavender essential oil and lavender buds; it was one of my hottest craft show sellers.
I recently discovered that lavender can be used for culinary purposes – although I've yet to experiment. One of the things I'd love to try is lavender lemonade. Wouldn't that be a sweet treat for a summer wedding shower?
If you love lavender and you're having a summer wedding, why not incorporate this versatile herb into your wedding? How? Here are ten ways:
1. Lavender Boutonnieres. These don't look difficult to make.
Photo: Snippet and Ink via A Sunshine Wedding.
2. Lavender Bouquets. Gorgeous!
Photo: Kristy Huston

3. Lavender lemonade. Get the recipe here.
Photo: All Things Lavender
4. Lavender Sachets. Smell amazing and easy to make. Learn how to make DIY lavender sachets.
Photo: Bells and Bouquets
Photo: Getting Stitched on the Farm
Photo: Intimate Weddings
5. Lavender Send off: Your guests can shower you with lavender buds. Use a cone or sachet.

Photo: Something Old, Something New

Photo: iDIY
6. Lavender Cupcakes. Lovely.
Photo: The Cupcake Gallery Blog
Photo Two: OnceWed
Save