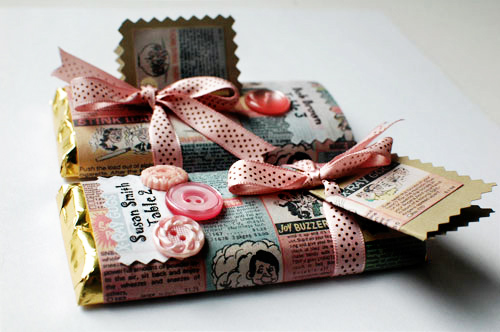 Wedding candy bar wrappers made from a vintage Fat Albert comic book ? Yes! In fact, you can make them from any vintage comic book and there's plenty of them selling cheap on eBay.
I happen to be a huge fan of those quirky comic book ads for squirting ink pens, joy buzzers and itching powder. I recall poring over these ads as a kid when I was lucky enough to snag a Richie Rich comic book from a yard sale. When my five-year old snatched up a Fat Albert comic book at a local flea market, I couldn't wait to get my hands on it so I could read through the mail order ads. Then it hit me! This would be perfect way to wrap a gift! Better yet – let's make wedding candy bar wrappers!
Not only do these candy bars serve as favors, but also escort cards. I used 52 g Caramilk bars for these favors, but you can also use 42 g Nestle Aero Bars – that is, if you are in Canada. In the U.S., I hear that Hershey's Milk Chocolate 1.55oz or Nestle Crunch 1.52oz still have the foil wrapper.
BTW, most of these brands should be available in bulk at Costco.
Here's the tutorial for Wedding Candy Bar Wrappers Made from a Vintage Comic Book
You will need:
A vintage comic book with mail order ads
Caramilk or Aero candy bars if you are in Canada:
Ribbon
Buttons (optional)
White glue for adhering buttons
Double sided tape
Glue stick
Hole punch
A color printer
Paper for printing guests' names
Cardstock for 'Thank-You' tag
Making the Wedding Candy Bar Wrapper
Leaf through your comic book and find a page with mail order ads.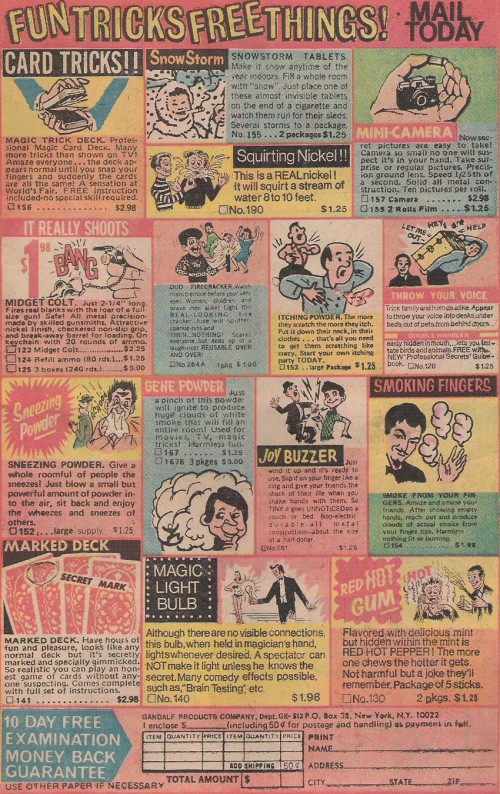 Scan the page, and size it to fit your chocolate bar. (Caramilk wrappers are 4″ x 5.5″). Print. I used regular printer paper and an inkjet printer.
Remove outer wrapping from your candy bar.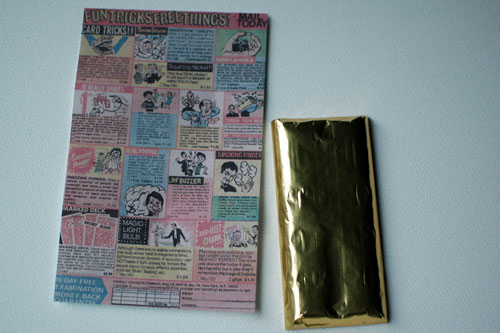 Wrap comic book page around the candy bar. I used double sided table to adhere the wrapper.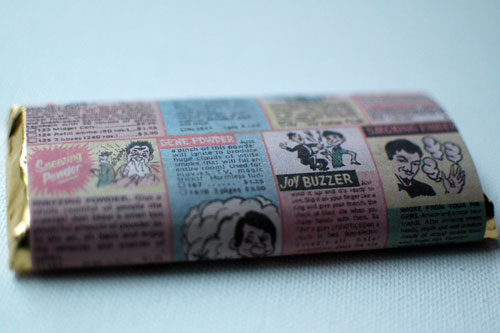 Type your guests' names, and table numbers in a font that you like and print. Cut with pinking shears to fit the width of chocolate bar. Adhere with glue stick.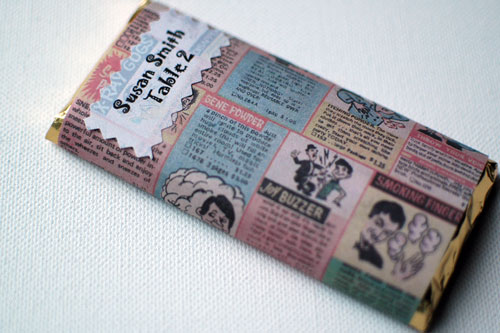 Cut cardstock with pinking shears for 'Thank-You' tags. My tags were 2″ x 3″. Print another comic book page, and cut out an ad to adhere to your gift tag.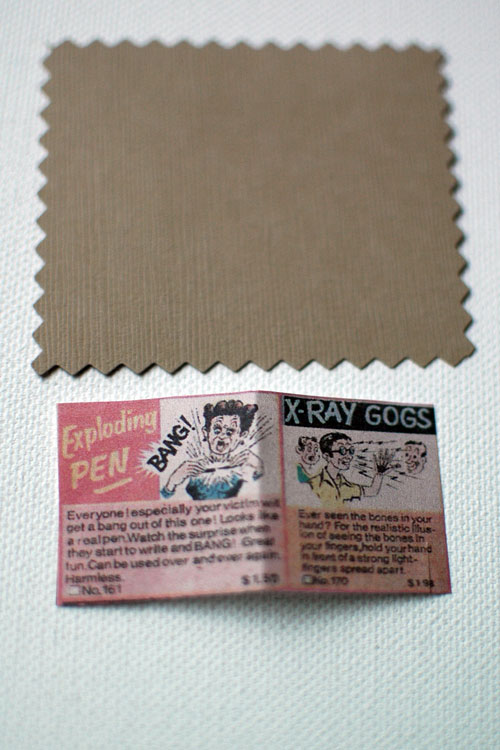 Glue ad to tag with glue stick. Fold and use a hole punch to make a hole. In your best handwriting, write 'Thank You' inside the gift tag. Include your names and wedding date.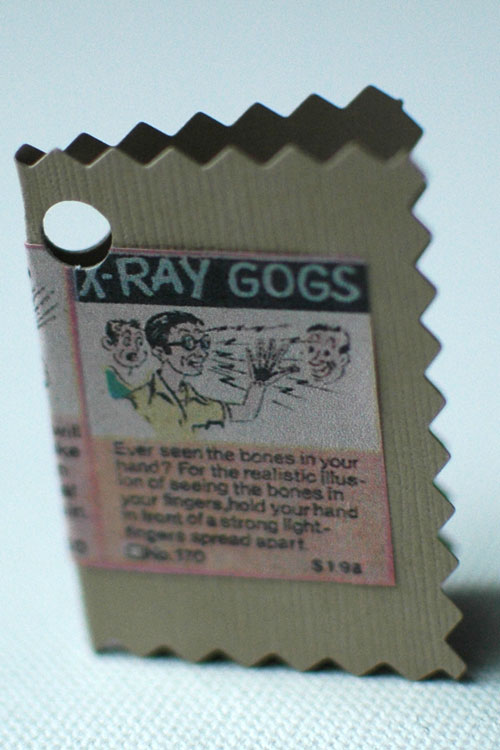 Put ribbon through hole and tie to candy bar. Glue buttons to candy bar. (This is entirely optional, but I think the buttons dress it up a bit.)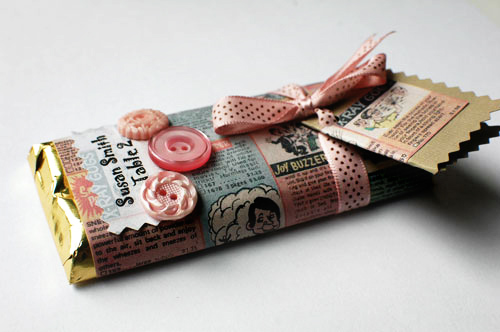 Display your candy bars at reception entrance. Watch guests oohh and ahh over your clever DIY wedding favors:)