Today we are featuring a gorgeous intimate wedding that just might inspire you to scrap your big wedding plans. Here's what photographer Becki Smith from Smith House Weddings had to say about Melba and Josh's wedding:
When the bride-to-be and groom-to-be began planning, they sat down with all the traditions and completely threw out the ones that they knew weren't for them. The result was beautiful: an intimate wedding ceremony with just their immediate families at the White Hall Houston, followed by a wedding dinner with just 30 of their closest friends at Brennan's of Houston. The moments shared were nothing short of remarkable. Everything flowed together so seamlessly and the moments were equally full of laughter and tears of joy.
Once Melba and Josh knew that they wanted the foundation of their first day as husband and wife was an intimate wedding ceremony and to be simply surrounded by the people they love, they dove straight into the details, something that Melba absolutely loves. The three most important things were the florals, the cake, and the color palette.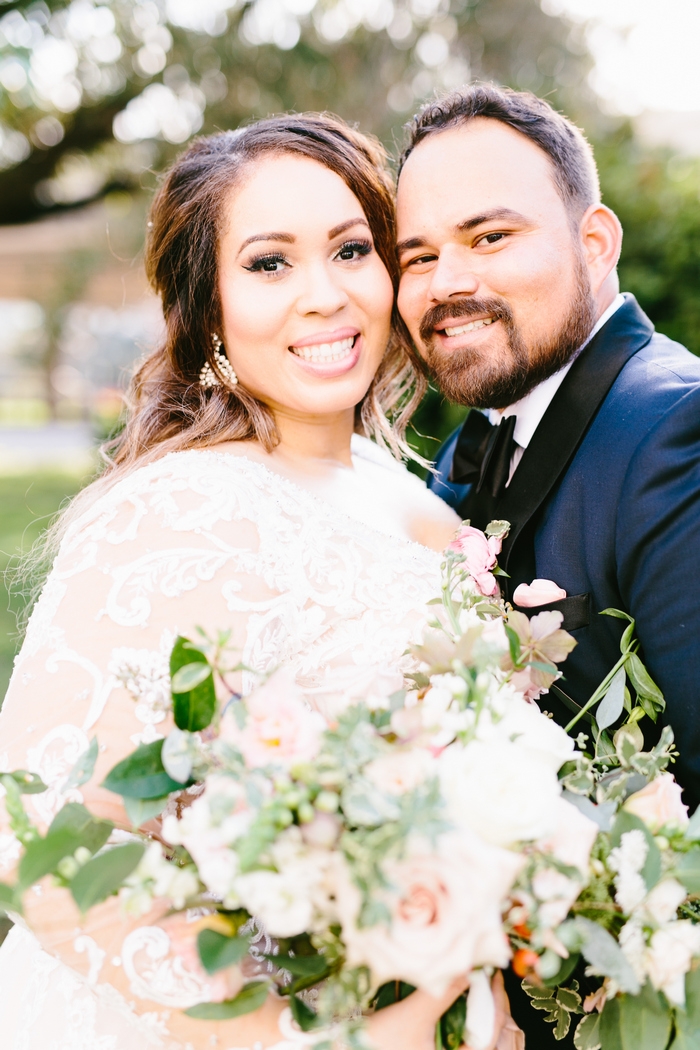 Melba, 34 & Joshua, 34
Location: Houston, Texas
Wedding Date: October 7, 2017
Number of Guests: 21
Wedding Cost: $16,000
Wedding Ceremony Location: The White Hall Houston
Wedding Reception Location: Brennan's of Houston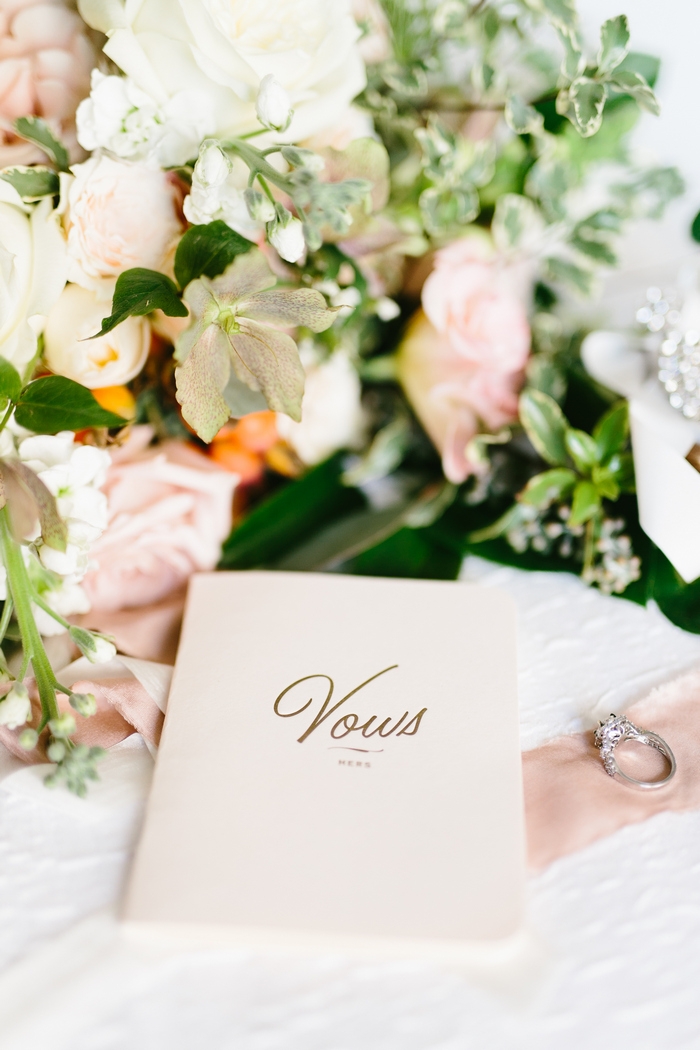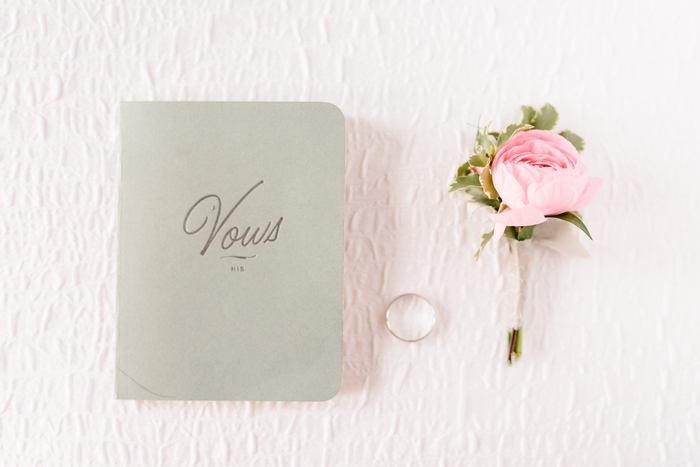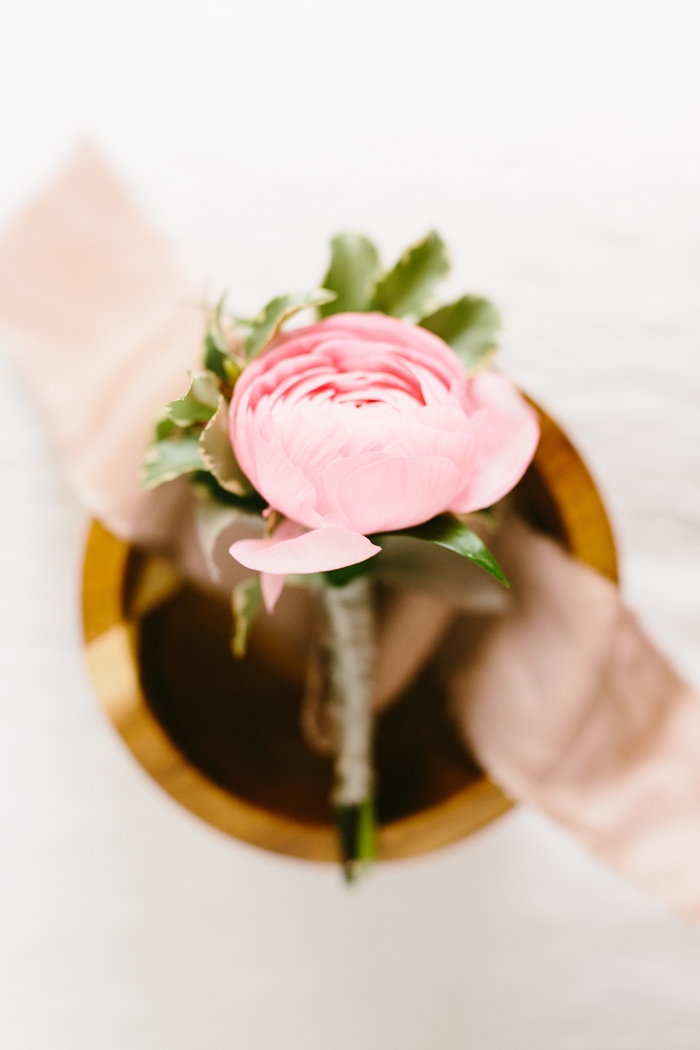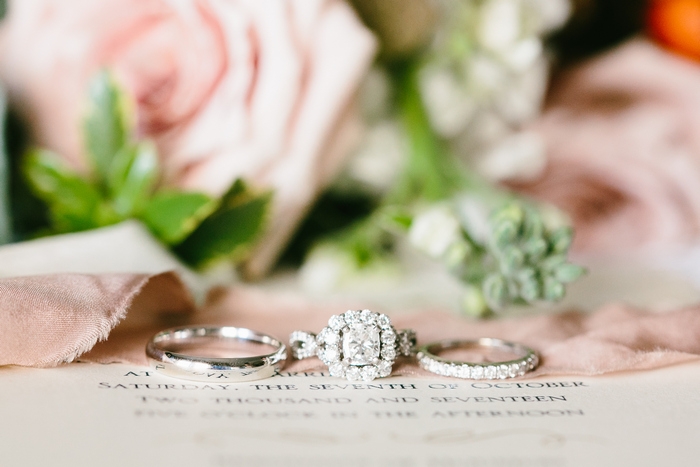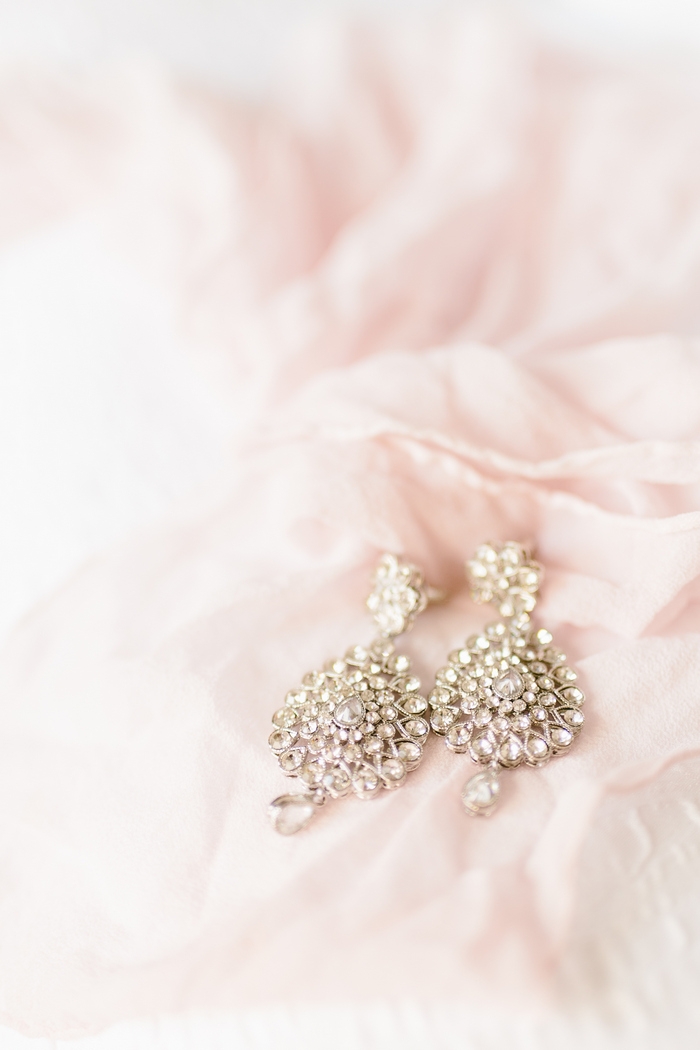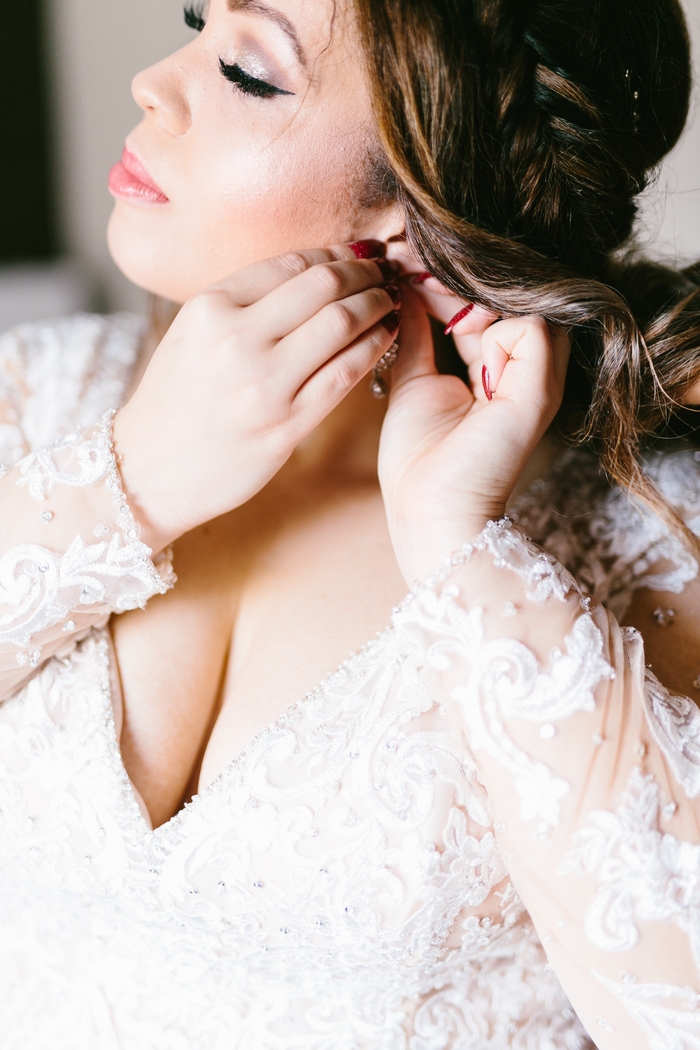 Why did you have an intimate wedding?
It was really important to both of us that we share our special day with the people who meant the most to us.  Having planned and attended large weddings, we wanted something more personal and meaningful, because it often feels as though those truly special moments that you share with your guests and each other can be lost at larger weddings.  We wanted our evening to flow seamlessly; we wanted there to be warmth and laughter resonating throughout.  In our experience, we have learned that the people in your inner most circle are few, and they are the ones who will truly share in your happiness and make such a special occasion even more extraordinary.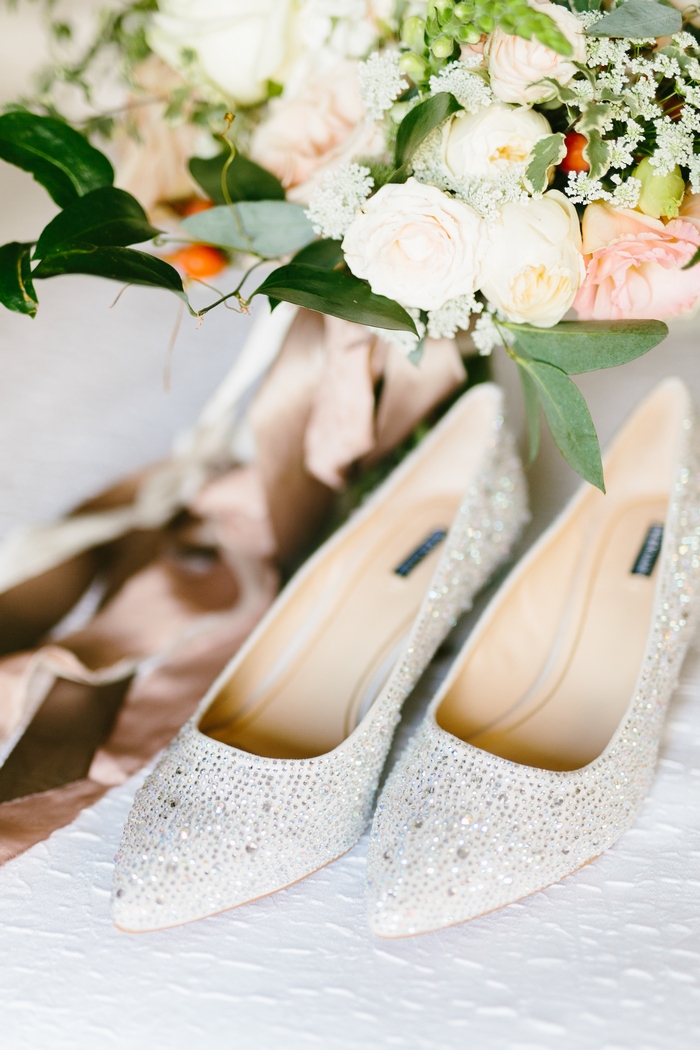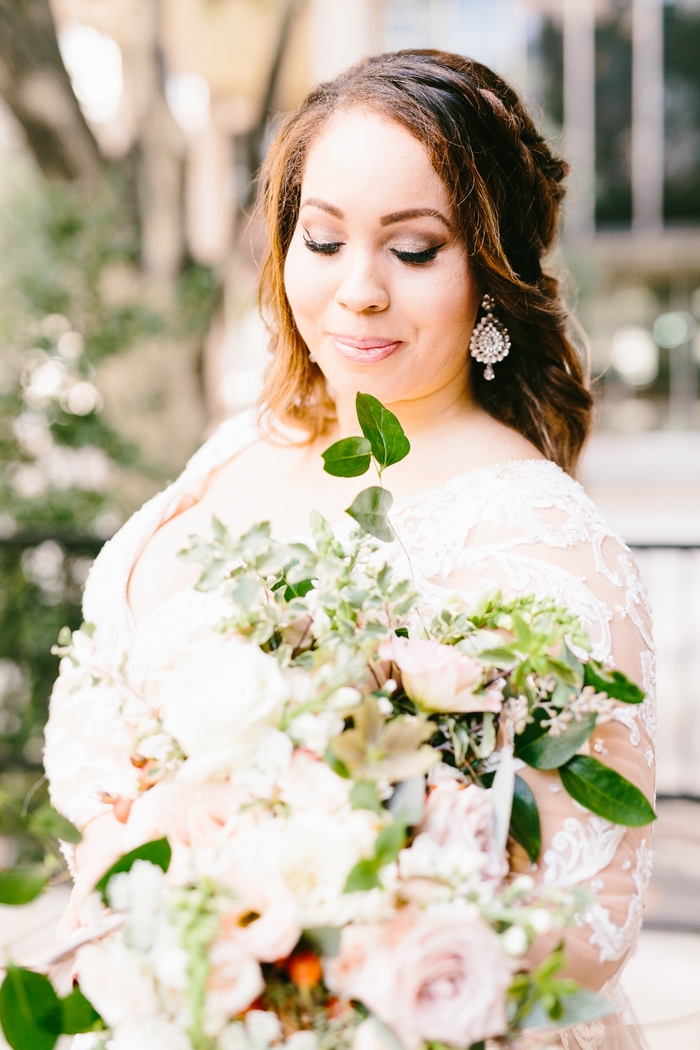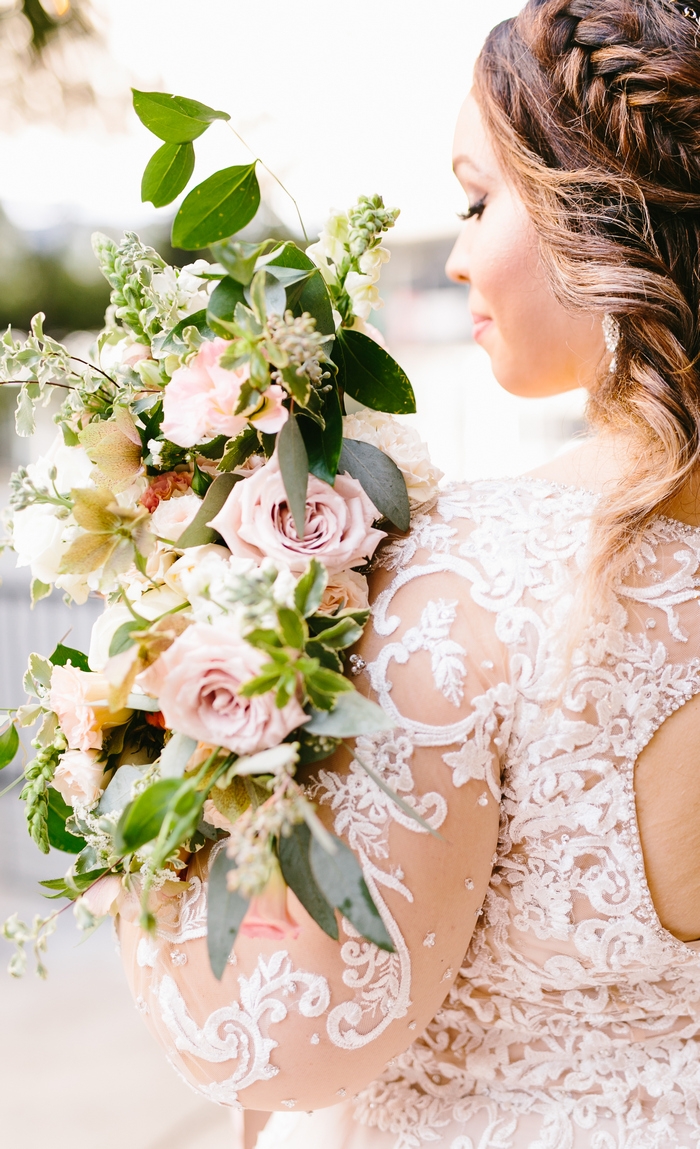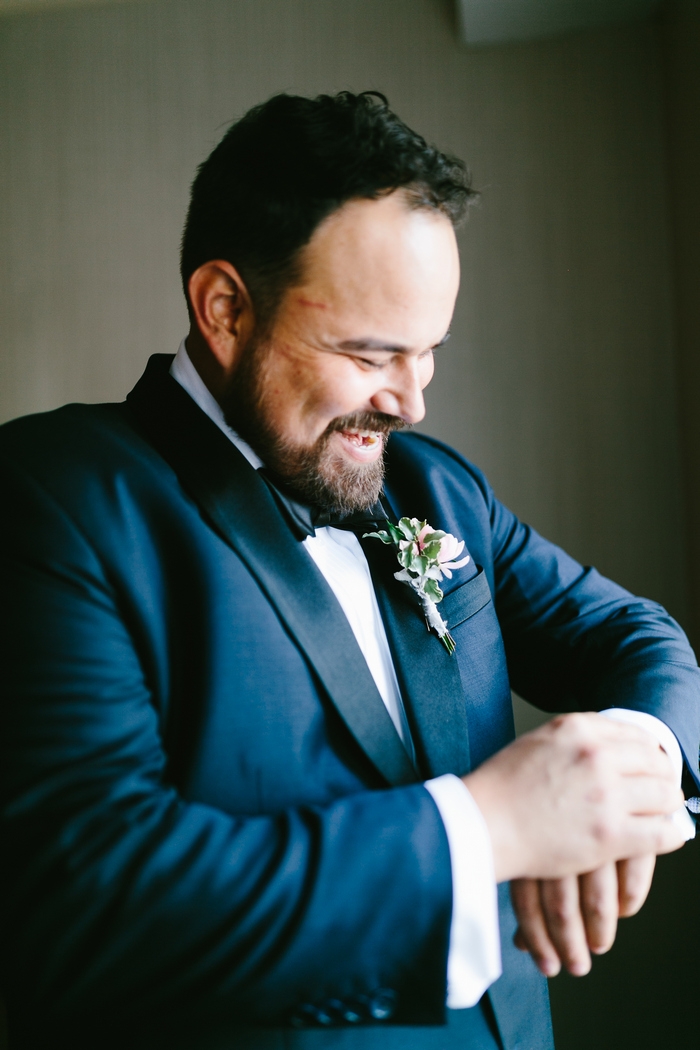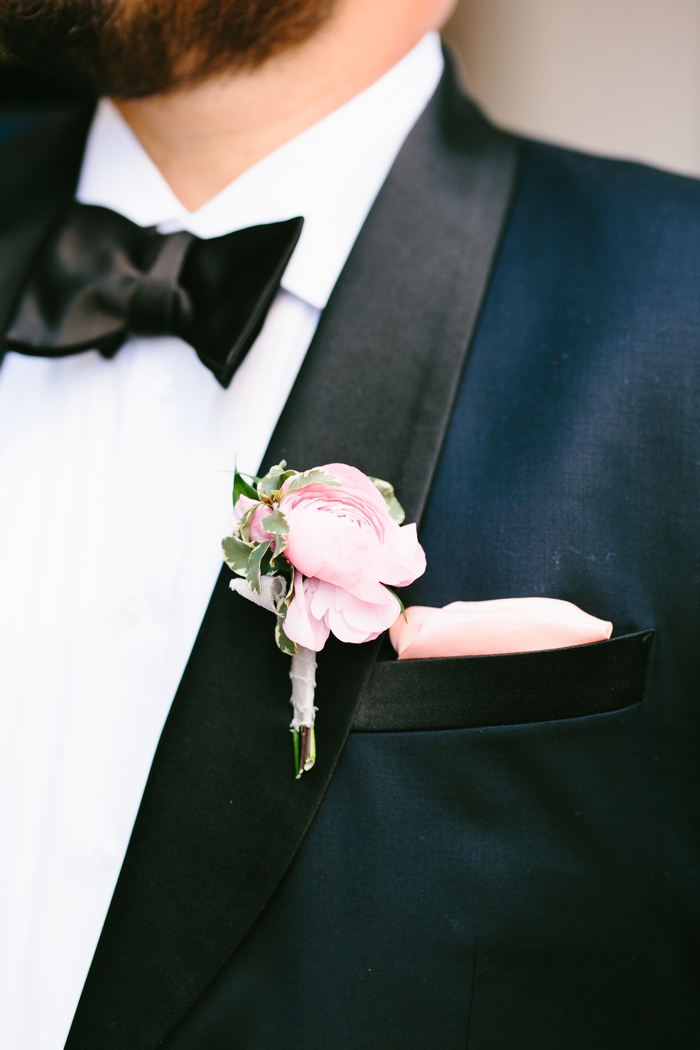 What are some the challenges that you faced planning an intimate wedding?
MELBA:  We honestly had the most difficult time finding an officiant!  Josh and I are spiritual, so we wanted an officiant who could incorporate elements of our spirituality in an interfaith ceremony.  For me, it was important to incorporate some Jewish prayers, while also including tenants of Buddhism and principles which Josh and I ascribe to.  We actually wrote our own ceremony script but could not find an officiant who wanted to do it our way.  At the last minute Josh found an officiant who did an amazing job bringing our vision to life!  It was even more special than we imagined.
JOSH: Getting the details just right.  When planning an intimate wedding you find that the little things matter even more, so it is important to focus on those as well to ensure you have a cohesive theme and aesthetic.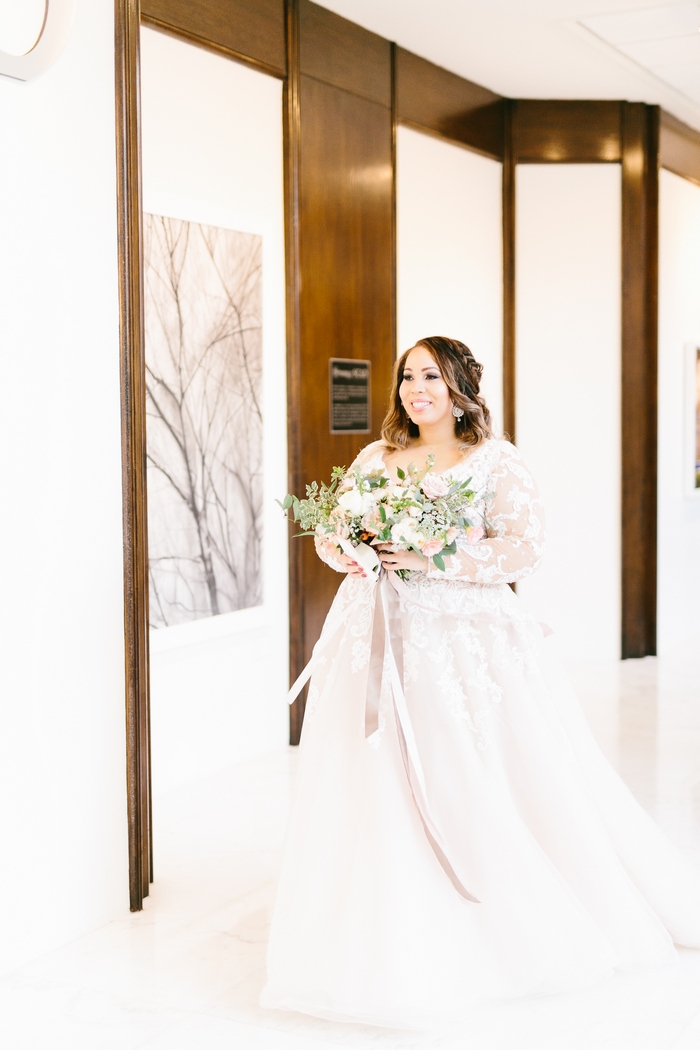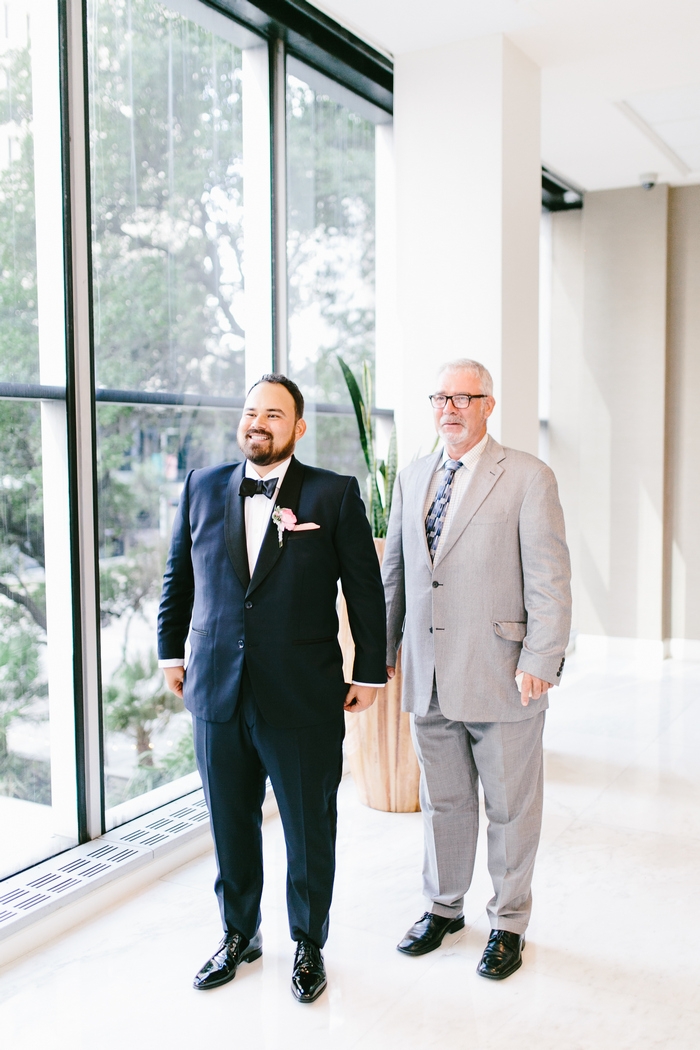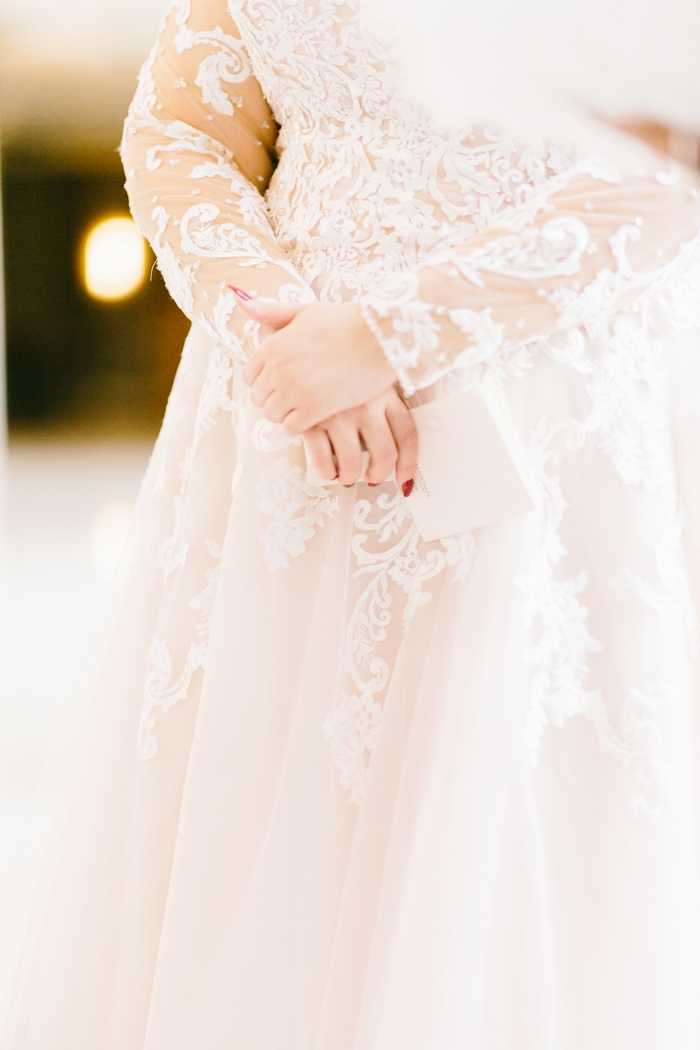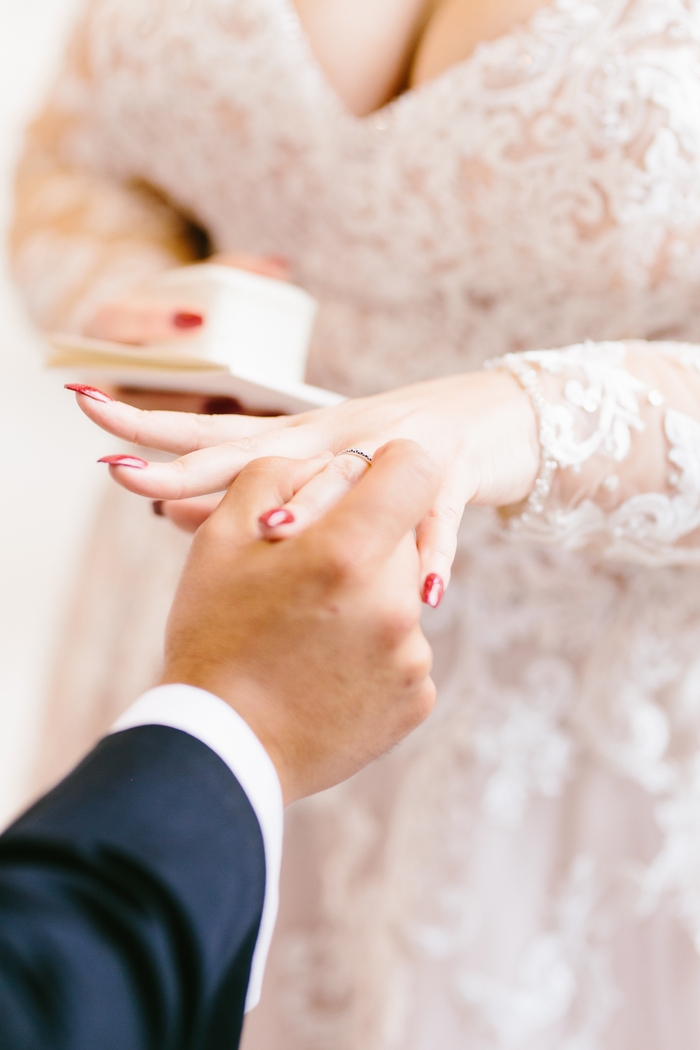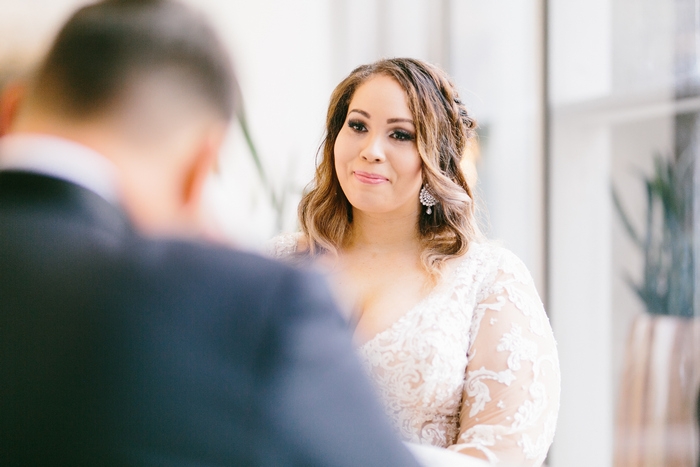 Was it difficult to pare down the guest list? 
Overall, this was relatively easy.  We knew which family members we wanted to invite and our closest friends were easy to identify.  We had more of a challenge with our seating chart, which felt like playing a game of Tetris!  Thankfully Josh is great with spatial arrangement and other logistics!
However, for couples who may have a difficult time paring doing the guest list, consider asking yourselves a few simple questions, for example: "who do I talk to often?  Who have I shared special moments with?  Challenges?  Who have I shared this journey with my fiancé/fiancée with?"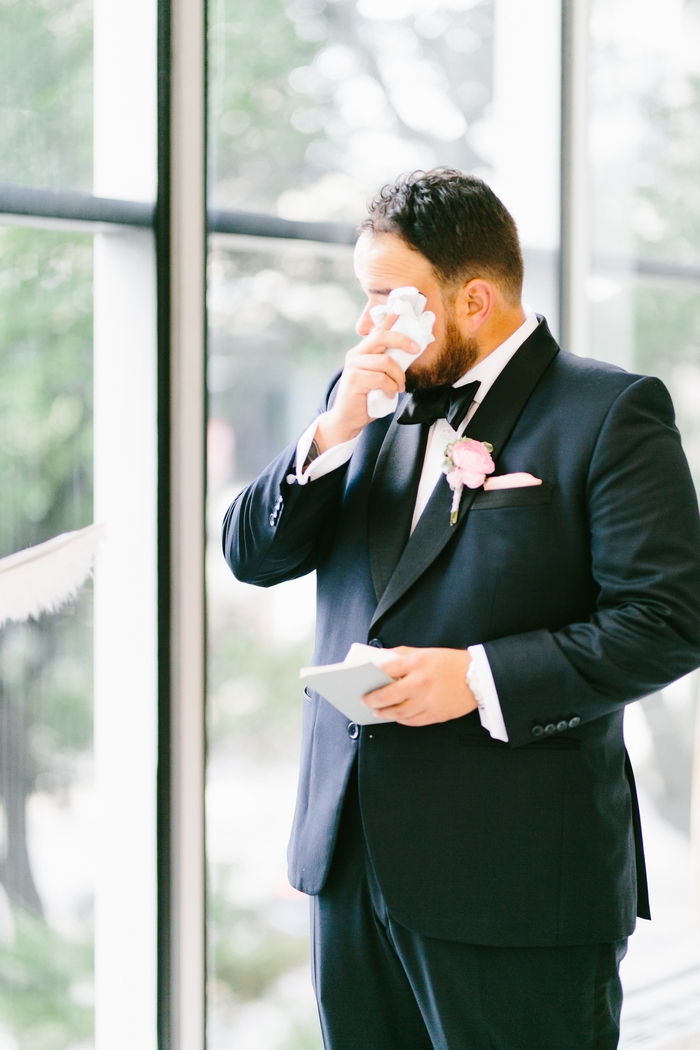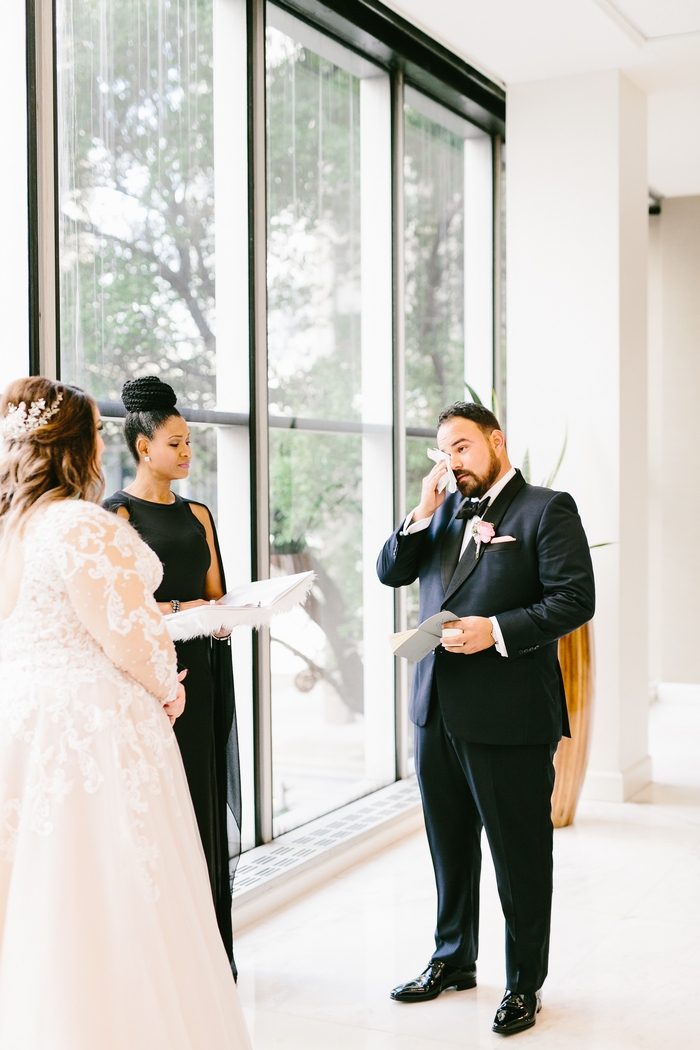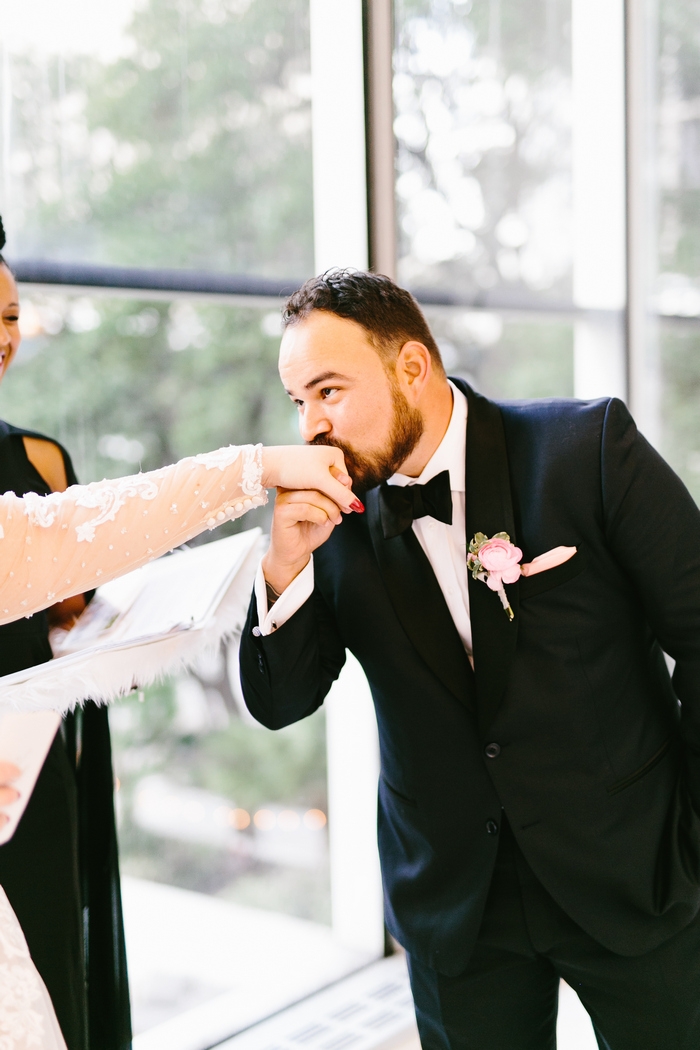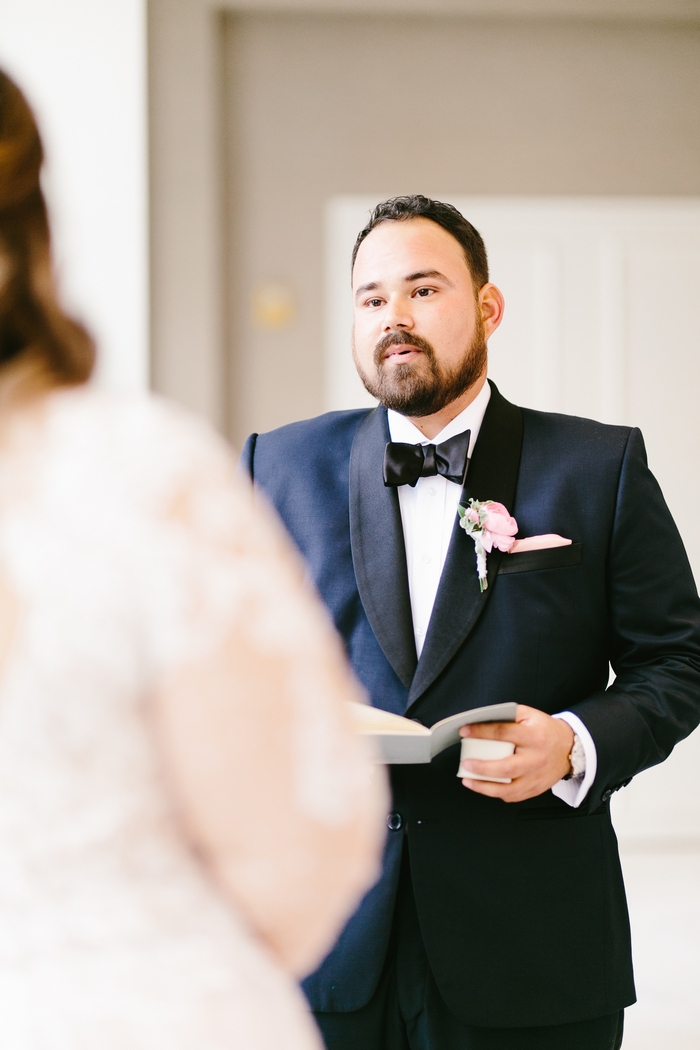 Did you have any 'issues' with the small guest list from friends and family? If so, how did you address them?
We did not have any real issues with the small guest list.  Some guests, however, did not promptly RSVP, or were indecisive regarding their plus ones.  We were able to make some accommodations, but were firm with the deadline.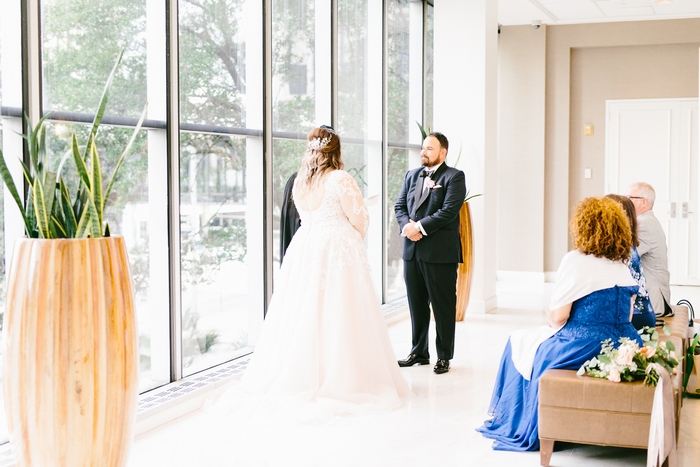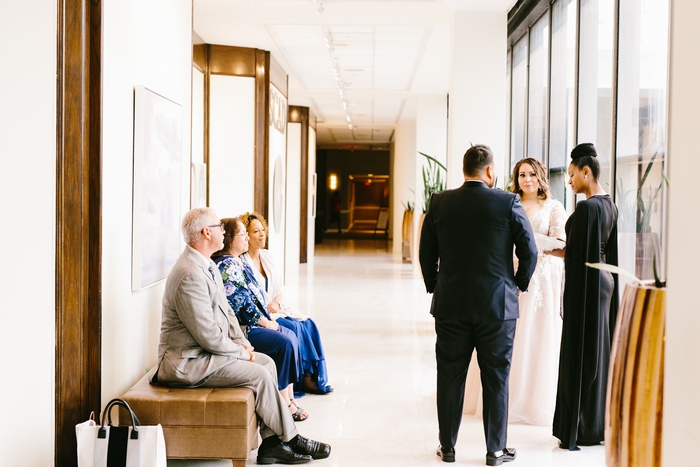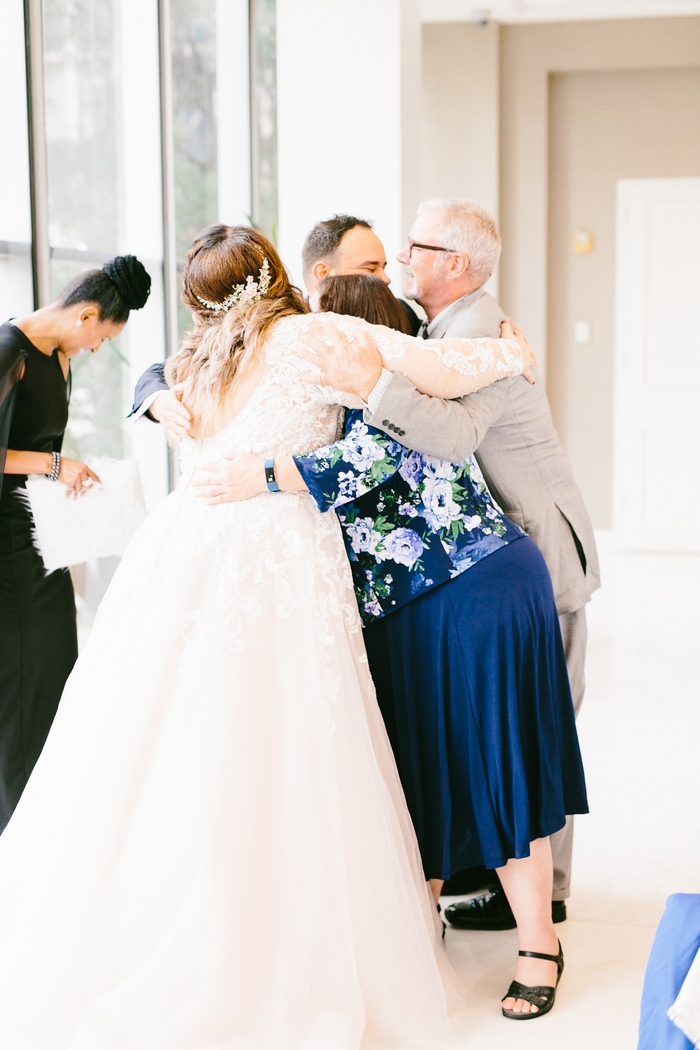 What were the highlights of the ceremony?
MELBA:  Josh and I wrote our own vows.  For me, one of the most significant moments was listening to the vows Josh wrote for me.  I could tell that he had taken so much time to write something meaningful and heartfelt.  Having an intimate wedding ceremony with just our parents made both of us feel even more comfortable expressing our feelings and the excitement we felt embarking on this journey together.  Even the creative process of writing our own vows was truly romantic:  reminiscing about our first date, spontaneous trips, and finding ways to incorporate some of his favorite things into my vows, like basketball.  Watching Josh's expressions and reactions to my vows during the ceremony really meant so much.
JOSH: Reading our vows to each other was the most special and emotional moment for me.  We both took a lot of time and effort in writing our own vows and it was very emotional to finally get to share our promises.  Listening to the jokes Melly incorporated into her vows made me smile through the tears.  Watching Melly walk down the aisle was a close second.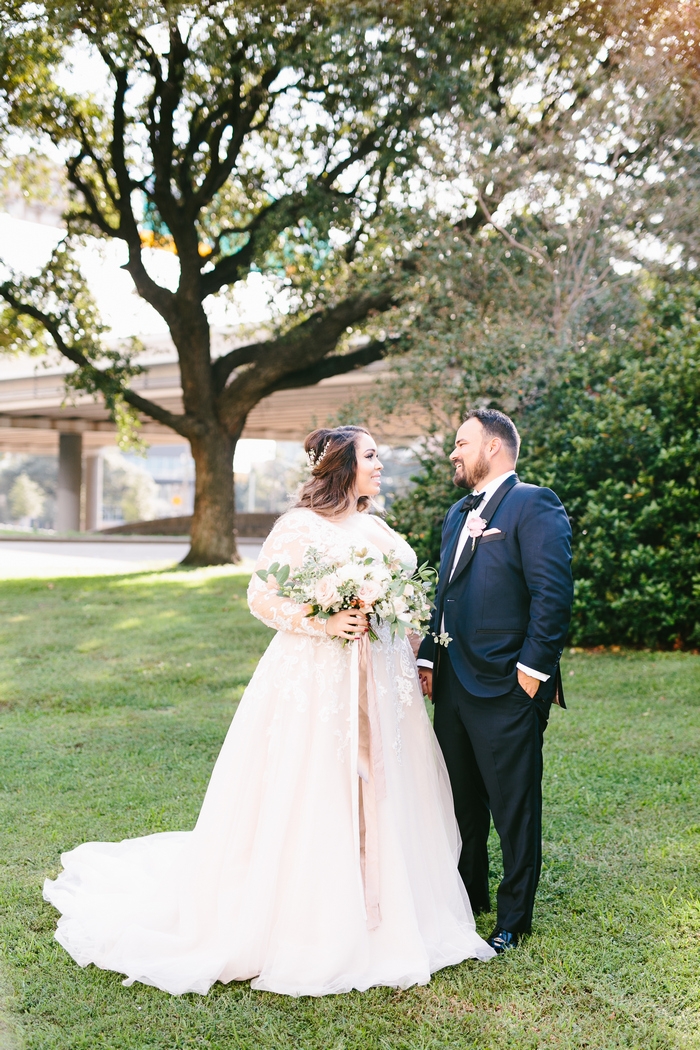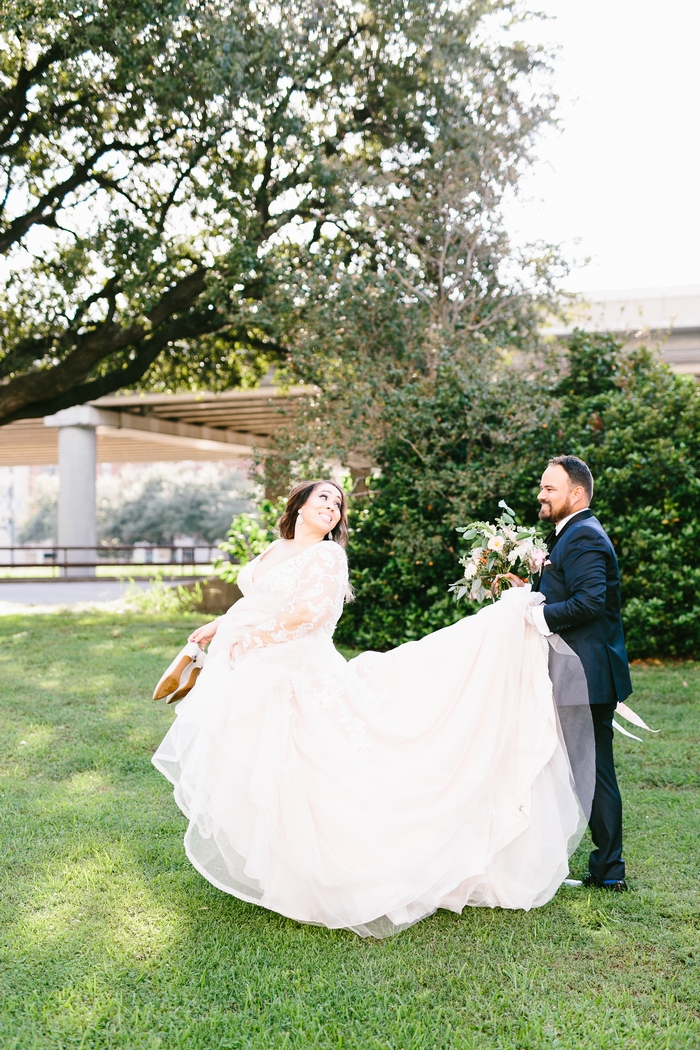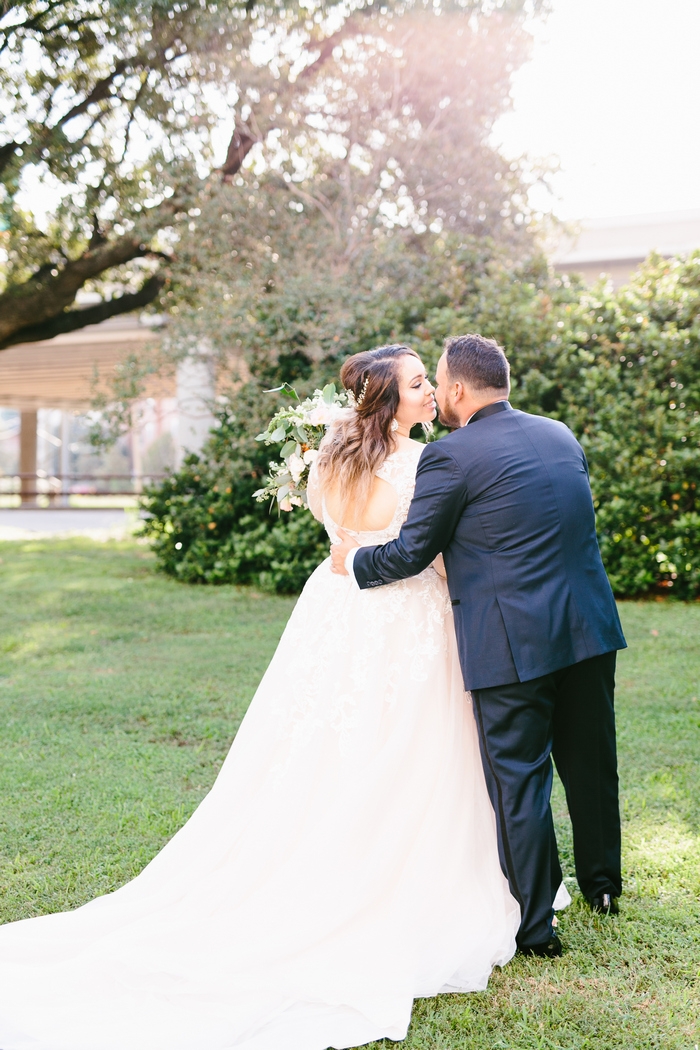 What were the highlights of the reception?
MELBA:  Honestly, there were so many special moments. And while I adored Josh's toast and my mother's speech (dedicated to Josh because she absolutely adores him!), I was most proud of our chocolate chip cookies and milk bar!  I was inspired to incorporate it into our wedding because Josh's favorite dessert is chocolate chip cookies!  During the planning process we sampled so many cookies from different bakeries, but our baker made the best ones!  It was so important to me to make sure that our wedding had something unique for Josh, and to see him so happy made it worth it.
JOSH: I really enjoyed listening to the speech Melly's mother wrote for me.  It was very thoughtful and we all had a good laugh at Melly's expense!  I also enjoyed listening to Melly's toast and exchanging our wedding gifts.  It was also nice to see all of our friends and family interact and get to know each other.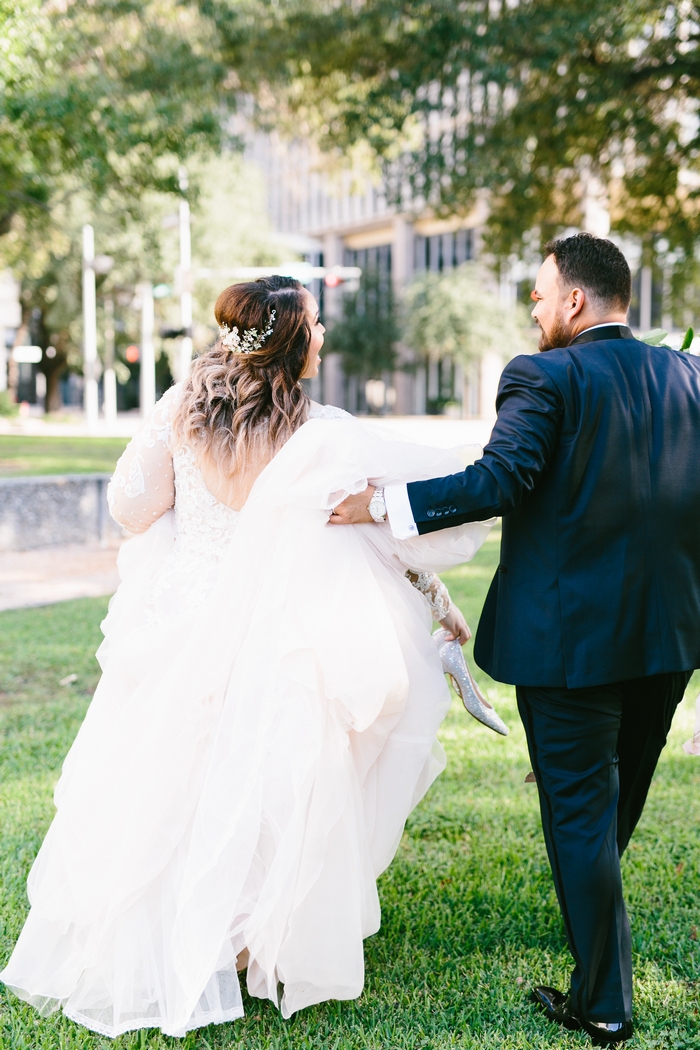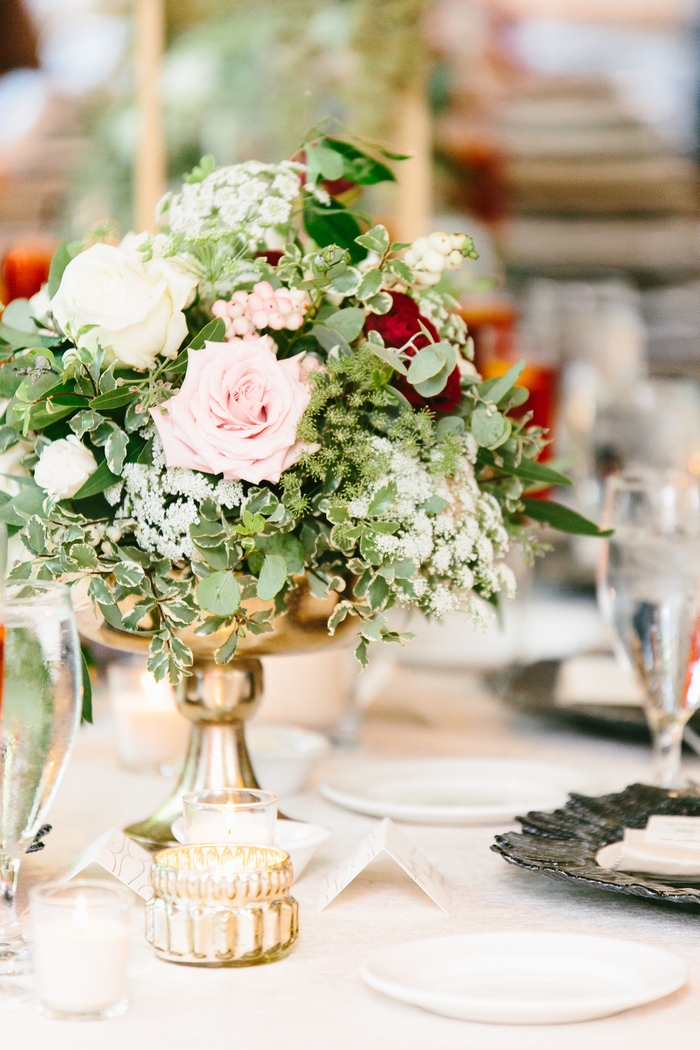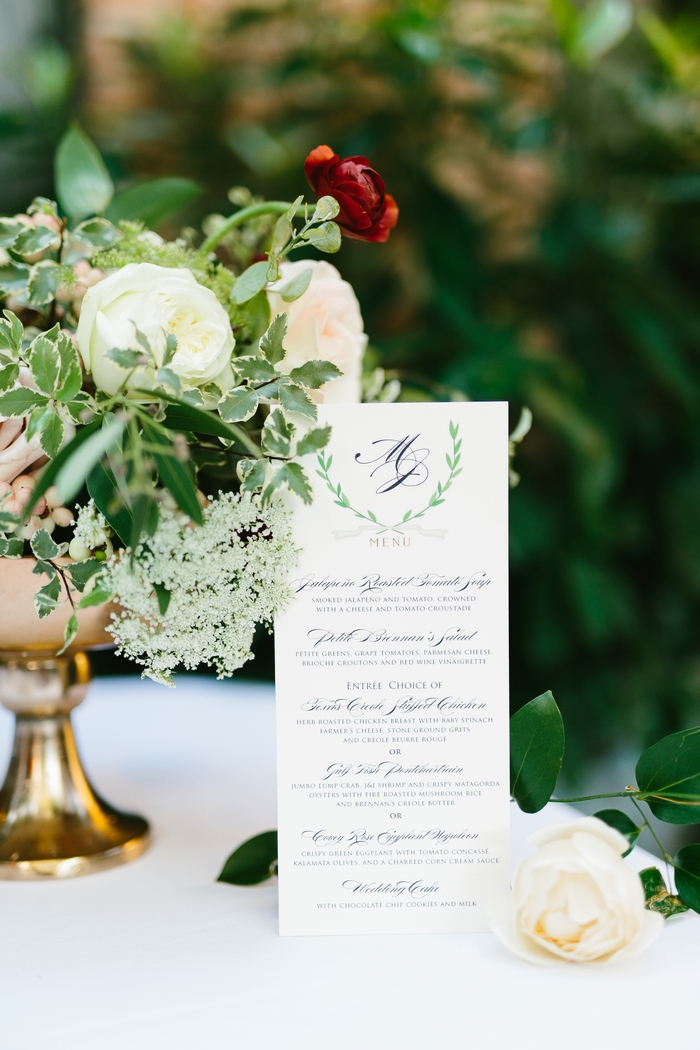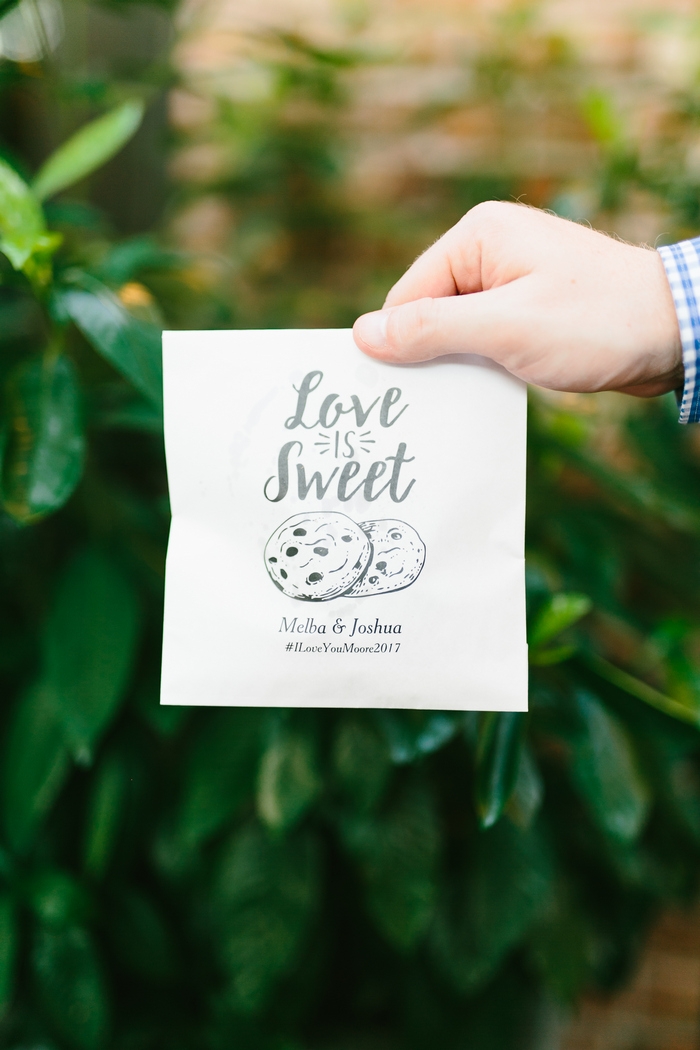 What was the best thing about having an intimate wedding?
It was liberating!  We did not feel compelled to conform to tradition.  With an intimate wedding you have more creative latitude to truly make the occasion something distinctive.  The resounding consensus from our guests was that this was the "best wedding" they had attended precisely because of the intimate setting.  Our guests included people who have known us for years, or in some cases, our entire lives, and were excited to meet and engage with new friends.  We wanted to structure the layout of the room in a way that would facilitate conversation as most of our guests did not know everyone attending.  The table was setup banquet style, and we arranged our seating chart so that each guest was seated next to or across from someone they did not know.  Shortly after introductions the room was brimming with conversation and laughter!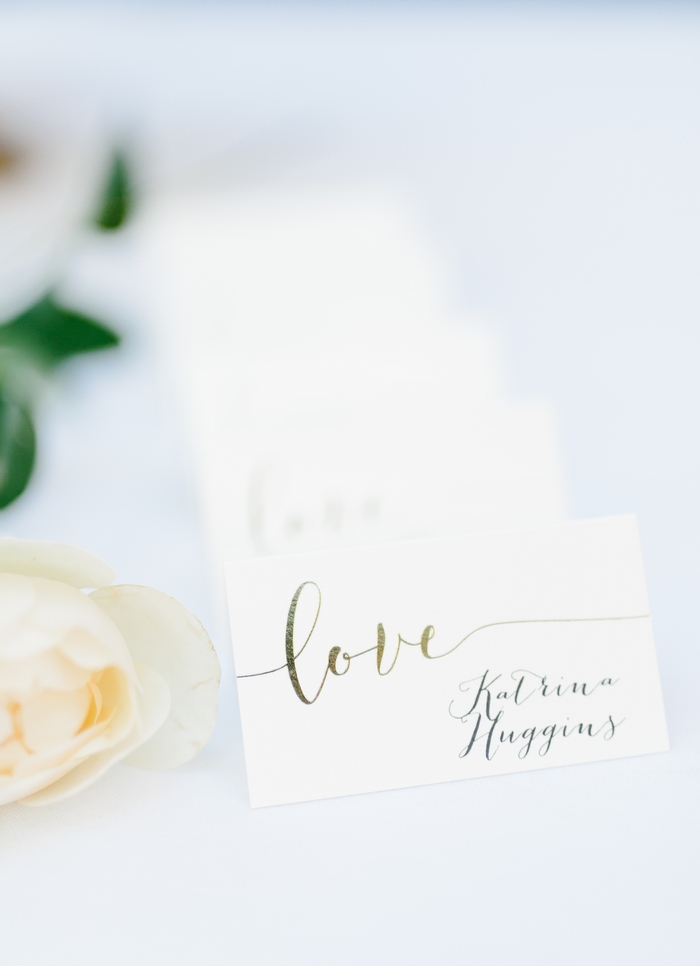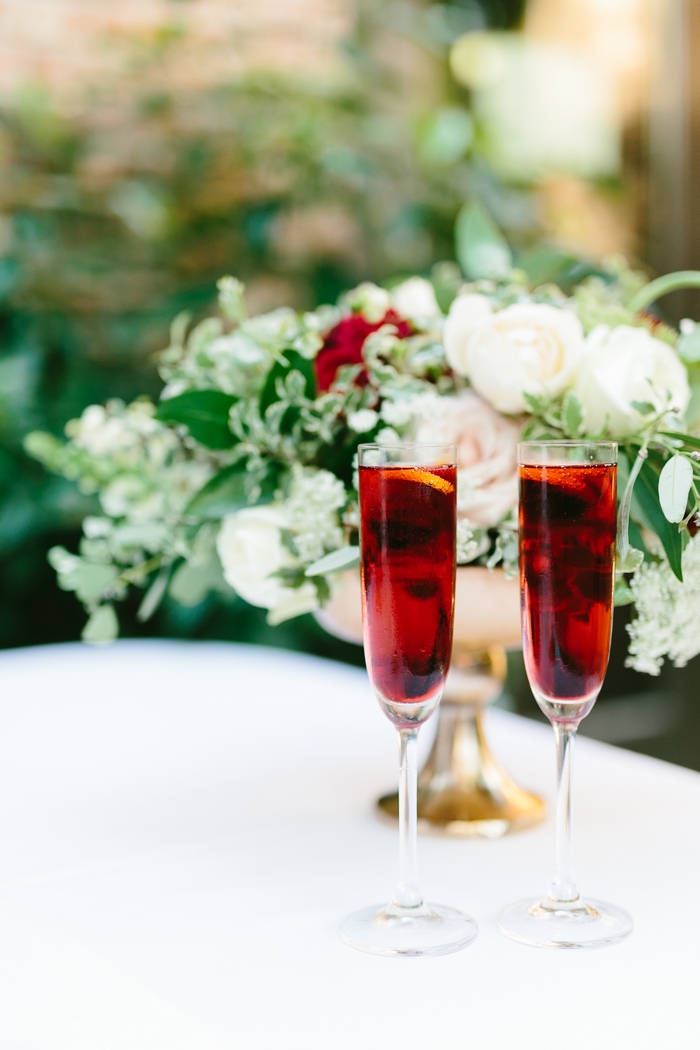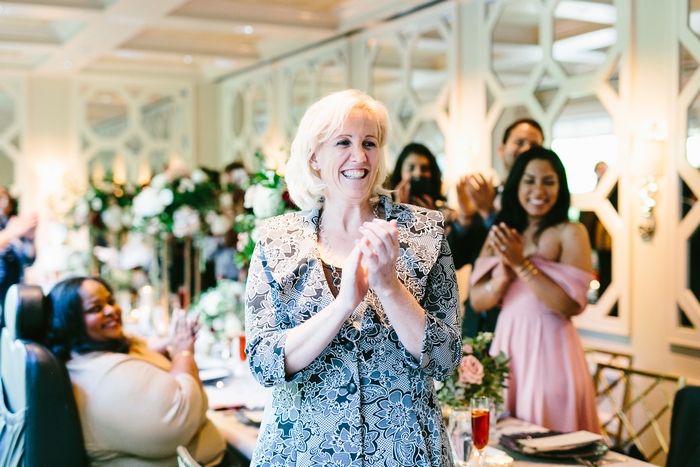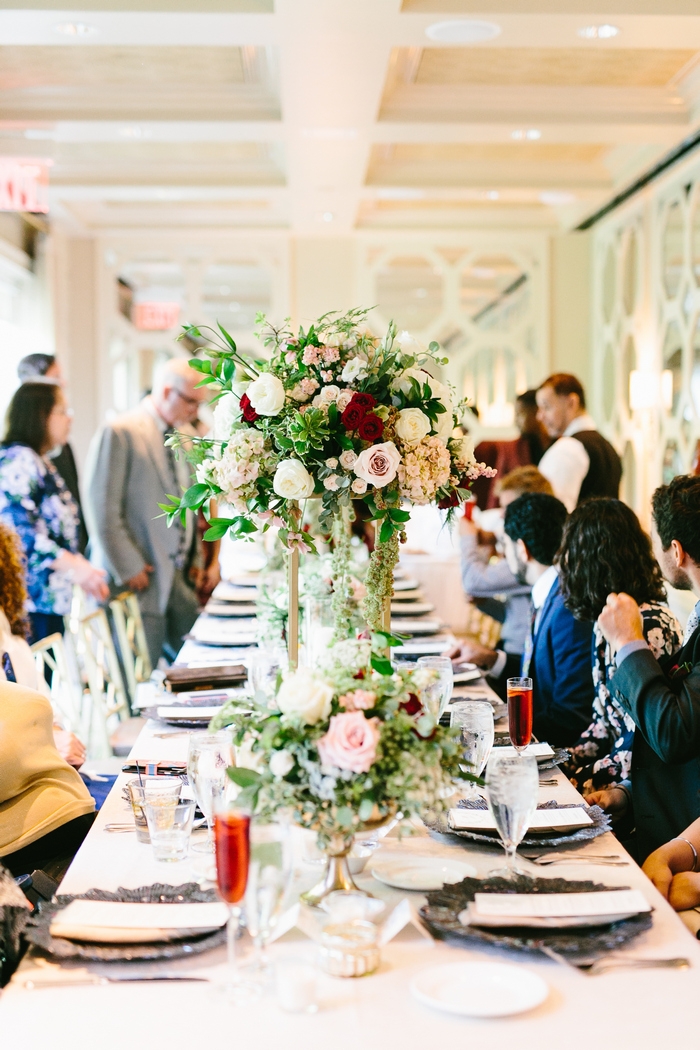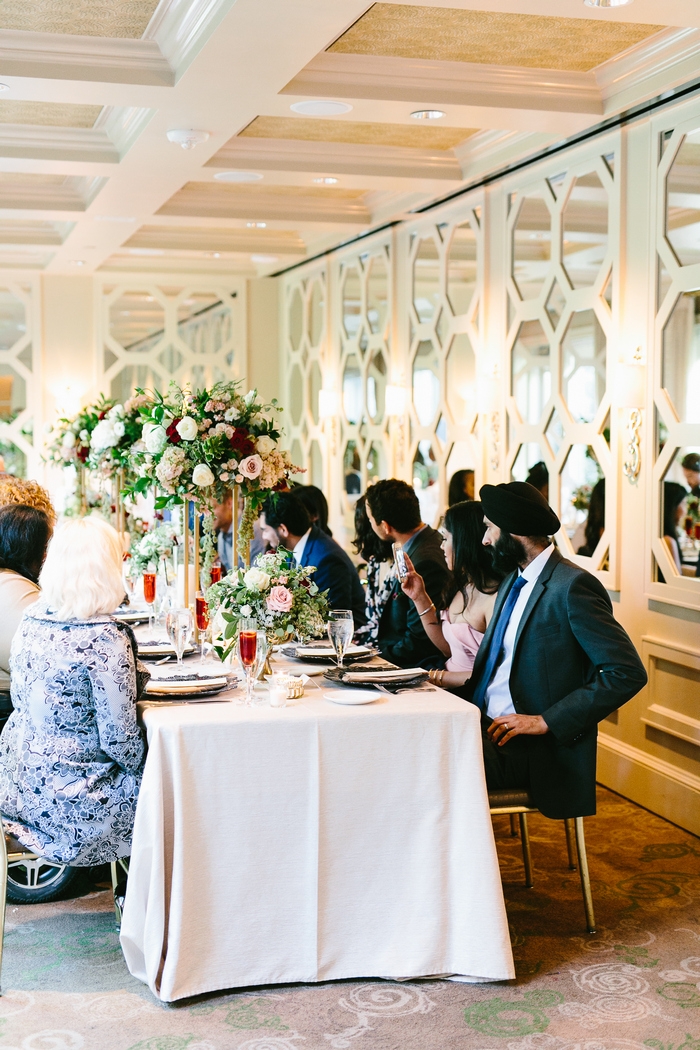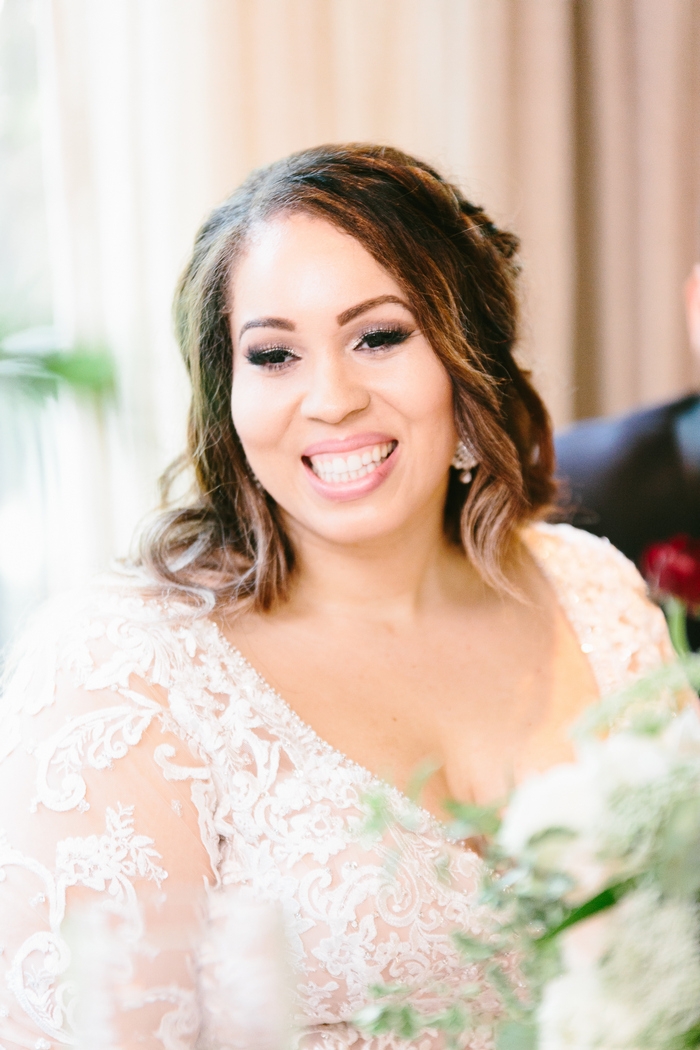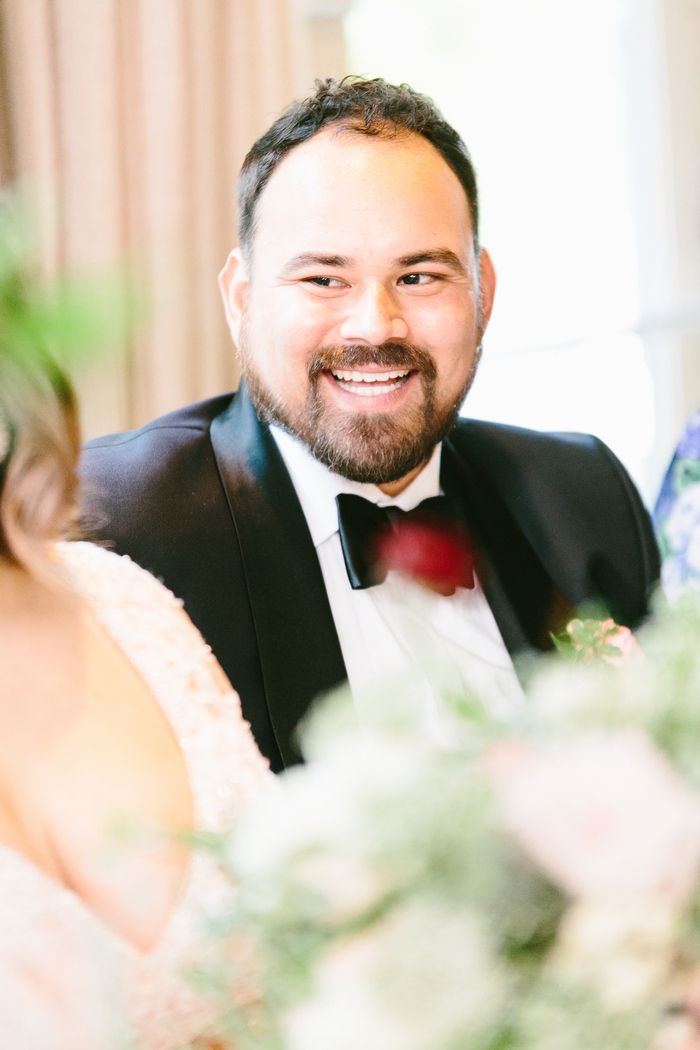 What advice do you have for couples who are considering an intimate wedding?
Here are our top 5 tips:
Think of a wedding theme and color palette and try to stick with it. This will help you streamline your planning and stay true to your vision.  We knew early on that navy, ballet pink, and gold would be our colors, which perfectly completed our theme.
Consider having a wedding dinner instead of a reception! We absolutely loved hosting a wedding dinner.  We wanted an ethereal, fairytale aesthetic, so that meant lots of natural light and soft colors, and finding a restaurant that captured that vision.  We wanted our dinner to be formal, so Brennan's was the perfect choice.  Brennan's is known for their incredible meals as well as their hand crafted drinks, so we were still able to offer our guests a signature drink: a kir royale during the cocktail reception, and wine with their meals without having to think about hosting a full bar.  Having a wedding dinner also eliminates a lot of other wedding costs and potential headaches, like hiring a caterer, bartender, band, etc.  Everyone can go out later to dance the night away!
Splurge on the items/vendors that are most important to you! For us, having an incredible photographer and florist was essential to our vision, and with Smithhouse Weddings and LBJ Floral we definitely accomplished this!  While our private dining room was already very elegant, we wanted to dress it up a bit more with linens, tall floral centerpieces, and other details.
Don't be afraid to break tradition! For instance, Josh and I liked the idea of a guestbook, but we did not want a traditional guestbook.  Instead, we wanted something with utility, which could become a part of our household.  So, we had a portrait drawn and asked our guests to sign the matting.  It is beautiful and currently hanging in our dining room!
Attend wedding events and don't be afraid to tell vendors you are having an intimate wedding! Many bridal boutiques and wedding planners host trunk shows and other events at their establishments, and this is a great way to meet vendors in person.  You can also get invaluable wedding advice and even win a few goodies!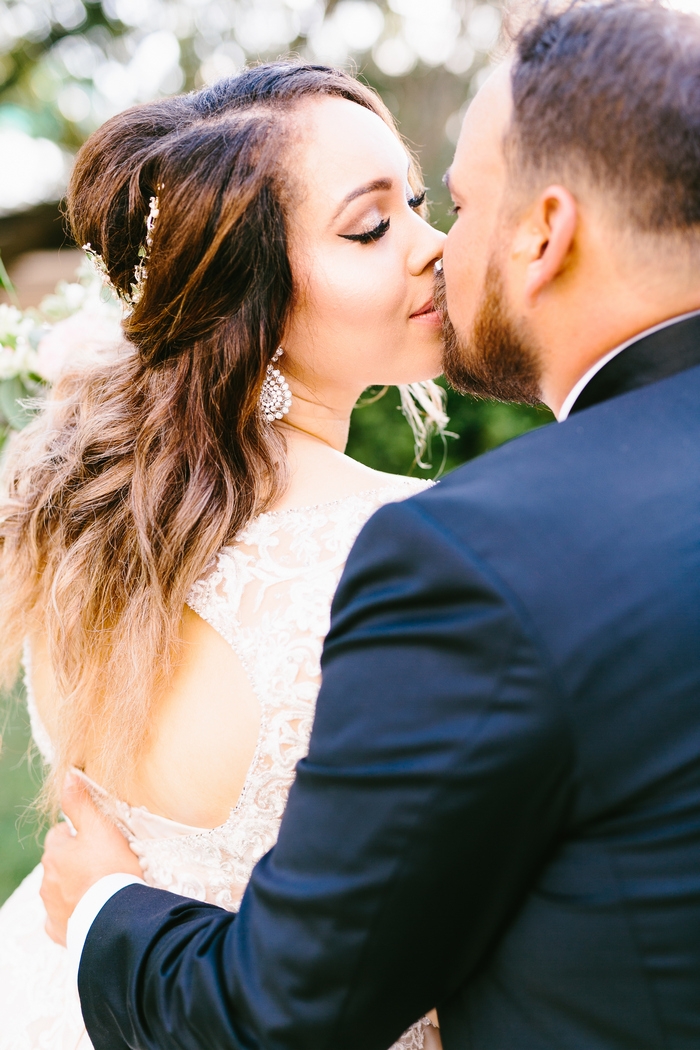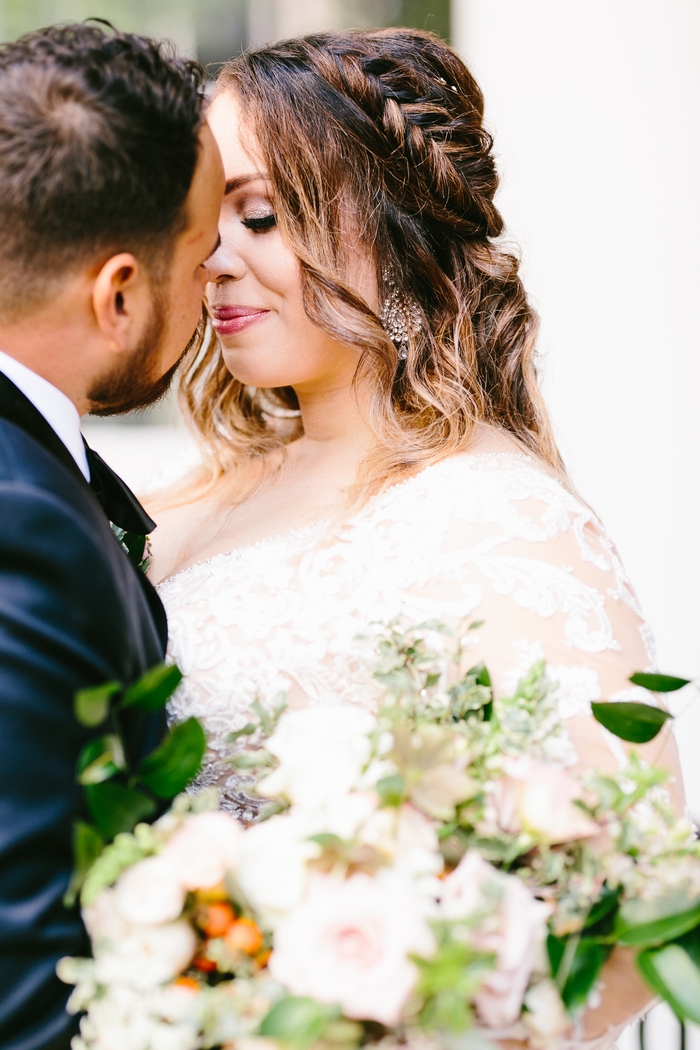 Vendors: 
Photographer: Smith House Weddings
Florist: Lanson B Jones Floral
Bride's Dress: Mori Lee
Cake: Whisk Bakery
Hair and Make-up: Adorne Artistry
Linens: House of Hough
Groom's Tux: Limatus Bespoke
Officiant:  Kimberly Handly
Wedding welcome sign, gift bags, and portrait: Etsy
Custom mason jars, personalized stamps, and cookie bags: Zazzle
Cake serve ware: bhldn