Melissa and Dan chose to have an intimate wedding with only their immediate families in Asheville, North Carolina. The wedding was highly personalized, with every detail infused with meaning – from the wedding dress, to the pearls around Melissa's neck.
Here's what photographer Leslie West had to say about the wedding:
"It rained the entire day which worried everyone, since there was no indoor back-up plan. But as soon as Melissa walked out the door to meet Dan, it immediately stop raining and a beautiful mist moved over their ceremony site. Melissa walked towards her groom to the bluegrass music of Thomas Cassell. The ceremony began with a reading that quoted Johnny Cash. It was a letter Johnny had written about June Carter on her 65th birthday. After the ceremony, everyone met on the front porch of the house and sat down to dinner together. The table was beautifully decorated with greenery and candles."
Kudos to Leslie West Photography for capturing this little wedding in the woods so wonderfully!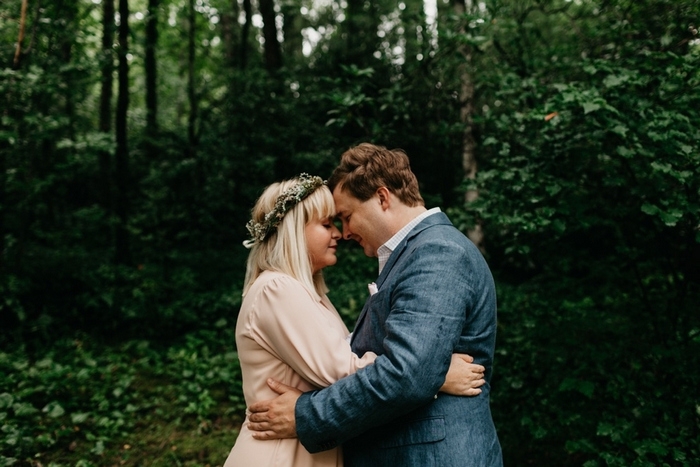 Melissa, 30 & Dan, 35
Location: Hendersonville, NC
Wedding Date: July 15, 2017
Number of Guests: 10
Wedding Cost: $10,000
Wedding Ceremony Location: Little Willow Falls
Wedding Reception Location: Little Willow Falls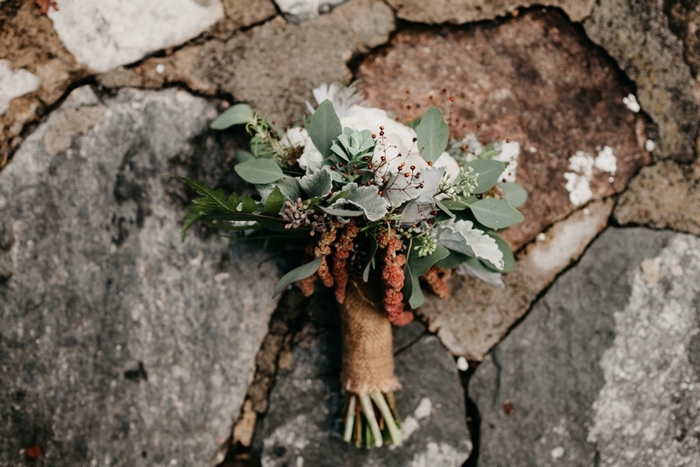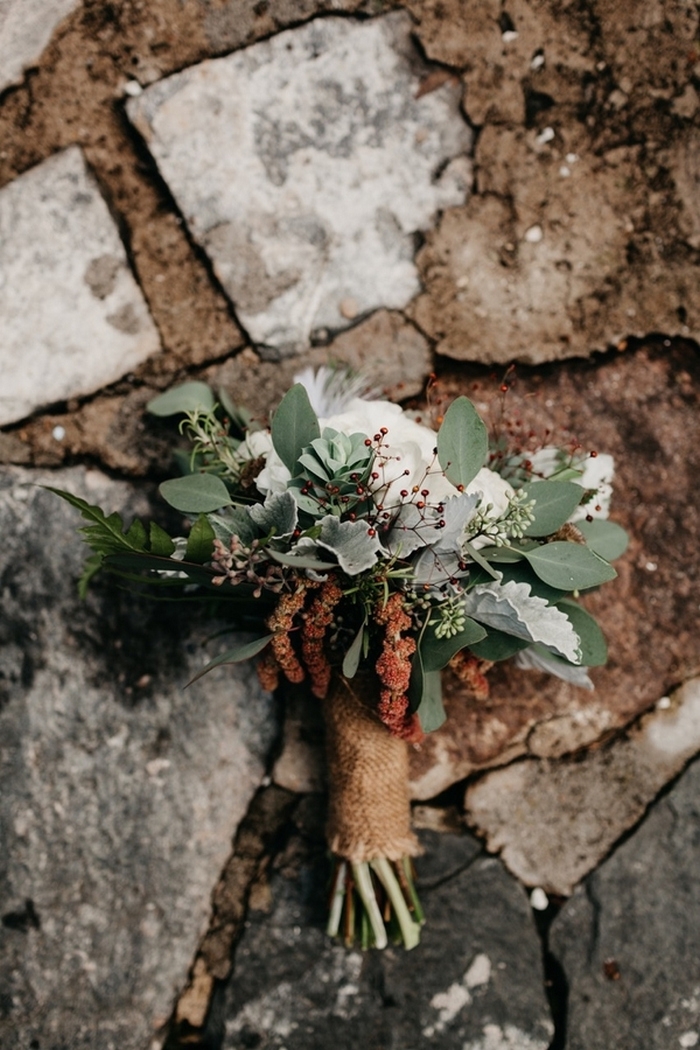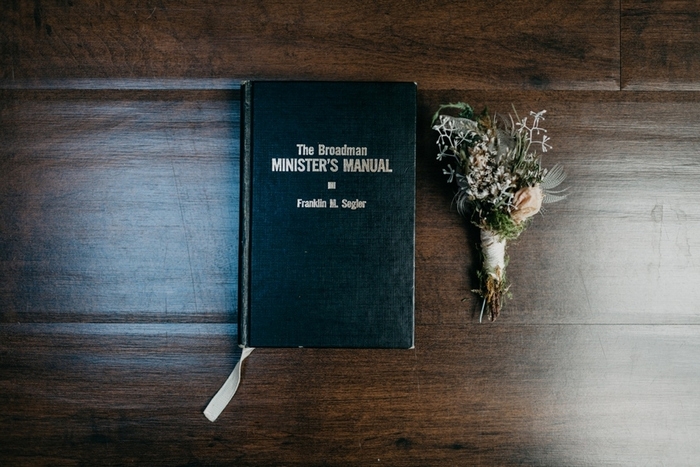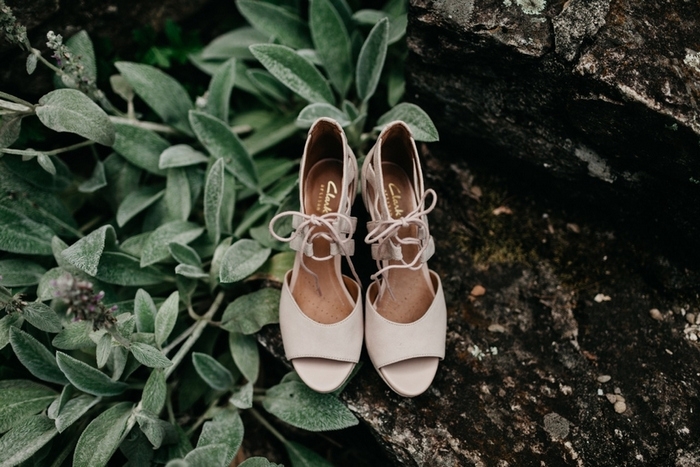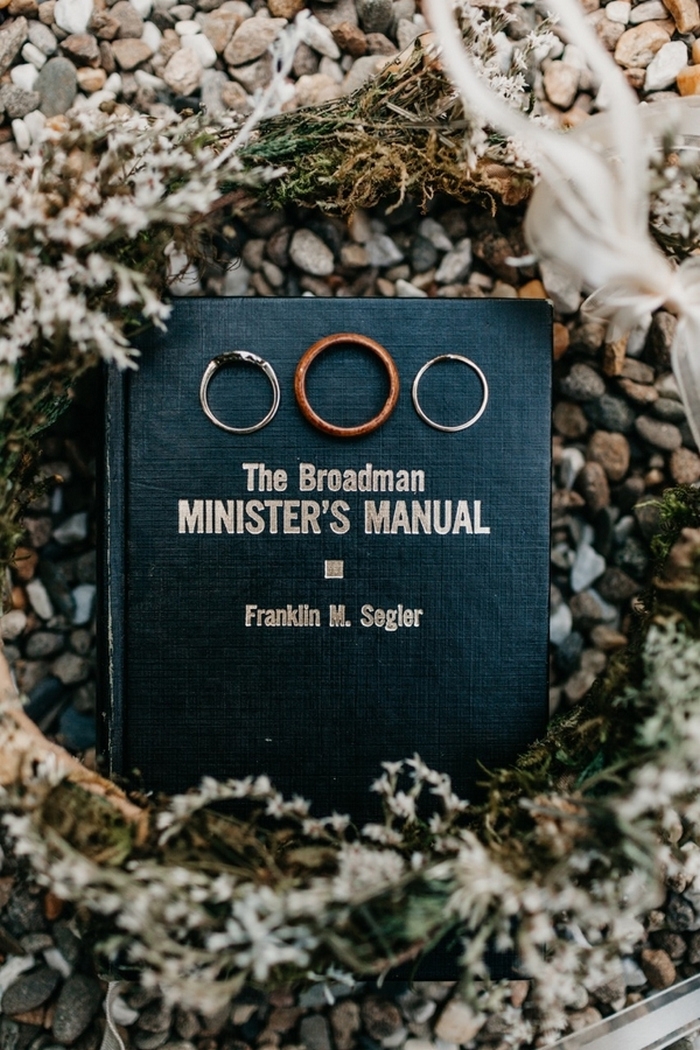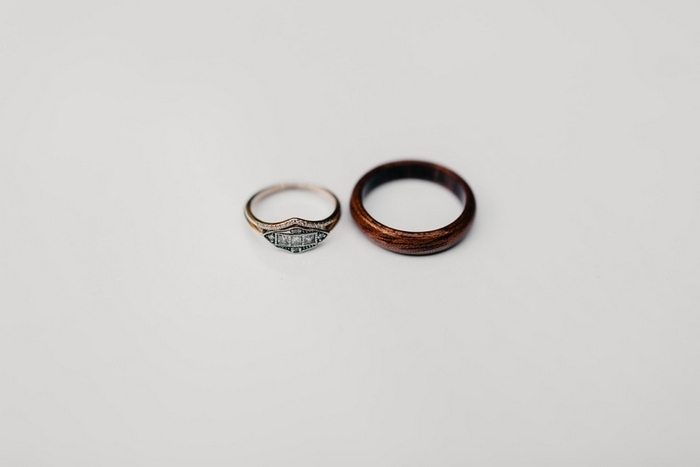 Why did you have an intimate wedding?
Since we are both outgoing, we've accumulated a very eclectic mix of close friends from childhood, college, and adult life.  If we invited everyone who mattered to us, it would have easily been 250 attendees (our casual BBQ reception a month later was)!  Despite this, we are very private about the details of our relationship.  We wanted our wedding day to be about our vows—not entertaining so many friends and family.  To do this, we only invited our immediate family to the ceremony.  We rented the two small cottages at Little Willow Falls for a long weekend (Thursday-Sunday) for our families to relax, enjoy each other, and really be a close part of our most important day.  I am so happy that we did this.  There were plenty of cheerful, welcomed tears and lots of laughing while lounging around in PJs sipping coffee and wine amongst a beautiful, lush landscape.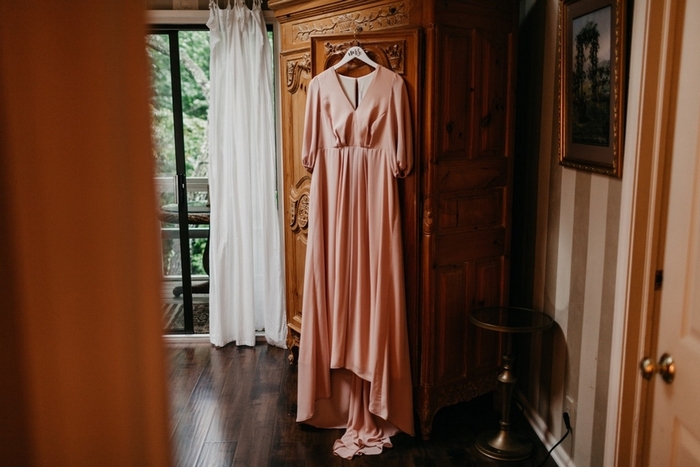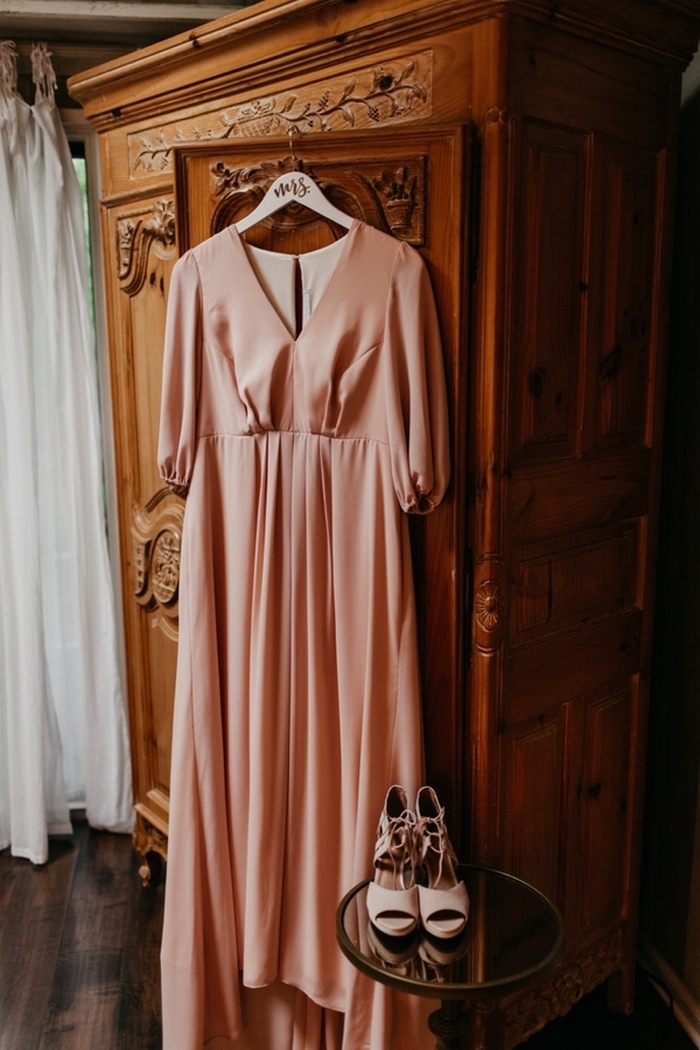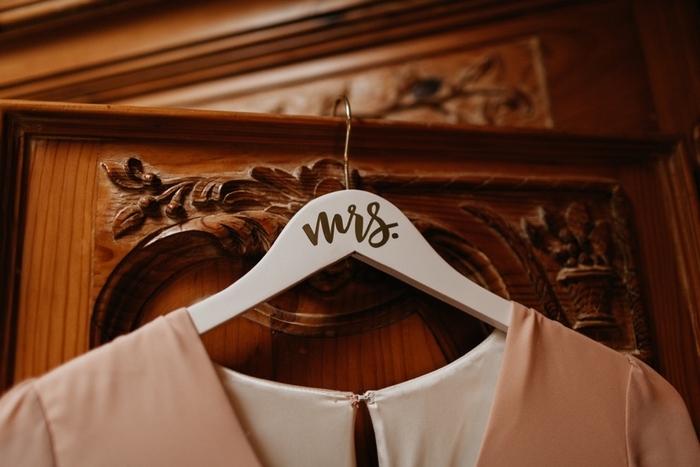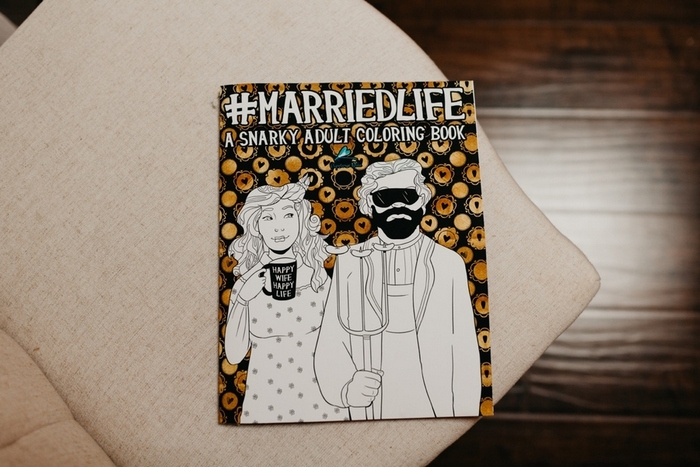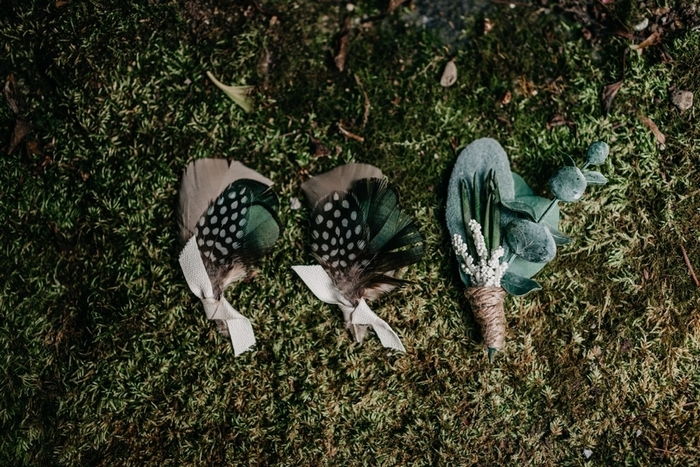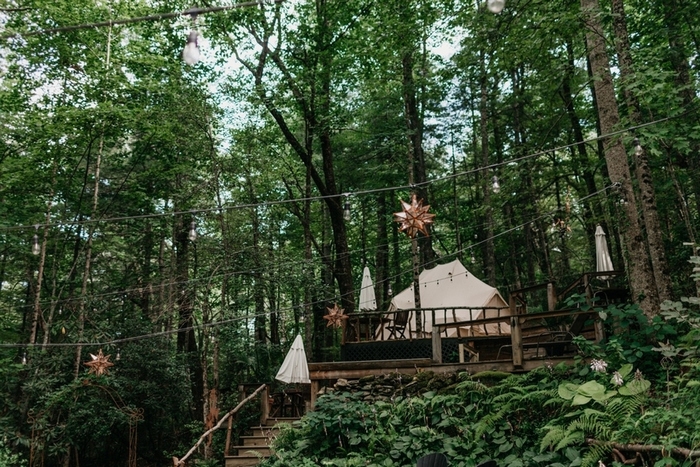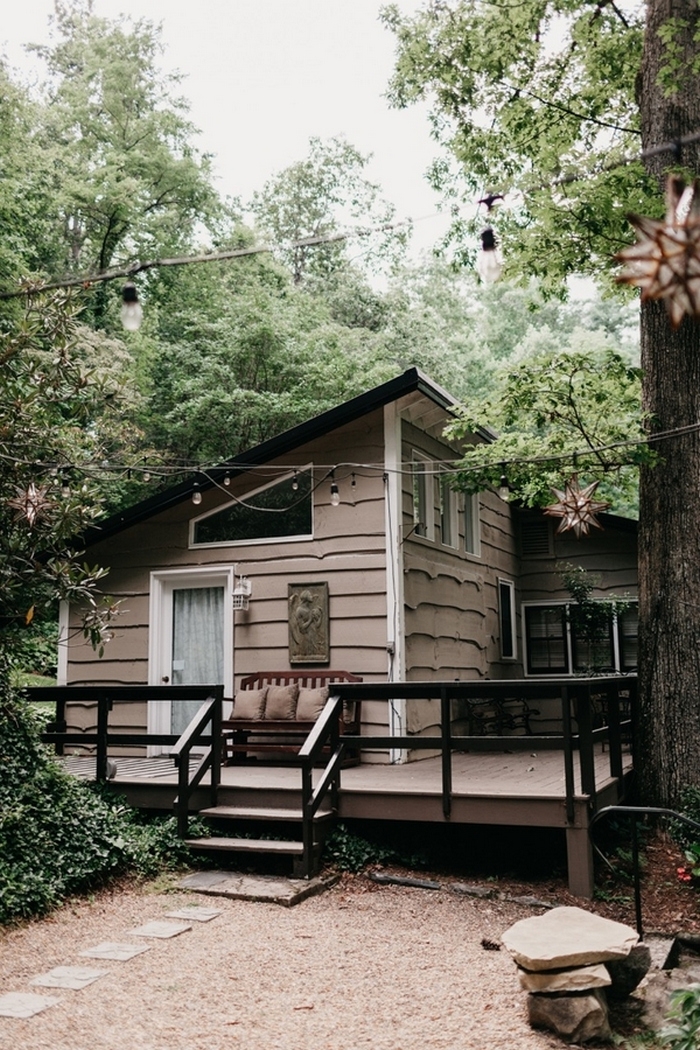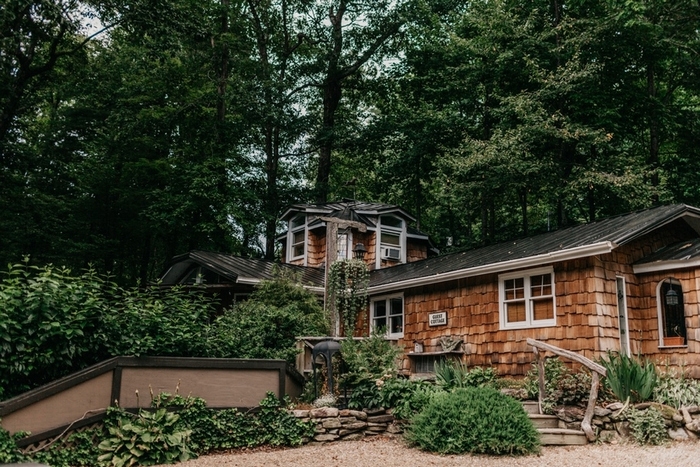 What are some the challenges that you faced planning an intimate wedding?
Our families are very large and very Southern.  We knew that having an intimate wedding ceremony meant we would need a reception for that extended family sometime after.  That was truly our only challenge.  If we hadn't hosted a BBQ reception a month later, we would have had a lot of upset family and friends.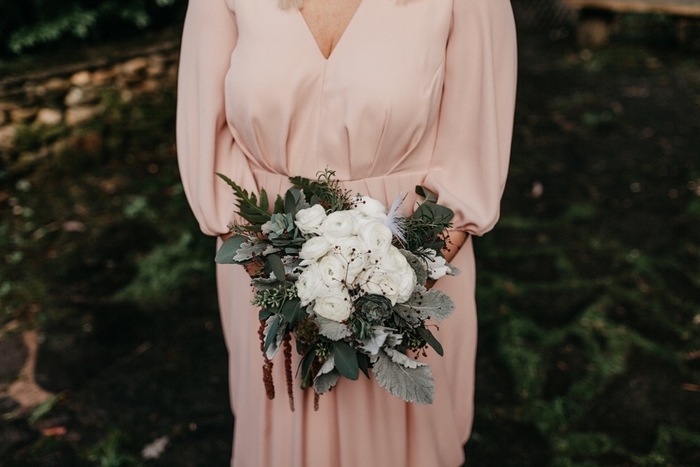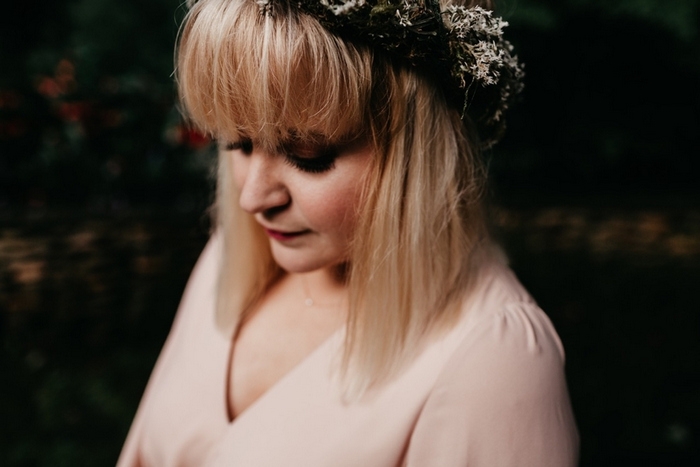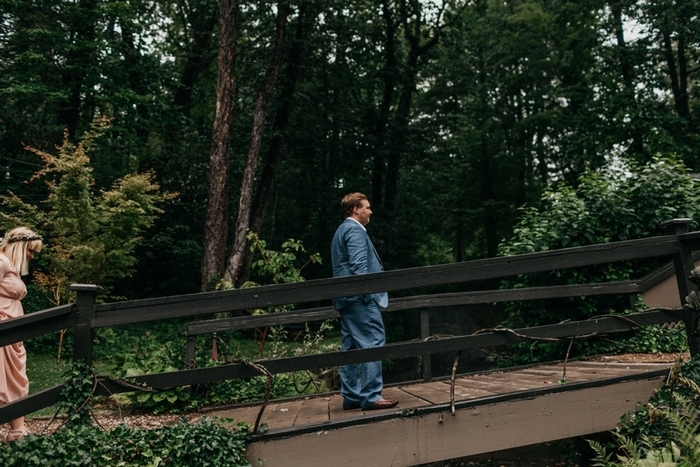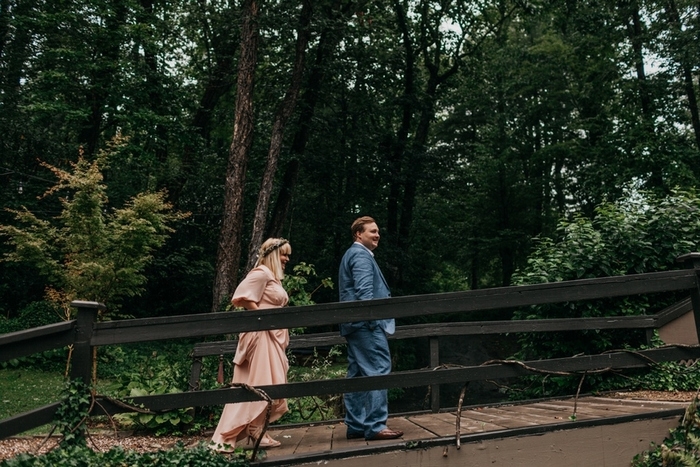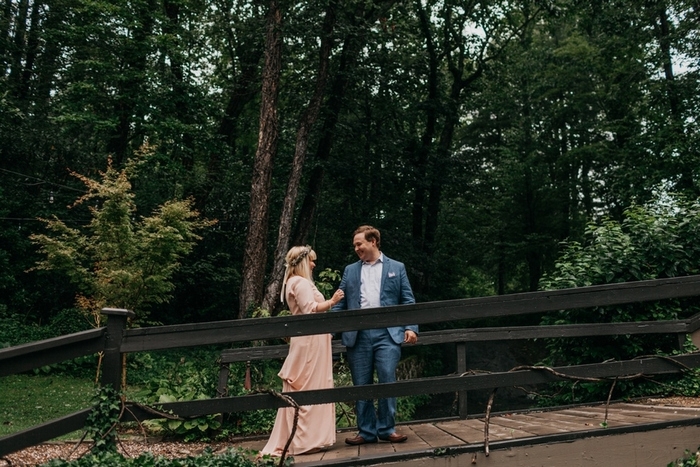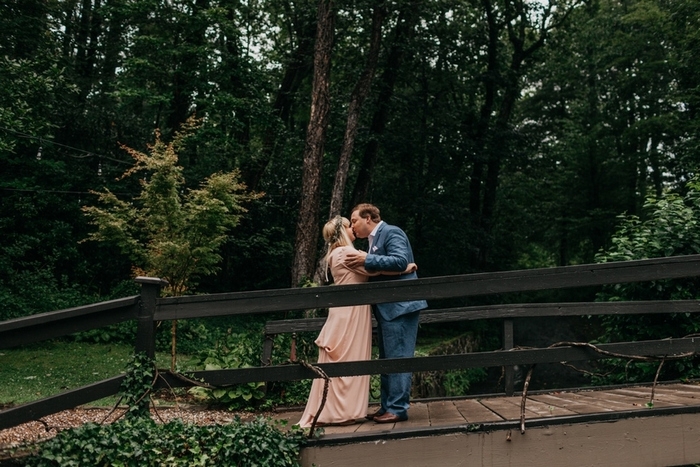 Was it difficult to pare down the guest list?
It was—that's why we kept it only immediate family.  Even extending the list to aunts, uncles, and first cousins would have increased it to 75.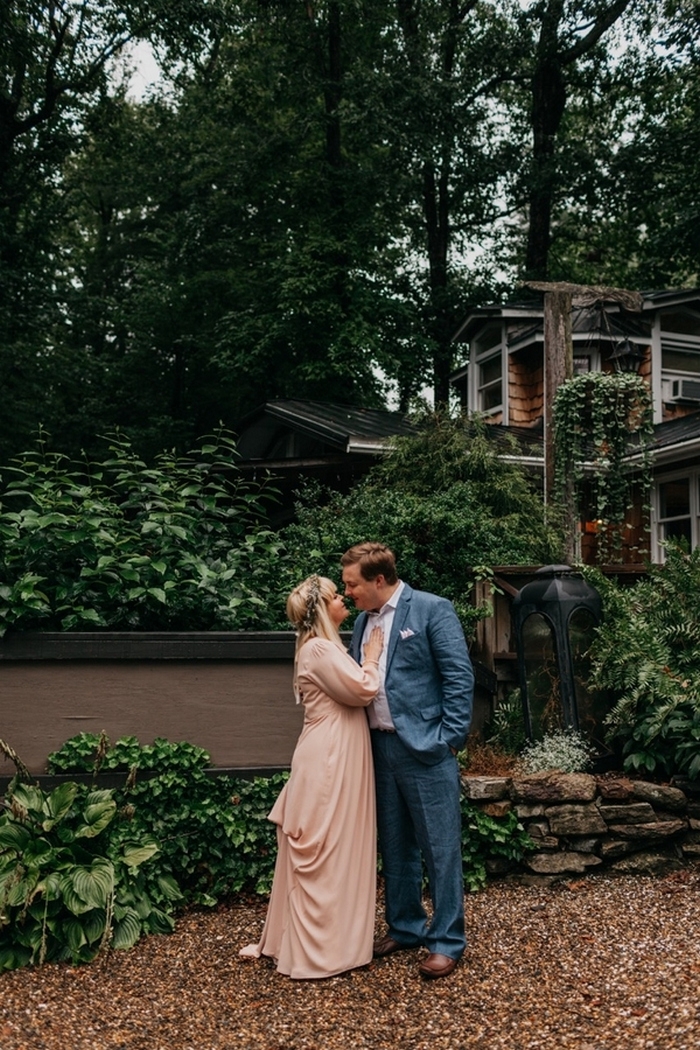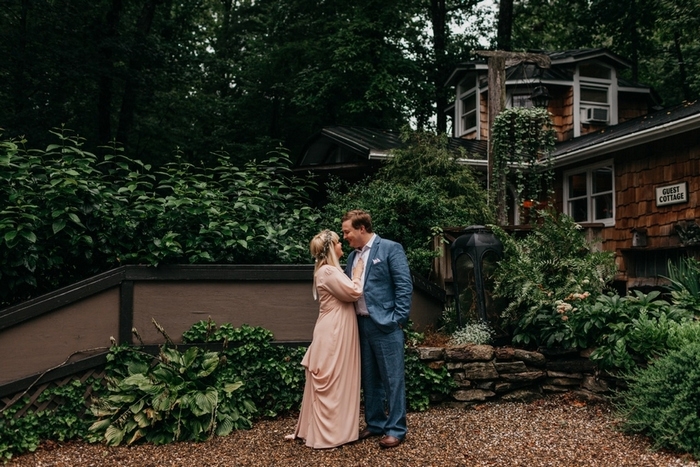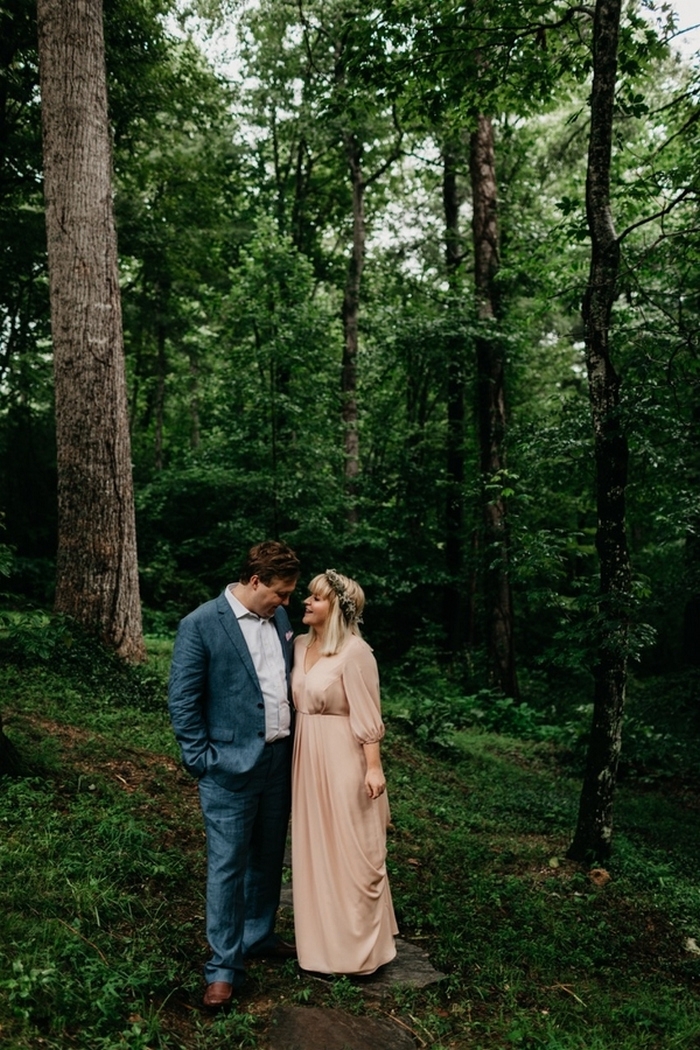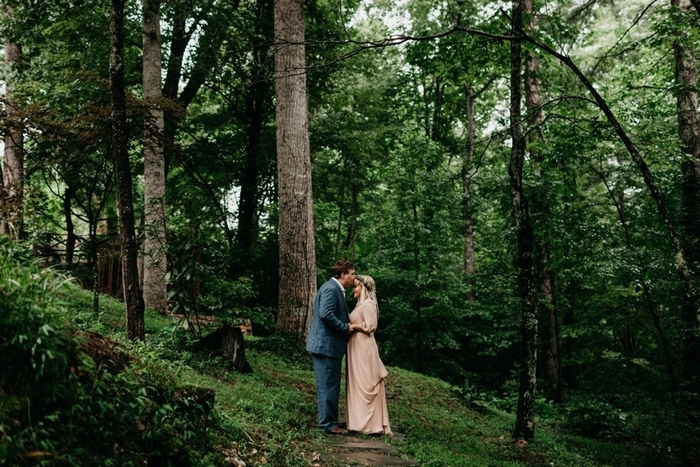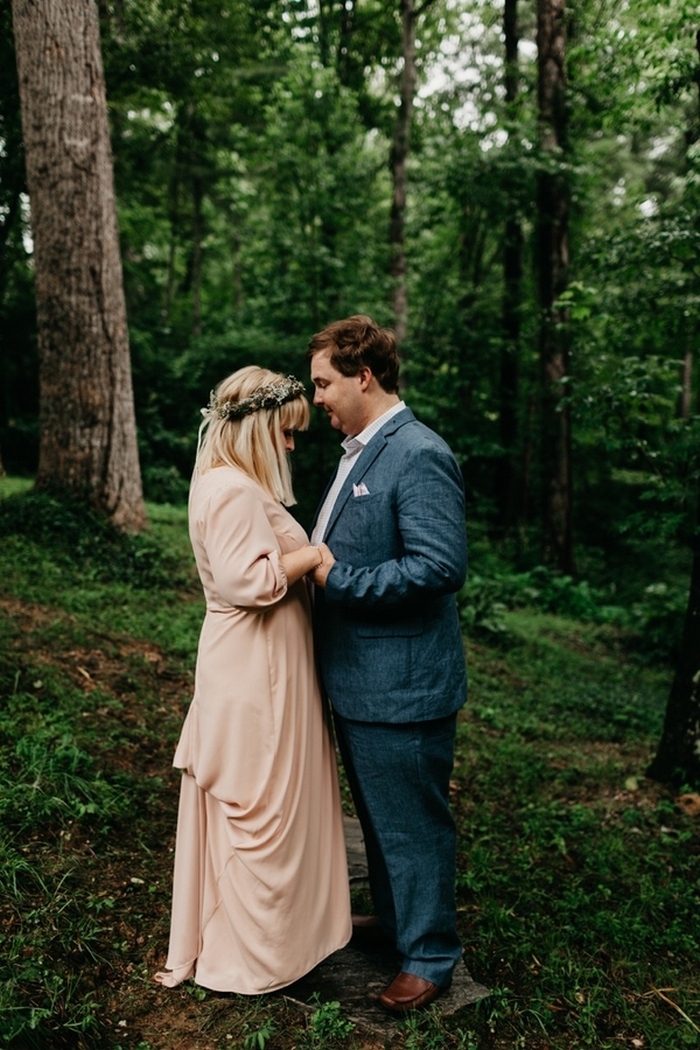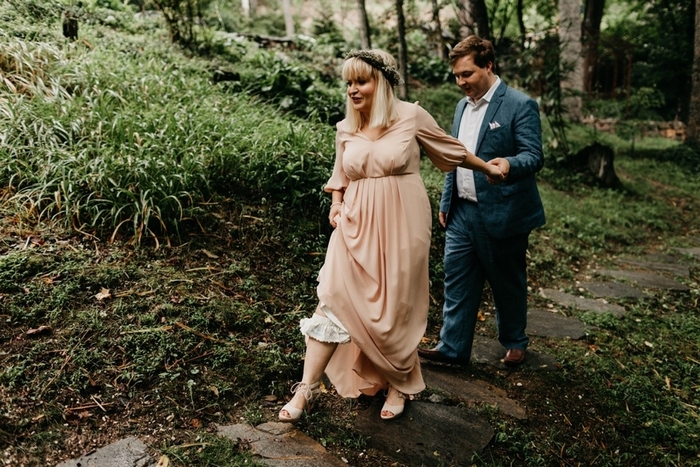 Did you have any 'issues' with the small guest list from friends and family? If so, how did you address them?
My last two answers kind of address this.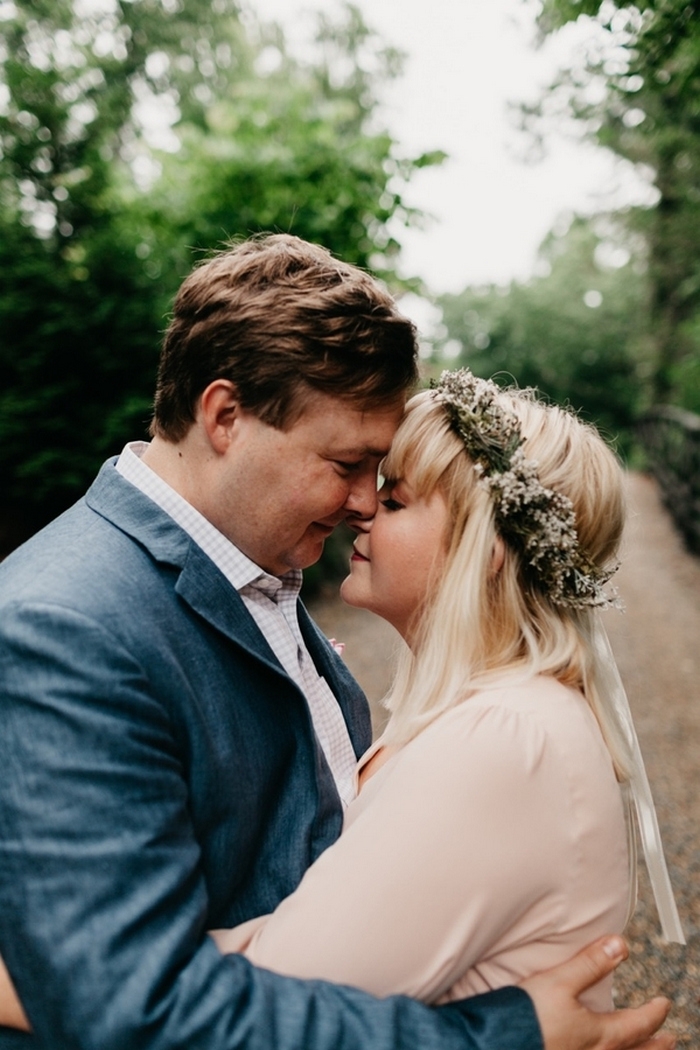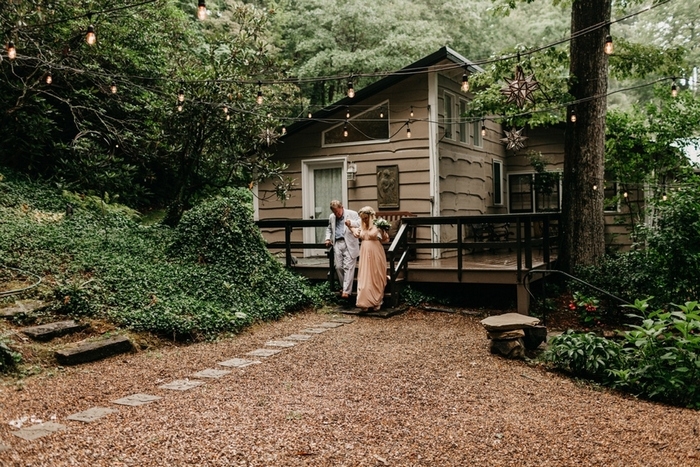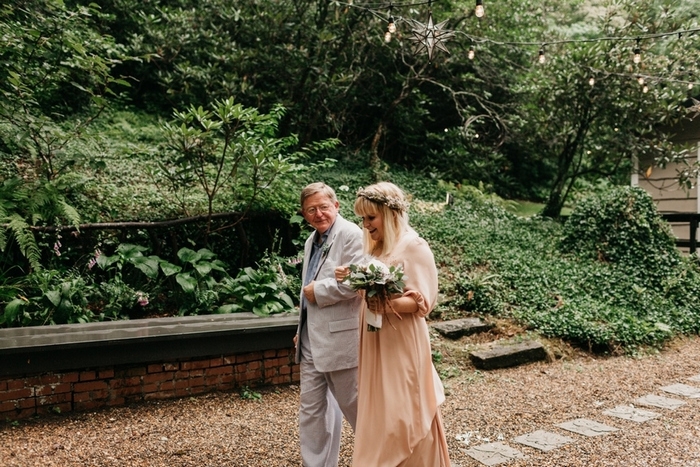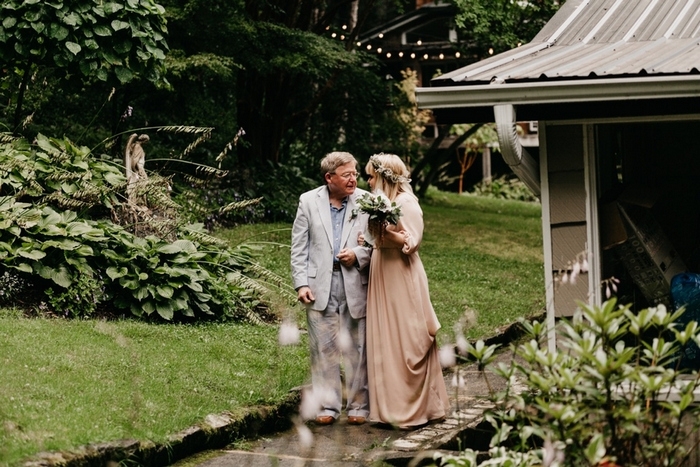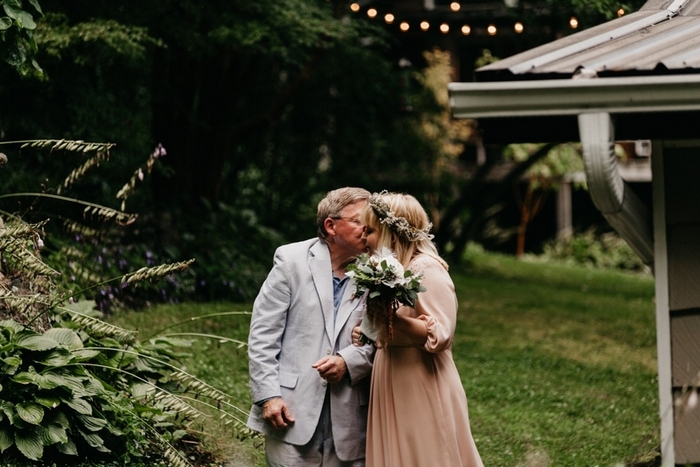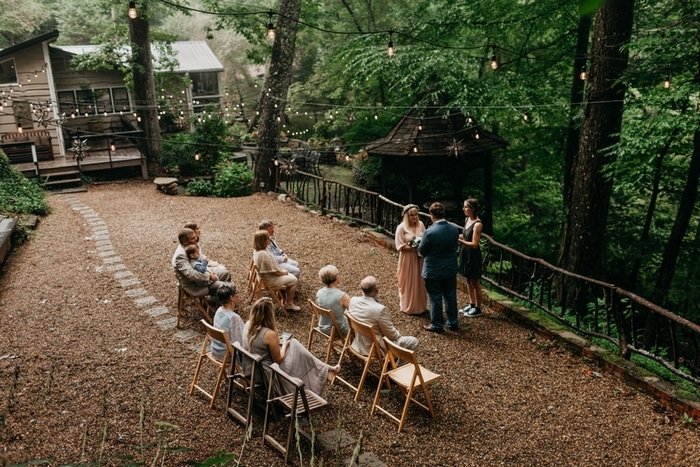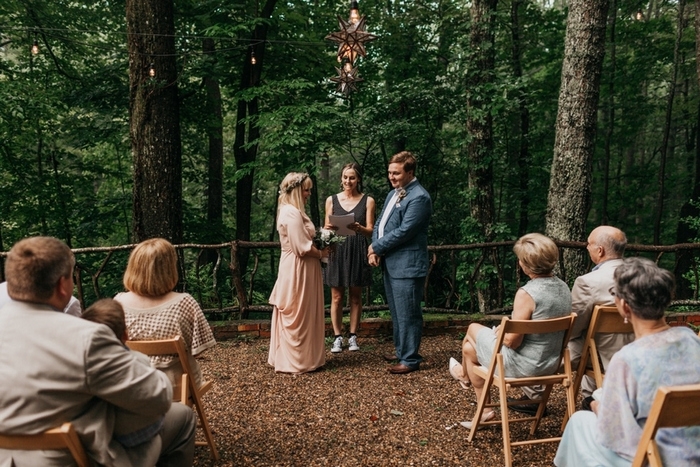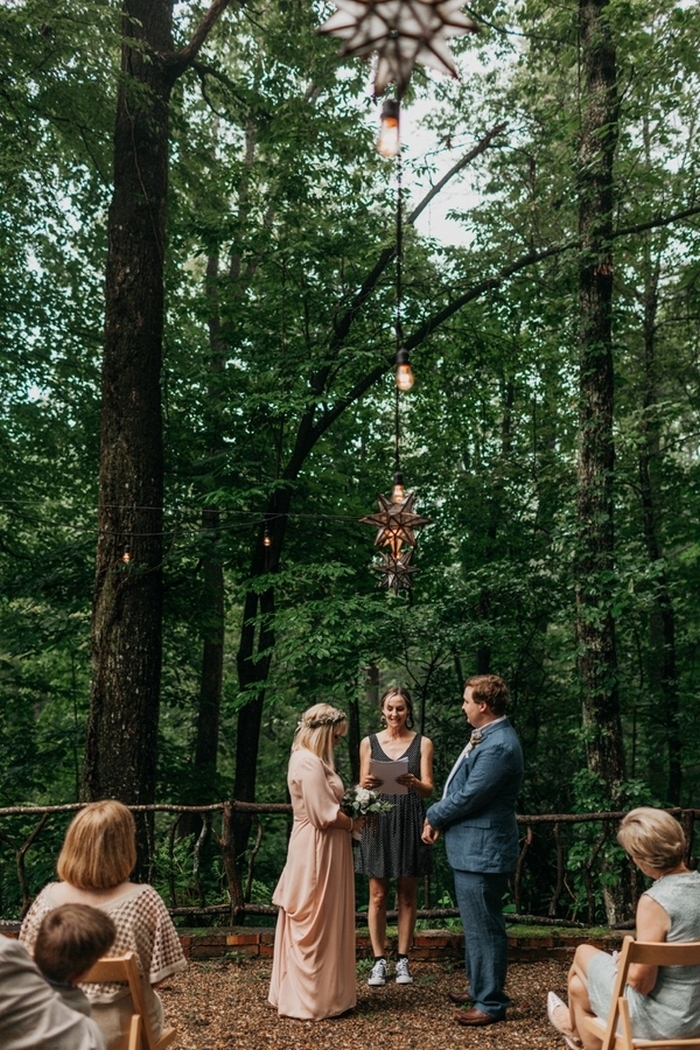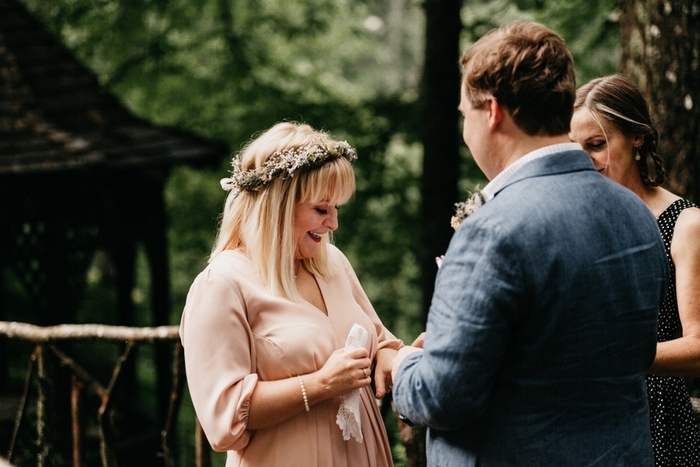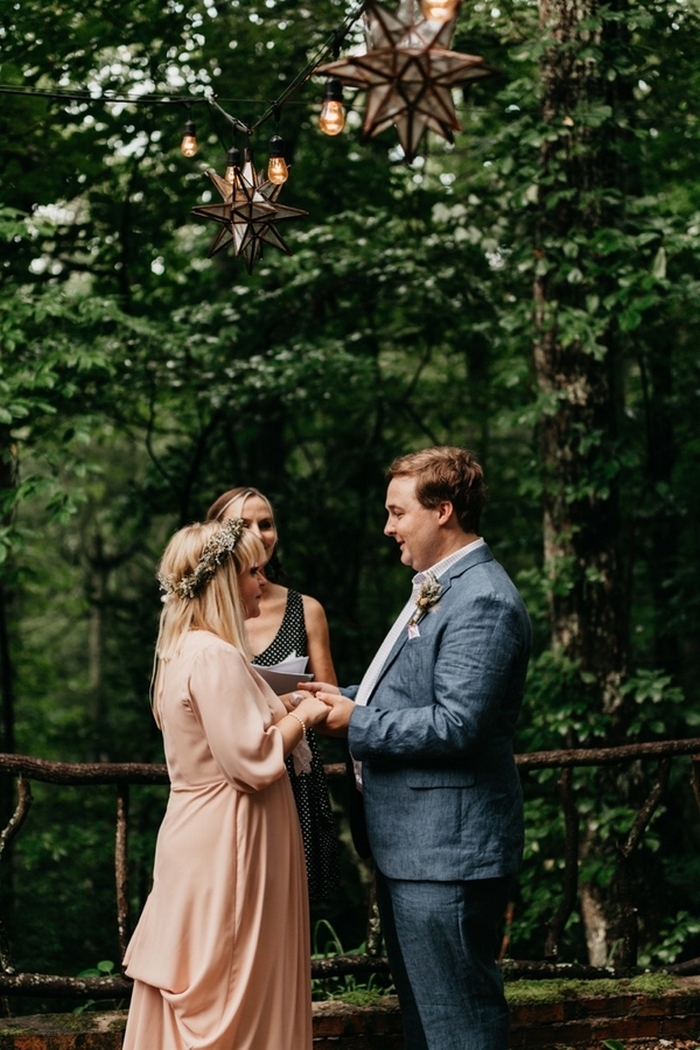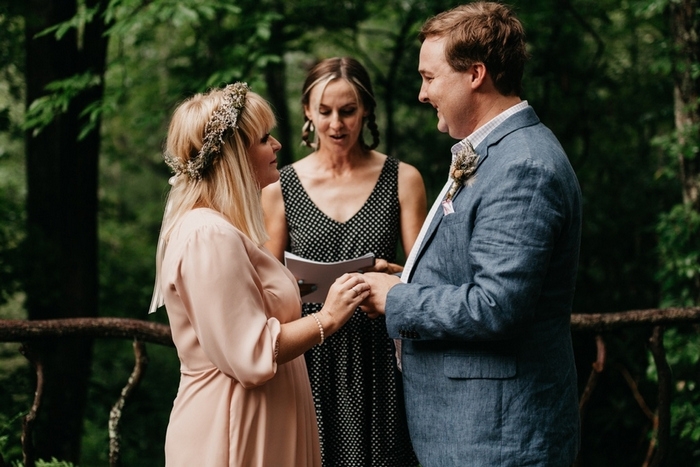 What were the highlights of the ceremony?
We wrote our vows, but they were the same for both of us.  They're listed below:
Dan/Melissa, I choose you to be my husband/wife. 
I promise to cherish your soul and encourage your dreams—
to mindfully listen and take pride in who we are.
I promise to respect you—to speak truthfully and fearlessly
to give you my loyalty and trust.
I promise to be your companion and friend,
and to never stop exploring with you by my side. 
I promise to hold you close in times of adversity
and savor the smallest joys that our journey will bring.
Above all, I give you my love freely and unconditionally,
as we discover what is sure to be a fulfilling life together.
The tears really started flowing as our sisters read a love letter from Johnny Cash to June Carter.  Dan is a bluegrass musician and I'm an artist, so this letter really made sense for us. It's below:
We get old and get use to each other. We think alike. We read each other's minds. We know what the other wants without asking. Sometimes we irritate each other a little bit. Maybe sometimes take each other for granted.
But once in a while, like today, I meditate on it and realize how lucky I am to share my life with the greatest person I ever met. You fascinate and inspire me. You influence me for the better. You're the object of my desire, the number one Earthly reason for my existence. I love you very much.
Dan's cousin is a phenomenal mandolin player, so he recorded an instrumental version of Nightswimming by REM that we played on a Bose speaker as I walked down the "aisle" with my Dad.  Dan and I live in Athens, Georgia.  I went to college there and grew up coming to every football game, so it's is a big part of my life story.  Nightswimming is not only beautiful, it's about coming of age in Athens.  It was a perfect song choice, and Thomas's band, Circus No. 9, were sweet to make that happen for me.
We had lots of personal touches.  My garter was made from a piece of my mother's wedding gown; my sister wore it during her wedding as well.  I also wore my mother's pearls.  My handkerchief has been passed down through my college roommates—six of us lived in an old home near campus, and I was the fifth the use it!  Dan's late father was a Baptist music minister, so his Minister's Manual was present.  Also, Dan's gift to me was incredibly special.  He surprised me a few summers back with a trip to Howard Finster's Paradise Garden.  We had the whole garden to ourselves that night.  It was magical.  He gave me a little sculpture made my Howard's grandson with the most personal note written on the bottom.  Waterworks tears.  That was followed by some one-on-one time with my sweet father.  More tears.  What a special day!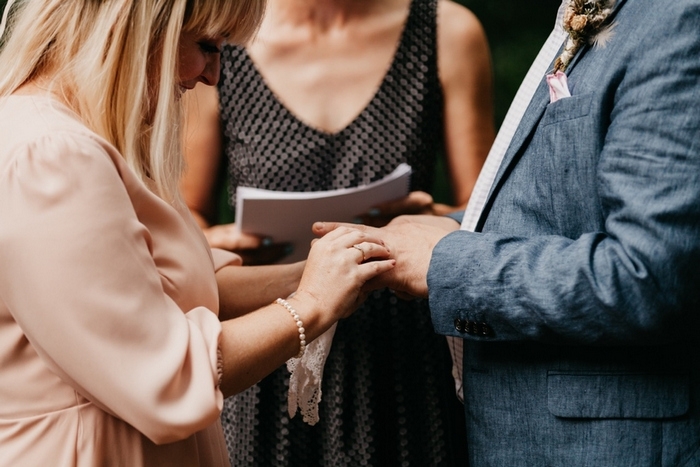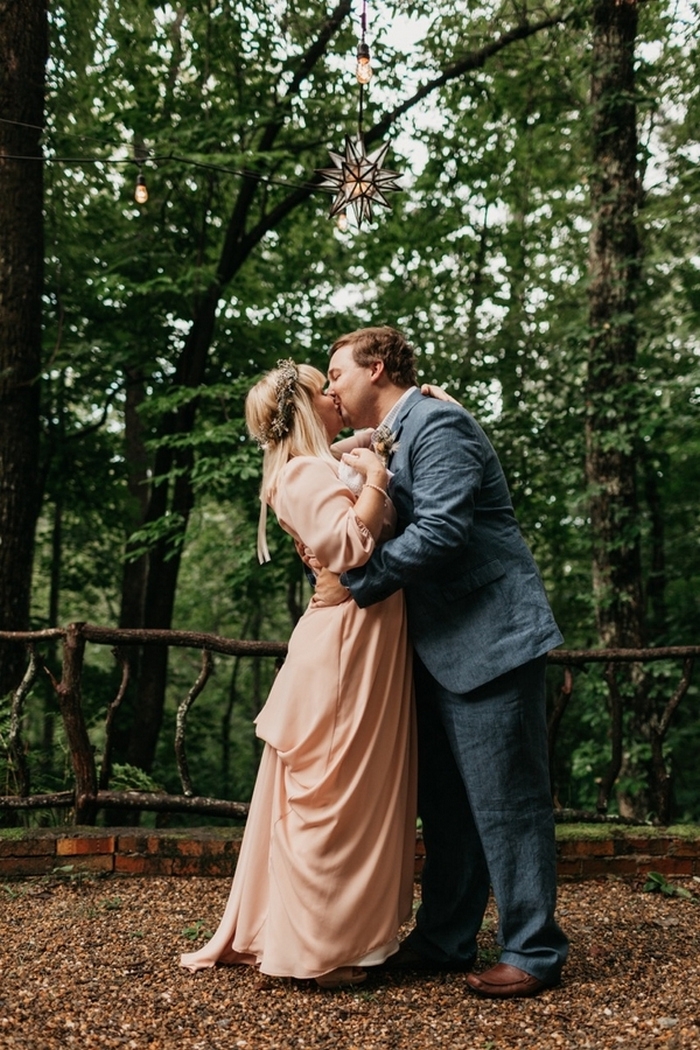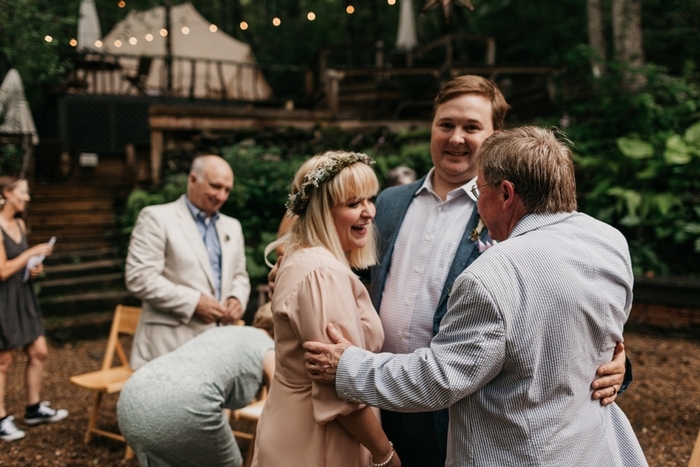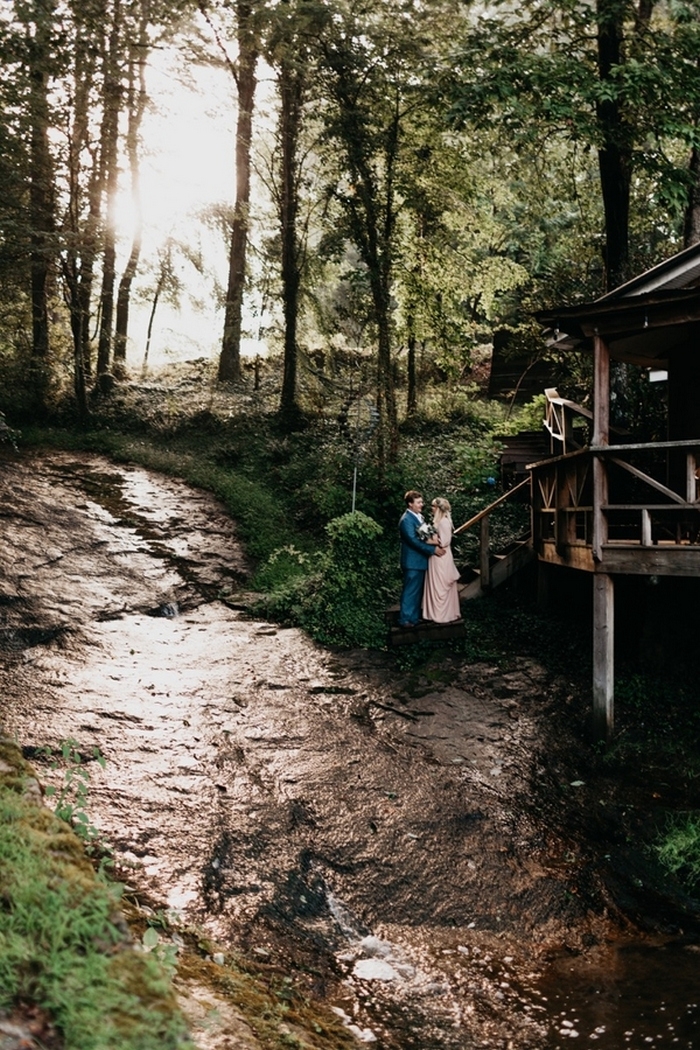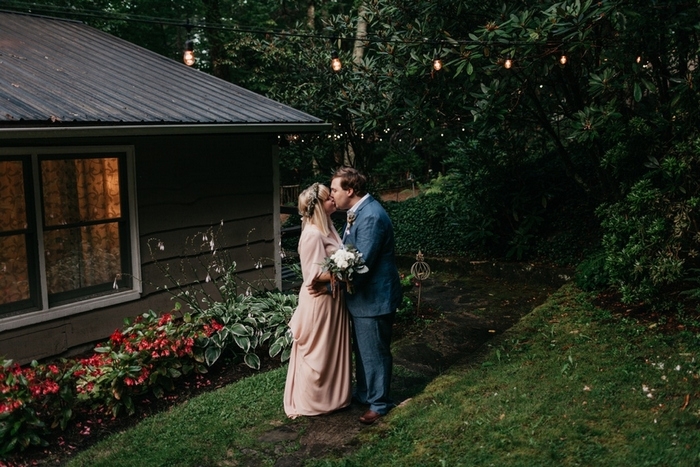 What were the highlights of the reception?
Following our quick ceremony, we had dinner outside (under impromptu tailgate tents due to some rain).  We lit some candles and had a few leaves scattered down the table for decoration.  The caterer, Budy Finch, was wonderful.  We were able to feast on our favorite foods (oysters and shrimp and grits).  We really just enjoyed each other for dinner, drank delicious wine, and everyone gave thoughtful toasts.  Dan and I drank from a pair of champagne glasses that my grandfather purchased in Italy during World War II.  They were patiently waiting in my grandmother's china cabinet for my wedding. It was stress-free.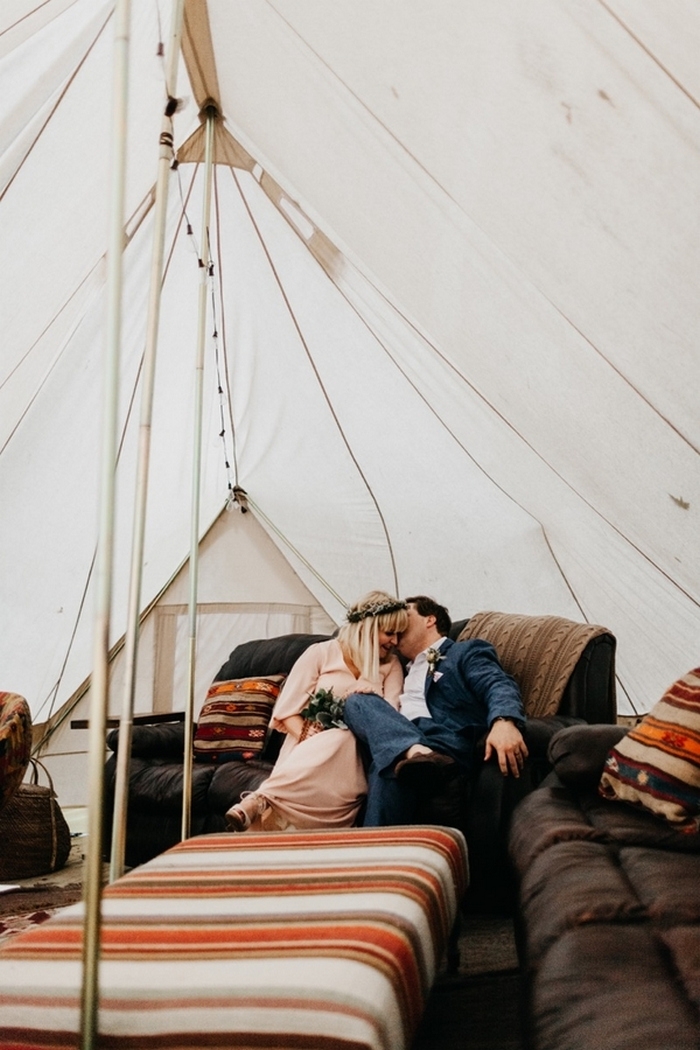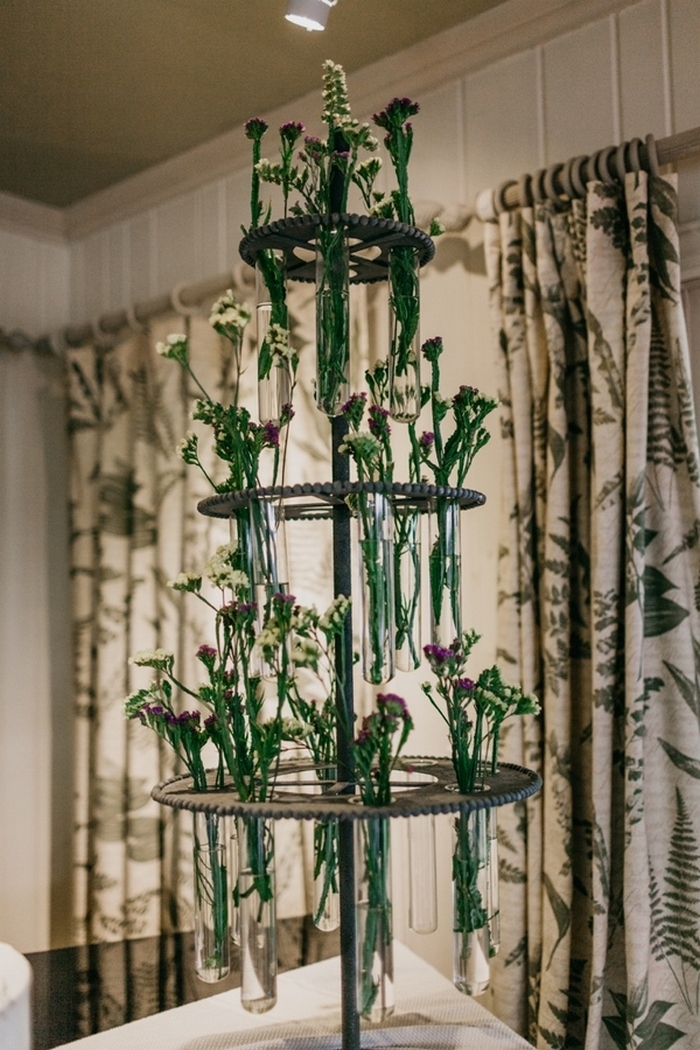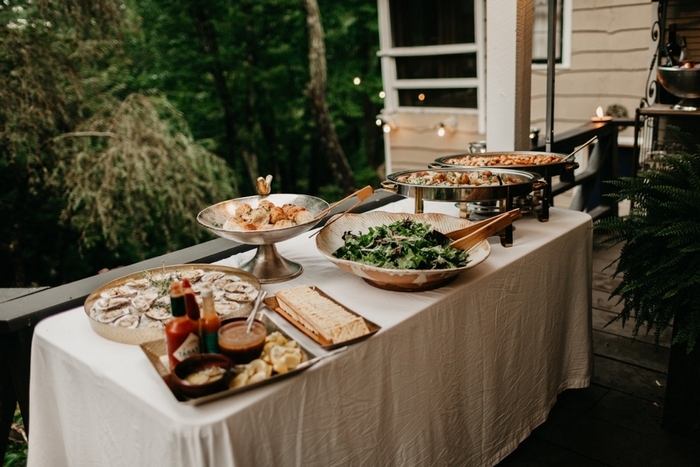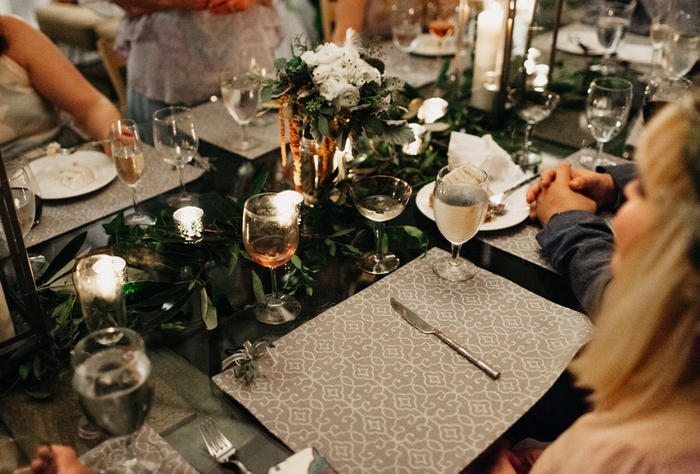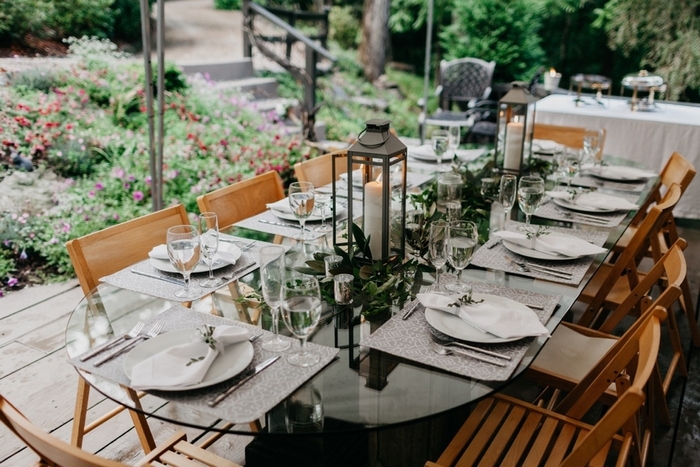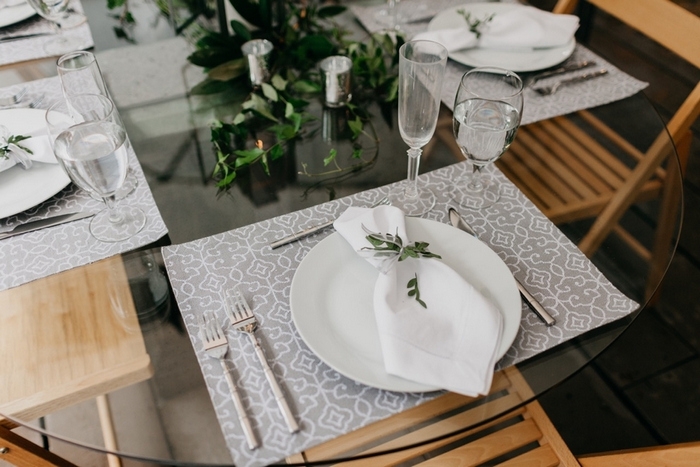 What was the best thing about having an intimate wedding?
So many friends and family told me what a blur a wedding day can be.  Inviting just our family made it relaxing and incredibly easy to remember!  I was even able to take a yoga class that morning instead of wake up to get my hair and makeup done in time for a ton of photos with a big bridal party.  Dan and I saw each other throughout the day, keeping me very relaxed.  As much as I appreciate the traditional build up that happens during a large wedding, I loved how much I was able to enjoy a peaceful day with my family and groom.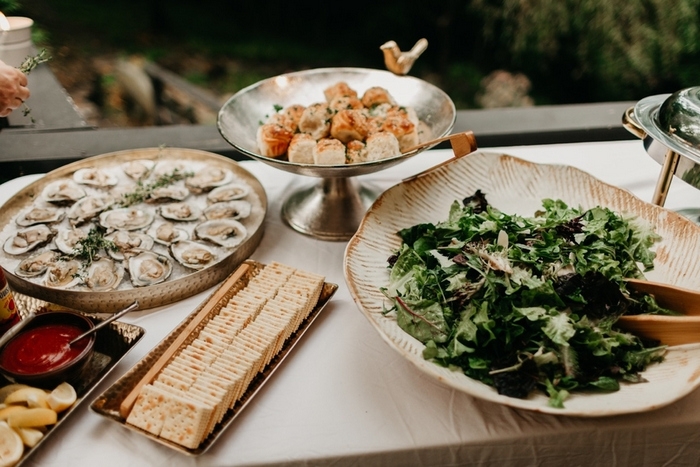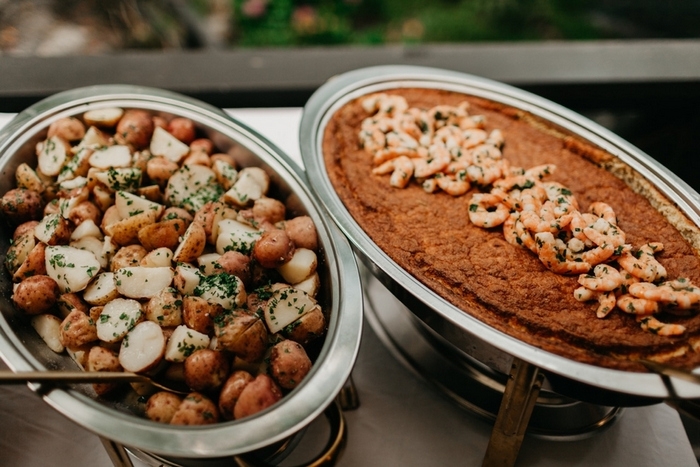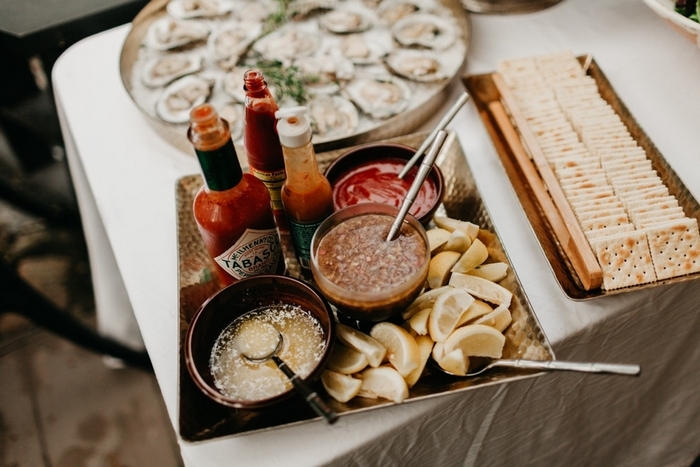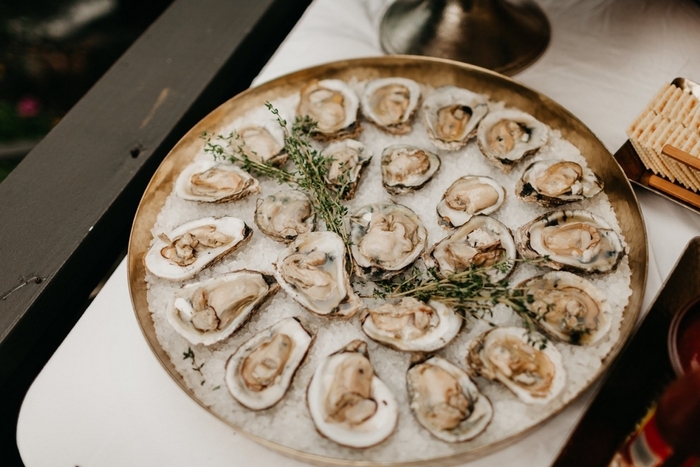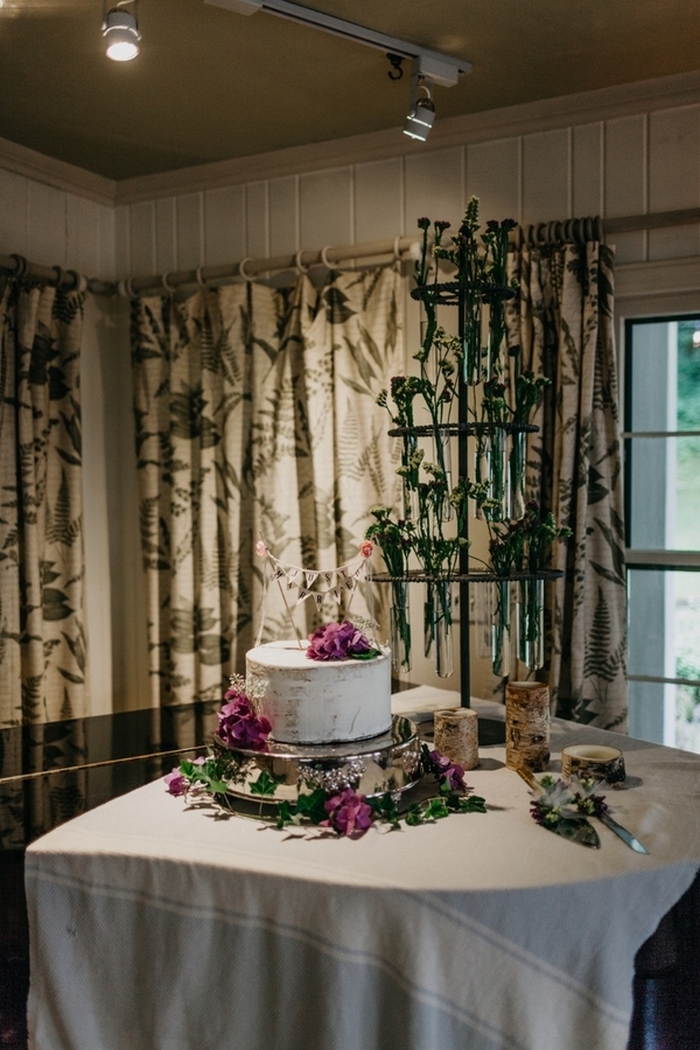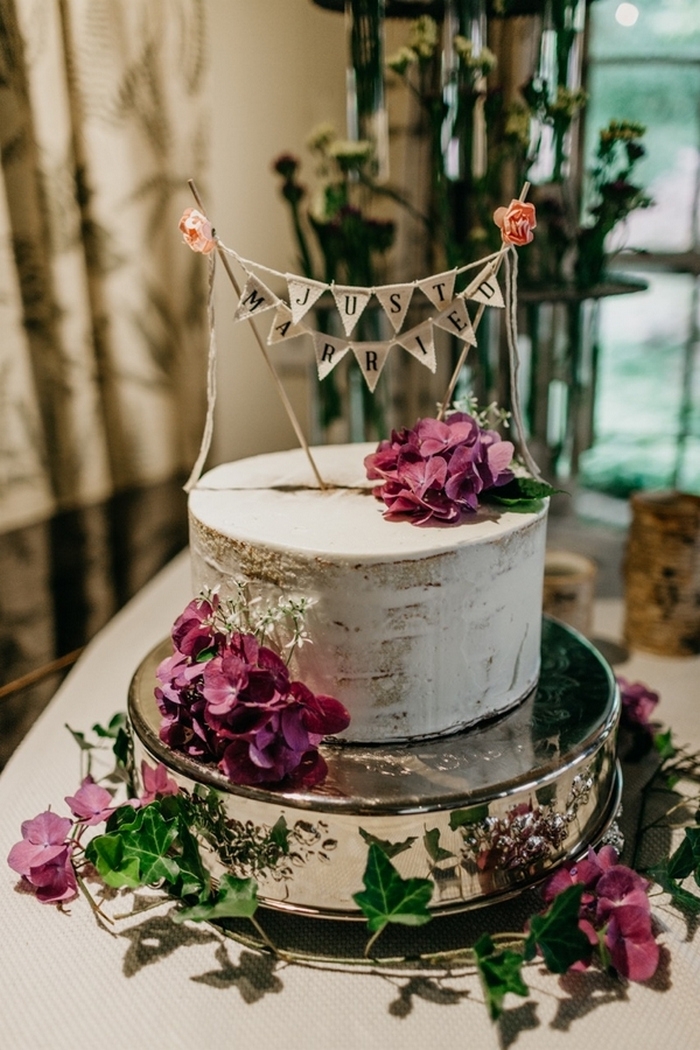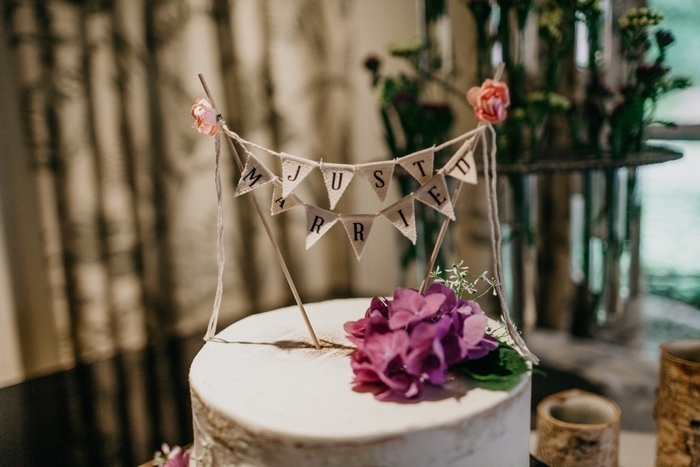 What advice do you have for couples who are considering an intimate wedding?
Don't apologize for keeping it small!  It's your day.  In the end, everyone will be thrilled that you are making that special commitment to the one you want to spend forever with.  It's also possible to have the best of both worlds—we had an absolute blast at our BBQ a month later entertaining all of those who mean the world to us.  It was certainly stressful, though—from working the room to coordinating hotels and party give aways.  I didn't have to think about any of those things on my wedding day—just my vows and our dear, sweet families.  I only have wonderful, peaceful thoughts for July 15th.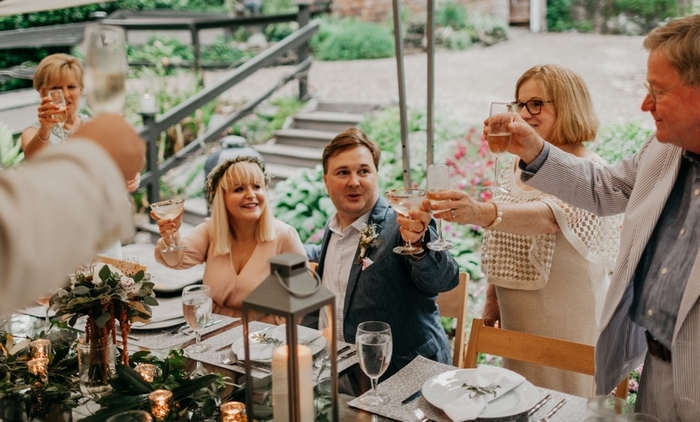 Vendors:
Photographer: Leslie West Photography

Location: Little Willow Falls
Caterer: Budy Finch
Dress Designer: Elizabeth Dye
Dress Shop: The Sentimentalist
Groom's Suit: J Crew
Engagement Ring and Bride's Wedding Band: Catbird
Groom's Ring: Simply Wood Rings
Bride's Greenery Crown and Groom's Boutonniere: Westerwisp
Officiant and Bridal Flowers: Flora Pop South
Flower Girl Dress: BHLDN
Cake: The Bakers Box
Snacks: Mi Lady Bakery (Tifton, GA—my home town)
Save
Save
Save
Save
Save
Save
Save
Save
Save
Save