Stephanie and Ben from Taylor Clark Photography shot this beautiful rustic wedding. Stephanie has been a contributor at IW, and we thought it would be great to hear about this wedding in her own words.

Take it away Stephanie!
As an artist, it is always a simple joy to work with other people in the creative field. I had absolutely no doubt that our friends,  Tim the wickedly talented graphic artist, and Melodie the published illustrator, would put on a spectacular wedding. It was all about the special details, that as Melodie mentioned, were possible because they kept their guest list small. Between the handmade invitations, name cards, bouquets, wedding favors and dance stage (I could go and on!), every single person in attendance felt like a guest of honor.
It was an honor to capture their beautiful backyard wedding!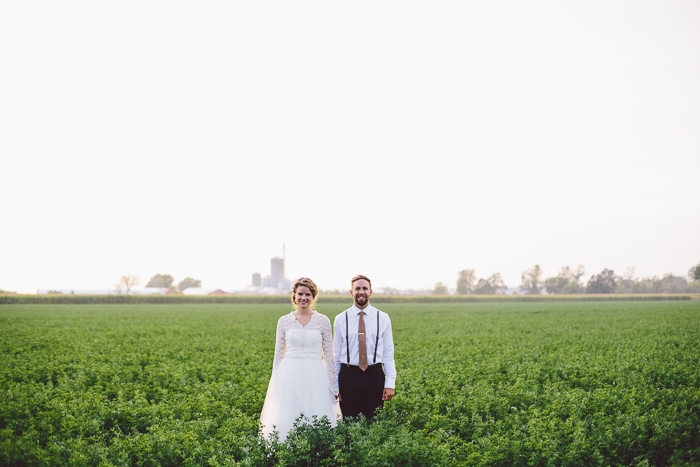 Melodie, 29 & Tim, 28
Location: Dunvegan, Ontario in Glengarry County 
Wedding Date: Sept 6, 2015
Number of Guests: 47
Wedding Cost: $8,000 
Wedding Ceremony Location: Bride's Parents' House 
Wedding Reception Location: Bride's Parents' House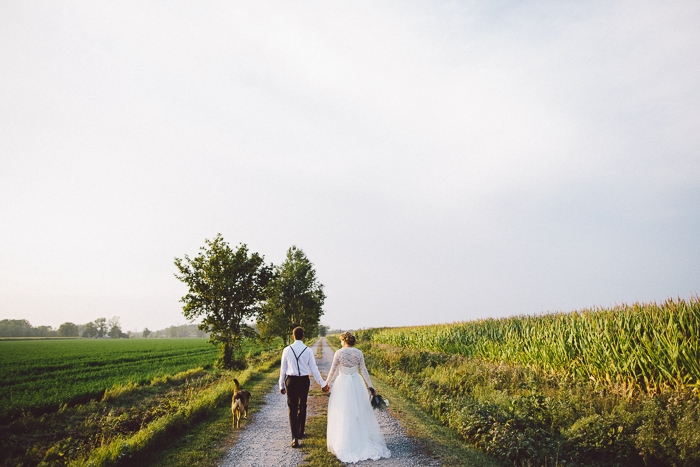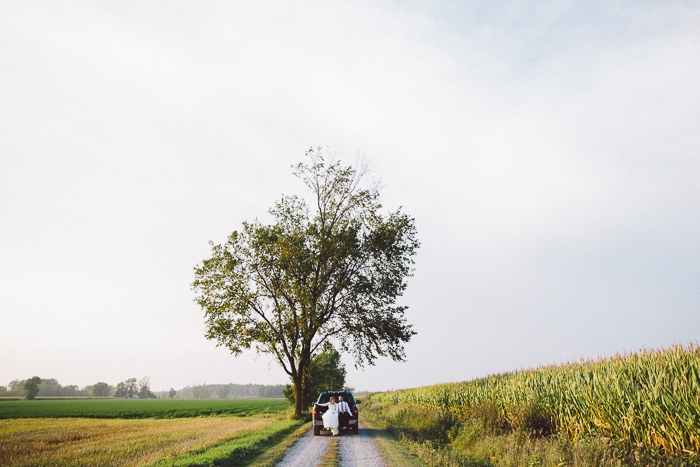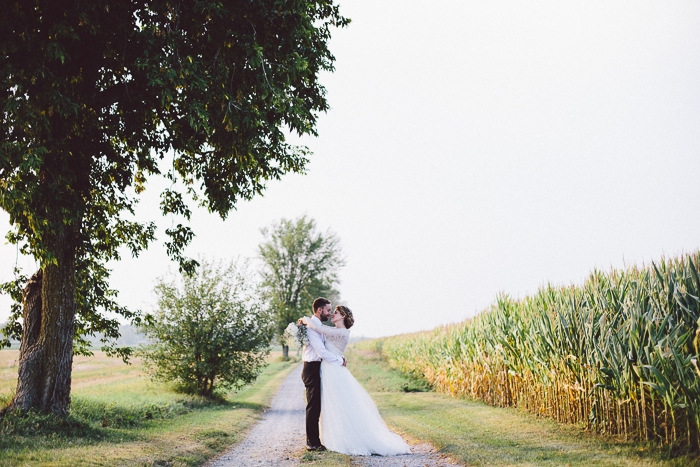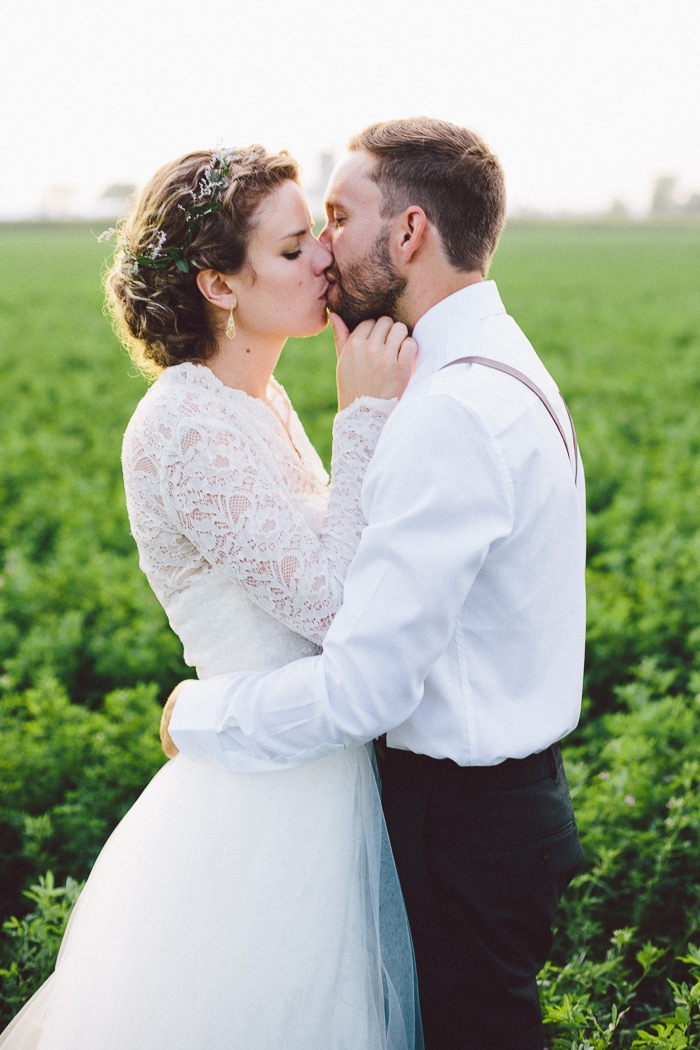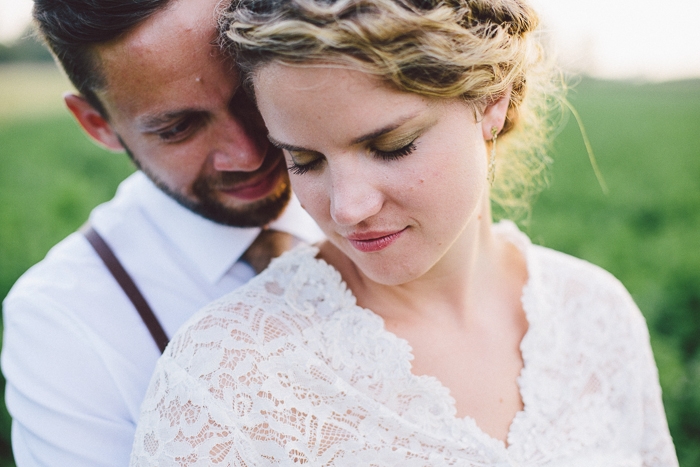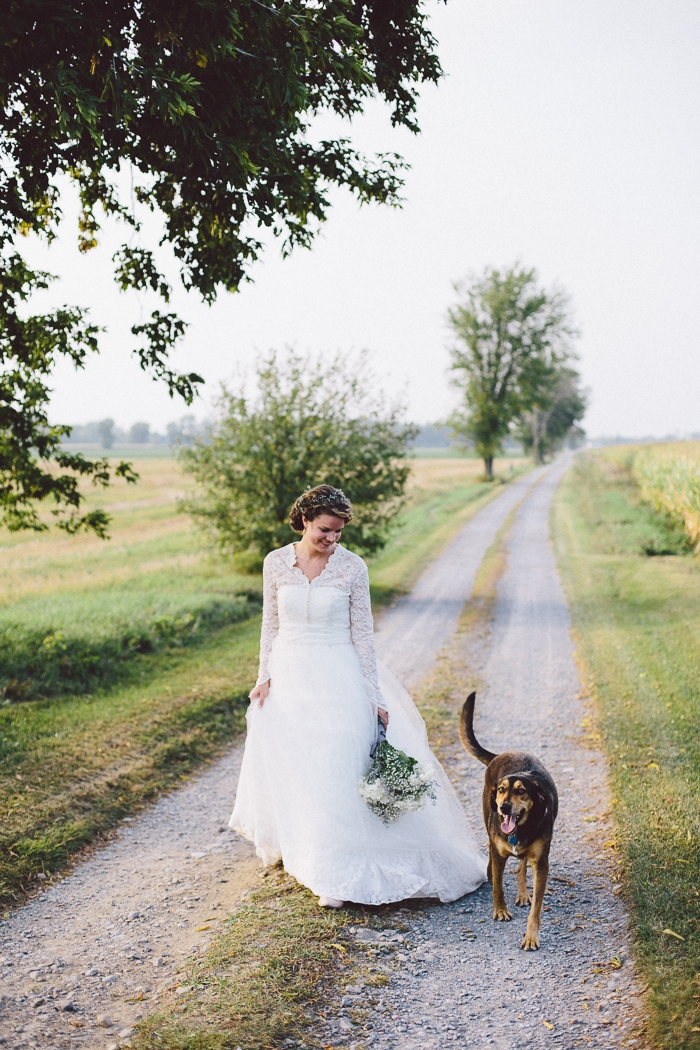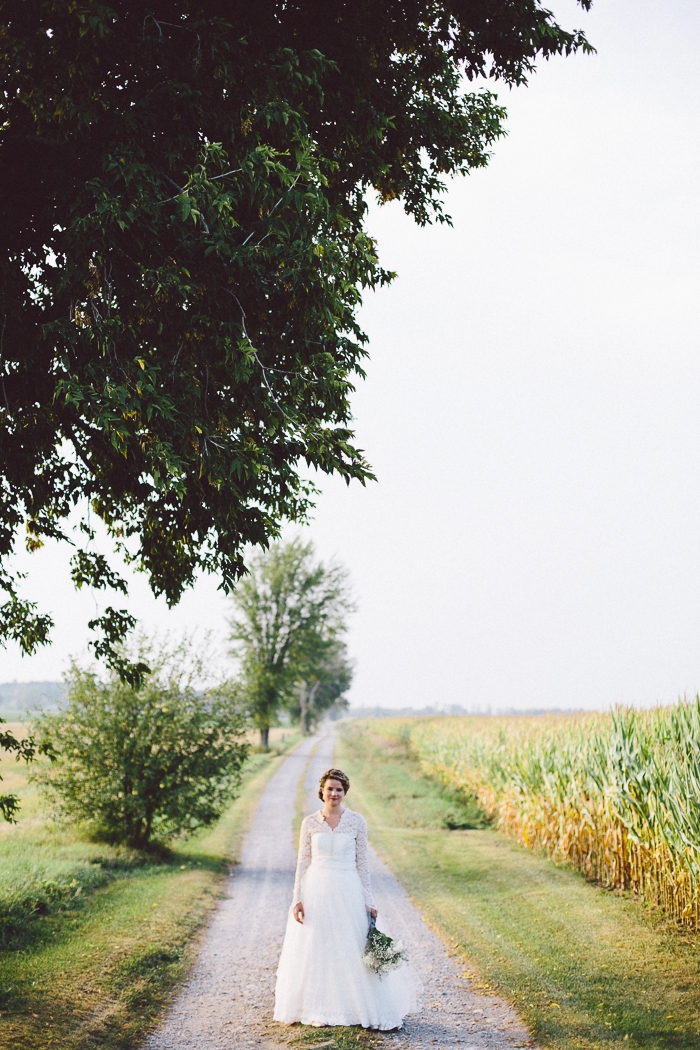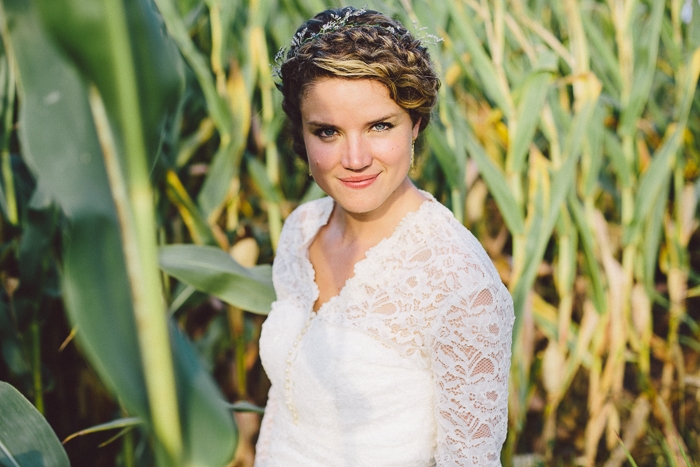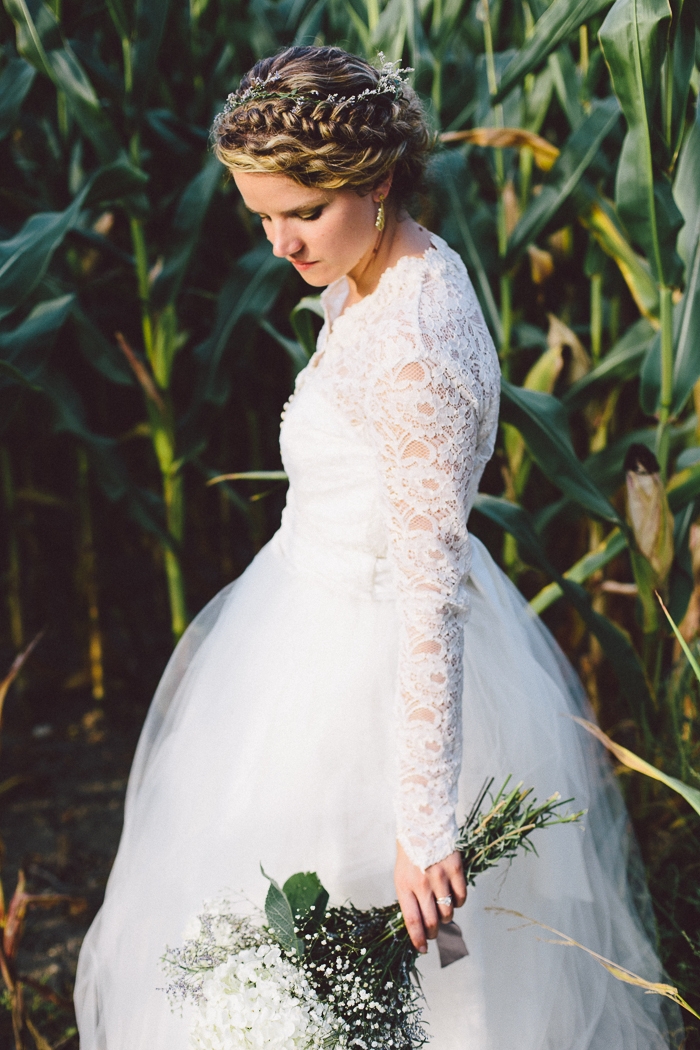 Why did you have an intimate wedding?
It suited who we are as a couple. We wanted to be focused on the commitment we were making and not just the 'wedding' part. It was important to have the people who had made a difference in our lives and who we know are there for us. Also, it was the bride's dream to be married on her parents' property, which limited the space and the ability to have anything large. Another factor was cost; we wanted to keep our costs down but still have something that was special.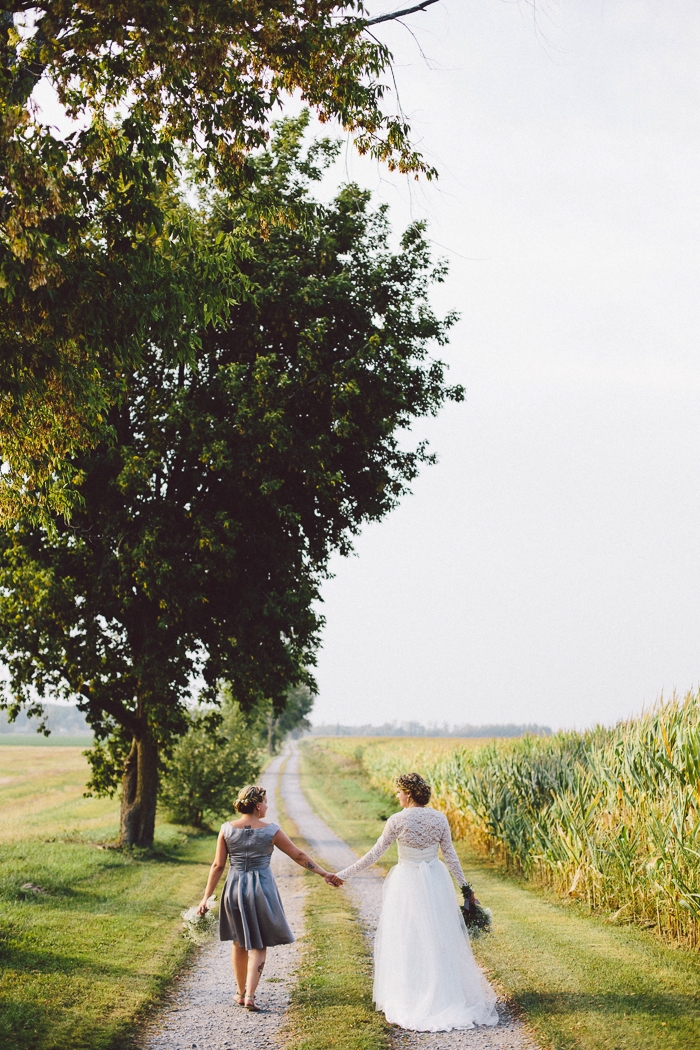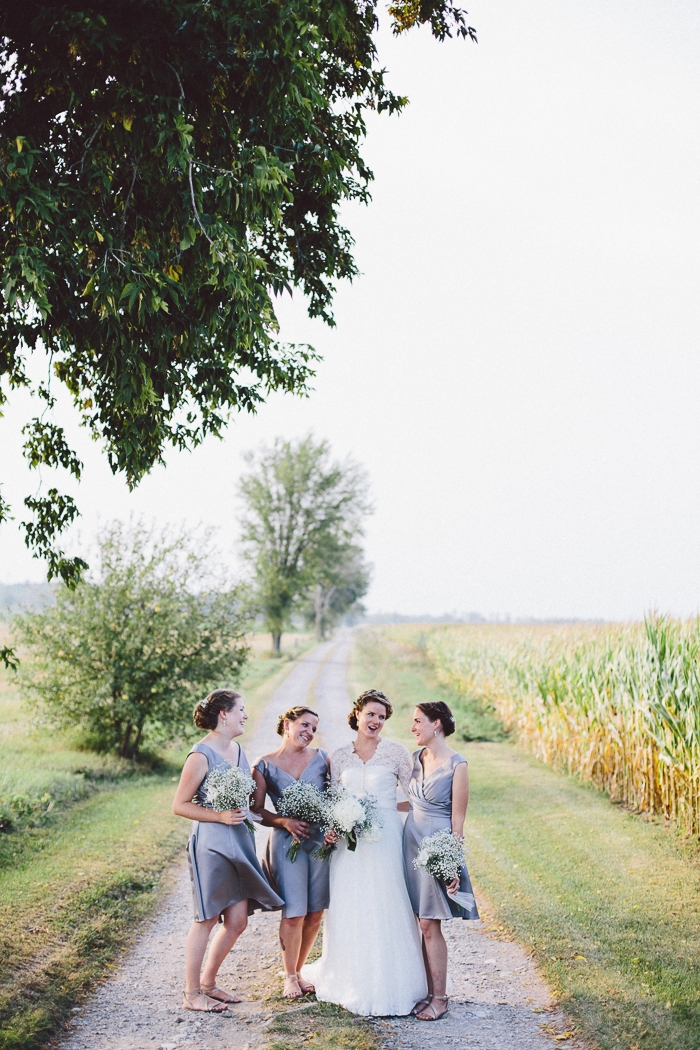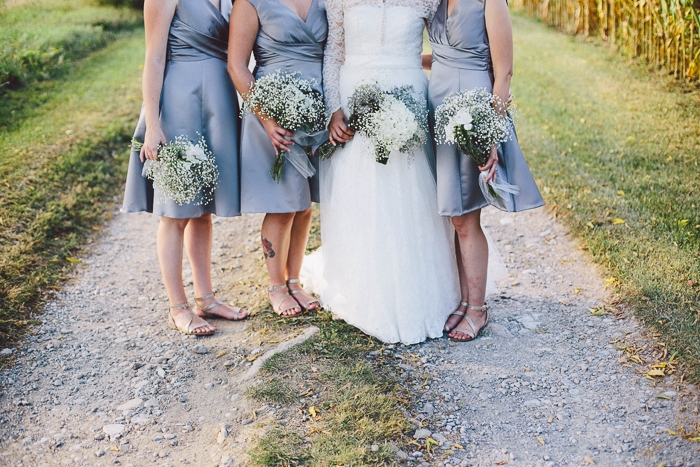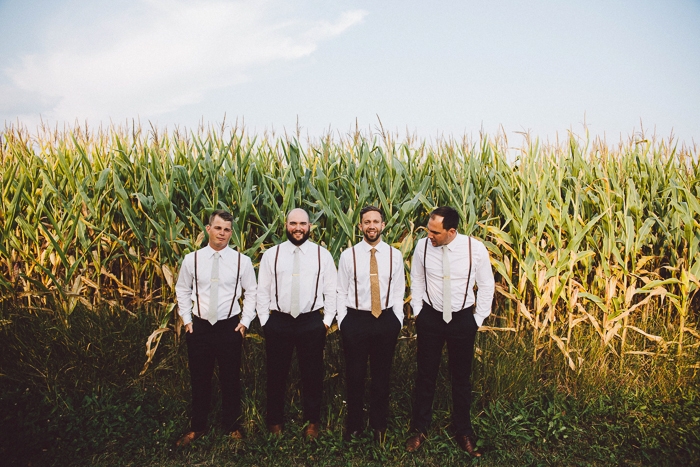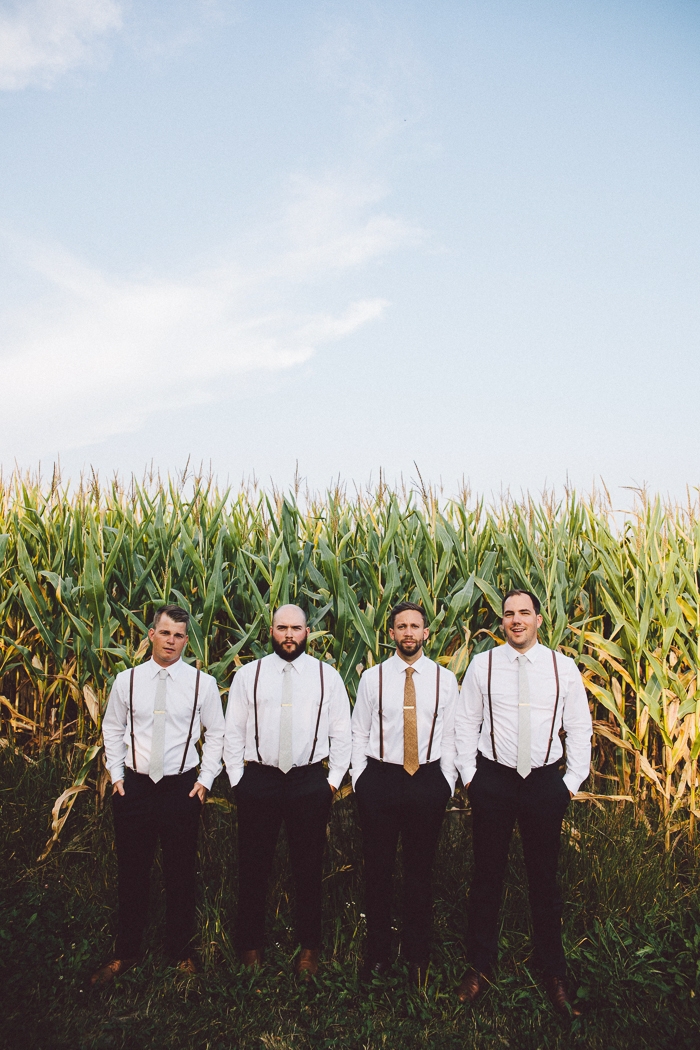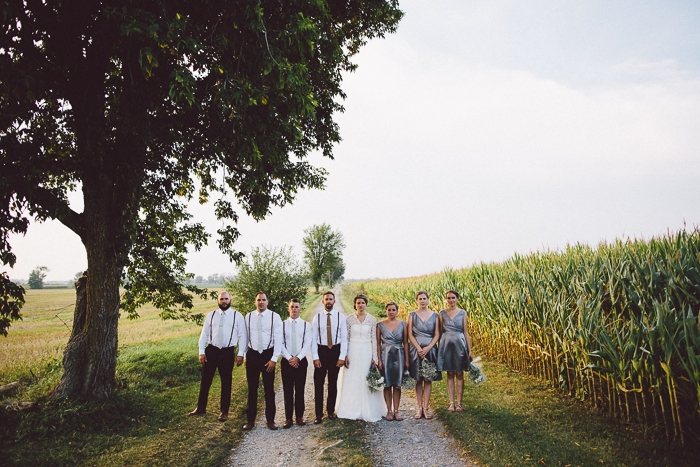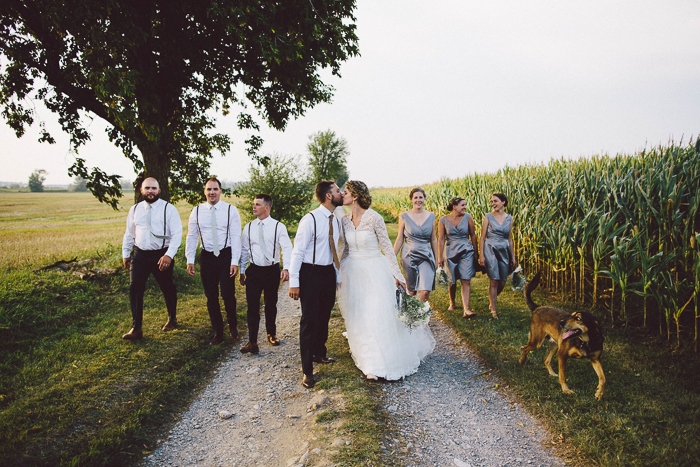 What are some the challenges that you faced planning an intimate wedding?
Not having a wedding planner meant as the bride and groom, we did a lot!  Also by having an intimate wedding we had to cut the guest list, which was tough. To include everyone, we had a second event for our friends and family who couldn't make it. That was a big undertaking, we were still very tired from the first event and planning. The second one took the wind out of us, but it turned out great and we are very happy we made the effort.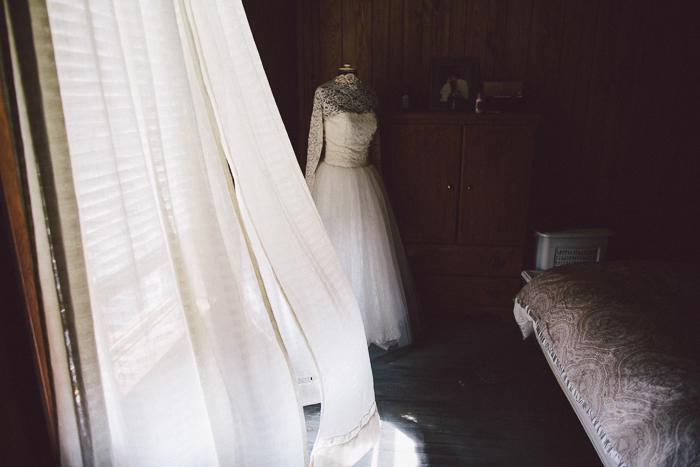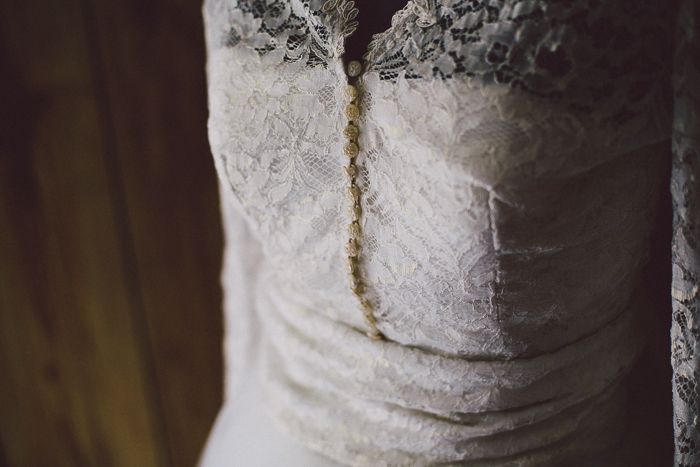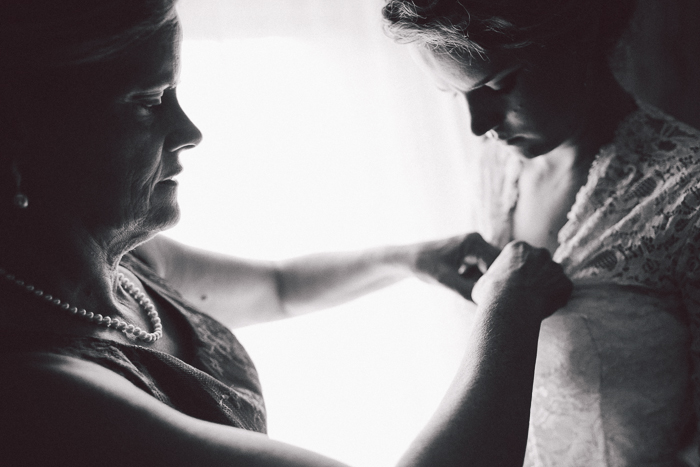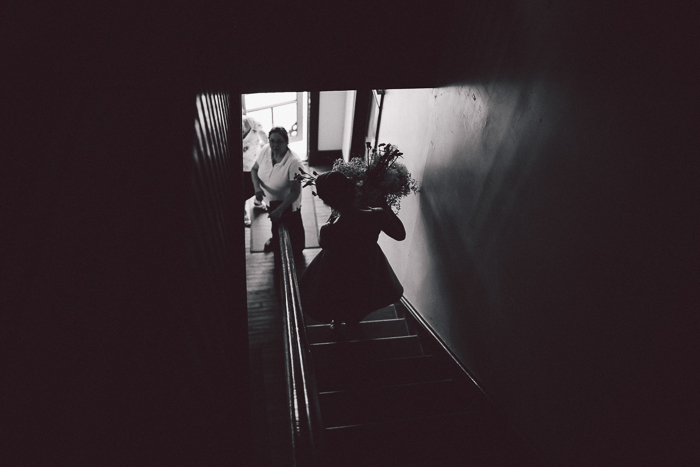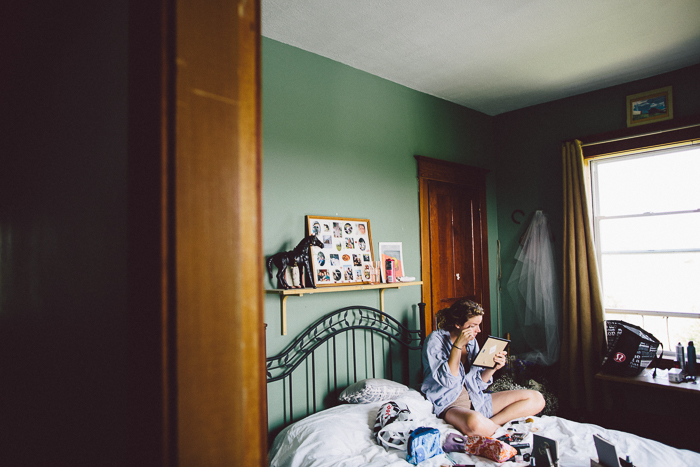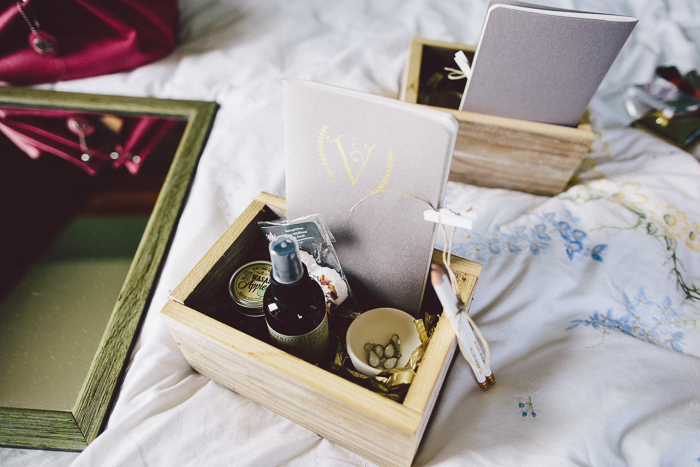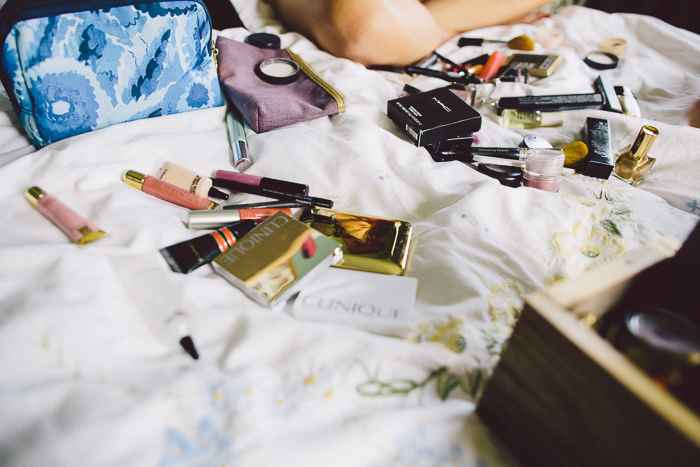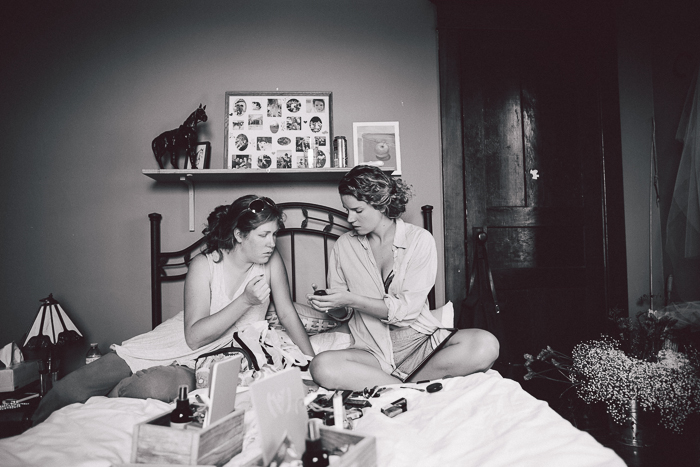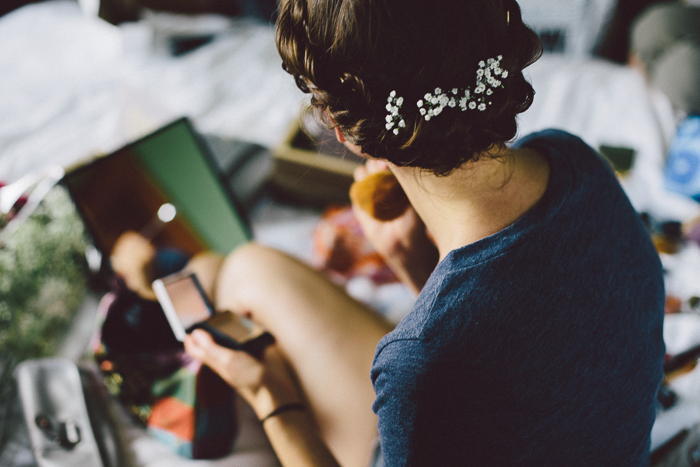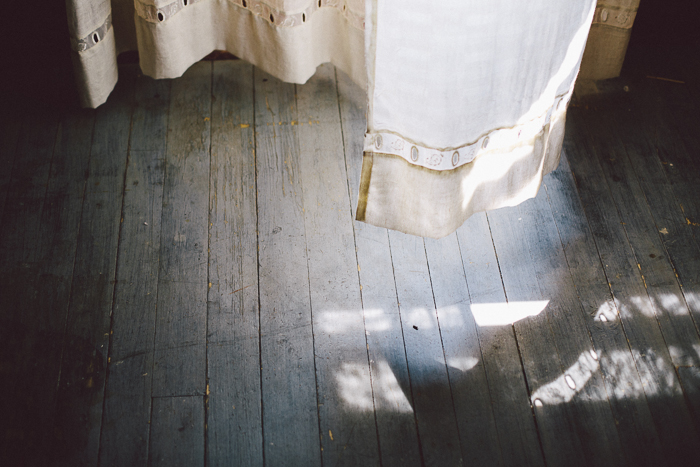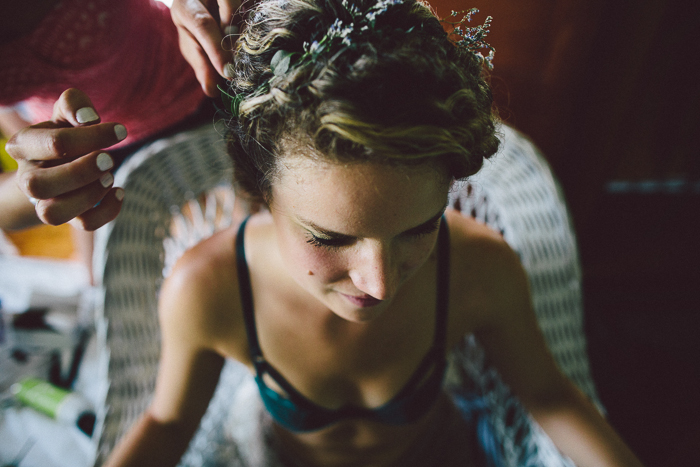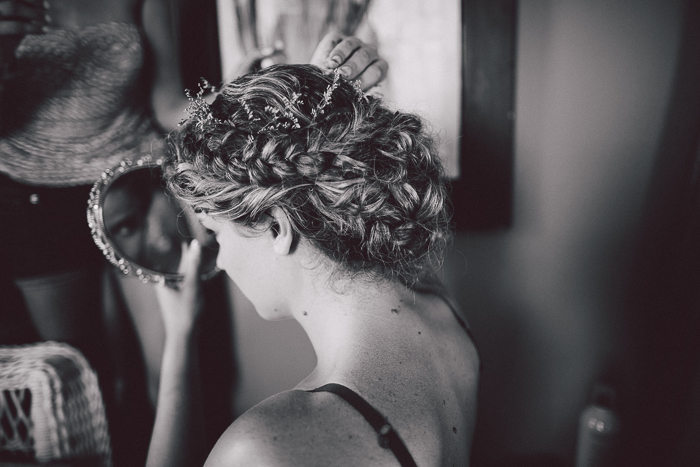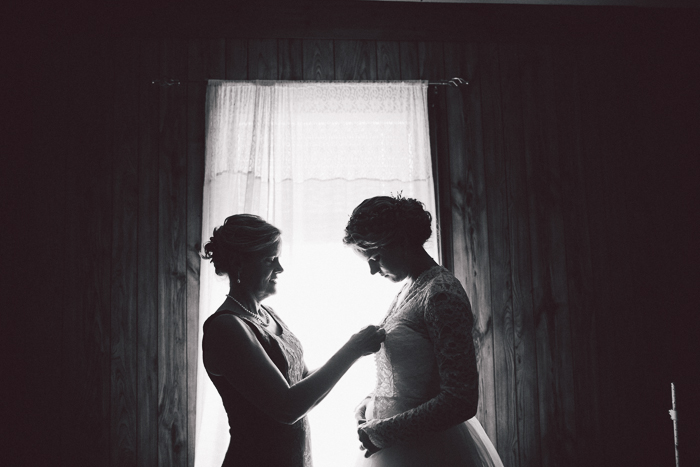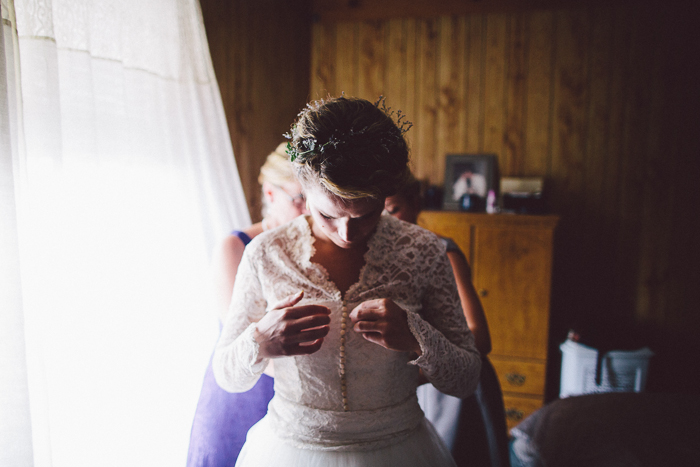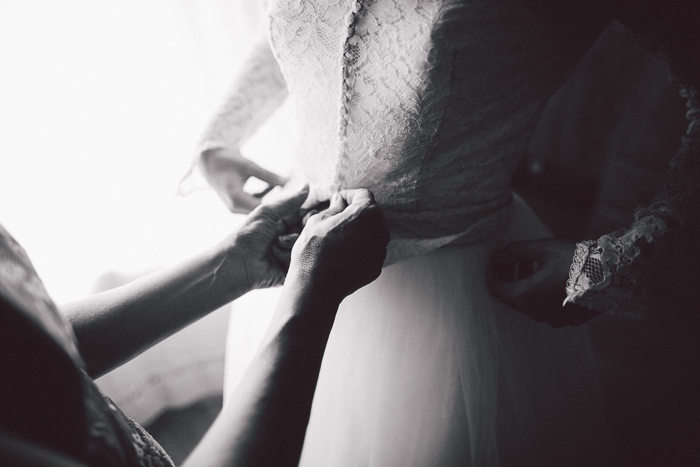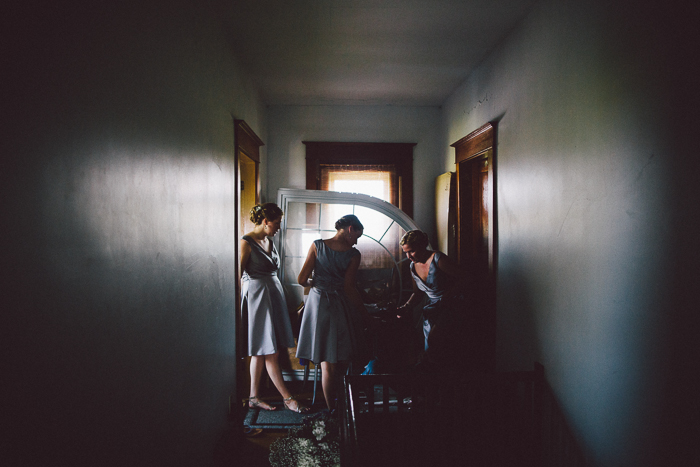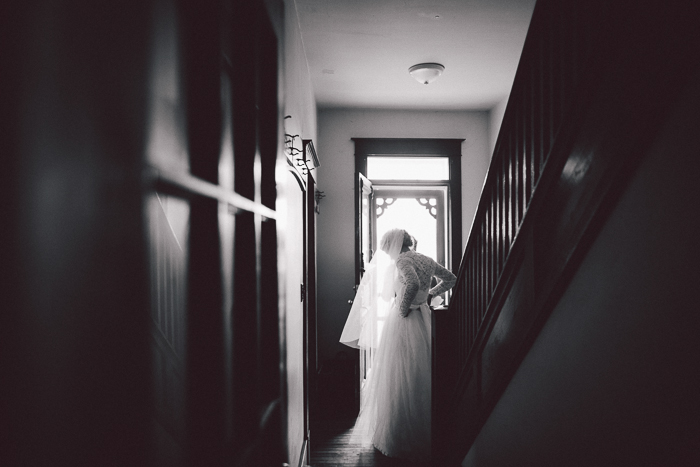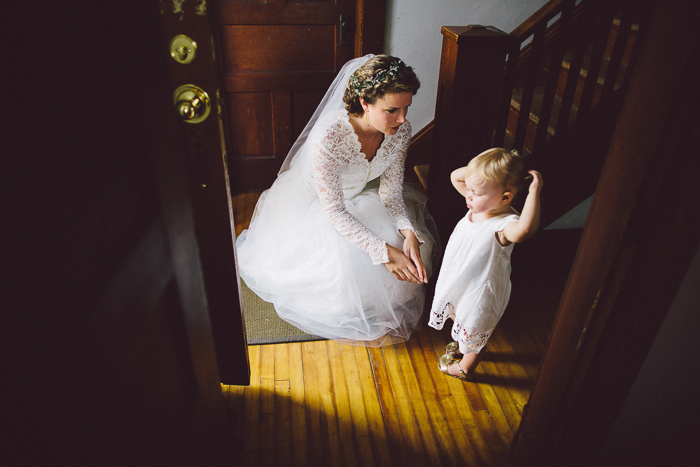 Was it difficult to pare down the guest list? 
Of course, our families are pretty big so we had to cut there.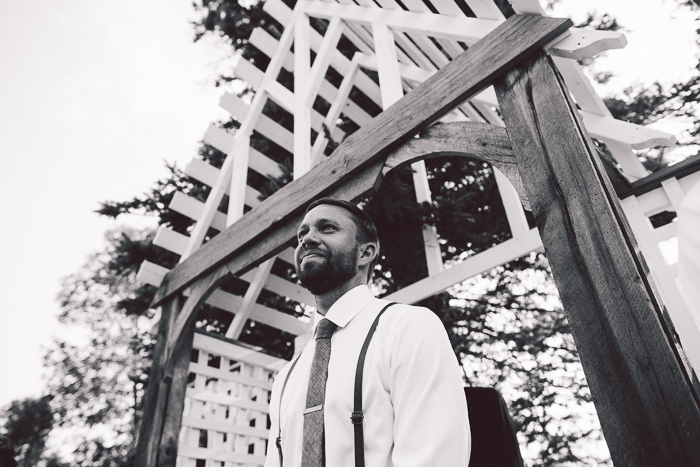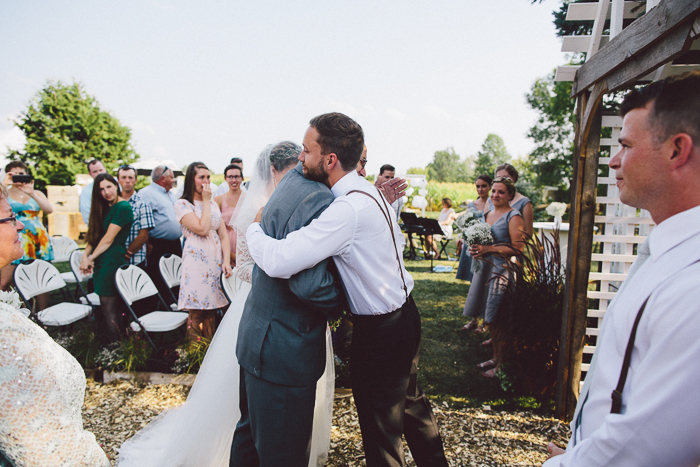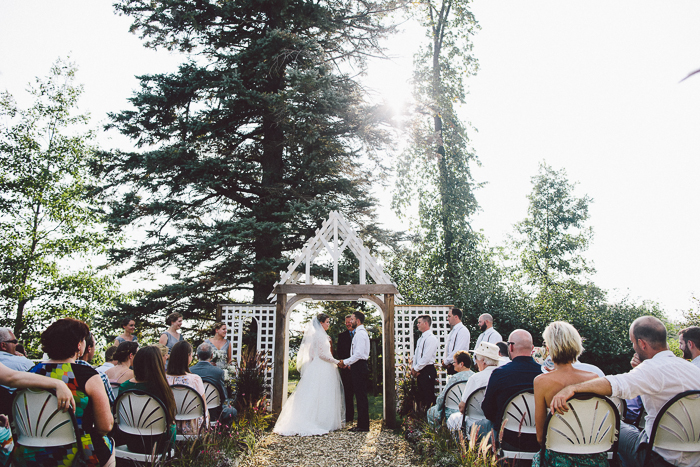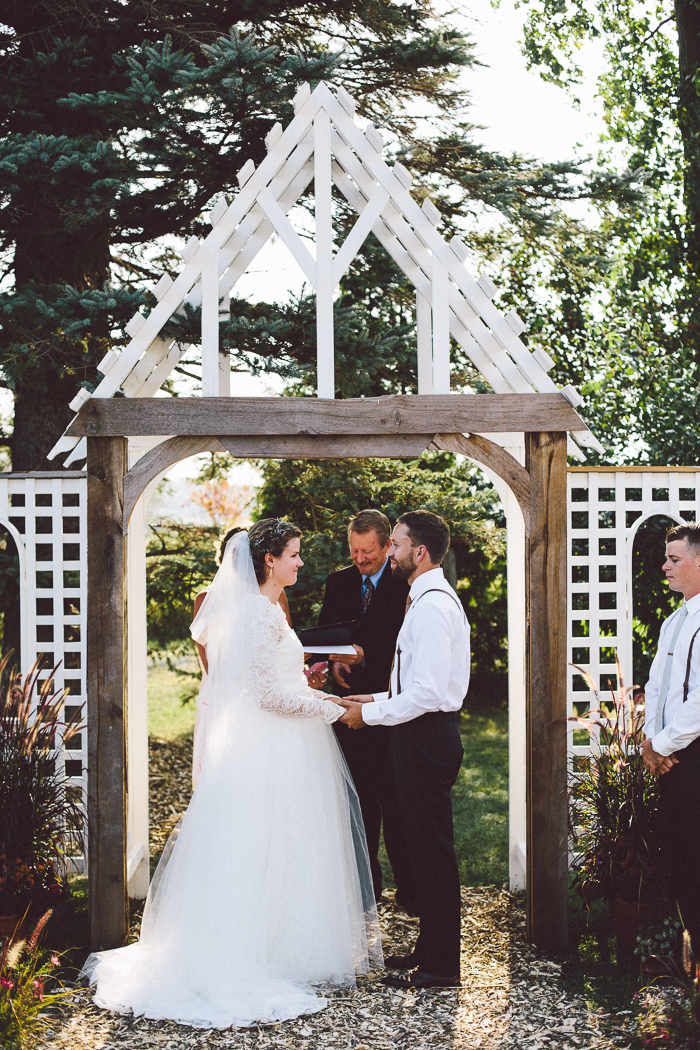 Did you have any 'issues' with the small guest list from friends and family? If so, how did you address them?
Didn't seem to have many issues, the bride's dad dealt with her side and the groom's side well….we had one unexpected guest added. But other than that, we didn't expect things to go so smoothly. People understood.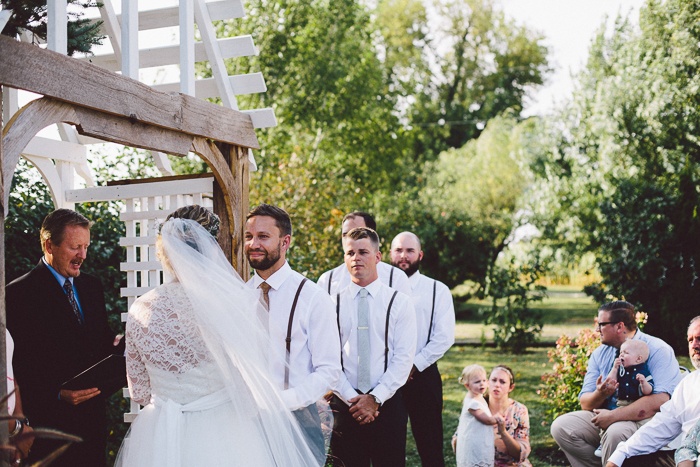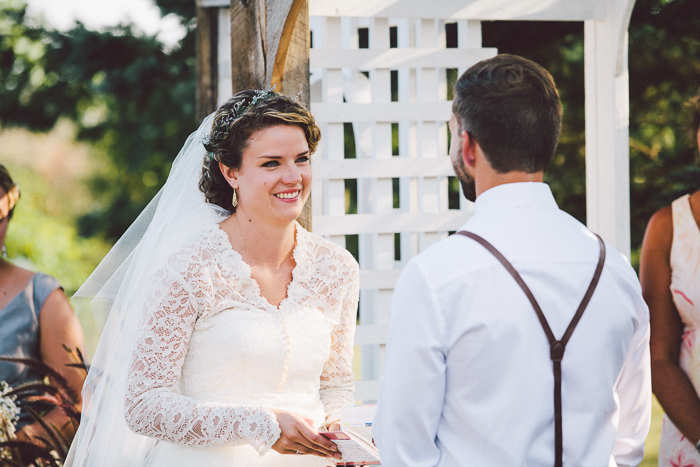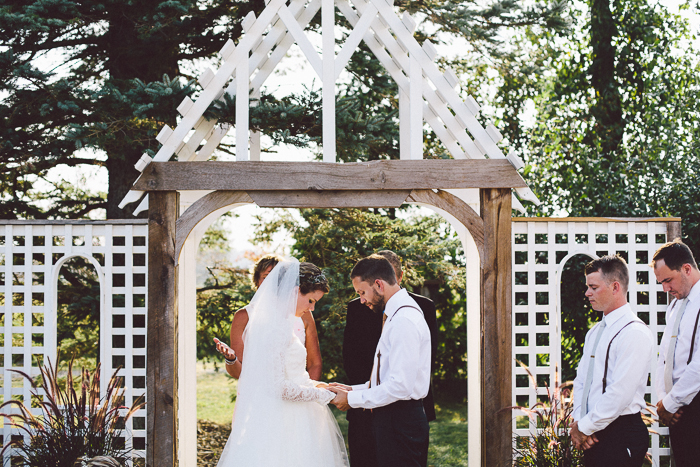 What were the highlights of the ceremony?
The vows were so special and we didn't have to deal with stage fright since the crowd was small and we were able to be vulnerable. Other highlights (as we saw after) was our niece walking down the aisle; she didn't get intimidated and was so darn cute. The bride's brother also walked down the aisle with the bride's dog, Wiley; it was so special to have him be apart of things. The entire night he was off leash and partied as much as us. The groom's personal highlight was seeing his bride for the first time. The bride did have a vision of what she wanted to look like walking down the aisle and with the help of her mom, in making part of her dress, that became a reality. The whole ceremony felt perfect and special, even the sun setting through the trees as we were saying our vows added an amazing feeling and touch. It truly was magical (and I the bride don't believe in fairytales).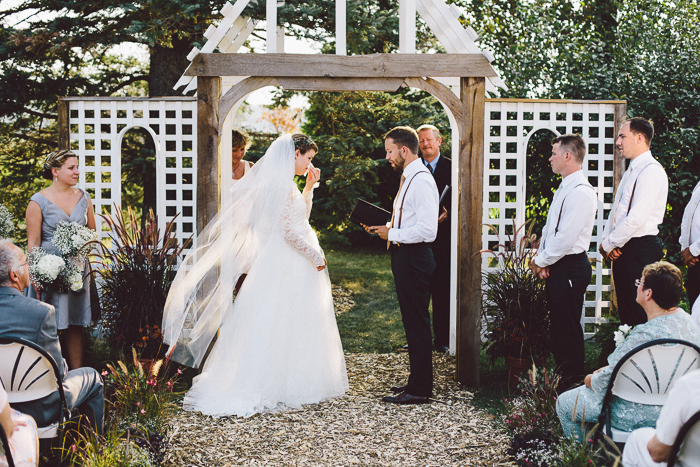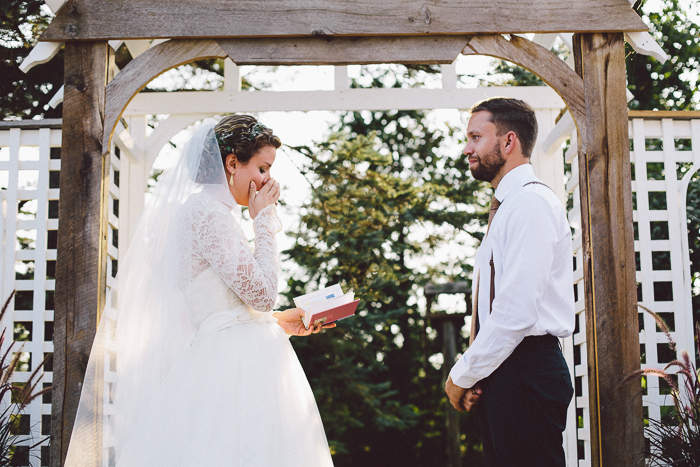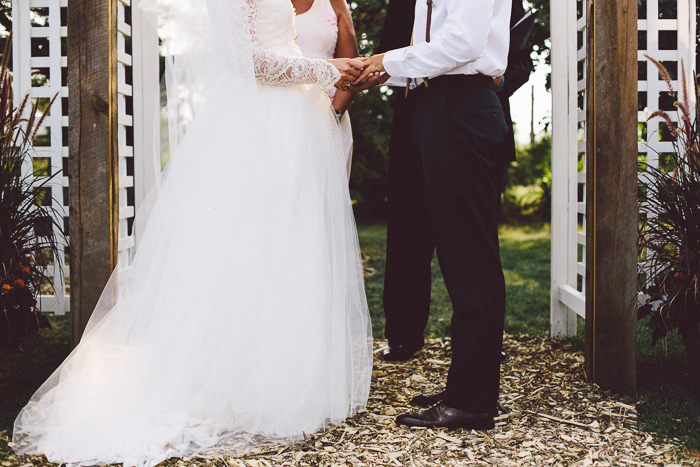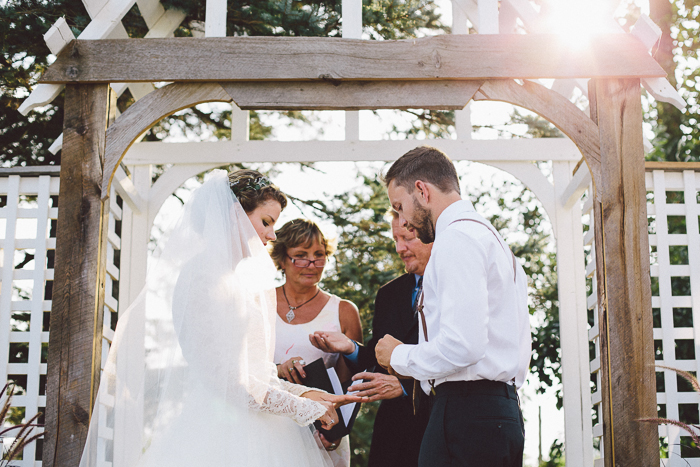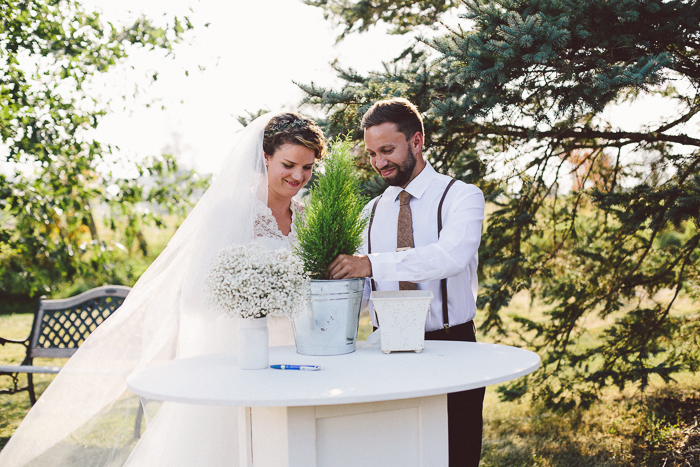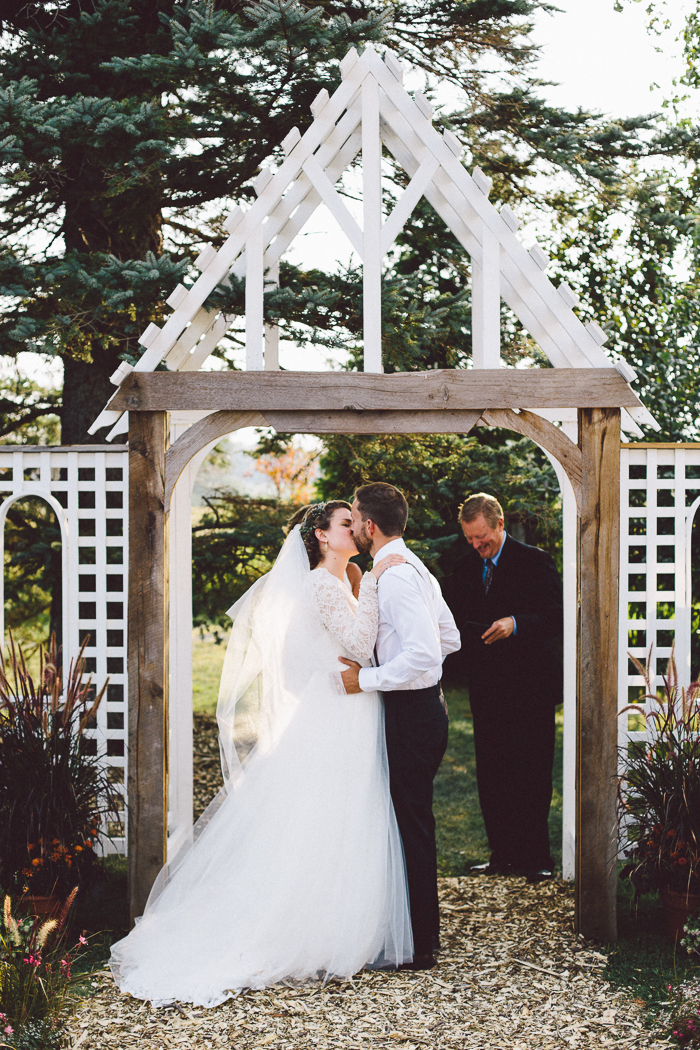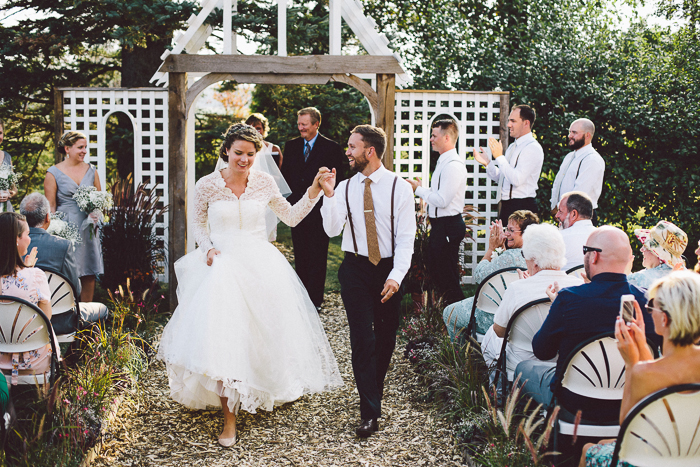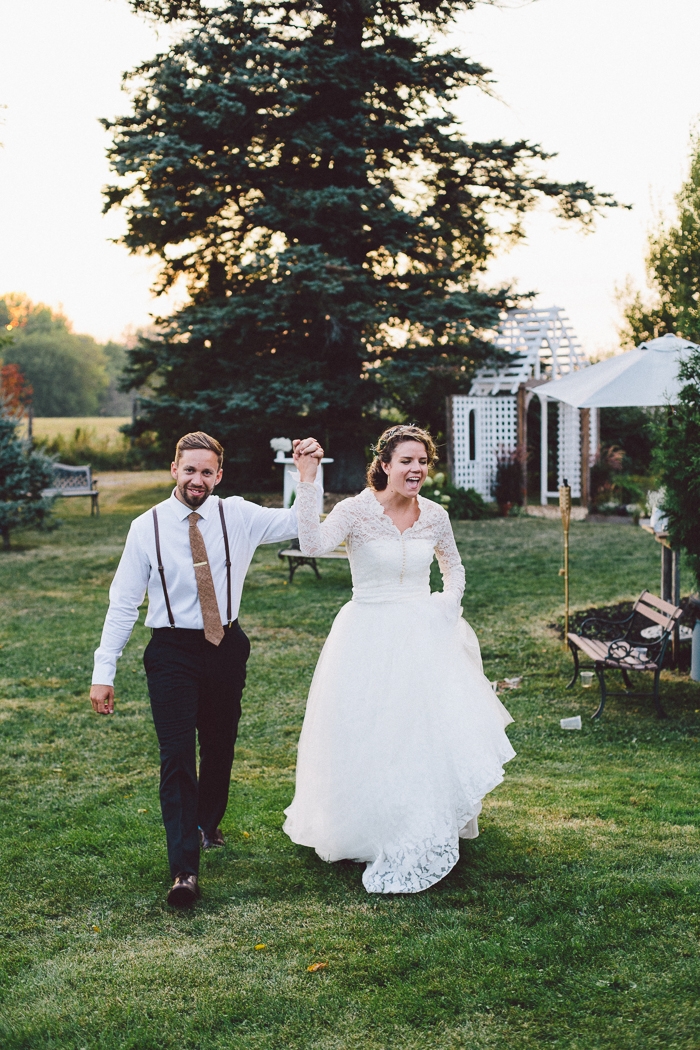 What were the highlights of the reception?
The bride wanted twinkle lights in the tent and with the help of some great people setting it up, it was a success; it looked so beautiful and perfect. The dance floor was awesome outside under the stars; the groom decorated it in a way that was so magical and made for awesome photos. The bride's brother also brought a smoke machine which was so fun! We love dancing, and were the last ones on the dance floor. We really loved everything and felt so blessed to have had such a perfect wedding in our own eyes.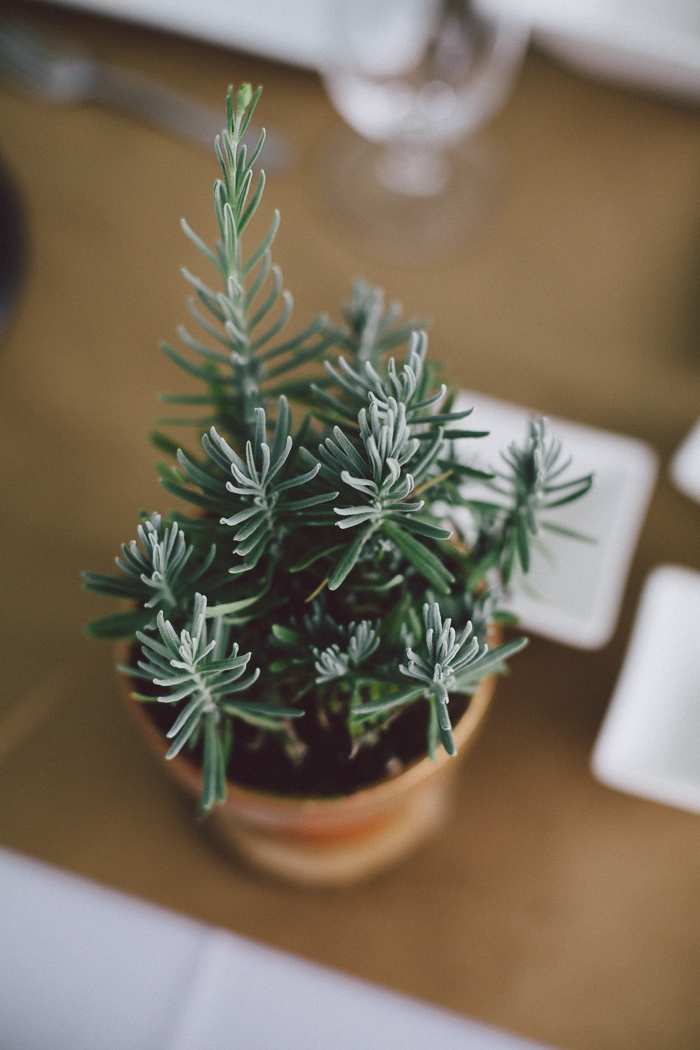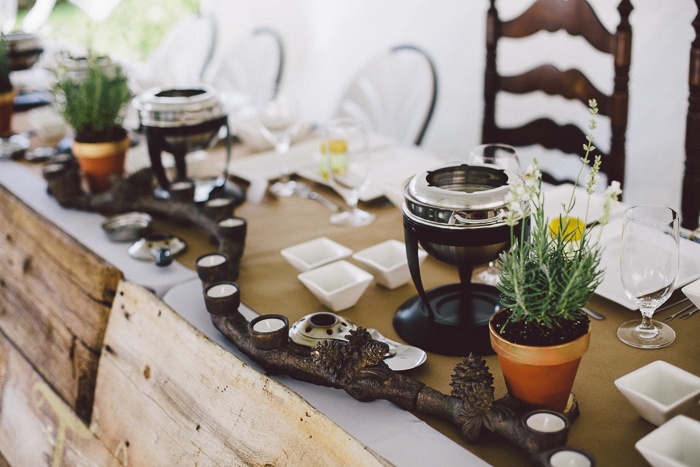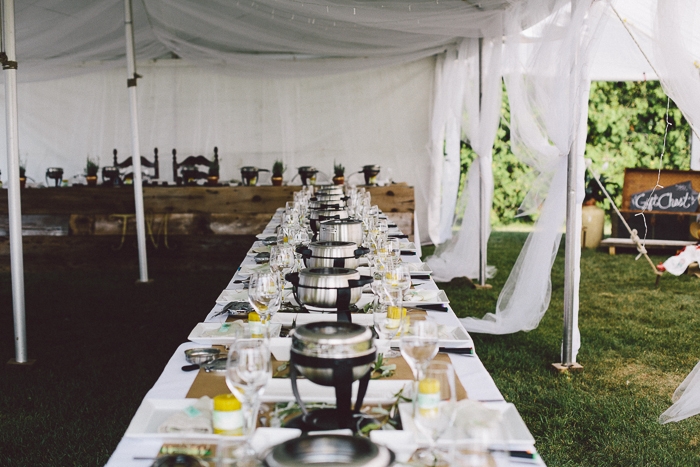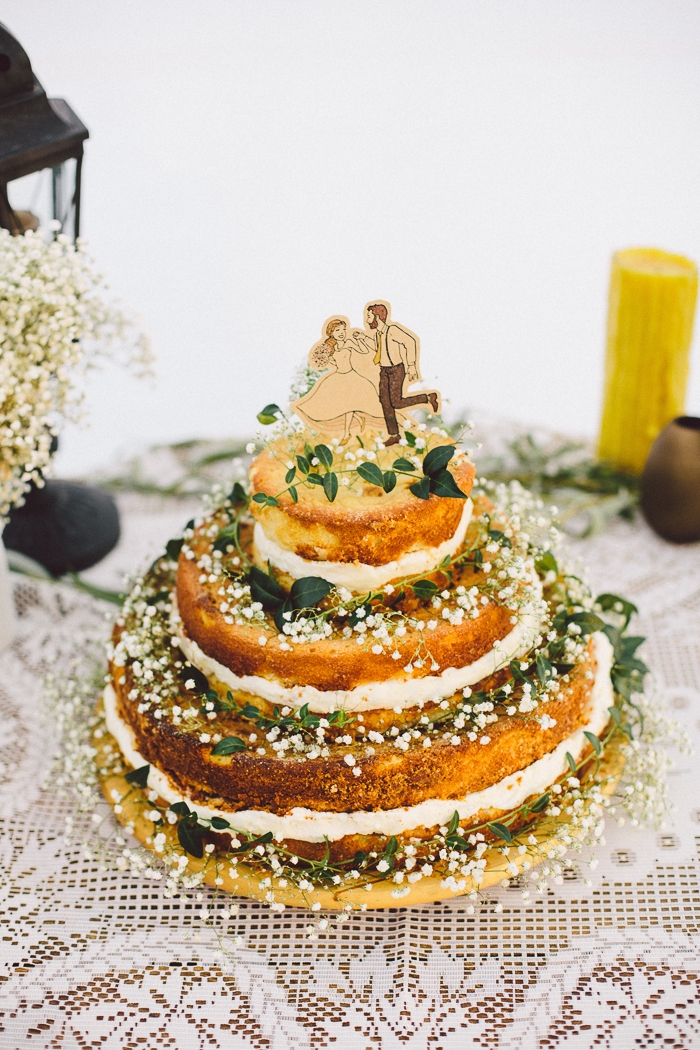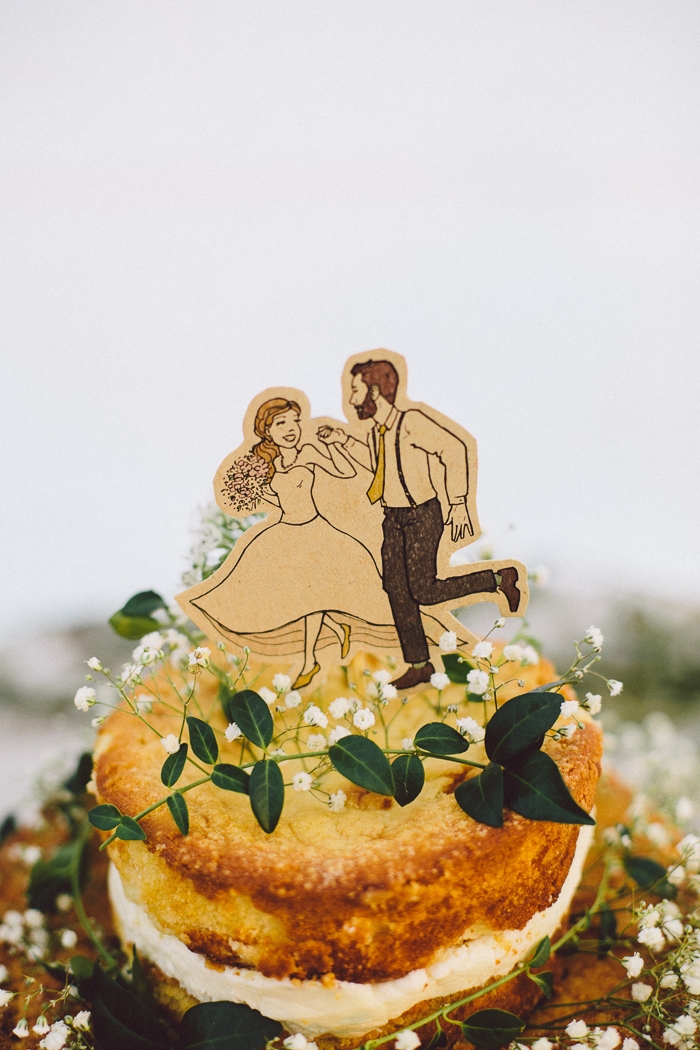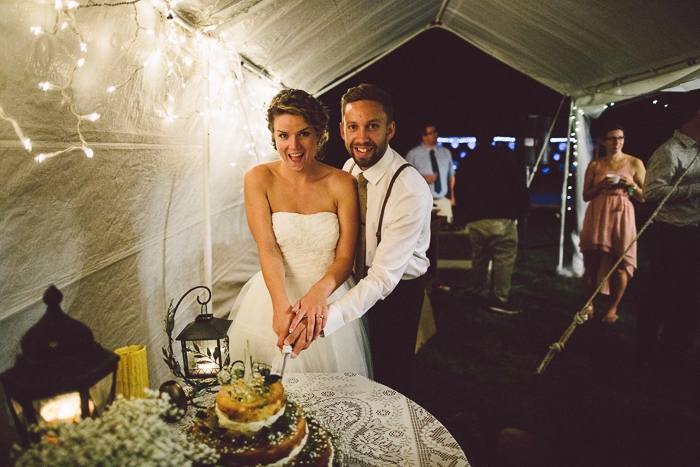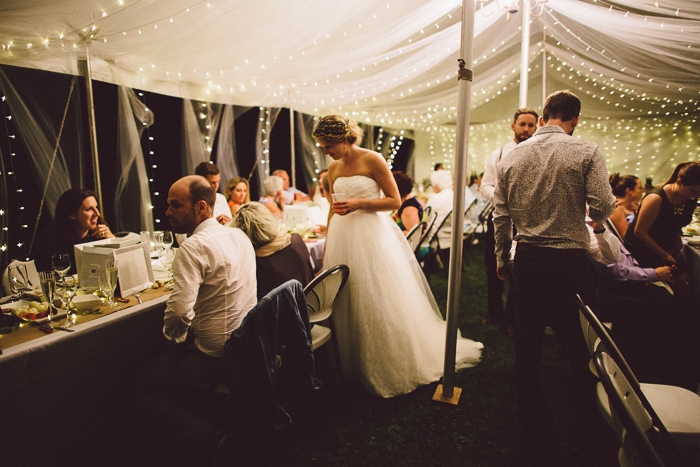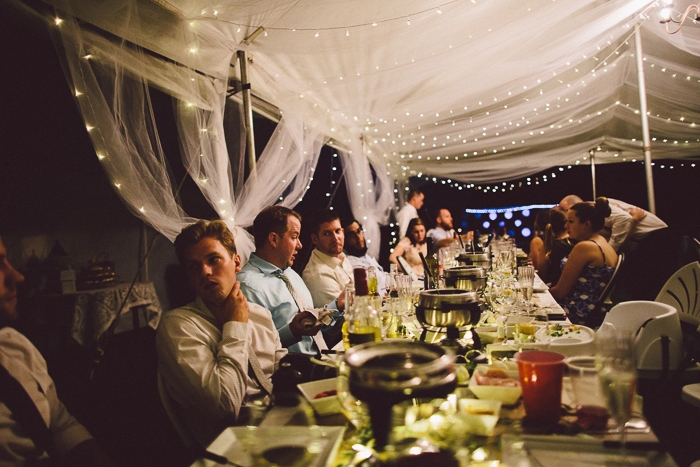 What was the best thing about having an intimate wedding?
Since the costs were down and we weren't accommodating a lot of people, we were able to do what we wanted with decorating, food and gifts. Most of the wooden items were made by the groom and bride's father (dance floor, bar, arbor, etc.) and the invitations were handmade by the bride and groom, which made everything so special. We wouldn't have been able to do that if it wasn't an intimate wedding. We were also able to plan a wedding we wanted in less than five months and it wasn't painfully stressful at all.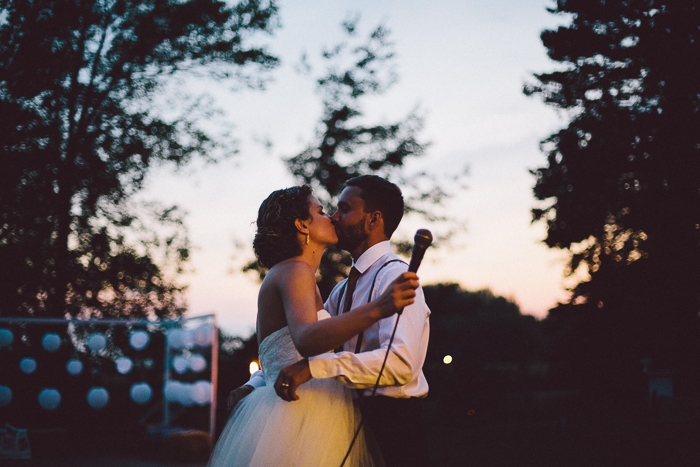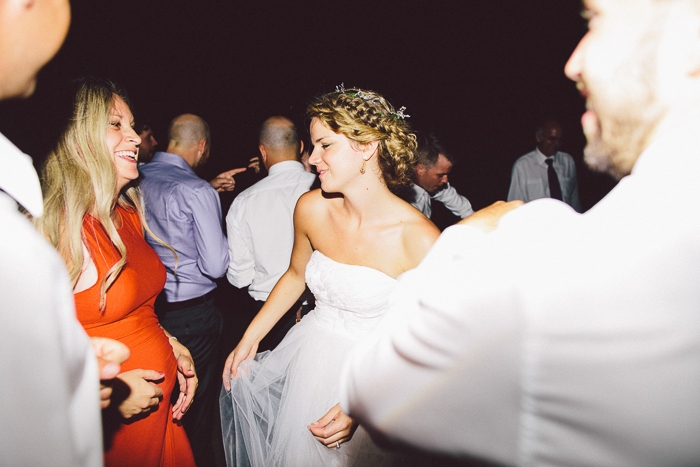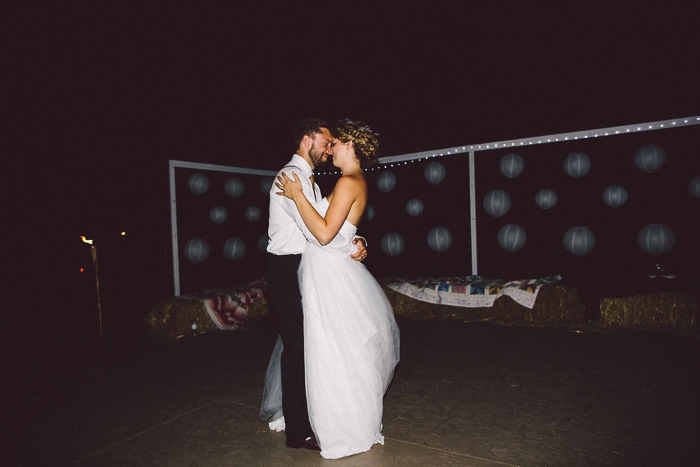 What advice do you have for couples who are considering an intimate wedding?
Do it! There is a lot less pressure when you are accommodating less people which makes planning so much easier. When you know the hand picked people around you love you and support you, it makes any mistakes or things that didn't go right less of a big deal. It makes the saying 'don't sweat the small stuff' a viable option. With a smaller crowd it makes budgeting easier and we were able to do other special things with the food and music that were a little pricey. 
It's your day and you should make the memories that your hearts' desire.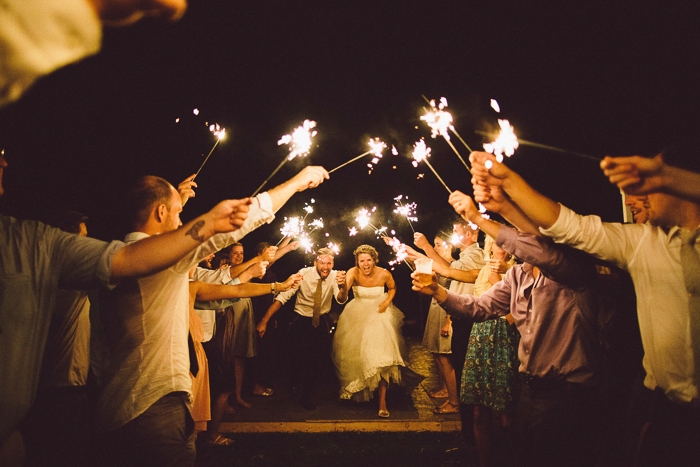 Vendors:
Photography: Taylor Clark Photography
Catering: Margaret's Kitchen /Chez Lily
Live Music for Ceremony: Campbell Trio
Tent Rental: Lauzon Tent Rentals