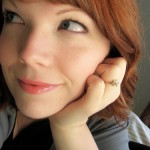 By Carey, IW Bride Blogger
I just need to take a moment to praise my little brother Drew who took the photos at our wedding. He just booked his third wedding this month (and ever)! I am so proud of him, and so lucky to have been the first.
I love you buddy.
More photos from our wedding:
Nathan knew from the beginning he wanted to wear a bowtie! And, I just love it (though now he keeps saying that he looks like a nutty professor). We found his bowtie on etsy from Xoelle. She creates bowties and other cute things like aprons out of vintage materials – Nathan's tie used to be an old shirt. Neither of us knew how to tie a bowtie, nor do any of our friends or family! Can you believe it? I tried really hard to learn the week before the wedding through the use of a you tube video but couldn't figure it out perfectly. Nathan fooled around with the tie for a good thirty minutes before the ceremony and actually figured out how to tie it!
His ring is custom designed from Wood-Rings.
I think he looked just dapper.