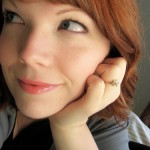 By Carey, IW Bride Blogger
My hair piece was from the wildly talented Whichgoose. I found her through etsy, and actually ended up buying two hair pieces from her because I couldn't decide which would be best with my dress without trying them both on. The other hair piece I decided not to wear on our wedding day got some use at the Ren Faire earlier this summer, though. Her pieces run between $30-$50 for the most part, and are beautiful!
My necklace was also from etsy artist Luxe Deluxe. This was one of the first accessories purchases I made for the wedding, and felt so happy with my decision. I don't normally wear a lot of necklaces, and might not have otherwise, but Nathan really loves when I do. I thought this necklace was delicate enough (the leaves are vintage brass from the 1950s) and the pearls were a perfect touch to accent my hair piece.
My ring is a simple 2mm 18k gold band that we ordered from believe-it-or-not weddingbands.com.
I really depended on etsy and some amazing do-it-yourself-ers to bring this wedding together. And, I really have to highlight Kelly of KellyBowBelly! She has the cutest shop of little kid accessories from neckties to bowties to skirts, and beyond that is so nice to work with!! She was above and beyond helpful, and considerate to my order – cute matching ties for my handsome nephews Jacob and Griffin.
I highly recommend her!