This week we'll be featuring some of the highlights from IW Bride Blogger Carey's intimate wedding in New Hampshire. Take it away Carey!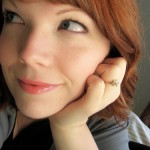 By Carey, IW Bride Blogger
I bought my wedding dress before we were officially engaged. It came out of a box some random morning at work (Anthropologie), and I gasped. That is it! I have loved it ever since. And it waited so patiently in a box inside my closet for me to finally wear it on our wedding day. When it finally went on sale, I bought a second dress which also waited patiently for me to finally have someone make a bolero out of the skirt for me. The friday night before we left for New Hampshire my dear partner Abigail and I cut the lace, pinned the pattern, and sewed a perfect little cover for my arms.
Really, I love that dress. And, I will probably wear it again at a party someday. Why not?
My shoes were also from Anthropologie and designed by Sam Edelman.