There's a lot to love about Alexis and Eddie's wedding, but the top three things that make it awesome in our books include: the chic exclusive hotel venue, the über stylish and photogenic couple, and ninja cookies! These two not only brought their fabulous sense of style to their their big day, but also a wonderful sense of playfulness, to create a wedding that was fresh, fun, and uniquely them.
They enlisted the talents of Kate Kelly to capture all the tears, laughter, and hijinks that ensued.
Alexis Arnold, 37 & Eddie, 38
Portland, Oregon
Wedding Date:  May 12, 2012
Number of Guests:  20
Wedding Cost: $4,000
Wedding Ceremony Location: Hotel Modera Patio, Portland, Oregon
Wedding Reception Location: Nel Centro located in Hotel Modera
Why did you have an intimate wedding?
We were paying for it ourselves and knew we wanted something small and simple. Keeping the guest list small made the planning much easier and also opened up many locations as possibilities for the event. I love modern design and fell in love with Hotel Modera. I talked them into letting us use their amazing outside patio for our small event and they agreed! They do not have ceremonies on the site so we were the first and last to get married there!
What are some the challenges that you faced planning an intimate wedding?  
Keeping the guest list for the reception small enough so everyone would fit into the private room. We had expected no children would attend but a few guests decided to bring them and didn't let us know until last minute. Since each person takes up one seat we ended up having to revamp the guest list last minute! The rest was smooth sailing!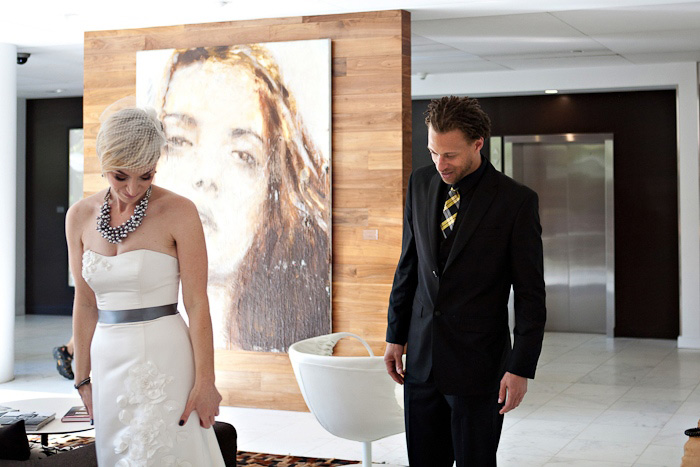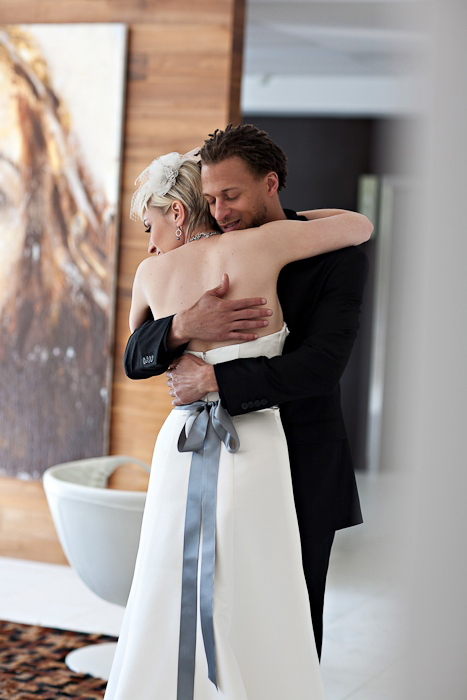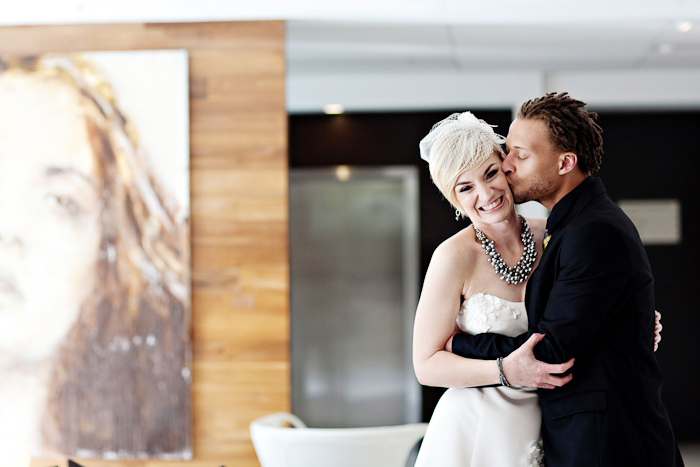 Was it difficult to pare down the guest list?  
YES! This is the hardest part. People don't understand how expensive a wedding can be and tend to take it personally if they are not invited. We decided to only have immediate family and one friend at the ceremony and then we invited a few more friends for dinner and drinks.
Did you have any 'issues' with the small guest list from friends and family? If so, how did you address them?  
Yes, as mentioned above, we expected no children to attend due to it being a very intimate setting with a plated dinner. Some of our guests still brought their children and we had to decide who could attend the reception, their family or our other friends. It was a stressful time and we didn't want to hurt anyone's feelings, but we had to make a decision.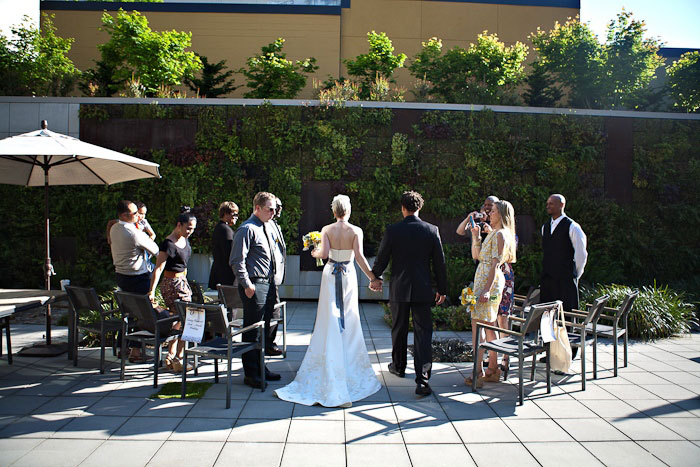 What were the highlights of the ceremony?  
Us both being SO nervous, walking down the aisle together, and him putting the ring on my wrong finger! Also, seeing some of our guests tear up while our vows were read.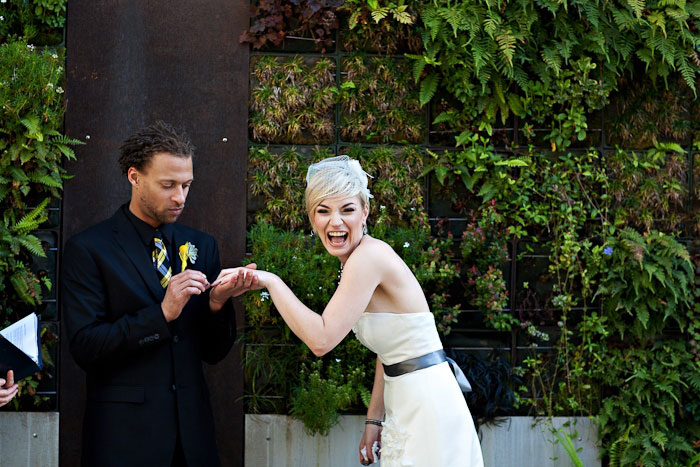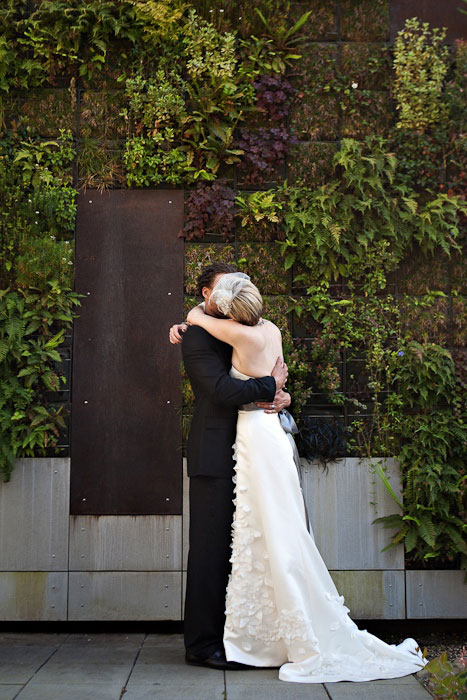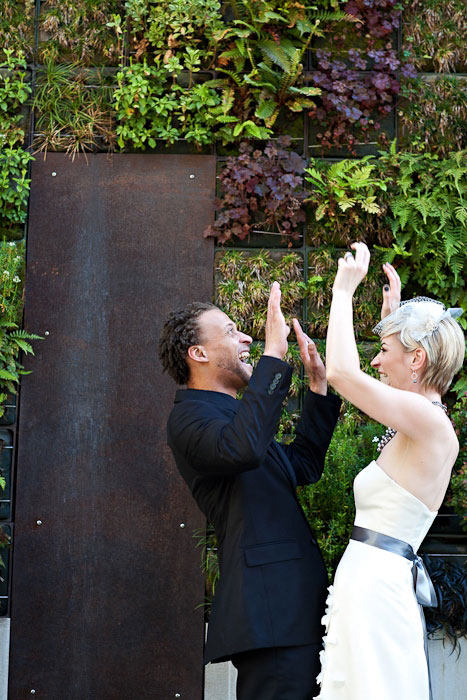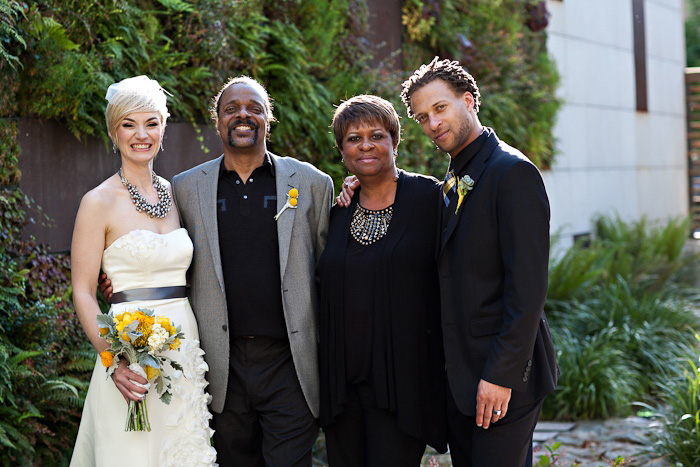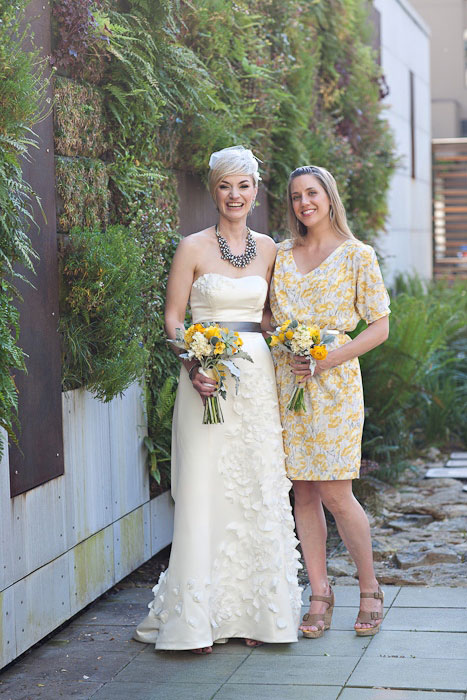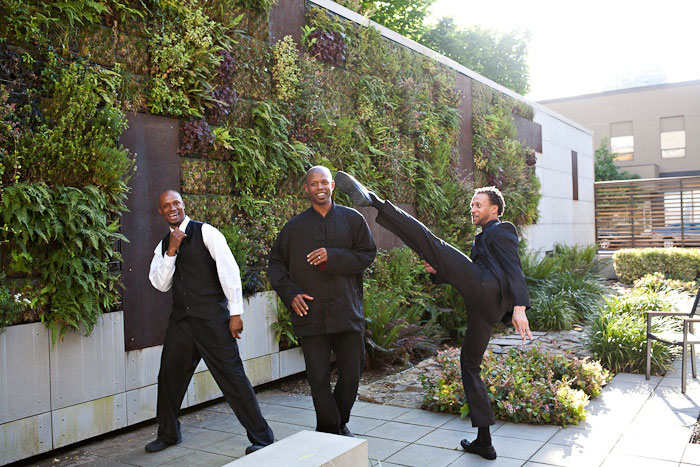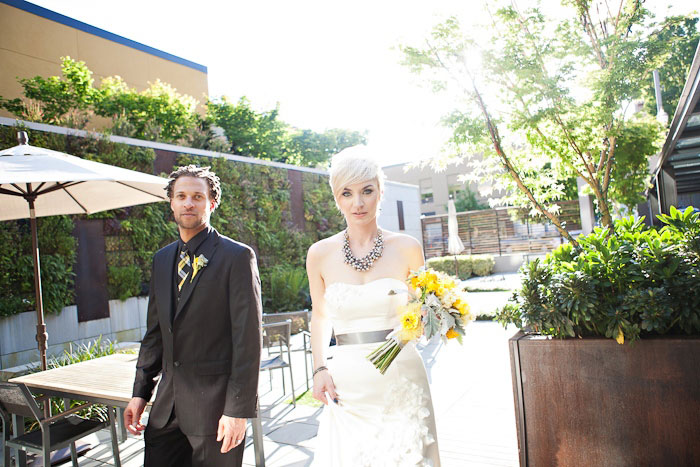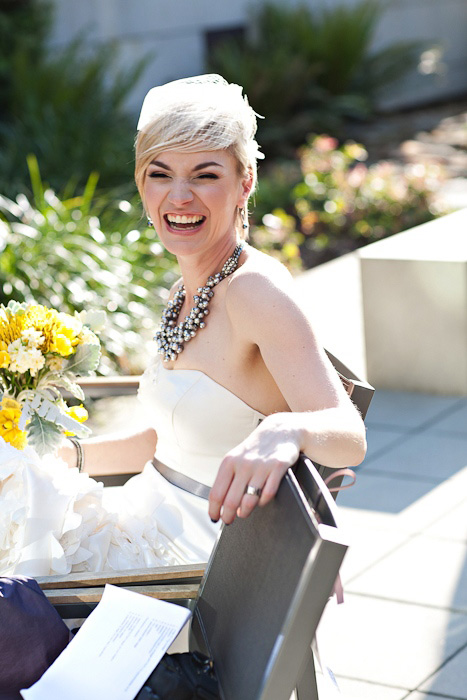 What were the highlights of the reception?  
A few toasts that were unplanned; the excellent food; and the ninja cookies that I surprised my husband with (we opened a business a few weeks prior called Ninja School!). A friend brought a portable photo booth that he designed and everyone enjoyed taking pics with it!
What was the best thing about having an intimate wedding?  
A wedding day goes by so fast, you plan and plan for months or years and then it's over in hours. The smaller event made it feel less overwhelming and we knew we'd be able to spend time with everyone who was there. Of course, it still flew by!
What advice do you have for couples who are considering an intimate wedding?  
Write down what is important to both of you on your day and do your best to stick to it. If you can, it can be best to make all the decisions and then tell family–that way they won't be pushing their ideas on to you. Since I am in the wedding industry as well, I was able to pull from all the talent I have worked with in the past to help me put my vision together. You can ask friends who they used at their wedding for vendors and go off of referrals. Oh and Pinterest is amazing for planning!
Vendors:
Flowers: Lisa at Bloomsberry Floral
Photos: Kate Kelly Photography
Venue: Hotel Modera
Wedding Gown: David's Bridal
Groom's Suit: Macy's
Make-up and Hair: Nicole  Wagner with Powder Inc.
Veil: Andrea Hoyt of August Veils
Cut/Color: Mandy Zelinka
Rings: Etsy
Cookies: Le Cookie Monkey
Cupcakes: Cupcake Jones
Jewellery: Stella and Dot
Officiant: Marky of Custom Ceremonies
Banners and signs/ Ring Holder: Etsy