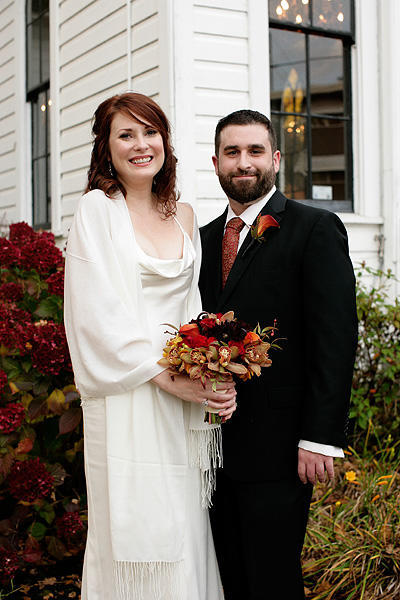 Alison, 37 & John,  33
 Portland, Oregon
Wedding Date: November 1st, 2008
Number of Guests: 35
Wedding Ceremony Location: Oaks Pioneer Church, Portland, Oregon
Wedding Reception Location: Kell's Irish, second floor, Portland Oregon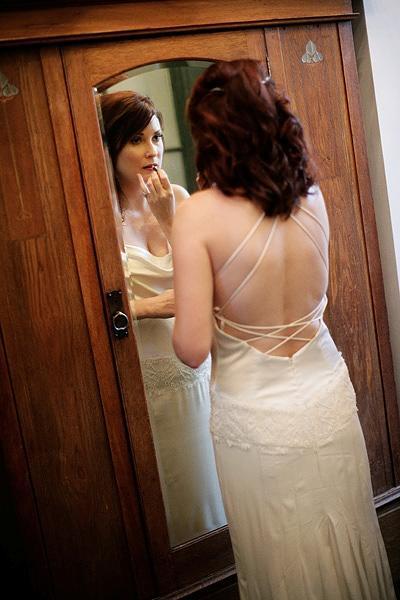 Why did you have an intimate wedding?
Being an event planner myself, I wanted to keep my own wedding very small and simple. Hassle free!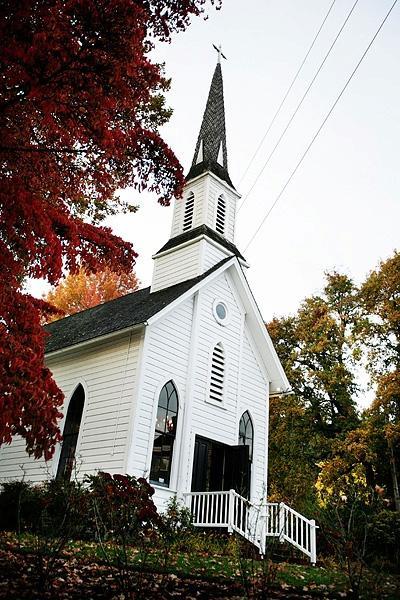 What are some the challenges that you faced planning an intimate wedding?
I really did not experience too many challenges. Again, being in the event and wedding industry, I had plenty of resources to choose from and work with, and everyone was wonderful when they heard I was planning my own wedding.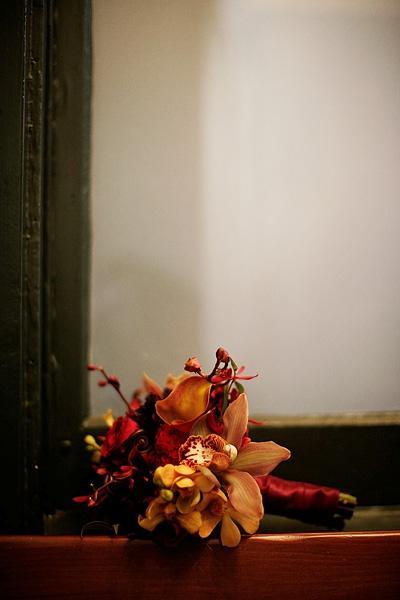 Was it difficult to pare down the guest list?
I come from a small family and am an only child. John has a large family who mostly reside in New York state. John's brother Tom and his bride Tara, had a beautiful large wedding at the Treasury Ballroom just three months prior to our which most of their family chose to attend. We did not want to make them choose between the two weddings since they were so close together. Of course Mom and Dad Egan came out from Red Hook, New York for both! Plus, a smaller wedding was a little more our style.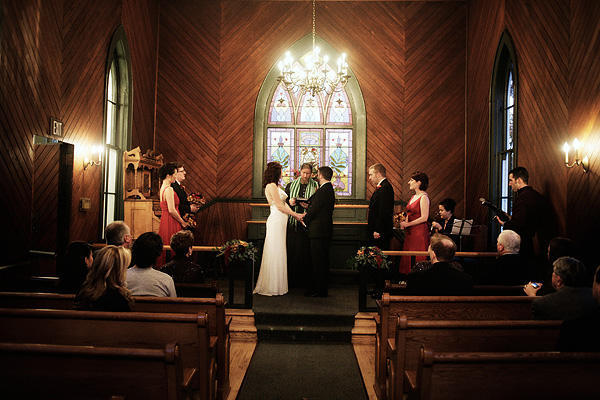 Did you have any 'issues' with the small guest list from friends and family?
No. John's side of the family had three or four fantastic large weddings last year. I think that most people are very understanding, and you save quite a bit of money having a smaller wedding. More money for the honeymoon and savings! We both come from fantastic families! We know that we are always together in spirit.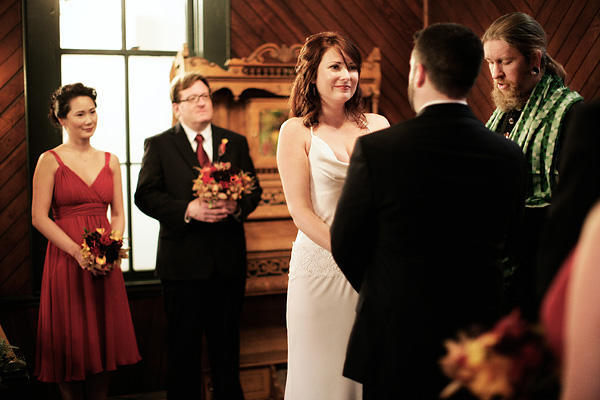 What were the highlights of the ceremony?
My Dad walking me down the aisle, and saying "I love you". When he gave me away I could see that there were some tears in his eyes and I almost lost it before the ceremony even began. I managed to pull it together though. Just being up there with John and saying our vows with his brother and sister and my two best friends up there right along with us. It was amazing! Also, I think our officiant did an amazing job.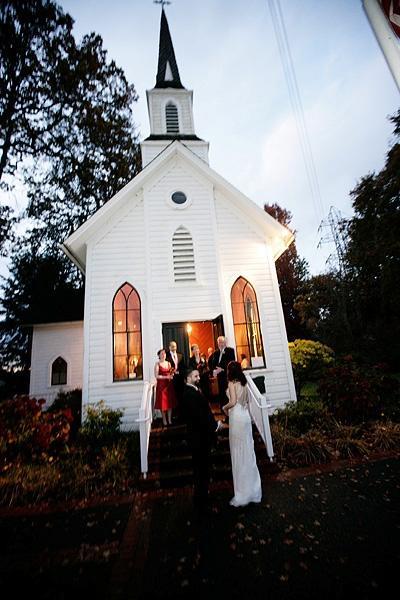 What were the highlights of the reception?
John's Father, Tom, is an amazing guitar player and singer. He sang quite a few fun  Irish songs for us just as we requested. Just being with so many people we love so much. Drinking wine and dancing!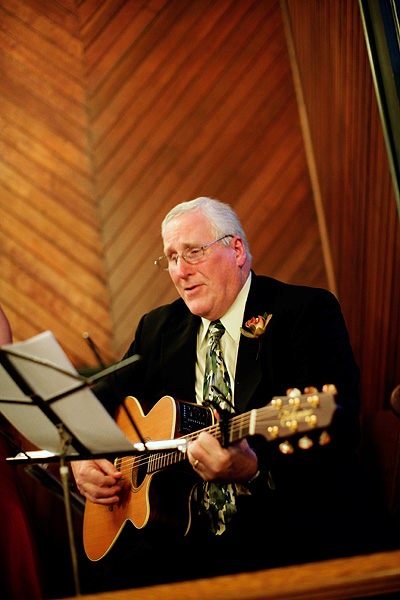 What was the best thing about having an intimate wedding?
You really have the opportunity to enjoy all of your guests. I think it can be very difficult with a larger wedding to even have a chance to speak to everyone who attends. I think that smaller weddings have fantastic energy!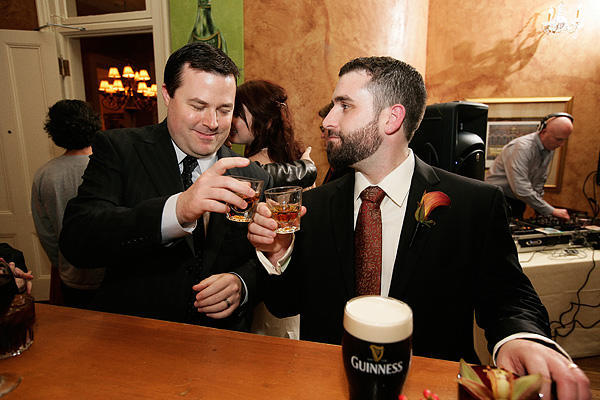 What advice do you have for couples who are considering an intimate wedding?
Just have fun and really make the style and feel of the evening your own. I think that it is so much easier to do when you don't have 300 guests attending.  A smaller guest list definitely keeps the stress level way down!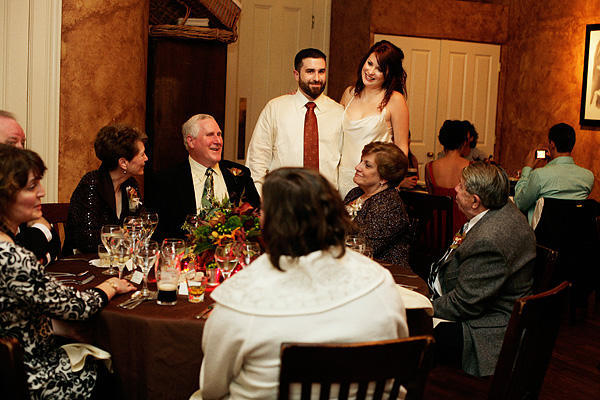 Vendors:
All of my vendors were fantastic!
Photographers: John and Theresa Valls, Valls Photographic
Florist: Page Winograd, Vibrant Table
Officiant: Robb Wijnhausen
Catering: Kell's Irish Pub

Cake: Bakery Bar
DJ: Mark McCarthy/DJ Marko
Photos: Valls Photographic