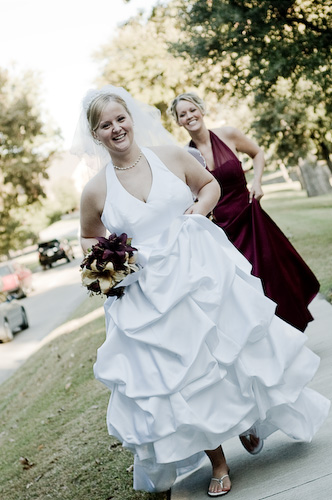 Cathy, 23 and Michael, 22
Princeton, Texas
Wedding Date: October 17, 2008
Number of Guests: 47
Wedding Cost: $10,000
Wedding Ceremony Location: Eldorado Country Club
Wedding Reception Location: Eldorado Country Club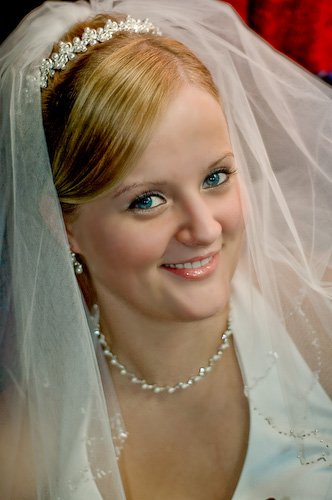 Why did you have an intimate wedding?
We really just wanted to keep our wedding personal and have people who truly care about us there. My husband and I are each other's best friends, so an intimate wedding felt right for us. We didn't need anything extravagant, just something that felt romantic.
What are some of the challenges that you faced planning an intimate wedding?
Because our wedding was small, we were more involved with the details of planning the wedding. If it was a bigger wedding, we would have needed help to plan it. The fact that we were so hands on made it pretty stressful at times.
Was it difficult to pare down the guest list?
At first it was difficult because we were afraid of inviting one person and not another and hurting people's feelings. But it ended up working out.
Did you have any 'issues' with the small guest list from friends and family? If so, how did you address them?
A few friends from our work originally weren't invited due to size limitations. But a few of our long distance relatives ended up not coming, so we were able to invite our friends from work. They just received the invitation a little late.
What were the highlights of the ceremony?
When I was up there with my husband, to see the emotion in his eyes and feeling the love we had for each other. Prior to our wedding I never seen my husband cry, he could not hold back that night and ended up making 90% of the room cry. But the best part of him crying was they were tears of joy and love. There was so much love in the room. You just get that feeling in your heart that you are finally complete.
What were the highlights of the reception?
We had some good laughs from the games my DJ set up. When you looked around the room everyone was laughing so hard. There was a moment when I looked around the room and realized how special I was to have all of these people join us on our special day because they love us that much. You want that moment to last forever and it has, in my heart.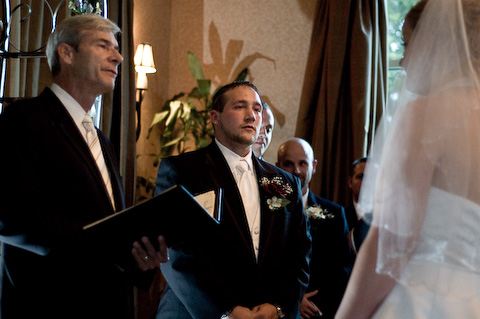 What was the best thing about having an intimate wedding?
I would have to say you really get to spend a lot of time with everyone and it feels more real. I have been to larger weddings and to me it seems impossible to give your time to everyone. But at our wedding I felt like I spent so much time with all my family and friends and had a wonderful night together on a more personal level.
What advice do you have for couples who are considering an intimate wedding?
I think it is the way to go. Your wedding isn't about how many people you can get to show up, it's about having people there that love you and want to be there on the happiest day of your life. Keep the wedding more personal. Things won't seem as hectic either.
Vendors:
Officiant – Craig Claybrook. He was very professional. I really wanted to have our wedding at a church but even though we didn't he made it feel very religious. He also was very helpful with getting everyone prepared.
DJ – Jerry Taylor with A-1 Entertainment. He was a very funny, friendly guy. He had a lot of great ideas to keep our family and friends entertained. Plus he kept the music fair for all ages.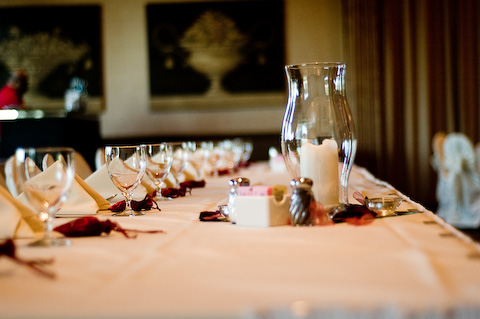 Photographer – Treva and Bob with Treva Tribit Photography. These two were amazing. They have such wonderful personalities. From the time I met Treva I knew she was the one. They took the most amazing shots; they truly know how to capture the moment. Looking through my photos you can relive our wedding, that's how wonderful they were. Treva had a way of making me feel relaxed as nervous as I was the day of our wedding. My friend who was in my wedding liked them so much she will be having them do her wedding in Philadelphia, PA in May of this year and I am so excited.
Ceremony and Reception – Eldorado Country Club. It was just what we wanted. Nothing over the top but still romantic. It wasn't too big or too small it was just right. They set it up so nice inside. The food was great; people were still talking about it days later.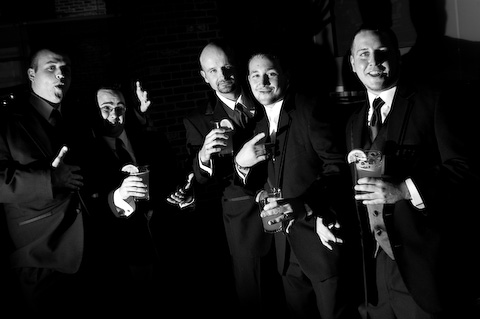 Wedding Coordinator – Tracy Richards with Eldorado Country Club. Tracy was so sweet and helpful. When we first started looking we were afraid of people not taking us serious because we were young, but Tracy never made us feel that way. She made us feel so comfortable. Anything we were worried about she made sure to reassure us it would be okay. She went out of her way to make everything perfect for us. She was so easy going and did everything we asked.
Cake – Kelly with Cake Carousel. The cakes came out amazing. They looked good and tasted yummy as well. She made them just the way we asked.
Flowers – We decided to make our own flowers. This also helps with intimate weddings. My husband and I spent many hours together working on the flowers and we had a great time doing them. He made the guys flowers I made the girls. We made the arrangements together. They turned out beautiful.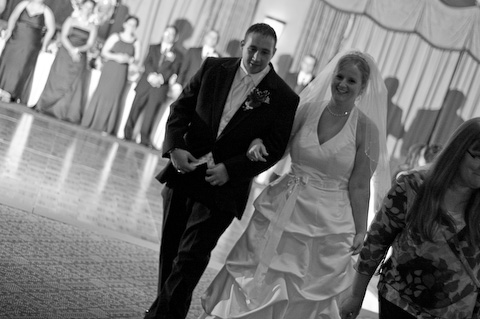 Photos: Treva Tribit Photography