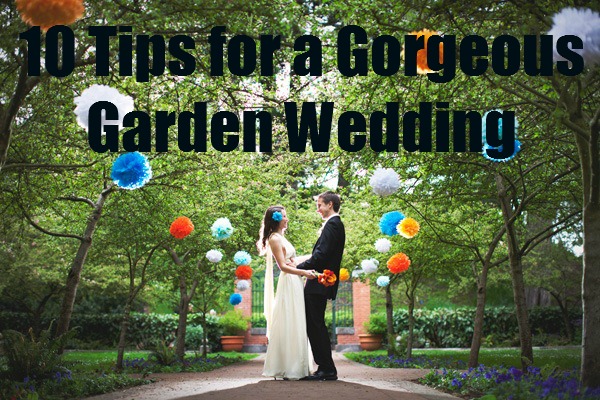 Are you considering a garden wedding ceremony? You are in good company.
Garden weddings are becoming increasingly popular, and more and more garden wedding venues are popping up to meet the demands.
Many conservation areas now offer garden weddings, as well as public parks, historical settings, botanical gardens and private estates. Your home, or the home of a friend or relative can also serve as the perfect venue for your garden wedding.
Like all outdoor weddings, garden weddings are at the mercy of the elements. If Mother Nature decides to go a little wild, then your garden wedding could turn into a garden nightmare. That's why there are tents and back-up plans.
Here are some things to consider when looking for a venue for your garden wedding ceremony:
When you are looking for an outdoor venue for your garden wedding ceremony, find out if tents are permitted, or if there is a building nearby that can accommodate your wedding in case of inclement weather.
Visit the venue beforehand. Is it big enough? Maybe it's too big for your intimate wedding? Are there washroom facilities? What about parking? Ideally, visit the site at the same time of day you plan to have your ceremony. That way, you can figure out how to configure your site so that you and your guests are not blasted by the sun.
Find out if any other events are being held at the location on your wedding date. You don't want the Addams Family Reunion a stones throw away from your ceremony site.
Find out if chairs are provided. If not, find out if chair rental is permitted. Many garden venues will only permit ceremonies, and some do not supply chairs for guests. If you are looking for a simple garden ceremony this won't be a problem. If chairs are permitted, choose wooden chairs. Metal chairs get scorching hot in the sun.
If you are planning to get married in the summer, find out if there is shade where the ceremony is being held. You might be able to stand up to the 90 degree heat, but what about your grandmother? Also, provide bottled water for your guests to keep them hydrated. You could also offer lemonade or sparkling water before the reception. Parasols for elderly guests are also a nice idea. Or you could make your programs in the shape of fans so guests can fan themselves.
If the venue is in a secluded area, make sure you give your guests good directions and allow for extra travel time for guests to find the venue. If your guests have to take back country roads to find the site, they might need some extra time to get there.
Keep decorations simple. Gardens need little adornment.
When choosing a wedding gown, make sure you keep in mind that you will be having a ceremony outdoors. A gown that will bustle or has no train is your best bet.
Don't choose flowers that can't stand the heat. If you are working with a florist, s/he should be able to guide you in the right direction. Also, keep several buckets of water onsite in a shady spot to store wedding bouquets so that they spend less time in the sun.
 Go with the flow. Garden weddings are less predictable than weddings indoors. Be prepared for inclement weather. Even if the weather is perfect, unexpected things like bird droppings, sirens and bee stings are always possibilities.
Photo: Prairie and Andris' Real Wedding Photographed by Alison Yin