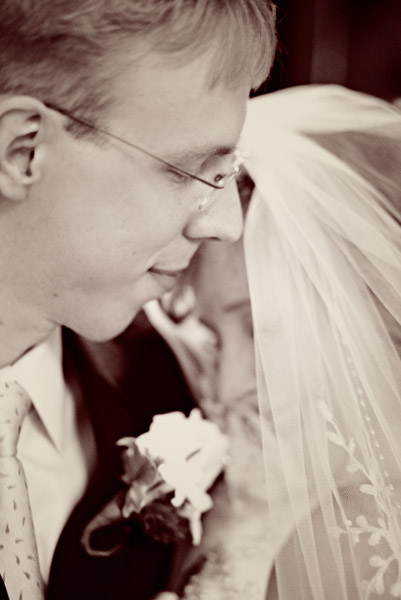 Darcy, 40 & Jason, 28
Boston, Massachusetts
Wedding Date: March 5, 2009
Number of Guests: 32
Wedding Cost: $4,500
Wedding Ceremony Location: Heritage Room, Hotel Lenox
Wedding Reception Location: Azure Restaurant Private Dining Room (Hotel Lenox)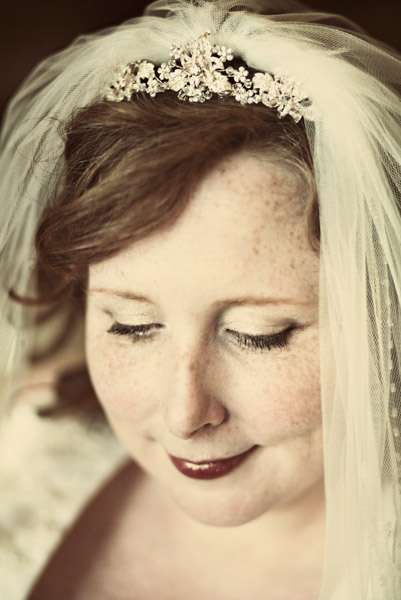 Why did you have an intimate wedding? What are some the challenges that you faced planning an intimate wedding?
Well, originally we'd planned to get married at City Hall, because Jason and I are both students and poor as church mice. (He's majoring in physics and I'm pursuing my PhD in Medieval History). We also were expecting our first child. (Nell was born in April.) The city hall venue only allows 4 witnesses, though, and my three brothers and two sisters rebelled because they wanted to be part of it. My parents offered to pay for a wedding but we didn't want to put them to a lot of expense.
We decided to have a simple Justice of the Peace ceremony and a restaurant reception and invite just the closest members of our families: parents, siblings and aunts and uncles. At first that was about 20 people. Jason's family are from Utah, and we'd only expected his parents to come, but one by one his  five brothers and sisters and their families decided to fly out. We were thrilled, but that meant we needed to find a place that would be good for about 30 people. At first we'd planned to go to Sel de la Terre on Long Wharf, but the room was a bit small for our party. On our way out of Sel de la Terre, we decided to stop into the Lenox to see about possibly renting a room for the wedding night. We immediately fell in love with the beautiful lobby and thought we'd just SEE about their restaurant, Azure. We were sure it was all out of our price range. As it turned out, it was less than the original venue! And the room was just perfect. They also ended up offering us their Heritage Room for the reception at a highly discounted rate. All together it was even less expensive than our first option!
My mother wanted to buy me a wedding dress as her gift to me, and once we found one, I knew we'd have to have a photographer, as well.
Trying to keep costs low we used pre-fab invitations from Papyrus and I printed the program and placecards myself. My sister-in-law did the reception flowers and we got our bouquet, boutonnieres and corsages from Whole Foods, along with the tulips for our ceremony. We got our cake from Konditor Meister in Braintree.
We planned our wedding in just six weeks, but because it was off season we didn't encounter any trouble. I found my dress the first day we looked. Our cake was easy to select. The hotel was gorgeous. Our JP, who we found on the internet, was charming and warm. Our photographer Lisa Rigby (who we also found on the web) was stunning. In the end we had our dream wedding.
If we'd had a lot of money we might have expanded our list to include 20 or 30 more people and added dancing, but I am glad we didn't, because we would have had to move to a larger place and I think we would have sacrificed intimacy.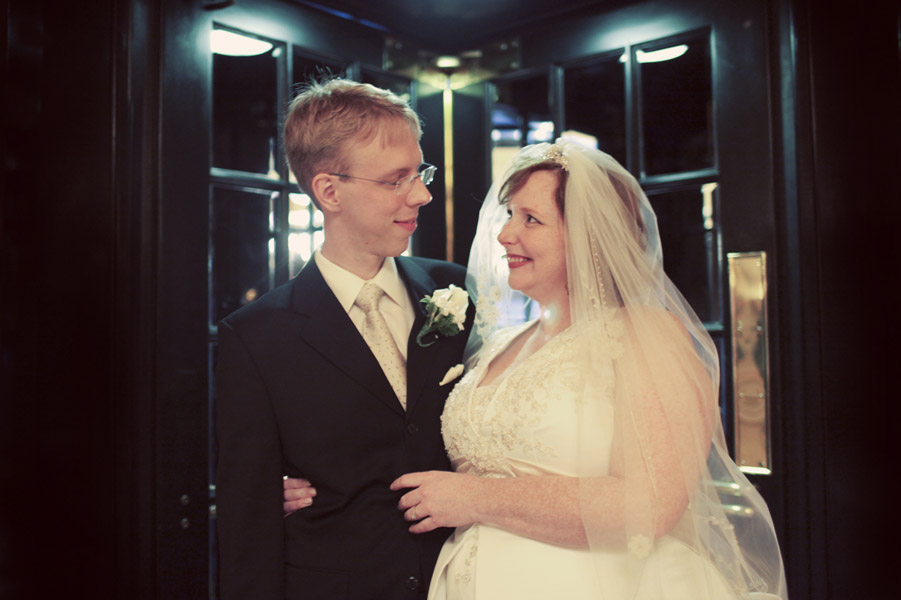 Was it difficult to pare down the guest list?
A little bit. I have a lot of cousins. Ultimately, because we wanted to keep it small and inexpensive, we drew the line at aunts and uncles (on my side).
The only friend we invited was my closest friend of nearly 20 years (who is now godmother to our daughter).
Did you have any 'issues' with the small guest list from friends and family? If so, how did you address them?
I had a few friends and cousins who felt a little left out, but I explained that if I'd invited one, I'd have had to invite them all, and they understood the difference between a 30 person and a 50 person wedding.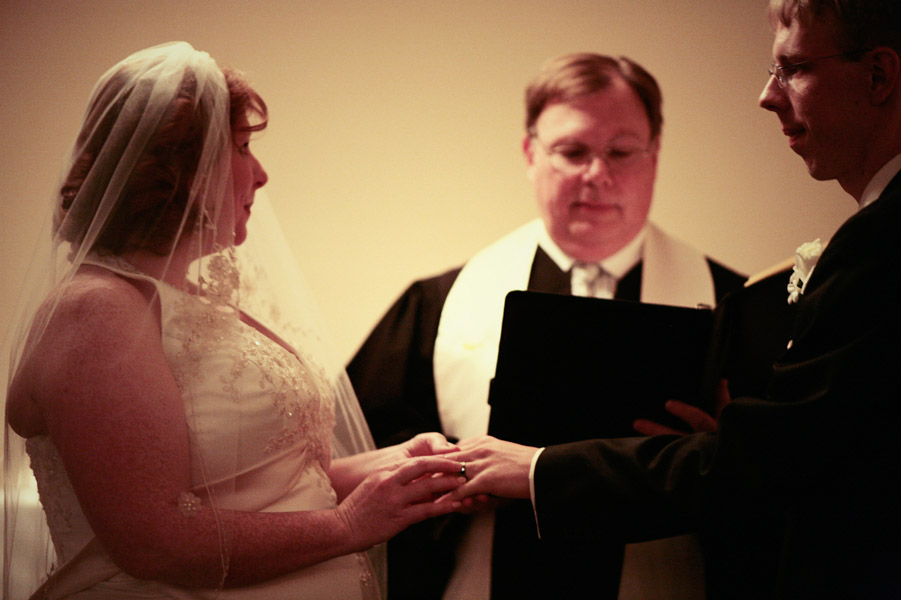 What were the highlights of the ceremony?
Because we used a Justice of the Peace (Alan Ulrich from Reading) we were able to craft our own vows. They included a loving cup ceremony and a flower ceremony that everyone present was able to participate in, by adding a flower to our vase to represent their support of our marriage. We also really enjoyed the intimacy of our evening reception.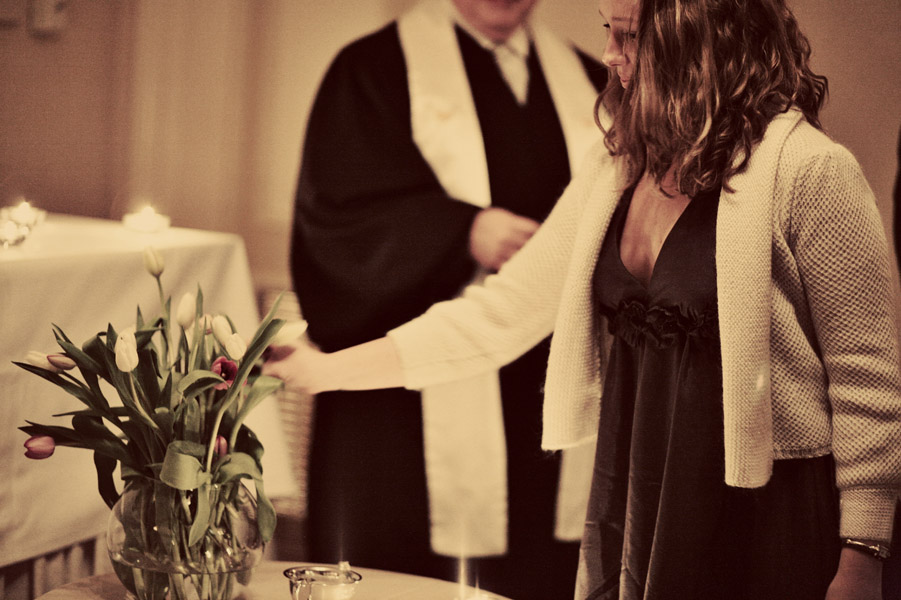 What were the highlights of the reception?
Though we did not have dancing or a bouquet-toss, we were able to have almost every other aspect of a larger wedding: toasts, cutting of the cake, etc. The toasts in particular were very beautiful. Candlelight and flowers completed the understated elegance of Azure's private dining room.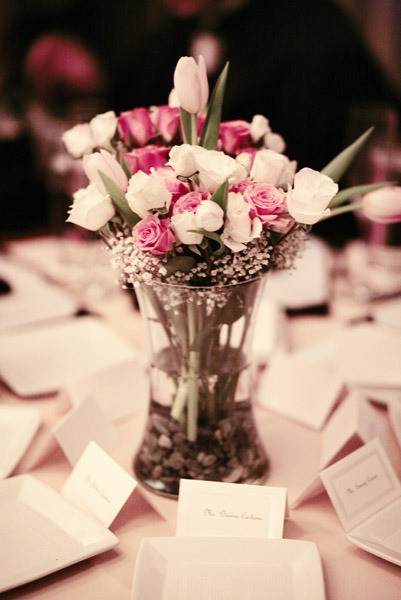 What was the best thing about having an intimate wedding?
For us, I think it was being surrounded by only the most important people in our lives, and not having to bulk up our wedding list with co-workers, acquaintances or business associates that we may not know in 10 or 20 years. The people at our wedding have shared our lives thus far, and will always be in them. It also allowed us to have a more elegant wedding, as costs weren't high due to a larger guest list.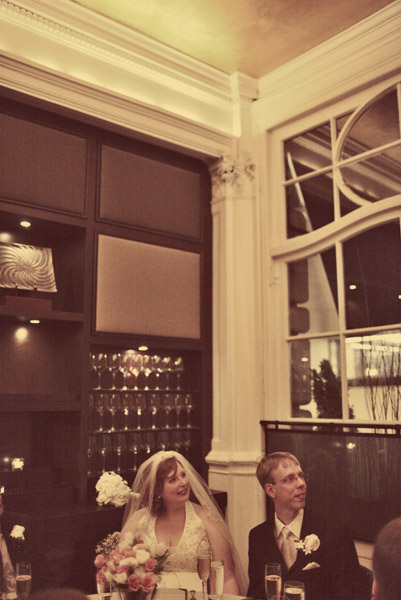 What advice do you have for couples who are considering an intimate wedding?
If cost is an issue for you, having an off-season, mid-week, evening wedding like ours is a great option. It enabled us to work out special deals with our vendors, including the venue, to lower costs. Using a hotel and hotel restaurant was also a great way to maintain the intimacy. We had a large room rented upstairs to dress in (and stay in, later), and then only had to go downstairs to the ceremony and down one more floor to the restaurant. Our guests also had the opportunity to rent rooms at a reduced rate. After the wedding, my husband and I were able to entertain guests at the hotel bar and finally retire to our suite.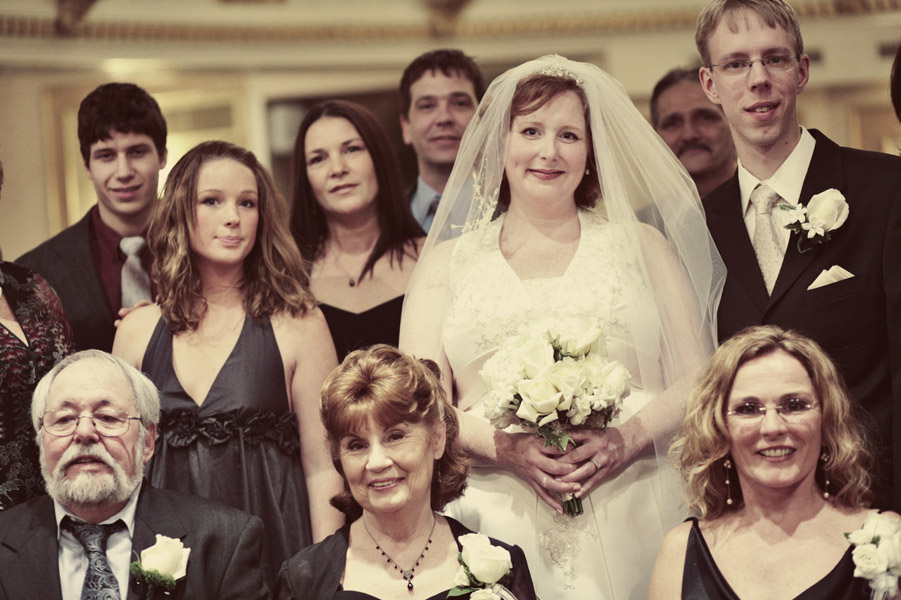 Vendors:
Ceremony site: Hotel Lenox
Reception venue: Azure Restaurant
Photography: Lisa Rigby Photography
Flowers: Whole Foods
Cake: Konditor Meister
JP: Alan Ulrich
Wedding Dress: David's Bridal
Photos: Lisa Rigby Photography