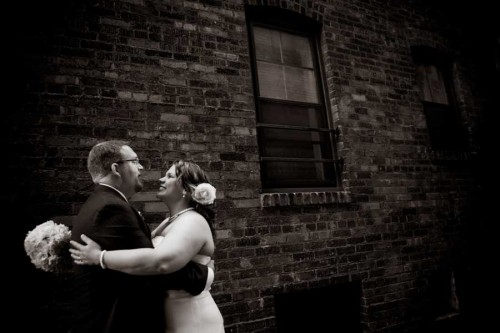 Diane, 32 & Doug 32
Saint Paul, Minnesota
Wedding Date: June 21, 2008
Number of Guests: 32
Wedding Cost: $4,000 (not including photography.)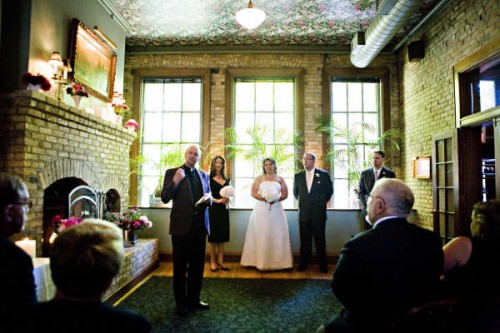 Wedding Ceremony Location: WA Frost, Saint Paul, MN
Wedding Reception Location: WA Frost, Saint Paul, MN for a dinner reception following ceremony.  (We love the historic feeling of WA Frost, the woodwork, large fireplace and stunning garden patio just outside the window where our ceremony and dinner took place was just perfect.) A large picnic reception was held at a park pavilion a week after our intimate wedding ceremony for extended family and friends.
Why did you have an intimate wedding?
Being in our thirties, we felt like we had outgrown the need for a big wedding.  I had already done that in my twenties and Doug – although a theatre major in college – was actually a bit shy about standing in front of a bunch of strangers.  We also wanted a wedding that was all about our closest friends and family.  We didn't want children distracting anyone from the main event, or the big impersonal receiving line with strangers we'd never met before.  We felt our meeting, our romance, our relationship was a miracle; a true blessing. Why would we want to cheapen that with a big impersonal wedding?
What are some the challenges that you faced planning an intimate wedding?
Our family was the greatest challenge.  Although well intentioned, our parents had certain people that they really wanted to invite and we had to be "mean" and say "no".  We had to repeatedly explain that this would be our wedding and helping financially was a gift, not a piece of ownership in who was invited.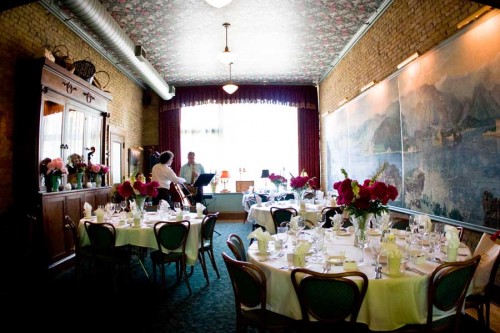 Was it difficult to pare down the guest list?
Not at all.  We invited the people who meant the most to us and who have meant the most to us as adults.  Our siblings, parents, grandparents, god parents and very best friends were easy to narrow down.
Did you have any 'issues' with the small guest list from friends and family? If so, how did you address them?
Ahhh yeah.  See previous answer 🙂  We basically told our families as politely as possible that we would happily accept any contributions to the wedding fund but that those gifts didn't entitle them to a say in the planning.  If they wanted to tie "rights" to their cash, then they could keep their cash and we would pay for and plan it without their help.  We phrased it a bit nicer but we were direct and stuck to our guns.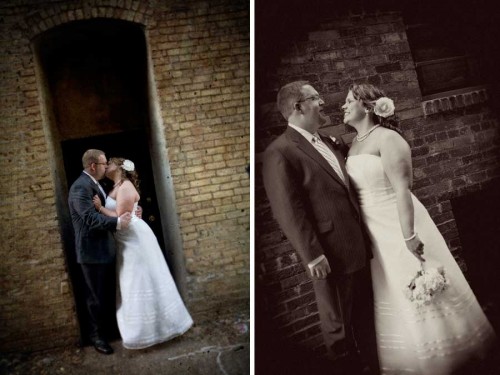 What were the highlights of the ceremony?
For me, it was waiting to enter the fireside room and seeing Doug and his brother standing nervously at the front of the room through the French doors (where he couldn't see me).  Other highlights:
Saying my vows while holding his hands and looking in his eyes.
Looking out at our family and friends and being able to see every face and every approving smile.
Stunning candle light, flowers and the absolute most important people in my life. Everything was so beautiful and magical.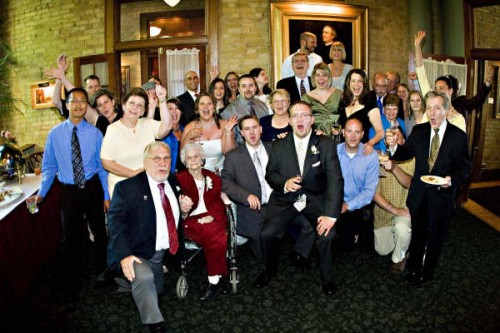 What were the highlights of the reception?
The band was fantastic!  We hadn't even heard them or seen them before but they were simply outstanding!  The food was also very, very good. Especially the mini crème brule.  I also LOVED my flowers.  I had bought them at 7 a.m. that morning at the local farmer's market – beautiful pink peonies!  The room was filled with flowers in antique vases that I'd found at thrift and antique shops in the previous months.  And best of all? The cake table with a candle and special vase of daisies in memory of my Mom who passed away in 2000.
What was the best thing about having an intimate wedding?
Experiencing every moment of the celebration fully.  Unlike my first wedding I didn't feel like I was on stage "performing". There were no microphones, no one I didn't know and no distant relatives whom I really didn't care about.  Our wedding wasn't about gifts or money or image – our wedding was about love.  Our love for one another and our love for the family we were creating together.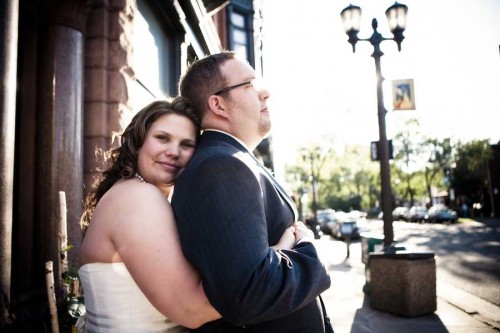 What advice do you have for couples who are considering an intimate wedding?
GO FOR IT!  Do what is best for the two of you!  Make it special to you.  Make it truly memorable, not a day that whizzes by in a blur.  Be connected to your wedding day and make it your own.  Make it the first day of you and your husband's new family.
Vendors:
Photography: Erin Johnson Photography
Music: Jazz Front
Venue: WA Frost did an awesome job preparing the rooms and helping us come up with a fantastic menu.
Cake: We got our delicious wedding cake from A Piece of Cake, which is a bakery located just down the street (and directly across the street from the pub where we first met).
Officiant: The pastor of my Dad's church married us with a $100 donation to the church.
Dress and Suit: I bought my dress on sale at David's Bridal for $300 and Doug bought his suit at the Men's Warehouse for about the same price.
Flowers: I made my own bouquets but hired Stems and Vines to make the boutonnieres and corsages.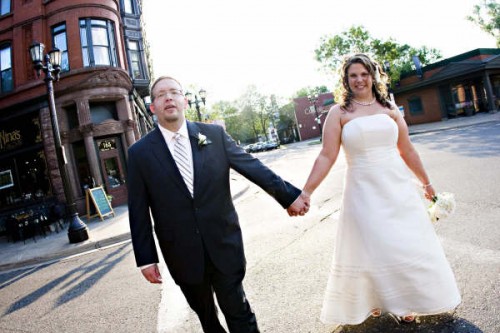 Photos: Erin Johnson Photography