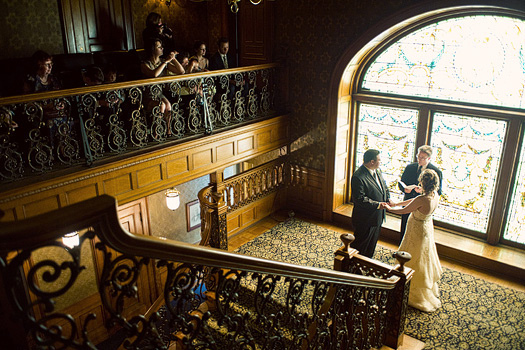 Erica, 25 & Mario, 32
Detroit, MI
Wedding Date: May 15, 2010
Number of Guests: 25
Wedding Cost: $9,500
Wedding Ceremony Location: The Whitney, Detroit, MI
Wedding Reception Location: The Whitney, Detroit, MI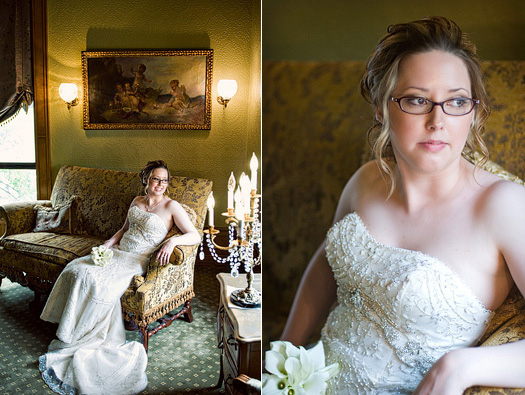 Why did you have an intimate wedding?
First of all, we wanted to be able to celebrate and spend time with the people closest to us without being stressed. With a large wedding we would only be able to spend a few minutes with most guests and that felt too impersonal and rushed. We wanted to be able to participate in the celebration with each of our guests instead of worrying about being pulled in a hundred different directions all evening. Also, we were planning our wedding in Michigan where Erica is from, and Mario's family was coming in from Montreal. Our worry was that planning a wedding to cater to dozens of out of town guests would have just added another layer of complication to a process we were trying to keep simple – keeping our guest list to immediate family only was our plan from the beginning.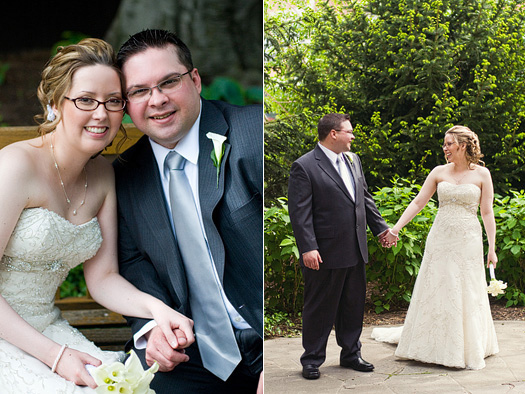 What are some the challenges that you faced planning an intimate wedding?
The biggest challenge we faced was finding a venue that had the right look and feel for an intimate wedding – most traditional wedding venues cater to large groups and have minimum guest counts and spends much higher than we were looking for. The same thing applied to other wedding-related items which are usually purchased in bulk (favors, invitations, etc). We were forced to get creative on some things, and in the end I'm glad it worked out that way because we had a lot of unique personal touches.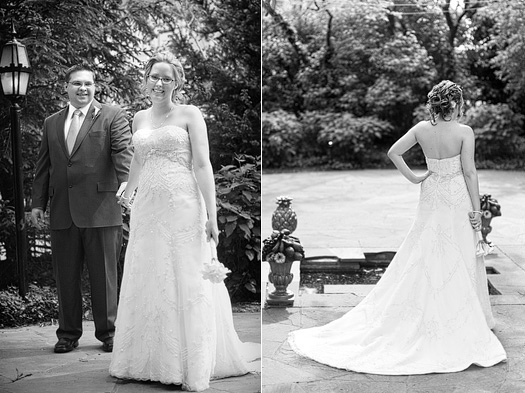 Was it difficult to pare down the guest list?
Not at all. We knew early on that we would have to limit our guest list to immediate family and very close friends, or else have a gigantic wedding with extended family and friends. There really was no in between with us as we both come from large families.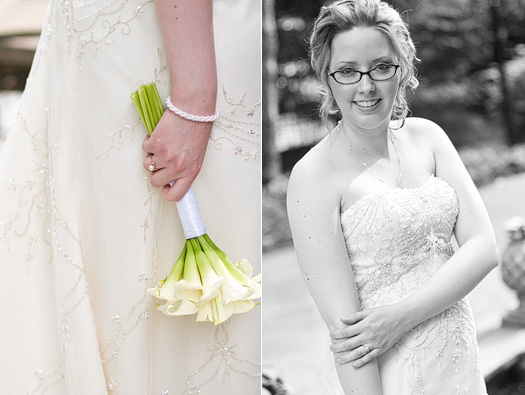 Did you have any 'issues' with the small guest list from friends and family? If so, how did you address them?
Nope. We were worried about extended friends and family members having hurt feelings at the small guest list, but people were incredibly understanding and supportive of our decision. Several people remarked to us that they wish they would have had small, intimate weddings themselves because of the freedom it allows.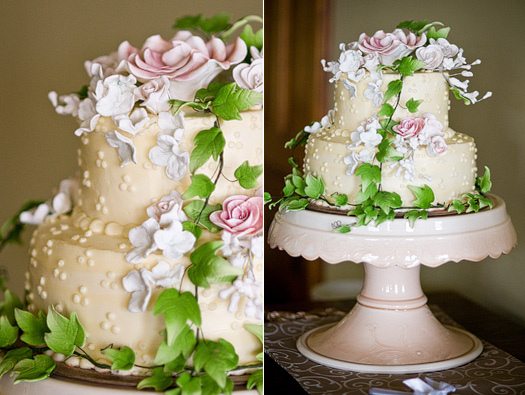 What were the highlights of the ceremony?
The intimate ceremony took place in front of a gorgeous stained glass window – pictures don't do it justice, it was a lovely setting. It was also special to have such an close group of friends and family with us when we exchanged vows.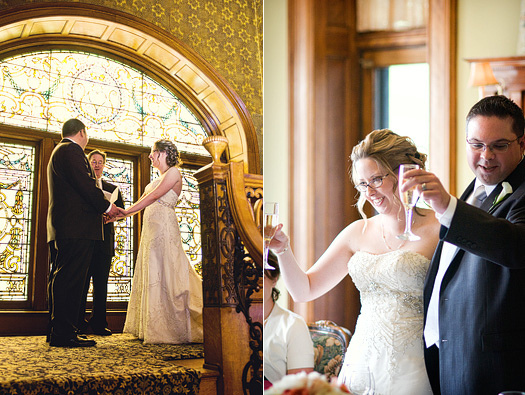 What were the highlights of the reception?
By far the best part of the reception was being able to sit down and relax with our guests. Having everyone seated at one long table really helped cement the feel of a big family sitting down to dinner together, and everyone was able to appreciate all of the little details and personal touches that went into the planning and execution of the reception.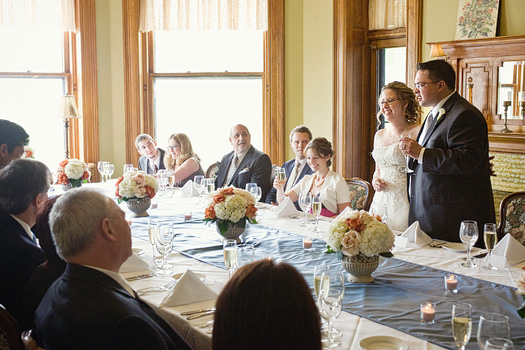 What was the best thing about having an intimate wedding?
Having an intimate wedding allowed us to relax and enjoy the day. Lots of brides are so stressed out by the time the big day rolls around because it can turn into a circus, but having a small gathering took the pain out of it and really made it much more fun for both our guests and us. It was also great because with a smaller group, our budget stretched much further toward lots of upgrades and extras we wouldn't have been able to afford if we were accommodating 200 people.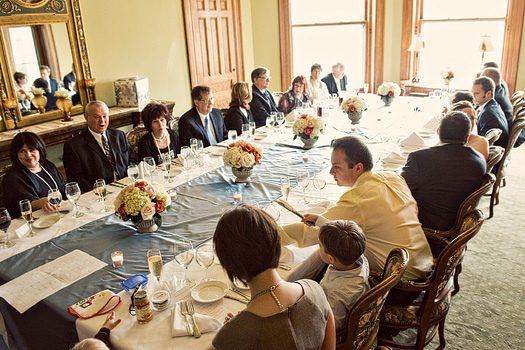 What advice do you have for couples who are considering an intimate wedding?
Do it! It's your day, and if having an intimate wedding will make you happy, that's what you should do. Looking back, we wouldn't have changed a thing and we're so glad we kept it simple.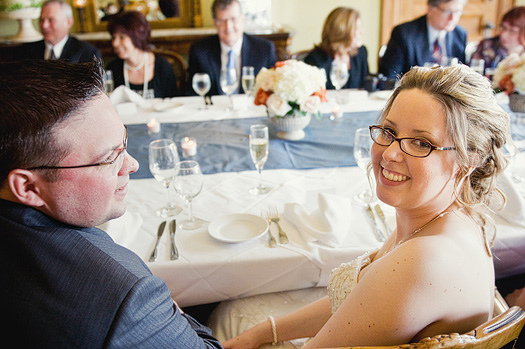 Vendors:
Photographer: Nicole Blair from Nicole Ladonne Photography
Venue: The Whitney
Cake: Trifles
Hair and Makeup: Brides on Location, LLC
Florist: Michele Nonis, (Warren, MI)
Officiant: Steven Goodrum
Cake Stand: Clara French Ceramique
Dress: Brides by Demetrios