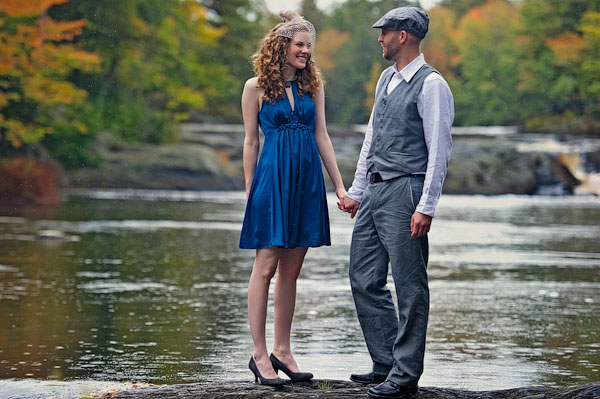 Katherine, 25 & Josh, 33
Annapolis County, Nova Scotia
Wedding Date: October 1st, 2010
Number of Guests: 24
Wedding Cost: $6,000 (approx.)
Wedding Ceremony Location: Mills Falls, Kejimkujik National Park
Wedding Reception Location: M&W's Restaurant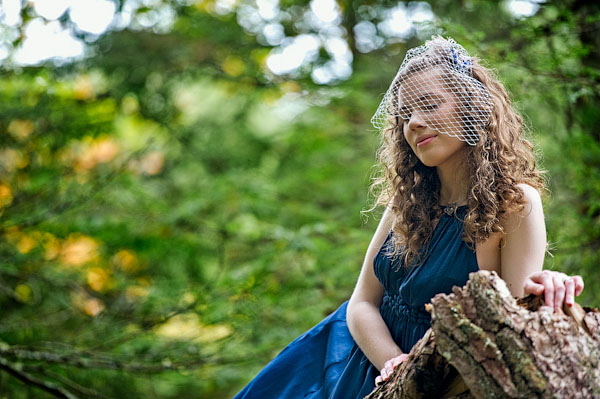 Why did you have an intimate wedding?
We needed to have a small wedding because of budget, but we both dislike large crowds of people so it was more desirable for us to have fewer people who were close to us. We wanted to have a fun, comfortable day, and we got it with the people we invited.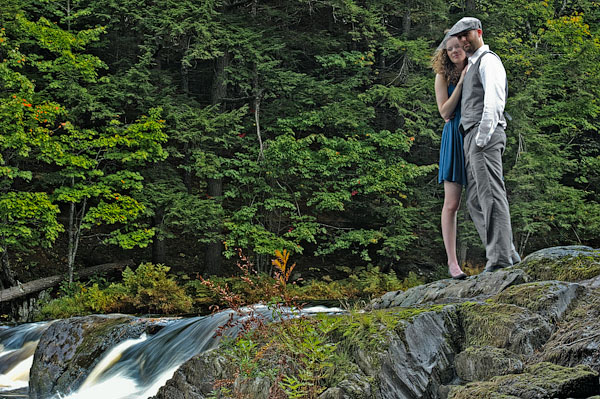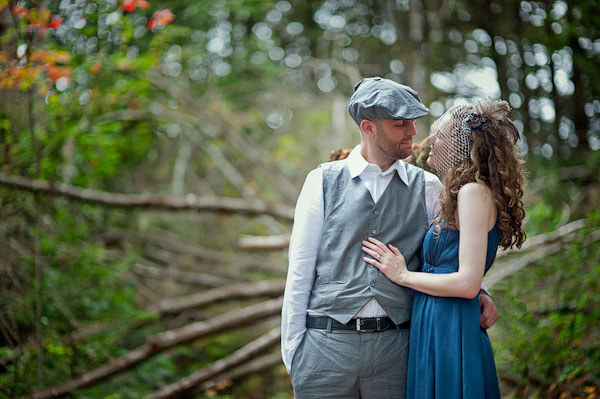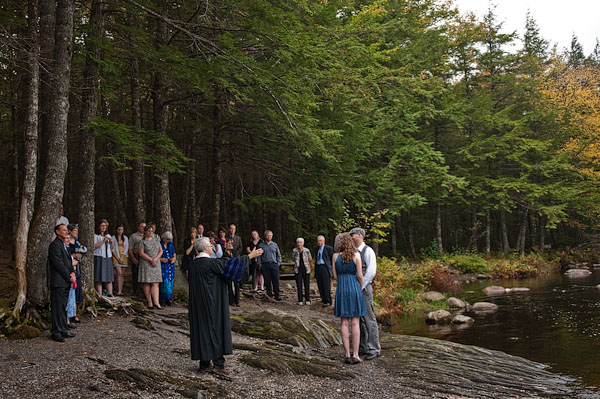 What are some the challenges that you faced planning an intimate wedding?
It wasn't so much challenges with planning an intimate wedding, but planning one long-distance. I did have to think about my family and the place I wanted it, especially with the possibility of bad weather, and having to stand during the entire ceremony and pictures afterward.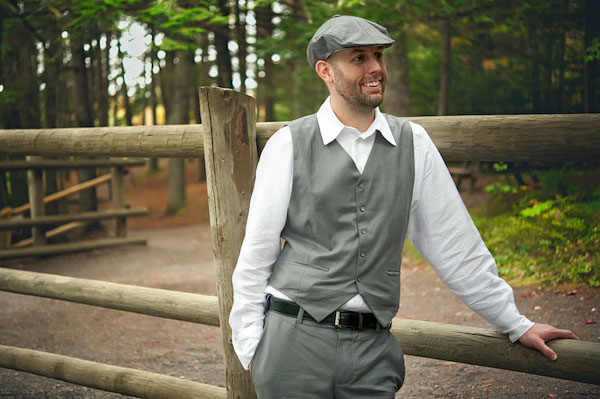 Was it difficult to pare down the guest list?
This may sound cold but, not really. I thought about things very practically and invited only our immediate family and friends. I could have made things larger, but we wanted to keep things as small as we could, so we cut pretty deep.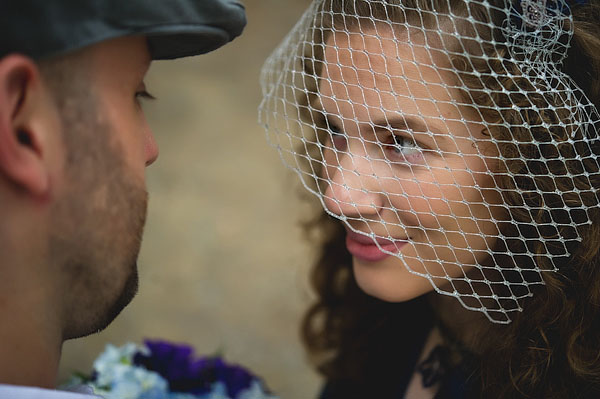 Did you have any 'issues' with the small guest list from friends and family? If so, how did you address them?
Everyone was very kind and understanding about the small guest list, especially my family. I have no idea what my friends thought about it, because I didn't talk about my wedding with them. I only discussed my wedding with those who were invited/attending. Those who did ask were politely put off by the "we're trying to keep it small and not much more than family" line (which was true).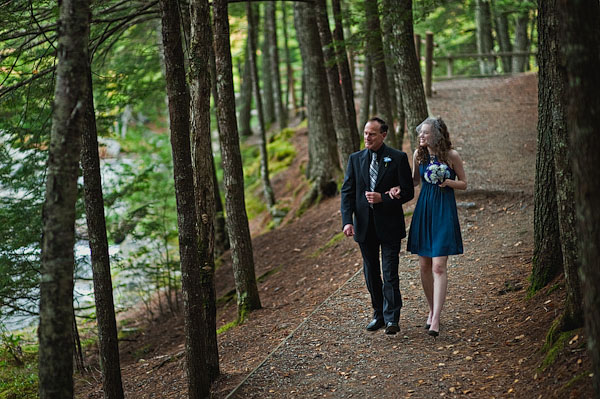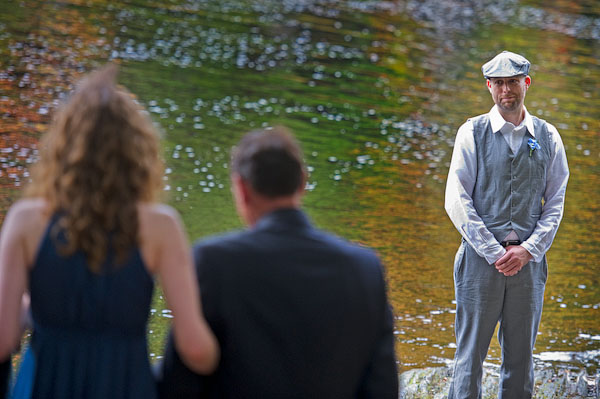 What were the highlights of the ceremony?
My father walked me down a trail at the base of the waterfall to the still water where Josh and the minister were waiting. It was a very sweet ceremony with loads of personality from the minister (who is a friend of mine) and even though I cried at one point (I always cry) we all had a wonderful time.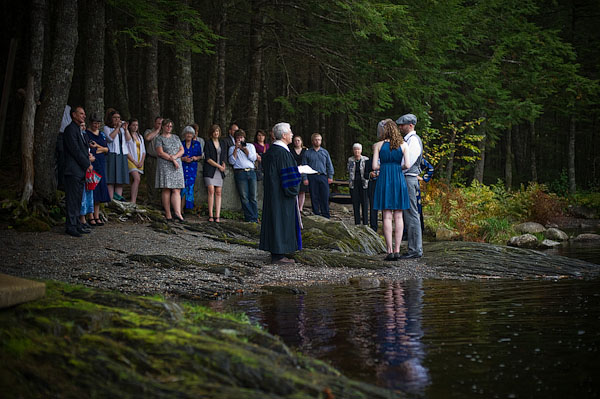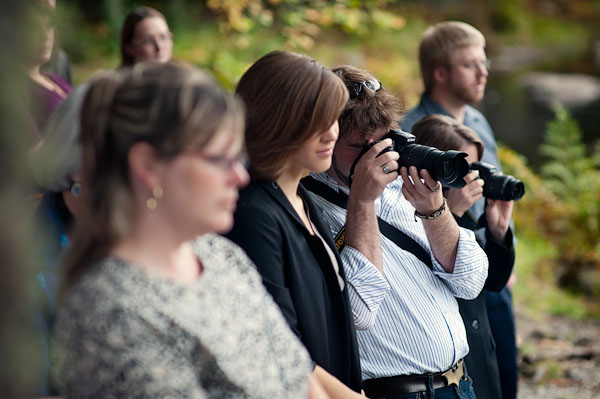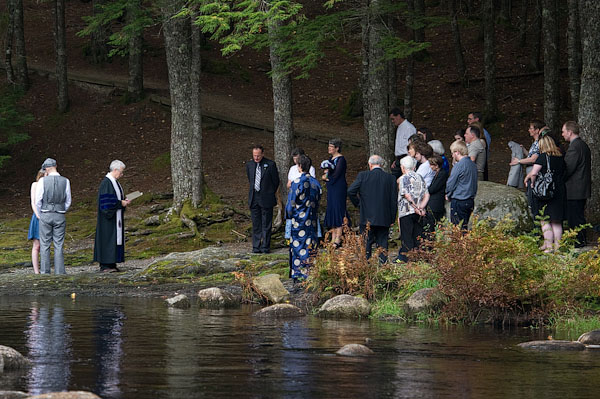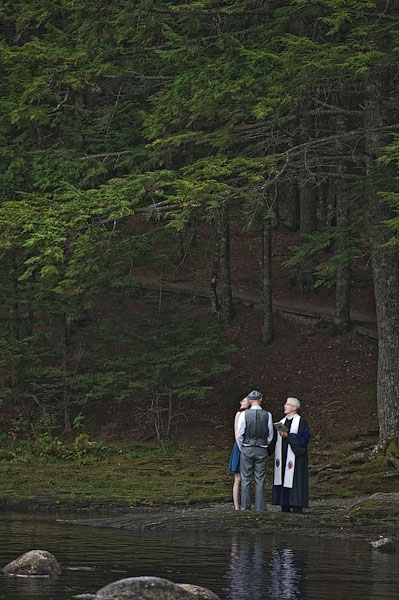 What were the highlights of the reception?
The food. I wanted it to be like one of our family get-togethers with home-cooked food and it was. My grandfather's cousin produced a delicious turkey dinner. The absolute best part was, however, the cakes. That's right, more than one wedding cake. Three, in fact. Three, gorgeous, delicious cheesecakes made by my best friend as a wedding gift for us, which was more than perfect.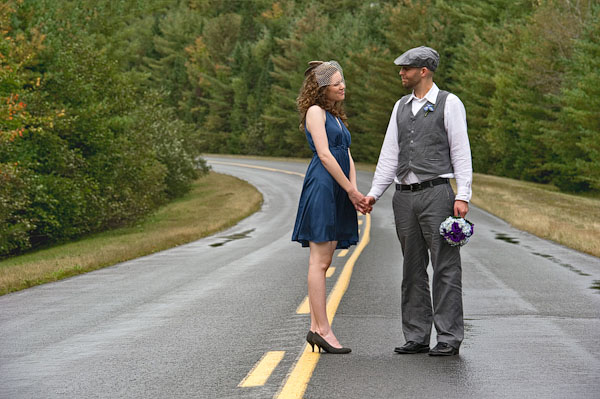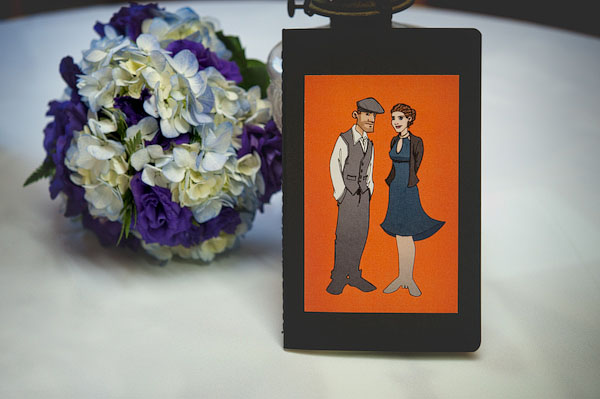 What was the best thing about having an intimate wedding?
The best thing was that we made it our day. We had it where and when we wanted, with the people we wanted. It was relaxed (as far as weddings go, and I'm only talking the day of here) and truly intimate, with no awkward unwanted guests being disruptive.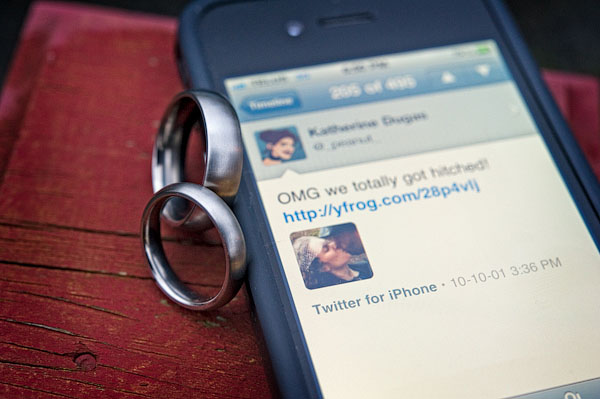 What advice do you have for couples who are considering an intimate wedding?
DO IT. If it is what you want, do it. Those close to you should understand your motivation for it, and those who don't, probably don't care enough about you and your needs/wants to be invited. Easy guest list!
Keep as much of the planning to yourself as you can. This will save a lot of grief. If you need some help brainstorming, have a relaxing night with some close friends and toss ideas around, then take those and pick out what you want. I chose not to do this and looked around at websites that featured the style of wedding I wanted. I only asked for help when there was something I could delegate. Josh designed our invitations pretty much independently, and the reception was mostly taken care of by my mother. I let her know what I wanted which was pretty basic, and she took care of the rest.
Pick one or two things that will make or break your day. For me, the two things I was not willing to compromise on were our location and our photographer. I debated for a while about location, and only the one we ended up at was at all desirable to me. The one thing we ended up really "investing" money in for the wedding was the photographer. For Josh and I, who are very particular about art and such, this was crucial for our day. We do not regret it after how well the photographer worked with us and our guests, and the end result.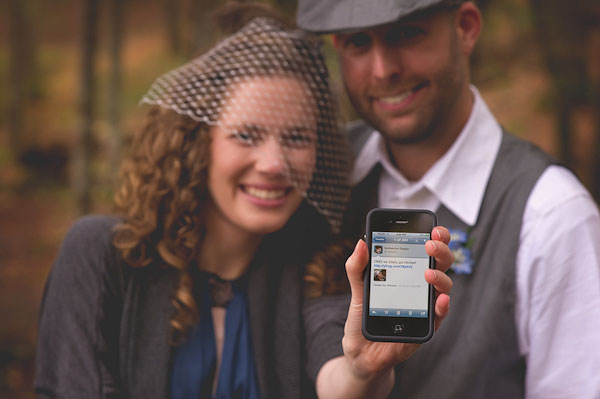 Vendors:
Invitations: moo.com
Photographer: Jeff Cooke Photography (Halifax, NS)
Flowers: Pulsifer's Flowers (Kentville, NS)
Location: Kejimkujik National Park
Reception: M&W's (just outside Keji)
Cake: Colin Robar
Favours: Sissiboo Coffee Roaster
Rings: Etsy seller titaniumknights
Suit: Etsy seller finehandmadeclothing
Dress: Samuel & Co. (Halifax, NS)
Veil & necklace: Etsy Seller TotusMel
Shoes: The Jelly Cupboard (New Minas, NS)