I hope this wedding inspires some of you who are on a minimal budget. One look at the bride's face and you can see that she's glowing. And she and her groom pulled it off for less than $800 USD! (Don't you love the bride's sweet, vintage, blue dress and fascinator!)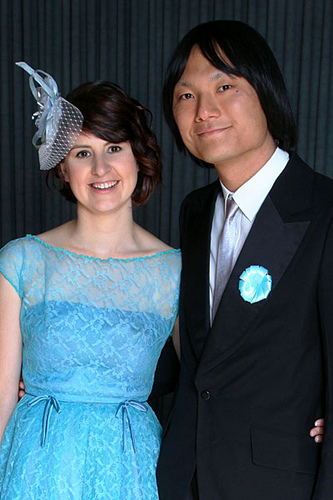 Kristy, 28 & Toby, 31
Melbourne, Australia
Wedding Date: January 23, 2009
Number of Guests: 68
Wedding Cost: Less than $800 USD (not including the cost of donated food, drinks, flowers and table runners etc. that friends and family contributed.)
Wedding Ceremony Location: Bride's mother's backyard.
Wedding Reception Location: Nearby community hall.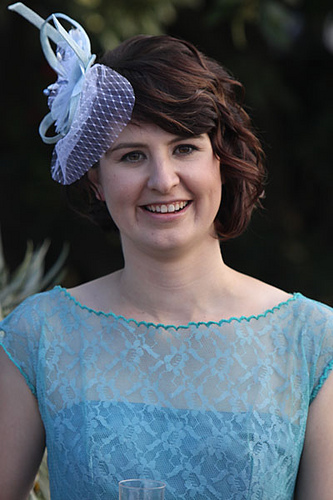 Why did you have an intimate wedding?
We really wanted to enjoy the celebration with those that were closest to us, rather than a two second conversation with a few hundred people.
We didn't feel like traditional weddings represented us or our relationship. Neither of us wanted to spend a lot of money or to have a formal traditional wedding; instead we wanted something personal and that we could afford. Our wedding met those goals.
We removed lots of the traditional wedding elements that we didn't like, such as the white dress; being 'given away'; the bridal bouquet. Instead of traditional vows, we added some humour into the seriousness of the ceremony and reminded one another not to lose our wedding rings.
We also didn't want our wedding to leave a carbon footprint, so instead we had a very 'green' wedding which incorporated lots of vintage/second hand items including my dress, my husband's suit, the candle holders (which were actually glasses) and biodegradable plates.  We are both vegan and so are many of our friends, therefore it made sense that all the food was vegan.
Lots of our friends remarked after the wedding that they don't normally like weddings but loved ours and we had a blast!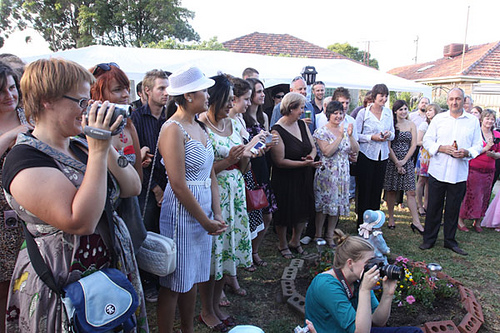 What are some the challenges that you faced planning an intimate wedding? 
We had a 'it takes a village' style wedding, where instead of gifts, we asked all of the guests to bring, food, drinks, or contribute in some way. People brought a wide range of food which was all vegan. It included salads, finger food such as spring rolls, lasagna, pasta bakes, chocolates, cookies, cupcakes, and cakes. It was a buffet-style dinner. It was really personal but also meant that I was really unsure if there would be enough food, drinks etc. In the end though we had more than enough and it was really personal! We did all of the serious planning in about six months because it was quite casual and we left a lot of it to the last minute which I wouldn't suggest.
I had friend buy the vases and flowers do the centrepieces. I borrowed a simple idea I found at Martha Stewart Weddings to decorate the area where we got married with ribbons that were hung from a tree. My mum helped out with the fascinator and also made my husband's ribbon boutonniere to match my dress. A friend made table runners based on the colour of my dress. Some took photographs, some helped set-up and clean up.
We also had a 'music planning night' one week before the wedding. A bunch of us got together for pizza and brainstormed song ideas for our wedding. (We used a laptop, Ipod and borrowed speakers for our wedding music.) We had one friend that played guitar as we walked down the aisle and another friend read from The Alchemist. Everyone really did have some sort of role or contribution that made the day extra special.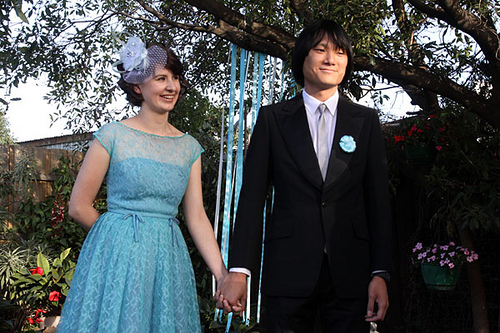 Was it difficult to pare down the guest list?
Yes, although we had a rule that we invited people who we saw more often, not necessarily those we knew the longest. It meant that we didn't invite extended family or friends.
Did you have any 'issues' with the small guest list from friends and family? If so, how did you address them?
Considering how non-traditional the wedding was, everyone seemed to understand.
What were the highlights of the ceremony? 
Looking into my husband's eyes and seeing him touched during our vows, and watching my husband spill wine down his chin during the Chinese drinking ceremony where we drank wine in glasses that were tied together with our arms intertwined.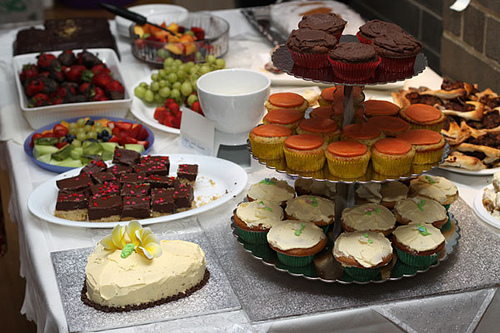 What were the highlights of the reception? 
Dancing with the flower girl to YMCA; eating lots of yummy food that our friends and relatives had made; and doing lots of silly dance moves with everyone.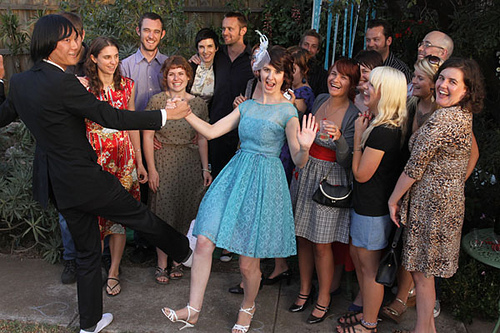 What was the best thing about having an intimate wedding?
We managed to say more than hi to everyone, and didn't feel stressed about getting to talk to everyone.
What advice do you have for couples who are considering an intimate wedding?
Do what feels right for you and remember that weddings should be fun – not stressful!
Vendors: With the help of our family and friends, we did everything – except for the celebrant and makeup artist.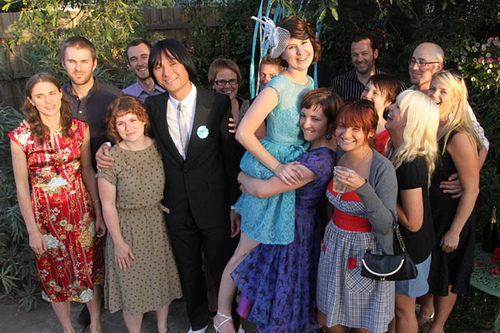 Photos: Kristy and Toby's friends and family