Even though Meggie and Adam went to high school together, according to Adam, Meggie was too cool for school to give him the time of day. Fast forward 10 years later and they are now husband and wife and, we think you'll agree, pretty much the cutest couple ever!
Decked out in a fantastic J. Crew wedding dress and a dapper Zara suit, respectively, Meggie and Adam were wed last August in an intimate wedding in their hometown of Collingwood. Meggie enlisted the help of her nine siblings to pull off all the details of the big day  – from baking the cakes to painting the favors – making the whole thing a family affair and a truly fabulous one at that.
A huge thank you to A Brit & A Blonde for sharing all the wonderful photos with us.
Meggie, 27 & Adam, 29 
Thornbury, Ontario
Wedding Date: August 3rd, 2013
Number of Guests: 72
Wedding Cost: Approximately $15,000
Wedding Ceremony Location: Lora Bay Golf Club
Wedding Reception Location: Lora Bay Golf Club
Why did you have an intimate wedding?
The most important thing for us on our wedding day was having our closest friends and family there to celebrate with us. The next most important thing was to keep things simple; which we hoped having an intimate wedding would accomplish. Neither of us are thrilled at the idea of being the centre of attention, and while you can't totally avoid this by having a wedding, having people there who we are very comfortable with made the day relaxed and fun.
What are some the challenges that you faced planning an intimate wedding?
For us the main challenge was accepting the reality of our budget. We had unrealistic, or rather uneducated, ideas of the costs of all the major ingredients to a wedding. Keeping the decor to a minimum and DIY-ing everything we could allowed us to allocate funds to components that were important to us, like the food, venue and photographers.
Was it difficult to pare down the guest list?
Aside from the closest members from both of our families (including aunts, uncles, cousins) many of our friends became mutual over the years. Because of this it was pretty clear to both of us how far we wanted to extend our invitations. Having said that, coming up with the guest list makes you reflect on all of the people, past and present, who have touched your life in a positive way. In that sense it was difficult to keep the wedding intimate because you can start second guessing and comparing your selection of guests.
Did you have any 'issues' with the small guest list from friends and family? If so, how did you address them?
As far as we know to this day, we haven't offended anyone by excluding them from our wedding. The goal was to keep things simple and small – we weren't going to invite people based on expectations of others.
What were the highlights of the ceremony?
Waiters lined the walkway to the reception holding glasses of mimosas for guests as they entered the venue. One of the waitresses lost balance of her tray and tens of glasses came smashing down close to the end of the ceremony. The little mishap was nothing to be upset about, rather it lightened the mood of the ceremony and everyone had a chuckle over it!
What were the highlights of the reception?
We had a cocktail reception which was loosely structured because we wanted to make the night about spending time with our guests. I thought I was safe, making it through the day without bursting into tears but during our speech together, I began to choke up a bit. Luckily Adam jumped in to finish what I started! Even still, it was the speeches that were most memorable because they truly reflected how much friends and family meant to us.
What was the best thing about having an intimate wedding?
Knowing we were in good company. There wasn't any other group of people we would want more to share in our special day.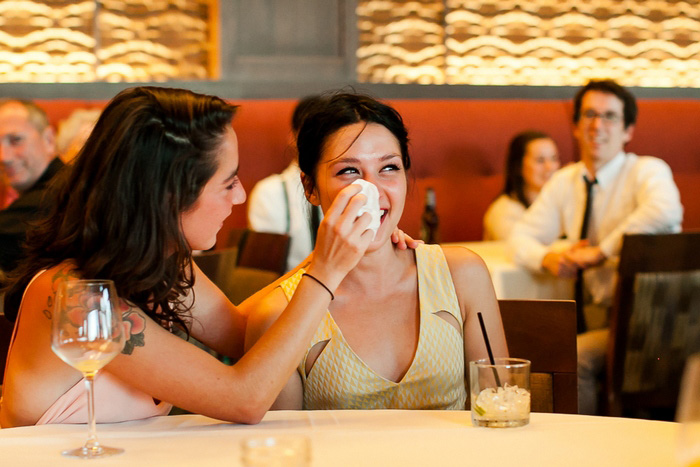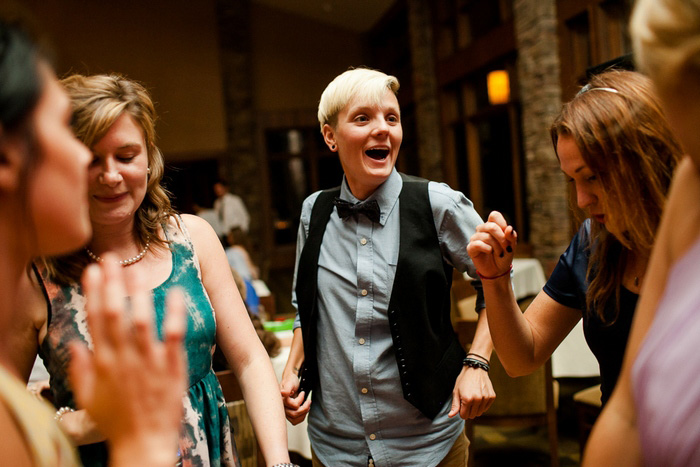 What advice do you have for couples who are considering an intimate wedding?
Try not to get overwhelmed by all of the expectations the rest of the world might have about what a wedding should involve. Be true to yourself and everyone will be happy.
Vendors:
 Photographers: A Brit & A Blonde 
Floral design: Mac & Co. 
Groom's Attire: Zara 
Wedding dress: J. Crew 
Maid of Honour Dress: J. Crew 
Bride's shoes: Zara 
Wedding favours: Blue Mountain Flowers
Cakes & Pies: Bride's mom & sisters
Paper products & bunting: Bride herself
Venue: Lora Bay