I have a special place in my heart for at-home weddings (I had one), so when I discovered Michael and Emma on Cup of Jo I couldn't wait to contact them about their NY wedding. Stay tuned tomorrow for their one-of-a-kind DIY wedding invitations.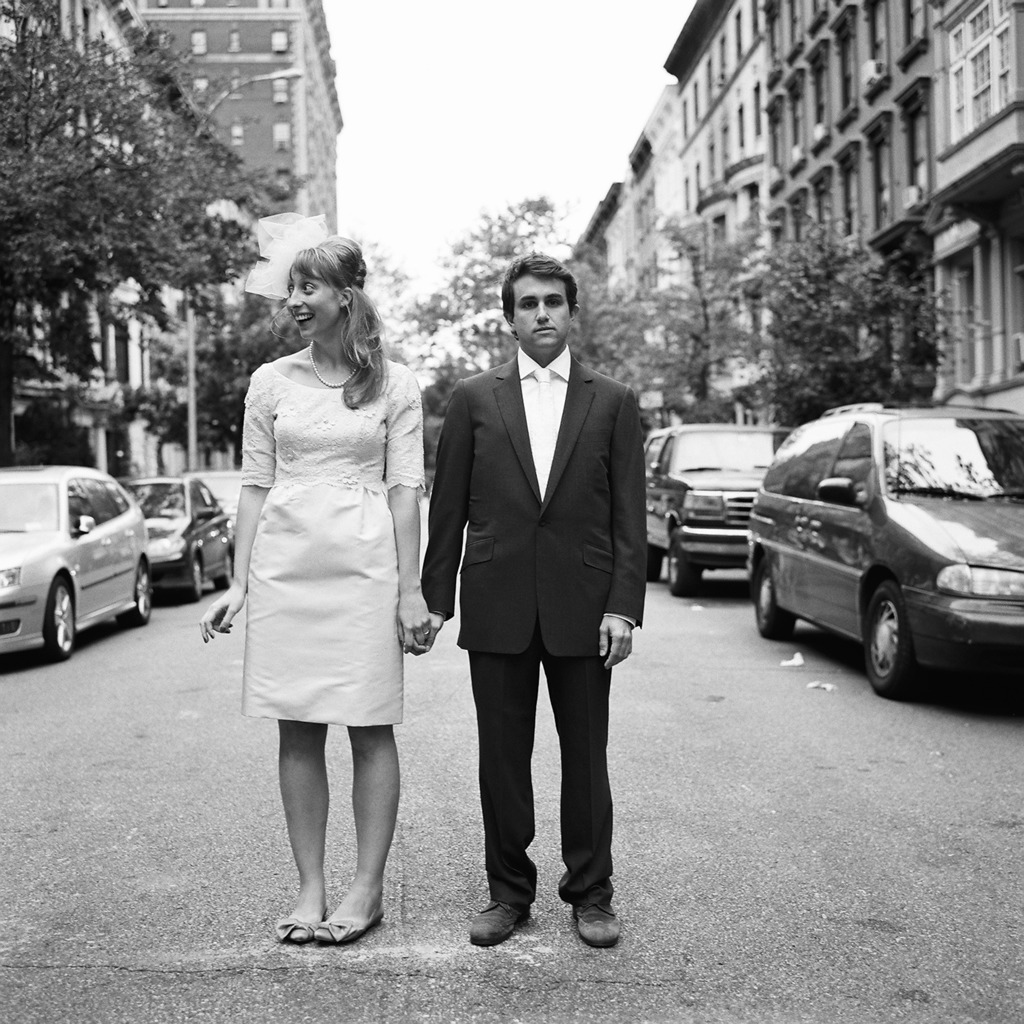 Michael, 30 & Emma, 28
Upper West Side, New York City
Wedding Date: September 25th, 2008
Number of Guests: 30
Wedding Ceremony Location:
Emma's parents' dining room, which has since been renamed "The Wedding Room" on the Upper West Side in Manhattan.
Wedding Reception Location:
We decided to rent out our favorite restaurant, Mary's Fish Camp, for the dinner after the wedding.  The space was so small that everyone was sitting down, so it wasn't really a reception in the traditional sense.  It was more like a dinner with lots of mingling.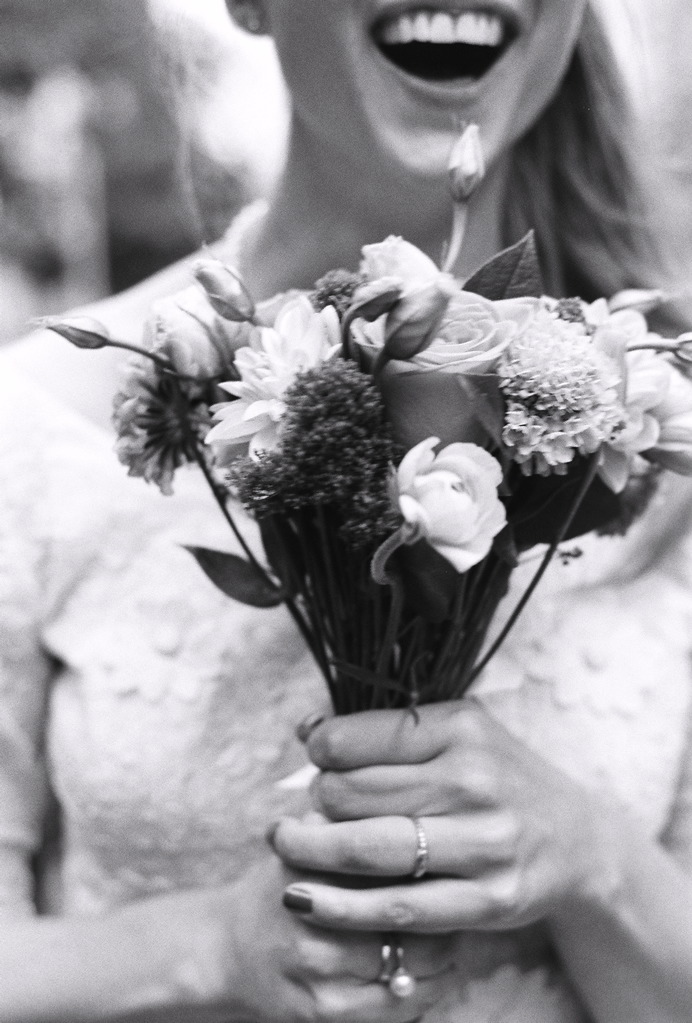 Why did you have an intimate wedding?
We didn't want the cookie-cutter wedding, and this seemed like the best way to do it. Only a few people, only our favorite place– boom, done.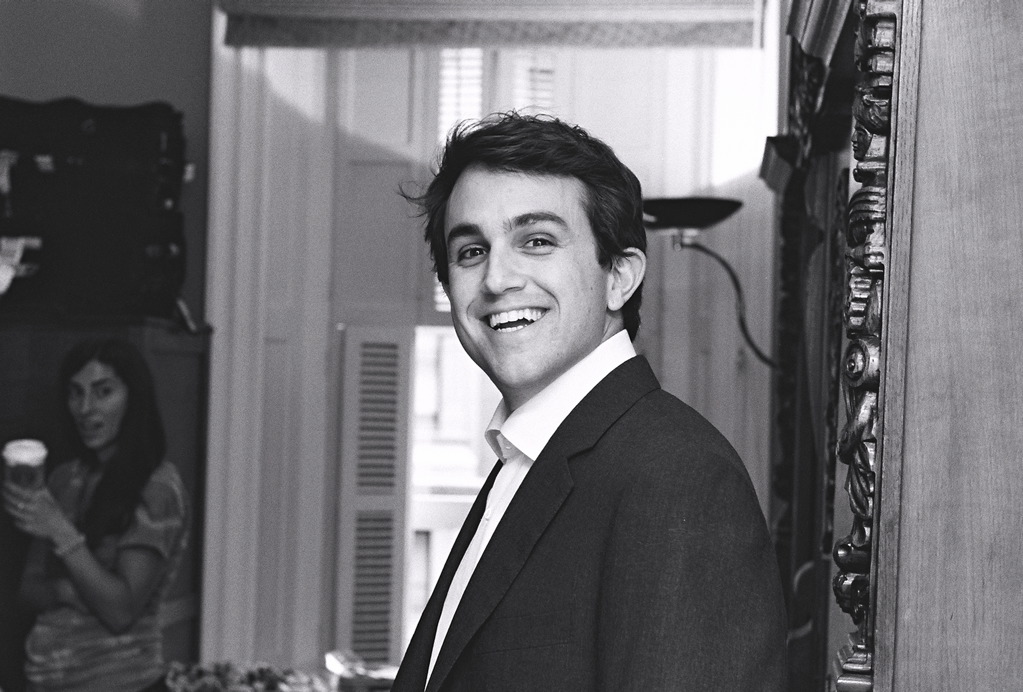 What are some the challenges that you faced planning an intimate wedding?
Everything was pretty easy. There were some harried moments (the flowers didn't arrive until late, etc), but for the most part, I think we avoided really awful wedding challenges due to the size.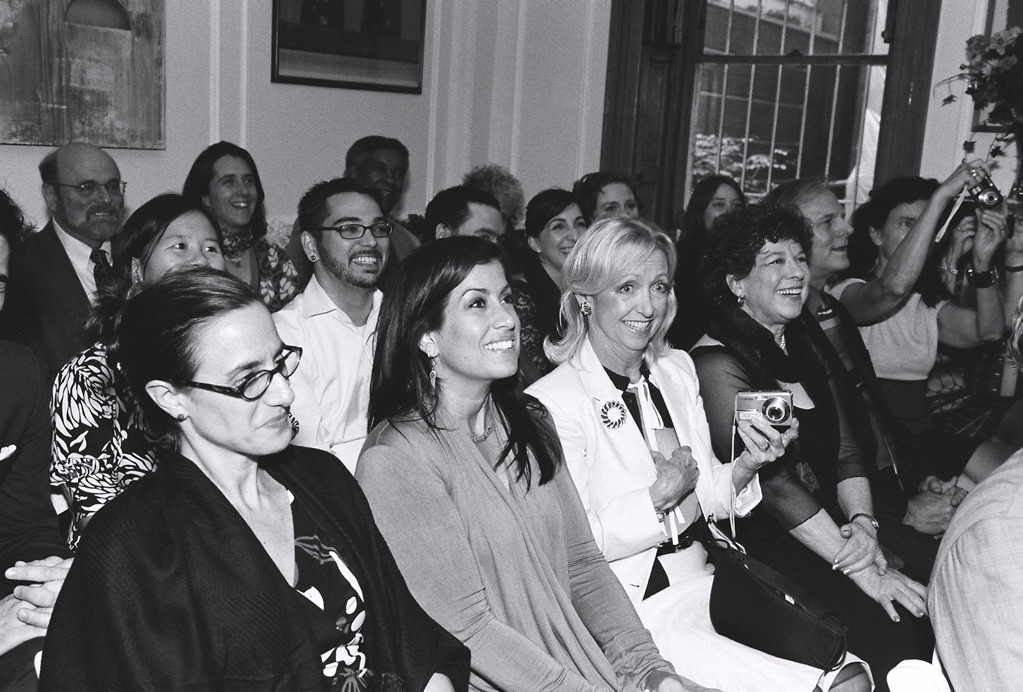 Was it difficult to pare down the guest list?
It was. We decided to have a slightly larger party (75 people) the next night in order to solve that issue. In retrospect, we could have added about fifteen people to the wedding list and skipped the second party entirely.
Did you have any 'issues' with the small guest list from friends and family? If so, how did you address them?
We did, and caved in almost every instance. My wife's parents had some strong opinions, which seemed reasonable, as they were paying, and it was in their  house.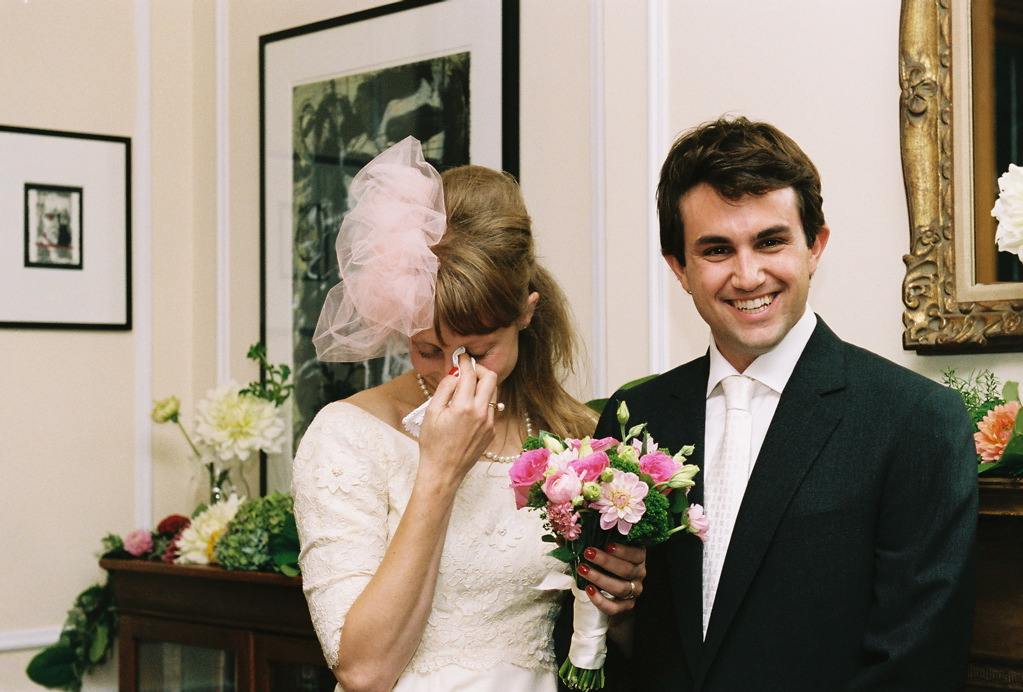 What were the highlights of the ceremony?
Everything. We had three friends read– a Frank O'Hara poem, a David Sedaris piece, and the last paragraph of Jane Austen's Emma. Another friend sang. We cried. It was the best day ever. Our rabbi laughed throughout. I would do it again every single day if I could.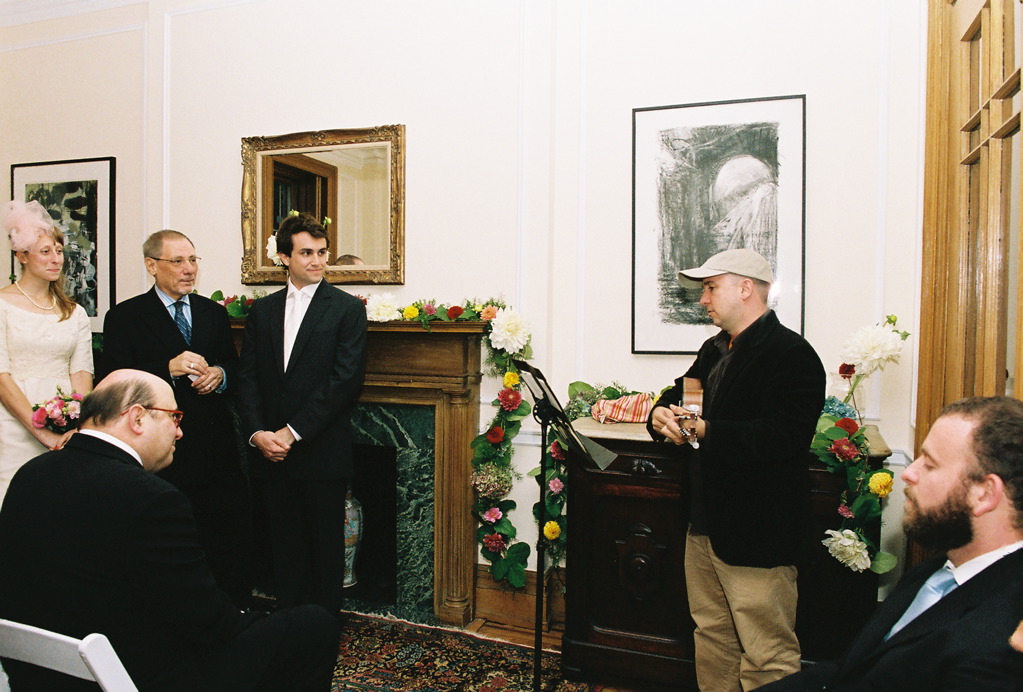 What were the highlights of the reception?
Lobster rolls. My father-in-law's speech, which seemed to last about thirty minutes.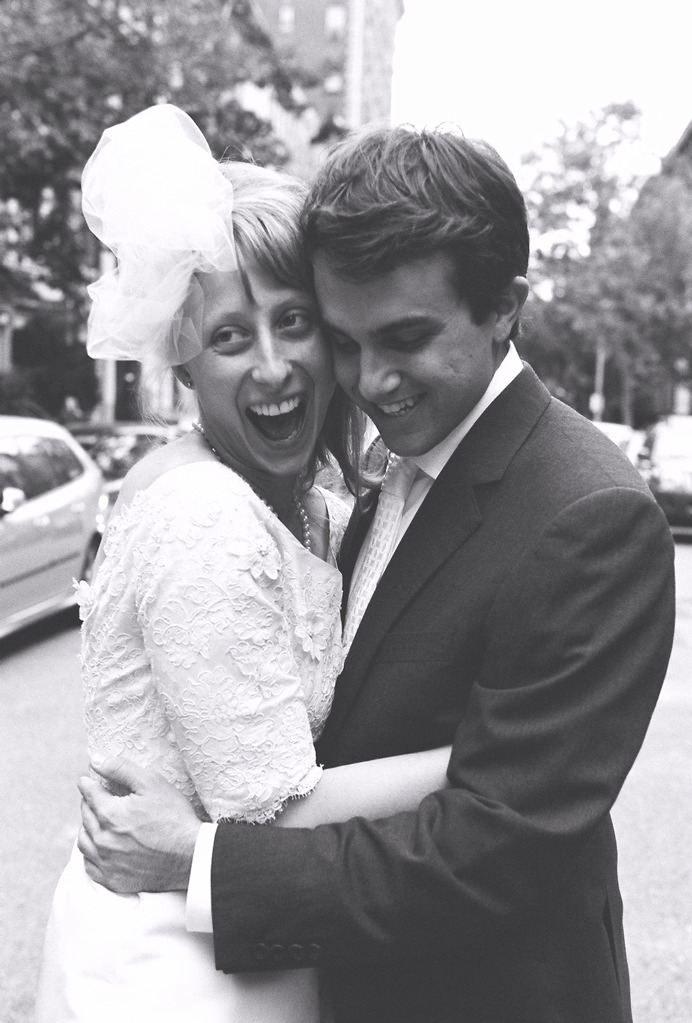 What was the best thing about having an intimate wedding?
Being able to talk to every single person there, and have everyone know how much we loved them.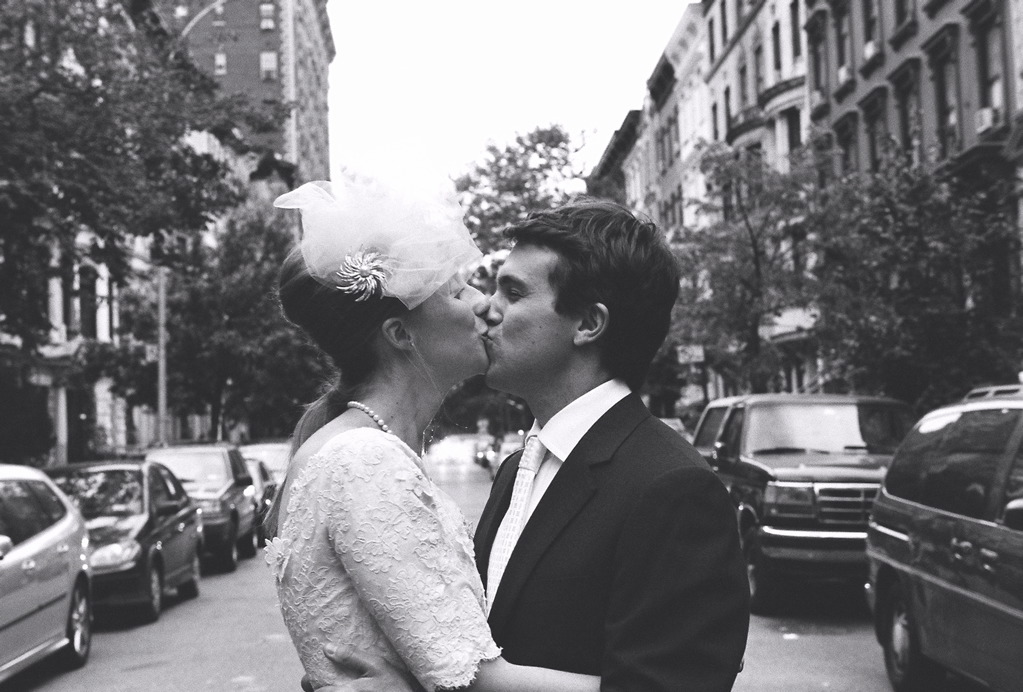 What advice do you have for couples who are considering an intimate wedding?
Be tough. You can do it, no matter what anyone tells you. If not, elope. It'll be just as wonderful.
Vendors:
Florist: Spruce, in Chelsea.
Reception Venue: Mary's Fish Camp, West Village
Officiant: Rabbi Burt Siegel
Photographer: Cappy Hotchkiss
Invitations: DIY invitations.
Dress: Emma wore her mother's wedding dress. Her headband came from the ladies at Ban.do.
Photos: Cappy Hotchkiss