Underneath the shade of palm trees, Sarah and Steven exchanged vows in an intimate ceremony conducted by Steven's father, surrounded by 30 of their nearest and dearest at Casa Ybel Resort in Sanibel Island, Fla.
"We wanted to make sure that we had our closest family and friends who really love and care about us at our wedding and wanted to be able to be ourselves and have a great time without the formalities," says Sarah.
After the ceremony and as the sun dipped below the aquamarine waters of the Gulf of Mexico, the couple headed down to the sandy beaches to bask in newlywed bliss as their photographer, Wes Weber, captured soft, sunset-lit moments. Later, they shared a lively patio dinner with their guests underneath strings of twinkling lights. After the couple cut into the two-tiered wedding cake, an impromptu dance party broke out and lasted throughout the night.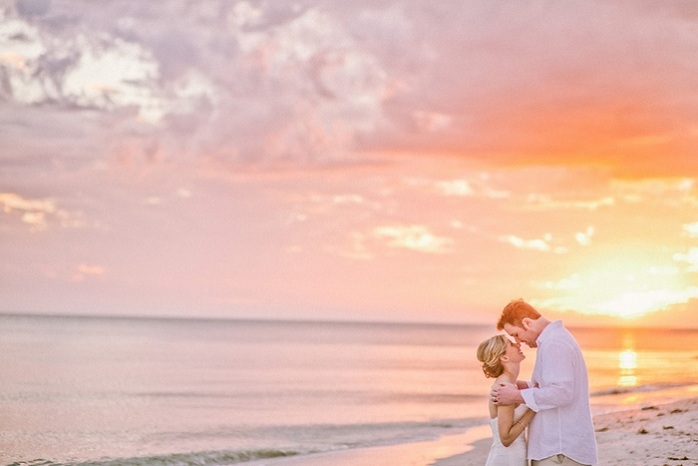 Sarah, 29 & Steven, 29 
Sanibel Island, FL
Wedding Date: November 17, 2012
Number of Guests: 30
Wedding Cost: $20,000
Wedding Ceremony Location: Casa Ybel Resort
Wedding Reception Location: Casa Ybel Resort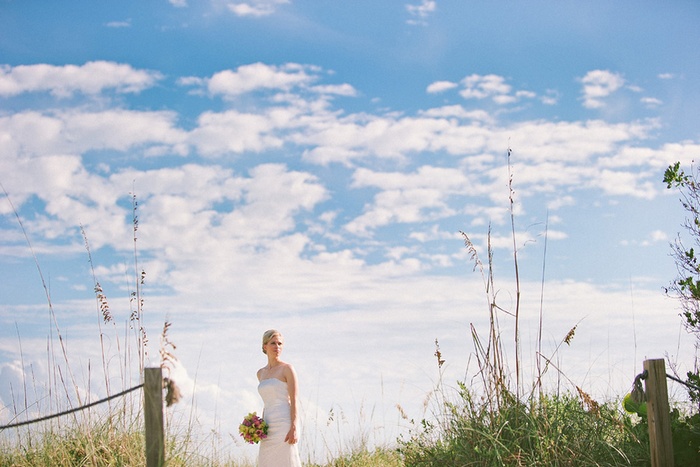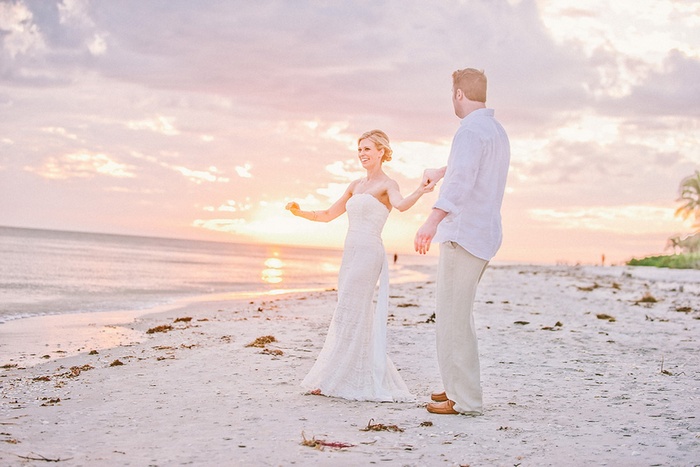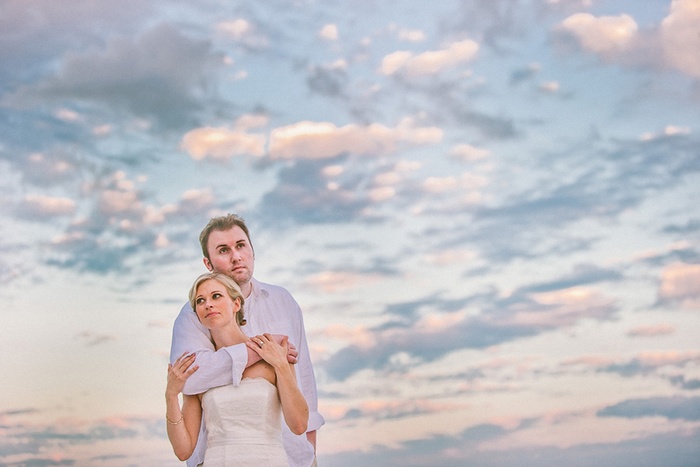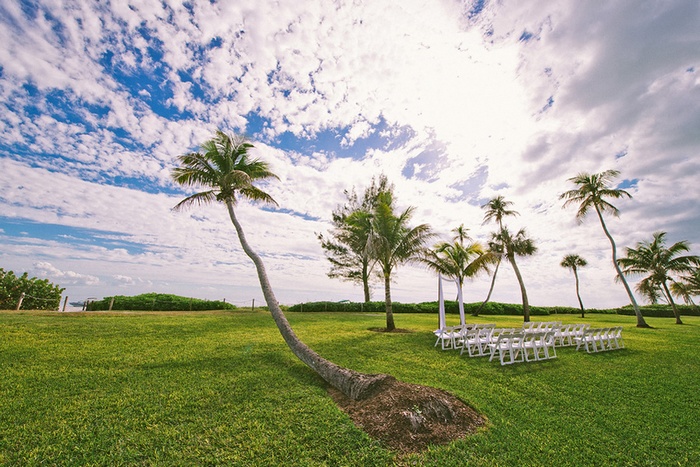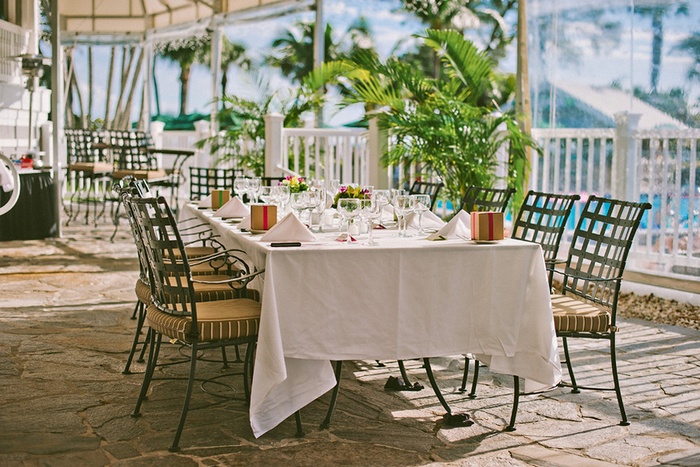 Why did you have an intimate wedding?
Several factors played into having a smaller wedding. We saw that a lot of our friends who had large, 100+ guests wedding weren't really relaxed and enjoying their day. They were running around thanking everyone for coming and talking to people they had never even met. Another big reason is that Steve and I are both quieter and low-key. We typically aren't the "life of the party" or ones who want the attention on us. Also, we thought that having a smaller wedding would reduce the cost, but it still ended up costing more than what we thought it would.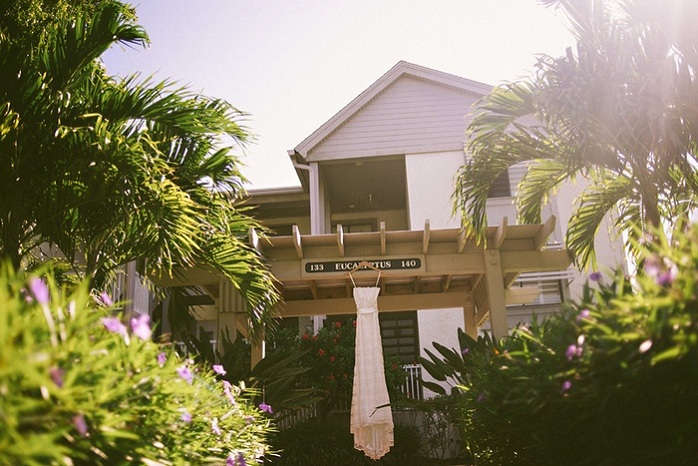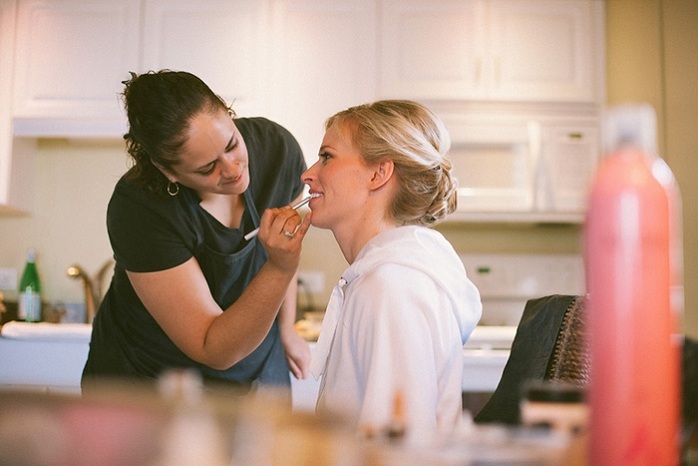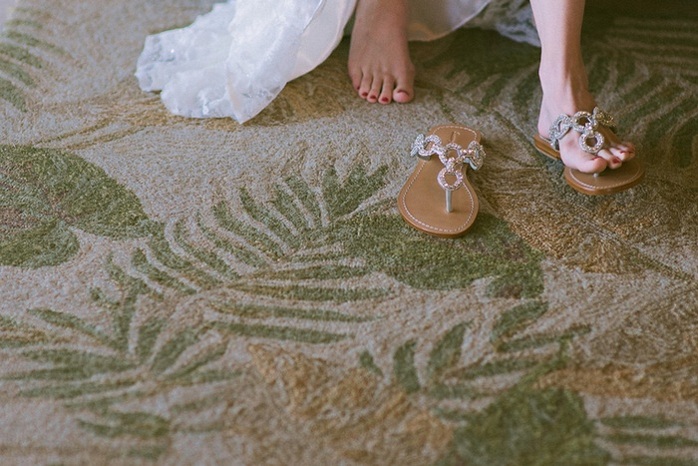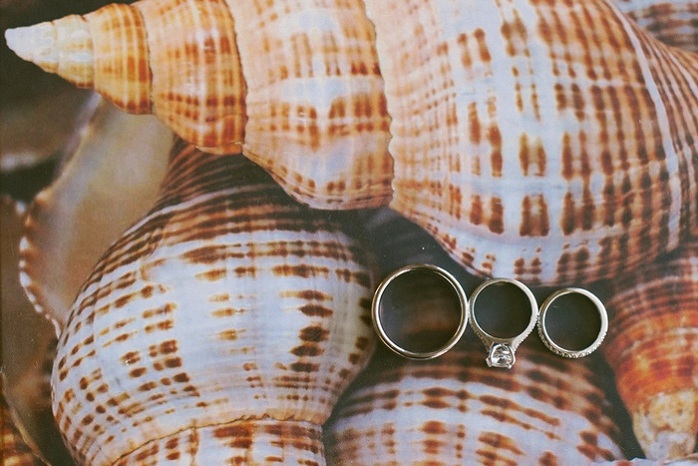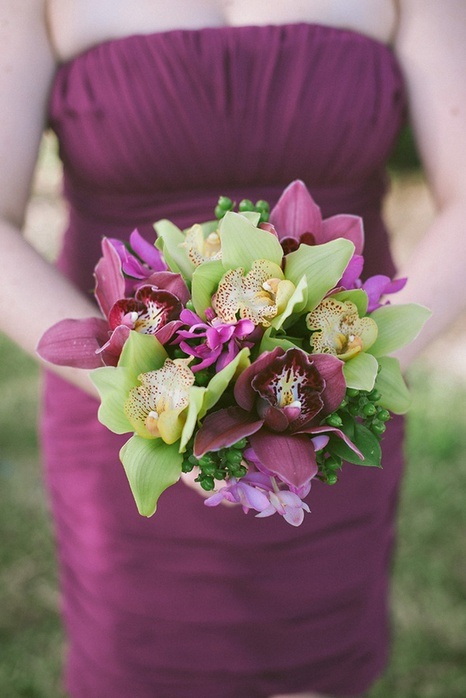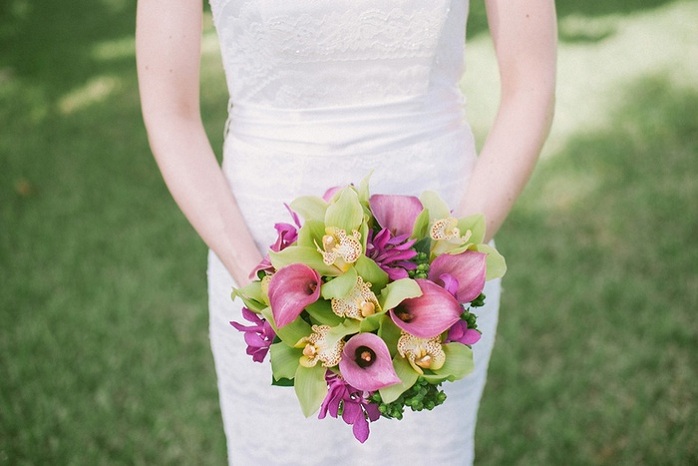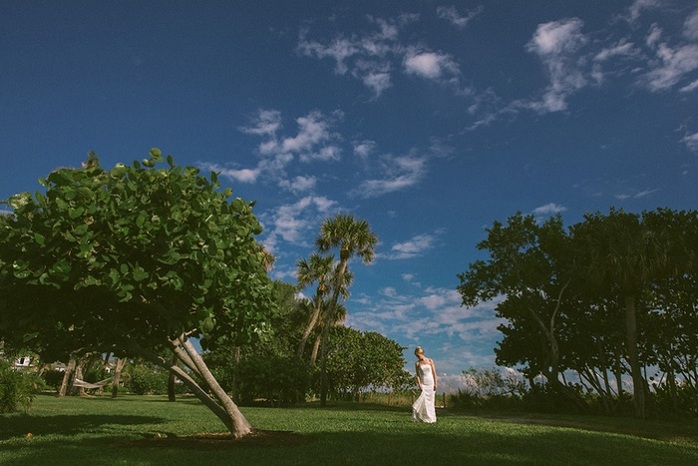 What are some the challenges that you faced planning an intimate wedding?
The biggest challenge was not inviting some people who thought they were going to get invited. It was really hard holding firm in our decision to not keep adding people to the list. The majority of challenges probably came from it being a destination wedding more than an intimate wedding. I had one day to find a venue, and then I didn't get back out to Florida until the actual wedding. I really didn't know what I was getting somewhat when it came to the food, where the actual ceremony was going to be held, etc. In trying to keep costs down, we opted to not have a DJ because we thought that there wouldn't be any dancing. That ended up being a bust … I would highly recommend a DJ regardless of the size wedding. A DJ would have been able to control the flow of the reception a lot better.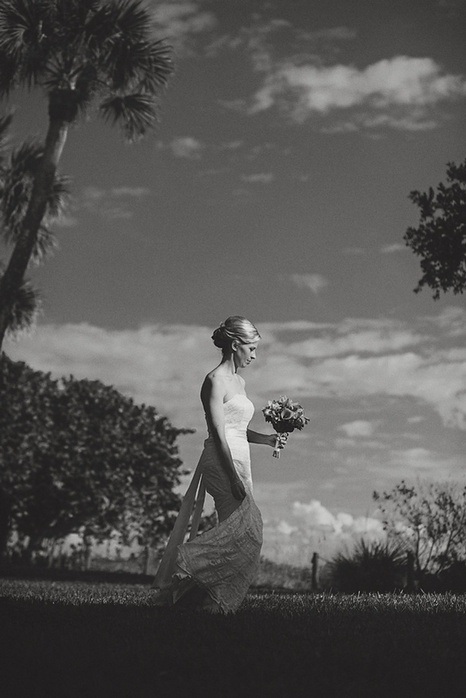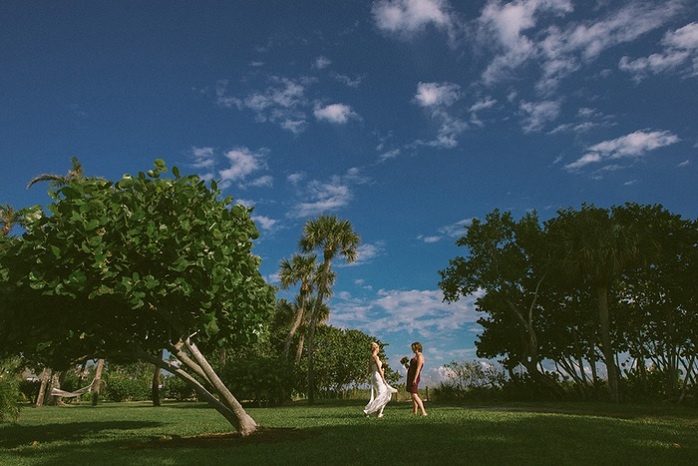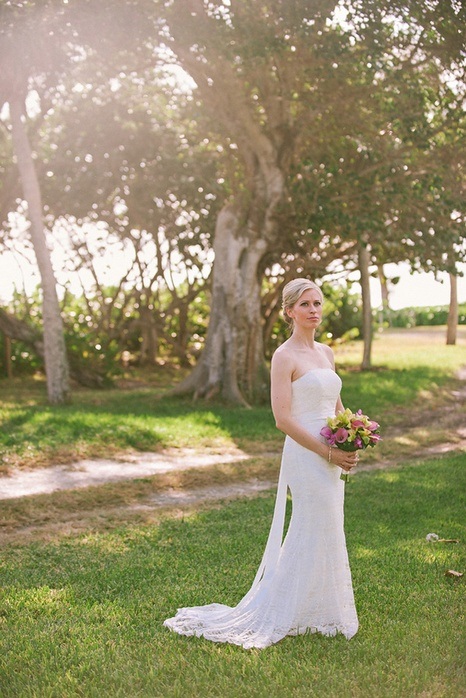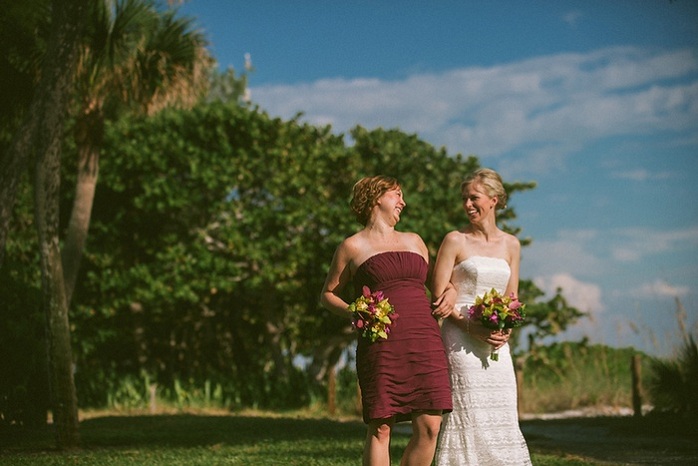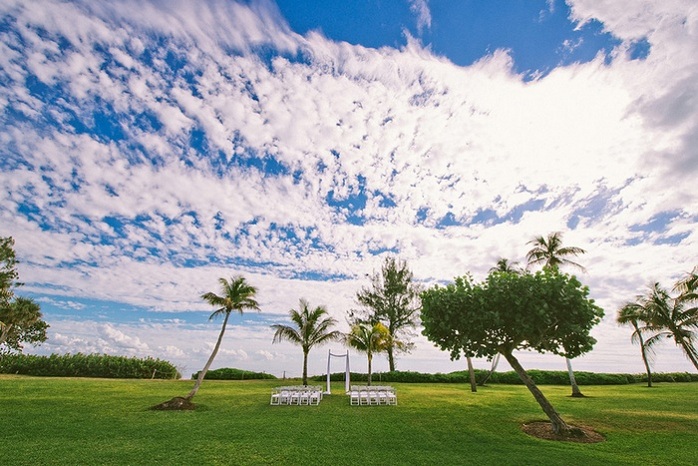 Was it difficult to pare down the guest list? 
Yes. We originally wanted it to be our parents, siblings, grandparents, and close friends. Then, I started feeling guilty not inviting aunts and uncles who I am close with, and who have been supportive of me and my relationship with Steve. So, that resulted in us inviting our aunts and uncles, as well.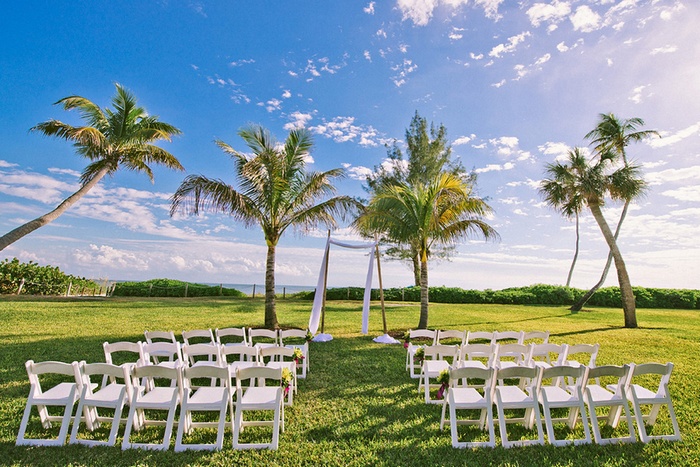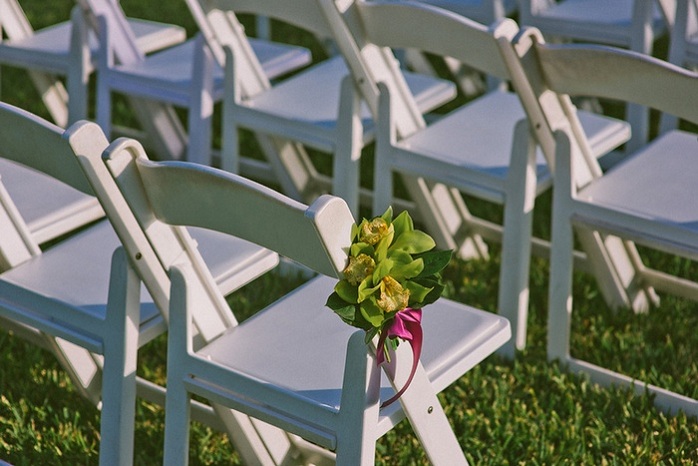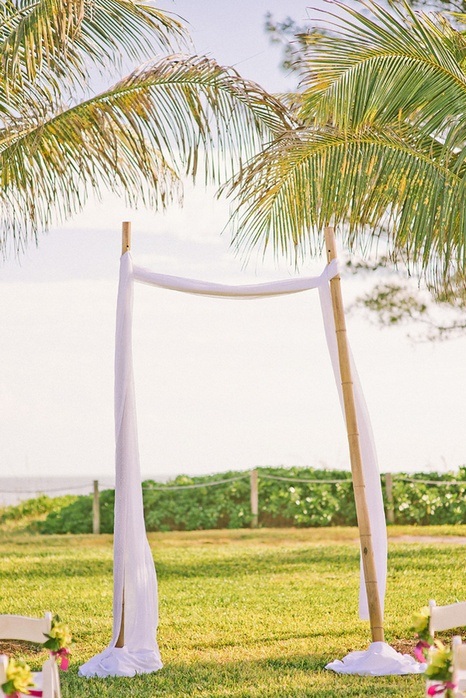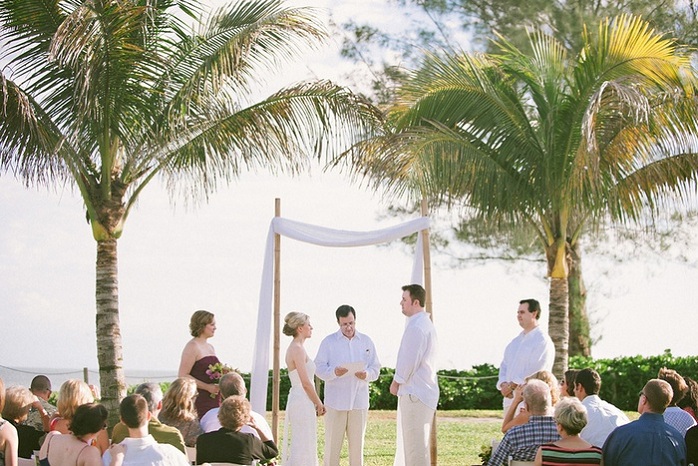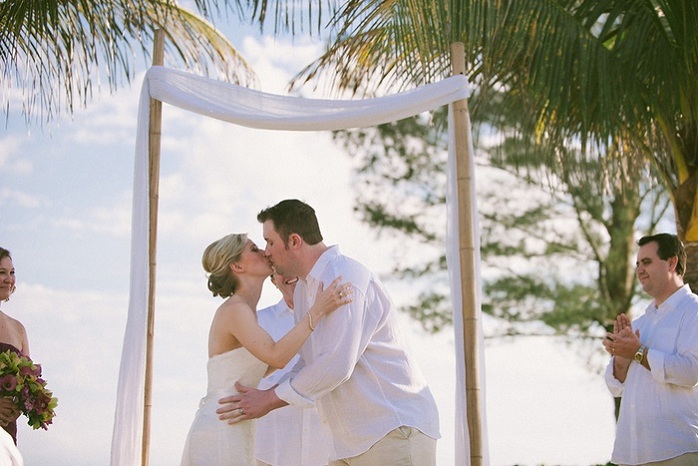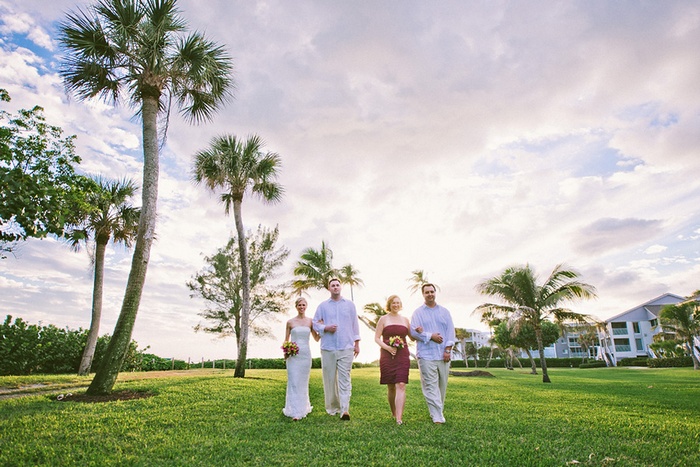 Did you have any 'issues' with the small guest list from friends and family? If so, how did you address them?
It was so hard telling people who assumed they were invited, that they weren't. We just had to explain that we were planning on having a small wedding with immediate family. We thanked people for wanting to come and just hoped that they would understand that it wasn't anything personal. Also, we knew that we didn't want children at our wedding. If we started inviting cousins and a lot of our friends to a destination wedding in Florida, a lot of those people would be traveling with their kids. At that point, how do we tell them that their kids can't come to the ceremony/reception? Just recently, we had someone say that their son was disappointed he wasn't invited.  It doesn't seem to matter if you have 30 or 300 people, you can't make everyone happy, so we just did what we could to make ourselves happy.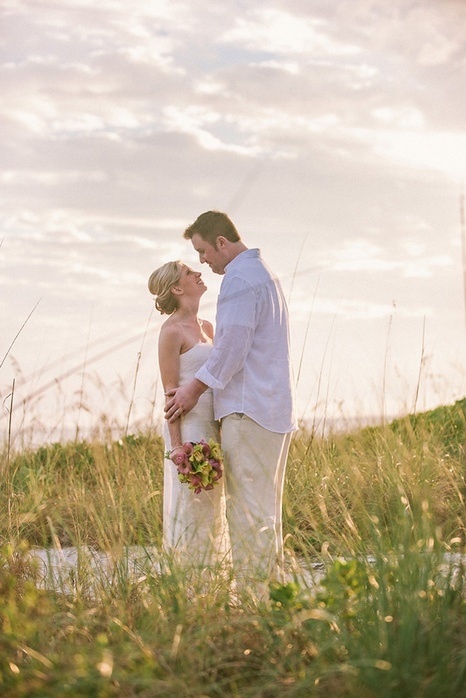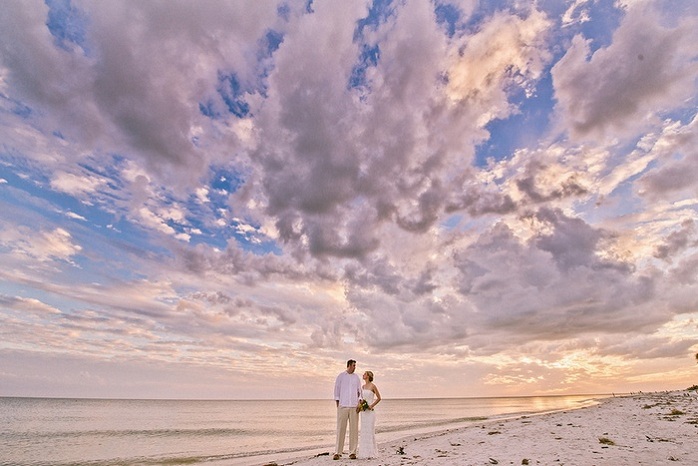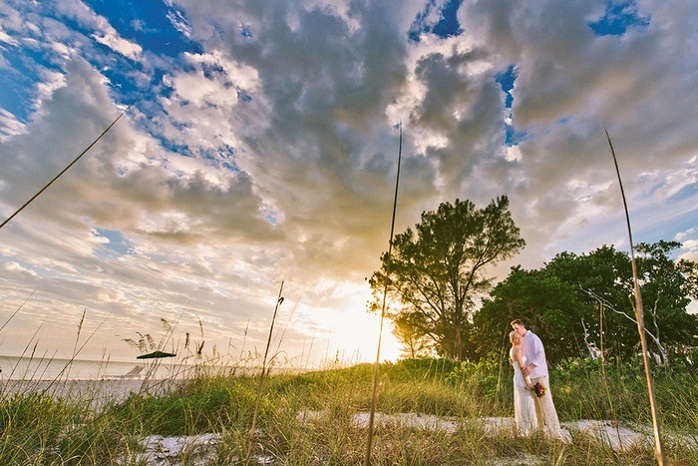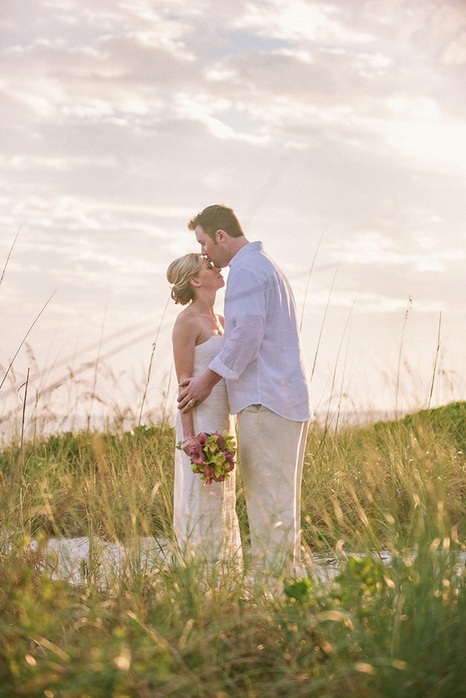 What were the highlights of the ceremony?
Steve and I came up with our vows on our own. We said the same things to each other, but they were our words. Also, it was a great honor that Steve's dad was able to marry us.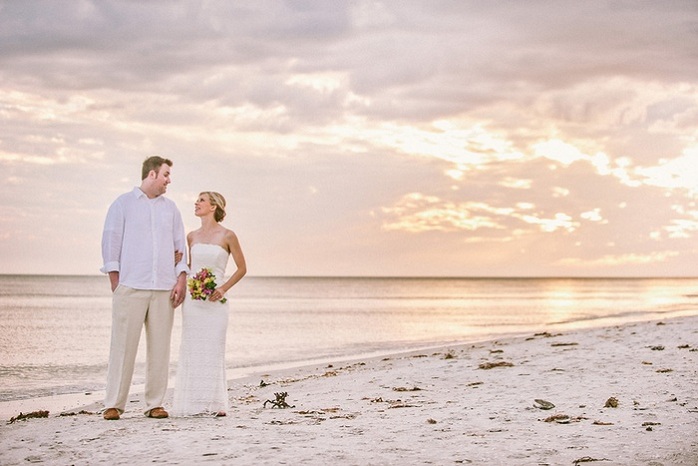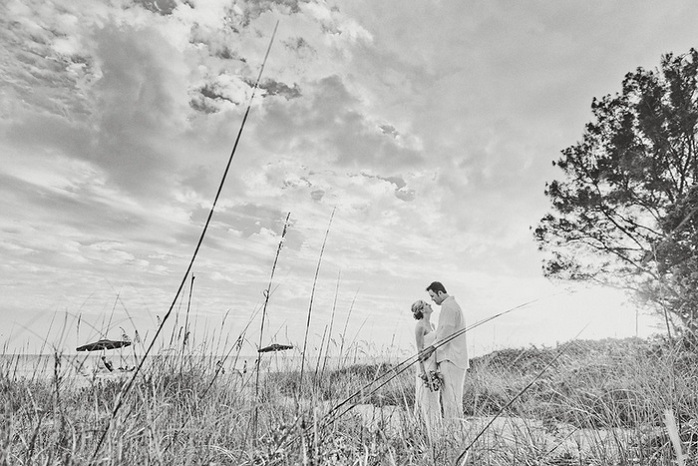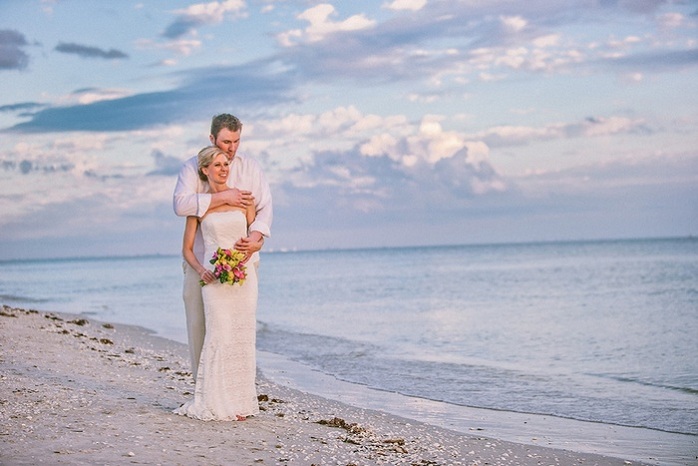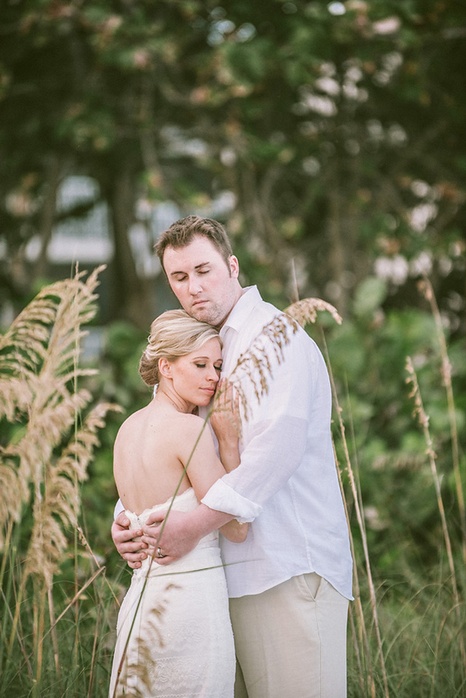 What were the highlights of the reception?
We didn't intend on having dancing at our reception because we're such quiet and reserved people, but by the time we finished dinner and cutting the cake, people just started getting up and dancing. We all ended up being on the dance floor for a good part of the evening.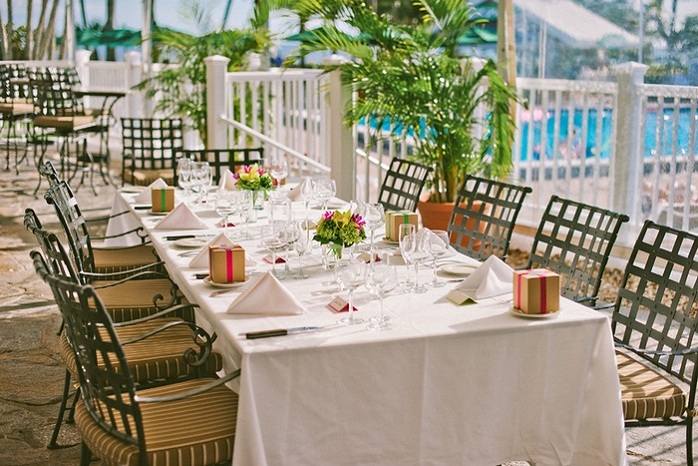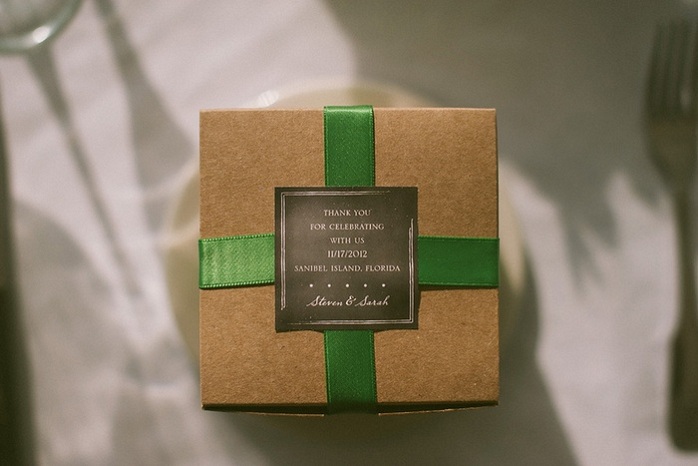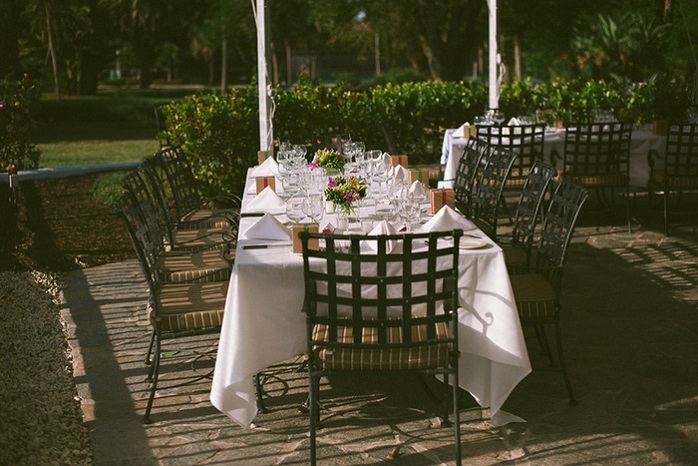 What was the best thing about having an intimate wedding?
We had our closest family and friends all together to celebrate us. Both sides of our families got along so well together and we were able to be relaxed and comfortable with everyone who came. We weren't nervous or worried about what people were thinking.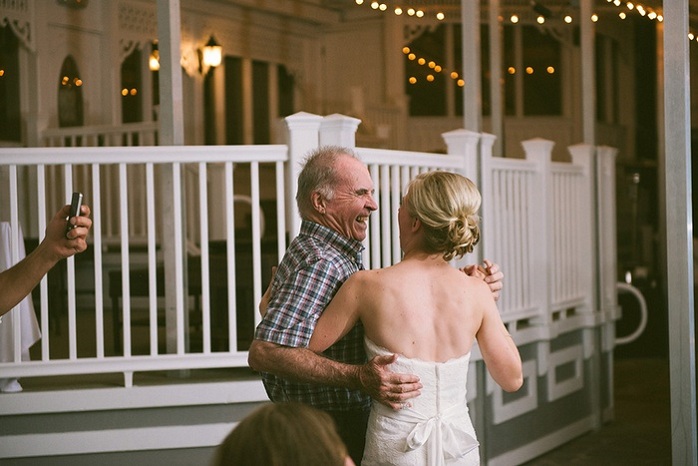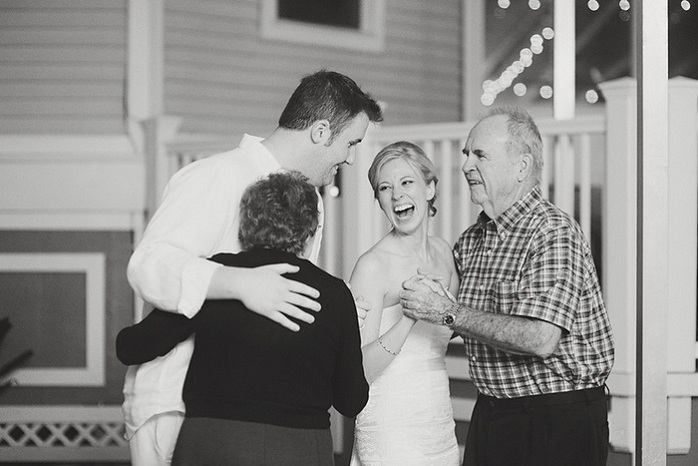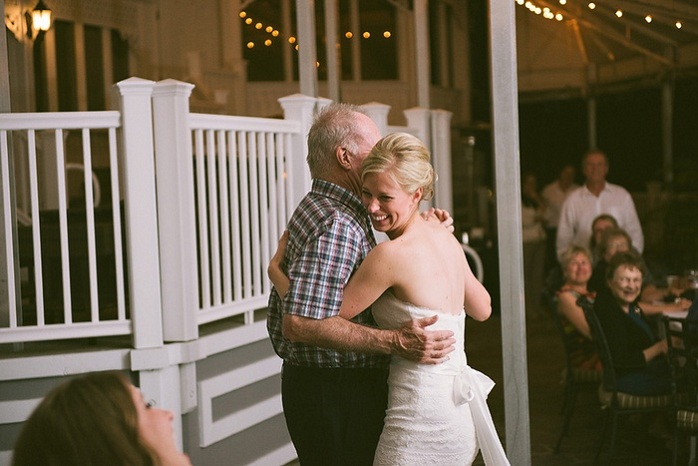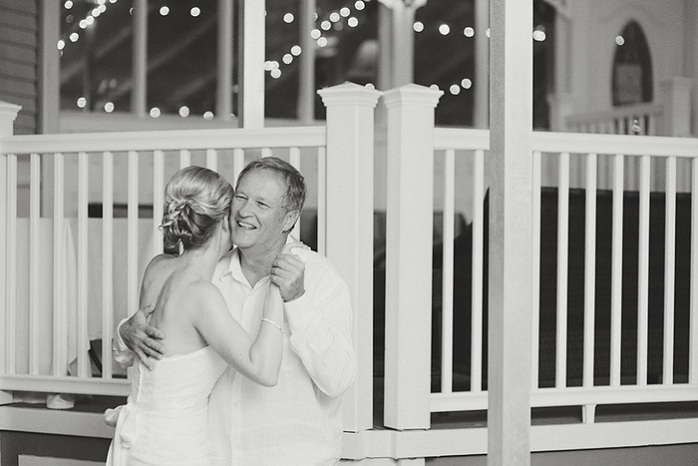 What advice do you have for couples who are considering an intimate wedding?
It is your wedding. I don't think that anyone should have to invite 200 people because people invite themselves, or their parents have friends from work they want to invite. It is absolutely true that no matter how many people you have at your wedding, you are never going to make everyone happy. It's just best to do what you want to do, and have the people there who really love and care about you. Oh yeah, and make sure you have a DJ!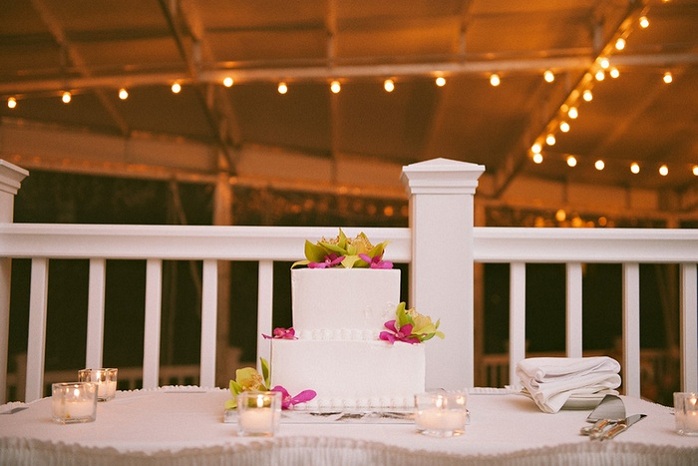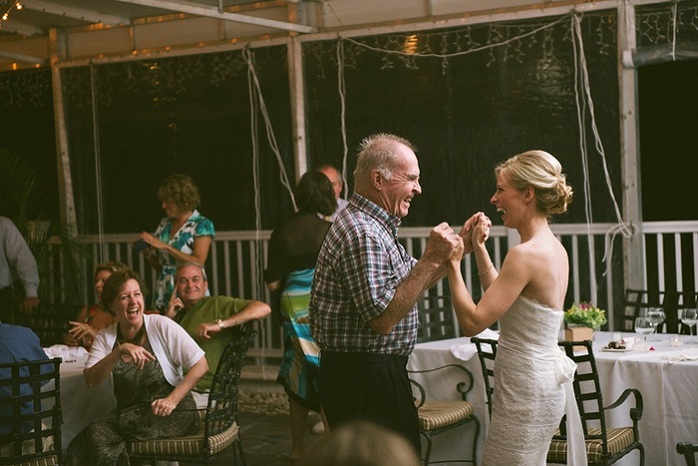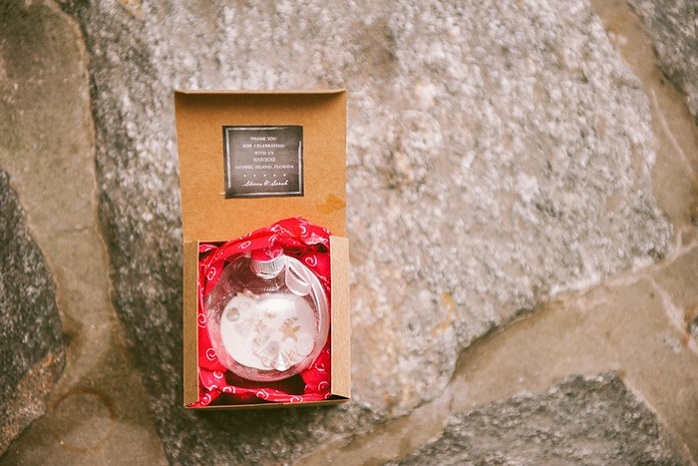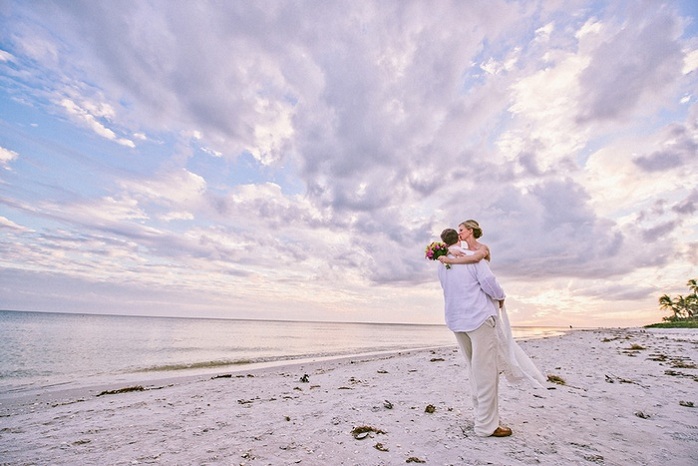 Vendors:
Venue: Casa Ybel Resort
Catering: Casa Ybel Resort
Cake: Casa Ybel Resort
Music: The Vanderbilt Strings
Photographer: Wes Weber Photography
Florist: Floral Artistry of Sanibel
Hair/Make-up: Jamie Lyn Cintron
Dress: David's Bridal
Groom's Attire: Tommy Bahama