Tera and Sean combined country charm with city culture when they ventured across the pond to Italy.
For the ceremony, they exchanged vows at an ancient villa fit for a fairytale in Impruneta, Italy, with the rolling Chianti hills as their picture-perfect, pastoral backdrop. Following the ceremony, the couple, along with their nine guests, headed to nearby Florence, where they were met with unexpected street celebrations from locals and locked their love on the Ponte Vecchio bridge, romantically tossing away the key into the Arno River below.
Kudos to Sarah Maren Photographers for capturing this intimate wedding so beautifully!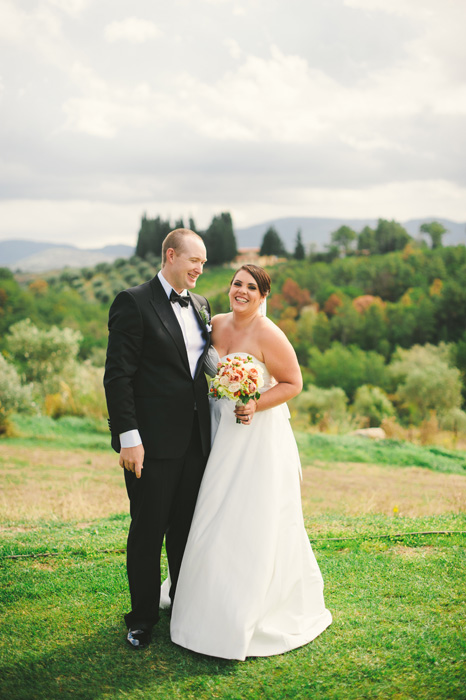 Tera, 32 & Sean, 29
Impruneta, Italy (ceremony) and Florence, Italy (reception)
Wedding Date: September 27, 2012
Number of Guests: 9
Wedding Cost: $18,135
Wedding Ceremony Location: Villa Le Dame
Wedding Reception Location: Ristorante Il Latini
Why did you have an intimate wedding?
Originally, Sean and I had been planning a wedding locally. I am the only girl and the first sibling to get married so the guest list was becoming quite large. We knew we wanted to go to Italy for our honeymoon, however, with the increasing number of guest we had increasing costs. While reading an etiquette book on tipping and tallying up the ever-growing budget, Sean and I looked at each other and said "STOP, let's talk." We discussed what was really important to us and, after that conversation, we decided we were going to have an intimate wedding in Italy. We called our parents, told them the new plan and, surprisingly, they were excited and on board.
What are some the challenges that you faced planning an intimate wedding?
I would say this wedding was pretty low stress. Sean and I decided what was most important to us: our family and the photography. If we had our loved ones with us and a photographer who we knew would add to and capture our special day, then we had it all.
We found the villa online. It was in an ideal location with enough room for our guests and a view that would make for a perfect ceremony site. We took a leap of faith and booked it. Our reception site was a recommendation from a well-traveled friend and I contacted the restaurant via email and was able to make the reservation. Flowers were something I had to be open to — I didn't know what flowers would be in season, nor the bouquet styles of Italy. The day before the wedding, while walking through Florence, we found a cute little flower shop and, with help from my photographer, Sarah, we designed a beautiful bouquet and handmade Sean's boutonniere with flowering rosemary from the villa.
On our wedding day Sarah took on the roll of not only photographer but a woman of many trades. She designed and decorated the ceremony site and directed the guests on where to be. Our wedding day was everything we wanted and more. When Sean and I decided to have an intimate Italian wedding, I planned for what was most important to us. I had an idea of what I wanted but hesitated to plan the precise details so I would not be disappointed if they didn't turn out the way I might have expected. I didn't realize it before, but having someone there so experienced with weddings made for a relaxed and incredibly happy wedding party.
Was it difficult to pare down the guest list?
Sean and I knew our Italian wedding dream only included a handful of family and friends. We really wanted the wedding to be intimate and about us. Trying to find lodging and traveling with more than a handful of people was not what we wanted. We made phone calls and sent out an email to our closest family and friends explaining our plans and asked for a "yes" or "no" four months later. We also decided to have a reception when we returned from our marriage/honeymoon, or as we like to say, "marrymoon," in Italy. This allowed a majority of people who wasn't there to be able to celebrate with us and see pictures of the wedding.
Did you have any 'issues' with the small guest list from friends and family? If so, how did you address them?
For the most part, our friends and family were very supportive. They were excited for us and wanted to know the details. I only came across two people who had an issue and I think this stemmed more from us changing our wedding plans, resulting in them not being able to attend. I recognized their concerns and politely reminded them that our wedding was about Sean and me. We wish they could have attended but understand why they could not.
What were the highlights of the ceremony?
One of the many highlights of our ceremony was during our vows. I felt like we were in a bubble. It was just he and I … a moment in time that was all about us and we will forever have that moment. Another amazing memory was when our officiant surprised us with a beautiful Italian love poem which brought tears to everyone's eyes. As he pronounced us husband and wife, the clouds cleared and the sun came out causing all of us to laugh. It was perfect.
After the ceremony, we walked up to the villa where my mother had put together an amazing antipasti tray with a Champagne toast. Our photographer suggested taking a picture of us opening the Champagne bottle together which resulted in perhaps one of the funniest moments of the trip. As Sean and I popped the bottle, the cork flew off and hit Sarah in the forehead. Being a true professional she was able to take three pictures: one of us opening the bottle, one of us happily watching the cork in the top of the frame and one of us in hysterics that it actually hit her in the forehead. We will forever giggle when we see those images.
What were the highlights of the reception?
After the ceremony, we drove into Florence for more pictures. As we walked through the streets of Florence, taking photos along the way, it started to drizzle. We bought umbrellas from street vendors and continued in full wedding attire. We found amazing doors, statues, entryways, and nooks to snap some shots. People would stop us in the street to congratulate us and tell us it was good luck to get married on a rainy day. Italians would come up and ask to take pictures with us and explain that it is good luck in Italy to touch a bride on her wedding day. We were stopped a couple of times by couples who were celebrating their wedding anniversary. It felt like an ongoing celebration with warm, welcoming strangers.
On the Ponte Vecchio bridge, it is a custom for lovers to write their names on a padlock, attach it to the bridge, and together throw the key off the bridge into the water. Sean and I knew this was something we wanted to do and as we arrived at the top of the bridge, everyone, without asking, moved out of our shot. They shouted cheers of congratulations, took their own pictures and it felt like another mini celebration. As the rain continued to pour, we made our way back to the apartment and happened upon a rock concert in the Piazza della Republicca. As we made our way through the crowd, people began to shout "Auguri" which means "best wishes," and soon thousands of people were shouting "Auguri!" while clapping and playing the drums. It was amazing and unforgettable!
What was the best thing about having an intimate wedding?
For us having an intimate wedding enabled us to have and do everything we wanted. It gave our guests memories of not just our wedding but a trip to Italy. It was an event, a holiday, and a celebration week, with the ones we hold near and dear.
What advice do you have for couples who are considering an intimate wedding?
We would say do it! A wedding is about the couple, not how many guests, entertaining people, or what others will think. It's about what is most important to you as a couple and it's a time that you will share forever with one another. The people at your wedding should be those who are the dearest people in your lives. Plus, some perks of an intimate wedding also include spending less money on a large amount of guest and putting that money into what you really want.
Vendors:
Photography: Sarah Maren Photographers
Officiant: Blessings from Italy
Wedding Dress: Alfred Angelo
Shoes: Glint "Radiance" Pump
Tuxedo: Hugo Boss
Flowers: Artemisia di Ilaria Minniti, Florence Italy
Reception: Ristorante Il Latini in Florence, Italy