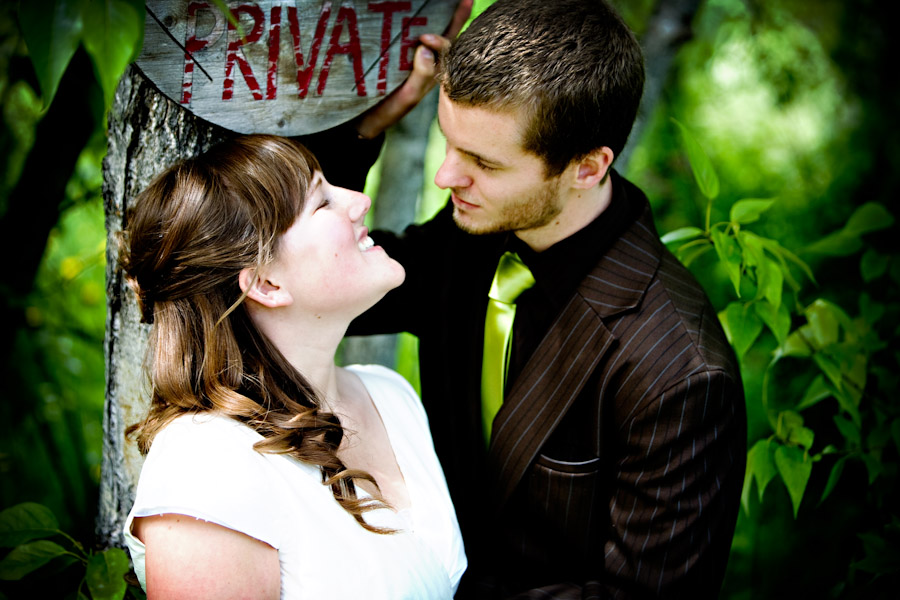 Zoe, 22 & Quinn, 22
Fernie, British Columbia
Wedding Date: Thursday, June 5, 2008
Number of Guests: 22
Wedding Cost: $8,500 CAD (including rings)
Wedding Ceremony Location: Elk View Lodge
Wedding Reception Location: Elk View Lodge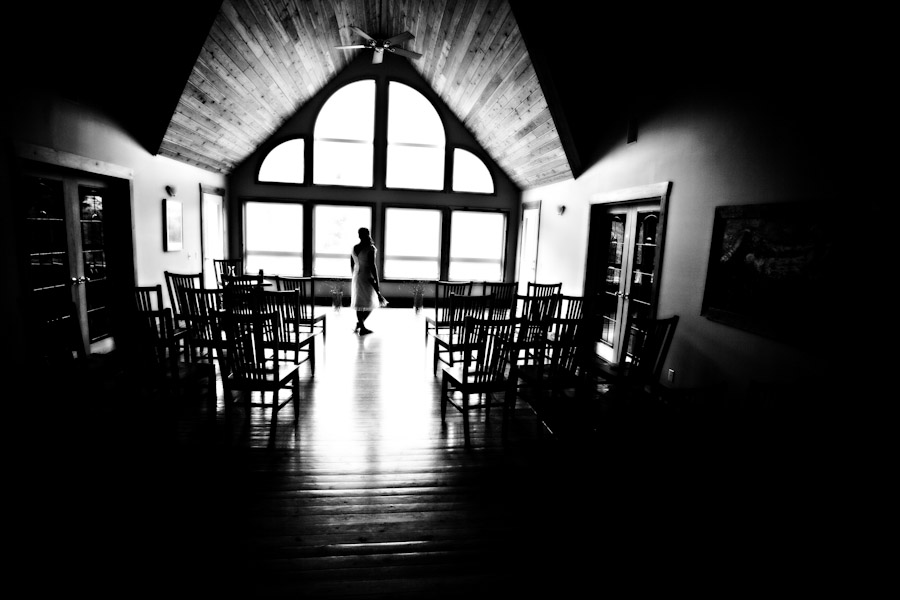 Why did you have an intimate wedding?
We are both still in university (check our their blog over here), so cost was a huge factor. (We paid for the photographer, rings and attire. Our families helped with the rest.)  We also wanted something that would be classy and simple, where our guests would feel loved. We wanted to connect with our guests.
Also, Quinn's family is large, and mine is tiny. (For example, I have zero cousins on either side!!) We felt that it would be hard to balance and draw the line if we were to invite extended family and family friends.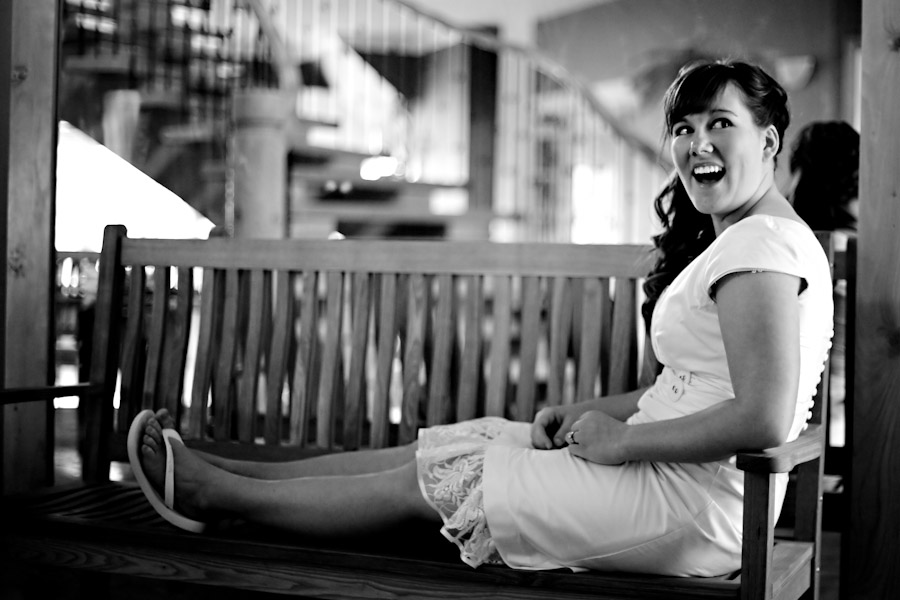 What are some the challenges that you faced planning an intimate wedding?
We had exactly four months to plan the wedding while being in school full time, working and volunteering. It definitely had some stressful moments, but we quickly learned that the wedding industry hypes up the fact that you apparently need months and months and months to plan a wedding, when really you don't. We also had our wedding in Fernie, British Columbia and we live in Victoria. It was hard to imagine how things would look because we weren't there for any of the planning. It was all done over the phone and email with a LOT of family help.
Was it difficult to pare down the guest list?
At times it was. It was difficult to know where to draw the line. We had times when we told people we were getting married and they responded by saying: " Great! We'll be there. We can't wait!" So it was really difficult to explain that it was going to be a very small wedding. We ended up sending CDs filled with pictures to some of the people we knew were disappointed.
Eventually  we chose to invite immediate family which was 14 guests, 6 friends , a minister from our church who is close to us and Quinn's brother's girlfriend who we realized would probably be our sister-in-law (and she is now!) .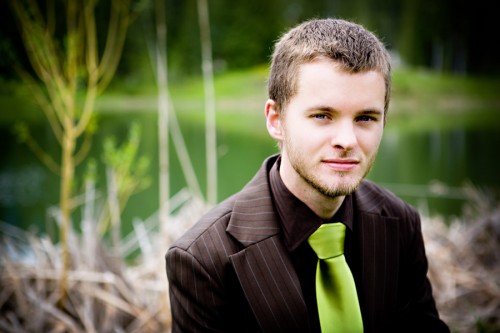 Did you have any 'issues' with the small guest list from friends and family? Overall, no. My parents were excited. Everyone ended up being very accepting and respectful that it was how we wanted our wedding to be. There were only a couple of occasions where we had to justify our decision.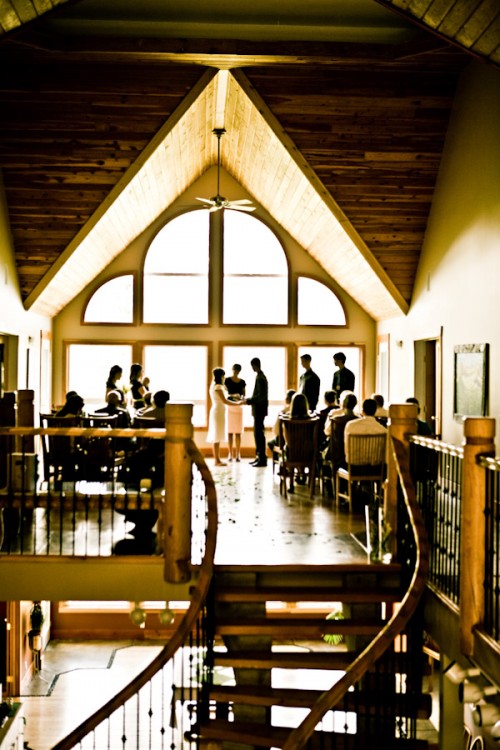 If so, how did you address them?
We just explained that we needed to have a wedding on a small budget and that we wanted to just have immediate family there. We explained about the family size imbalance also.
What were the highlights of the ceremony?
The simplicity. We didn't really add anything to it. However, we did buy a little tree/plant from a street market in Victoria. We brought it with us on the plane to the wedding and planted it after we said our vows. It now sits in our house and grows! We also had Native wedding rings made by an artist in Vancouver with an otter engraved in them because we live by the ocean. It was exciting to place the rings on each other. It felt like the ceremony was final.
What were the highlights of the reception?
It felt like a big family meal!  We had a BBQ and the food was delicious. My grandma made a wicked potato salad, grandpa and both our dads BBQ'd some steaks, Quinn's mom made a cedar planked salmon and my Mom did up some salads and prepared other amazing foods. We didn't organize anything in advance. We all ate, drank, mingled and heard speeches.
After the reception, we had an open house where friends and other family came to hang out for a while and eat more yummy food, like chocolate fondue! Our getaway vehicle was a helicopter that my Dad had organized for us, which took us to a treehouse. Definitely a highlight!
What was the best thing about having an intimate wedding?
That most of the people we love the most could be with us on our special day and that we got to spend time and interact with everyone. The thought of having hundreds of people looking at us while saying our vows made me feel sick!  We didn't want anyone to travel a great distance to our wedding and then not even get to see us or spend some time with us personally. We also don't get to see our families and friends a lot because we live on the coast. It was great for us to see them  and spend some time with them too!
The help we had from family and friends also made our intimate wedding great. They made things happen! It made us feel like it was a connected event, where everyone was doing something.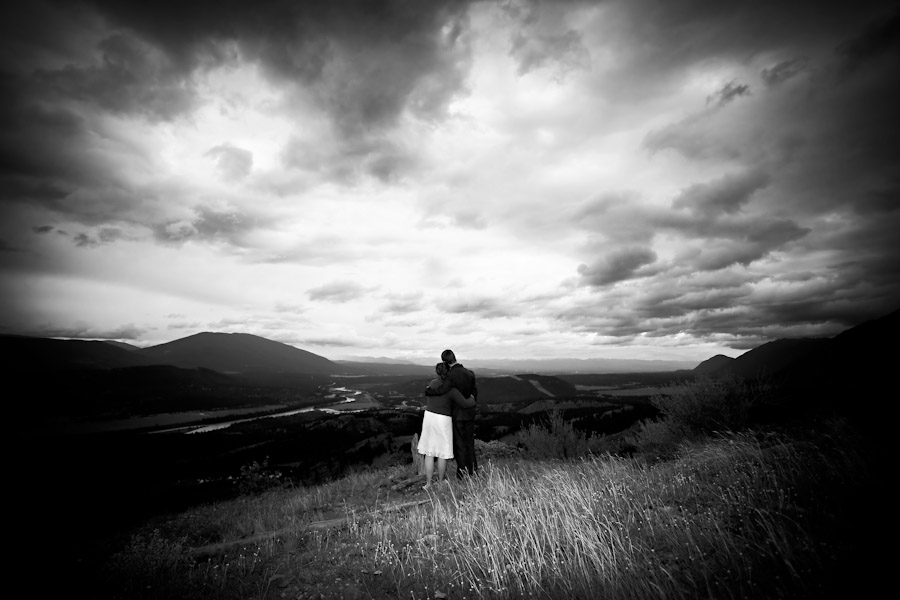 What advice do you have for couples who are considering an intimate wedding?
Don't buy into the wedding books. Buy a simple wedding planner to guide your way, but wing it! It is YOUR day. Do whatever you want. Use the resources around you. When people say: "What can I do to help?" they mean it! Also, if you are working with a minimal budget, splurge on the things that will last. Photography was the most important thing for us, and your ring is on your finger every single day so these two things were our priorities.
Your dress will only be worn one day in your life then tucked away in the closet. The decorations are only up for a few hours (and you probably won't even notice them!) and your flowers will die.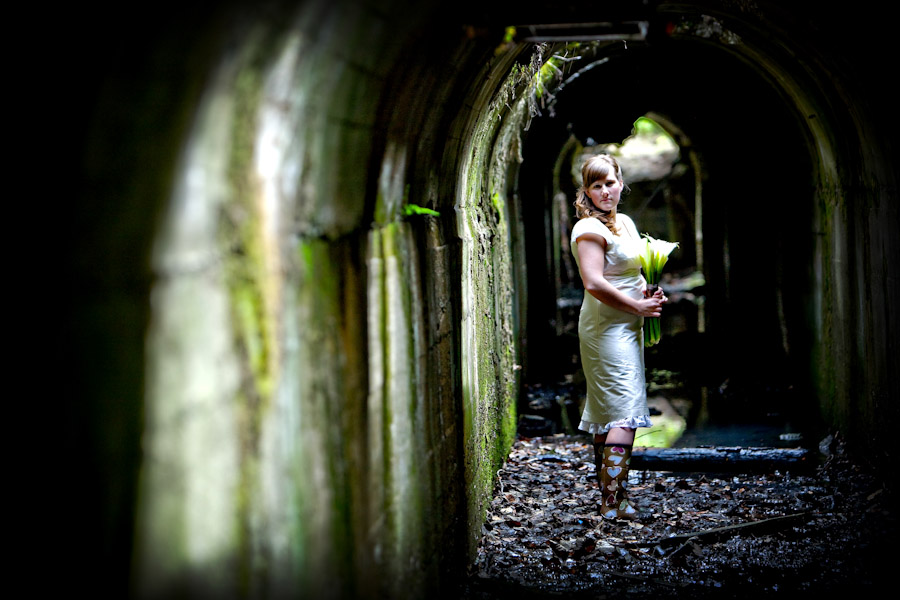 Vendors:
Venue: Elk View Lodge
Officiant: Mary Jane Leppard
Transportation: Vintage car that belongs to Quinn's parents (his Dad restored it!), tandem bicycle rented from the Guide's Hut and helicopter from Bighorn Helicopters flown by Greg Goodison.
Food: The food came from local grocery stores in Fernie and was prepared by our family! A lot of the equipment (large coffee pot, fondue fountain ) was loaned to us from family friends.
Cupcakes: A family friend, Diane Slywka, made them. They were beautiful and yummy, all in a little cupcake.
Memory video: Our friend Lisa made a video of us growing up until the present. It was a great touch for the reception and now great memories are on video
Attire: Quinn found his suit at HtO, a surf shop in Victoria. It just HAD to be his. My dress was sewn by Jillian Welch in Victoria . She helped me design it and sewed it all together, she did an amazing job! I silkscreened some Queen Anne's Lace on my dress where I worked at the time, Smoking Lily. If it is muddy outside for your wedding, I highly recommend Kamik rain boots with hearts on them 🙂 Groomsmen shirts from RW & Co, pants from Club Monaco, ties from Smoking Lily. Bridesmaids' skirts and tops from RW & Co, obi's from Smoking Lily.
Hair: Blue Lime Hair co., Fernie, BC by Chelsea, who is the best hair stylist ever! She came to the lodge in the morning for us.
Rings: Artist David Neel in Vancouver
Invitations: We made them. I highly recommend this! We had a lot of fun sitting on the floor gluing and stringing 🙂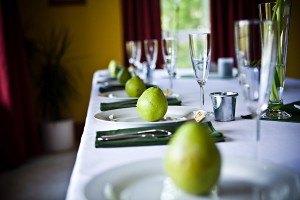 Decorations: We ordered a lot of the decorations online . We bought pears for the tables from the local grocery store and  used some cloth napkins from Smoking Lily. We also got some small flower pots from IKEA and filled them with soil and seeds as favours.
Flowers:  We ordered a few flowers from Grower's Direct in Cranbrook, BC and my very talented floral designer friend, Stephanie, put them together beautifully. My mom's friends Sally and Leslie lent us some large vases which worked great to display the flowers.
Photographers: Simply the best. Kevan Wilkie and Duane Clemens from 6:8 photography. They made us feel like we were their only clients and that we had known them our whole lives! They also brought along a videographer, Lowell Taylor to do a promotional video for their business! We loved all 3 of them and still keep in touch.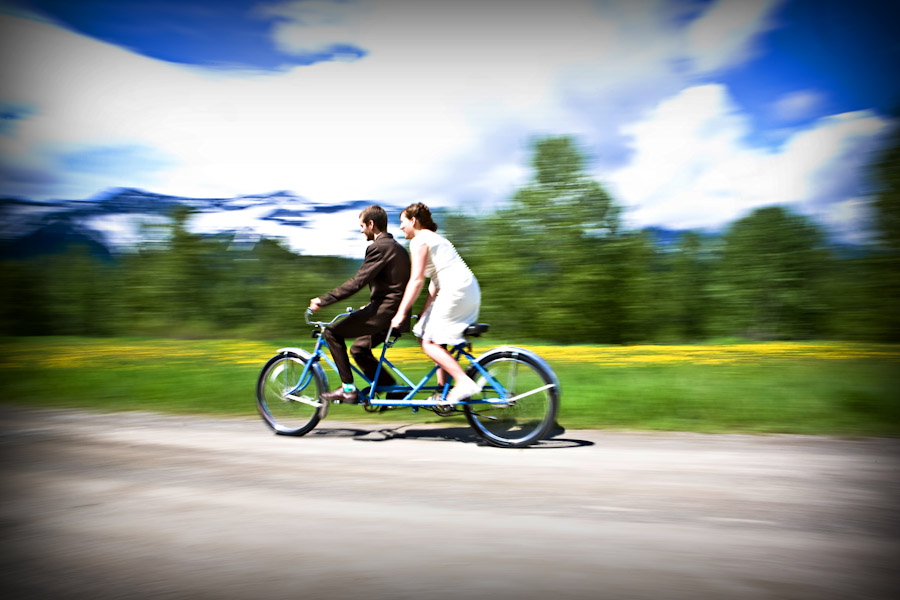 Photos: 6:8 photography