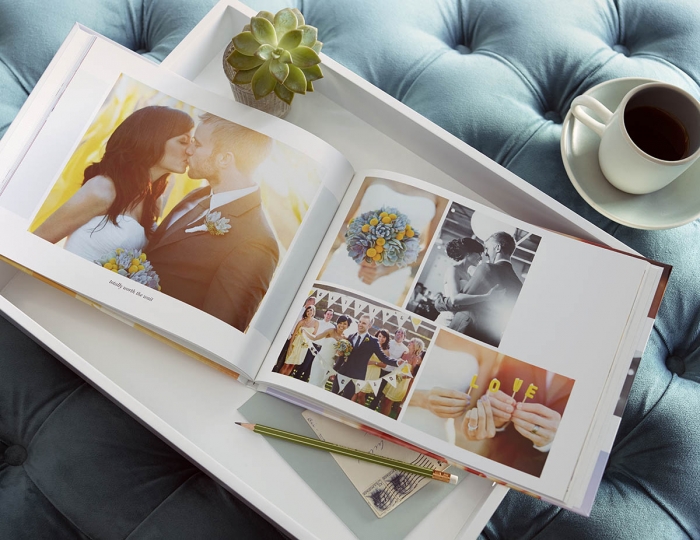 All photographs are memento mori. To take a photograph is to participate in another person's (or thing's) mortality, vulnerability, mutability. Precisely by slicing out this moment and freezing it, all photographs testify to time's relentless melt." Susan Sontag
We love this quote because we also happen to believe that photographs are pretty darn important. They document our lives, preserve our memories, and tell our stories to future generations. What did we look like? Who did we love? Where were the places that made our hearts sing?
Never have we lived in a time where photographs have been more abundant. We are the most well-documented generation to date, but ironically, so many of the images that we take are buried or lost forever in a technological black hole. Our digitized images stay imprisoned in hard drives and a myriad of other tech devices, where they never see the light of day. The same is true for wedding photos. So many couples have a plethora of gorgeous images from their wedding day locked away in files on their computers and mobile phones. Sadly, it is not unusual for images to disappear forever during a hard drive crash or a lost cell phone. We think that's a shame because it doesn't have to be that way.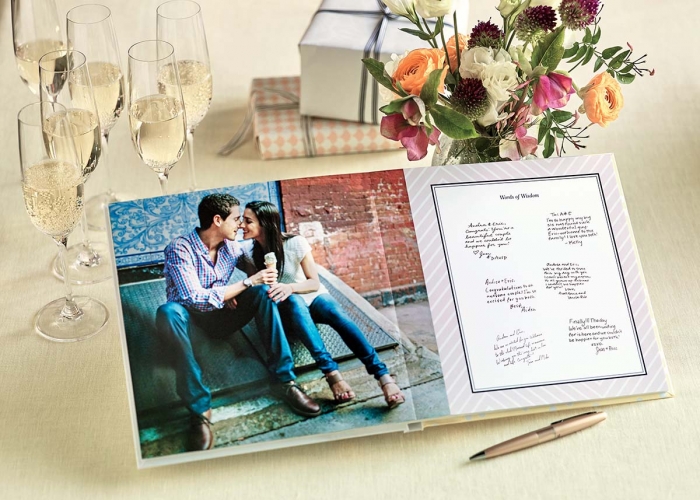 The folks at Shutterfly have made it easy and economical to free your digital images from hard drives and mobile devices and use them to create everything from your wedding invitations to beautiful books that will become treasured keepsakes. Why not use some of those gorgeous engagement photos sitting idle on your hard drive to create your wedding invitations? Shutterfly has a lovely assortment of stationery in on-trend designs, including elegant foil-stamped Save-the-Dates and tons of personalization options that can translate from the invitation to coordinating RSVP and enclosure cards.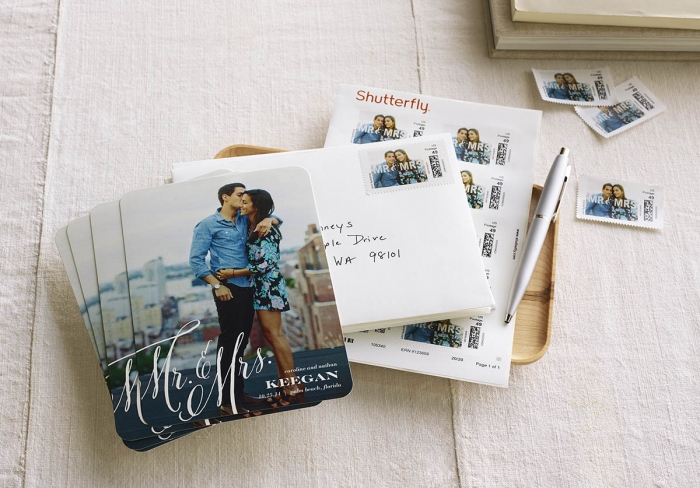 Not sure which design you love the most? No problem! Shutterfly encourages you to go ahead and experiment with different designs before committing to your invitation style. By using promo code 5WEDINVITES, you can customize five free samples of wedding invitations.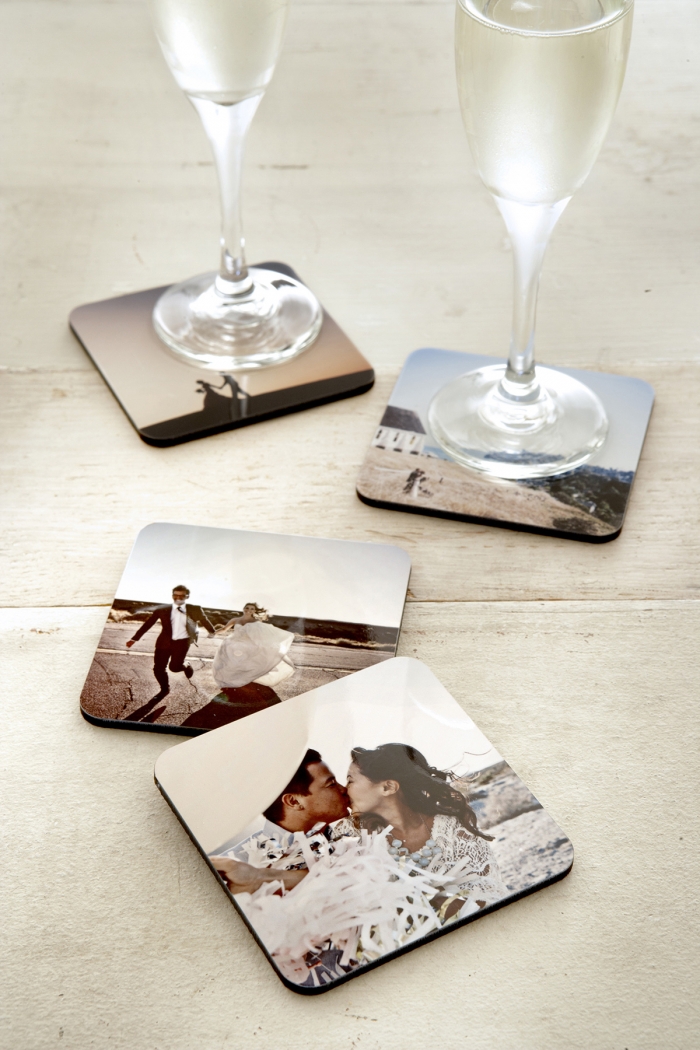 And if you are looking for meaningful gifts for your wedding party or loved ones, you can use your favorite wedding photos to create everything from personalized jewelry  for your bridesmaids (the photo charms are adorable!) to luggage tags for your groomsmen. Shutterfly has a great variety of personalized gifts to continue sharing your special memories with your family and friends or even to accessorize your home, including pillows, throws and coasters.
If you are a bride who just can't fit a photographer's professional wedding album into your budget, a photo book from Shutterfly is the perfect alternative. Wedding albums can cost thousands of dollars, which is outside of the budget of many couples. Shutterfly, on the other hand, will allow you to create a personalized, high-quality photo book at a fraction of the cost.
Shutterfly's premium photo books have so many awesome features. Not only are they easy peasy to create (just drag and drop!), they are also completely customizable, so your book truly reflects your own style. Most of the premium books offer double-thick, layflat pages – which make them perfect to display on your coffee table – or even at your wedding as a guest book (we love this idea!). Couples can choose either crushed silk or genuine leather for the cover.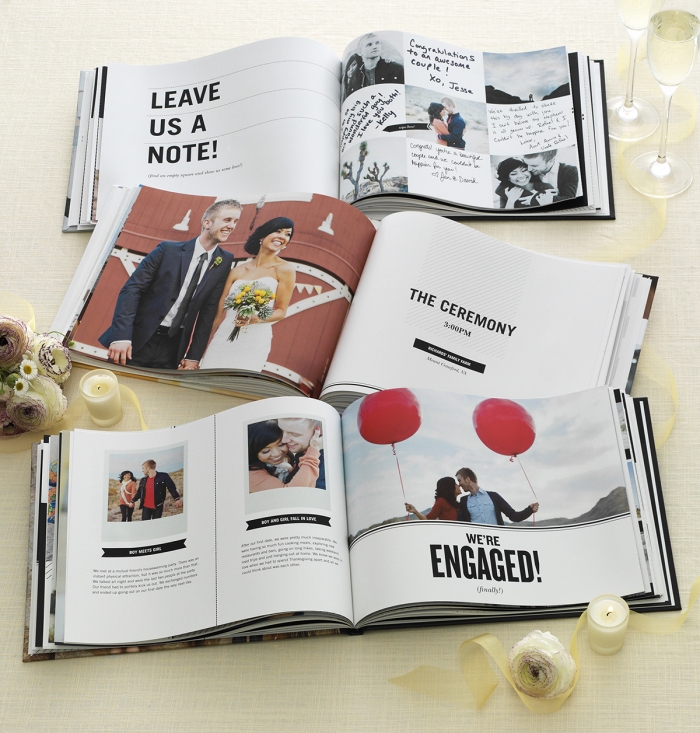 Shutterfly knows that sorting through all your wedding photos and choosing favorites can be a daunting task, so they have created an uber convenient Make My Book service, which allows you to sit back while their experts do the work. Simply choose a book size and style, then upload all your photos; they'll even curate the best photos if you like! Your album will be ready in as little as three business days, and you pay a small design fee only if you order the book. What's not to love about that?
With all these wonderful ways to use your engagement and wedding photos, isn't it about time you set your beautiful images free? Go to Shutterfly and get started!
*Sponsored post.