Stylist Stevie had seen the intense stress and anxiety that can often come with planning a big wedding. Seeing the stress firsthand for 13 years gave her the idea to plan an intimate wedding that allowed cherished loved ones to go on vacation together and truly enjoy themselves.
"I decided to take the same amount of money and create an experience that is unlike any other—forcing people to all go on vacation with each other at a beautiful destination," Stevie said.
Friend of the couple Lindsay Campbell Photography captured Stevie and her new husband Mat in all of their beachy glory. We just love the laid-back romance of it all and we bet you'll agree!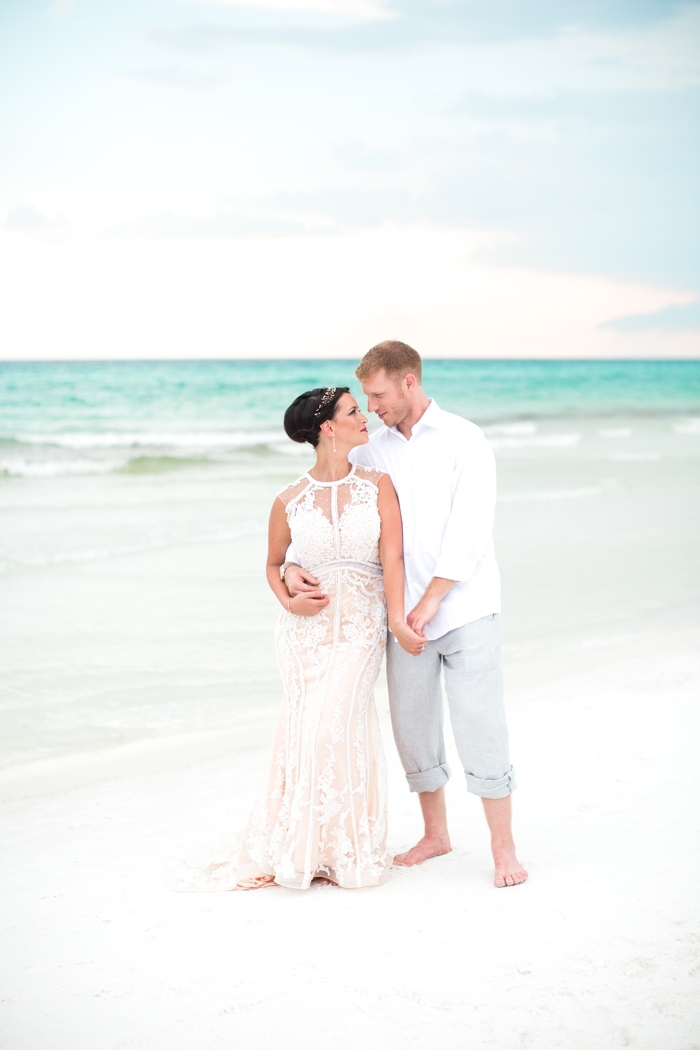 Stevie & Mathew
Location: Destin, FL
Wedding Date: September 24, 2016
Number of Guests: 50
Wedding Cost: $15,000
Wedding Ceremony Location: Private white sandy beaches of Destin FL
Wedding Reception Location: Private residence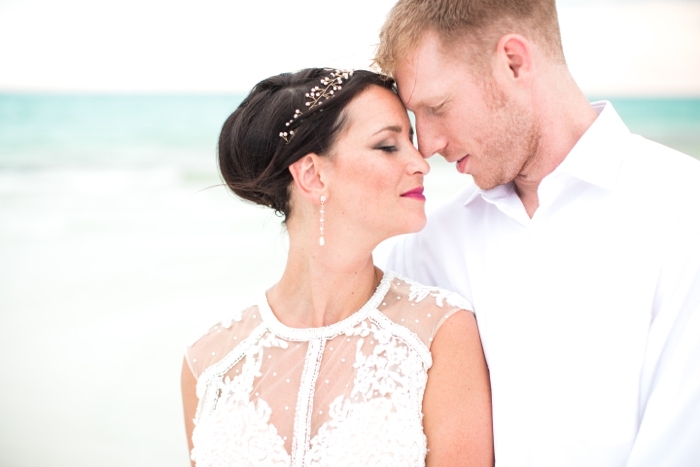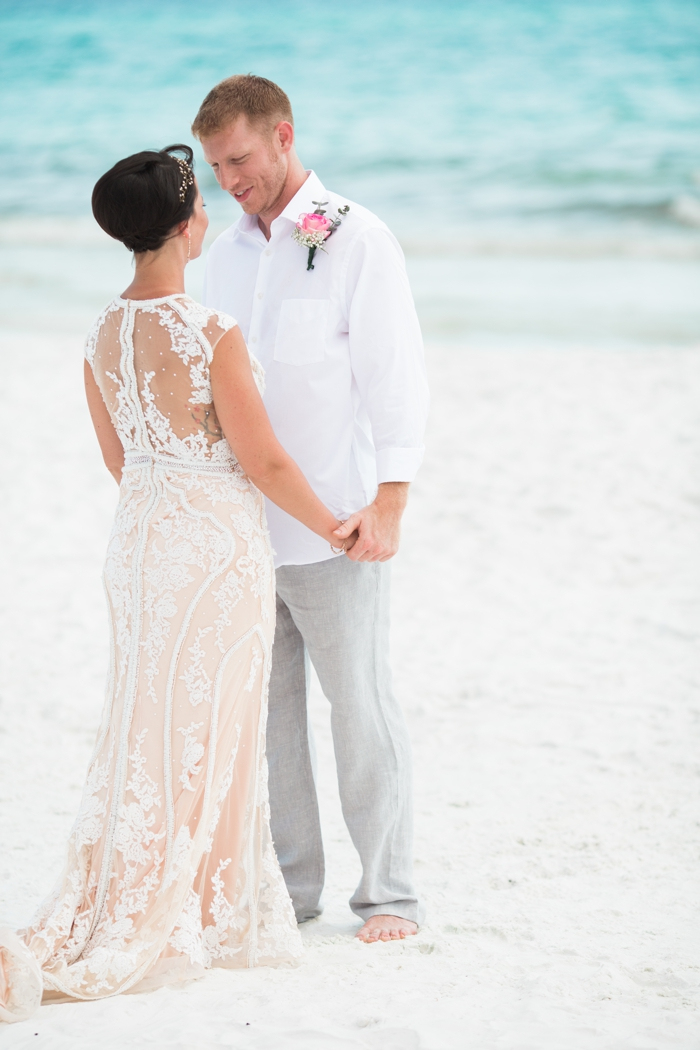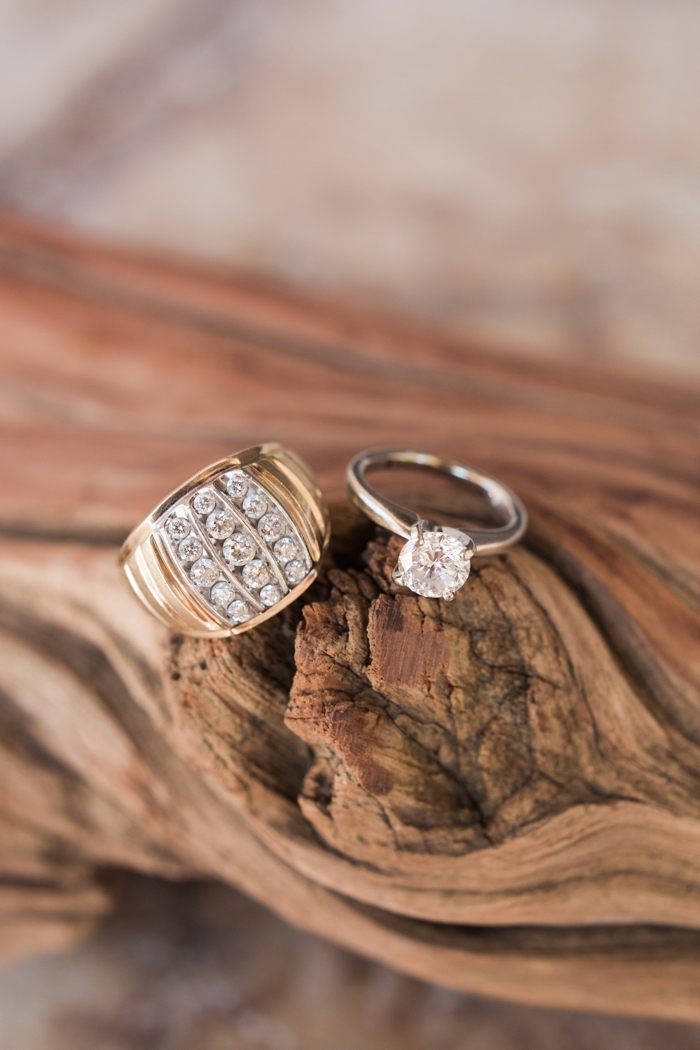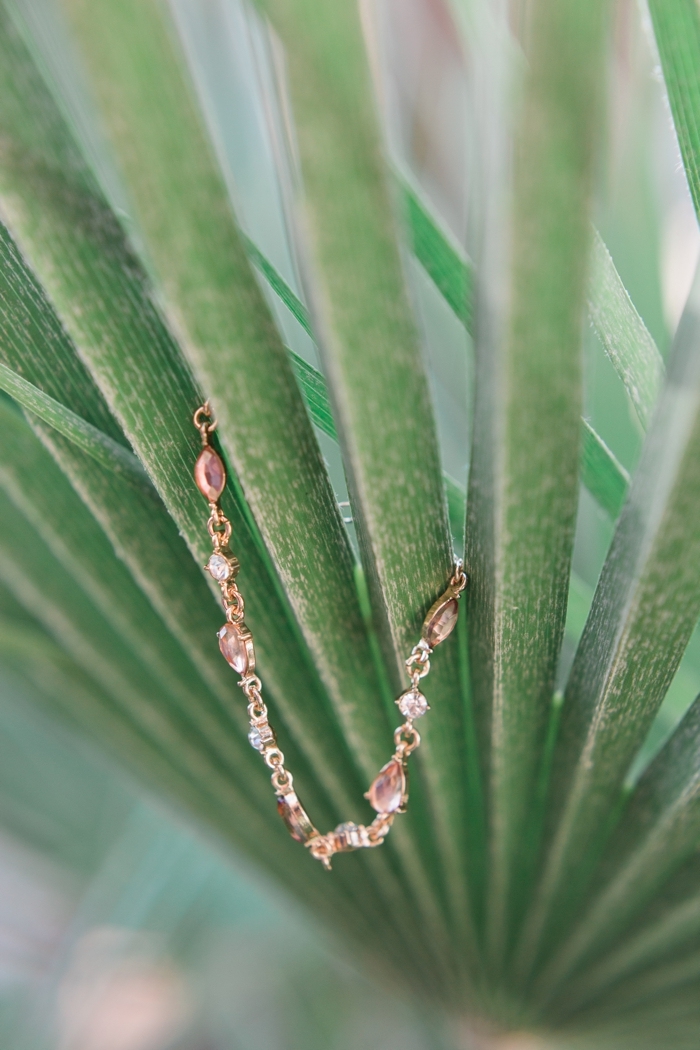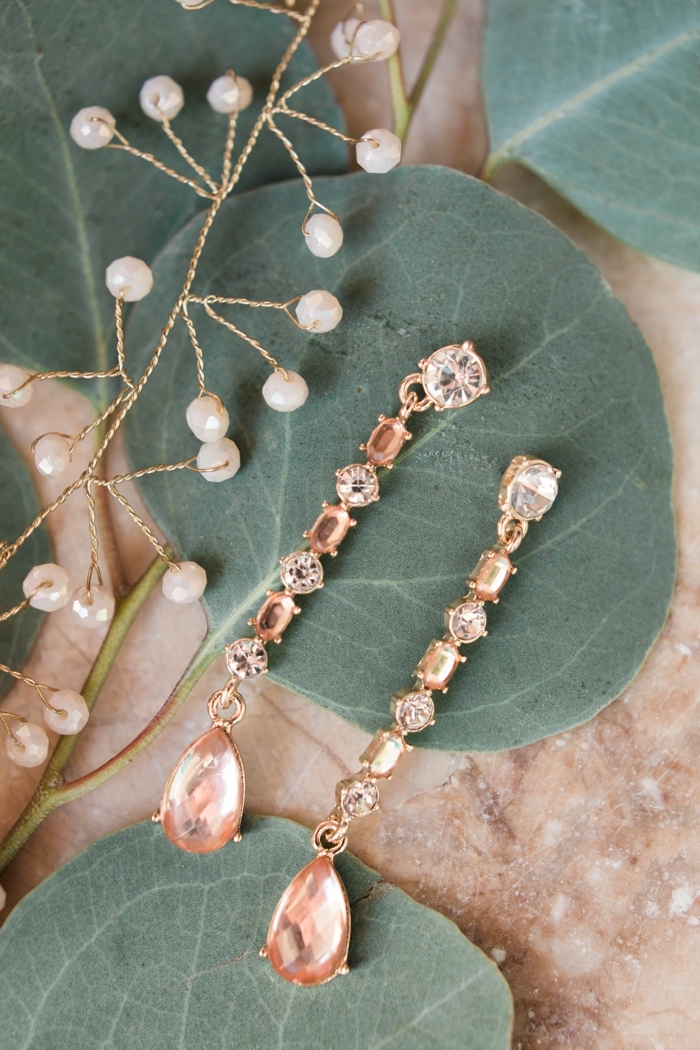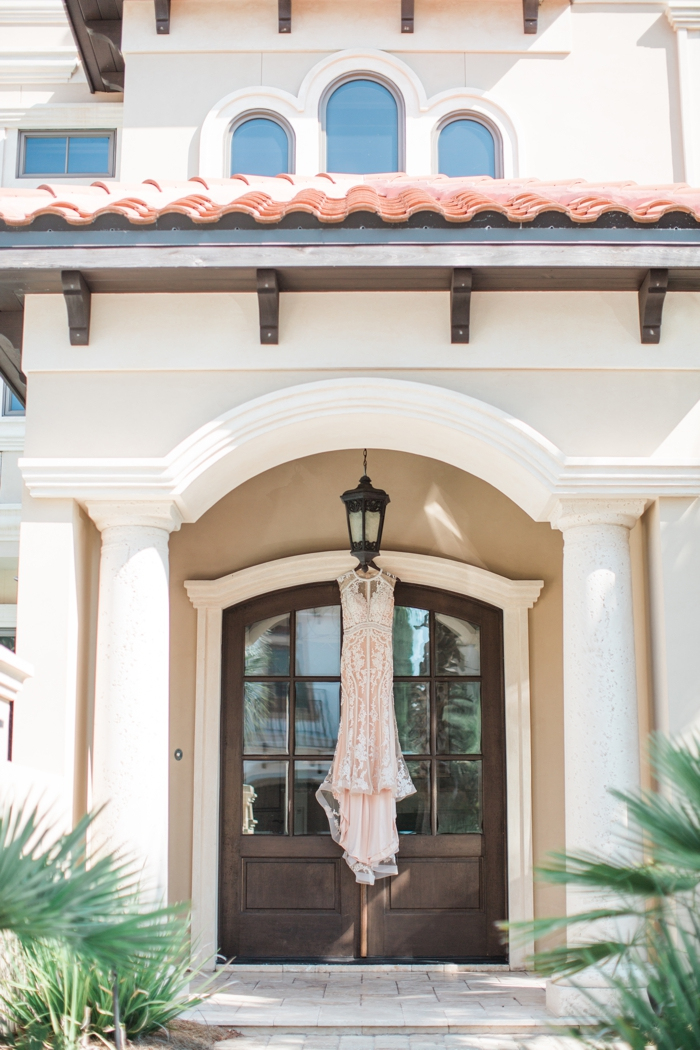 Why did you have an intimate wedding?
I am a stylist, so I have seen the stress that happens up until the day of the wedding. Over the last 13 years of witnessing this anxiety and stress, I decided to take the same amount of money and create an experience that is unlike any other—forcing people to all go on vacation with each other at a beautiful destination. I removed stress that had to do with pleasing somebody I didn't know, the stress of lack of communication because of unfamiliar relationships and the stress of having other people see a vision of what our day should be.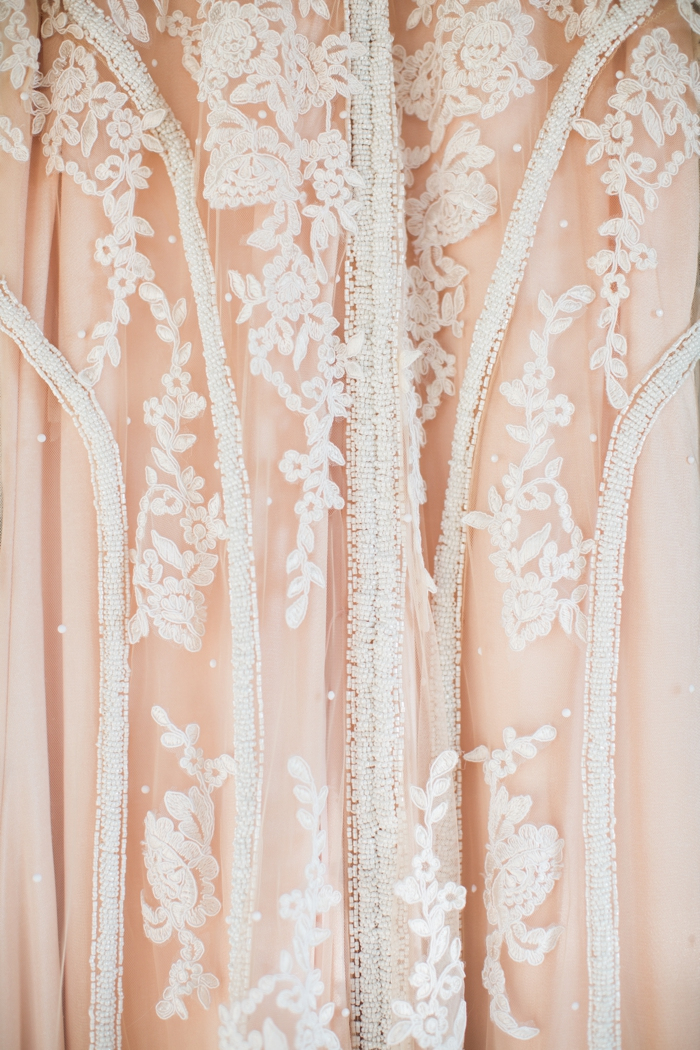 What are some of the challenges that you faced planning an intimate wedding?
The only challenge was picking the exact location. I wanted it to feel intimate and roomy at the same time. We needed the location to be a vacation spot for over 20 people.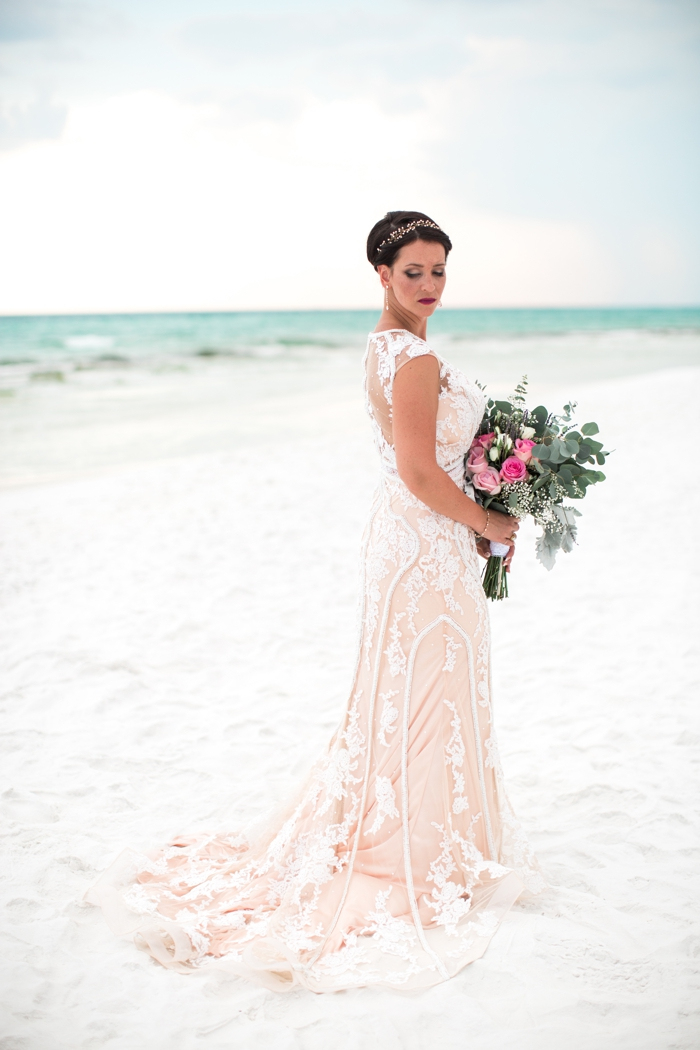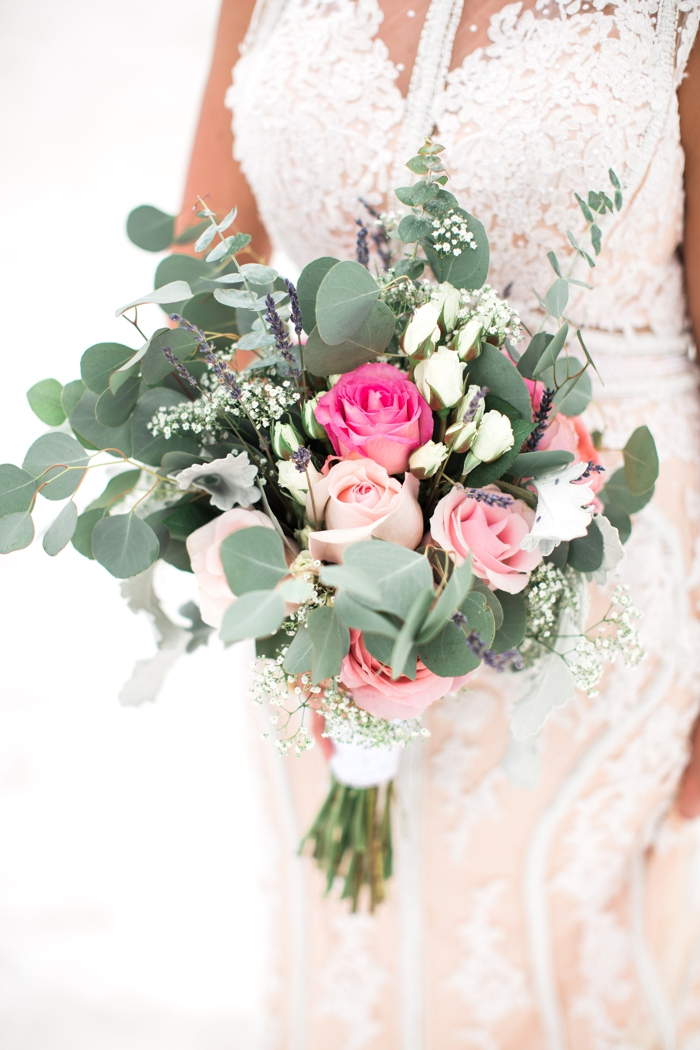 Was it difficult to pare down the guest list?
No, once again I really looked at past brides and their complaints. I saw the headaches of this and made it a priority that I would not get stressed out over the guest list. So if it didn't fit, it didn't fit. If I hadn't spoken to someone in over year, then our connection is just not as strong as it once was. That doesn't mean we don't love you, but that probably means we're not going to see you on our wedding day.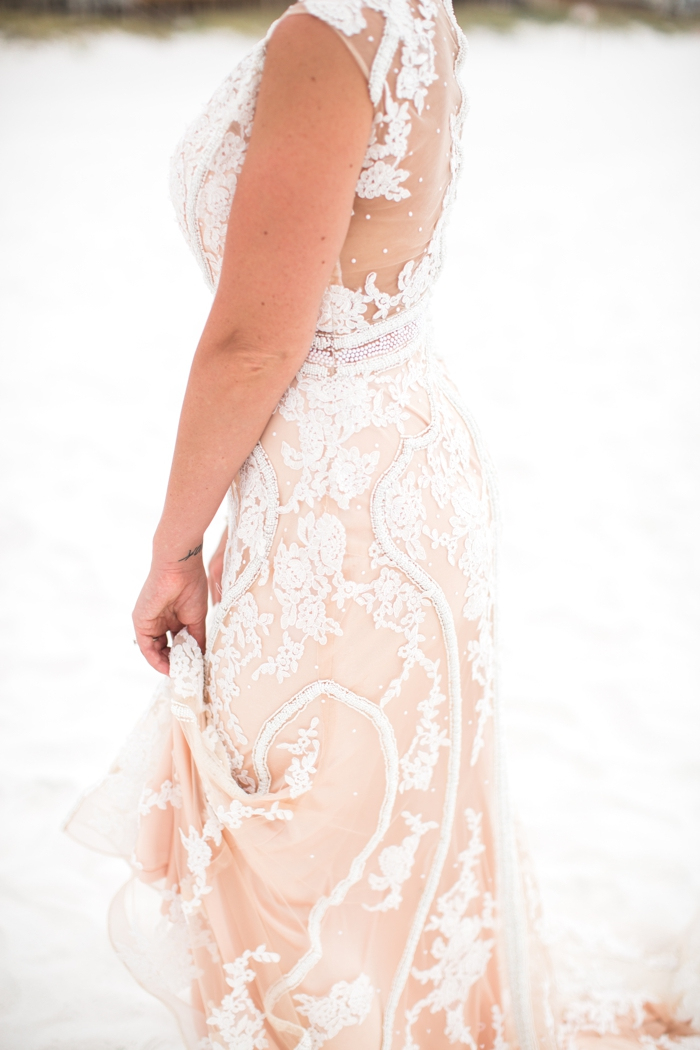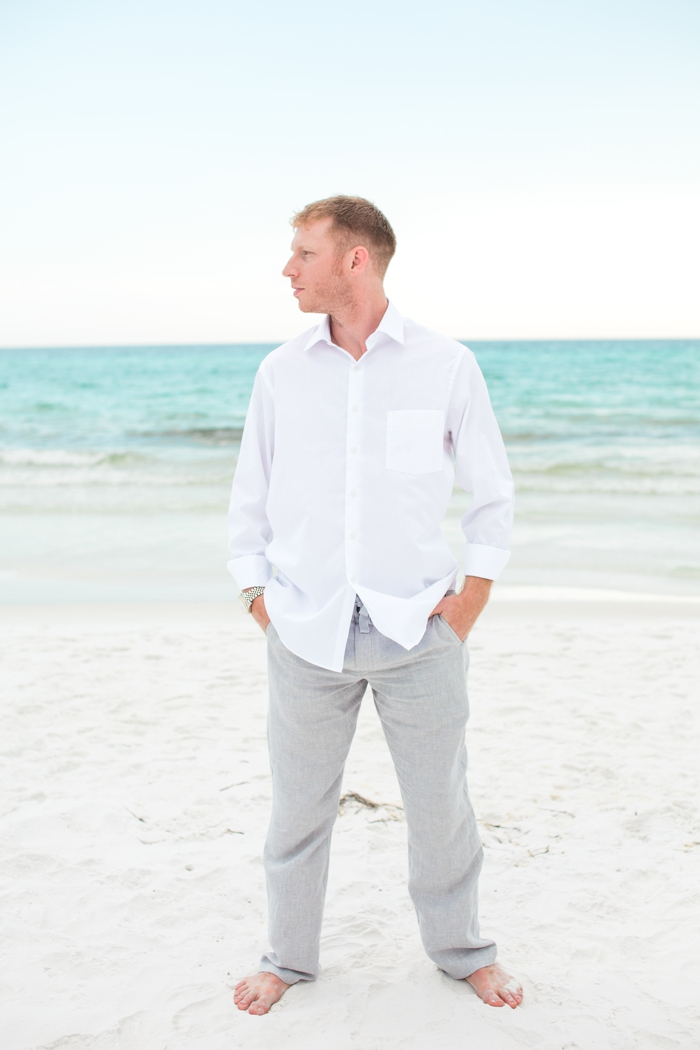 Did you have any issues with the small guest list from friends and family? If so, how did you address them?
We were pretty up front with our relatives and gave them our agenda right away. We wanted to make sure they understood this is going to be about us and our immediate family and friends who had really witnessed our relationship up to this day. This is not about our parents' boss or some third cousin that would get their feelings hurt because they didn't get an invite. I think communication and relationship building is the best thing that you can do when having any event, especially a wedding.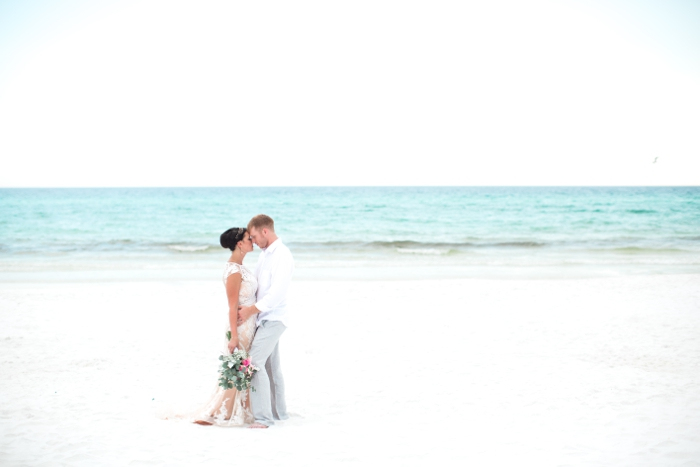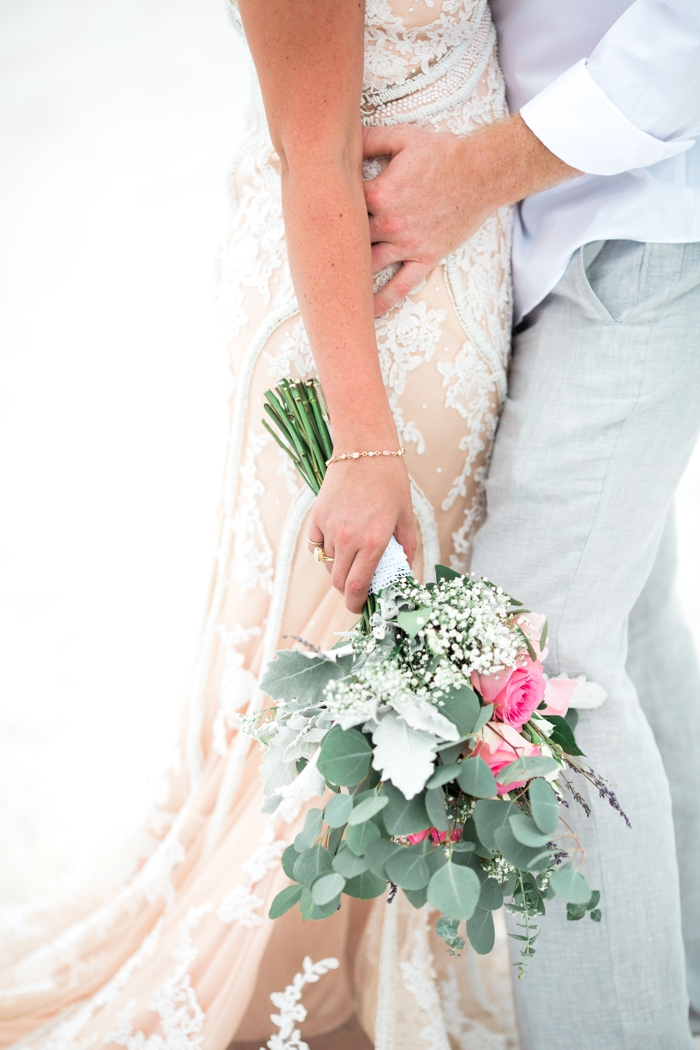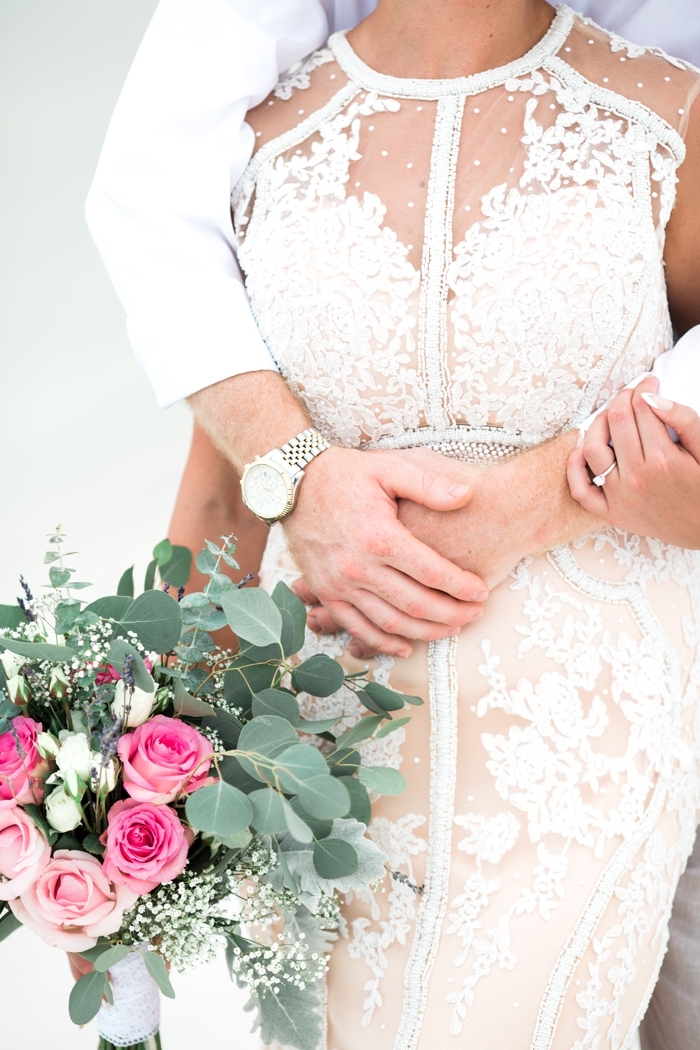 What were the highlights of the ceremony?
The ceremony was so special because the focus was just on my husband and me. Getting to that moment was so nerve-racking and exciting and beautiful all at the same time. The clouds were perfect, the water was absolutely beautiful and all of the hard work and energy put toward this was seen in this moment.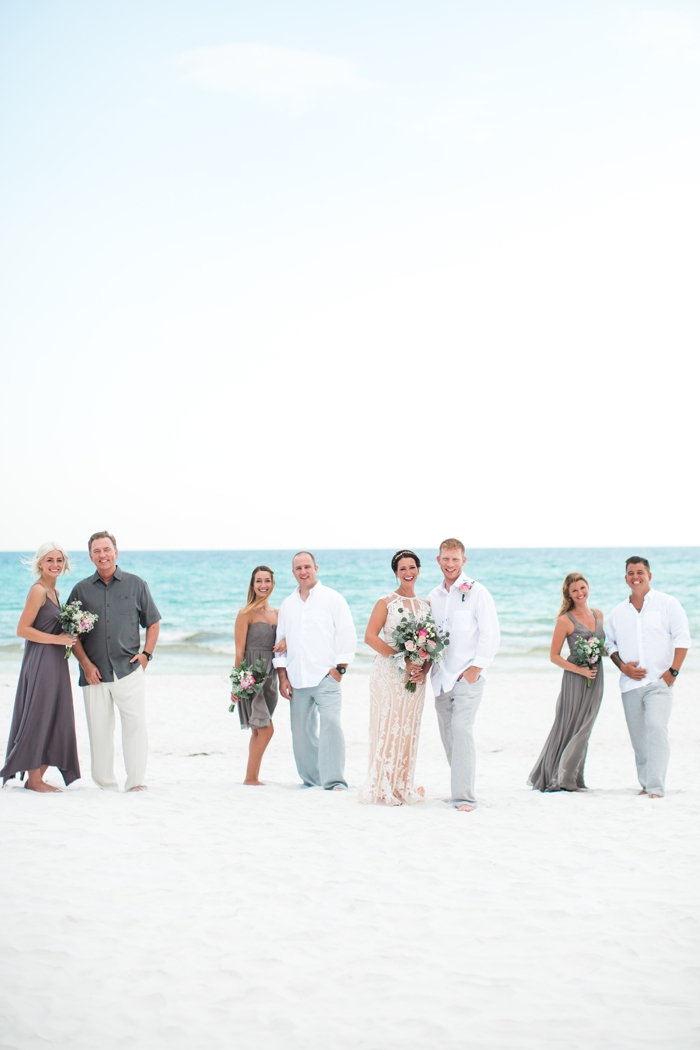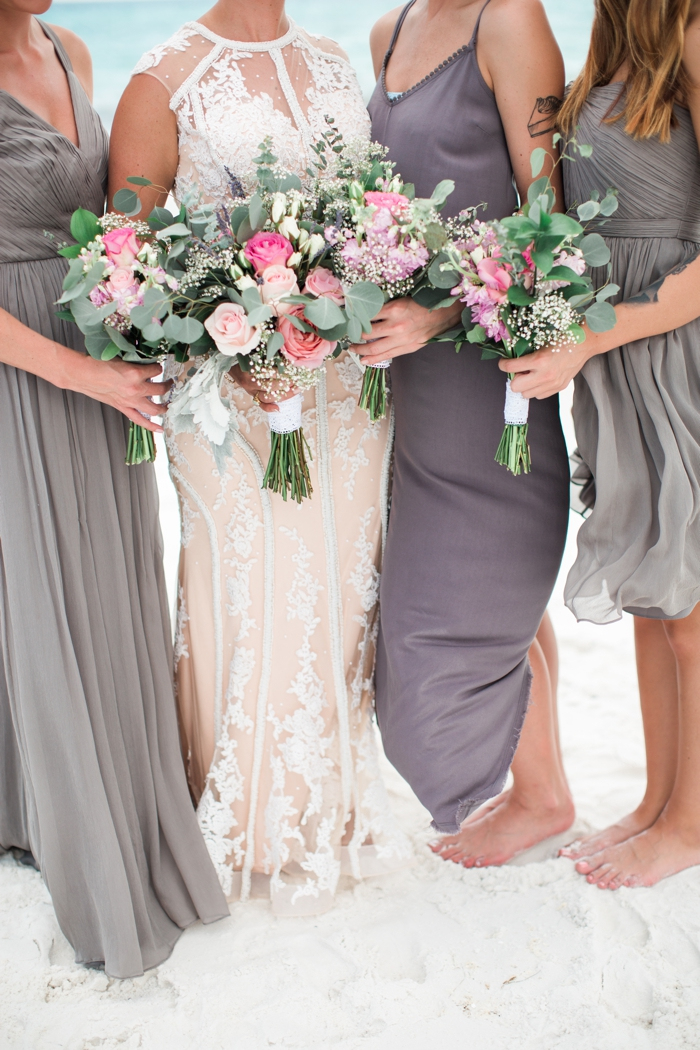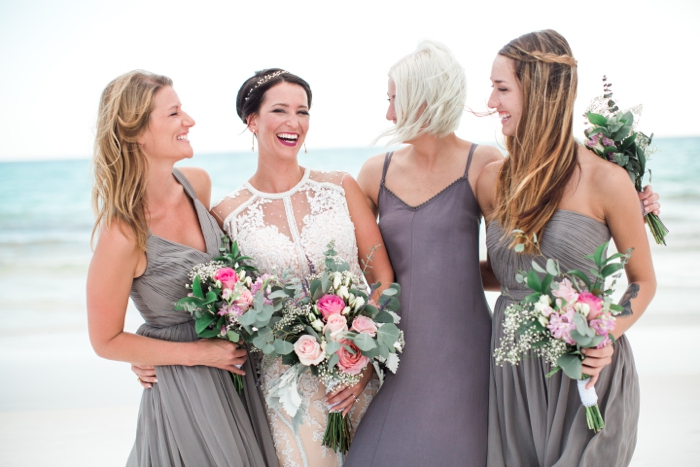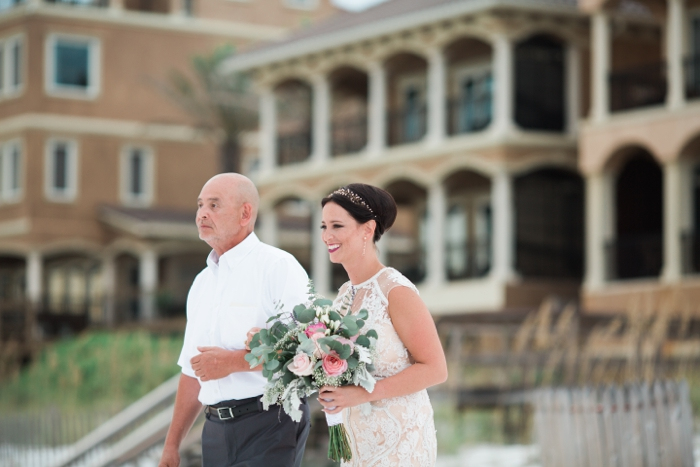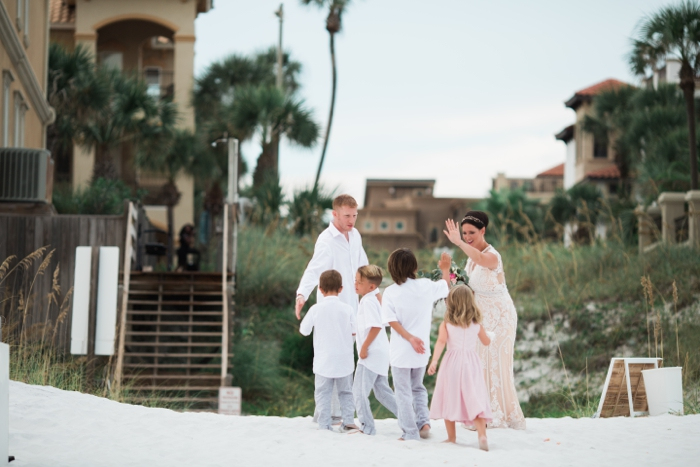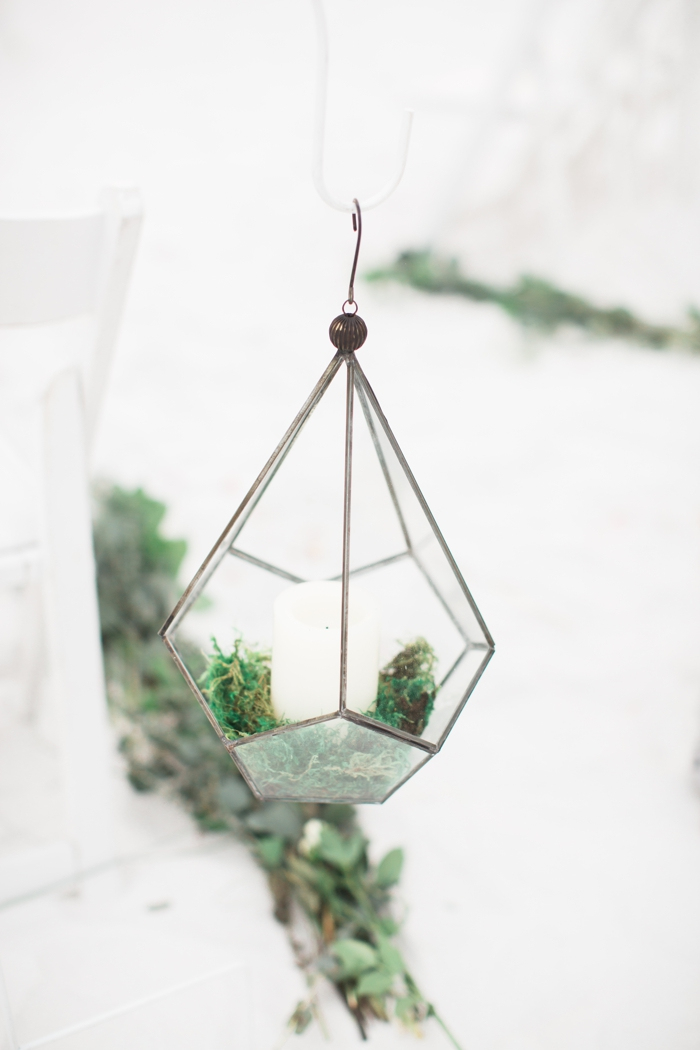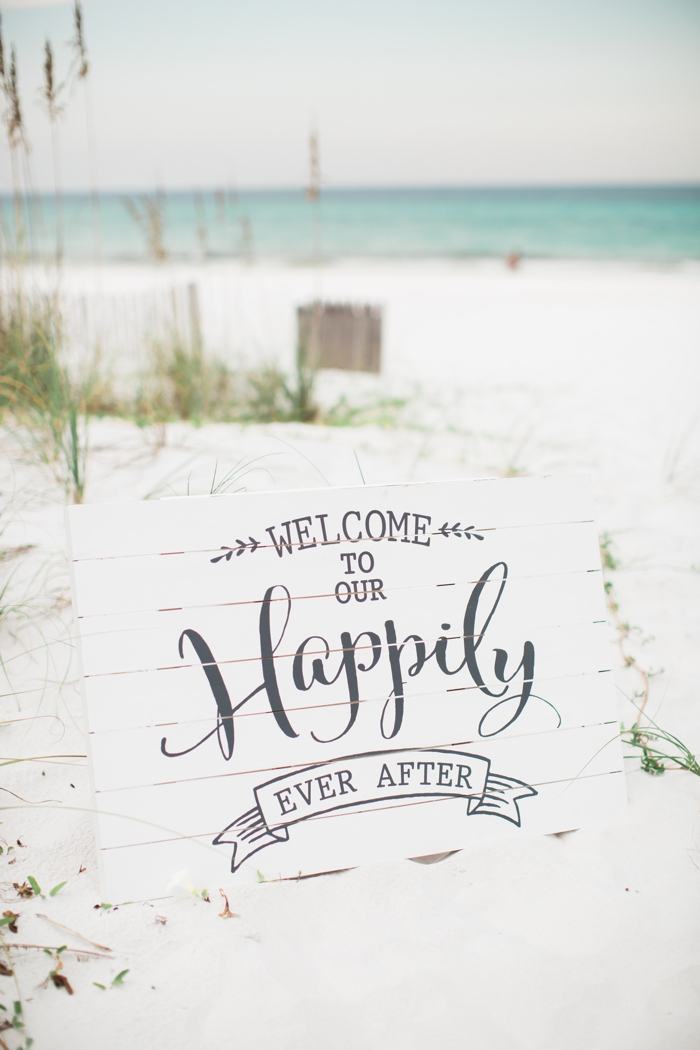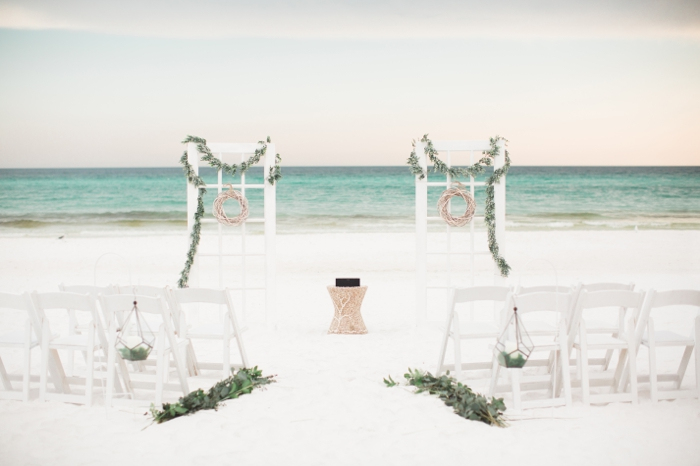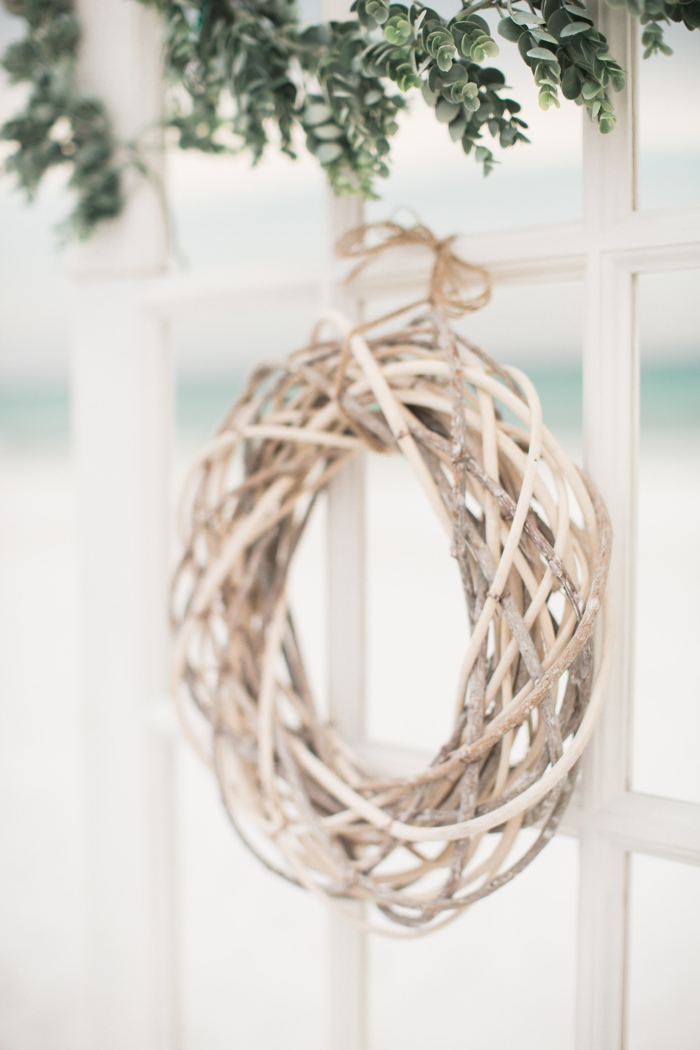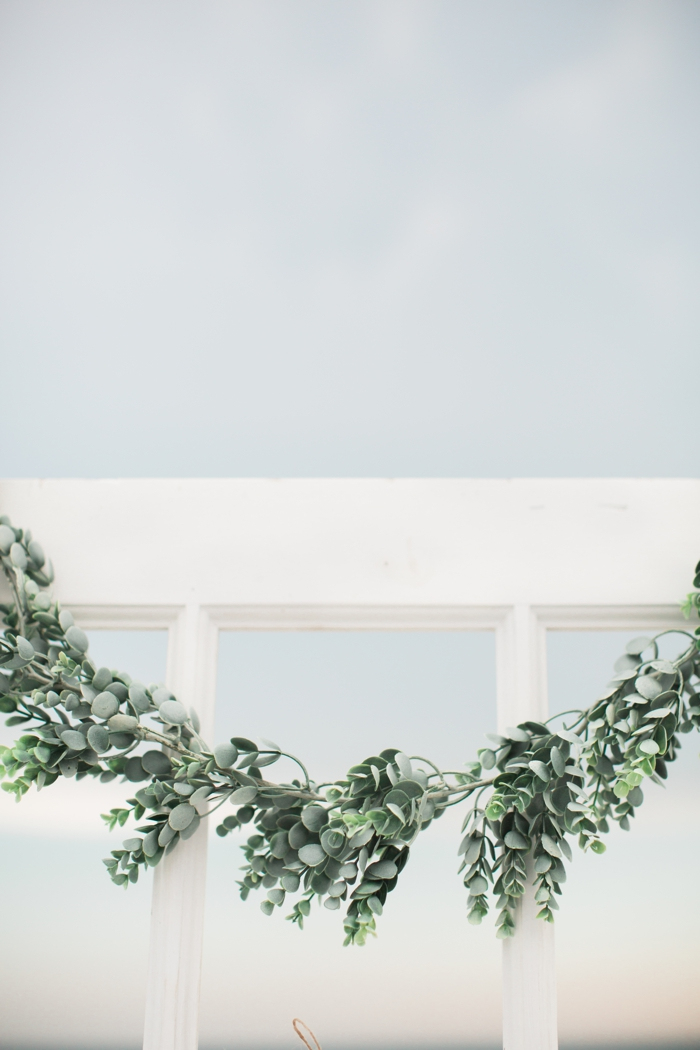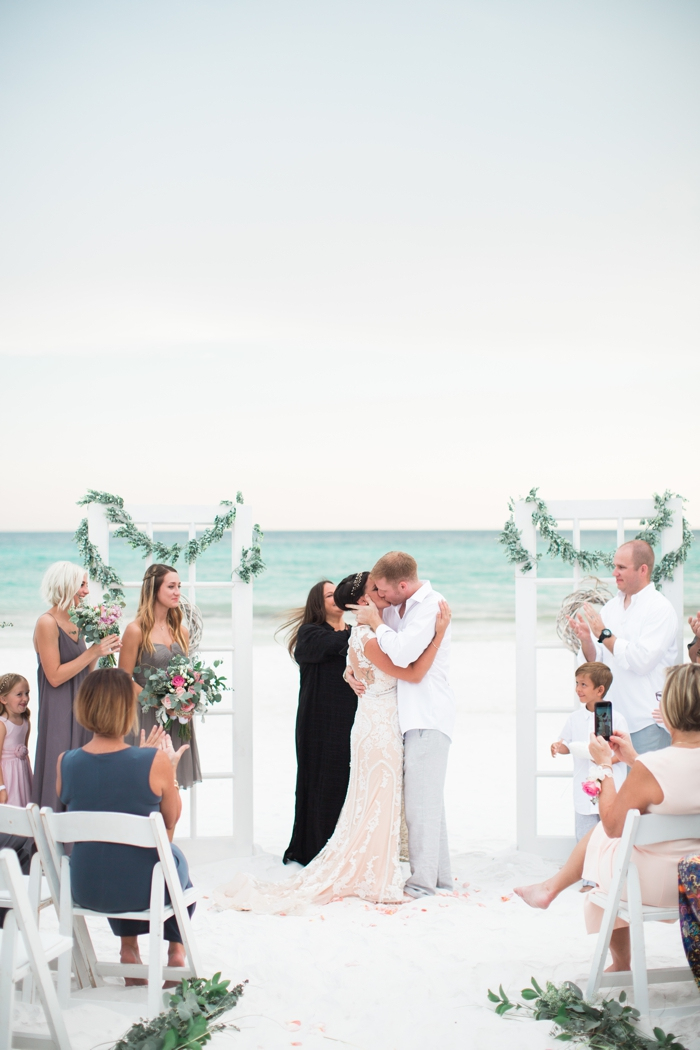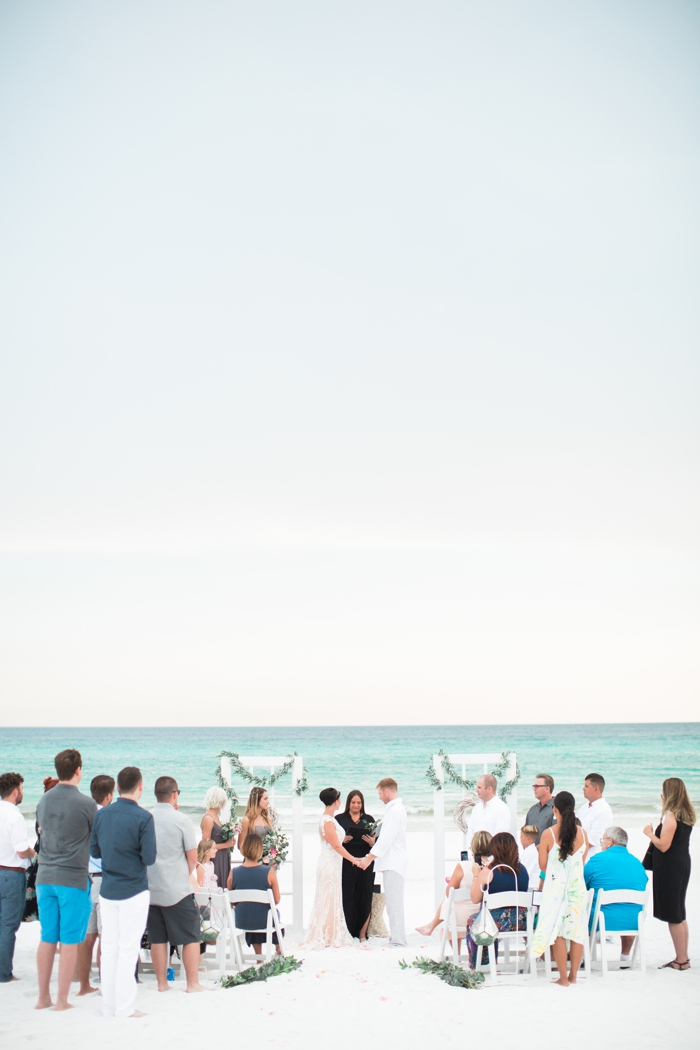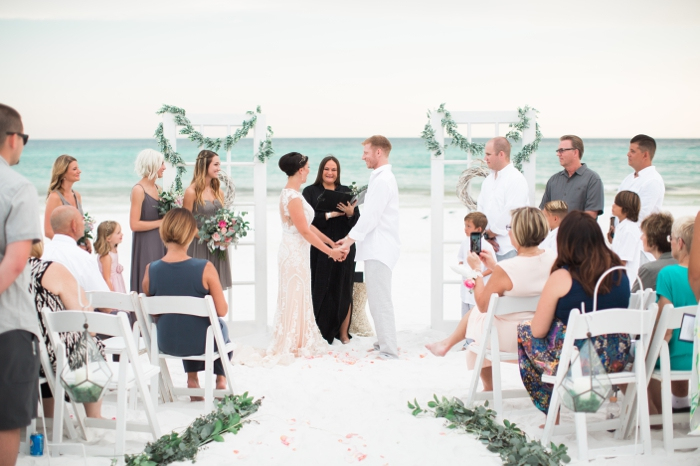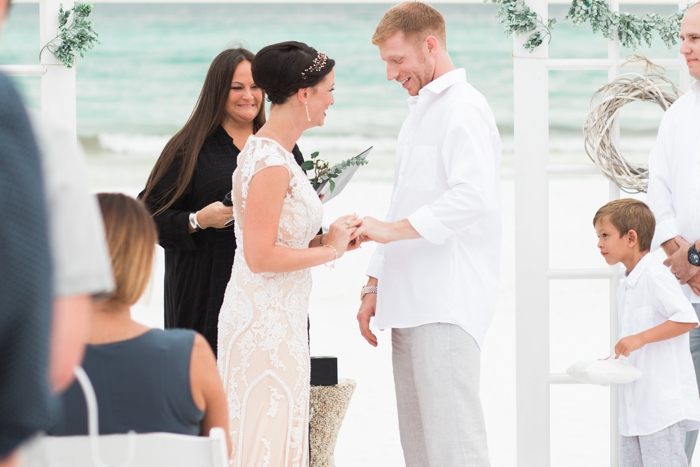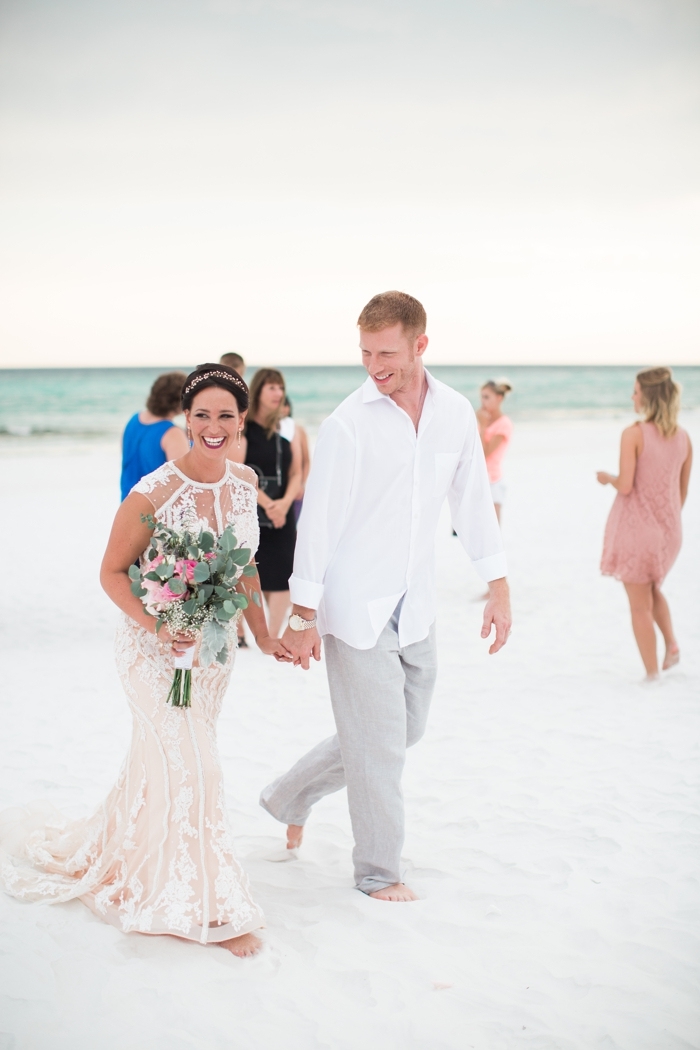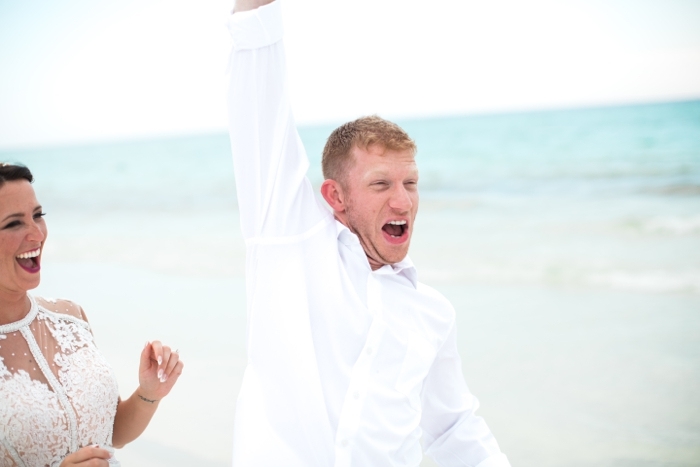 What were the highlights of the reception?
During the reception each of the vendors, our personal relationships that we brought to Florida, got a chance to speak about the care and love they put into this event. To be able to see everybody in one room that made this happen and people who had traveled so far to be a part of this was simply beautiful.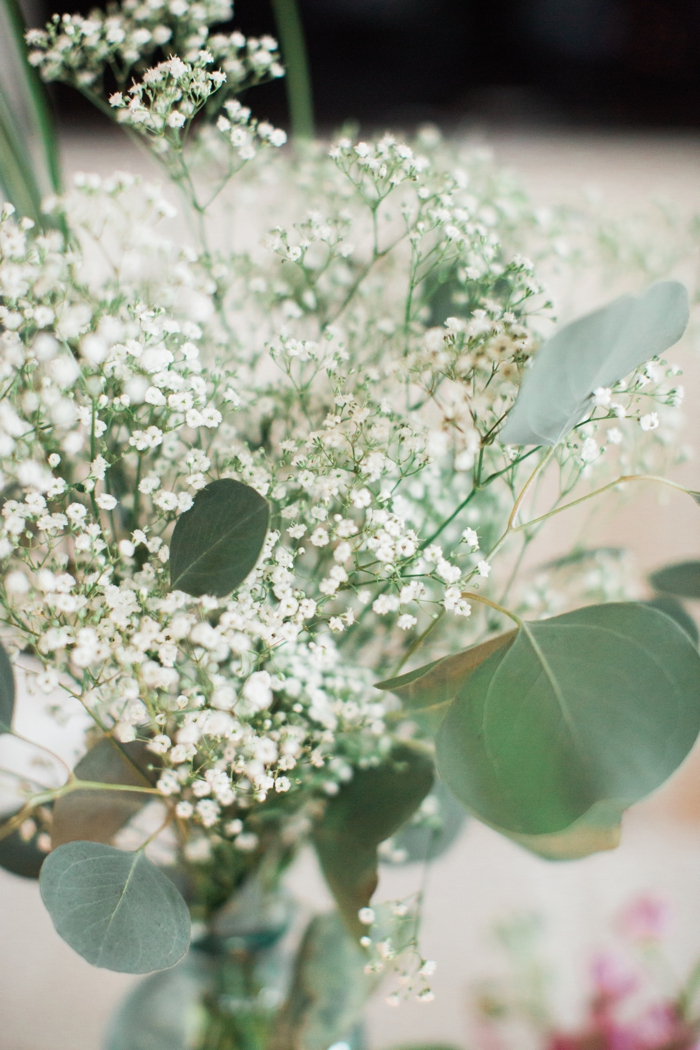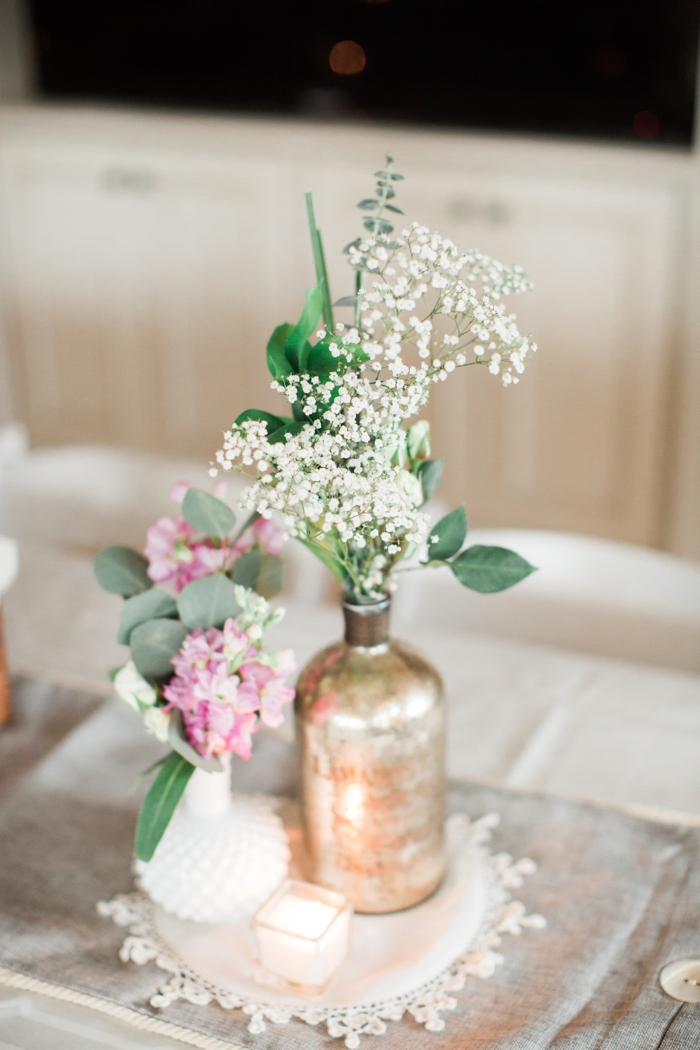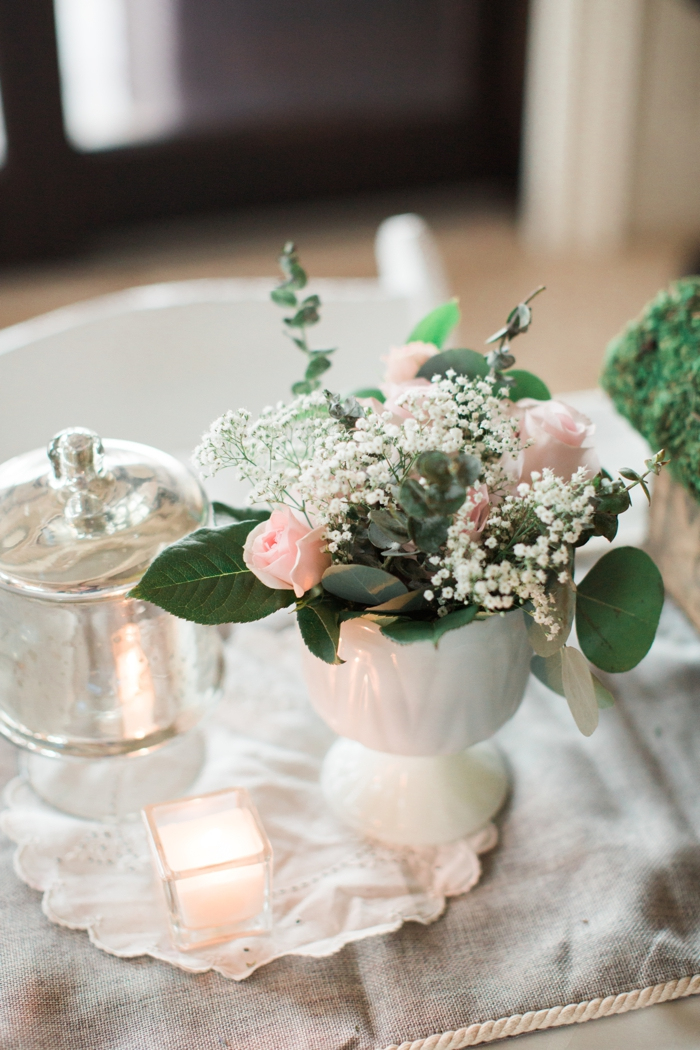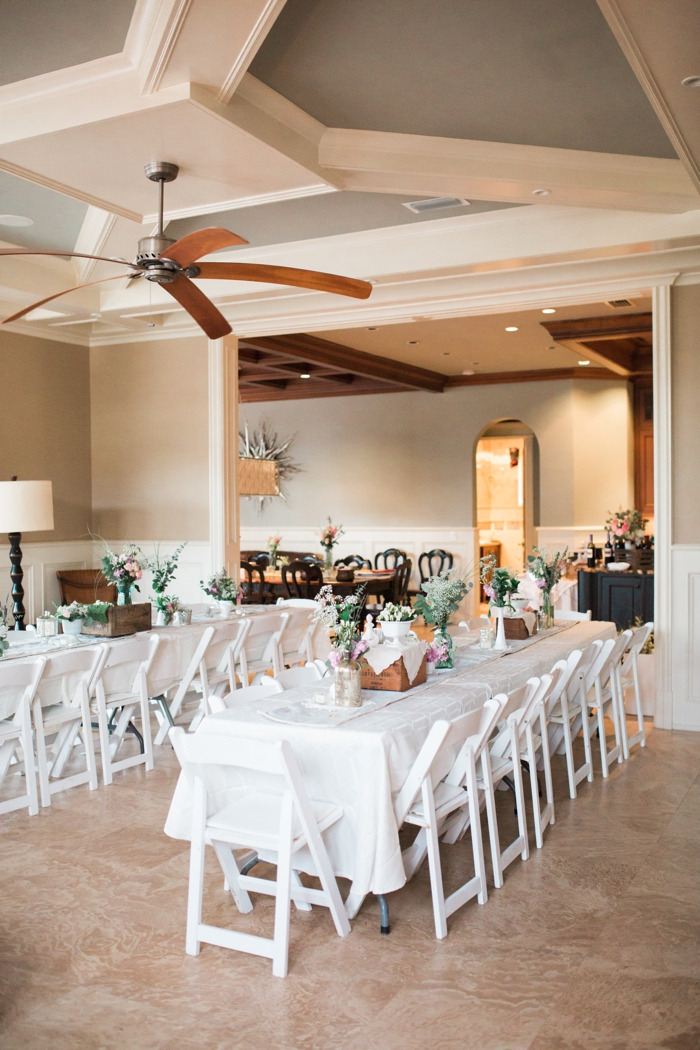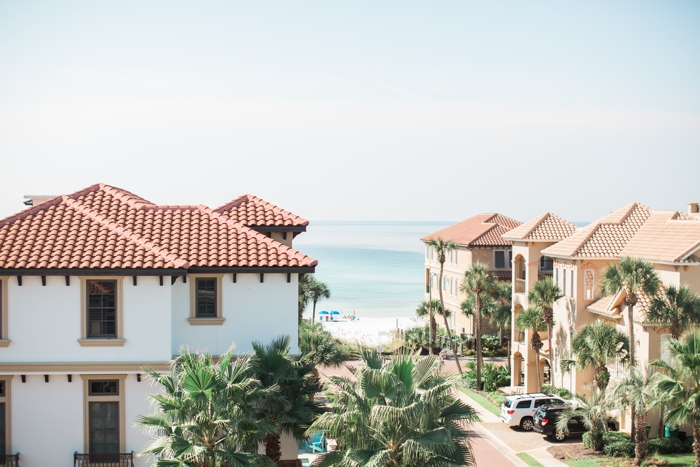 What was the best thing about having an intimate wedding?
The best thing about having an intimate wedding is the true relationships that blossom, and the amount of time that you can actually spend with the people who are there. We had our event last the entire week, that way we would remember each moment and get to spend quality time with the people that are a part of our lives.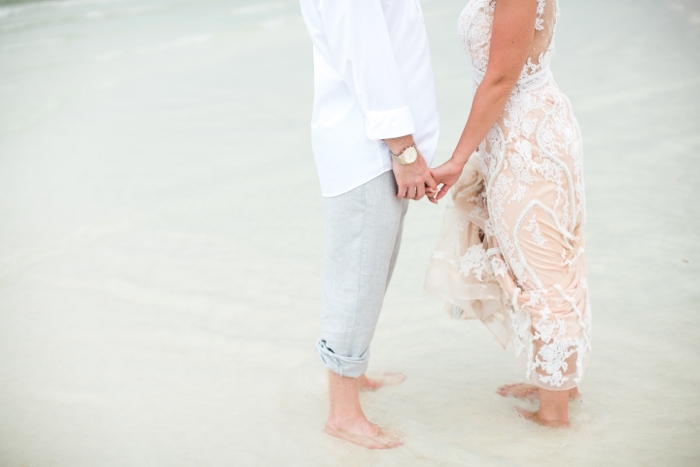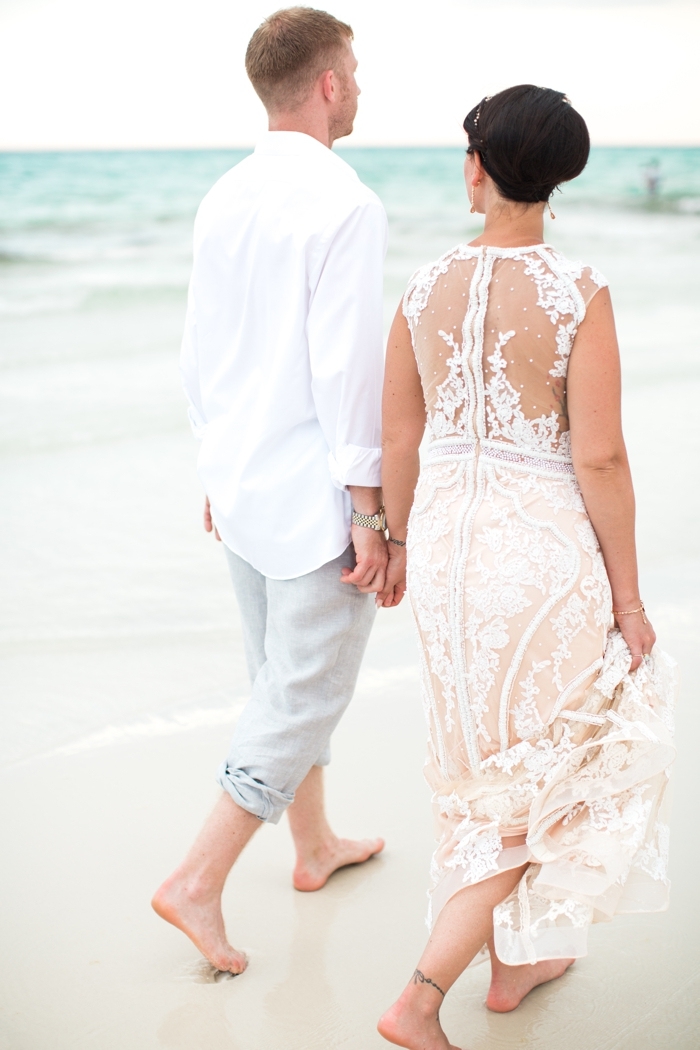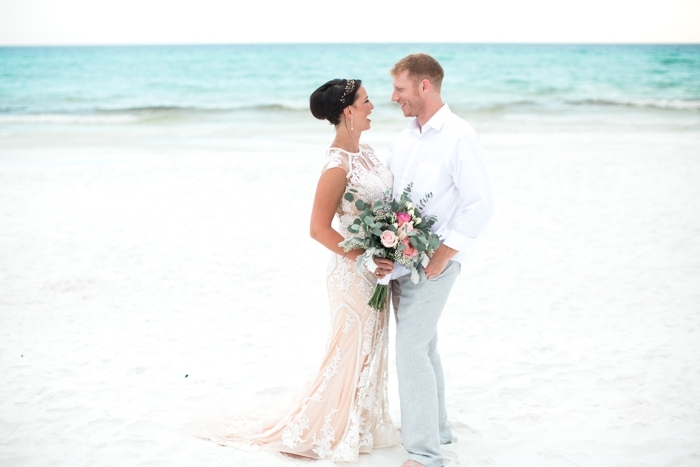 What advice do you have for couples who are considering an intimate wedding?
Utilize your resources, don't choose the vendor that is the most popular, choose the vendor that you have a great relationship with. Even if you don't know that person right away, see who they are, see if their values align with yours. It's going to serve you best in the long run when somebody really has your best interest at heart. Our mission is to continue living our entire lives this way. My husband and I have grown our circle of friendships just by seeing the people that are around us and their gifts that they contribute to this world. We were so fortunate to have incredibly talented people around us, and I understand that is rare. I believe that if we form genuine relationships with the people who serve us, this world would be less anxious during major events like a beautiful wedding.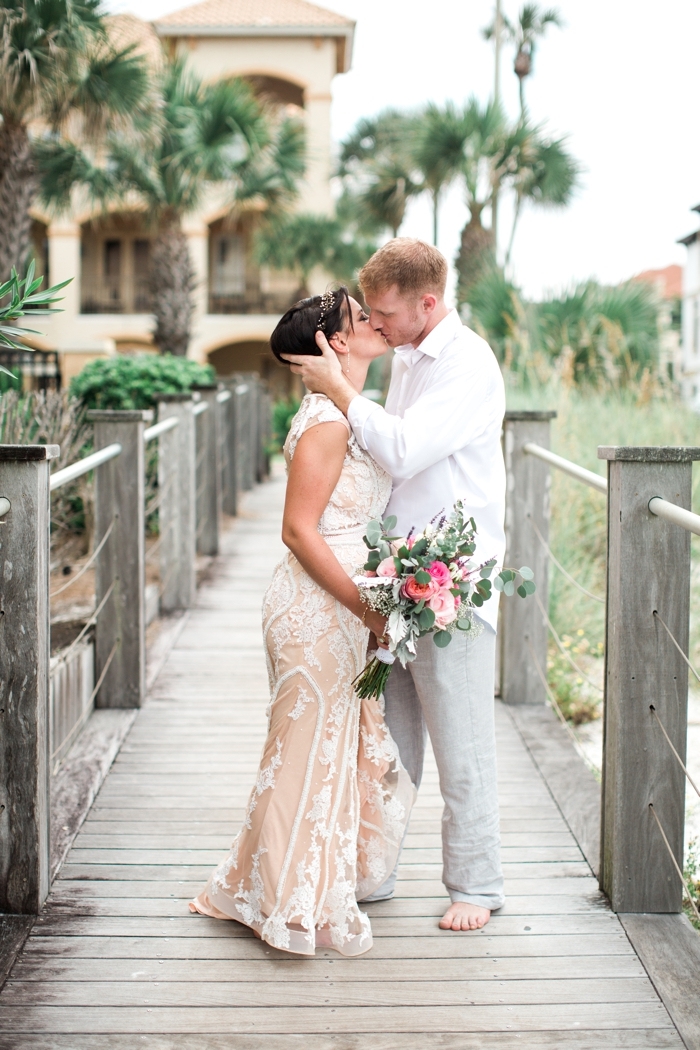 Vendors:
Photographer: Lindsay Campbell Photography

Coordinator and flowers: Brandon Beets
Catering: Becca Rabby
Minister: Christine Hardman
Makeup: Amanda O'Donnell
 Venue: Five Star Gulf Rentals
 Cake: Publix
Save
Save
Save
Save
Save
Save
Save
Save
Save