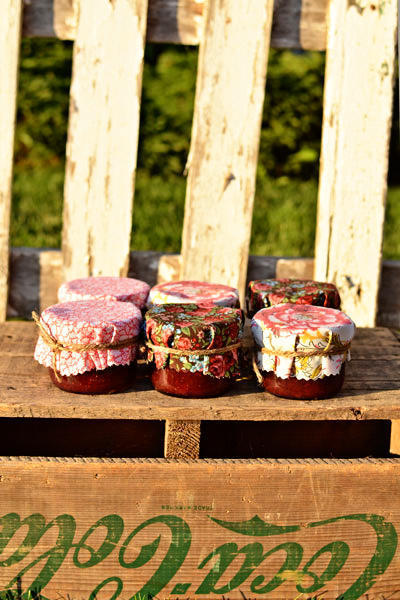 I haven't had strawberry rhubarb jam since my mom made it when I was a kid. I remember loving the mix of tart and sweet flavours. With a massive rhubarb plant in my garden and a serious fondness for rhubarb, I decided that it was time to give it a whirl. My husband and I had some fresh strawberries left over from our homemade strawberry jam, so we decided to spend the afternoon jammin.'
I found a recipe for pectin free strawberry rhubarb jam over at Gardenopolis; it is adapted from Mary Anne Dragan's Well Preserved: Third Edition: Small Batch Preserving for the New Cook
.  If you prefer a jam that has a little more tartness, hold back on the sugar a bit.
We devoured the homemade jam on sourdough bread, then had some later spooned over vanilla ice cream. Fantastique! (My daughters remarked that my husband and I should stop everything and go into the jam-making business. I told them the hourly wage just wouldn't cut it, but thanks for the compliment.)
This jam placed into 250 ml jars would make awesome DIY wedding favors!
We covered the top of the jam jars  in vintage fabric – some from vintage bedsheets! How's that for upcycling? If you are going for the rustic look, find some vintage wooden crates or cookie tins to display your jam favors.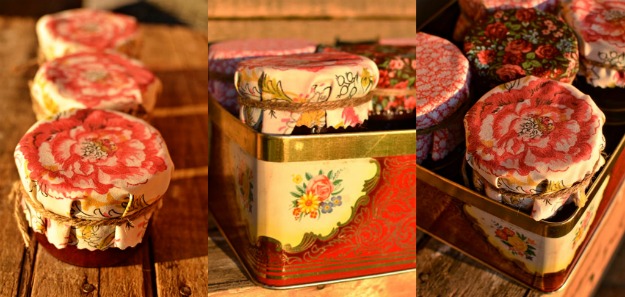 Recipe and Tutorial for Strawberry Rhubarb Dribble-Down-Your-Chin Delicious Jam
Makes fourteen 250 ml jars of jam.

Ingredients
9 cups rhubarb (chopped into 1/4 to 1/2 inch slices)
12 cups sugar
9 cups sliced strawberries
3/4 cup lemon juice (We squeezed our own. If you decided to do the same, make sure you strain it.)
Equipment
Canning Specific Items
Other Items
Pots
Regular Tongs for handling lids
Ladle for distributing jam into jars
Lemon juicer
measuring cups
knife
cutting board
Chop rhubarb into 1/4 to 1/2 inch slices.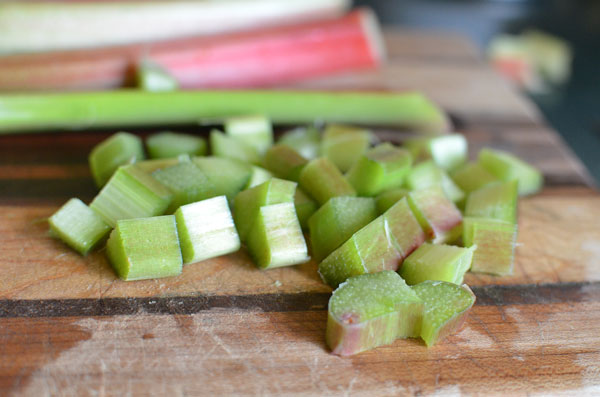 Hull berries. If you can get your hands on one of these Strawberry Hullers
(my mother in law picked this up at a church sale) it will make your life so MUCH easier.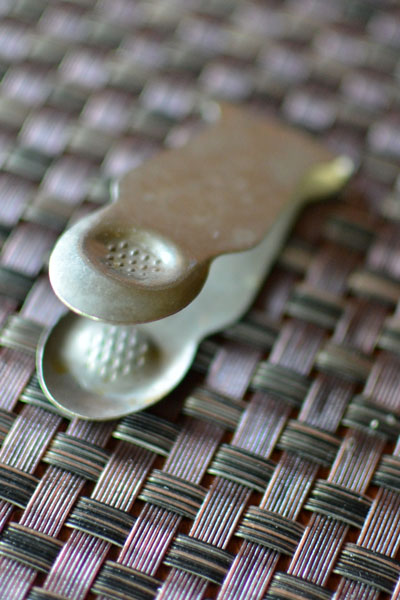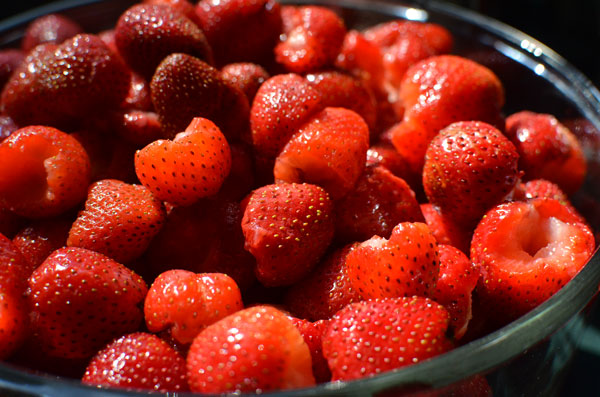 Combine rhubarb and sugar in a large bowl.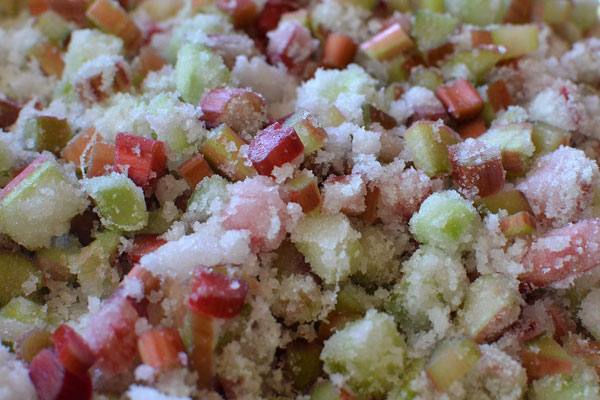 Let mixture stand for 1.5 – 2 hours. (We let ours sit for 1.5 hours.)  This is how it will look before you pour into pot.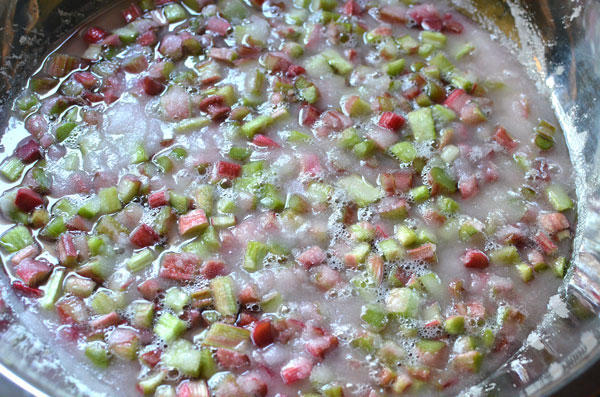 Sterilize your jam jars. See full instructions on how to sterilize your jam jars.
Add strawberries to large pot. Mash.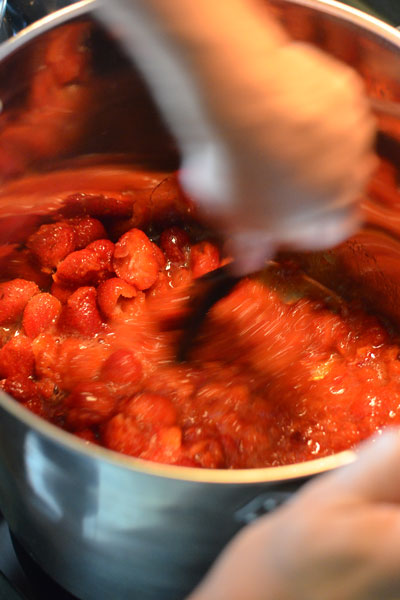 Add rhubarb mixture and lemon juice.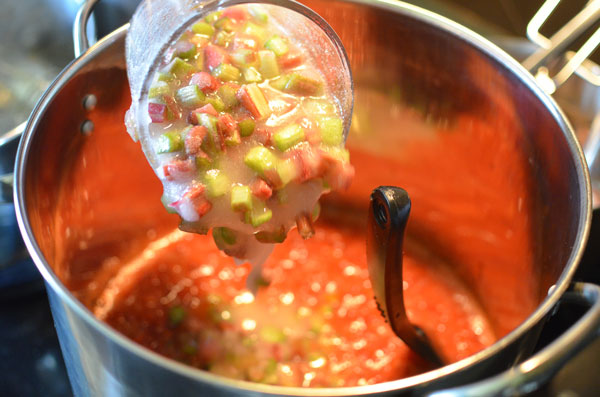 Bring to a boil over medium heat, stirring until sugar is dissolved. For us, this took approximately 15-20 minutes. Increase heat to medium-high and boil rapidly for approximately 30 minutes. Skim the foam as you are boiling.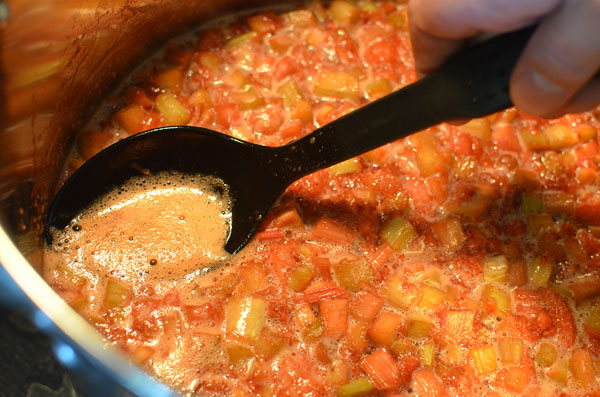 Check consistency periodically to see if its ready. How? Keep a metal spoon in a glass of ice water. Take about a half of a spoonful of jam onto the cold spoon and let it cool to room temperature. If you like the consistency once it has reached this temperature then it's ready to put into jars. If not, keep cookin! Please note that pectin free jam is not as thick as grocery store jam. If you want a denser jam, go with a recipe that has pectin. My husband and I prefer jam that relies on the natural pectin in the fruit, but everyone has their own taste.
Skim the remaining foam before you remove from heat. Remove hot sterilized jars from water with sterilized tongs.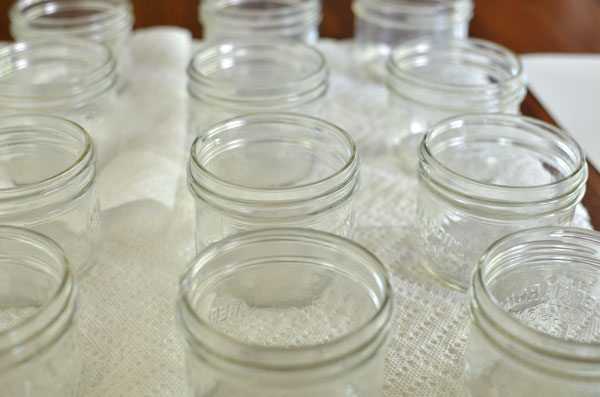 Place canning funnel into sterilized jar. Ladle jam into hot jar leaving proper 'head space', which is the space at the top of the jar between the underside of the lid and the top of the jam. For jam it's ¼ inch. Overfilling and underfilling can result in a jar that does not seal properly.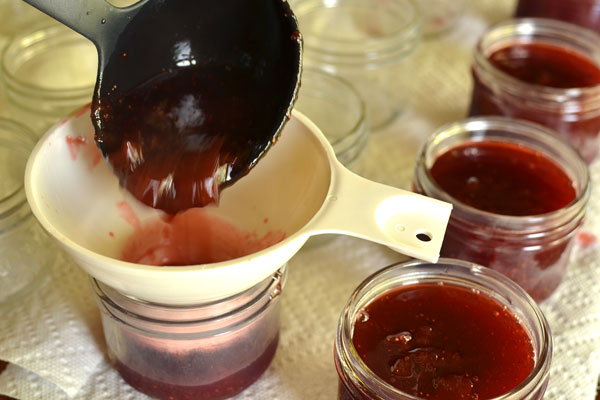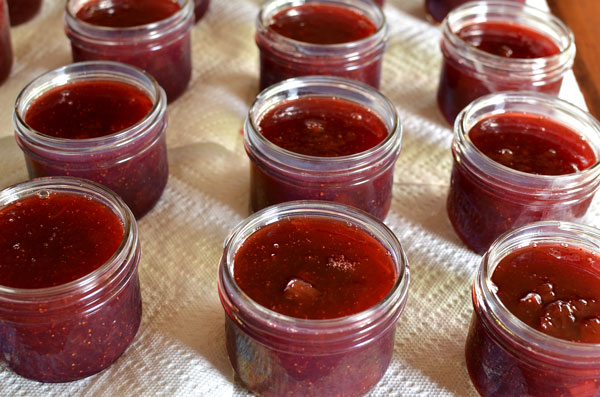 Wipe jars with paper towel if you have spilled jam on the rim. Using tongs, place sterilized lids on jars.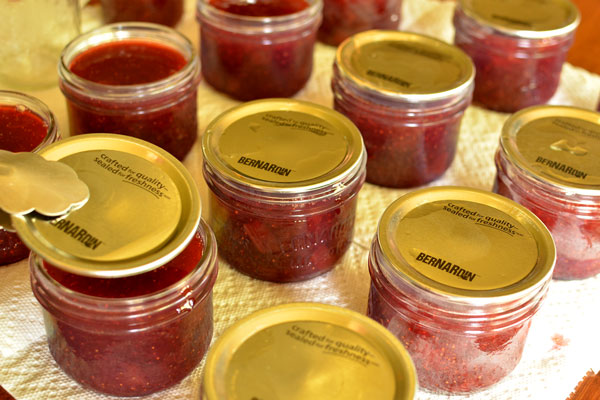 Using tongs, set sterilized screw bands on jars. Evenly and firmly screw them on until resistance is met and they are fingertip tight.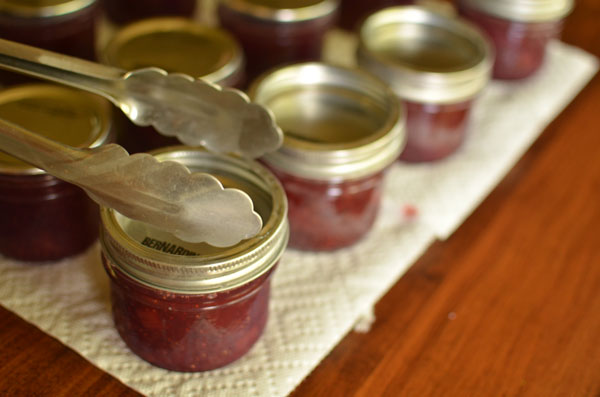 Place sealed jars into boiling water for 15 minutes. Be sure water covers jars by at least 1 inch (2.5 cm); add boiling water if required. Remove with tongs when ready.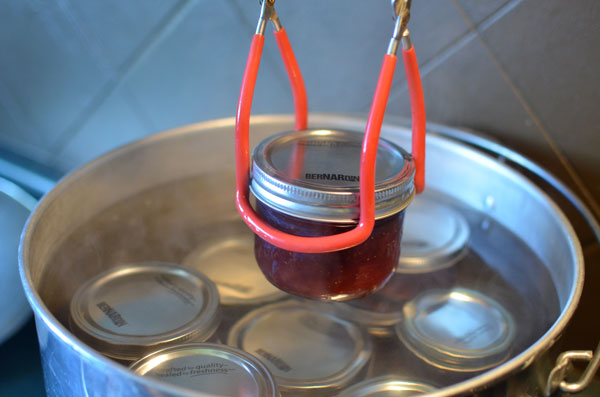 Store your strawberry rhubarb jam in a cupboard until your wedding day.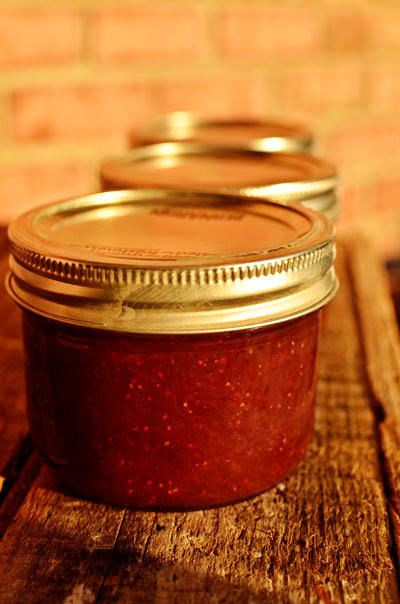 I love the look of the vintage fabric on the tins! Super cheap and easy to do. Just use pinking shears to cut out the fabric and tie with jute.