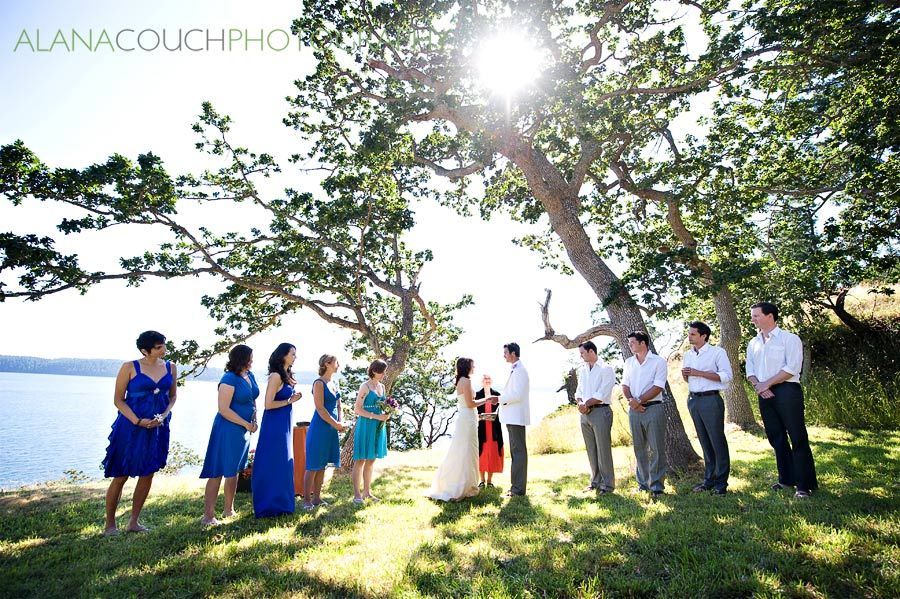 If you're thinking of a destination wedding, why not get married in Canada? If mountains and pristine lakes are your thing, you can head west to the Rockies. If you prefer quaint fishing villages and rocky seascapes, why not tie the knot in eastern Canada? Maybe you love the cosmopolitan charm of an urban centre, such as Montreal.
When it comes to destination weddings, there are countless options within Canada. If you're adventurous, there's the BC interior or the Queen Charlotte Islands. If you love luxury, there are numerous first class resorts and hotels throughout the Great White North.
Here are just a few dazzling destinations to consider: (They are also great spots to honeymoon!)
Victoria, Vancouver Island, British Columbia
Victoria, located on the southeastern tip of Vancouver Island, is the province's capital and one of the most popular destinations in Canada. Referred to as the "California of Canada", it's famous for the Empress Hotel (namely its 'high tea'), its beautiful downtown harbour, parliament buildings and magnificent gardens. It also has a bustling downtown, with plenty of shopping. A truly romantic destination!
Venues
Abigail's Hotel – Intimately housed in a 1930's heritage Tudor mansion, Abigail's blends the romance and charm of the past with all the comforts and conveniences of the present.  Each of the 23 beautifully appointed guestrooms has its own characteristic and flair.Offering a balance between luxury and adventure, Abigail's is walking distance to Victoria's must-see ocean or city tours, classic horse-drawn carriage rides, galleries, museums, and fine dining establishments for your choice of global cuisine.
Fairmont Empress Hotel – This hotel, which is a turn of the century landmark located on the banks of Victoria's inner harbour, is perfect for couples who want a wedding in a luxurious setting. If it's just the two of you, why not tie the knot in the hotel's lounge and celebrate with a gourmet meal? For a larger wedding, book the hotel's historic Crystal Ballroom.
Swans Suite Hotel – Located in historic Old Towne Victoria, the Swans Suite Hotel, a 1913 heritage building and landmark, has a penthouse suite that is perfect for weddings. The luxurious setting is filled with antiques and original artwork. It features a rooftop arbour and 10-person hot tub with a panoramic view of the city and inner harbour. Can accommodate up to 30 people for buffet lunch or dinner or 80 people for cocktail reception.
Wedding Planners
Royal Victorian Weddings – These wedding consultants offer several wedding packages to suit your own style. You can exchange your vows in a historic church, garden, a Victorian inn or numerous other locations in the region.
Tofino and Galiano Island, British Columbia
This picturesque region offers more than just a wild and mysterious landscape. Along with its ancient rainforests, its vast stretches of sandy beach, its rolling surf and its misty salt air,  there are luxurious spas, resorts, bed and breakfasts, restaurants and stores.
Whether you prefer a guest-free wedding on the sand, or a larger gathering inside an elegant dining room, there are wedding venues to suit your style.
Note: If you don't like rain, don't consider this destination. It's the wettest place in Canada!
Venues
The Wickaninnish Inn's Pointe Restaurant has a private room, The Salai Room for large parties. The Wickaninnish Restaurant at Long Beach can also accommodate large private parties. The restaurant, with its world-renowned cuisine, has a 240-degree view of the Pacific Ocean and glorious view of Chesterman Beach.
Eagle's Nest Retreat – The very private estate includes the southern tip of Galiano Island and is an enclave in a newly created Provincial Park.  Starting as a B&B in 1990, Featured in "Northwest Best Places" Eagles Nest soon gained notoriety for its exceptional location and architectural excellence. By 1998, it had transformed into a retreat where groups would come for art and health workshops, executive retreats, family reunions and particularly weddings.
Wedding Planners
Coastal Inspirations – If getting married on the beach, on a secluded island off the Tofino coastline, or in the rainforest is more your style, check out this wedding planning service. Coastal Inspirations offers wedding packages, and will help you with as many – or as few – details as you require.
A stormy wedding
People from across the world head to Tofino during the winter months to watch storms over the Pacific Ocean. If storms thrill you, why not head to the Middle Beach Lodge in Tofino, which offers a Stormwatch Special wedding from November to February.
Okanagan Valley, British Columbia
Kelowna is the hub of the Okanagan Valley's wine making industry. Other areas in the valley, such as Vernon, Penticton and Naramata are also worth checking out. The mountains, vineyards, orchards and crystal blue lakes make them idyllic settings for tying the knot.
Venues
Watermark Beach Resort –Superbly located in the heart of Osoyoos, a jewel at the southern tip of the Okanagan Valley of British Columbia and spread out along 1,000 feet of pristine sandy beach on Osoyoos Lake, Canada's warmest body of fresh water lies Watermark Beach Resort.Built with Spanish Mission influence and hip urban design, Watermark Beach Resort is the signature icon in the South Okanagan.
Summerhill Pyramid Winery – This Kelowna winery, which is Canada's most visited winery and largest organic vineyard, is just one of many in the region that offers vineyard weddings. Wedding receptions take place at Forster's at the Summerhill Sunset Bistro, which offers high quality local and organic sourced meals. The bistro has 100 seats inside overlooking Lake Okanagan, 100 seats on the outdoor veranda, and picnic tables in the vineyard.
Wedding Planners
Lavender Fields Forever
Want a great place to take your wedding photographs in Okanagan Valley? Try the Okanagan Lavender Herb Farm which has eight acres and 41 varieties of lavender. The farm has a perfect view of the Okanagan Lake, as well as nearby vineyards and orchards, which makes it a popular spot for wedding photographers.
Banff, Alberta
The Canadian Rockies are undoubtedly one of Canada's starring attractions – and there's no better place to witness their majestic presence than Banff.
Banff, located in Western Alberta, is a nature lover's paradise. Not only is the scenery spectacular, it's home to numerous boutiques, cafes and activities for outdoor enthusiasts.
Venues
The Fairmont Banff Springs Hotel – Canada's 'Castle in the Rockies' has the stunning backdrop of the magnificent Rocky Mountains. The resort, which was designed after a Scottish Baronial Castle, has numerous meeting rooms, halls, ballrooms and even a terrace that host weddings from large to small, from simple to elaborate.
Storm Mountain Lodge and Cabins – If you want a small wedding in a beautiful and secluded setting, check out this venue, which is located in the Banff National Park 25 minutes outside of the town of Banff. The venue offers exclusive use of the lodge and all cabins for weddings, and will handle all your wedding details. Maximum 40 persons.
Pensión Tannenhof Bed and Breakfast Inn – If you're looking for a bed and breakfast wedding in the Rocky Mountains, check out the Pensión Tannenhof Bed and Breakfast Inn ("Lodge in the Pine Trees,"). The mountain lodge, which is set in a spruce grove on the foot of Sulphur Mountain, hosts weddings and will help you with your wedding plans.
Wedding Planners
Simplicity Wedding Planners – This company's goal is to match its clients with the best venues and services to suit their budget.  Plans destination weddings for two all the way up to groups of 400. From the outlandish to the traditional.
Niagara Falls/ Niagara on the Lake
Niagara Falls is the honeymoon capital of the world and is also quickly becoming Canada's wedding capital. The Niagara Falls, the area's main attraction, is one of the wonders of the world, but there's a lot more to this region than this awesome site.
There are historic parks, countless entertainment venues, a casino and a technicolour downtown that is both kitschy and captivating.
Just minutes outside of Niagara Falls, is Niagara-on-the-Lake, a splendid town known for its orchards, vineyards and theatre. Countless charming inns and bed and breakfasts are located in the area.
Whether you love the neon energy of busy Niagara Falls or the beauty of its nearby wine region, there's no doubt it's a great place to tie the knot!
Venues
Embassy Suites Hotel – This hotel, located in Niagara Falls, gives you the chance to get married 40-storeys above the Niagara Falls, with a spectacular view of the famous natural wonder. The hotel has numerous wedding packages to choose from and has wedding specialists on staff to help plan your wedding.
Fairbanks House Bed and Breakfast – If you fancy tying the knot at a bed and breakfast close to the falls, there's the Fairbanks House Bed and Breakfast, a restored Victorian inn built in 1877. The venue, which is filled with antiques, is located on the Niagara River overlooking the Niagara Gorge, just minutes downstream from the falls.
Vineland Estates – This vineyard, which is located in pastoral Jordan just outside of Niagara-on-the-Lake, is a gorgeous setting to say your "I do's." Acres of grapevines on rolling hills make this a sight to behold. The winery has a gourmet restaurant, as well as a beautiful stone building called the Carriage House that can be rented for intimate weddings. The Carriage House offers a stunning, panoramic view of the vineyard.
Wedding Planners
Royal Niagara Weddings – These wedding planning specialists offer a huge variety of wedding services for your big day. Whether you want a winery wedding, or a wedding in a helicopter above Niagara Falls, these coordinators can help create your ideal wedding.
Quebec City, Quebec
Quebec City is one of the most romantic cities in North America. With its winding cobblestone streets, its 17th and 18th century stone houses, churches, cafes, bistros, galleries and boutiques, the provincial capital, which is perched high above the St. Lawrence River, is charmingly European. In fact its European roots run back 1,000 years!
Named a UNESCO World Heritage site, Quebec City, which is the only walled city in North America, is rich in history and culture.
One cannot mention Quebec City without mentioning the cuisine. If you're a "foodie", you'll be in heaven! The city has oodles of great restaurants where you can sample local culinary delights.
Although the city is almost entirely Francophone, many of its residents speak English – especially those who work in the tourism industry.
Great for summer weddings – and winter weddings too!
Venues
Fairmont Le Chateau Frontenac – No wonder this hotel is the most photographed hotel in the world. Set on a bluff high above the St. Laurence River, the century old castle, with its spires and turrets is an impressive site.
Le Château Frontenac hosts several weddings a week. The Rose Room, which has panoramic views of the St. Lawrence River, is ideal for intimate weddings of up to 30 people. For larger groups, the hotel has numerous ballrooms. The hotel has wedding coordinators on staff.
Ice Hotel Quebec-Canada – Want to add some adventure to your nuptials? The Ice Hotel Quebec-Canada, located 30 minutes from downtown Quebec City, offers adventurous brides and grooms a chance to say "I do" within its elaborate ice and snow structure.
A wedding package for two at the hotel, includes a civil ceremony in the ice chapel, a bottle of champagne, two ice-sculpted champagne goblets and a wedding planner. Transportation, photography, entertainment and other wedding related services can be arranged by the hotel. The hotel is open from January to April.
Au Petit Chateau – You can't get much more romantic than a turn of the century brick mansion overlooking the St. Lawrence River and tucked away in a quiet location close to Old Quebec.
Weddings are held on the grounds of the bed and breakfast, which include a lovely garden and veranda.
Wedding Planners
Karinian Event Planners – This company will assist you with your wedding day details. Offers a variety of services. karinian@consultant.com
Montreal
Hip and utterly charming, Montreal offers an interesting blend of French and English culture. Framed by the St.Lawrence River and Mont Royal, the city is not only picturesque with plenty of open green spaces for nature lovers, its cultural scene is thriving with countless nightclubs, cafes, restaurants, galleries, and museums.   A great wedding destination for couples who want to experience old world with a modern twist in one of Canada's most romantic cities!
The Ritz-Carlton – For a luxurious wedding, there's the Ritz-Carlton located in the heart of Montreal. The hotel is considered one of the grand hotels of North America. The 18th century style Oval Ballroom and Palm Court, as well as silk-paneled Ritz and Carlton rooms, host weddings from 20 to 250 guests.
The Loews Hotel Vogue – This elegant hotel, located in downtown Montreal, combines neoclassical accents with Late Empire furnishings. A team of on-staff wedding coordinators can help you plan your wedding from start to finish. Weddings take place in the luxurious ballroom, and the Garden Terrace.
Montreal Botanical Garden – If you prefer a garden wedding there's Montreal's Botanical Gardens. The Japanese pavilion reflects the artistic ideals of Japanese culture, and is great for small weddings. The Fuji Pavilion is an open air tent ideal for larger weddings.
Wedding Planners
Maddy K Weddings – This full service wedding company, has a wide variety of wedding packages to choose from
Rustico Bay, Prince Edward Island
Whether you're an Anne of Green Gables die hard or not, you can't help but fall in love with both Cavendish and Rustico Bay, in the heart of Ann's country on the northern shore of PEI.Located near Prince Edward Island National Park – with its sandy beaches, cliffs, dunes, marshes and forestlands, Rustico is a utopia for nature lovers.
Just imagine taking a pre-wedding stroll along one of the quiet clay roads, before saying "I do" at an inn overlooking the glittering sea. Sounds lovely, doesn't it?
Venues
Barachois Inn – This 15 room inn was built in 1880 as a Victorian Country House for local merchant, Joseph Gallant. The Barachois Inn is close to Cavendish Beach – the home of "Anne of Green Gables". Ideal for weddings with 30-35 guests.
Dalvay By the Sea Heritage Inn and Dining Room – This luxurious 1895 inn, located in alvay, which is 30 minutes outside of Rustico, is one of the only seaside resorts in PEI. It hosts weddings during the shoulder season in May and early October. The venue can accommodate up to 100 guests.
Wedding Planners
Kindred Spirits Wedding Planners – If you are planning a destination wedding in PEI and you need some assistance, this company, located in Kensington, PEI, can help you with the details.
Lunenburg, Nova Scotia
Lunenburg, located on the Lighthouse Route in Nova Scotia an hour outside of Halifax, is one of the prettiest towns in Canada. A UNESCO World Heritage Site, Lunenburg has long been the heart of Nova Scotia's fishing and shipbuilding industry (the Bluenose was built there) and more recently is home to a thriving artistic community.
Its charm lies in its beautiful harbour, its exceptional architecture, its museums, quaint shops and galleries. A gorgeous place to say "I do!"
Incidentally, if you've seen the movies Simon Birch or Doloris Claiborne, you've seen Lunenburg. They were both filmed there.
Venues
The Lunenburg Arms Hotel – This 26-room boutique style hotel, which overlooks the harbour, the Atlantic Ocean and the Bluenose Golf course, hosts weddings with up to 125 guests in its convention centre.
The Old Fish Factory – Although it doesn't sound like an appealing place to tie the knot, this restaurant, which is located on Lunenburg's historic waterfront at the Fisheries Museum of the Atlantic, is a popular spot in Lunenburg to say "I do." The restaurant, a former fish processing plant, specializes in seafood and can accommodate groups of 25-300 for sit down meals.
Arbor View Inn – This country inn, known for its award winning cuisine, is nestled on a wooded estate with quiet garden paths and plenty of privacy. Weddings take place in the dining room of the six-room inn. Great for intimate gatherings.
Wedding Planners
Maritime Wedding Consultants – Based in Halifax, these wedding coordinators will plan your entire wedding, or simply assist you with some of the details.
St. John's, Newfoundland
Newfoundland is becoming one of the hottest destinations in Canada. Its capital St. John's, the oldest city in North America, is located on the steep inland side of St. John's Harbour. With its colourful buildings, rocky shoreline, and ships docked in the harbour, St. John's is true eye candy. But it's more than just a pretty face. It's filled with fun shops, galleries, museums and restaurants.
Venues
The Fairmont Newfoundland – This venue, which is a first class hotel and landmark situated in the heart of St.John's, offers breathtaking views of the harbour, the historic city centre, and Signal Hill.  Wedding packages include complimentary accommodation for the bride and groom, champagne, breakfast, and more. The hotel has a professional team of wedding planners that can assist you with your wedding.
Leaside Manor – Rated as one of the top Canadian romantic destinations by the Globe and Mail, the Leaside Manor, a Tudor mansion and heritage property located minutes from downtown, is an ideal setting for weddings with less than 60 guests. Numerous wedding packages are available at the inn.
The Waterford Manor – The elegant Waterford Manor, a private inn built in 1901, plays hosts to weddings. The Victorian style heritage inn has seven rooms tastefully decorated with 19th Century local antiques. The Inn was featured on the cover of The Canadian Bed & Breakfast Guide (98/99 edition).
Wedding Planners
The Joy of Weddings – Whether you want an elegant wedding at a hotel or bed and breakfast or a wedding on the rocky shoreline or fishing pier, these wedding planners can make your vision a reality.
History Buffs
If you're a history nut, why not get married at one of Canada's historical museums or monuments. Signal Hill and Cabot Hill for instance are just a couple of sites that are available for wedding ceremonies.
Photo: Eagle's Nest, Galiano Island