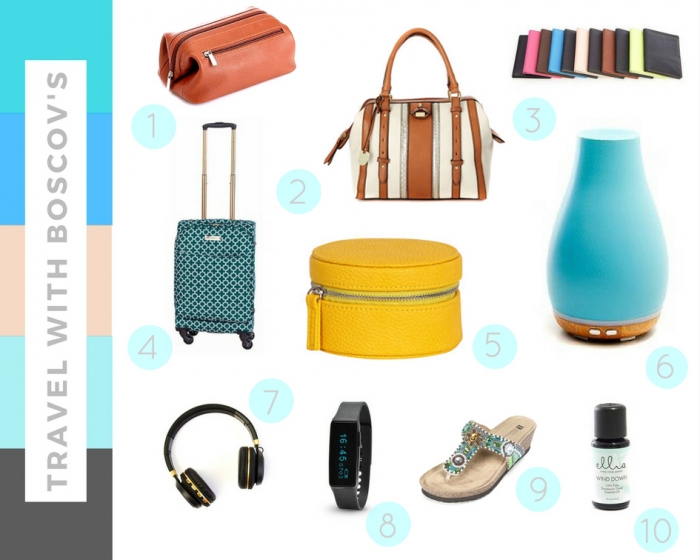 Chances are you've already got dishes, cookware and many other household essentials. Why bother with a wedding registry?
Wedding registries don't have to be confined to household items. In fact, you can register for just about anything – and that includes items to make your honeymoon dreams a reality.
At Boscov's, your wedding guests can gift you everything from luggage to fitness trackers to keep you active on your travels. To help you kick start your registry list, we created a list of travel essentials that will have you saying bon voyage in style!
1. A toiletry bag is essential for all of your travels. We suggest The Royce leather toiletry travel bag not only for its good looks, but also because it's washable – and perfect for him or her.
2. If your travels include shopping, we recommend the London Fog Lancaster Frame Satchel. Not only is it super chic, it's practical and full of pockets to securely hold all of your essentials.
3. On your travels you will need a place to safely hold your passport. The Top Grain Nappa Leather passport wallet not only keeps your passport safe, it also has pockets for credit cards, ID, foreign currency and travel papers.
4. A suitcase is essential for traveling – but don't settle for any old suitcase. Travel in style with the Jenni Chan Aria Broadway 20-inch Spinner. It features lightweight construction, a comfortable slim telescoping handle, easy to grab carry handles, a fully lined interior, pockets and straps for keeping your clothing in place.
5. Planning on a few nights on the town? You'll want to bring some bling – but where will you store it? We suggest the Mele & Co. Joy faux leather travel jewelry case. A drawstring pouch inside the case will store your necklaces and bracelets, while a snap out earring strap on the interior of the lid will hold your earrings.
6. Traveling is exciting – but it can also be stressful. Stay calm and centered with aromatherapy via the HoMedics Blossom Ultrasonic Essential Oil Diffuser, which delivers a fine mist of natural aroma (see #10) into your surroundings.
7. What would a vacation be without music? Whether you are looking to relax with some classic jazz or go up tempo with the latest electronic beats, Sentry's Bluetooth Deluxe Headphones will make you feel like dancing. It's also engineered to provide a comfortable, enjoyable listening experience and is compatible with most mobile and audio devices.
8. Rest and relaxation is probably high on your vacation priority list – but slacking off entirely might not be such a great idea. With the Nuband ACTIV+ Activity and Sleep Tracking Sports Watch, you can stay on track with your exercise routine while on vacation. The device will count your steps, providing calories burned and distance traveled – as well as chart your sleep. This activity tracker is also Bluetooth enabled so you can easily track your activity, goals, and history on your mobile app.
9. If you are heading to a warm, sunny destination, we suggest the White Mountain Bluejay thong comfort sandals, featuring seed beads, gem stones, and a molded suedette cushioned foot bed. Practical for heading to the beach – but dressy enough to wear to dinner.
10.  You've already packed your diffuser – now all you need for your aromatherapy to kick in is an essential oil blend. The HoMedics wind down oil is a great way to calm down from your daily stress. It is made of Lavandin, lavender, vetiver, clary sage, Balsam of Peru, marjoram, ylang ylang, and cardamom.
Now that the travel bug has officially bitten you, go ahead and create your Boscov's registry online – or in store, it's up to you. Known for personalized service, there is an actual registry consultant in each Boscov's store to make the process of creating your registry easy peasy.
Along with your travel items, you can also register for the vacation itself with Boscov's Travel Registry. The registry gives your guests the opportunity to contribute funds toward your honeymoon. How awesome is that?
Want to learn more? Visit Boscov's Registry.
Sponsored post.
Save
Save
Save
Save
Save
Save
Save
Save
Save
Save
Save
Save
Save
Save
Save
Save
Save
Save
Save
Save
Save
Save
Save
Save
Save
Save
Save
Save
Save