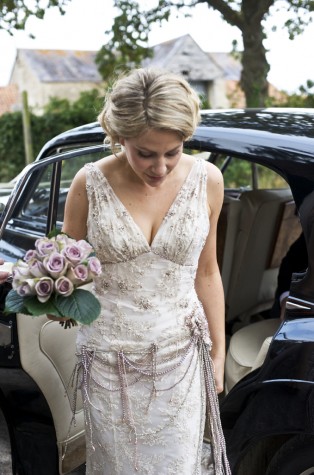 You've fallen hard for the vintage look and you envision yourself wearing a vintage wedding dress. You've seen some vintage wedding dresses online that make your heart sing, but you still haven't pressed the "Buy" button.
Before you click that button, make sure you read this excellent Q & A with one of our sponsors, Paula Cooperman from the The Mill Crest Vintage Boutique, Lambertville, NJ.
What You Need to Know Before Buying a Vintage Wedding Dress
How is the sizing different from regular street clothes? (If I'm a size 10, for instance, what size wedding gown would I need?)
Vintage sizing does not correspond to today's sizing and with each era, you can expect a different interpretation of size and cut.  This is why we give the measurements of our garments to all of our clientele who shop with us online. What we typically recommend to all of our brides is to get an accurate measurement of their own bodies (bust, waist, hip and length) and use these numbers as a guide when choosing a wedding gown.  Another thing to consider, is that any good seamstress can make alterations to achieve a custom fit.
If a bride purchases a gown that has yellowed over time, will it become white if it is professionally cleaned?
Depending upon the type of fabric and it's quality, the natural discoloration in most gowns can be easily remedied by a professional dry cleaner and can even be brought back to it's original state.  Interestingly, we have found that many brides like the "aged" look of a vintage gown and prefer not to have it professionally cleaned.  In these cases, spot cleaning and pressing is typically done.
Do most brides professionally clean their vintage gowns after purchasing them? If so, what's usually the cost for this service? Can stains usually be removed with professional cleaning?
Depending on the gown, we sometimes will have it professionally cleaned.  However, due to the fact that some brides prefer to have the gown show some age, we leave that option for the bride.  We recommend that brides bring their gowns, whether vintage or just second hand, to a dry cleaner that specializes in bridal attire or specialty garments.  I cannot speak for every cleaner, but anyone worth their salt, will be able to remove almost any stain.  Prices will likely vary depending on location, but a bride should not spend more than $100 to have her gown professionally cleaned.
Can these gowns be altered, just like a regular wedding gown? (if they are too big, or too small?)
Absolutely!  Alterations can be made in just about every area of a gown to achieve a custom fit.  Even if a gown is too small, gussets and panels can always be added to create expansion without taking away from the style and integrity of the gown.
What time period are most of your gowns from?
In the 31 years we have been in the vintage business, we have worked toward putting together a comprehensive collection that is representative of the last 100 years of fashion.  It has been our experience that the 20's and 30's are the most difficult to come by, at least when it comes to finding something that is both beautiful and wearable.  The 50's through the 70's seem to be a bit easier to find, especially in terms of variety and quality.   The key however, is quality.  This is the area where we are most particular when deciding to add any garment our vintage collection.
Vintage is really hot right now. Do you think this trend has staying power? How has this trend affected your business?
Vintage has been hot for a few years as an overall style.  However, when it comes to bridal, vintage is really making it's mark.  I think it may be more than just a trend.  Brides today are very savvy.  For some, it's about individuality or putting a personal mark on a very special day when the bride is really the center of attention.  For others, it's all about reducing their carbon footprint by essentially buying something that has been recycled.  No matter the reason, we think that vintage will always have a place in bridal fashion, whether it be for inspiration for up and coming designers or for the brides themselves.  Of course, this is great news for those of us who cater to the bride who wants vintage.  As a side note, we have noticed that many designers and retailers have added bridal to their repertoire.  What has been most interesting is the vintage inspired designs they are showing.  Just another reason why we believe that vintage will have a strong hold on bridal fashion for a long time.
What's the best advice you have for brides considering purchasing a vintage gown?
Buying a gown for the one day in a bride's life when the spot light is shining directly on her is nerve racking at best.   The most important advice we give to any bride considering vintage for their gown is really no different than a bride looking for a more current style.  Go with what feels the most comfortable and makes you, the bride, feel the most beautiful. It really is as simple as that.  A bride may find that she gravitates toward one particular style or another (50's, 70's mermaid, bias cut and so on), which is a great start.  From there, it really comes down to how the particular style of a gown feels when worn and the wedding venue (garden, black tie, etc…) which may very well determine the fabric choice.
Photo: Pearl Pictures Wedding Photography