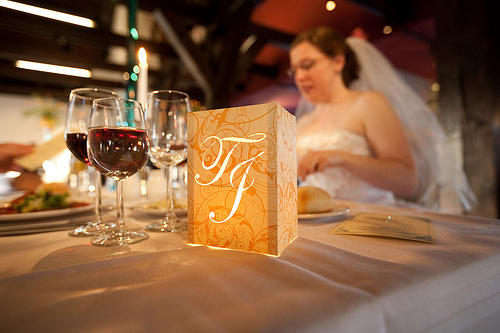 The ultra-creative Tuppence from Momfetti has generously agreed to share her wonderful wedding table numbers tutorial here at IntimateWeddings.com. She made these for her castle wedding in the Netherlands this year.
"Construction-wise they are incredibly simple, but the finished item looks so much more complicated than it is. The final impact is incredible!" says Tuppence.
Tuppence came up with the idea for them by melding two Wedding Table Numbers
styles.
She says she loved the look of velum wrapped votives, but thought they were too small.  She also liked the tri-fold table numbers from Martha Stewart Weddings
but thought they were a bit too "crafty." Wanting something more decadent, Tuppence combined the two ideas and created a prototype.
"I spent about 4 minutes making the prototype. I liked it, he liked it, and I ran with it," she says.
Tuppence says the wedding table numbers got rave reviews from her guests, who thought they add a warm, 'romantic' glow to the reception space.
"A few guests asked if they could keep them. To me, that is the most prized compliment I could ever receive," she says.
They were also practical. The brightness of the numbers made them easy to see.
"Literally, each guest was able to make a beeline for the correct one right from the door," says Tuppence.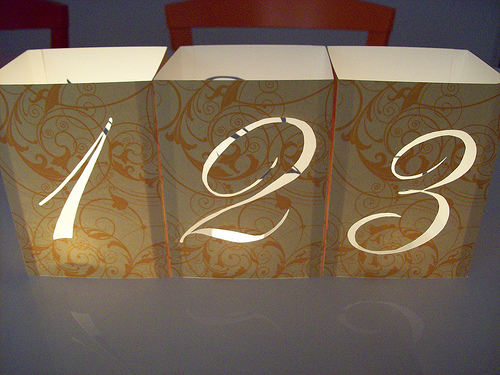 Instructions for DIY Wedding Table Numbers with Illuminated Numbers and Monogram
By Tuppence from Momfetti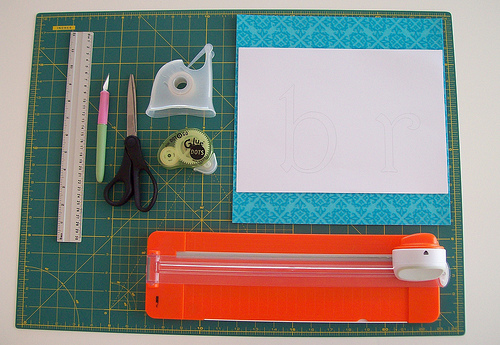 You will need:
metal ruler
scissors
tape
glue dots
scalpel or craft knife
paper cutter
12 x 12 Card Stockof 100 lb or heavier weight
cutting mat
print out of letters/numbers. I used Edwardian Script. The font size was around 425. I trimmed the spacing between numbers on the double digit tables to make them fit closer together.. I also further formatted my font and chose the "outline" option.
A Note from Tuppence on Choosing Paper:
When you are choosing paper, make sure it is strong enough to stand on its own and that it will hold up to people touching it. Also, it has to be strong enough to support the structure of the numbers.
For me, cardstock was readily available, fairly cheap, and sturdy enough to do the job. I would assume fabric or paper that was first cut then heavily "modge-podged" afterward *should* be strong enough. But that's a lot of work and pretty messy so I haven't tried it myself.
I used standard 100# cardstock. 100-110# is what they sell in stores as "industry standard" for scrapbooking. It literally is nothing special or hard to find.
When you hold cardstock up to the light, you can't see through it. To see the effect the candle will give, you can take a flashlight in to the store with you, and by pressing it directly on the back of the paper you will see what the illumination will look like. Using the "handmade" same-weight paper with the bits of flowers and leaves would give you a more varied illumination with highlights and shadows, and the flecks of flowers/leaves will appear in silhouette.
Step by Step Instructions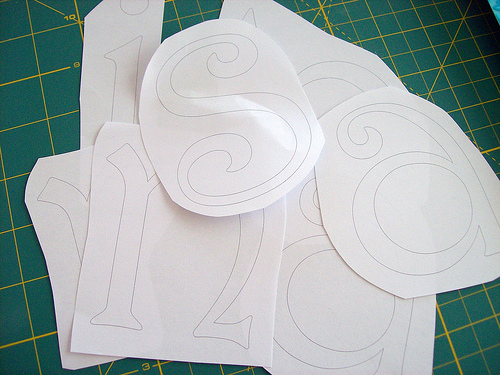 (Note: Photos show letters, not numbers, but the process is the same.) Cut around numbers being sure to leave some space between the line and the cutting edge. There is no need to be perfect at this stage- it is just to ensure numbers are easier to work with later on. Each number is in Edwardian Script font using Microsoft Word. I used the "outline" effect on the fonts before I printed onto plain paper.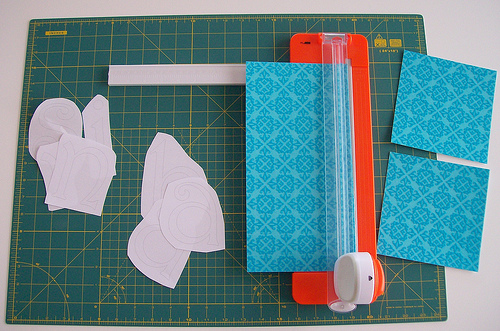 Cut the 12×12 card stock into pieces that measure 5″ x 6.5″. Essentially, you can choose your own size, but I don't recommend going any smaller than this because you need to have a gap between the paper and candle (fire safety). Also, if you make it significantly larger, the glow effect would be lessened.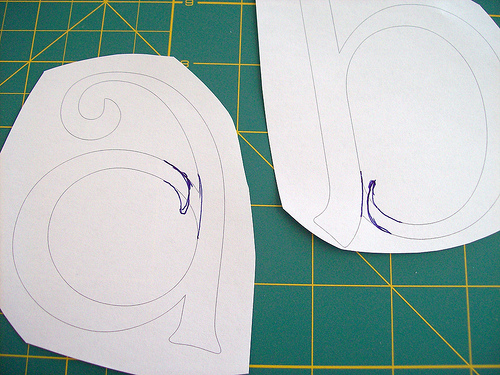 Sort out the numbers with a "closed loop". For example:  6, 9, 8, 0. Redraw the lines with a bit of a curvy finish, leaving a slight gap. This will hold the centerpiece in place so it won't fall out. You are going to have to eye this part in.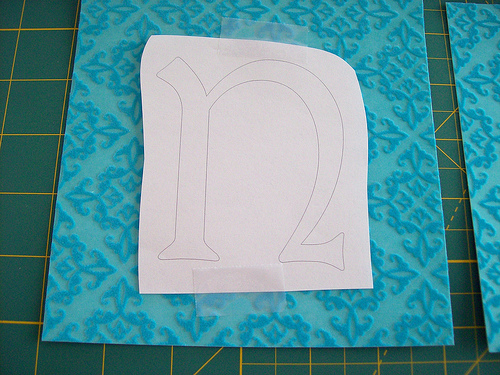 Tape each number to the center of the card stock. You can use the ruler to measure to ensure the number is dead center, or you can be lazy like me and just eyeball it in.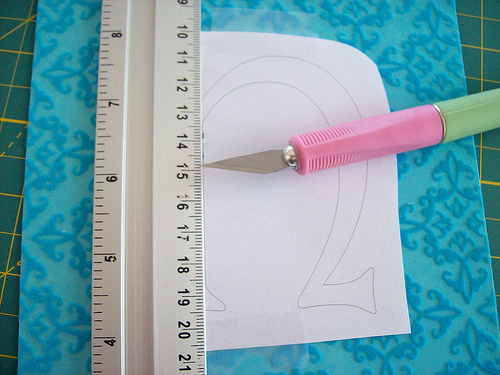 Carefully cut along the outlines with the craft knife. Be sure the razor is very sharp- a dull razor won't work and may shred the card stock. I found it sometimes helps to go lightly the first time, and then re-cut the same lines a second time. This especially is helpful on turns. I also found I preferred cutting a curve in a clockwise motion (I am right-handed so I am sure the lefties will prefer the other way). I also used a fluid motion and turned the paper with one hand as I was cutting on the very tight turns. When doing long, straight sections use a metal ruler to help you along. It will guide the knife and ensure a perfectly straight cut.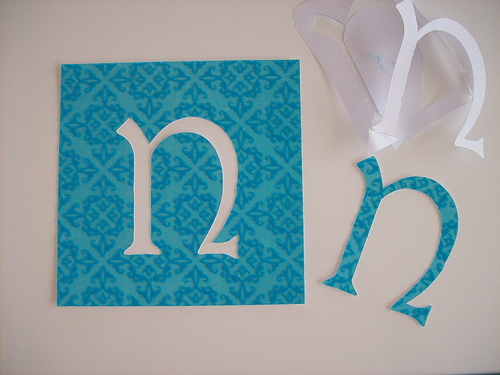 Remove tape, paper stencil, and carefully punch out number. Repeat. Each number is cut twice- one for the front and one for the back.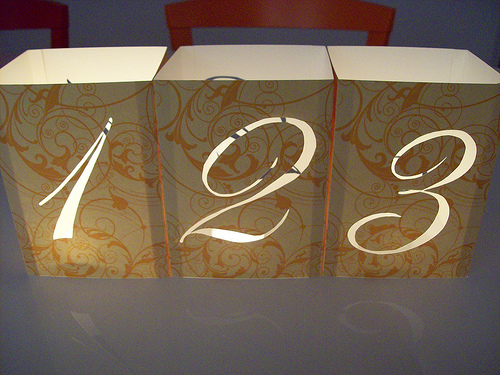 Using a bone folder, fold ½ inch side panels on each piece of paper. I used glue dots to attach the side panels to the front/back panels, with the little folded flaps tucked on the inside. This will make a topless and bottomless box. Place a votive candle in the center to illuminate.
How to make the Monogram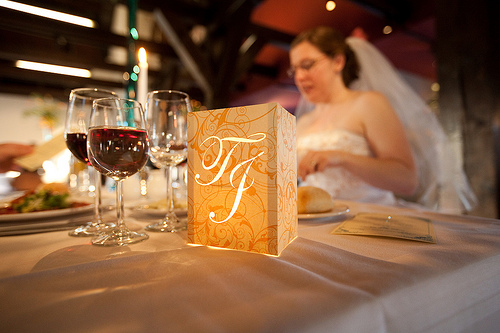 For our sweetheart's table, I choose to do our monogram instead of a table number.
I used our first initials only for two reasons: (1) I am not a fan of using of the married initial before the actual ceremony takes place. Not using the last name prevents this so I could use the monogram anywhere and everywhere, and (2) he has a double letter last name, which made the traditional first/last/first 3 letter format impossible. I also spent hours and hours online looking at fonts trying to make a decision. In the end, I chose "Edwardian Script." It's a basic font available on every Microsoft office product. Every last detail at the wedding requiring font of any kind could be matched exactly, and as I had "Wedding-induced OCD" this was pure heaven. Lastly, I admit I was wooed by all the pretty monograms online with the swirls and colors and motifs. In the end I went for the simple, direct approach.
To make the monogram, I opened Powerpoint to a blank slide.
Step 1: Insert a text box anywhere on the page. Type in the first letter of the initial. Adjust the font style, color, and size as you please.
Powerpoint only goes to 72 so I had to manually type in my own number. Depending on what I was doing, it ranged in size from 150 – 400 point. My PowerPoint version automatically outlines the text box and fills the background with white. I had to change the settings to no border and no fill (you can do this by going to format and under "fill" select leave blank/empty/none- whichever wording your version describes. Do the same thing for the border. You can easily access the format option by right clicking on the text box).
Step 2: Insert a text box somewhere else on the page. Type the first letter of the other initial. Adjust in the same way as the first initial.
Step 3: Click on one initial and slide it "kind of sort of" in place near the other initial. You are trying to get it in the general spot only. I liked my initials slightly nestled together instead of side by side, with one raised higher than the other so the "tails" on the bottom of the letters almost seem to spoon. To me, it looked romantic that way, and not quite so plain.
Step 4: Tweak the actual placement and get it just so. Skip the mouse for this part and use the keyboard. To nudge, select one of the text box initials and use the keyboard arrows. To nudge in very small amounts, hold the shift key down while you use the arrow keys.
Step 5 (optional): When all is done and color/size/placement looks good,  "select all" and save it as a picture not a PowerPoint file. I have a short cut option to "save as picture" but if you don't, you can find this somewhere in the regular edit menu. My version also likes to save the picture as a *.png file, so I have to manually scroll down to *.jpg instead.
Additional info: Because it's now a .jpg you can cut and paste it everywhere like any other picture, even use it on your wedding website or email it. You can also take it down to Kinkos (or some other printing place) and have it blown up a few hundred times to make it large enough to use on an aisle runner or wall hanging. It will be pixelated, but that's easy to fix when you trace onto the fabric.
Time: The monogram table number took me about 45 minutes to make. The table numbers without the monogram took an average of 15 minutes each start to finish. The first few took longer, but by the time I got the process down it went much quicker. I made 15 in one night (including the monogram one), over a period of about 3.5 hours. Momentum was the key. If I did only a few a night it would have taken a bit longer in overall time.
A word of caution: Before you proceed, you might want to contact your venue and make sure candles are allowed.
According to Tuppence, her venue initially refused, but came around when it was determined that the table numbers were not a fire hazard.
"They had visions of little paper balls of fire on every table the moment they lit the candles. I gave them my original prototype which they left in employee lounge at their restaurant, burning away for an entire shift. The paper was barely warm, not tinged or damaged by heat/flame and they "approved" its use that very night," she says.
Check out Tuppence's lovely handmade goodies at her Etsy Shop.