Still not sure where you want to register? Already have linens, china and small appliances?
WeddingFutures.com offers a wedding gift that keeps on giving. At WeddingFutures.com your guests can purchase stocks to help you build a nest egg for the future.
Simply open an account and select your stocks. Let your guests know that you are registered at WeddingFutures.com and instead of running around looking for a wedding gift for you, they simply choose from your list of stocks and pay via Paypal or credit card.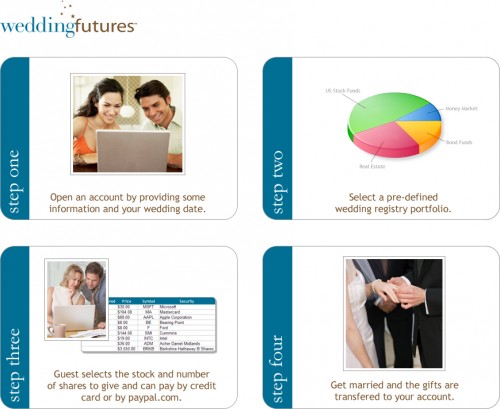 WeddingFutures.com provides the registry and collects the funds. (They charge 5% commission.) The funds are transferred to your brokerage  account to be purchased by your brokerage firm. You can use any bank or brokerage firm. When your wedding day finally arrives, the gifts are transferred to your account.
Check out WeddingFutures.com for more info.
*Sponsored Post