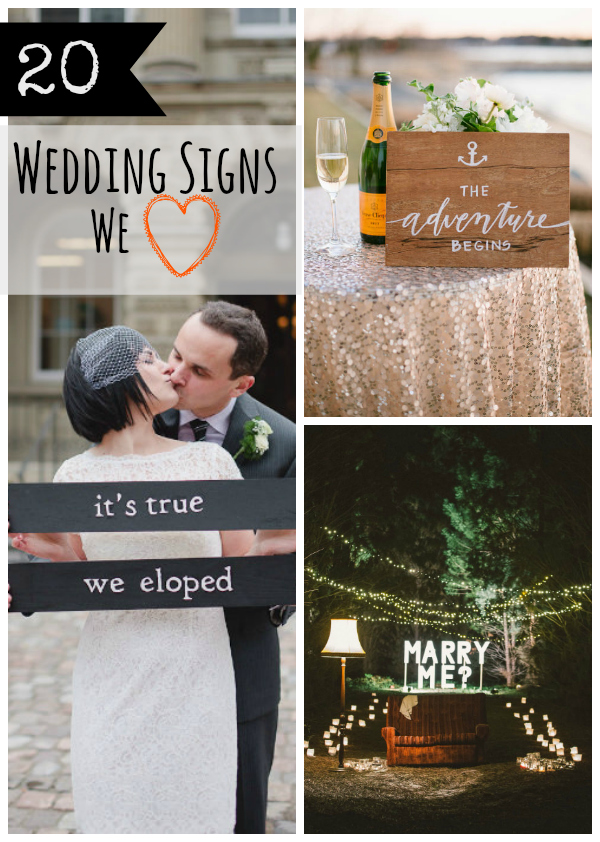 Signs are not only practical but can also significantly add to your wedding decor. They are great for outdoor weddings as they can direct guests to where they need to go and add some fun. Signs are wonderful props for photographs too. We've found 20 wedding signs that we love and wanted to share with you!
Not only is this such an adorable quote but we love the wooden detail too.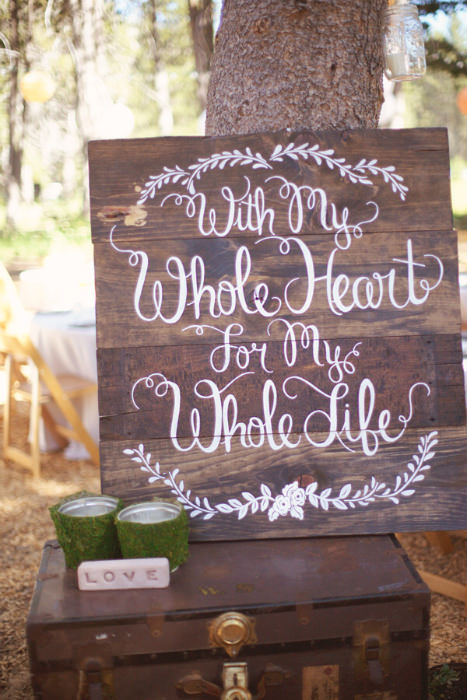 Antique mirrors and glass are the ideal canvas for wedding signs. Paired with some olive branches they have a very Grecian look.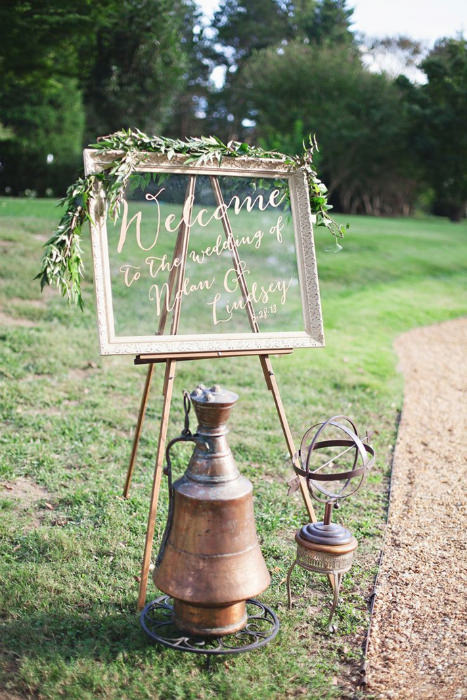 As you are already the center of attention, you might as well go all out and have your name in bright lights.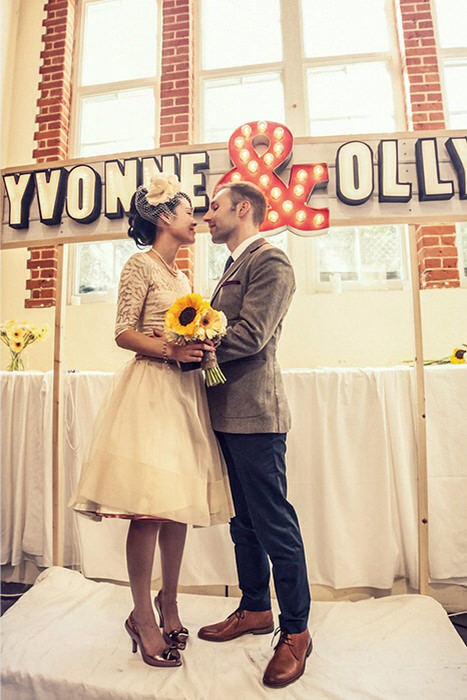 A chest can be instantly transformed into a welcome table and a place to store cards with a sign like this.
A 'Just Married' sign is an easy DIY project and a great way to include children in your wedding.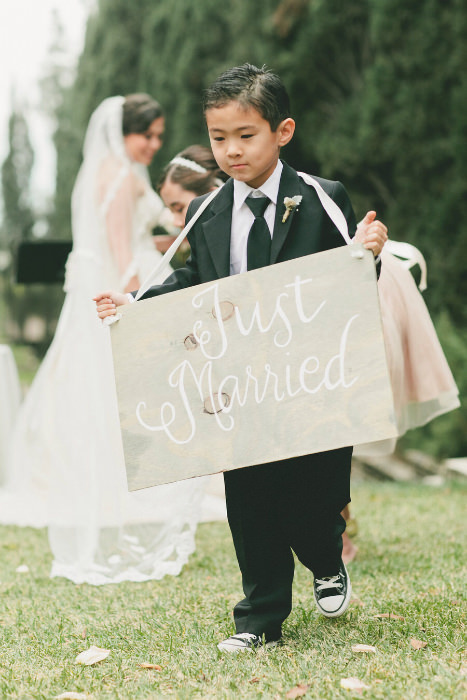 Chalkboard signs are a must-have, especially when they are illustrated chair decor.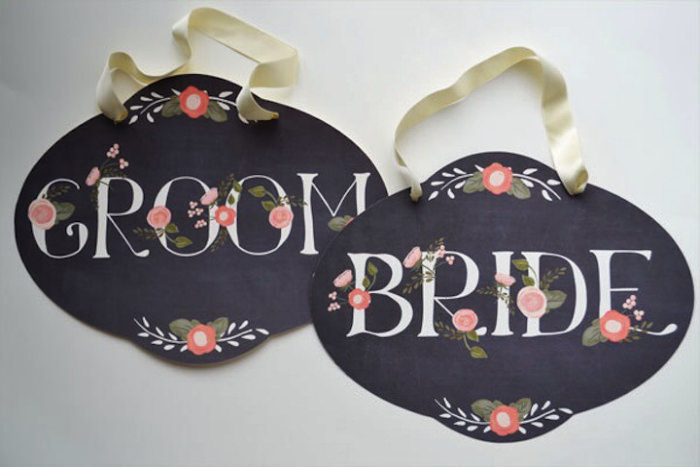 If you want to get creative with your signs, use romantic sayings in other languages as photography props.
Bring in cute details and anecdotes from your relationship and include them in your decor. This not only gives guests the opportunity to find out more about you as a couple but this also lets you personalize your wedding signs.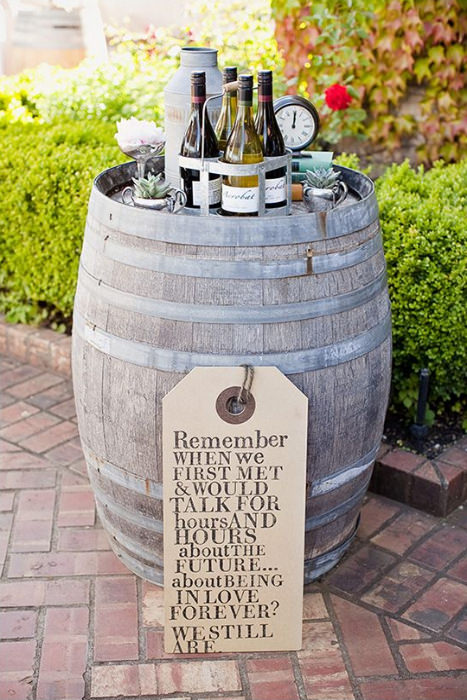 Who said that a sign needs to include words? Glitter makes up for everything, so all you need is a glitter-filled arrow to point your guests in the right direction.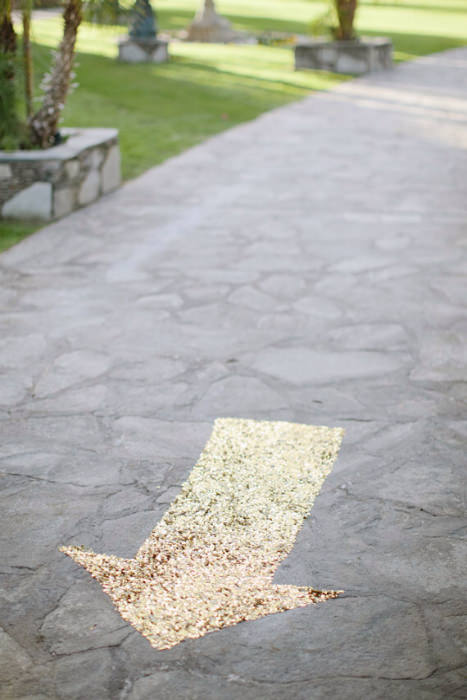 Recreate your very own restaurant with a cheeky sign with 'Today's Special'.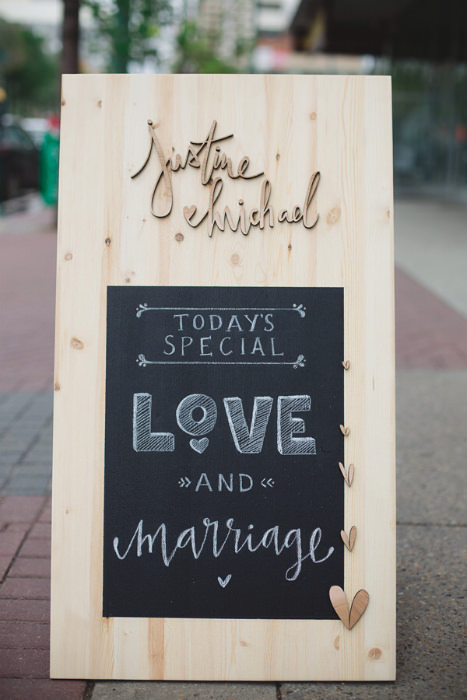 For a barn or rustic venue, small details can make a difference to your decor. This sign is all that you need to brighten up the space.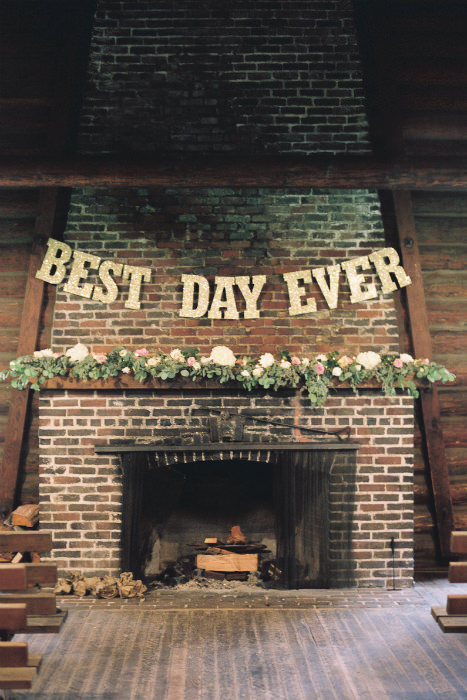 Burlap, hessian and linen are great fabric backings for signs. They are simple and have a natural look for countryside weddings.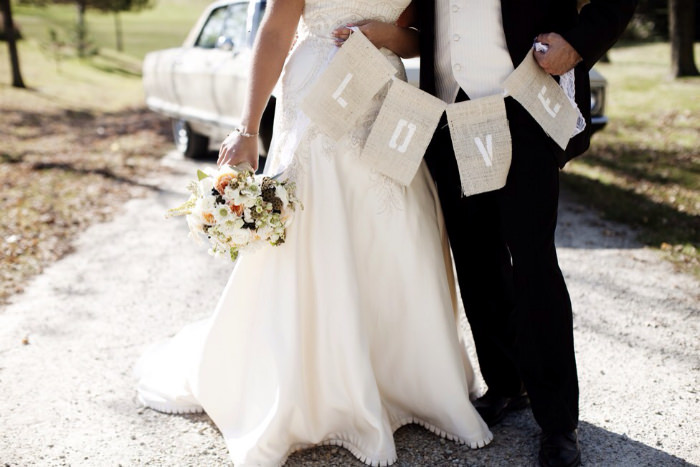 This is such a lovely way to greet guests. This sign uses a silhouette as well as a Shakespeare quote. Perfection.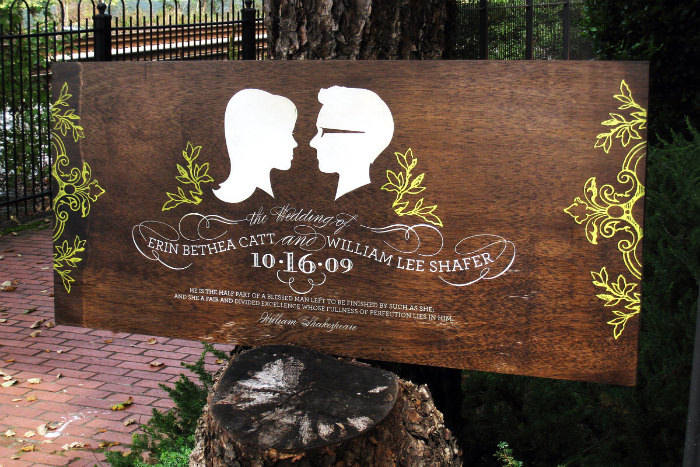 A nautical themed wedding needs an appropriate saying and of course an anchor.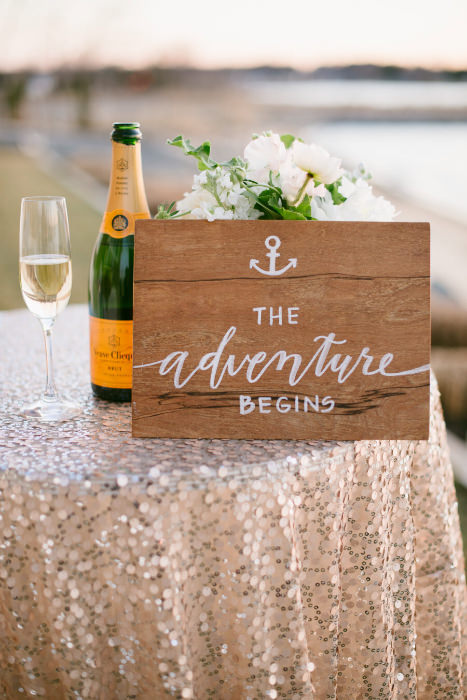 If you have a favorite quote or song as a couple, then this is the time to let everyone know what it is by putting it on a sign.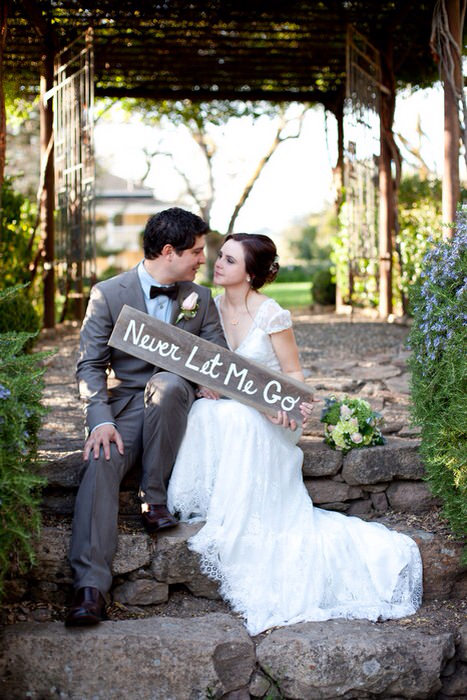 If you're still at the engagement stage of life, then a lit-up 'marry me' sign complete with candles will be a memorable proposal.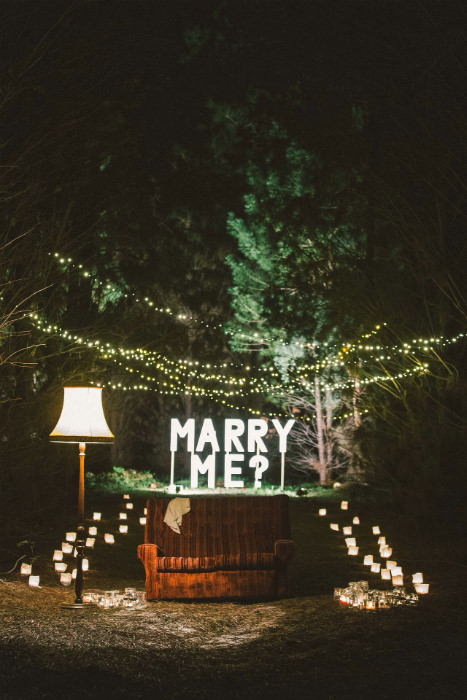 We love signs that do double duty. Pose with an elopement sign and print the photographs to create an announcement to send to family and friends.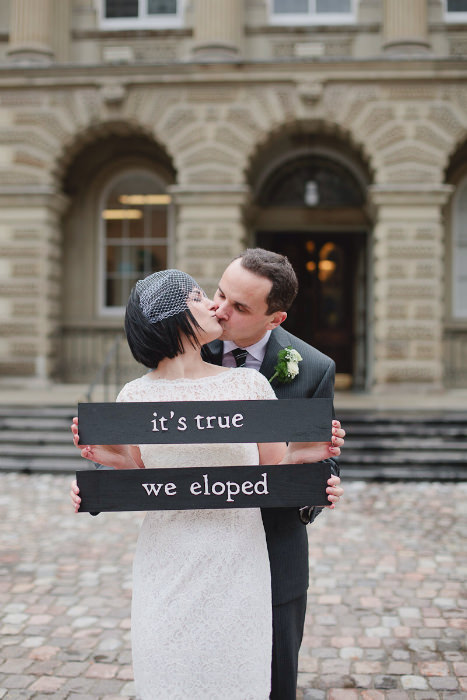 Give your flower-girl a sign to hold up before you walk down the aisle, to announce your arrival.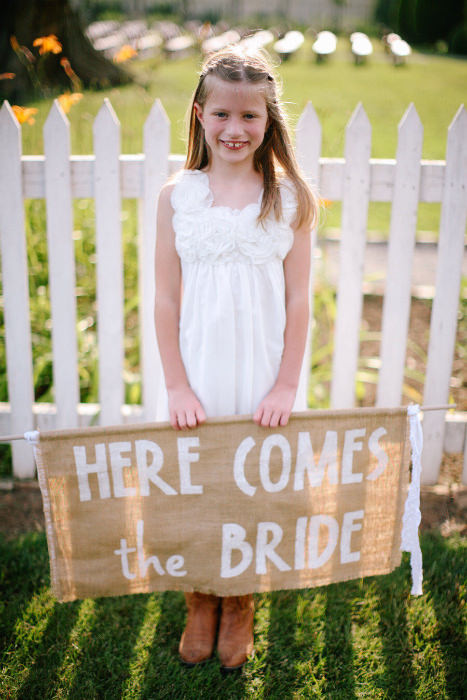 For an outdoor wedding with a variety of activities, a sign like this will ensure that everything goes to plan.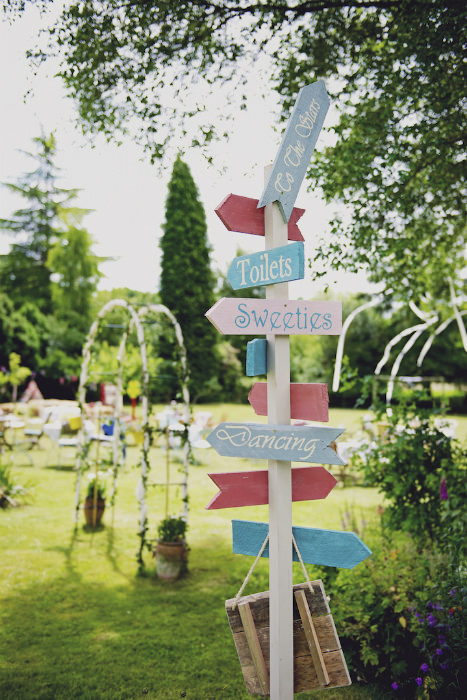 To unite your families during your reception, we have created this free handy sign for you to download here.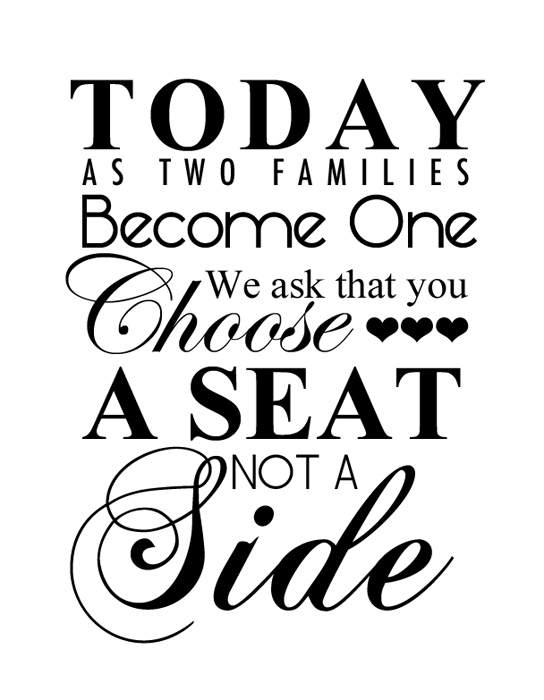 Photo one: ruffledblog.com; Photo two: paperlilyphotography.com; Photo three: septemberpictures.com; Photo four: Intimate Weddings; Photo five: stylemepretty.com; Photo six: etsy.com; Photo seven: esthersunphoto.com; Photo eight: pinterest.com; Photo nine: 100layercake.com; Photo ten: blakeloates.com; Photo eleven: lauranelsonphotography.com; Photo twelve: etsy.com; Photo thirteen: chocolatebutterbean.com; Photo fourteen: nataliefranke.com; Photo fifteen: Intimate Weddings; Photo sixteen: jarndellphotos.tumblr.com; Photo seventeen: janiceyiphotography.ca; Photo eighteen: smittenphotographyblog.com; Photo nineteen: boho-weddings.com; Photo twenty: Intimate Weddings