Married alone up in the woods of the San Bernardino Mountains on the day of the blood moon, Abby and Collin's rustic wedding was the thing that elopement dreams are made of. With an overarching sense of calm to the day, the couple spent the morning of, hiking through the woods and around the lake, writing their vows, and getting ready at the Pine Rose Cabins before walking down the aisle together to the property's private gazebo to become husband and wife. Together as newlyweds, they watched the red sun set on the mountains, and celebrated their union with a shot of honey bourbon. They capped off their magical wedding day with a private reception for two, and dancing beneath the stars. This sounds pretty dreamy to us!
Special thanks to Josh and Sam Arroyo for capturing Collin and Abby's spectacular elopement and sharing the photos and video with us today!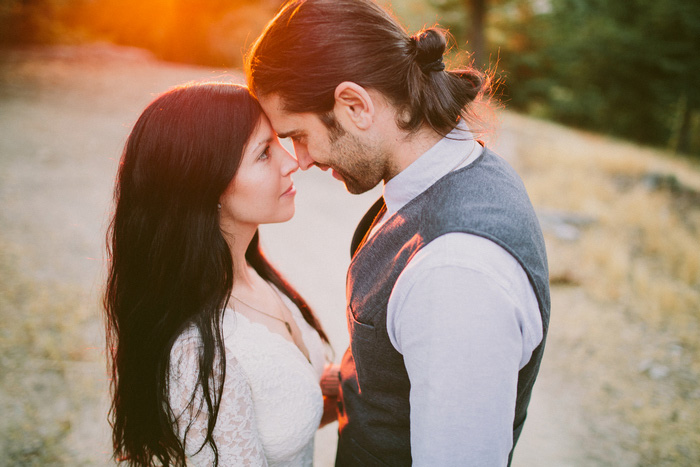 Abby, 28 & Collin, 35
Lake Arrowhead, CA
Wedding Date: October 7th, 2014
Number of Guests: 0 – elopement, just us plus our videographer and photographer
Wedding Cost: $5,000.00 (Vendors, Venue, Dress, Honeymoon)
Wedding Ceremony Location: Pine Rose Cabins
Wedding Reception Location: Pine Rose Cabins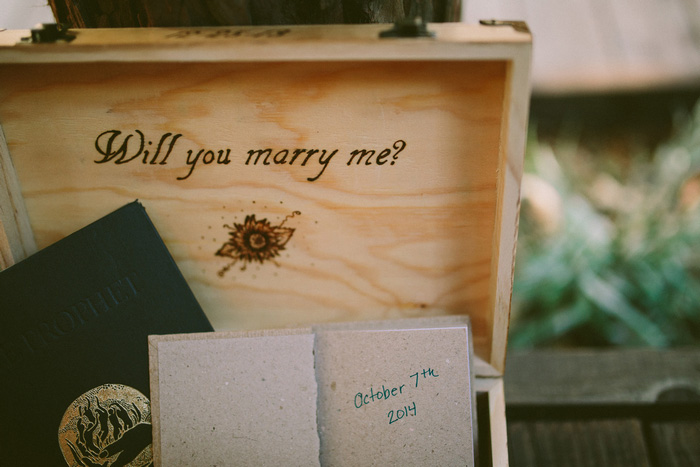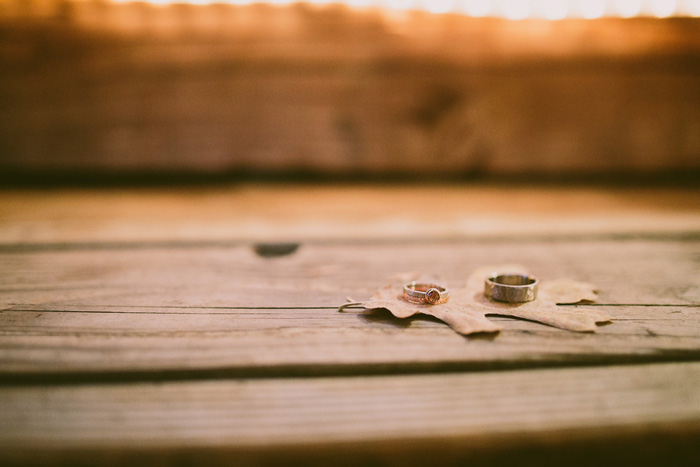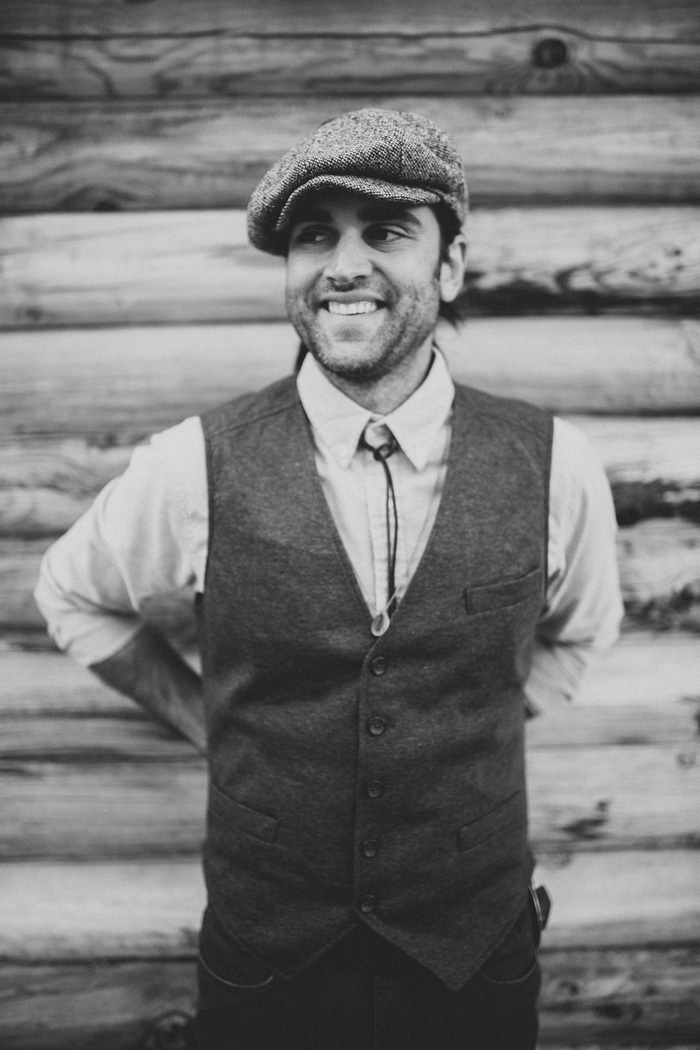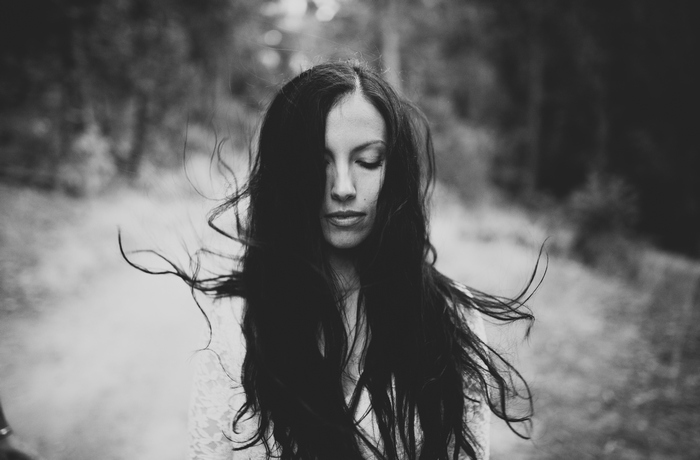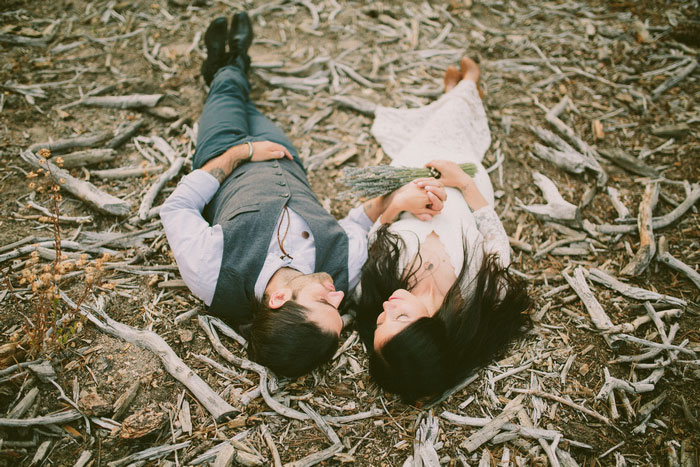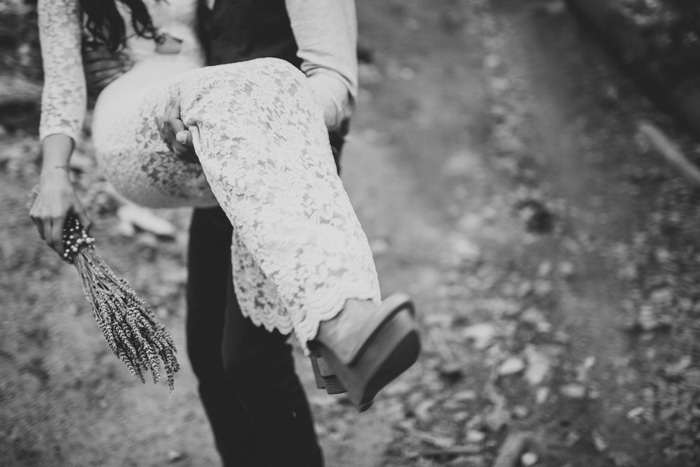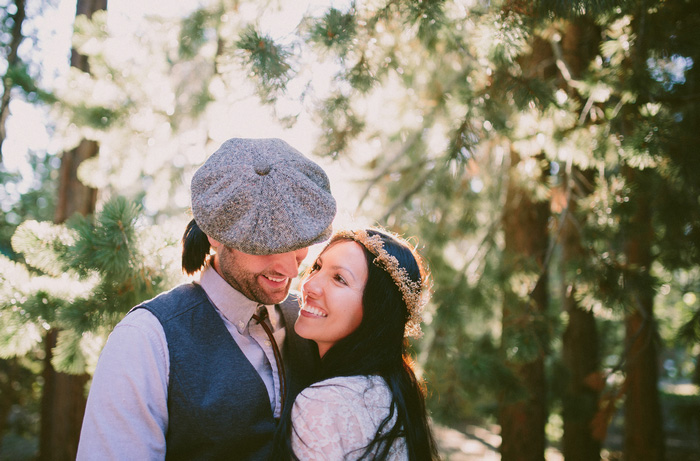 Why did you have an intimate wedding?
A little bit of background: Collin and I have been together for five years. We met in New York City and after a whirlwind romance, moved to California together. He proposed on Christmas morning of 2013 with a handmade, wood burned wedding box he had specially made for me. The box included my nickname and other special and personal images, and had the question "Will you marry me?" on the inside. It was one of the best moments of our lives. The box is featured in our video and photos, too. 
We have both always known that we wanted to do an elopement or a "private" ceremony, and when we found Pine Rose Cabins in Lake Arrowhead, CA, we fell in love with the space. It was like it was meant to be and gave us the perfect place for what we had envisioned for when we would marry. Pine Rose is up in the mountains with lots of old trees, cabins, and ponds.  We rented out a little alcove on the grounds that had a pond, a wood wrap-around deck, lots of old trees, a gazebo, a handmade wedding altar and aisle made from wood, and two cabins surrounding it. Pine Rose featured everything we wanted:  mountains, old trees, lots of wood, cabins, and a truly rustic feel. Also, there is a lot of privacy. It just feels awesome up there.
Our families are wonderful of course, but there is something about running up into the mountains to intimately and privately marry the love of your life that is so romantic and so special. There were no rules to abide by, no worries to be had.  We just got to be ourselves and enjoy each other.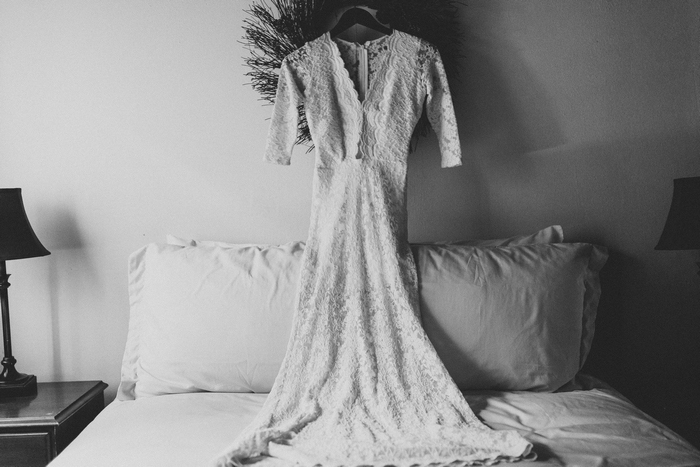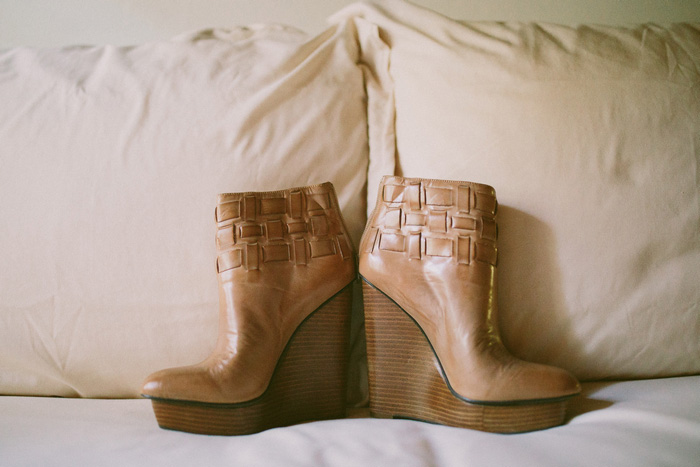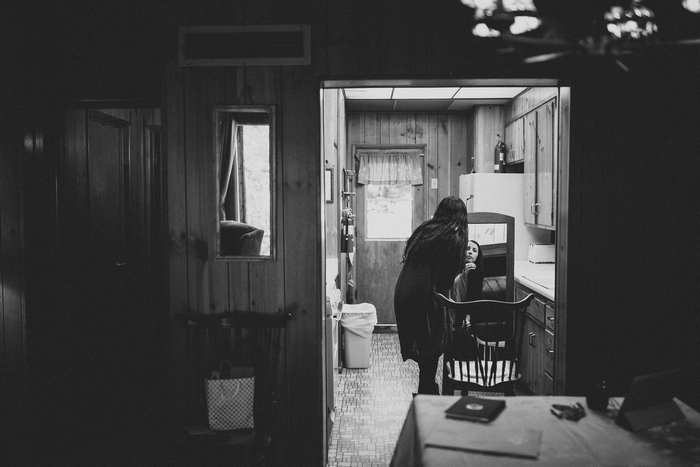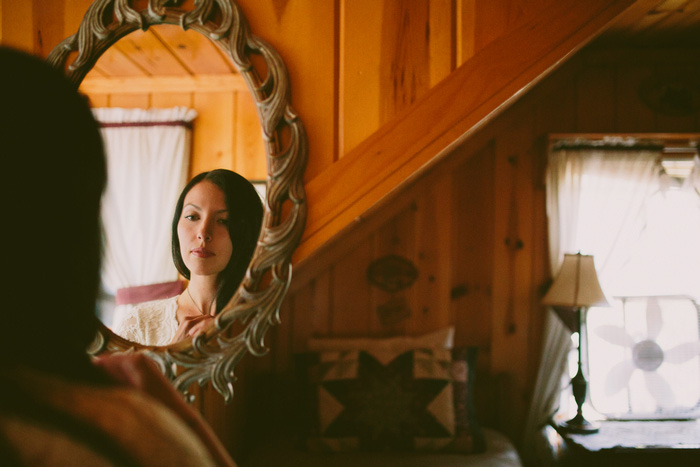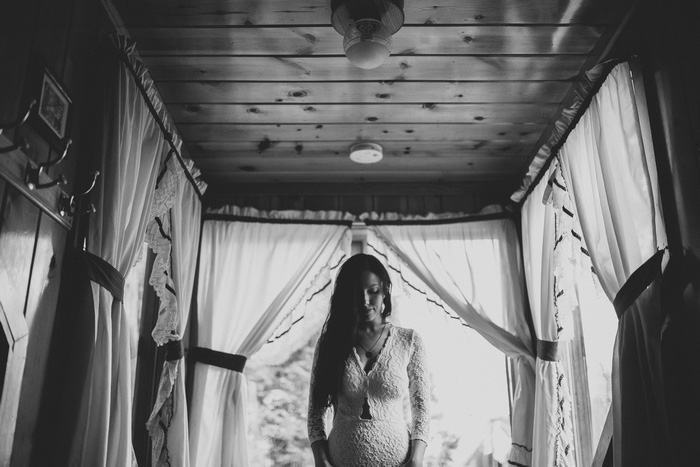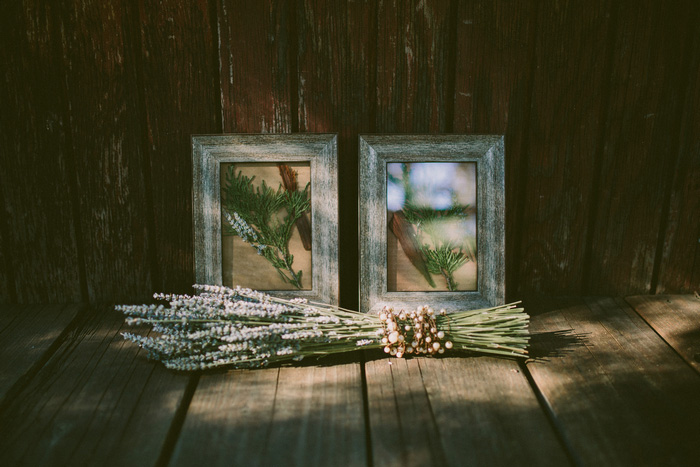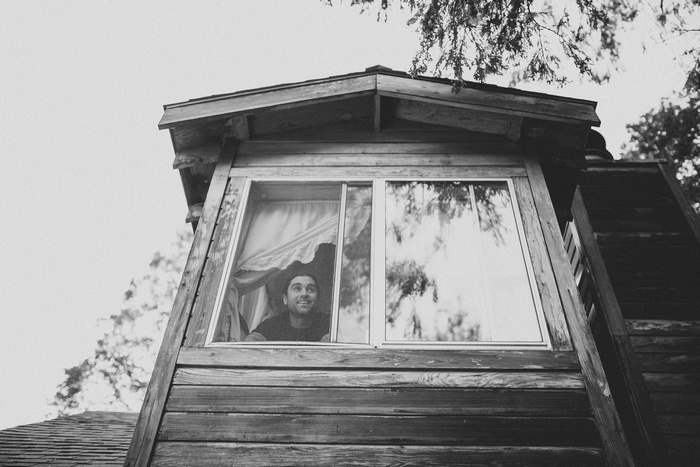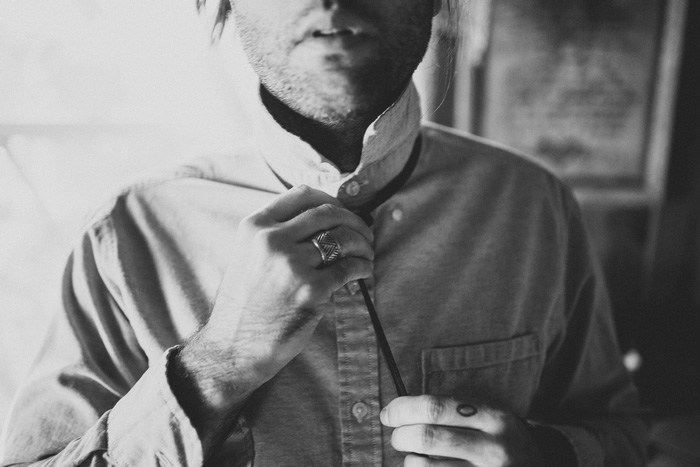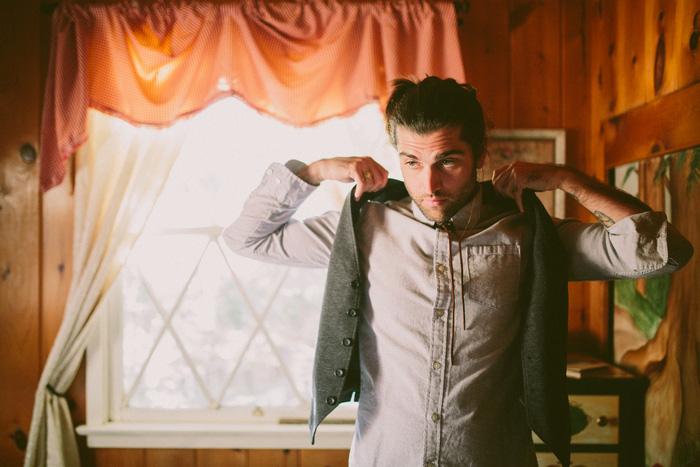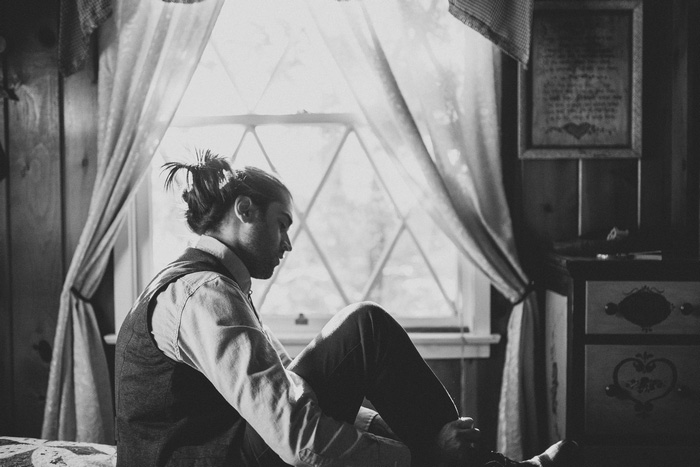 What are some the challenges that you faced planning an intimate wedding?
We wanted to plan everything on our own, and the closer it got to our wedding date, I was facing the reality of still not finding my dress!  I think naturally, when you are doing a private ceremony or elopement, you're doing more planning on your own, and my dress kind of took a backseat to the vendor booking and the planning. Just because we married privately did not mean for us that we were sacrificing any of the things we both really wanted. We truly went all out on a simple scale for our mini "reception" and all of our handmade details. I found my dress two weeks before the wedding and it was absolutely perfect. I wanted something simple and I wore it with a handmade dried baby's breath halo crown and a pair of boots. It all worked out perfectly in the end with a few VERY last minute alterations!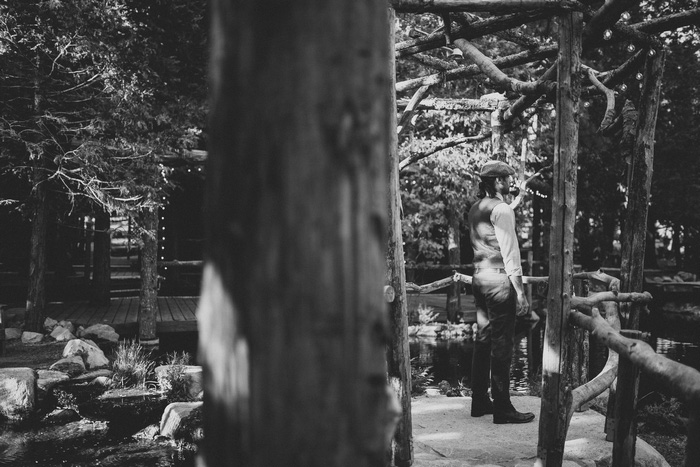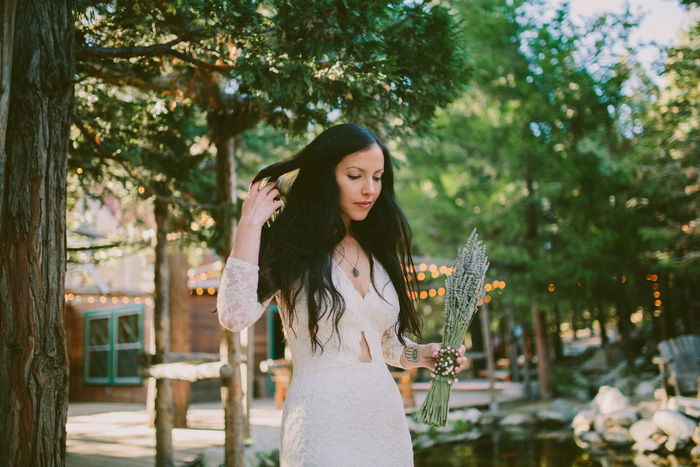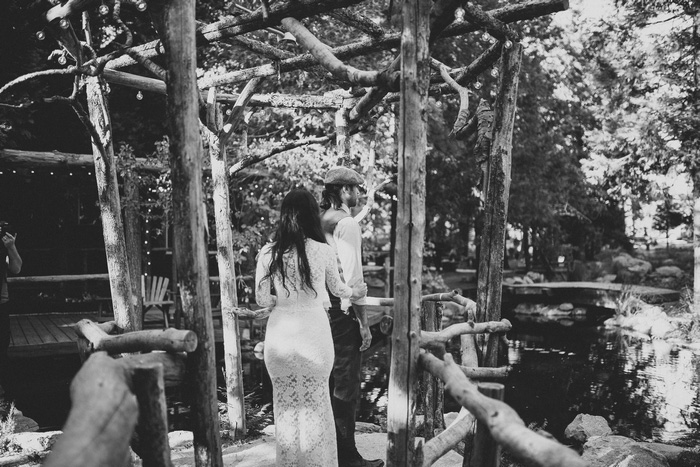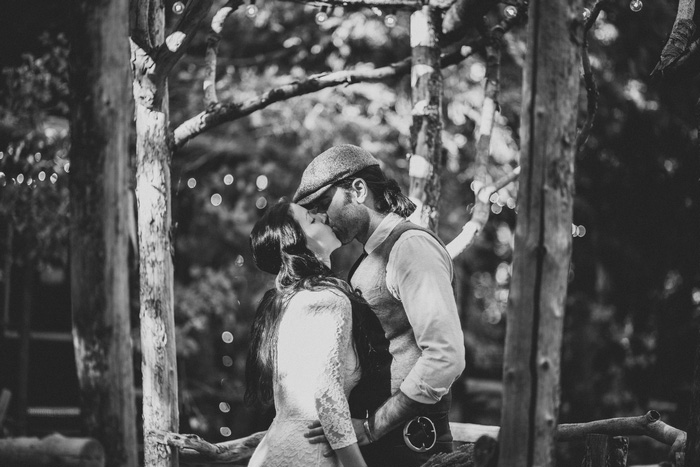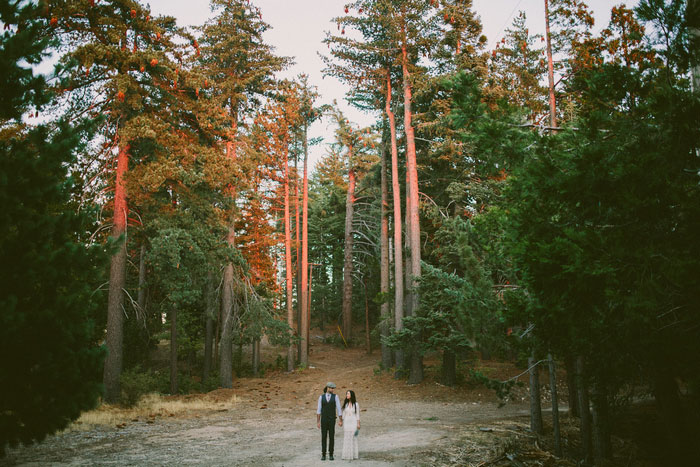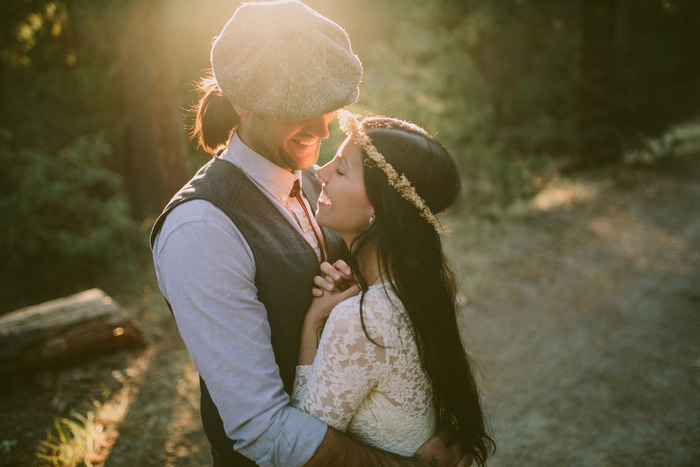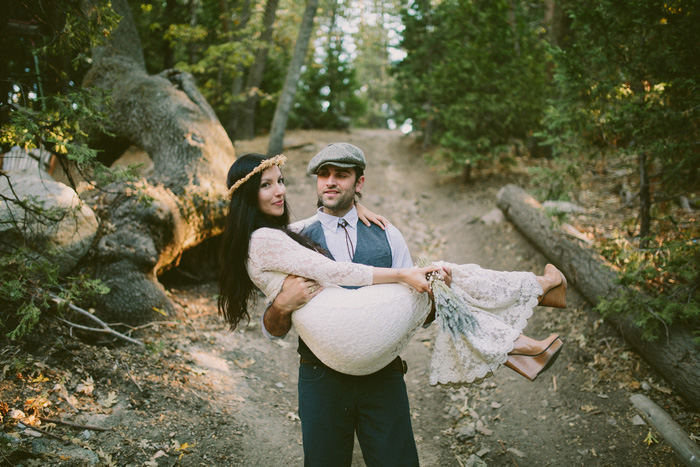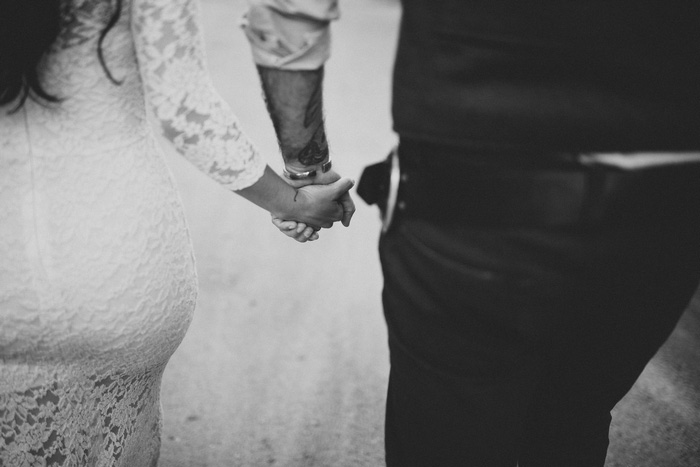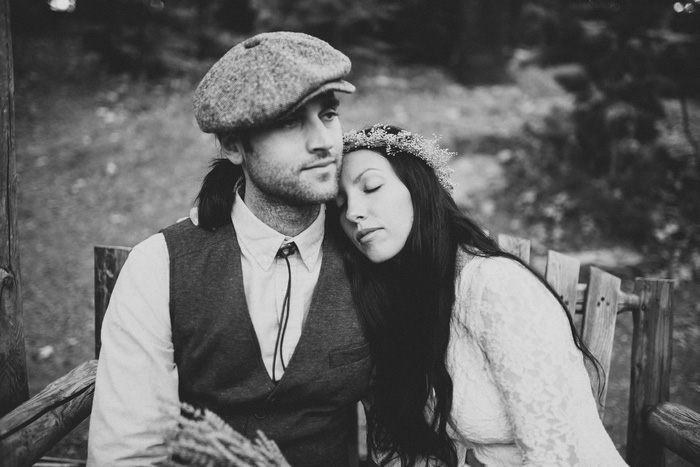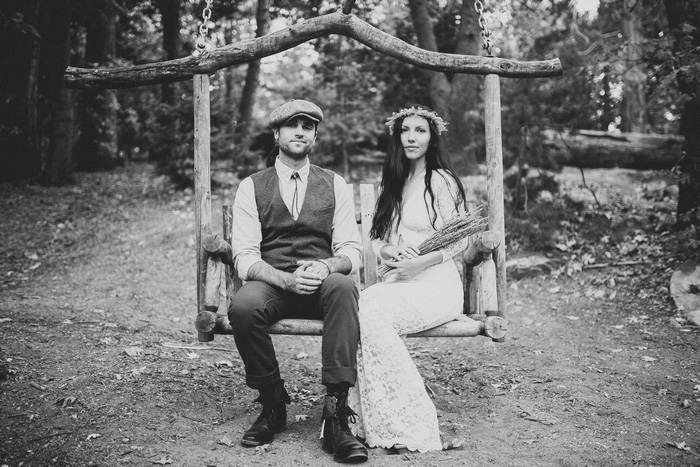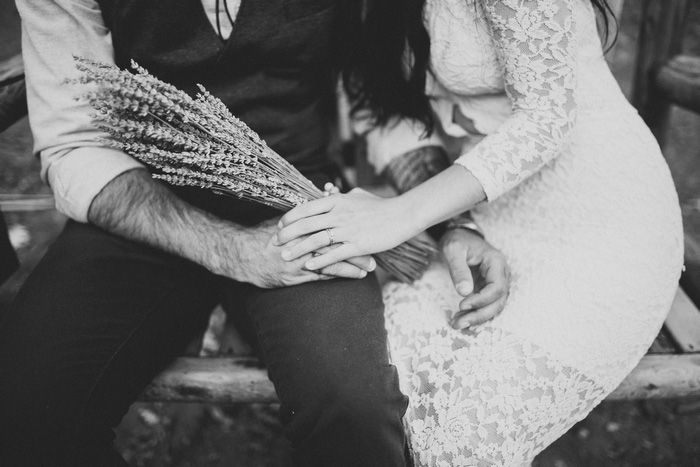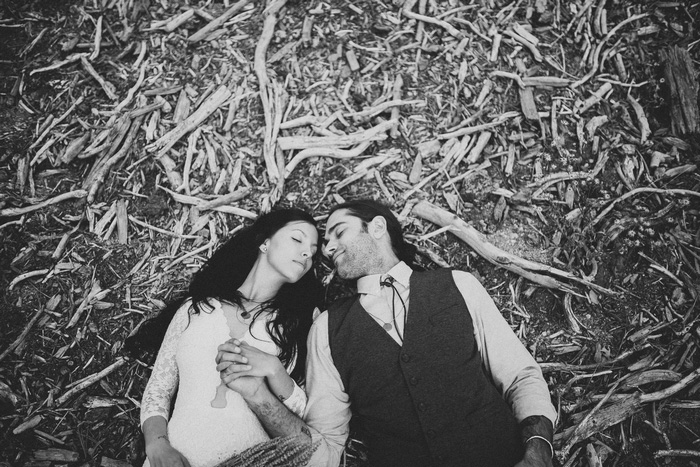 Did you have any 'issues' with the small guest list from friends and family? If so, how did you address them?
Though we chose to not have our family with us for our day, they were all very supportive and understanding. Our mothers were completely understanding and loving with the news, but, in our hearts, we knew they were really wishing they were there with us that day. We wanted to do something special for just them. On the morning of our wedding, Collin and I both chose a leaf and a piece of bark from our wedding altar and a piece of my lavender bouquet to frame in handmade picture frames as a gift for them. We made them together and they are also featured in our wedding video and photos.
We also planned for a big family get together for when we returned home from our honeymoon. My family flew to Los Angeles from the midwest, and his came from the east coast, and we all spent a weekend together celebrating our marriage. This was also the first time our mothers had met in person, so it was super special to have some of the most important people in our lives together in one place. This also helped to ease some of the feelings about not being present for the ceremony as we all were together soon after and able to celebrate. We gave them their frames during the trip, too.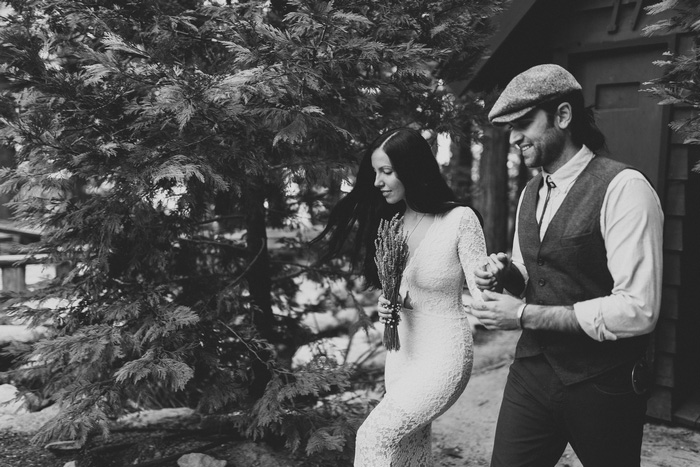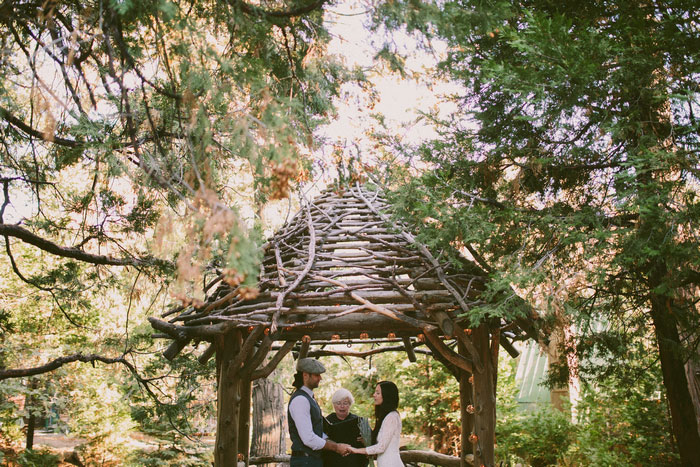 What were the highlights of the ceremony?
Since we eloped, the whole day was a highlight and we chose to not be rushed and to really enjoy each moment. We spent the morning walking the lake, hiking the grounds, and prepping for our ceremony together. We made my bouquet together from dried lavender and we wrote our vows in the cabin. Our ceremony was magical, intimate, and very personal. It included some of our favorite poetry from Rumi and readings from The Prophet by Kahlil Gibran. We cried and laughed a lot. We chose to walk down the aisle together, hand in hand, and right before we did so, we took a moment to just breath and focus on each other. This was a moment that we both feel was really special. After the ceremony, we hiked up into the mountains to take photos and video with our photographer and videographer. We caught the sunset that night from a mountain and it was beautiful and red as we were married on the Blood Moon (super good luck!).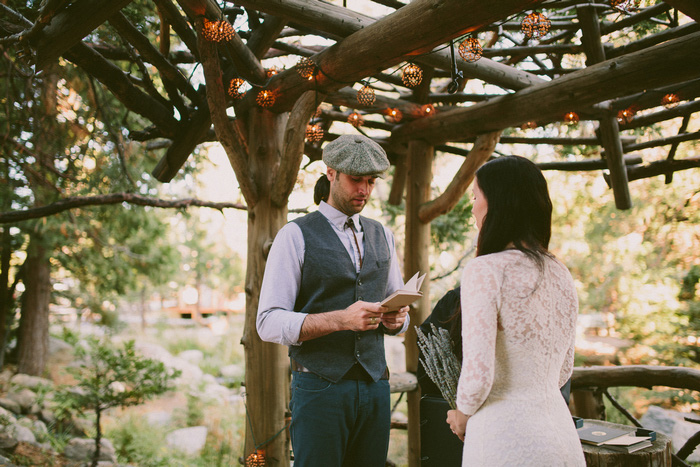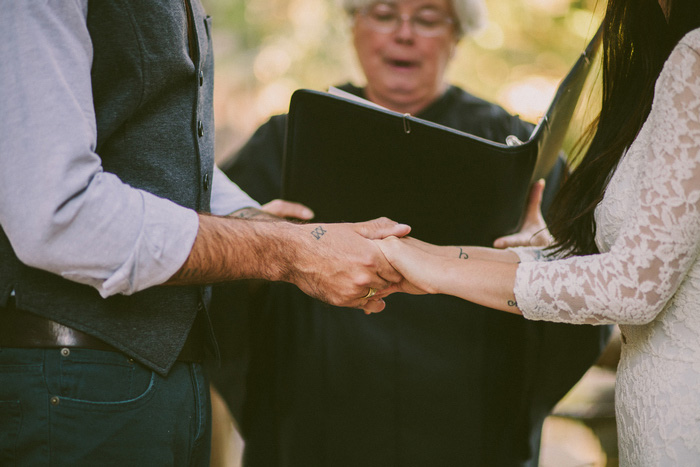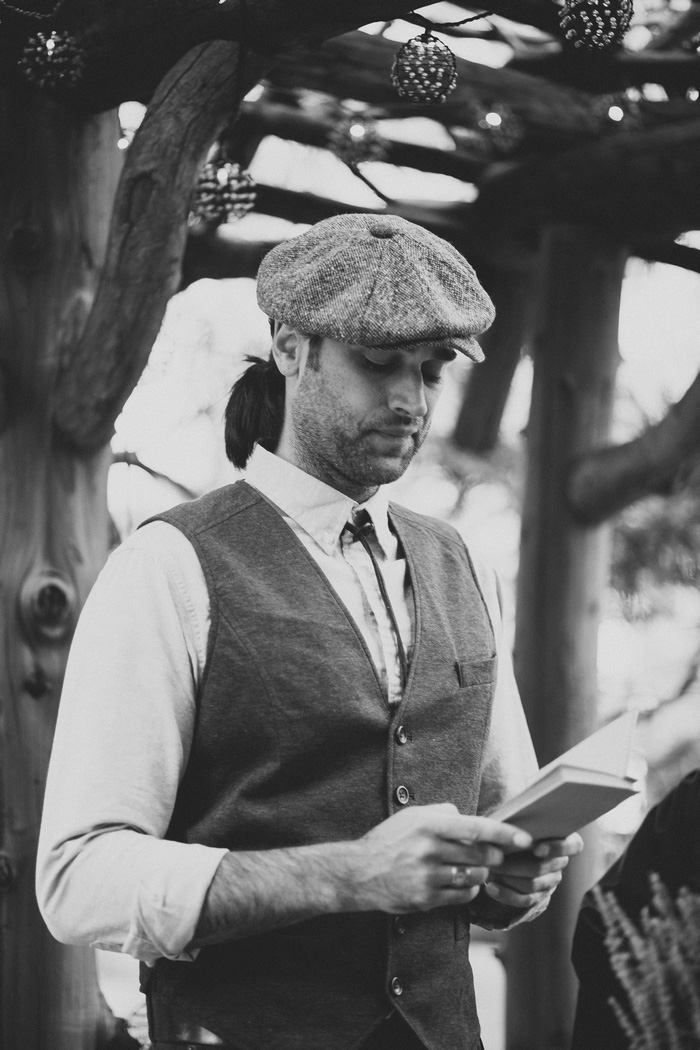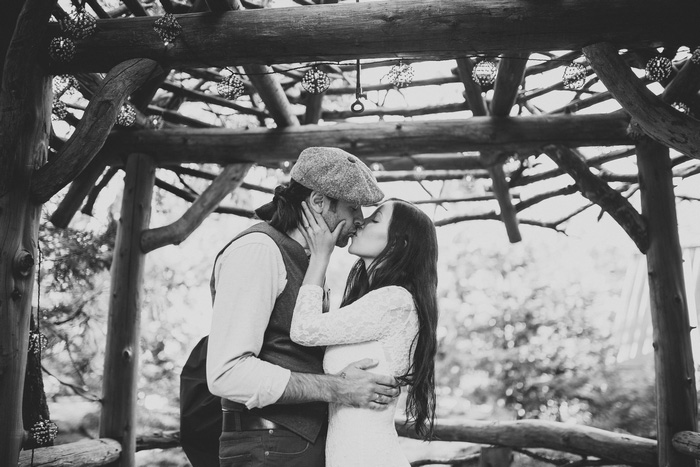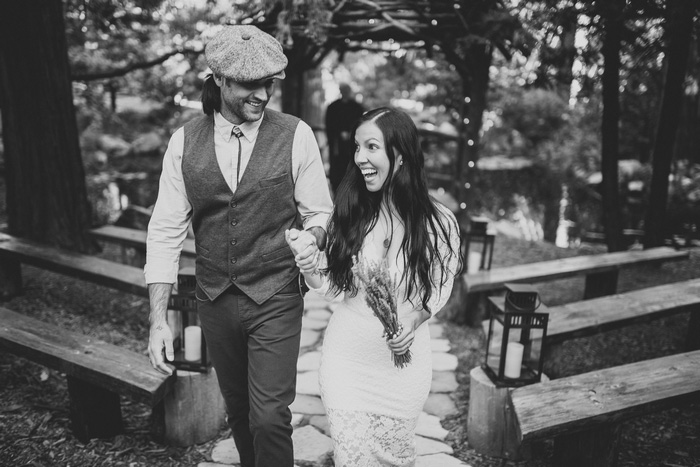 What were the highlights of the reception?
Even though it was just us, we wanted our "reception" to be the coolest and most awesome reception ever! We used a giant picnic table to feature a beautiful layout of all the trinkets and pieces of decor that we had found and put together for our sweetheart table. We put our favorite beers on ice and toasted our marriage with a shot of honey bourbon. We had an amazing cake made from a  local baker that was Guinness flavored (Collin's favorite beer) and it was the best cake we have ever had. We chased it down with some salt and vinegar chips and cream ale. We ended our night dancing under the lights and the stars to our favorite songs.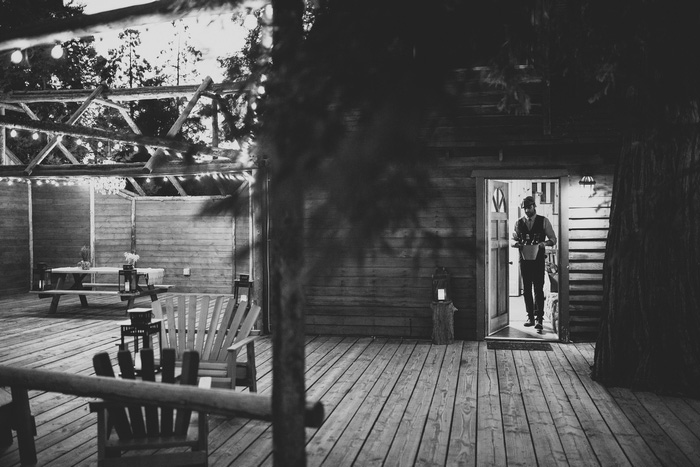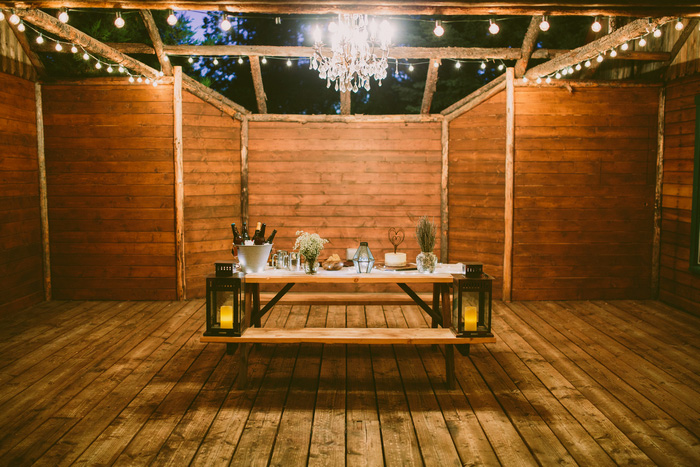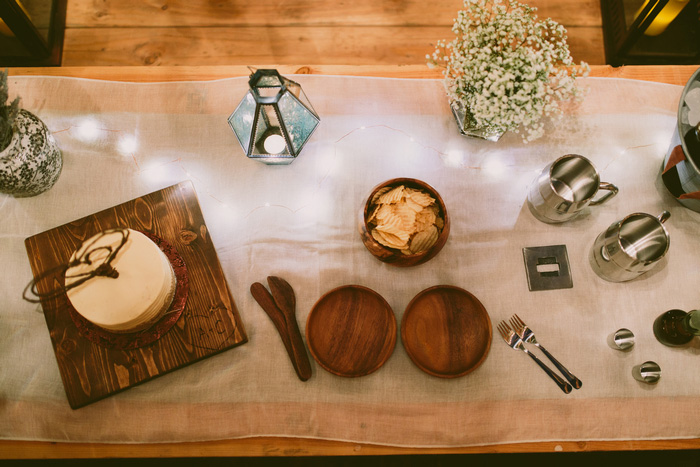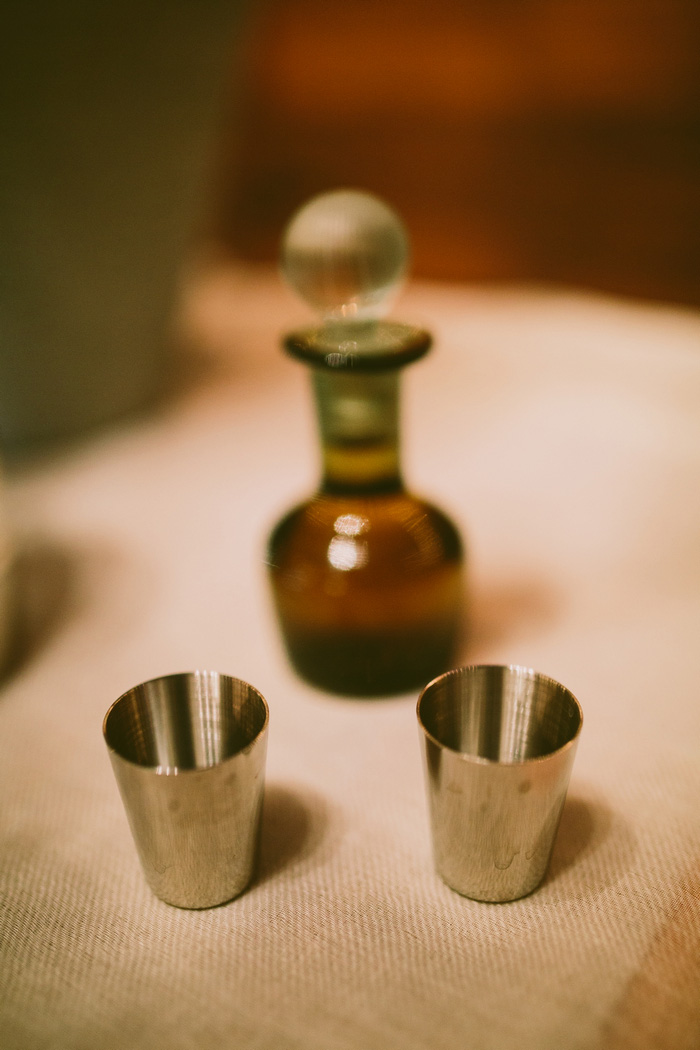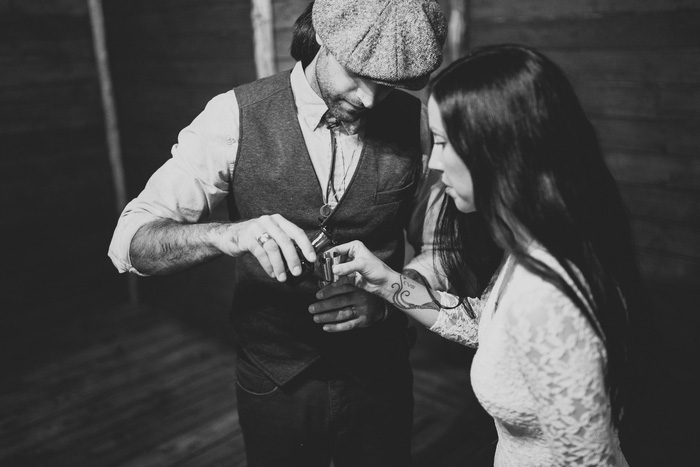 What was the best thing about having an intimate wedding?
Collin and I truly felt like the world was ours that day. It was such an intimate experience, alone on our mountain with the trees and with nature. The calmness and ease of the day is what we remember the most. We really got to experience every moment without distraction or worry.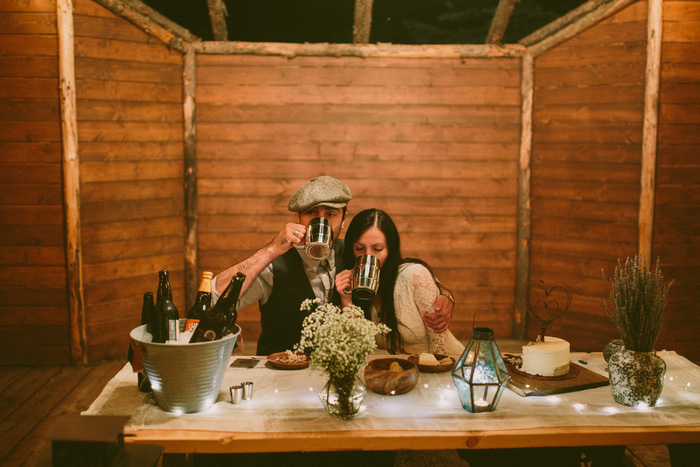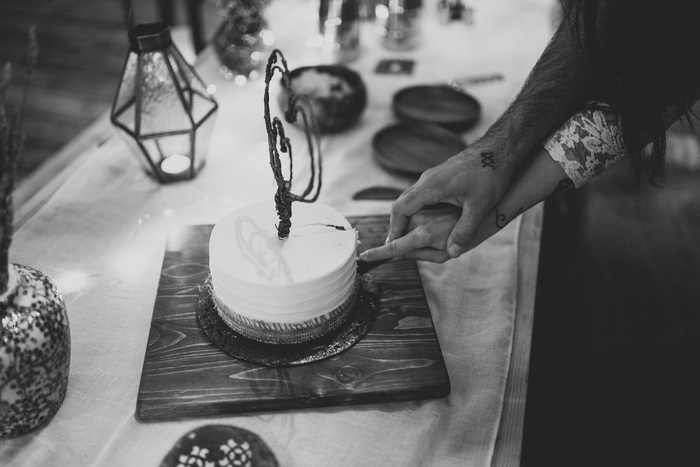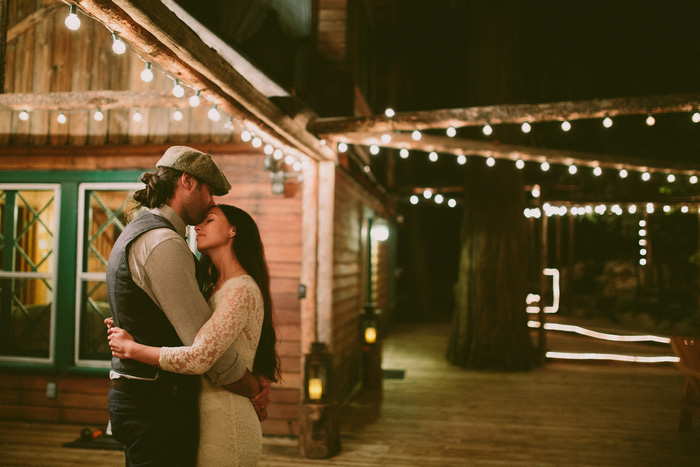 What advice do you have for couples who are considering an intimate wedding?
There is so much to be experienced and felt when your ceremony is truly intimate. We couldn't imagine doing it any other way and are so grateful for our day. If you're going for a private and intimate wedding, talk with each other and figure out what is important to the both of you. From that, you will create the details and moments that will be what you talk about for the years to come. That's the good stuff. It's also great to take your time in finding your wedding vendors, especially those who will capture your day in video and photos. You will treasure those memories and it's key that their style fit with your's. Since we did do our ceremony privately, it was important for us to still feel like we were alone in the mountains and woods, even though we had our videographer and photographer up there with us the whole day. They seamlessly blended into the background and allowed us to feel truly alone.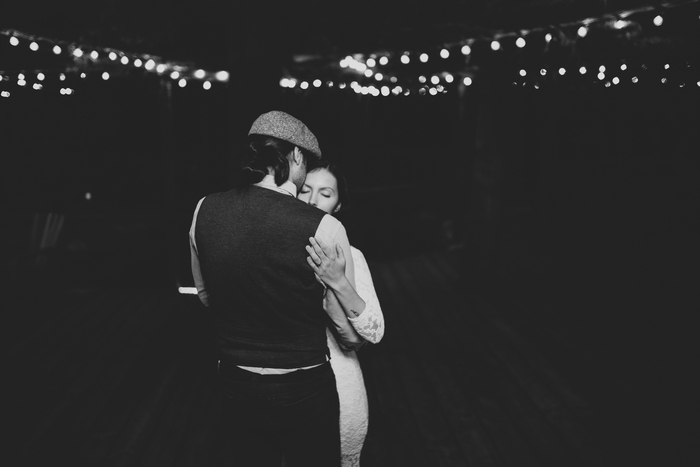 Vendors:
Photographer: Sam Arroyo  

Videographer: Josh Arroyo

Venue: Pine Rose Cabins

Wedding Cake: Niki's Custom Cakes