Baby's breath used to be synonymous with sad looking plastic wrapped red rose grocery store bouquets. No more! Today baby's breath has been reborn as a chic and sophisticated bloom that can make a big impact in bunches by itself or mixed in with other stylish flowers.
In its most traditional form as a bouquet, baby's breath can be done simply in bunches (great for matching bridesmaids bouquets too) or they can be mixed in with other flowers as well. This succulent and feather bouquet is gorgeous and the accents of the baby's breath around the edges add a gentle and delicate touch to the more structured shape of the succulents.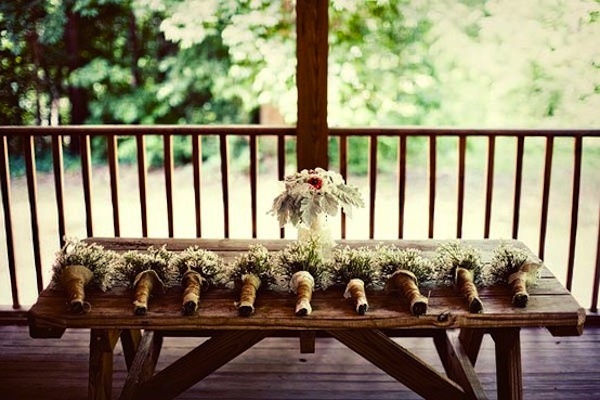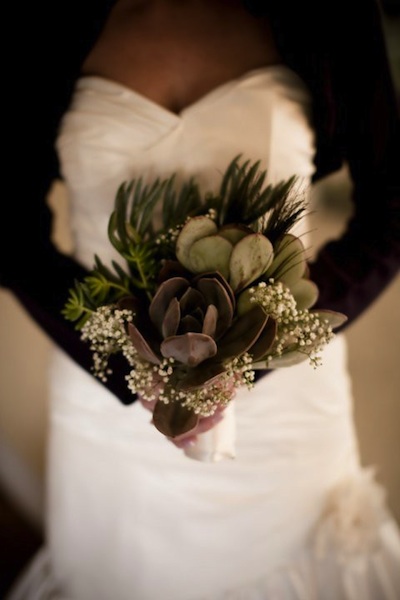 Baby's breath also makes great boutonnieres, you can use fresh or dried whichever you prefer. The second photo is using dried baby's breath which would add itself well to a winter wedding.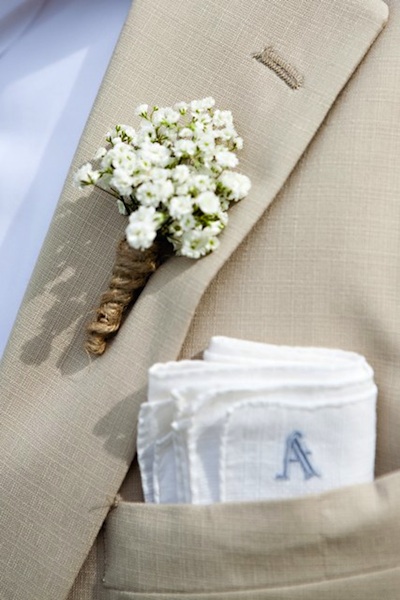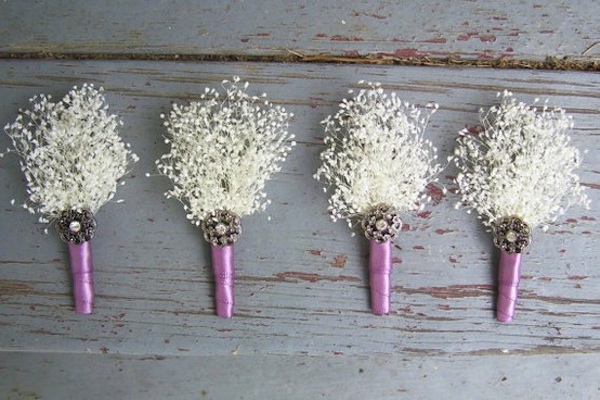 I love the look of these bunches of baby's breath lining the aisle of this beach wedding. It just shows how versatile a bloom this is. For a more rustic look, this couple lined the aisles with mason jars and filled them with sparse baby's breath.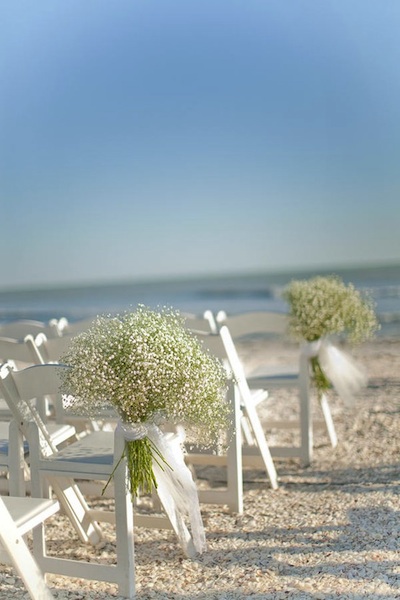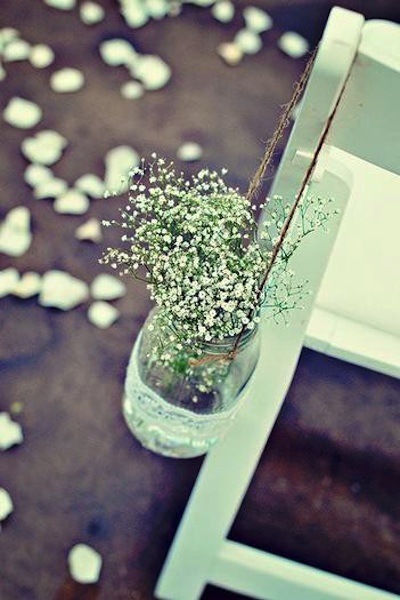 While there are other options of course, my favorite centerpieces that incorporate  baby's breath use it in small doses. A mixture of  bottles with varying sizes and heights and using only baby's breath or mixing other flowers as well all look great. I think this style adds itself well to vintage influenced weddings as well.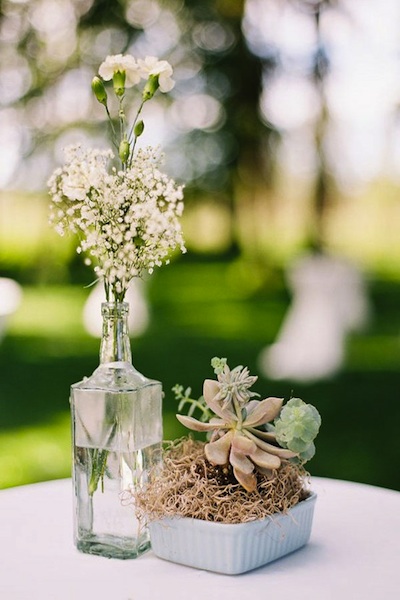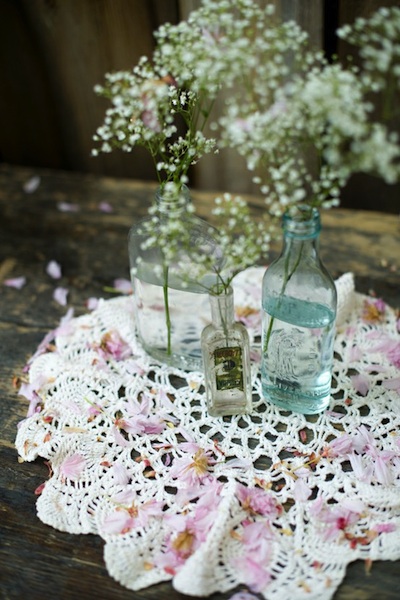 Baby's breath can have the look of softly fallen snow when packed together like it was in this vintage suitcase. Escort cards were then placed atop the baby's breath. Another way to make place cards with baby's breath is to make small bouquets like these and then make small tags with the guests' names on them.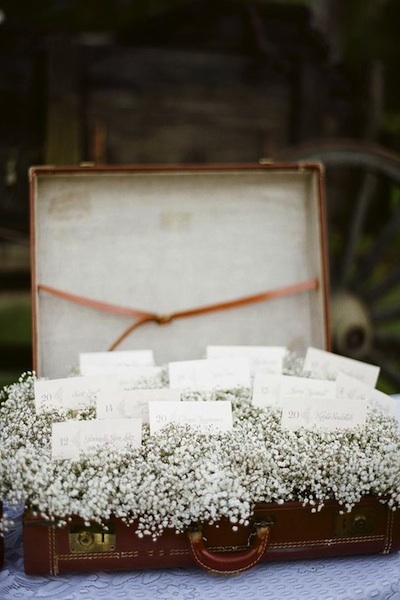 I love the look of these hanging baby's breath creations. Something as simple as hanging tin cans with baby's breath in them look beautiful and modern. I would love to see these spray painted gold too. This garland is stunning and would be a great way to dress up an indoor ceremony or reception site. These baby's breath hanging balls are gorgeous too! I could see something like these hanging from trees or around an alter for an outdoor wedding as well.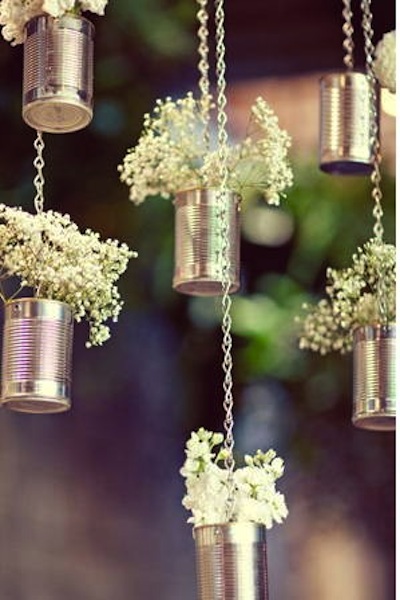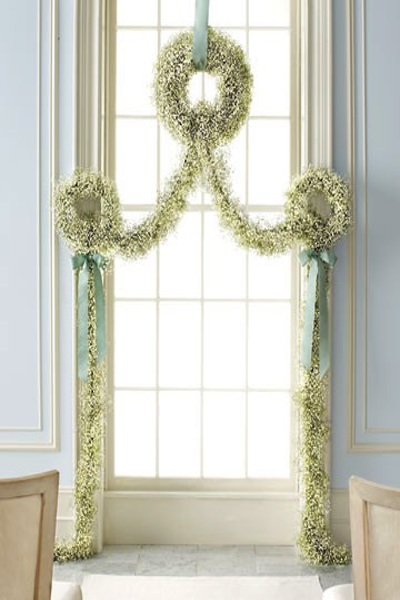 I could also see how gorgeous these baby's breath strands hanging in a curtain behind a couple at their altar would be too.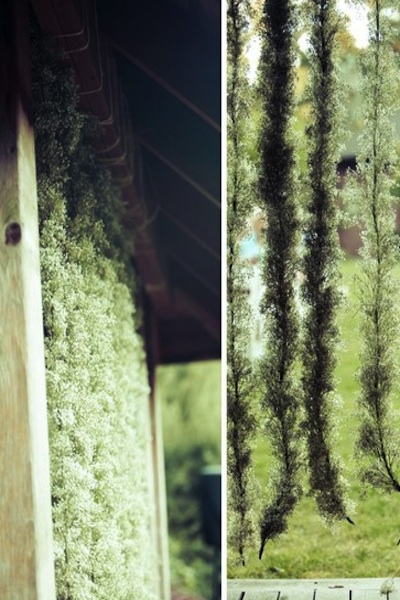 Baby's breath can also be incorporated into your attire as well. This bohemian bride looks stunning and ethereal in her baby's breath crown and this pretty necklace is made form pressed baby's breath and could be a perfect addition to a brides "something blue" or for the bridesmaids as a thank you gift.
As you can clearly see, baby's breath has radically altered its reputation of being a cheapo filler flower, to a chic and versatile wedding flower. Baby's breath can really mold to weddings in any season (maybe not fall) and style. Indoor or outdoor weddings can all use the look of baby's breath, from formal garlands to rustic farm weddings with mason jars to tin cans filled with it. Baby's breath is affordable, holds up to heat well and looks great fresh or dry.
Photo One: bridalhood.blogspot.com; Photo Two: scarletpetal.typad.com; Photo Three:: boards.weddingbee.com; Photo Four: etsy.com; Photo Five: stylemepretty.com; Photo Six: hwtm.com; Photo Seven: stylemepretty.com; PhotoEight: stylemepretty.com; Photo Nine: weddingchicks.com; PhotoTen: stylemepretty.com; Photo Eleven: prettychicblog.dk; Photo Twelve: elizabethannedesigns.com; Photo Thirteen: marthastewartweddings.com; Photo Fourteen: ceciliafox.com; Photo Fifteen: photographsbyanjuli.com; Photo Sixteen: ruffledblog.com; Photo Seventeen: gifts.redenvelope.com
Rebekah owns the even design company A & B Creative. Read Rebekah's blog.