How do you make the most wonderful time of year, even more wonderful? With a wedding of course! Michelle and Tristan tied the knot in Ann Arbor, MI just before Christmas, surrounded by 20 of their closest friends and family as they gathered at the couple's favorite restaurant for an intimate and cozy ceremony and reception.
In order to share the celebration with those that could not make it due to the limited nature of the guest list, they held a day-after brunch for extended family and a few friends, and enlisted the talents of Mishelle Lamarand to capture their beautiful wedding day in photographs for those not in attendance to enjoy!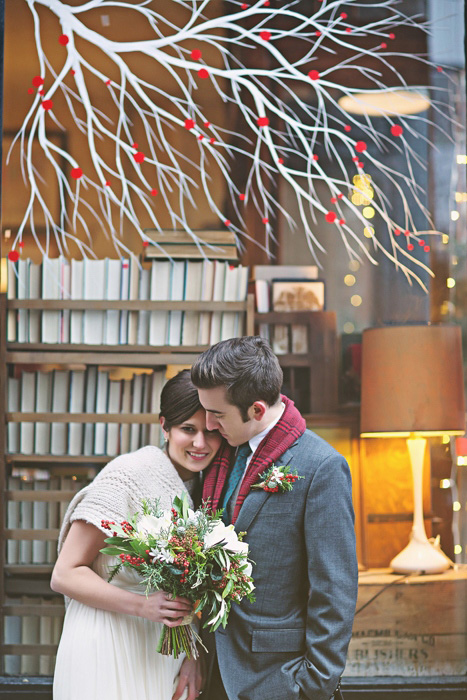 Michelle, 25 & Tristan, 25
Ann Arbor, MI
Wedding Date: December 22, 2013
Number of Guests: 20
Wedding Ceremony Location: Vinology
Wedding Reception Location: Vinology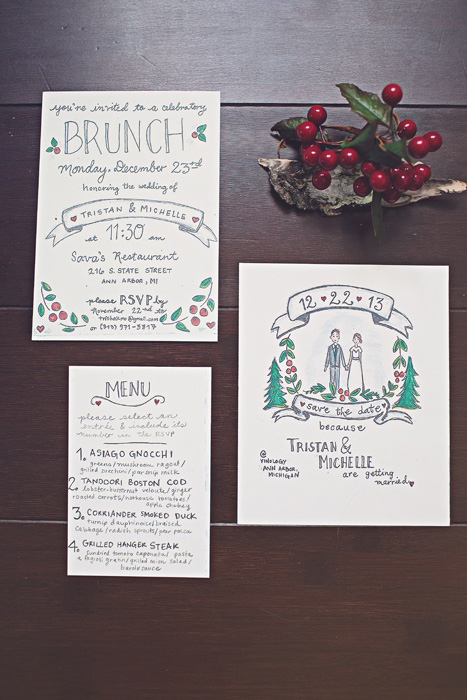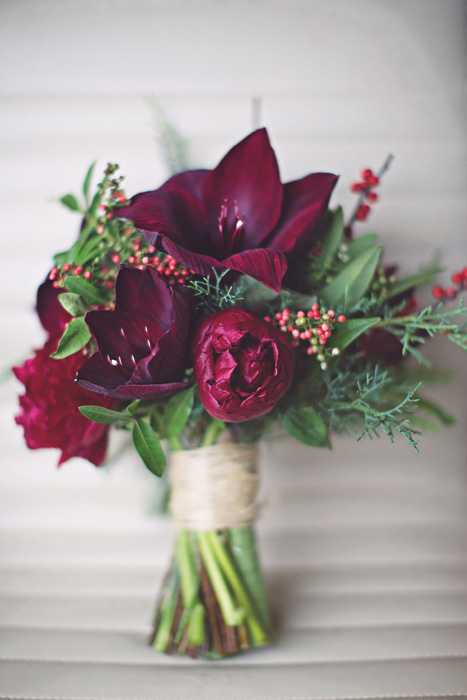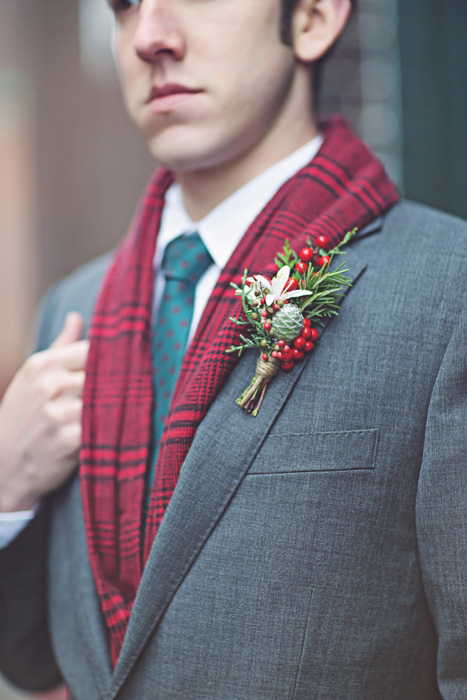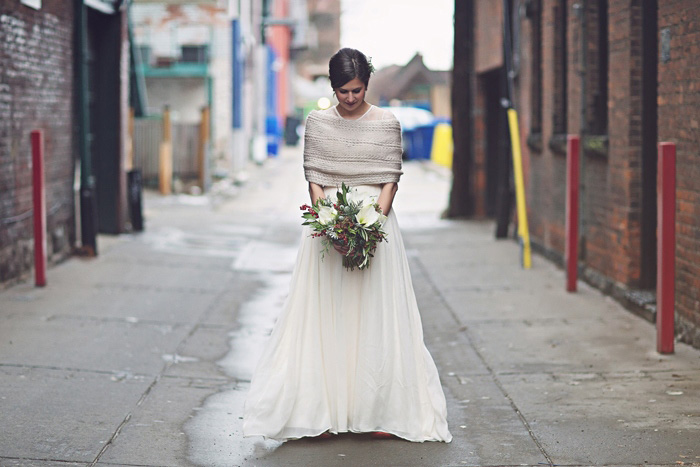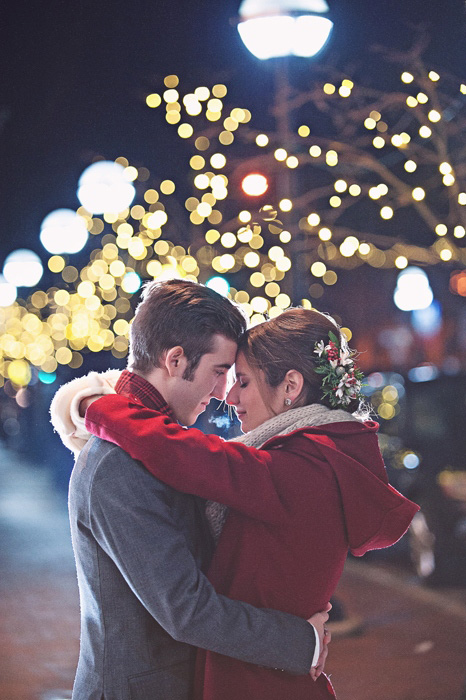 Why did you have an intimate wedding?
The idea for our intimate wedding actually came up via a secondhand story told over coffee. We were driving home from a family reunion in Wisconsin, and stopped in Madison on the way to catch up with a close friend, who happened to share her friends' plan for an intimate proposal/elopement with us. That conversation really sparked something, and we spent the rest of our car ride home starting to plan our own short engagement and wedding. Overall, it was a really freeing thought, and seemed like the perfect solution to a couple things that were holding us back. First, we are both members of very large extended families, and previous plans and calculations of our potential guest lists had become very overwhelming, very quickly. Second, the idea of a more relaxed and simple wedding, where we would be able to really be present and enjoy ourselves, just seemed to fit better with our personalities.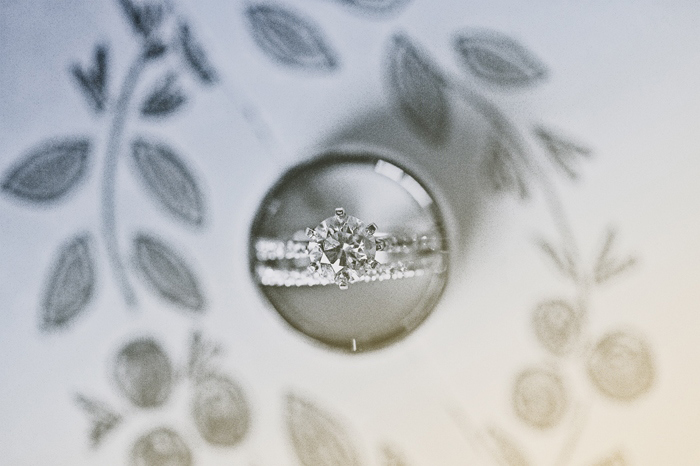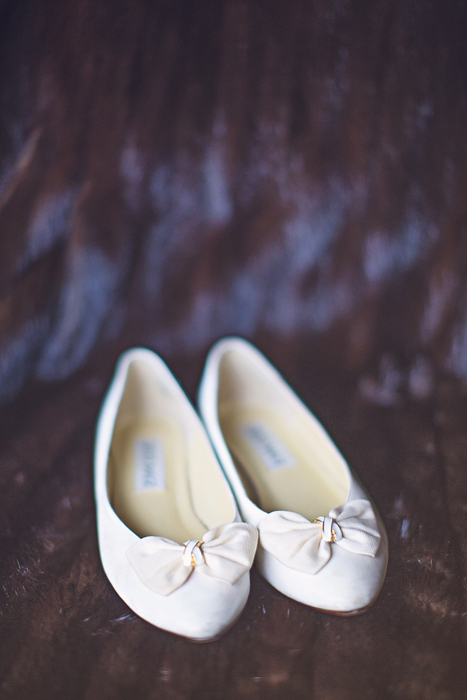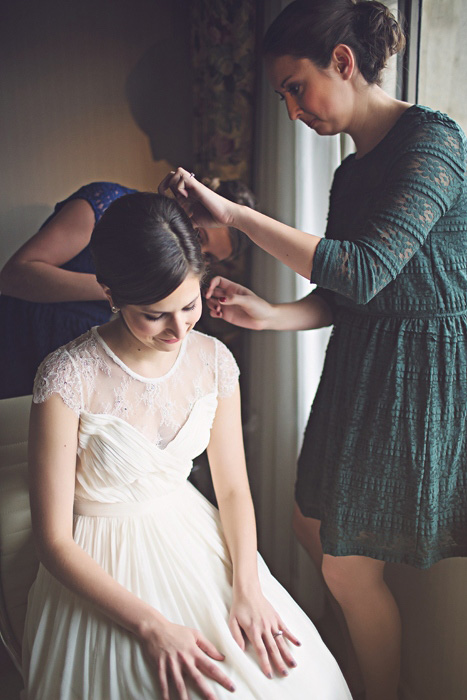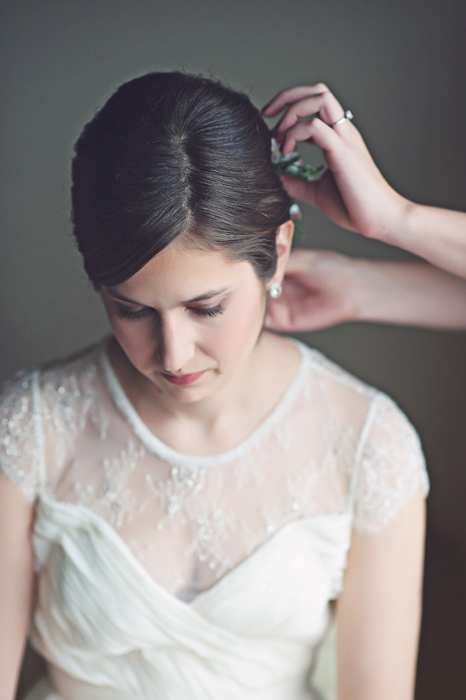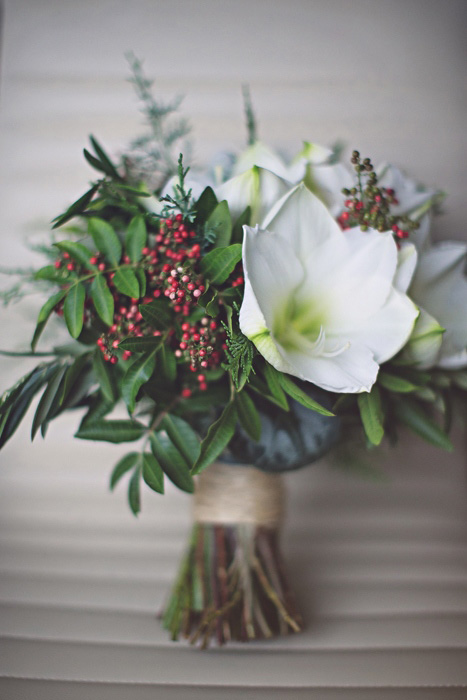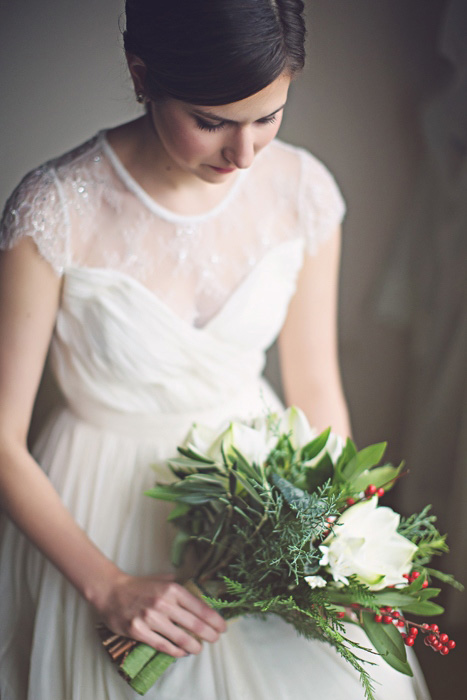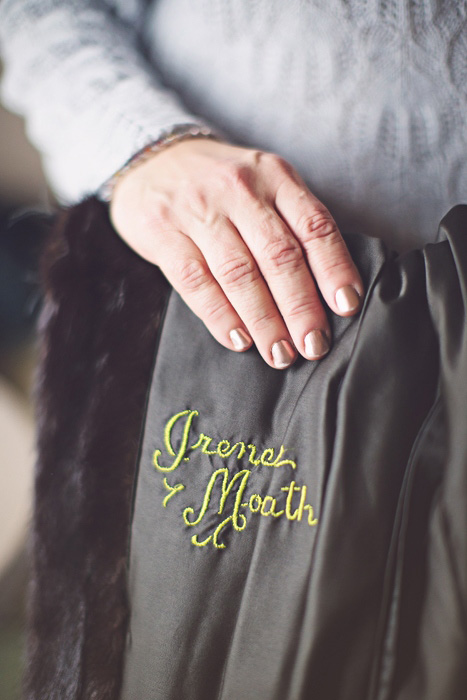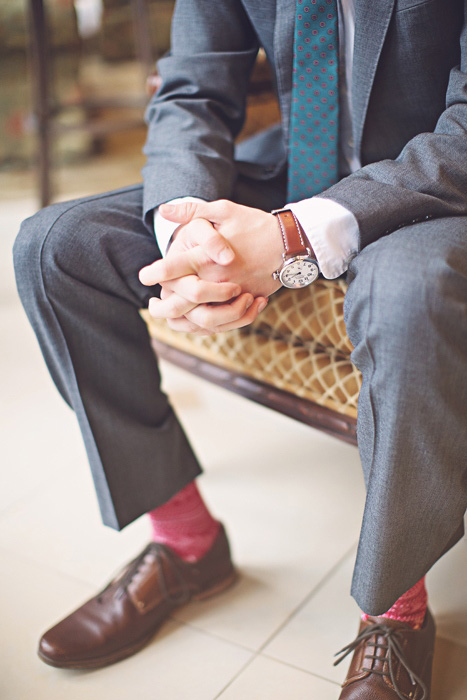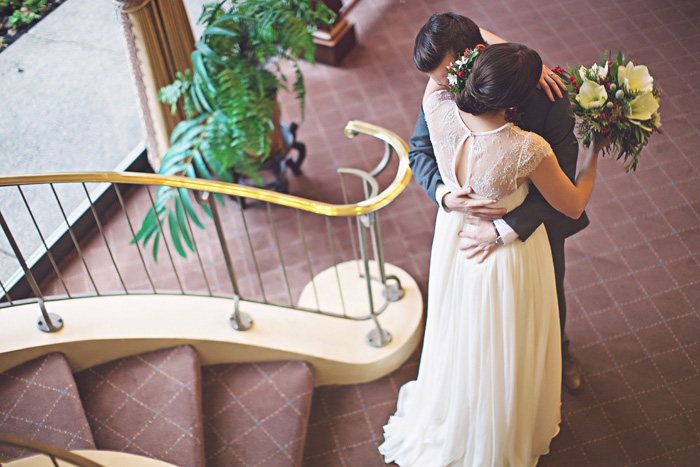 What are some the challenges that you faced planning an intimate wedding?
The guest list! Of course, with so many loved ones, it was quite hard to pare it down. Otherwise, most things went really smoothly – we did have a momentary panic about our ceremony music minutes before it started (I guess that's always a possibility when there's no planner or DJ), but it was easily fixed, and everything went smoothly.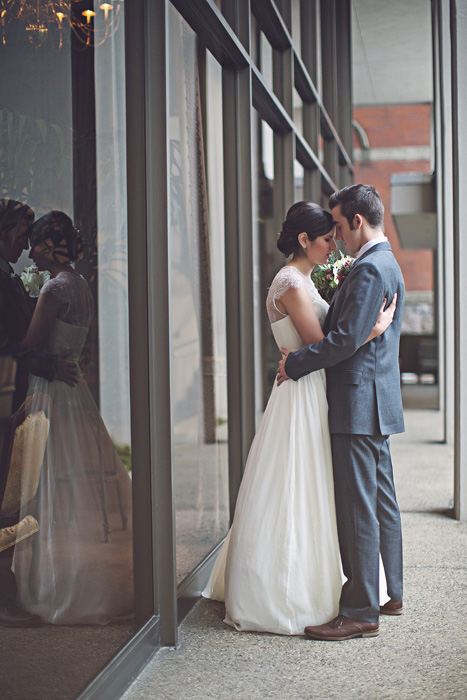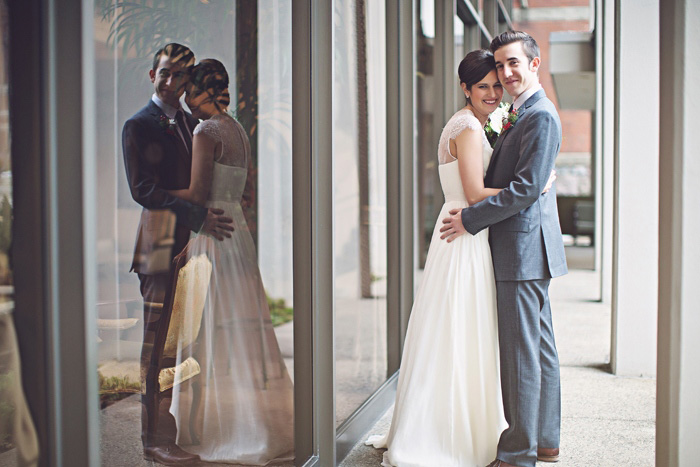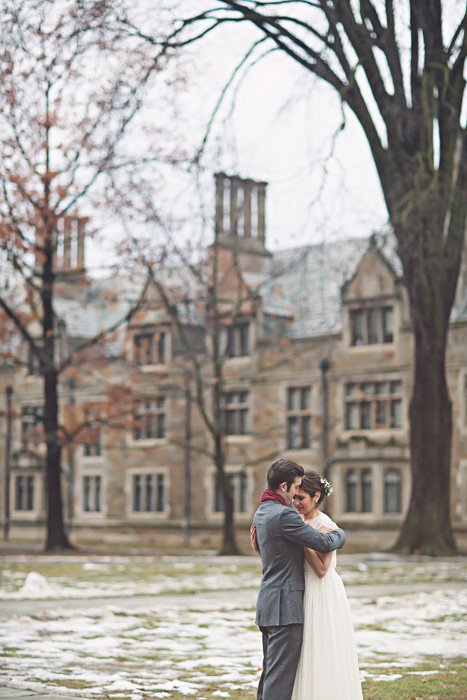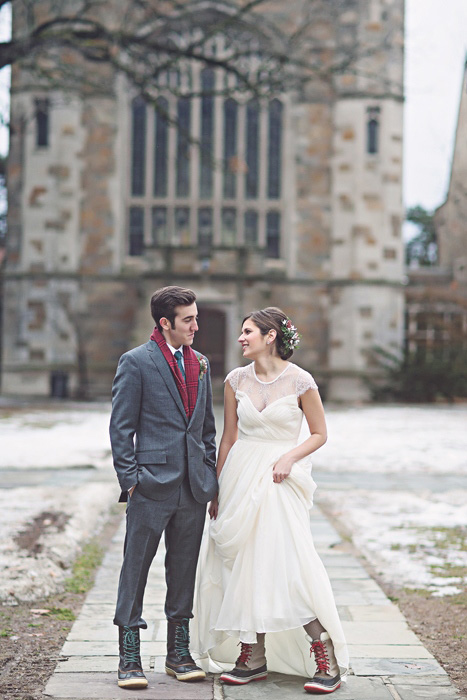 Was it difficult to pare down the guest list?
Yes. To combat this we just decided on some very narrow parameters, limiting it to immediate family and a few close friends, who likely would have been in our wedding party had we decided to do a bigger wedding. We only invited the significant others of those friends who traveled from out of town, as not to disrupt any holiday plans. At times it was stressful to think about not offending anyone in the process, but ultimately everyone was understanding and supportive.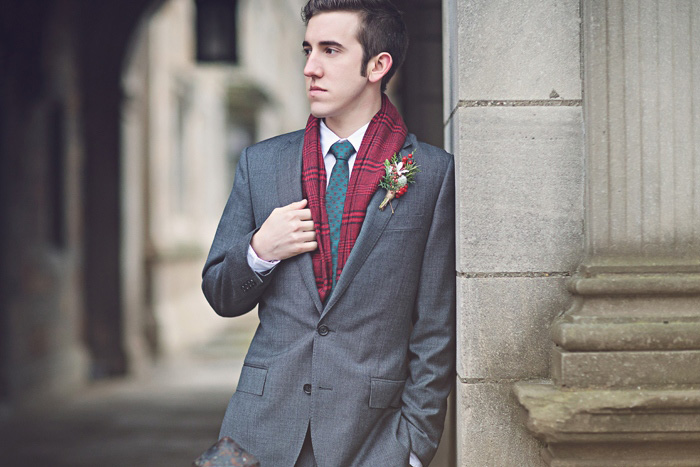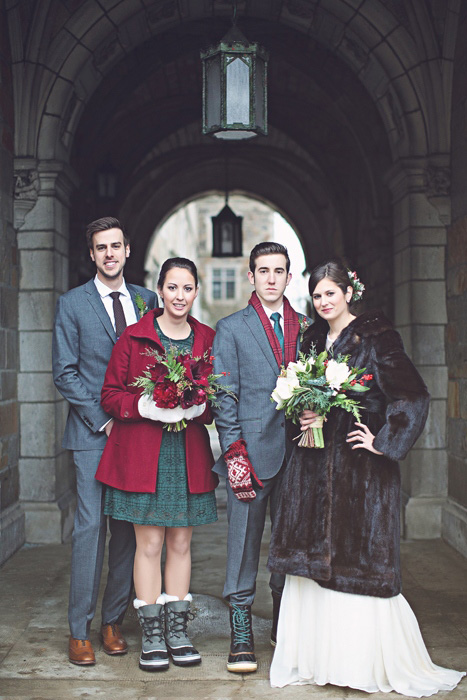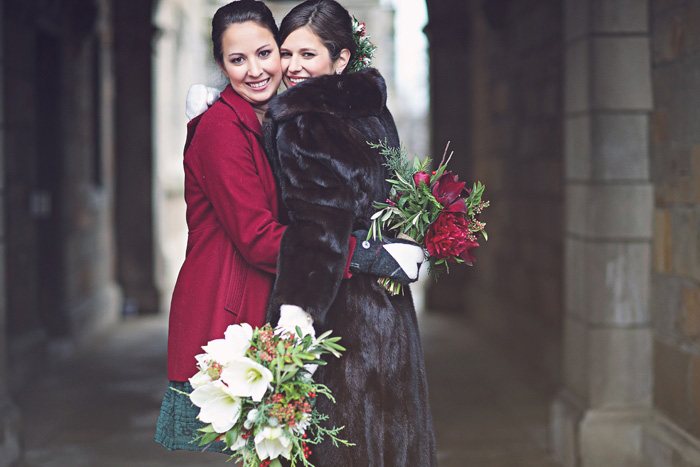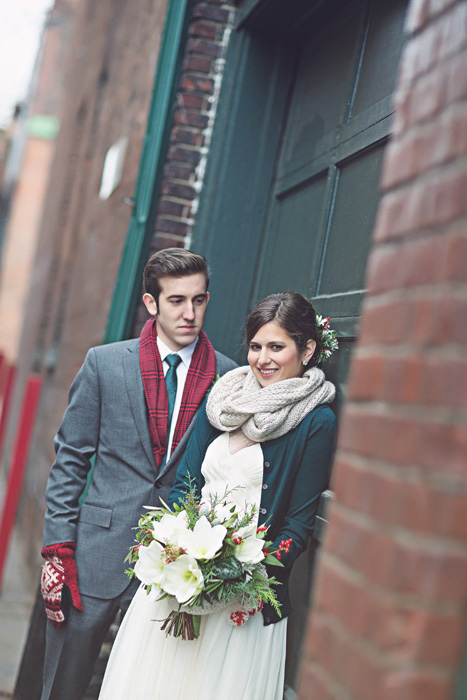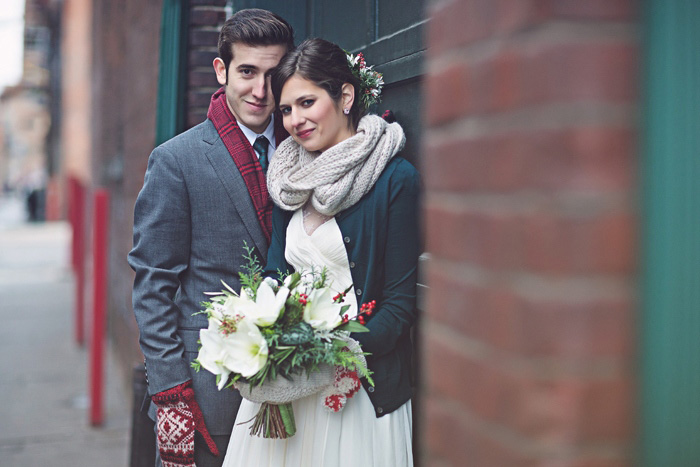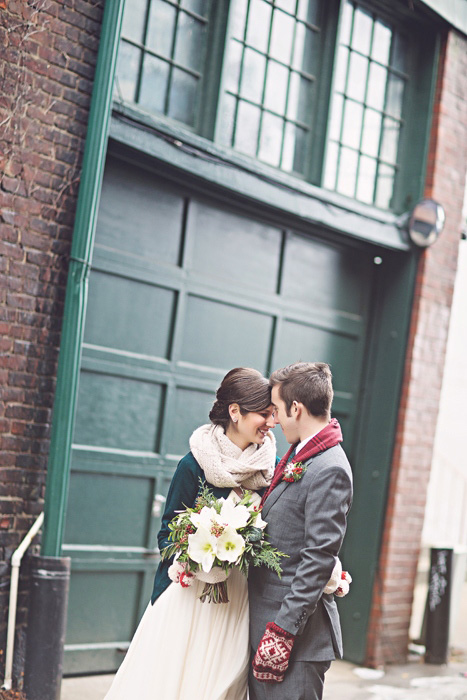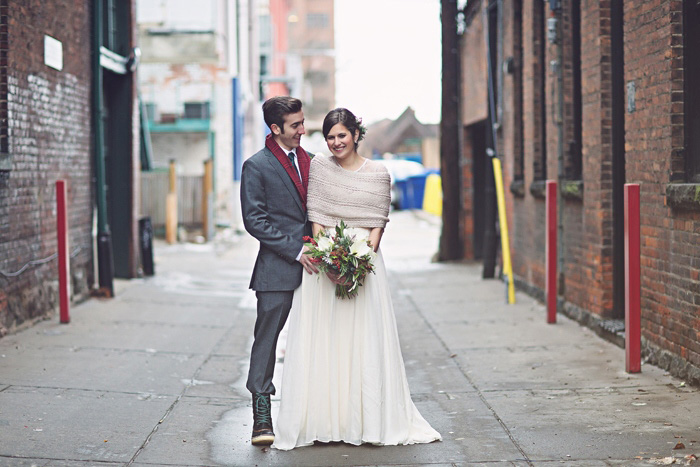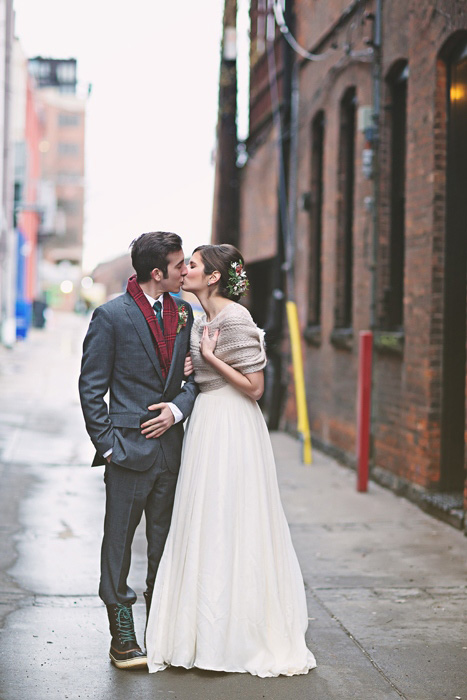 Did you have any 'issues' with the small guest list from friends and family? If so, how did you address them?
Really, no. Everyone was understanding and respectful. We tried to be transparent about our reasoning, and we also had a very informal brunch the afternoon after our wedding, to which we invited more guests – aunts and uncles, close cousins, and a few friends. This was kind of a compromise to allow more people to celebrate with us.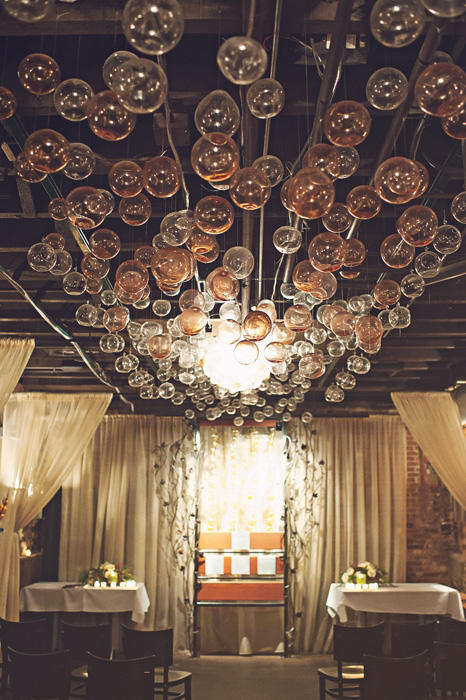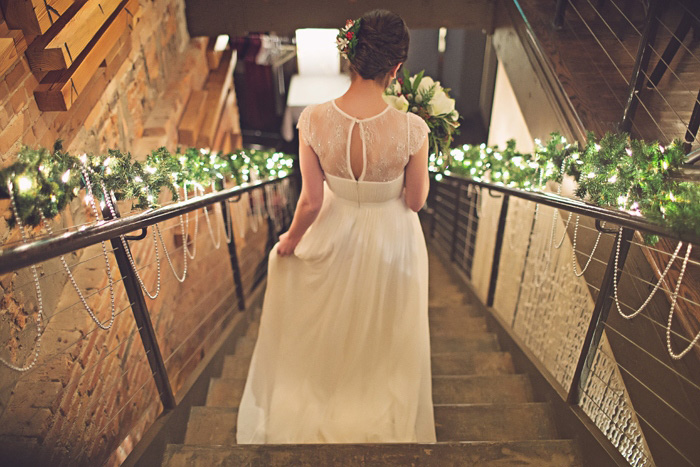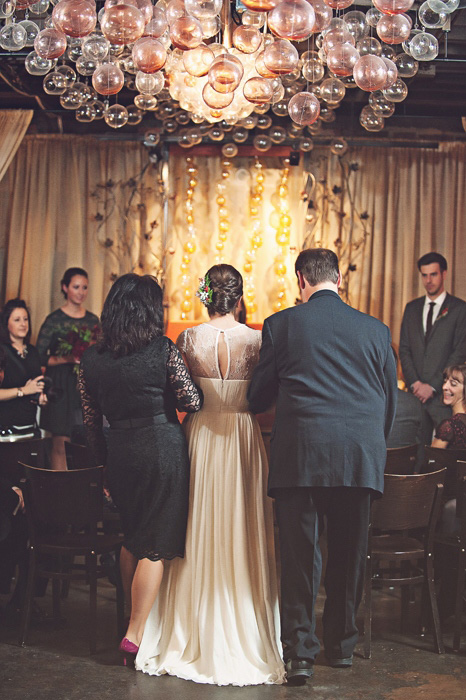 What were the highlights of the ceremony?
We did a first look ahead of the ceremony, and that allowed us to spend more actual time together throughout the day. The ceremony was fairly short and simple. I walked down the aisle to the song Dearest, which was a nod to Tristan's childhood affection for Buddy Holly. We had two of our siblings do readings that we had selected ahead of time with the help of our officiant, Stacey, who did an absolutely fantastic job helping us represent our relationship through our ceremony.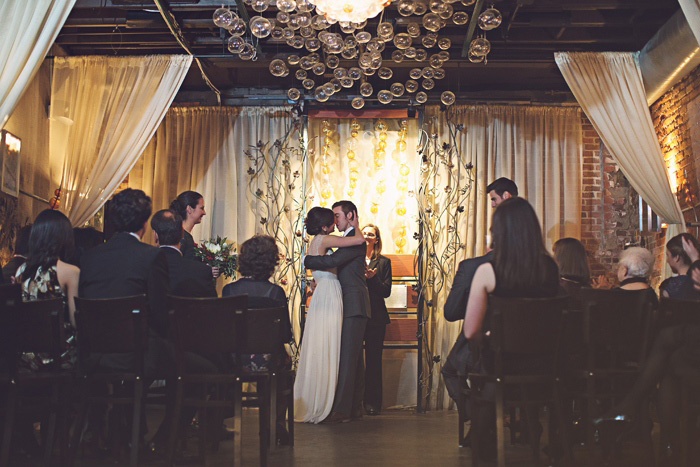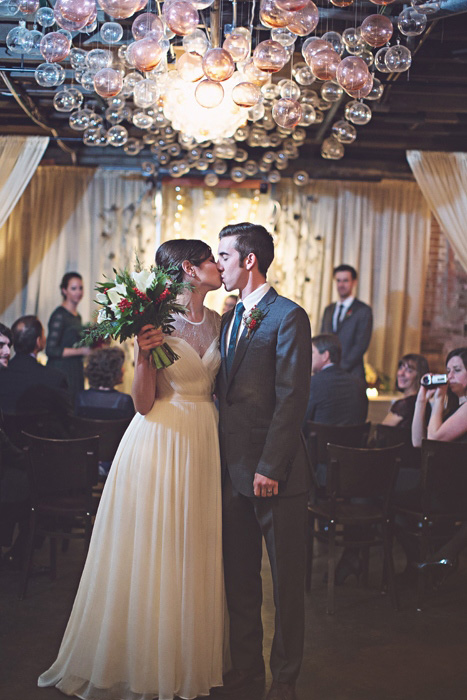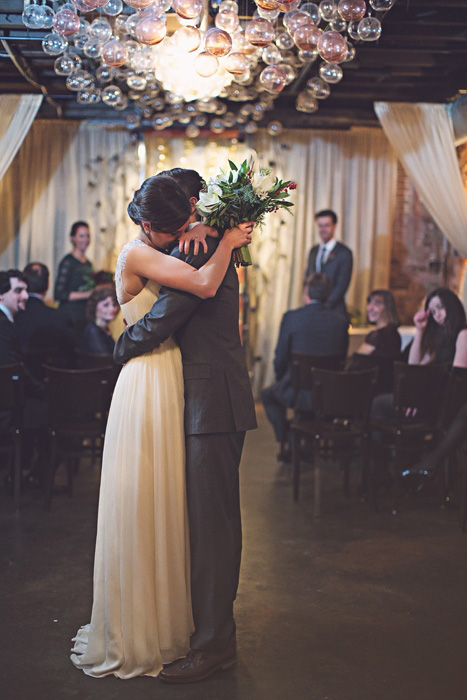 What were the highlights of the reception?
The food! The smoked duck was especially phenomenal, as were the individual petite chocolate lava cakes chosen in lieu of a wedding cake. Vinology is one of our favorite restaurants, and we have celebrated many other special occasions and dates  there, so it naturally felt like a fitting venue. Along with the venue, the flowers were essential part of setting the scene. I could not be more impressed with how much Susan was able to do with our small budget and limited guidance!
In terms of traditions, we did decide to incorporate a few meaningful ones, including toasts and first dances. My sister, Megan, charmed us with a humorous, heartfelt maid of honor speech that really captured the essence of our relationship. My dad's speech had the entire table in tears, and Tristan's dad also offered his love and blessing via an impromptu toast. The best man's speech was certainly a highlight as well. In line with a Greek tradition, Manoli presented us with his Mati, a little gold and crystal eye talisman, which had been passed down to him through his great grandparents. Matis are given to family members in moments of celebration as a kind of sentimental protection – protect the new baby, protect the new marriage, etc. In giving us his, Manoli included us in his family – a touching symbolic gesture that we will certainly never forget.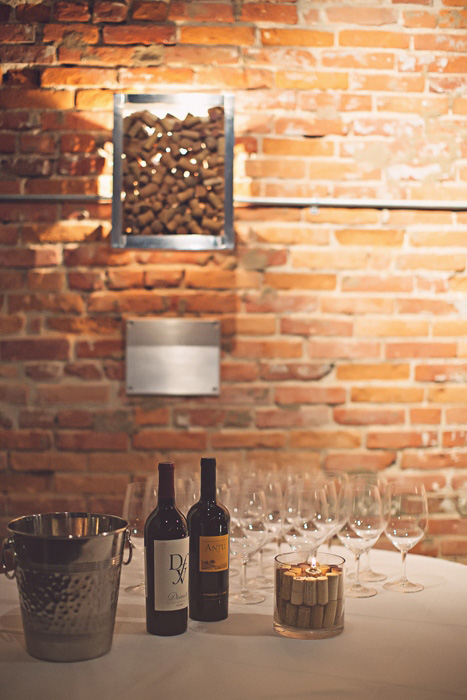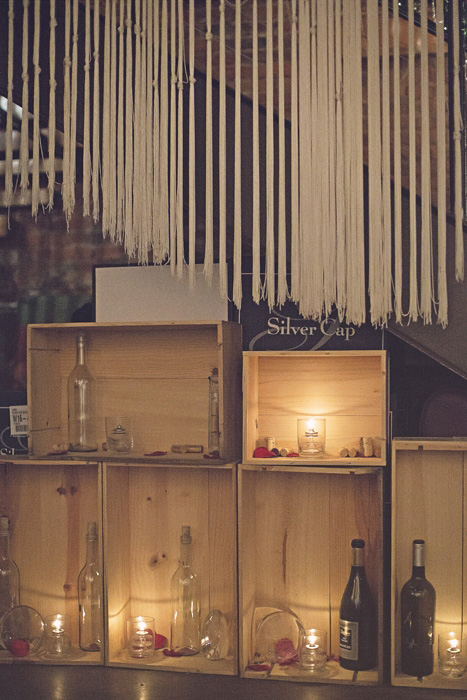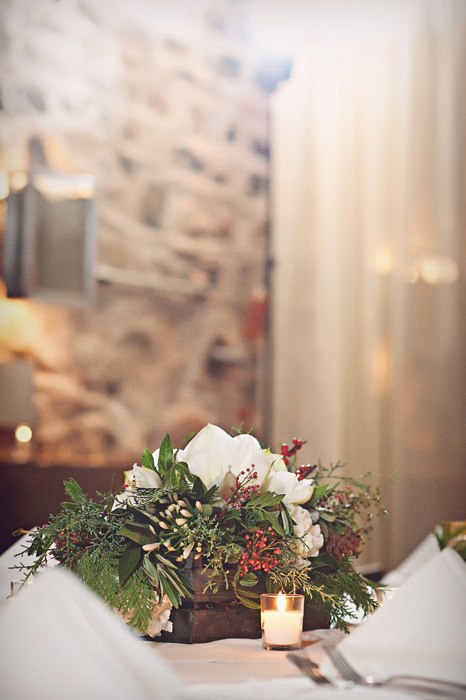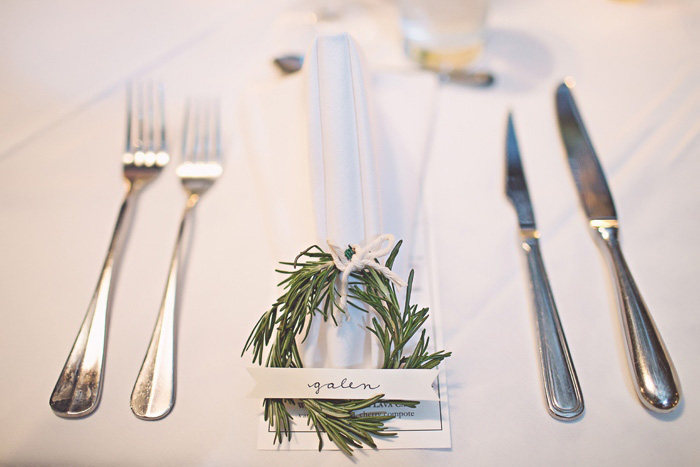 What was the best thing about having an intimate wedding?
The low stress level. We really did minimal planning and preparation along the way, so much so that family, friends, and co-workers were often taken aback by relaxed we were. Tristan did most of the coordination with vendors; I only really took care of the dress, hair and make-up, and flowers. On the day of, it was really incredible to be able to take in the weight of the day and our marriage, enjoy good company, good food, and good wine without any other concerns or obligations.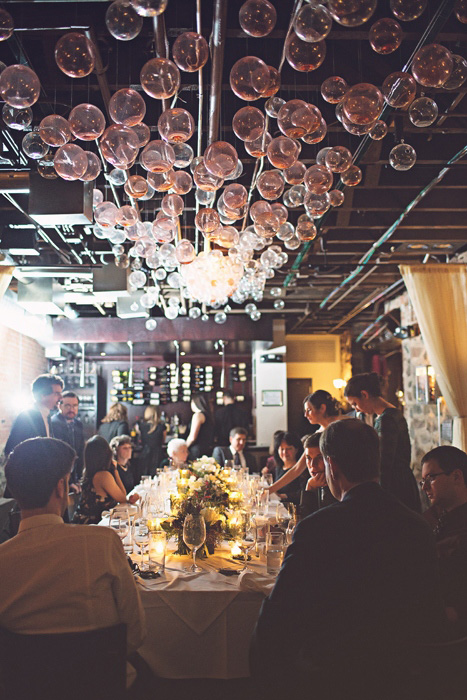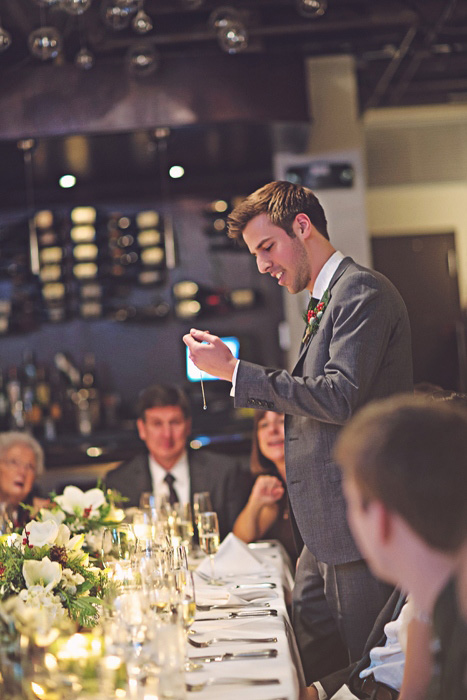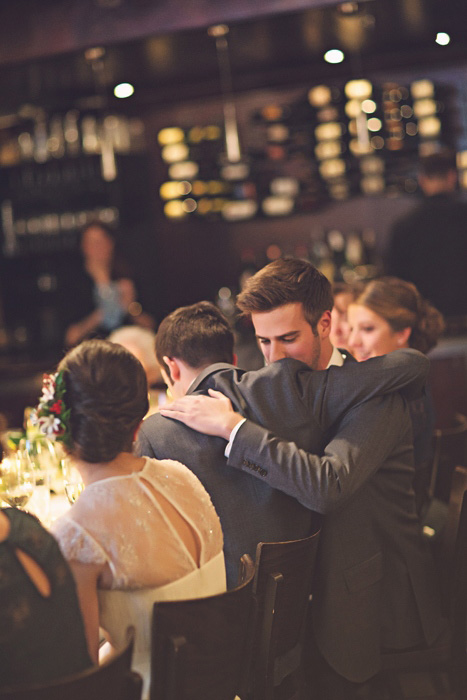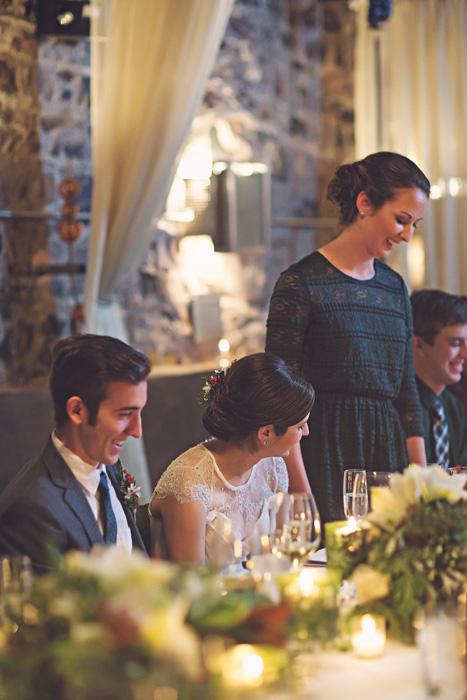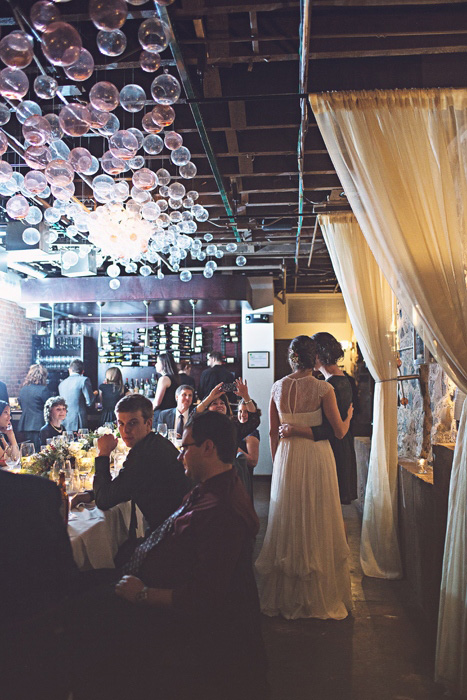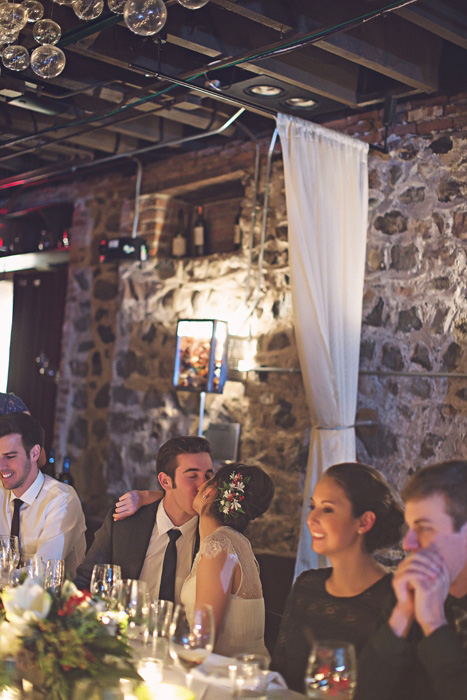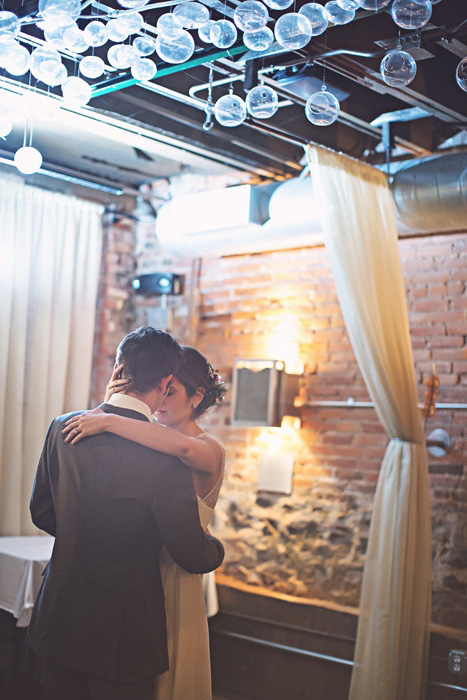 What advice do you have for couples who are considering an intimate wedding?
If it's a possibility and a good fit for you, do it! Whatever you decide, make sure your decision is made by you and those close and important to you, not on the basis of what other people will think or what culture or tradition dictates.  We encountered all kinds of comments in our planning process, both negative and positive. Regardless, we knew we made the right decision for us and our situation, but also know our decision is not the right one for everyone. Also, if you can afford to invest in a professional photographer, by all means do! Our friends and family not in attendance were all especially eager to see and experience our wedding though Mishelle's stunning images!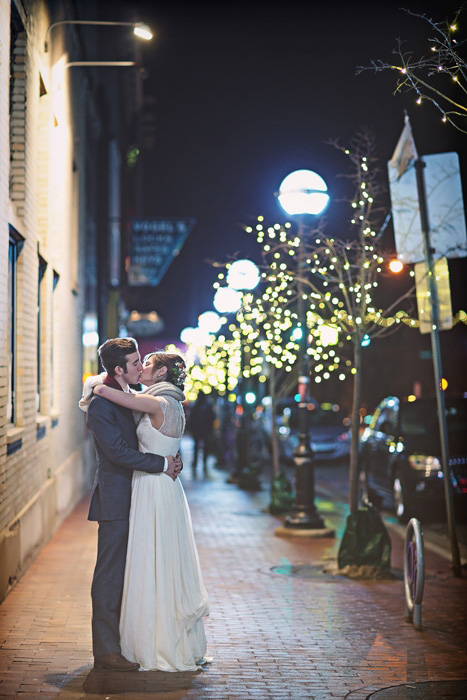 Vendors:
Photographers: Primary – Mishelle Lamarand Photography / Second Shooter – Meg Darket Photography
Floral Design: Susan Mcleary of Passionflower Events
Hair and Make-up:  Teresa Balogh of Mi Amore Event Hair and Make-up
Officiant: Stacey Swickerath of A Simple Ceremony
Wedding Dress and Groom's Suit: J.Crew
Accessories: Vintage (grandmother's shoes, earrings and fur coat); Etsy (scarves, mittens); Sorel (boots)
Dress Alterations: Peggendott Design Studio
Paper Design: Hand drawn and printed by the bride
Venue: Vinology