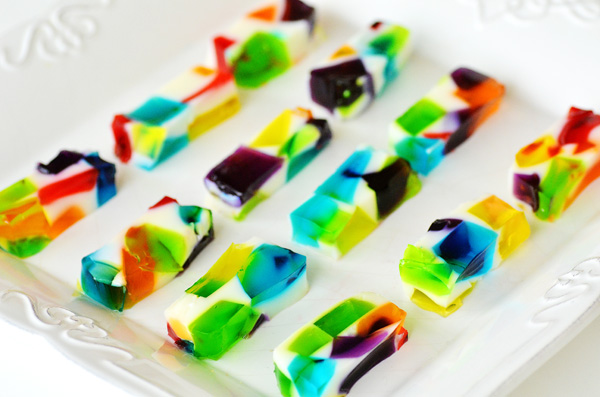 I don't know about you, but sometimes my eyes need a break from the pastel vintage haze that is everywhere in weddingland. Don't get me wrong – my love affair with vintage has not died a sudden death, it's just that sometimes I crave big, bold, bright, exciting colors. And something new. Different.
Enter Jell-o.
What's more colorful and synonymous with fun than Jell-o? It's the perfect combination of kitsch, sugar and jiggle to make it a playful addition to any reception. Or cocktail hour (if you add vodka.)
But  the real 'cool factor' comes from the random, abstract designs you can create using Jell-o.  Each of of these bite sized cubes resembles a mini abstract masterpiece. Move over Picasso!
Want to make 'em? Here's the recipe and tutorial: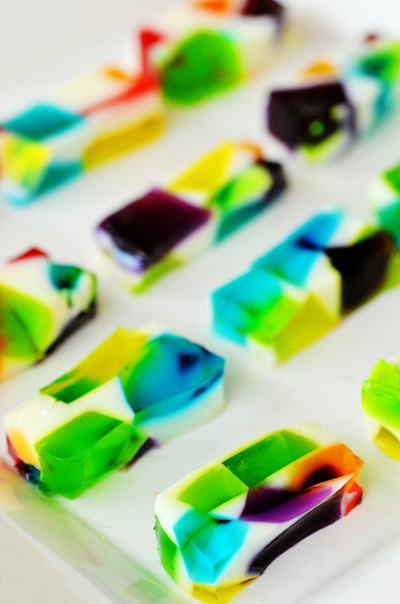 Jell-O Art (Adapted from The Food Librarian)
Ingredients:
4-6 three oz boxes of Jell-o in various colors (use four boxes if you want the top to be smooth.)
One 14 ounce can of sweetened condensed milk
2 envelopes of unflavored gelatin
boiling water
Follow instructions on back of Jell-o packages and make your Jell-o. Let sit for several hours in the fridge.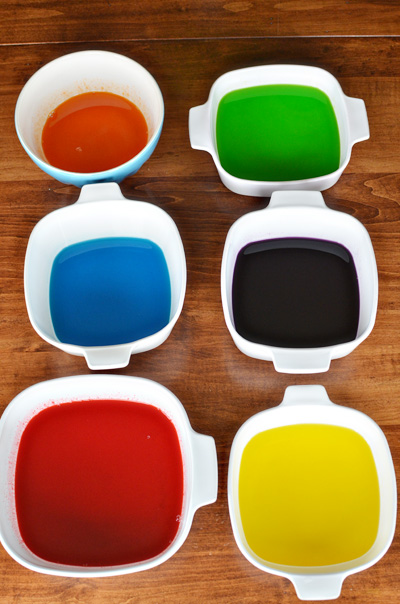 Once the Jell-o has set, cut the Jell-o into cubes.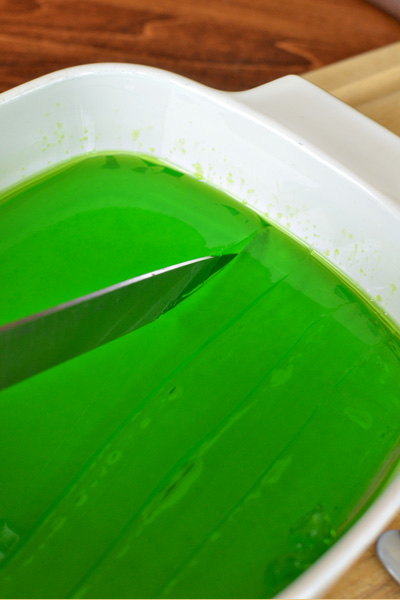 Lightly oil a 9″ x 13″ Pyrex baking dish. (I dipped a paper towel in canola oil, and wiped it down.) Place cubes into casserole dish.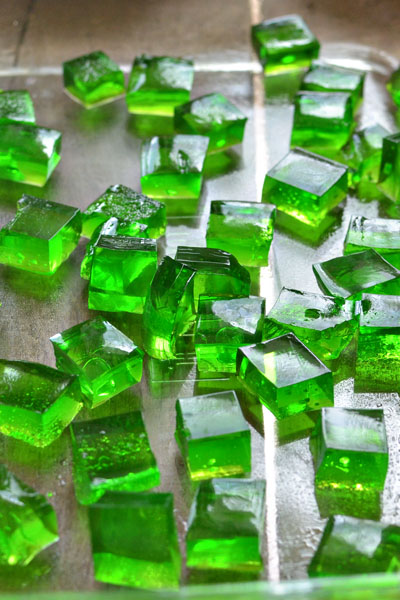 Repeat with all colors, mixing them in the pattern of your liking.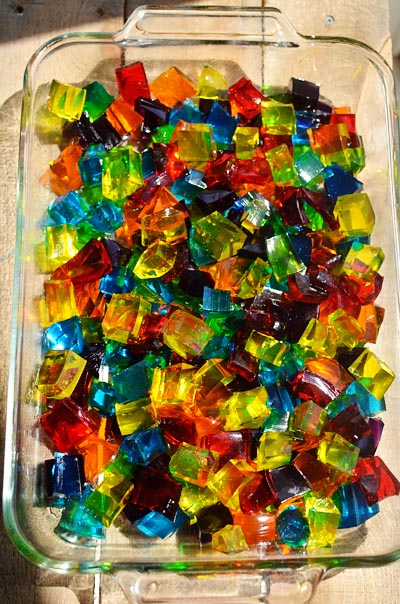 So pretty in the sunshine.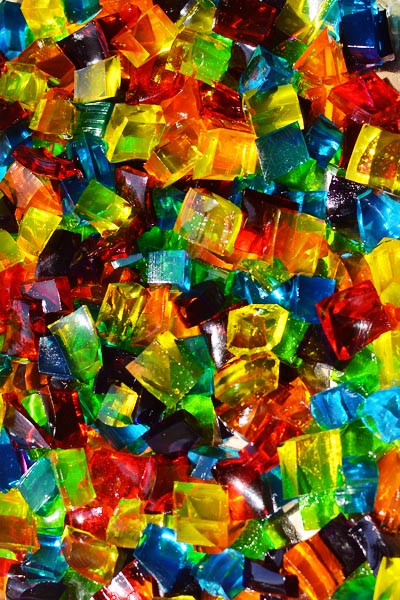 In a separate bowl, sprinkle two envelopes of gelatin into 1/2 a cup of cold water. Let sit for a minute or two.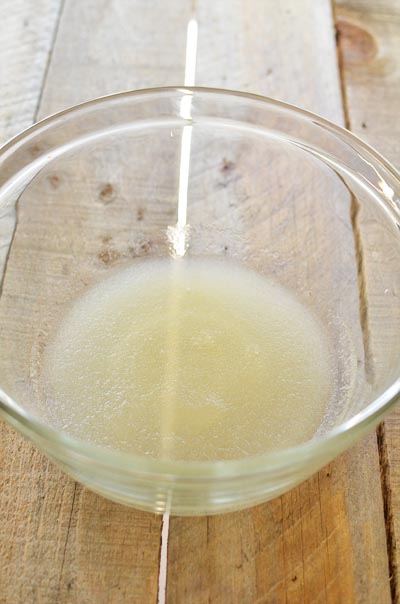 Add 1 1/2 cup boiling water and dissolve. (I stirred mine.) Add the can of condensed milk. Stir and cool. (I set mine in the fridge for 1/2 hour.) Once it has cooled, pour the mixture over your Jell-o cubes. To remove bubbles on the surface, blow on them with a straw. Refrigerate overnight.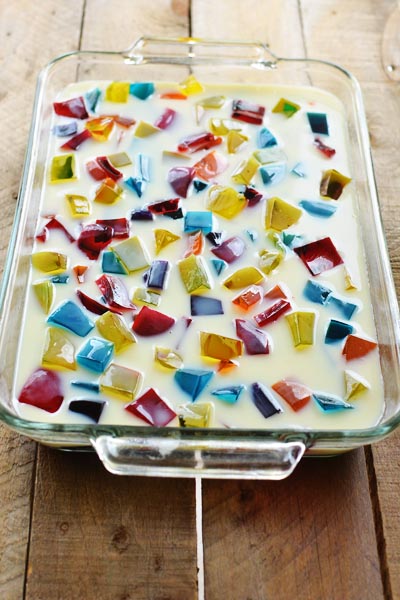 Once Jell-o is set, use a very sharp knife dipped in HOT water to slice Jell-o into squares.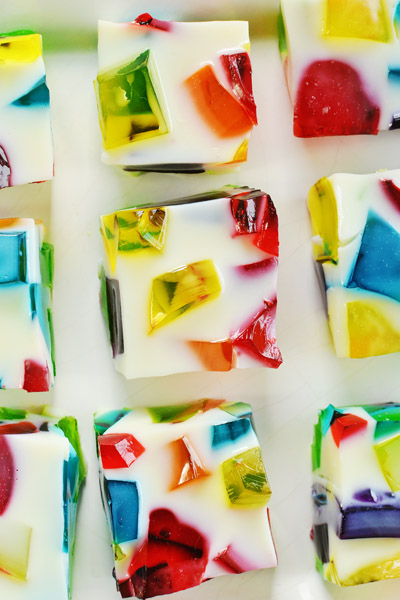 Dip knife into hot water again and cut a thinner horizontal strip. Repeat process until you are done. There you have it: art you can eat!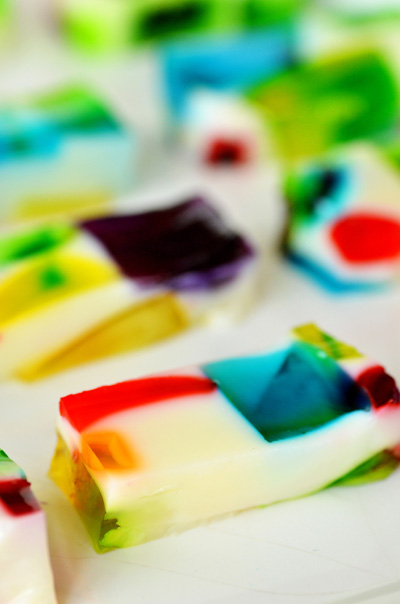 Perfect for a wedding here, don't you think?