Are you planning a winter wedding and wondering how to look cute and stylish while not freezing to death at the same time? It's easier than you might think and we've rounded up some of our favorite looks for winter brides to show you how. We promise, staying warm has never looked so good!
To start, can we all just agree that brides in cardigans are the sweetest? Now throw in a big, warm scarf and a pair of mittens and you'll be the cutest and coziest bride on the block.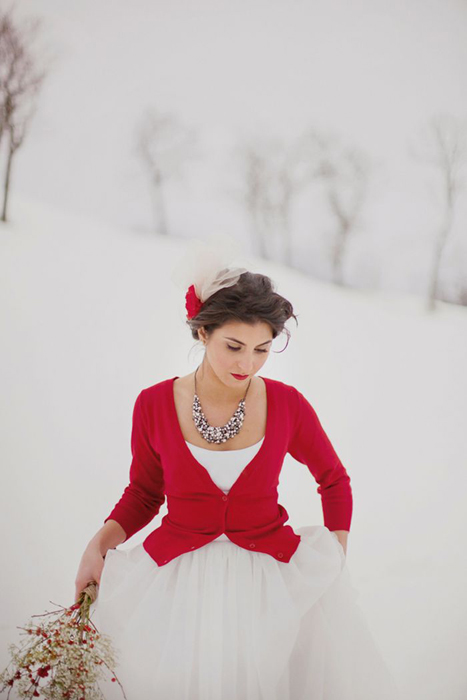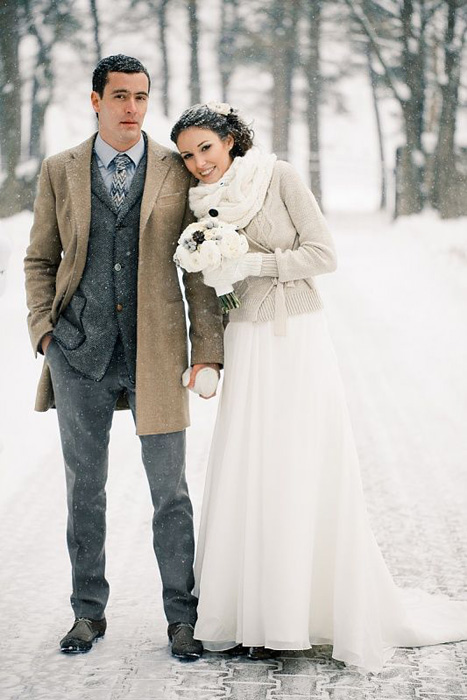 If you want to stay warm, but are looking for something with a little edge, a leather jacket can help keep the chill at bay while guaranteeing you look totally bad-ass on your wedding day.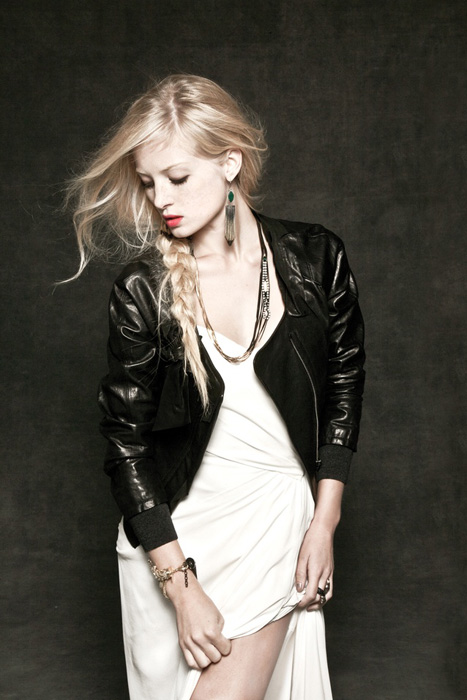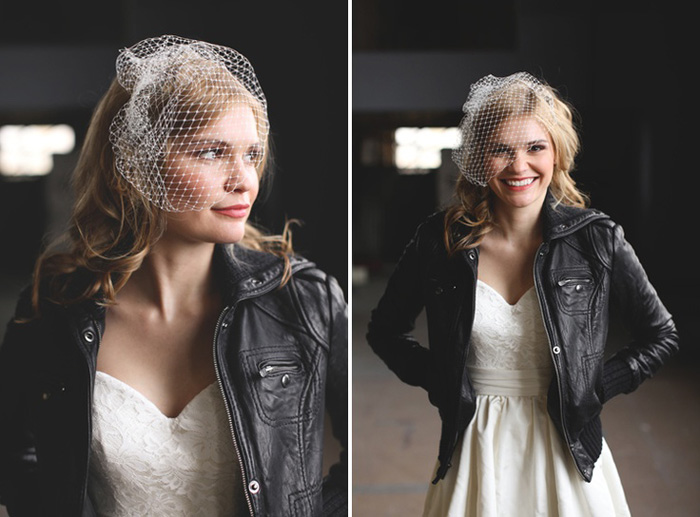 When the temperature drops and the snow to starts to fall, we're pretty sure nothing beats being wrapped up in a big chunky wool scarf. If you're looking for a little extra warmth, however, you could try a knit capelet or poncho instead. Or why not try a cape on for size; after all, if you can't rock one on your wedding day, when can you?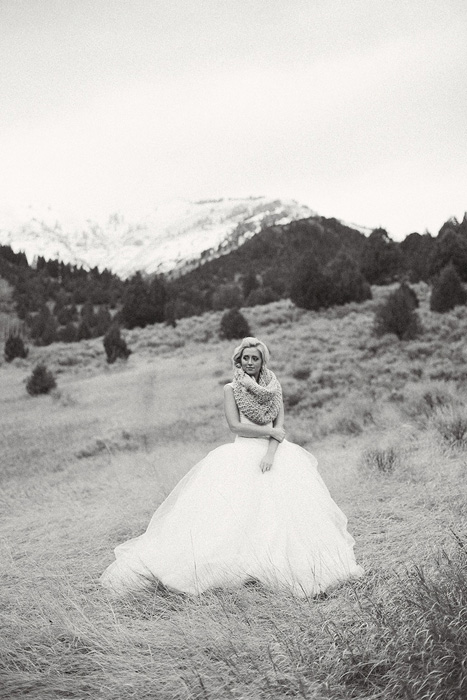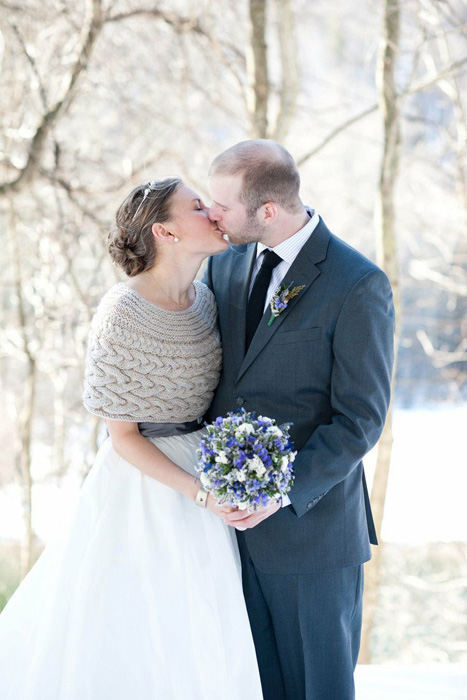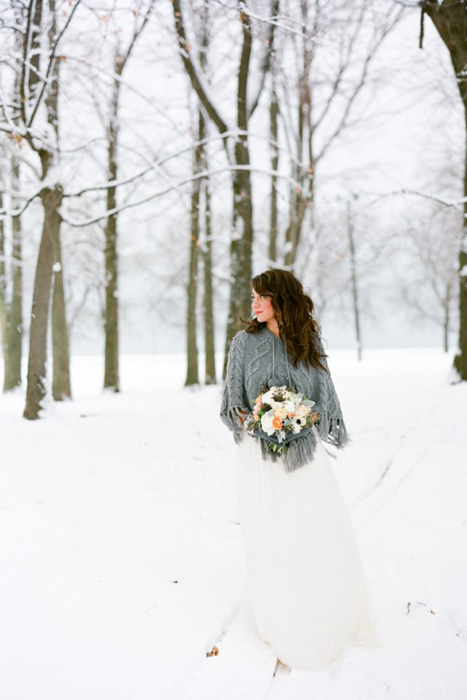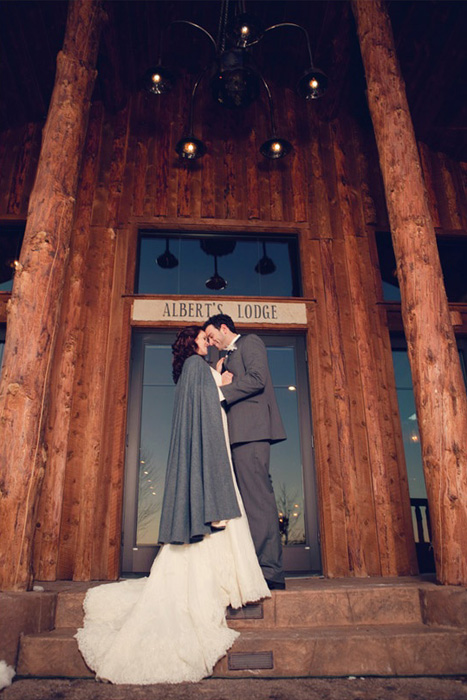 You might not think that wearing a winter coat on your wedding day is the most elegant option, but we disagree. A white wool coat is a classic and sophisticated choice while a vintage coat will add a touch of personality to your wedding day ensemble. Either way, we think you'll look smashing.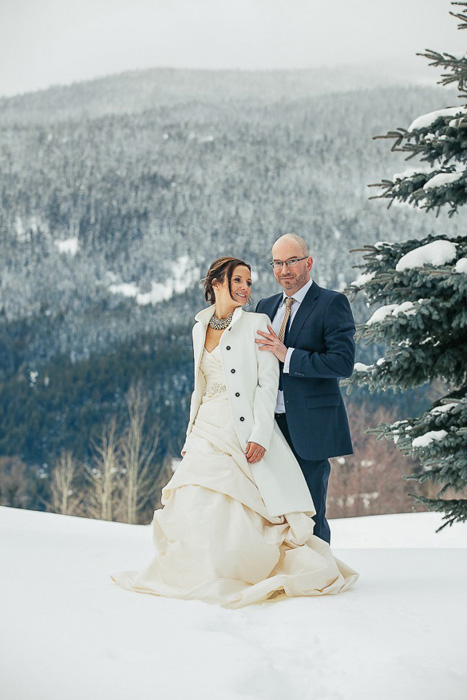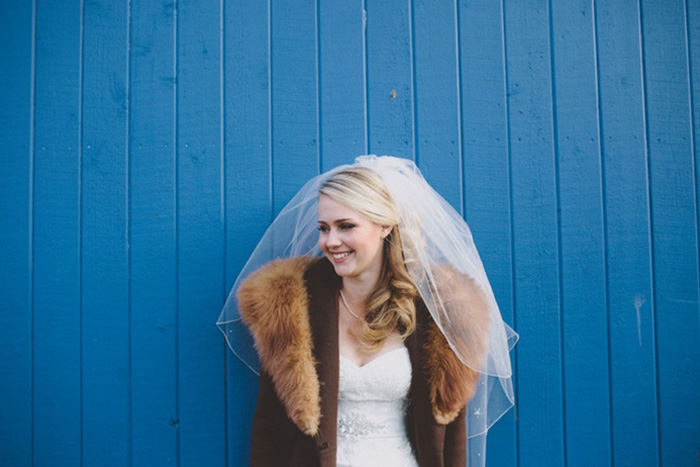 And if you're looking to stay extra extra warm on your big day, you can't go wrong with a little faux fur.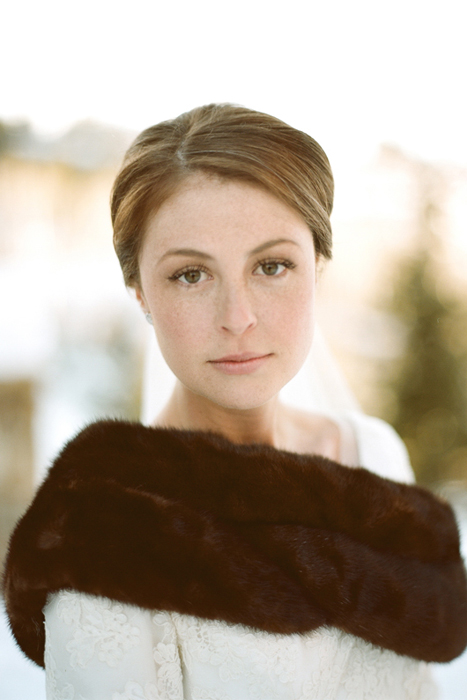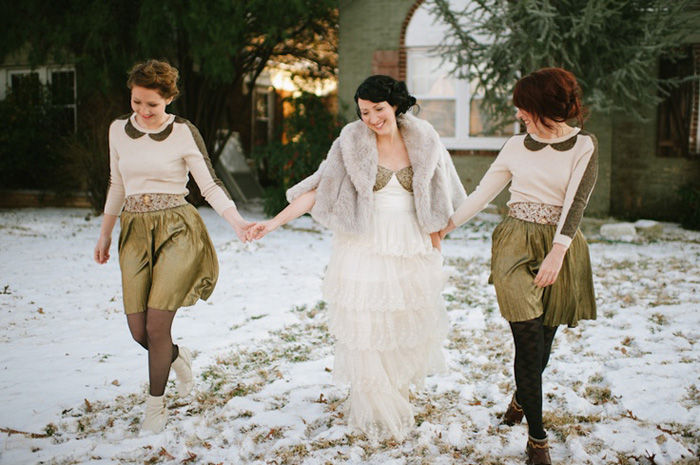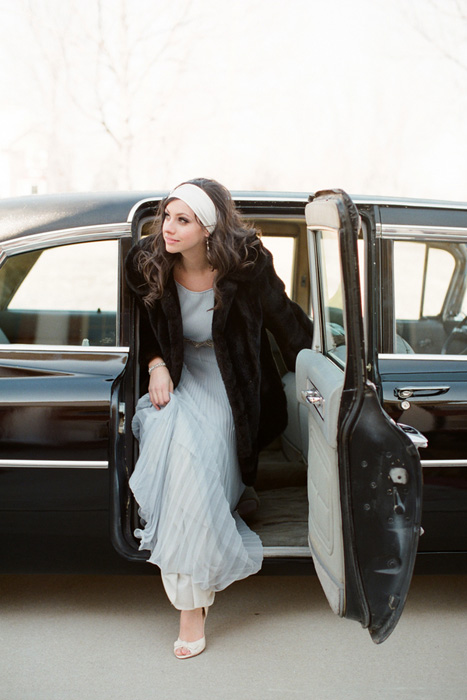 Don't forget to keep your legs and tootsies warm too. Cable knit wool tights will keep those gams from turning blue while a pair of winter boots will ensure your toes are toasty for your outdoor photo session; whether you choose to show them off for all to see or keep them hidden under your gown is up to you.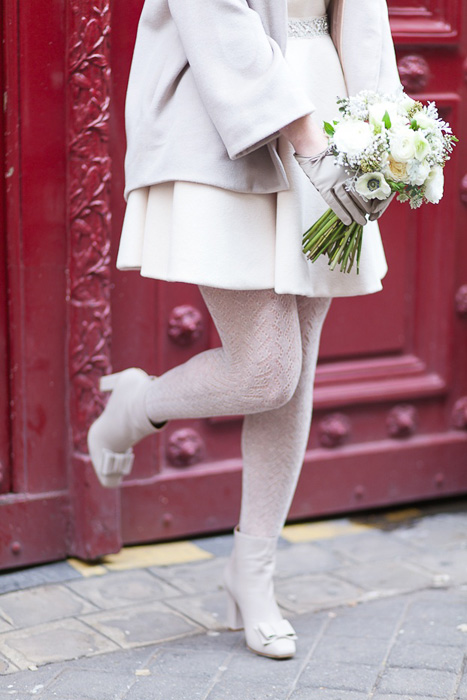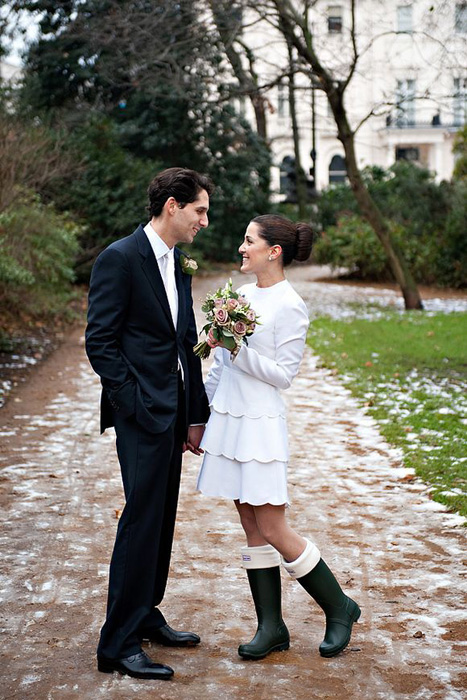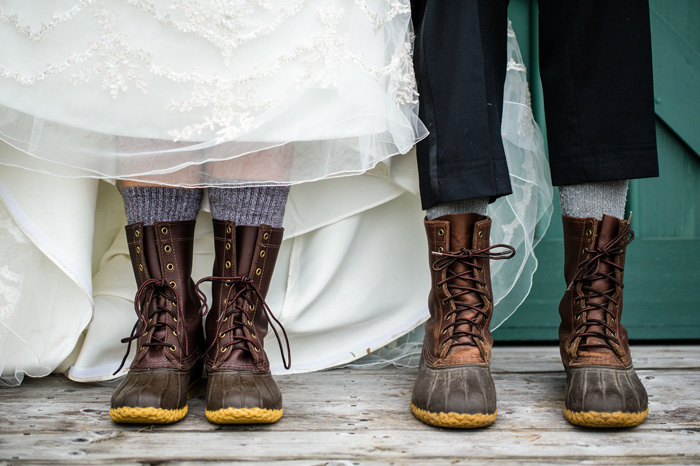 We understand that the last thing most brides want to deal with on their wedding day is a case of hat hair, but it just might be worth it to look as adorable as this bride does in her trapper hat!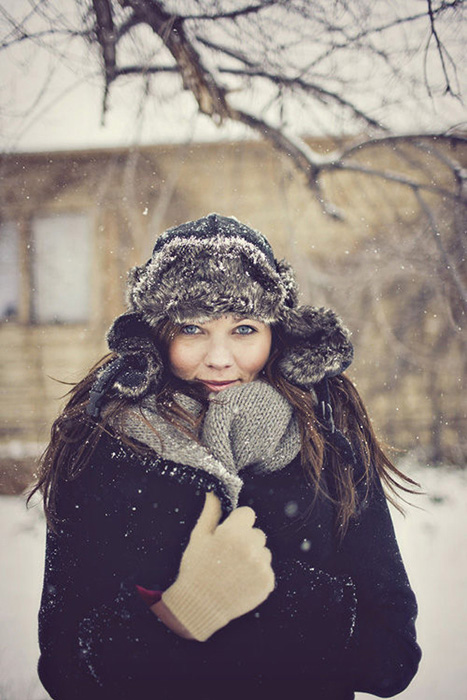 Photo one: greenweddingshoes.com; Photo two: anastasiyabelik.com; Photo three: mnbride.com; Photo four: aaronsnowphotography.com; Photo five: samijophoto.com; Photo six: xancraven.com; Photo seven: stylemepretty.com; Photo eight: elizabethannedesigns.com; Photo nine: 100layercake.com; Photo ten: darkoroom.com; Photo eleven: uschiandkay.com; Photo twelve: snippetandink.com; Photo thirteen: candiphoto.com; Photo fourteen: lovebirdproductions.com; Photo fifteen: lamarieeauxpiedsnus.com; Photo sixteen: lovemydress.net; Photo seventeen: beehivecreativeevents.com; Photo eighteen: sloanphotographers.info