You have probably seen cute, yellow flowers popping up around weddings a lot lately. Meet Billy! Billy Buttons, that is.
Billy Buttons (aka Billy Bobs) have such a distinct color and shape that they add gobs of character wherever you apply them. They look beautiful in bouquets, but I want to show some other uses for them. Billy buttons are a great accessory to add simple pops of color to any wedding day element you choose.
Billies in your hair are brilliant. Shown here they can look formal and mod or whimsical and bohemian.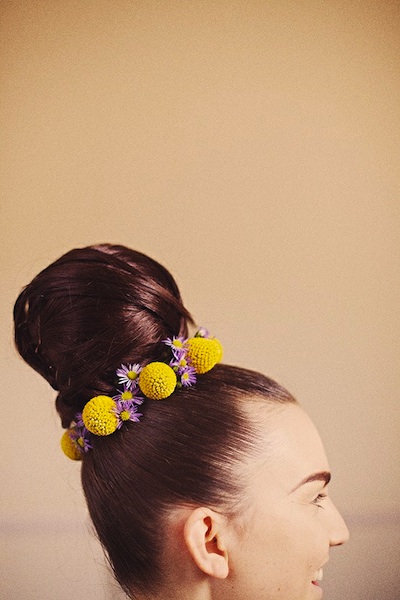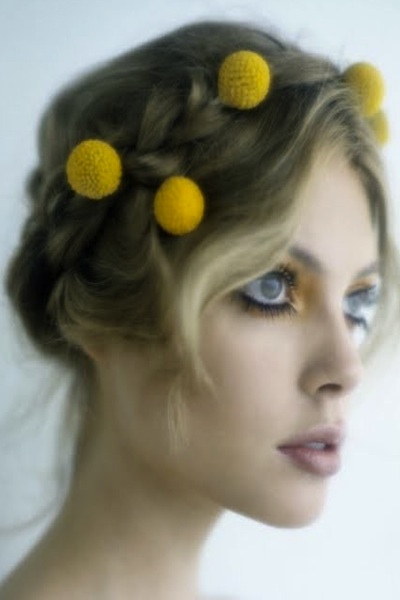 They're also great for accenting your alter space.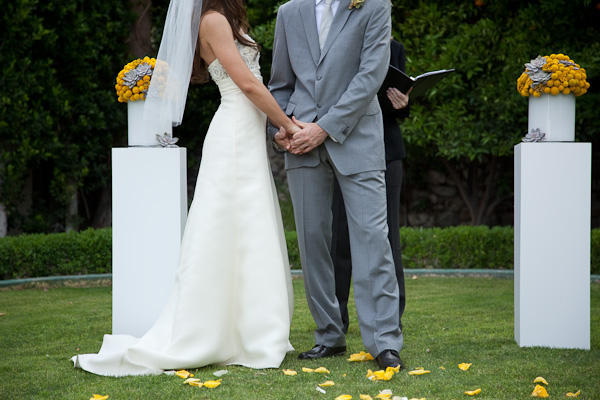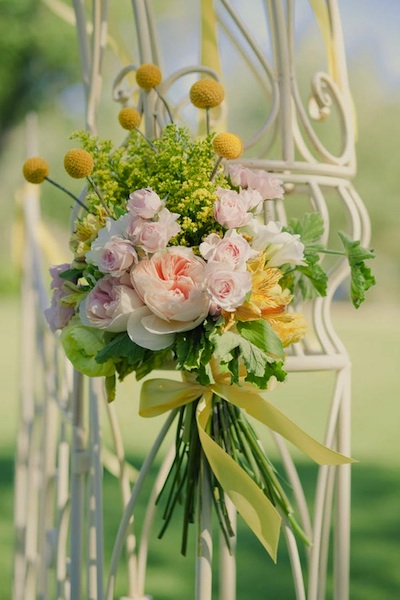 I said I wouldn't share bouquet photos, but I do want to share billy boutonnieres! These are so simple, but make such an impact. There is even a DIY demo for the feathered boutonniere!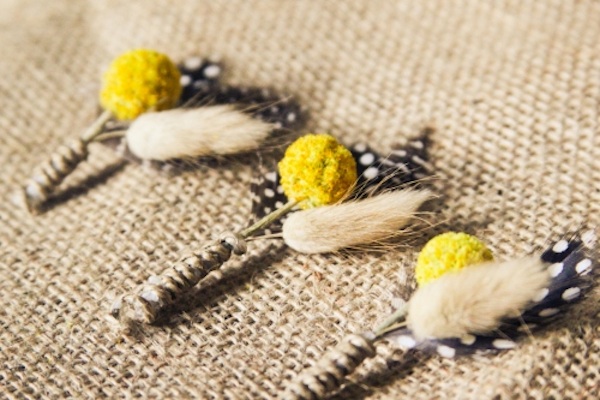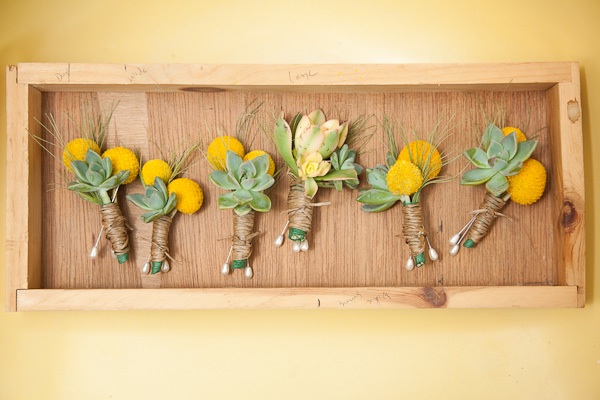 Billy buttons are so distinct that their centerpieces don't have to be complex, simple natural elements are all that are needed to supplement them.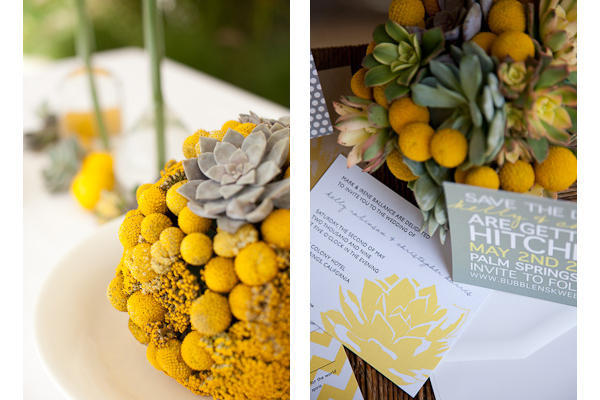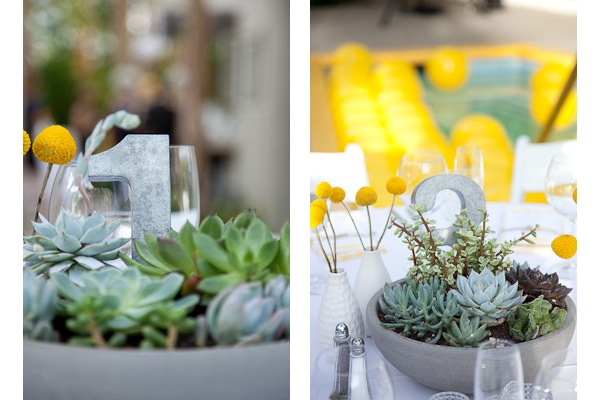 I love flowers on simple cakes. It's a great way to make a less expensive cake look more interesting and a great way to add details and color to an otherwise plain design. Here are two beautiful Billy Button adorned cakes.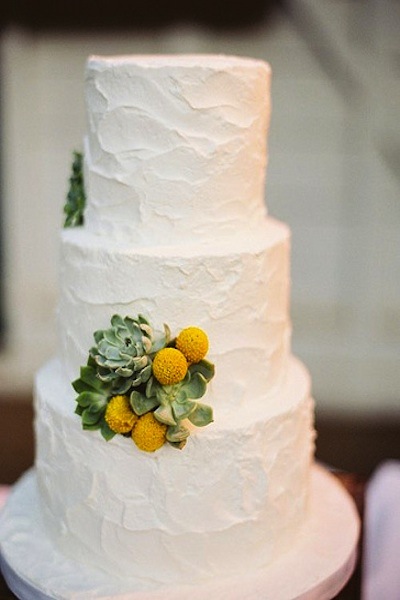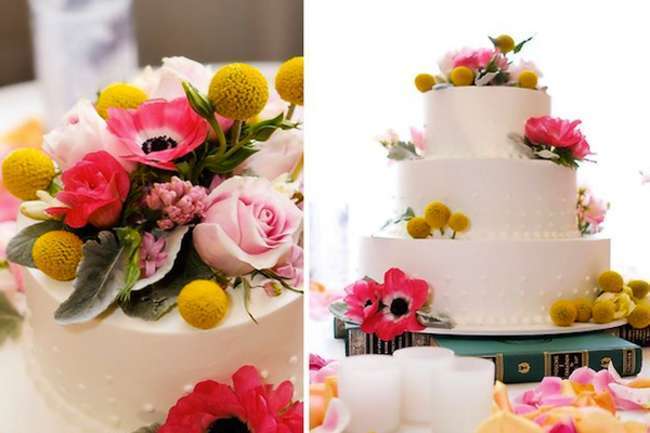 Hopefully you're as in love with Billy Buttons as I am! The yellow pop of color is perfect to liven up a more neutral area, or to add to your other brightly colored elements.  If your local florist doesn't carry these flowers, have no fear – they're available online for wholesale as well!
Photo One: sarahgawler.co.uk/blog; Photo Two: welliesandvogue.com; Photo Three: erinheartscourt.com/blog; Photo Four: stylemepretty.com; Photo Five: woodlanddreams.net; Photos Six, Seven and Eight: erinheartscourt.com/blog; Photo Nine: lunaandchloeweddings.com; Photo Ten: goodsunshine.blogspot.com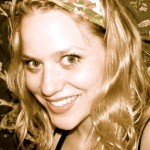 Rebekah is a DIY obsessed,wedding design wizard who loves hunting her bay area homeland for  clever craft ideas, vintage gems, bargain buys, and blogging inspiration. She and her husband live  and write in Oakland. Read her blog