Minimalist couple Carolyn and Bill wanted something earthy and no-frills when it came to their wedding day and that's exactly what they got at chef Michael Stadtlander's Eigensinn Farm in Singhampton, Ontario. Complete with a First Nations smudging ceremony to clear out any negative energy, the couple paid homage to the groom's Northern Ontario roots and the groom's late brother as they exchanged their vows in the farm's 'Oyster Temple of Love', a hand built hut covered in oyster shells. After the ceremony, they celebrated with hors d'oeuvres in the property's teepee before finishing their evening with an exquisite 6 course farm to table meal shared with their closest family and friends.
Special thanks to Stacey Wight for sharing Carolyn and Bill's incredible wedding with us today!
Carolyn & Bill
Singhampton, ON Canada
Wedding Date: September 21, 2014
Number of Guests: 25
Wedding Ceremony Location: Eigensinn Farm
Wedding Reception Location: Eigensinn Farm & Haisai Bistro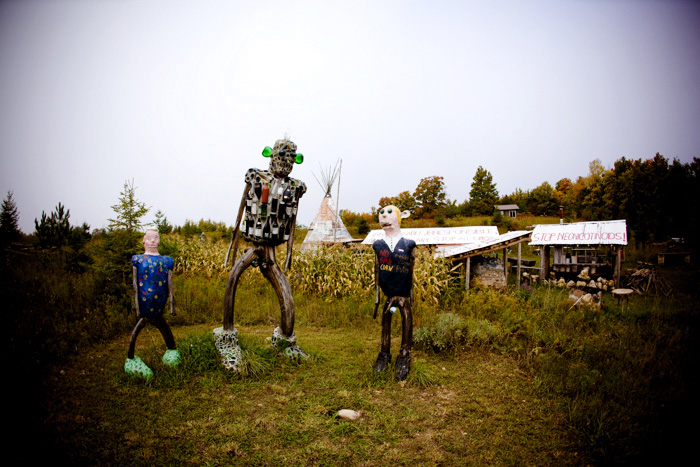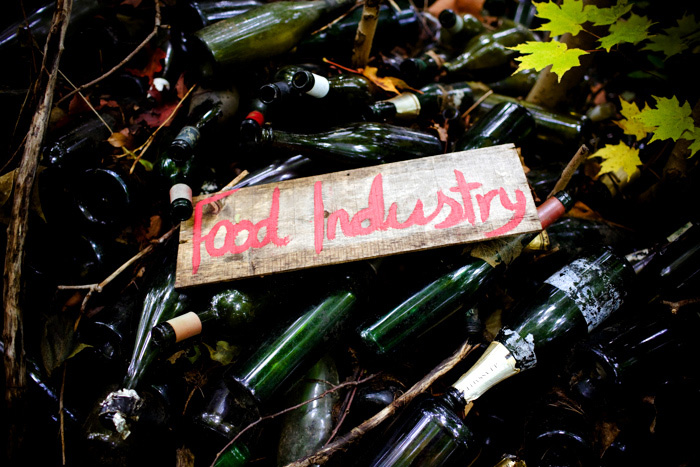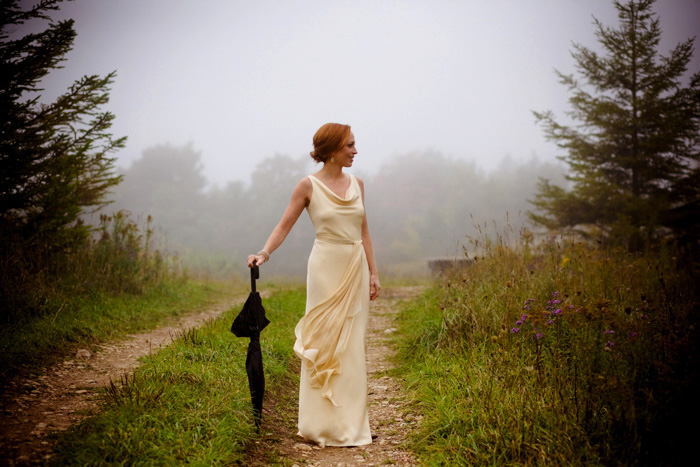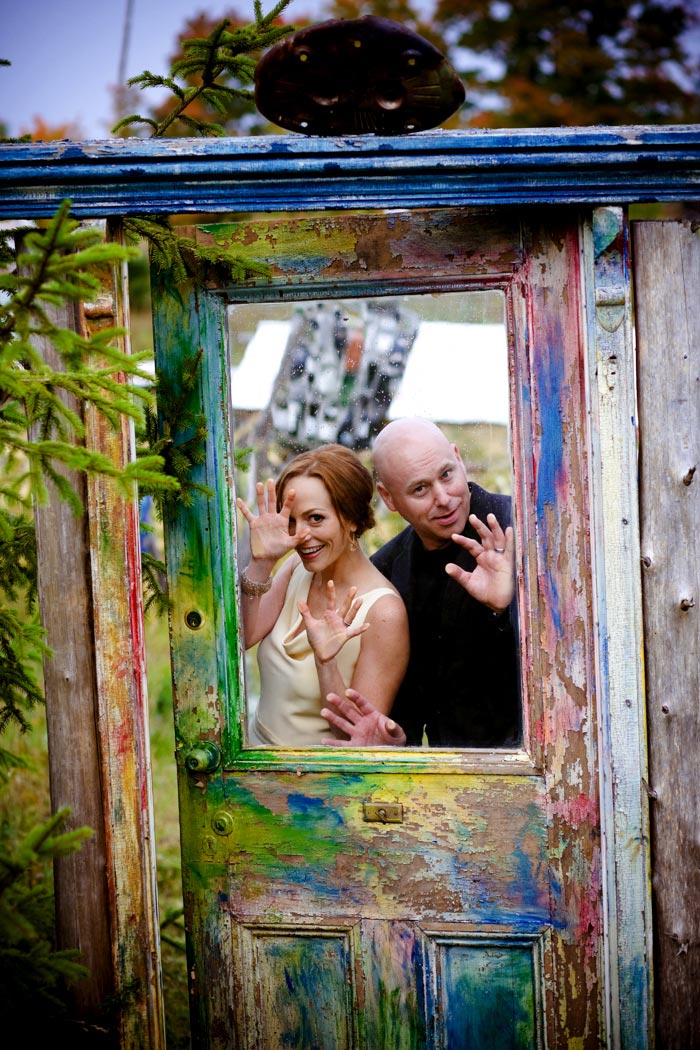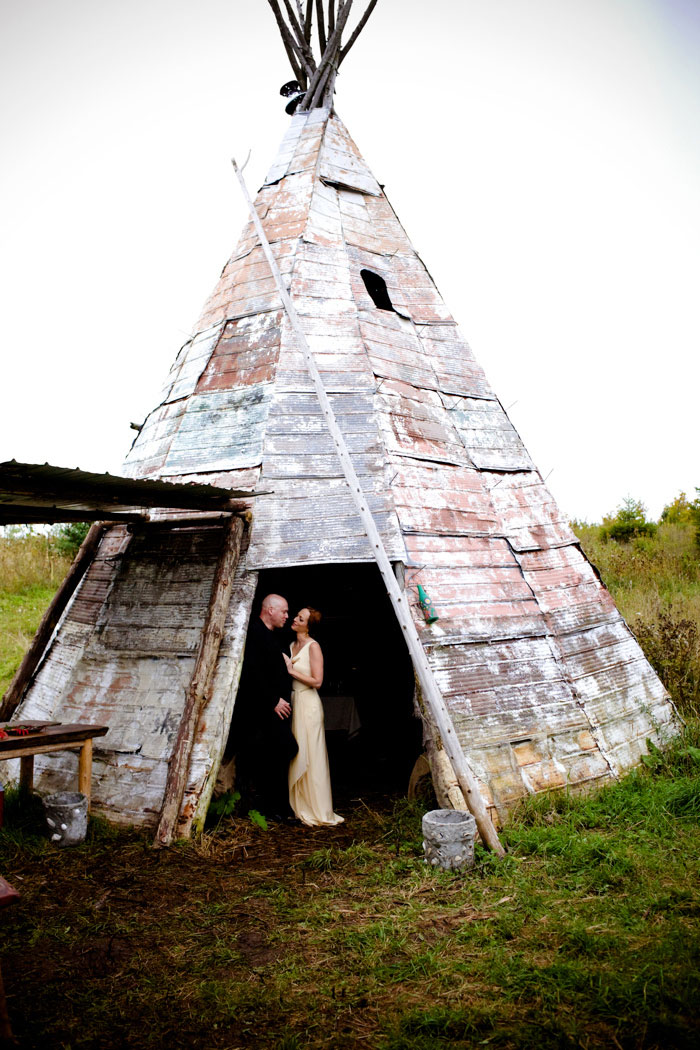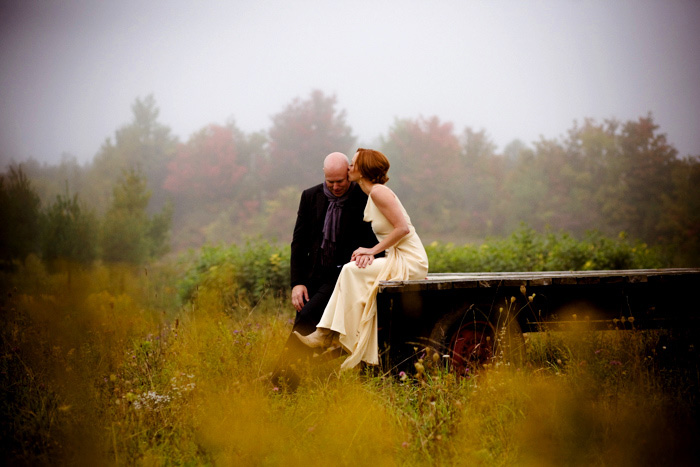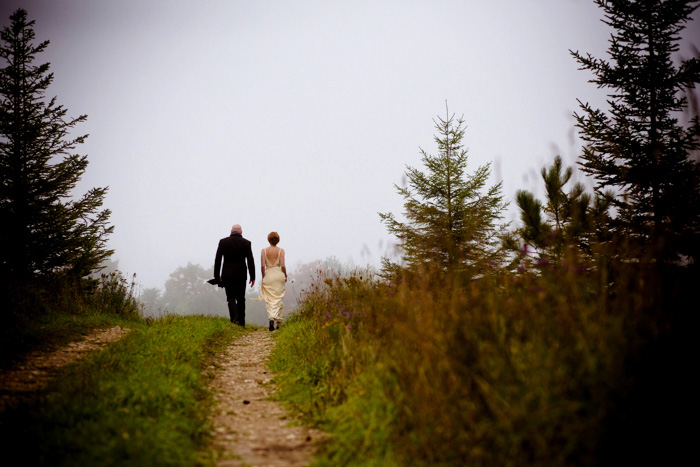 Why did you have an intimate wedding?
An intimate wedding just spoke to us. We wanted something that was earthy and without too many frills, that focused on the celebration of our love, and our closest friends and family.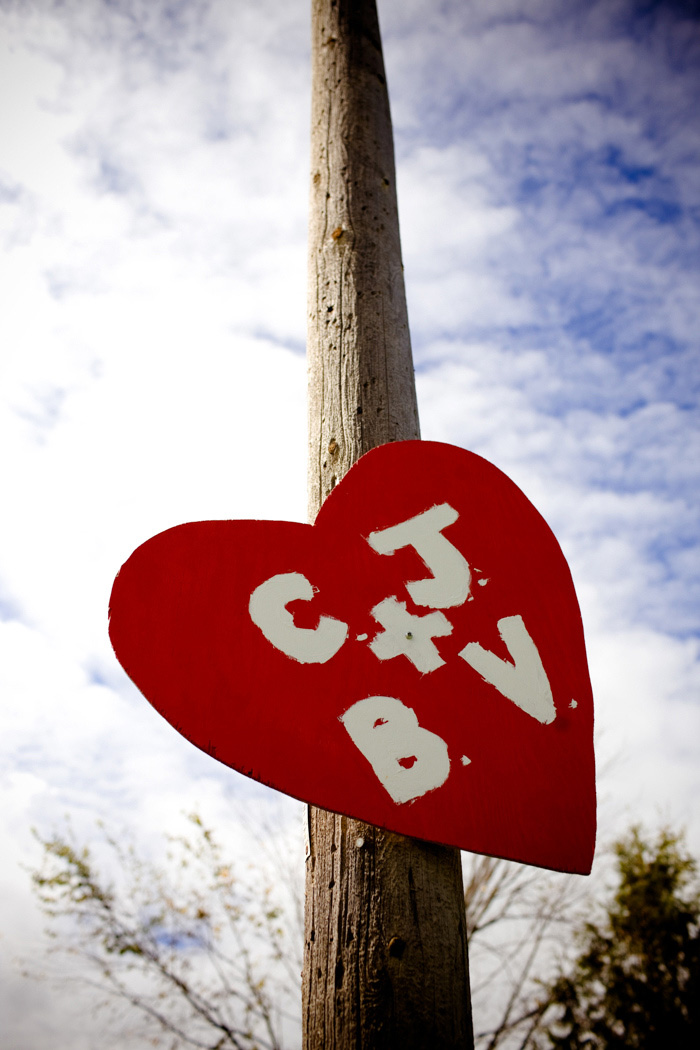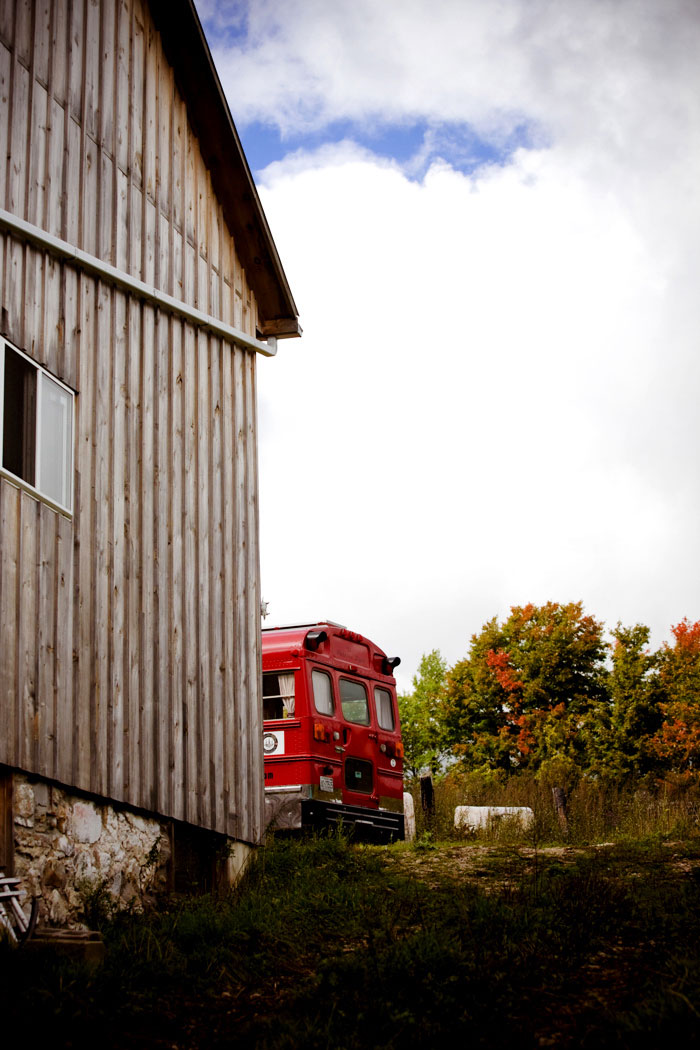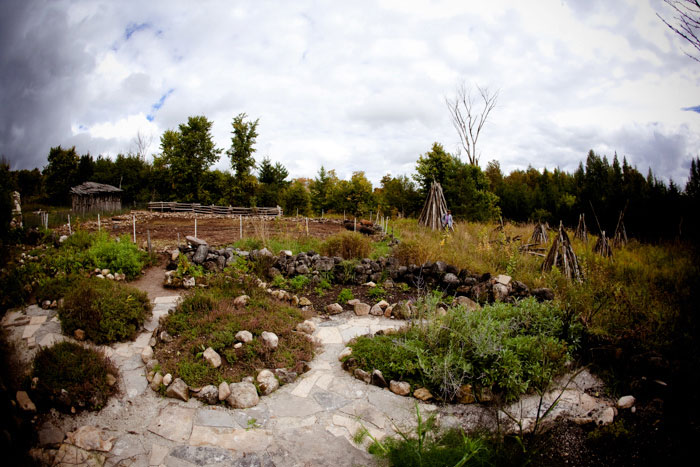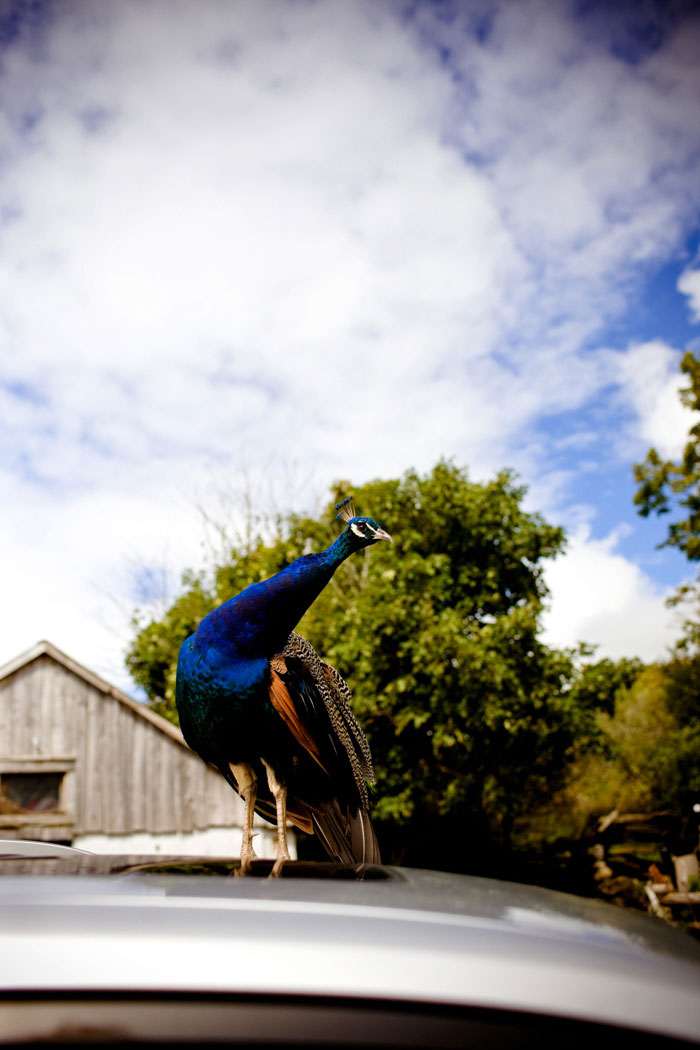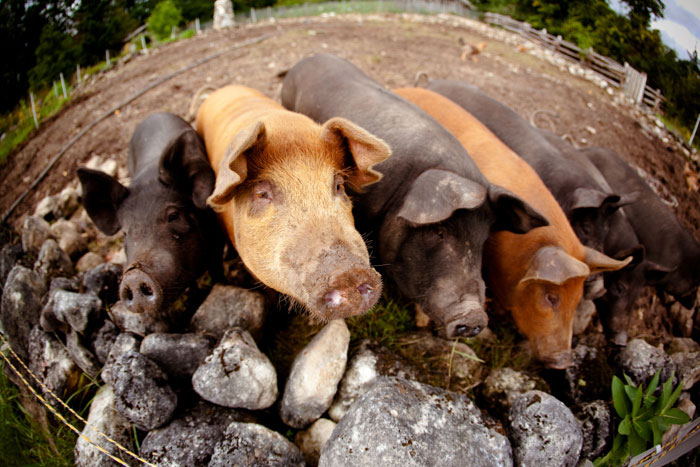 What are some of the challenges that you faced planning an intimate wedding?
Frankly, it was easy! I can't imagine having to plan for something ten times that size. Minimalism is where it's at.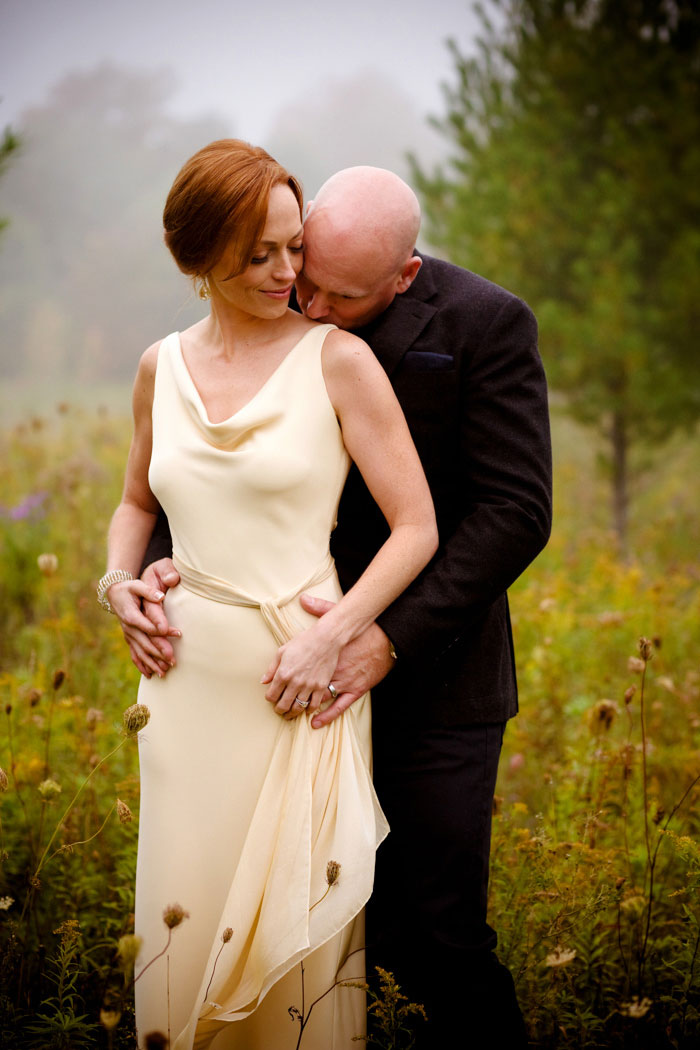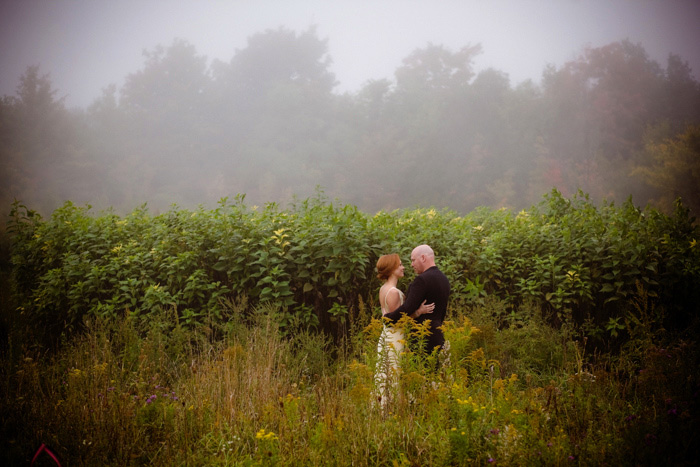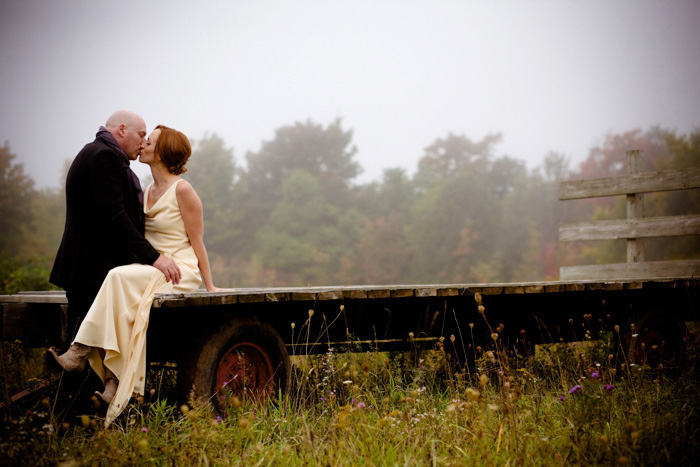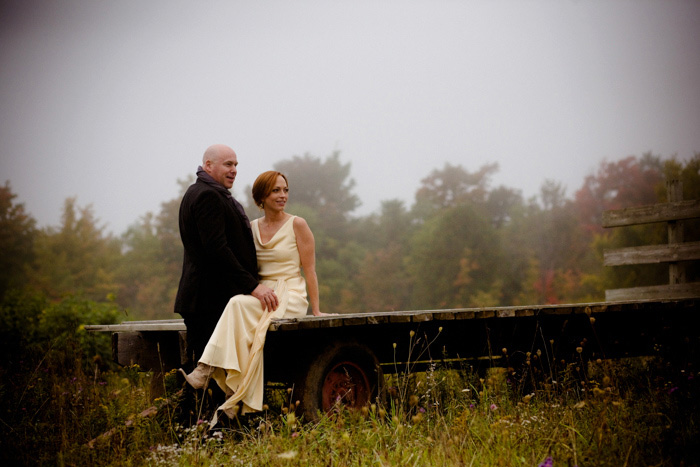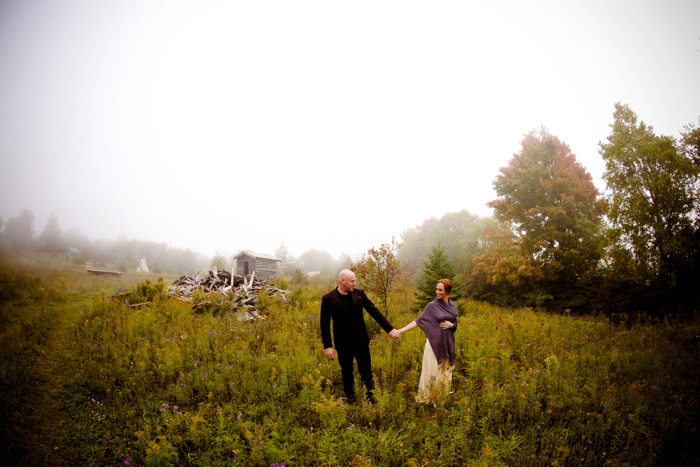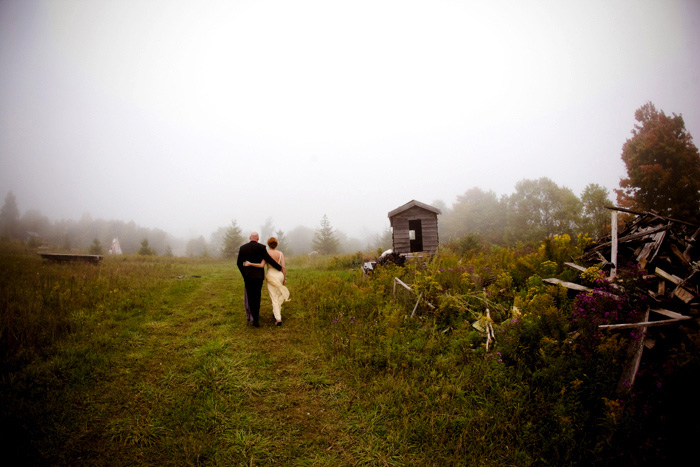 Was it difficult to pare down the guest list?
That was a bit challenging, but our friends understood the wedding we wanted couldn't include everyone.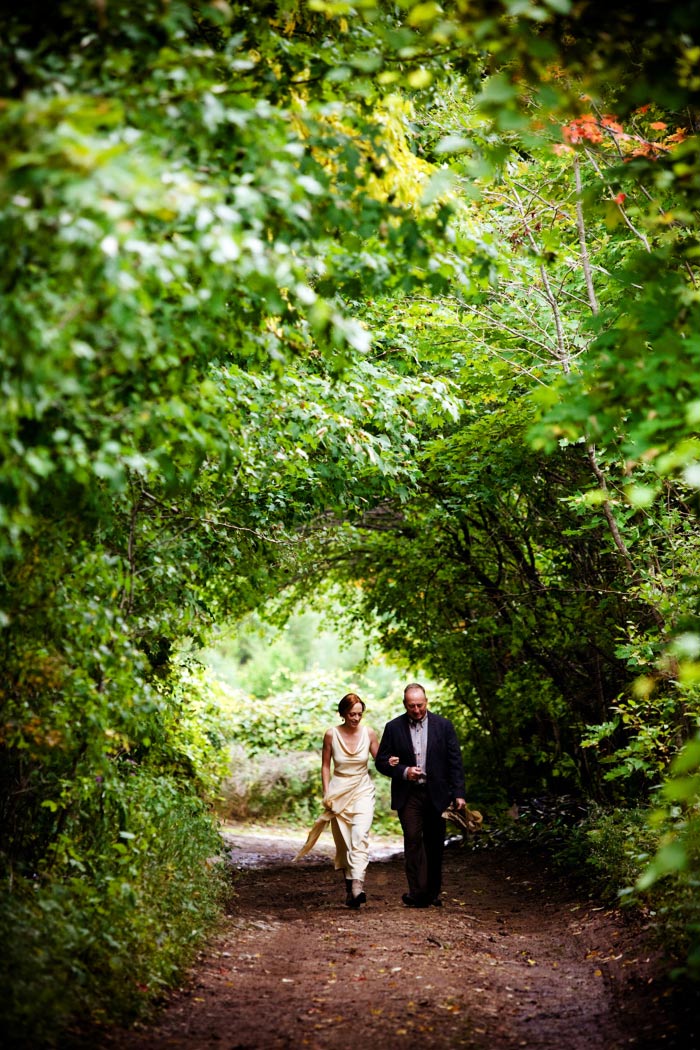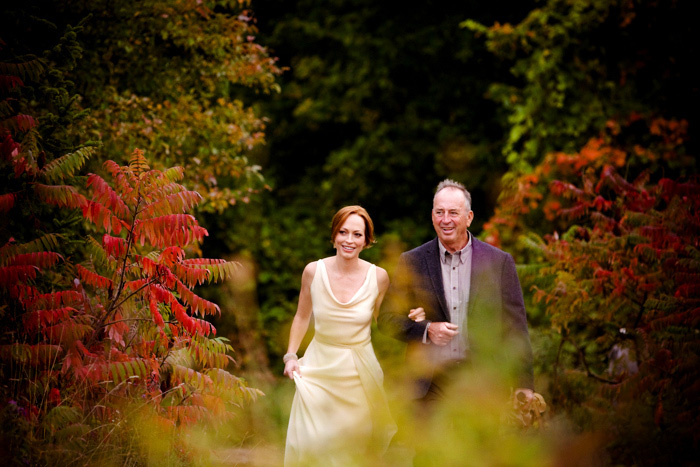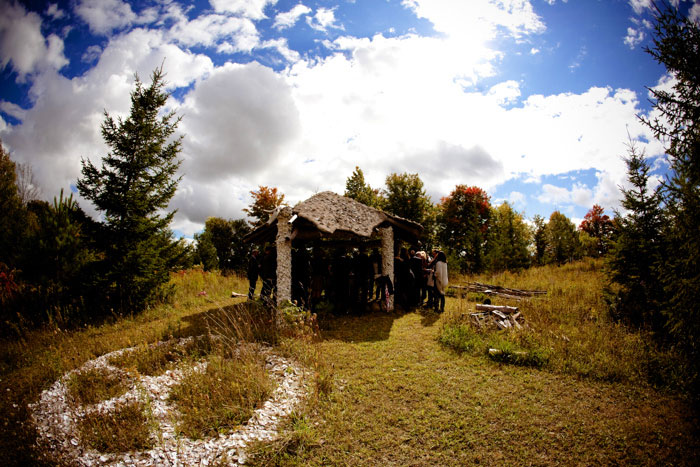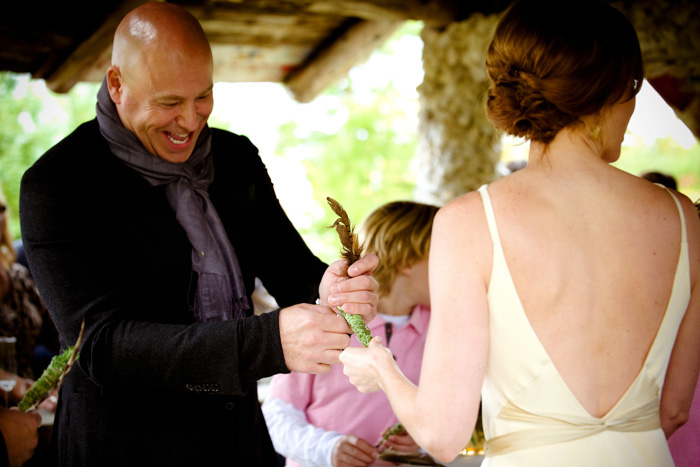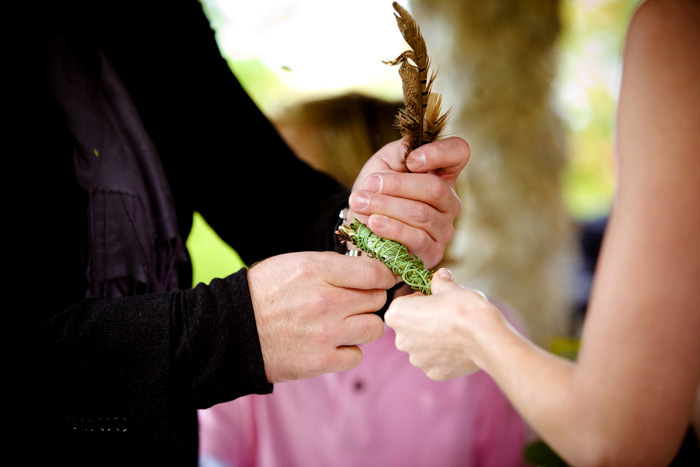 What were the highlights of the ceremony?
Inspired by Bill's roots in Northern Ontario, all guests helped purify the wedding couple for married life in a First Nations smudging ceremony. Cedar, sage and sweetgrass were lit on fire, with the purifying smoke swept over the couple to clear out the negative energy. This was also an homage to Bill's deceased brother who had strong connections to the earth and traditional culture.
Also, the ceremony occurred outside in what Michael Stadtlander calls his 'Oyster Temple of Love' – a structure he built himself, covered in oyster shells. It was like being part of a modern art exhibit.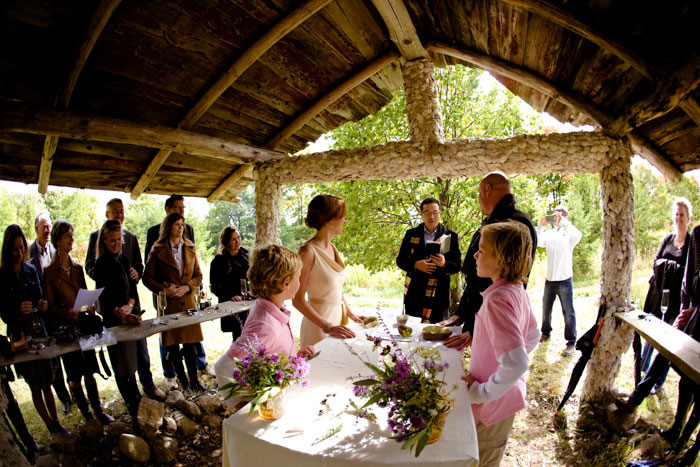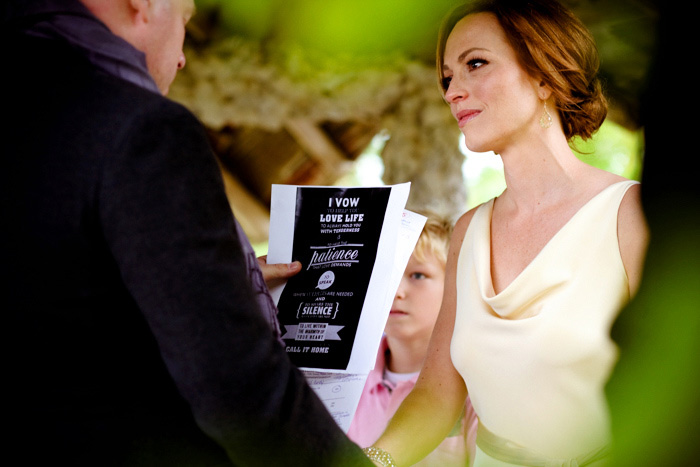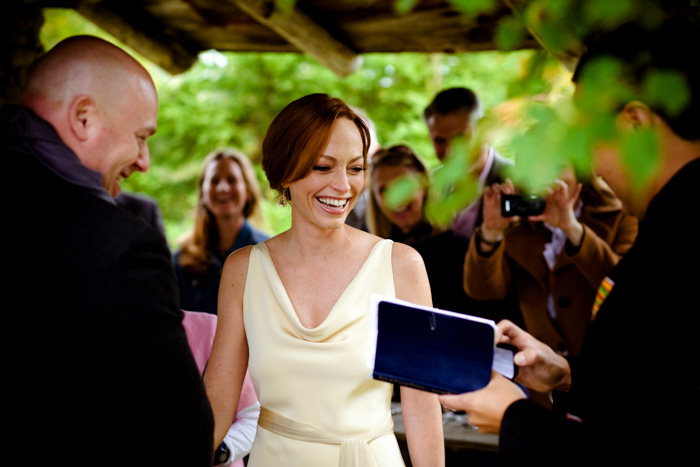 What were the highlights of the reception?
The food! Michael Stadtlander is one of Canada's most renowned chefs (Order of Canada Recipient, 2011 Restauranteur of the Year, etc.) and he creates meals that are about the experience. Six courses were served using food harvested right off his land. He raises all his own animals which run freely around the farm. Hors d'oeuvres were served in a teepee on his farm immediately after the ceremony.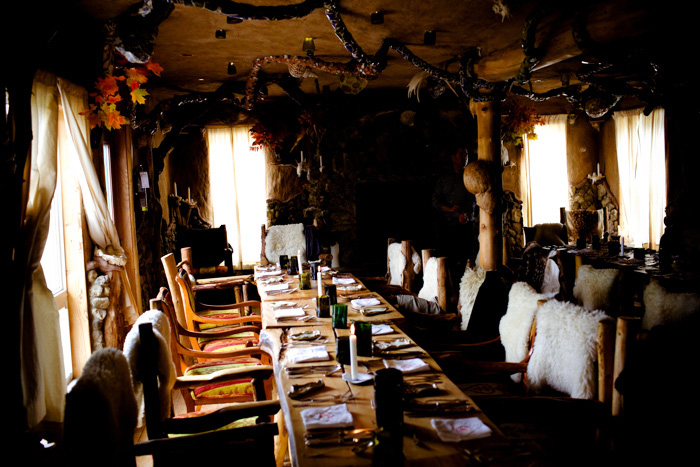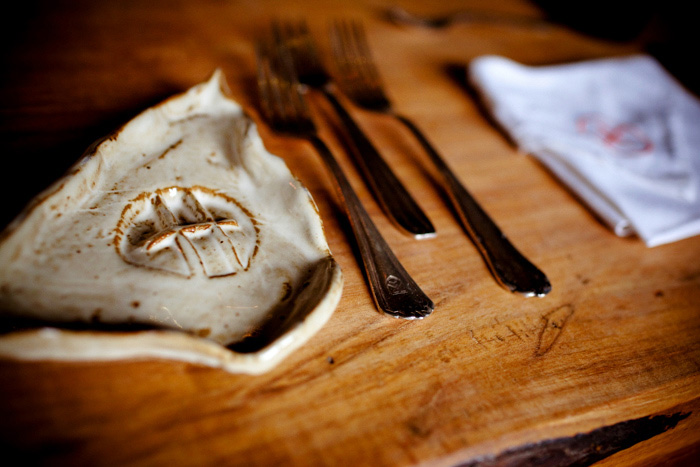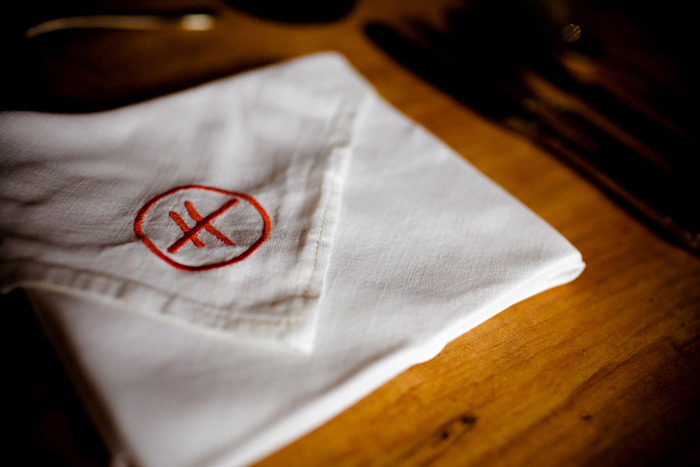 What was the best thing about having an intimate wedding?

The intimate gathering – we wanted to have a small wedding with our closest friends and family and to share a very special meal and celebrate love. (Carolyn's not big on 'fuss').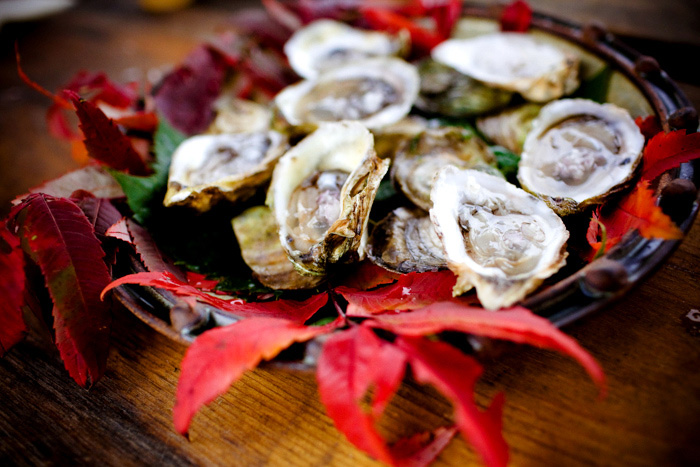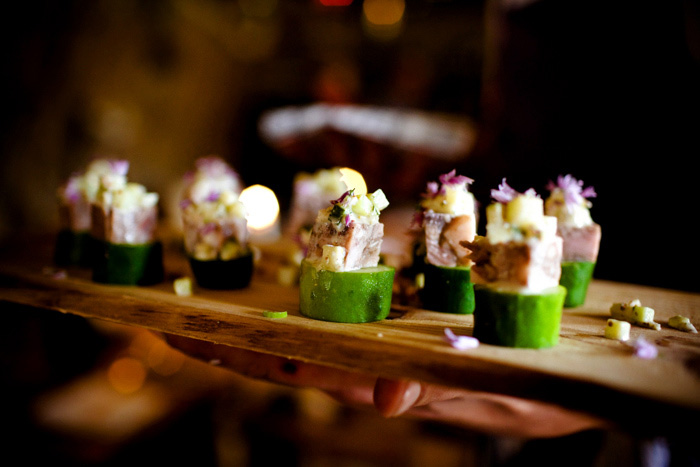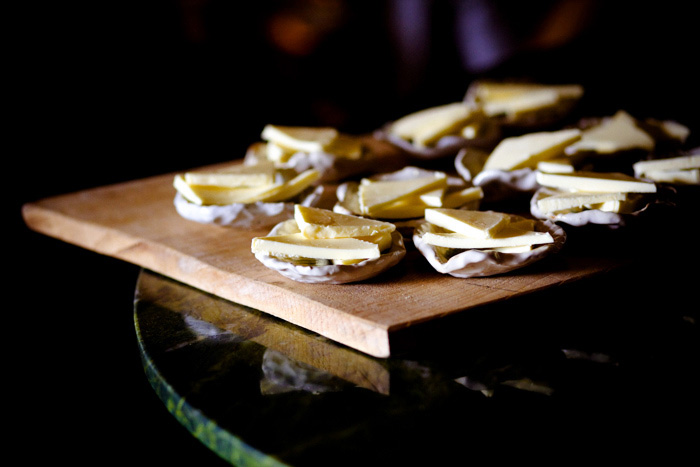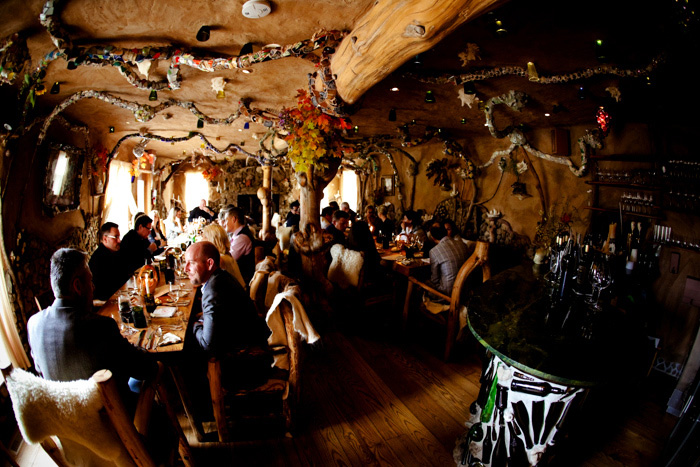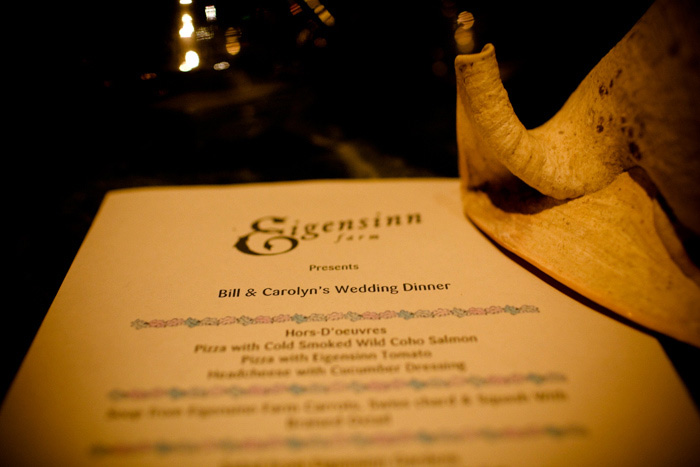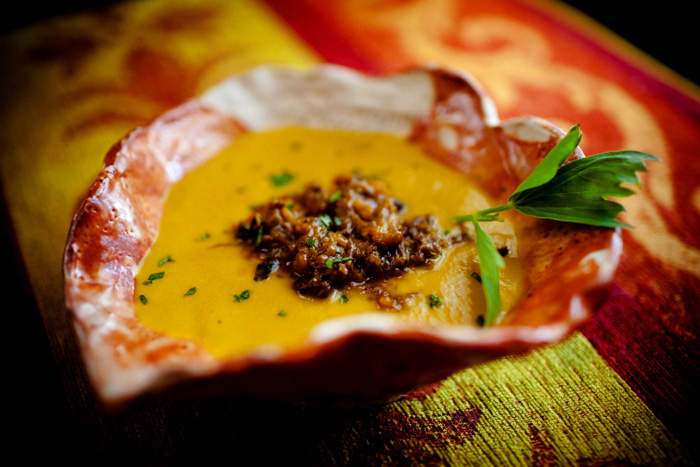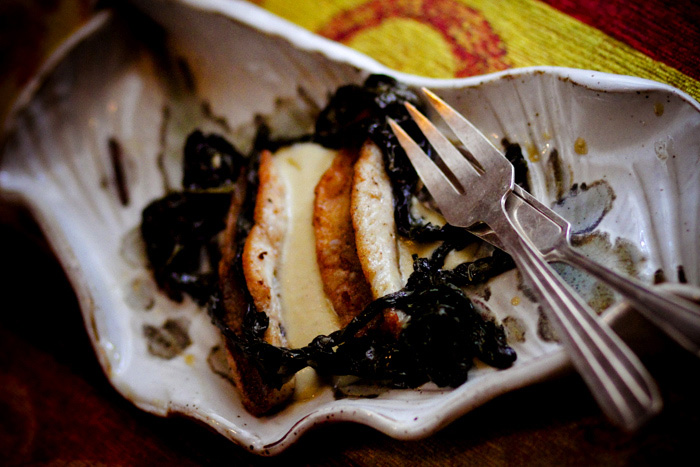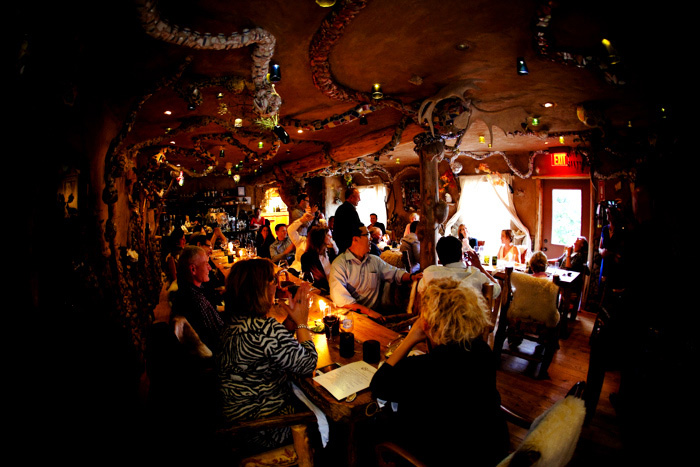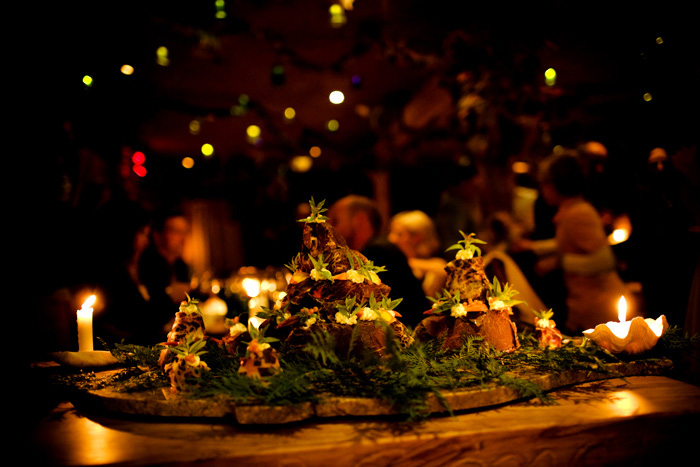 What advice do you have for couples who are considering an intimate wedding?

Do not allow family and friends to pressure you into planning a wedding that isn't "you". If you don't want to wear a big poofy white dress, don't buy a poofy white dress. If you don't want 250 people staring at you as you walk down the aisle, don't invite 250 guests. If you don't want to do the "chicken dance" at the reception….well, you get the picture!
Vendors:
Photographer: Stacey Wight

Ceremony location: Eigensinn Farm (Michael & Noboyu Stadtlander)

Reception location: Haisai Restaurant & Bakery (Michael & Noboyu Stadtlander)

Cake:  Michael Stadtlander
Bridal gown: Lowon Pope

Groom's tux: Harry Rosen
Hair Stylist: Beni Sicila at Blow Dry Lounge
Makeup: Jessica Haisinger

Flowers: wild flowers hand picked from Eigensinn Farms.