With friends and family dispersed throughout Canada, Chelsea and Gabriel struggled to find a way to include both sets of families in their wedding without it costing everyone upwards of $800 in travel expenses. It was the father of the bride who  suggested that the couple elope, which perfectly suited Chelsea and Gabriel's idea of an intimate and meaningful ceremony.
Chelsea and Gabriel decided that their elopement would take place in Scotland, more specifically the Isle of Skye, where the bride and groom hiked to their ceremony spot and said their vows against a background of mist and mountains. In true Scottish form, the weather was wet and foggy – adding mystery and beauty to an already breathtaking location.
Anna Urban quite simply knocked it out of the park with these images. She not only captured intimate moments between the bride and groom, but also beautifully documents the surroundings. These photos make us want to pack our bags and head to Scotland!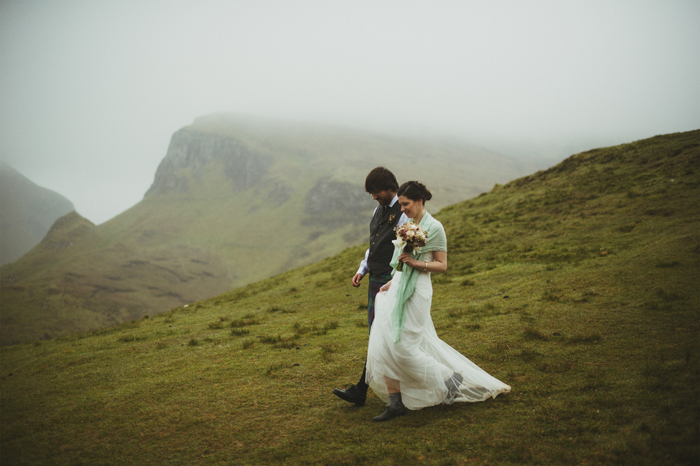 Chelsea, 27 & Gabriel, 29
Wedding Date: June 16th, 2015
Number of Guests: Just witnesses at the ceremony (childhood friend of the bride Brianna Hamlin, photographer Anna Urban, celebrant John Howieson, and piper Alan Mackenzie) and 65 at the reception.

Wedding Cost: $8,000 for the ceremony and honeymoon in Scotland. (This included the flights, celebrant, bagpiper, photography, car rental, lodging and meals for 2 weeks and some gifts/souvenirs. We spent one week on Isle of Skye, in the self-catering cottage listed below and then traveled by ferry to Harris and Lewis located in the Outer Hebrides for a couple days. After we camped in Kinlochleven, and hiked in Glen Coe and finished the last couple days of our honeymoon in Edinburgh.) $7,000 for the reception in Winnipeg. (We planned a cocktail style reception with a cheese station, passed appetizers, a risotto station, and late-night yam fries. There was a beautiful wooden bar and servers taking drink orders throughout the room.)
Wedding Ceremony Location: Quiraing, Isle of Skye, Scotland
We were married just off the start of the hiking path in the Quiraing. We thought the location was beautiful and it was accessible in a wedding dress. We were able to hike it with Brianna a couple days before the wedding on a warm sunny evening. The day of the wedding however was traditional Scottish weather, and the Misty Isle lived up to its name.
Wedding Reception Location: The Gates on Roblin, Winnipeg, MB, CAN (Chelsea's hometown). 
We had the reception in their lounge which has a dance floor, nice bench seating around the room and high tables for our cocktail reception. Since we are only in Winnipeg once or twice a year, we wanted a stand-up reception so we could visit with everyone instead of being stuck at a table for a four-course meal.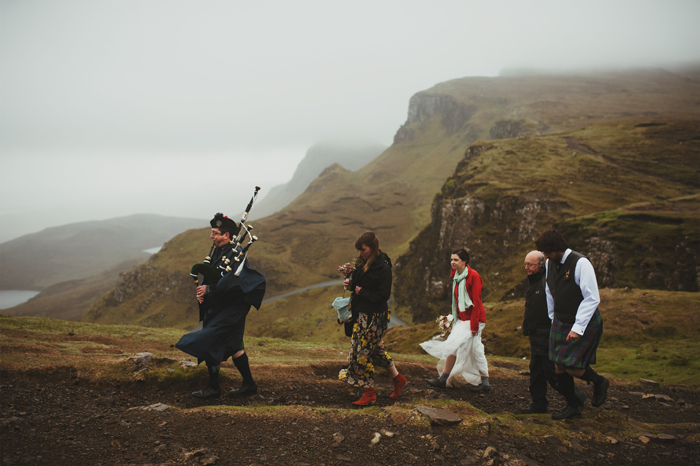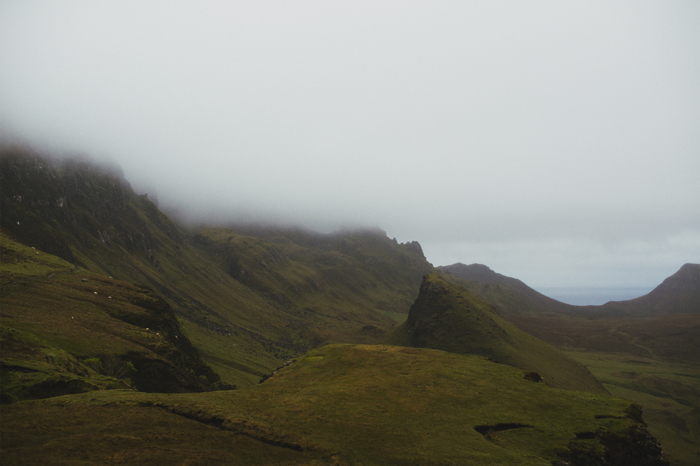 Why did you have an intimate wedding?
Our families are 2600 km (1615 miles) apart, so when Gab proposed our biggest worry was making everyone pay upwards of $800 to travel to one place or the other. We couldn't think of a solution where we could celebrate with everyone and not make every guest travel. Chelsea also did not want our wedding be a big display. We believe that the vows and the ceremony are for us, to show our commitment for each other, not to be a big spectacle. It was actually the father of the bride who suggested eloping and that's exactly what we did.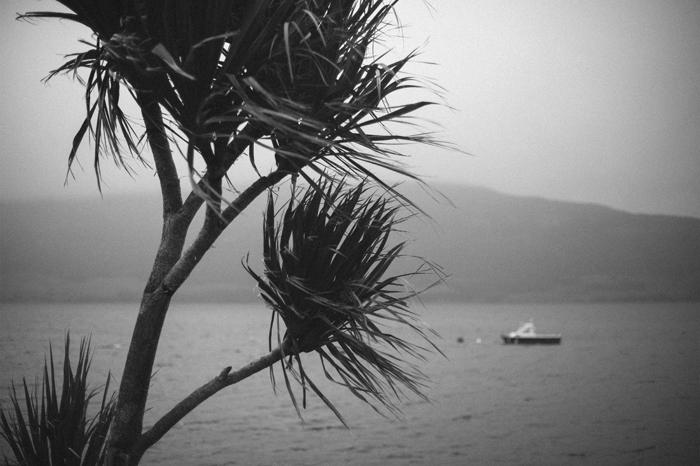 What are some the challenges that you faced planning an intimate wedding?
It would have been nice to actually have had a secret elopement and just announce to everyone that we were married when we got back, however when we were planning our vacation time we realized that we had to have the reception close to the ceremony. We had to send out the invitations for the reception before we went to Scotland, so it was a planned elopement that everyone knew about. 
As soon as we mentioned we were engaged there were some people who assumed that they were invited to the wedding, such as work colleagues. It was a little difficult to tell them that we were just having family and close childhood friends at a small reception but everyone understood. Gab is a post-doctorate fellow at Harvard and Chelsea is doing her PhD at Université Laval so everyone knew that our budget was not extravagant. 
Lastly, because we planned the ceremony overseas and the reception in Winnipeg, we had to plan everything by email. Therefore our major challenge was having have faith and trust in people you never met. We are both used to being hands-on and in charge, being chairs of multiple committees among other things. You could say that at least one of us is a control freak, (I won't say which one). However for both events we had to just send off some ideas of what we liked and trust that it would turn out. In the end, we couldn't be happier with how everything turned out! The flowers, both in Scotland for the bouquets and for the decor in Winnipeg, were absolutely beautiful. When I sent in a couple example photos from Pinterest to Carole on Isle of Skye and Brandi at The Floral Fyxx in Winnipeg, I had no idea they would turn out more beautiful than I imagined. 
We also had to find our celebrant online, not having met with him in person until the day of our wedding. However, we wrote back and forth by email and he was so helpful with the script. The Humanist Wedding is so flexible, therefore we were able to include what we wanted in the ceremony and portray what was important to us for our future together. When John Howieson showed up the day of the wedding, we felt like we had already met and it was so comfortable.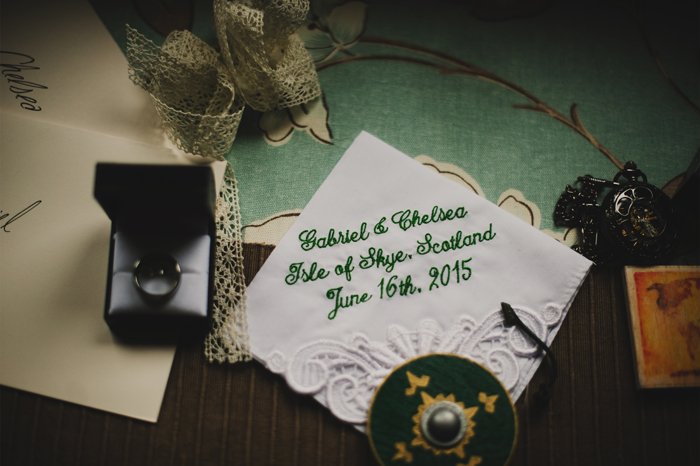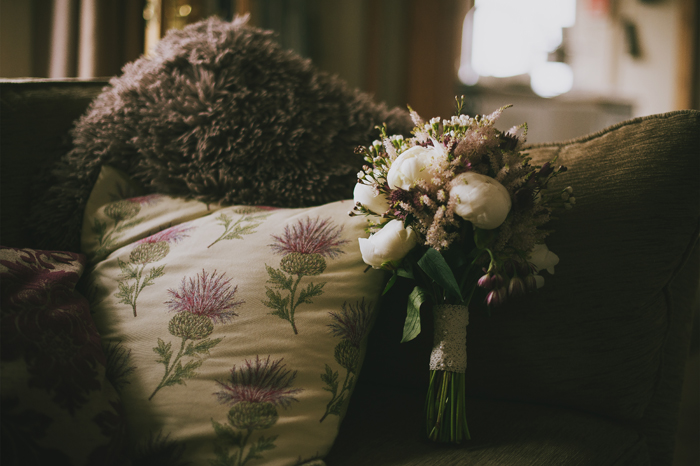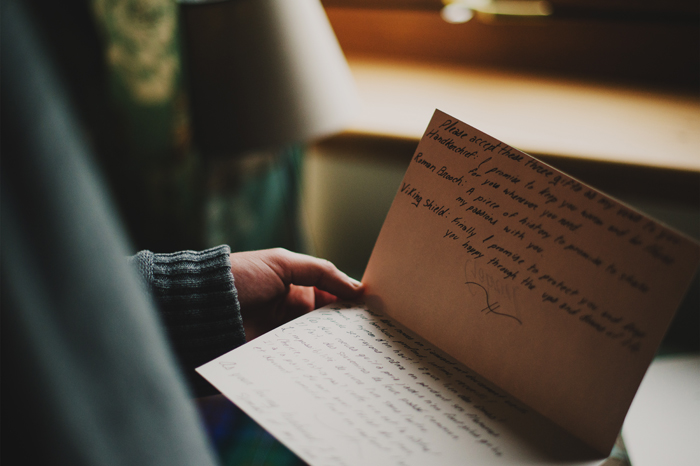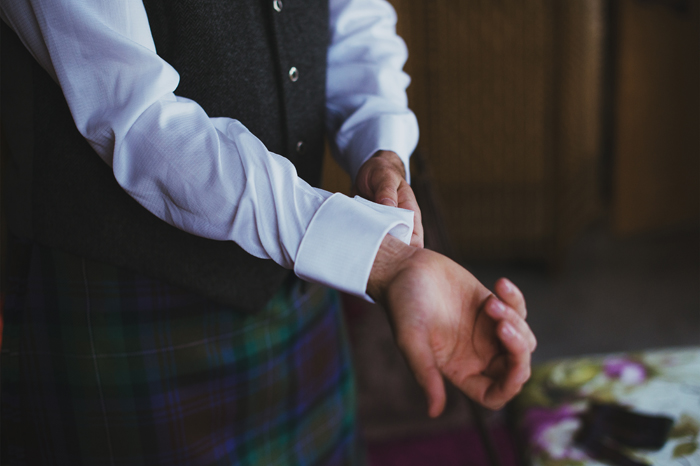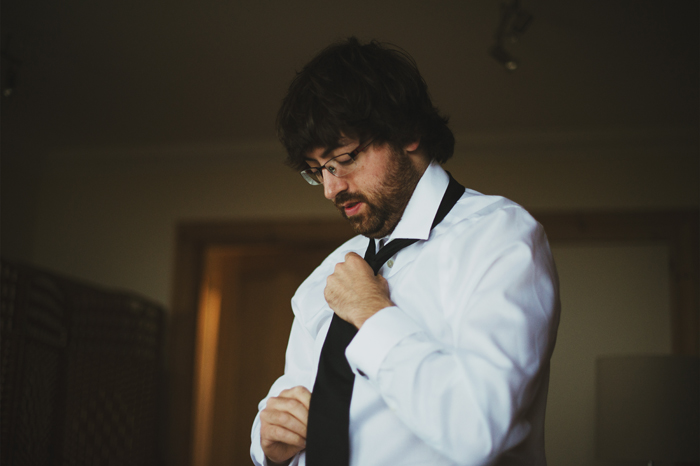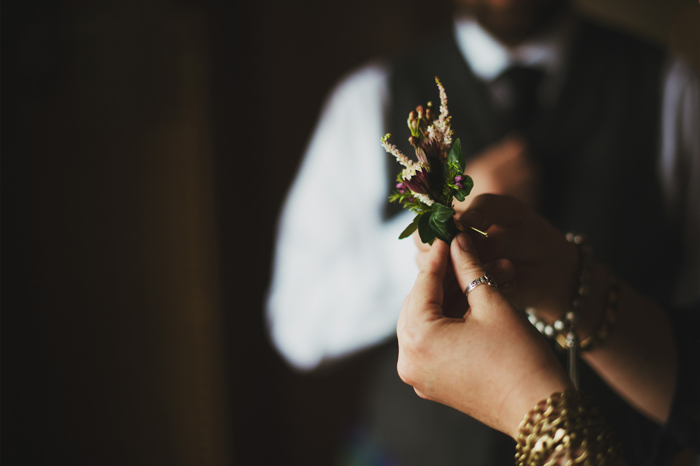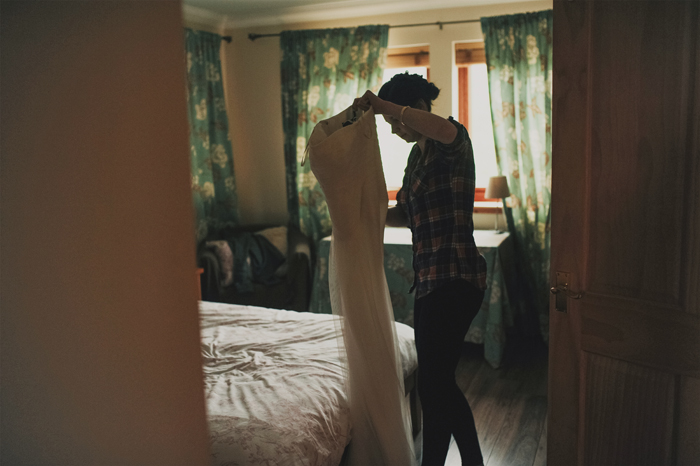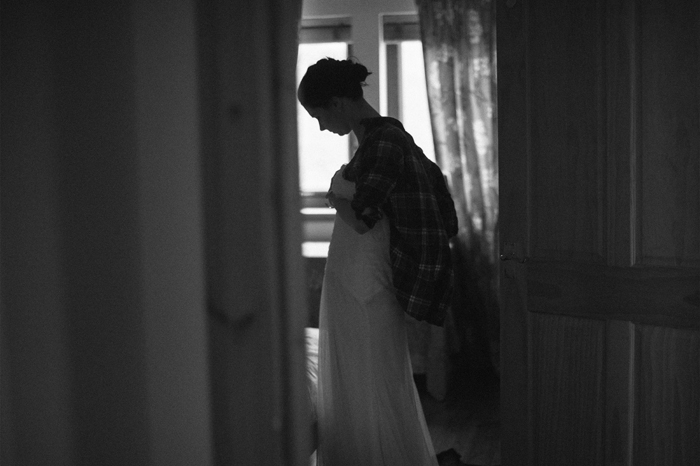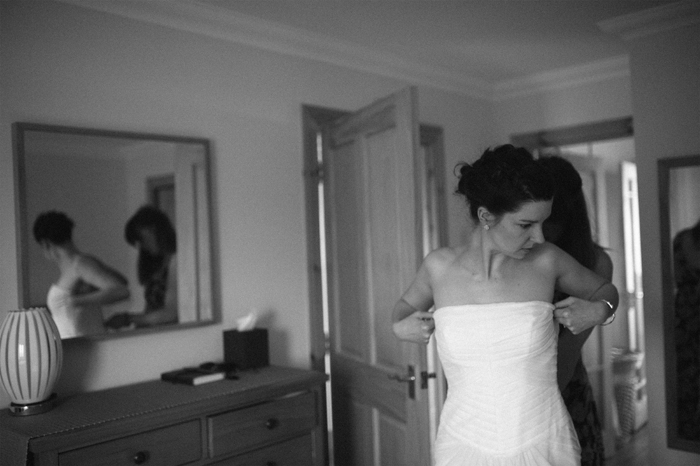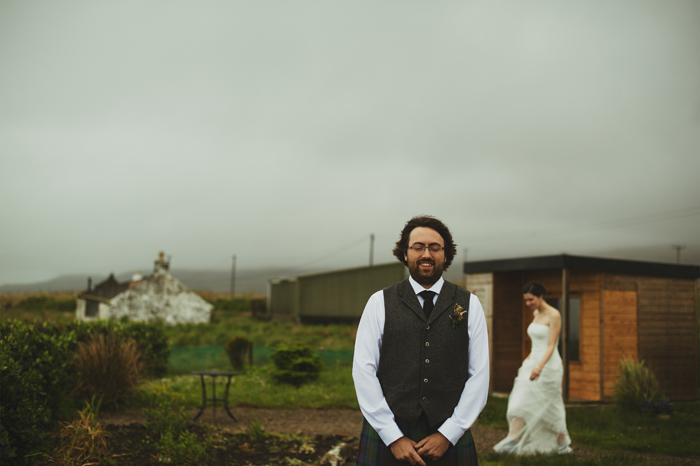 Was it difficult to pare down the guest list?
 Since Chelsea has not lived in Winnipeg for four years now and her family isn't very large it was relatively easy to pare down the guest list. We invited family and close friends, people who have influenced our lives and who we still keep in touch with. We did estimate plus-ones for every guest even for those who were single so our invite total was actually 86 people. Our guests knew that it was an intimate reception from our wedding website, so we think that no one brought a date that they weren't actually in a relationship with so we were able to stay well within our budget as only 65 people actually RSVP'd yes. If people know that you've only invited close family and friends, they are not likely to bring a stranger just so that they have a date. Most of our guests knew each other. Gabriel is from a very large family in a farming region of Quebec. Luckily we are able to see them more often and will be meeting for a family BBQ in a few months.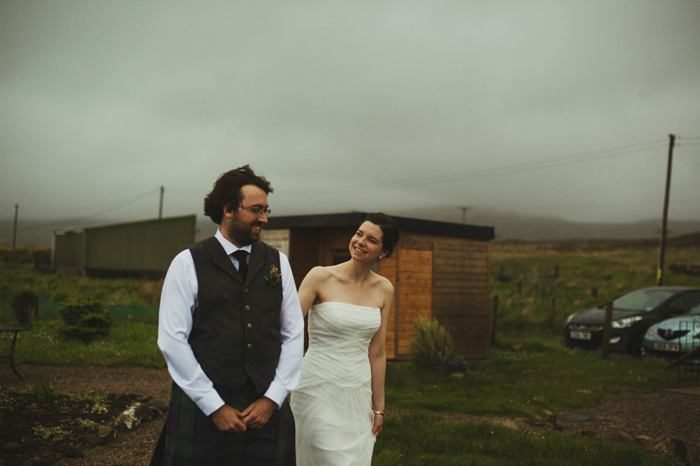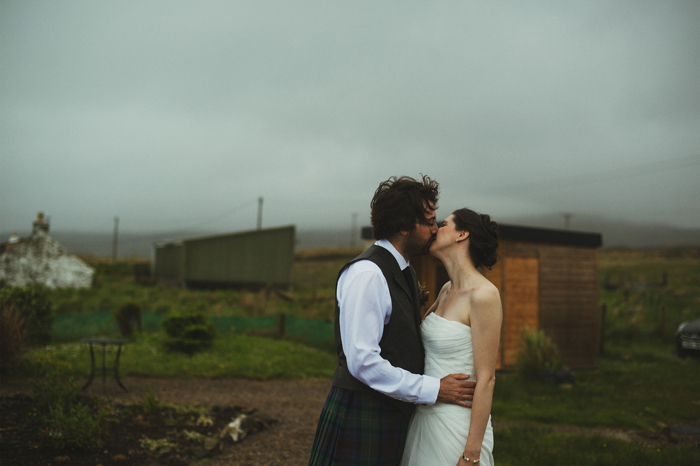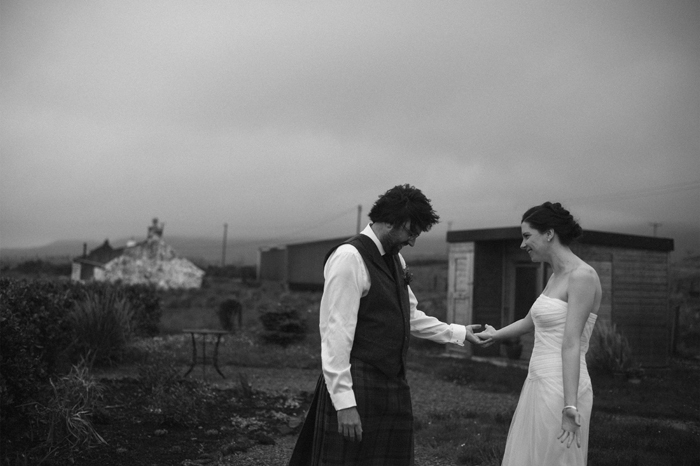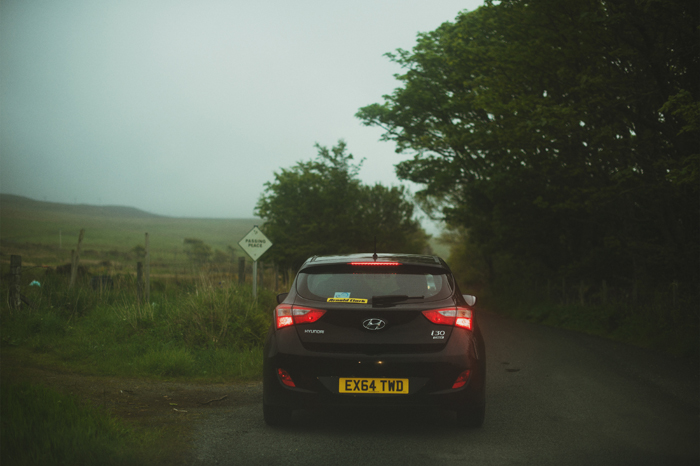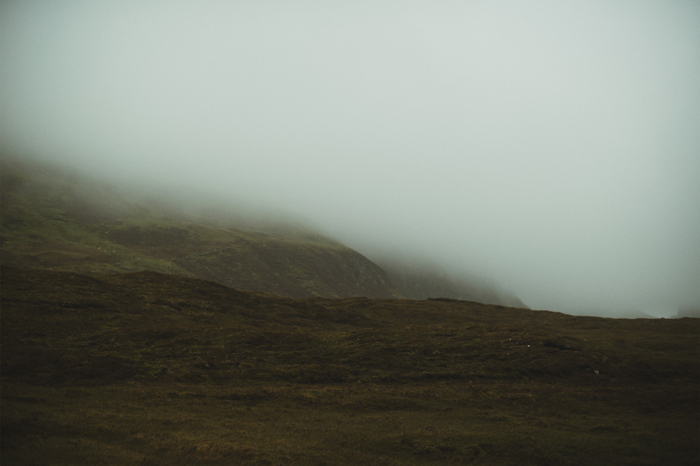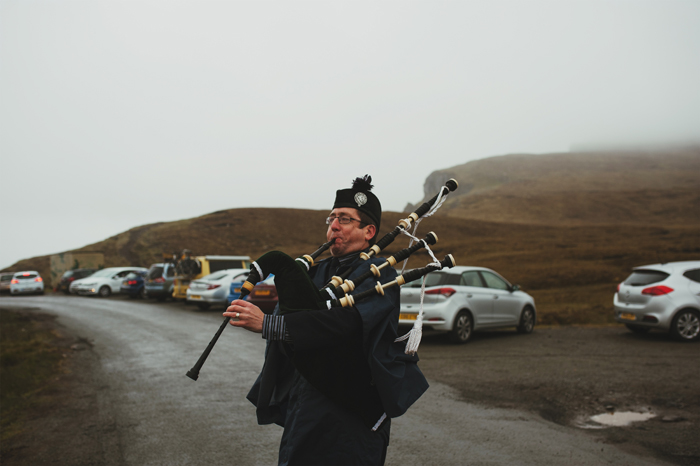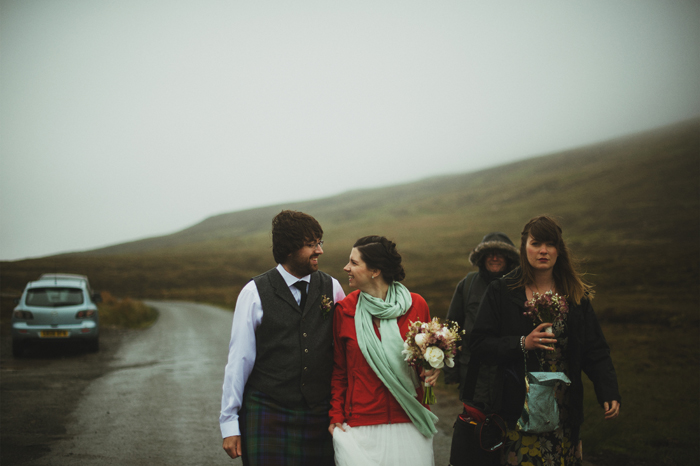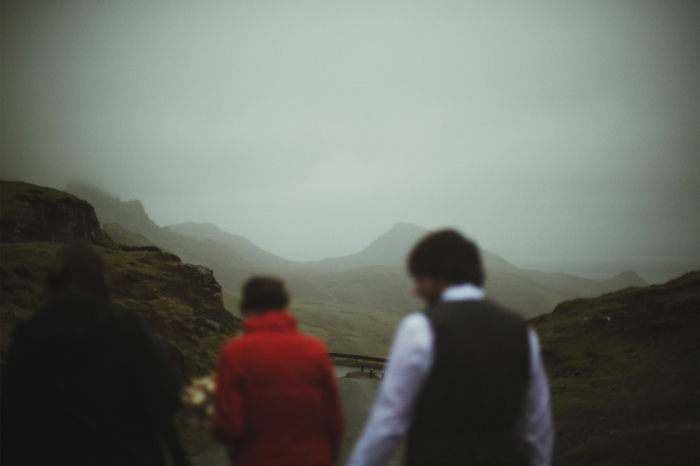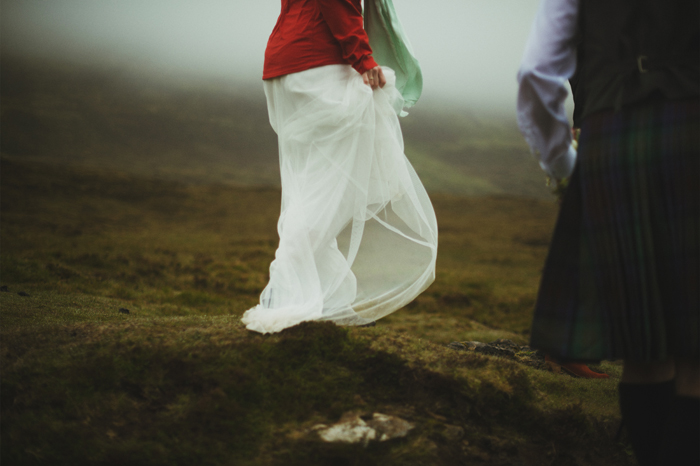 What were the highlights of the ceremony?
Apart from the stunning scenery, the main highlight would be the relaxed and personal aspect of the ceremony. Being able to share laughs and jokes during the ceremony makes it even better. Even when Gab messed up his line while putting on Chelsea's ring it was just a fun memory that we laughed at instead of an awkward moment. A very close friend of the bride for 18 years, Brianna Hamlin, made the trip to Scotland with us to be a witness and we could not have done it without her. Whether it was being in charge of the rings, doing hair and makeup or making us laugh over a pint, she was essential to our wedding and we'll always remember her loving support.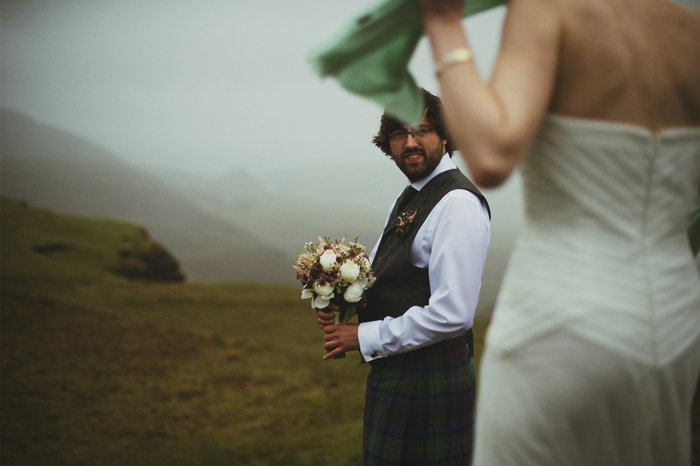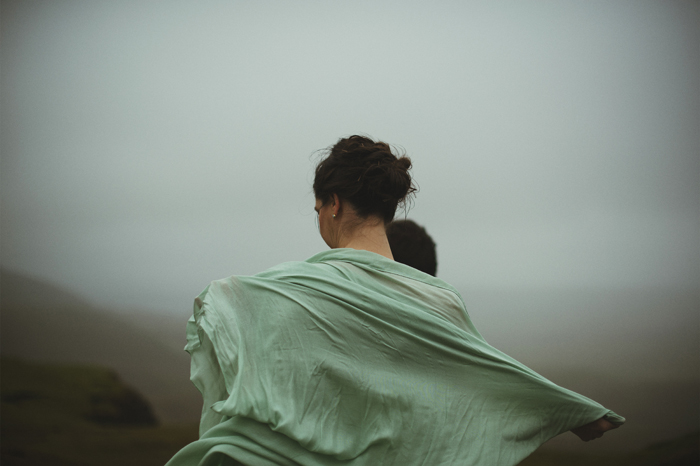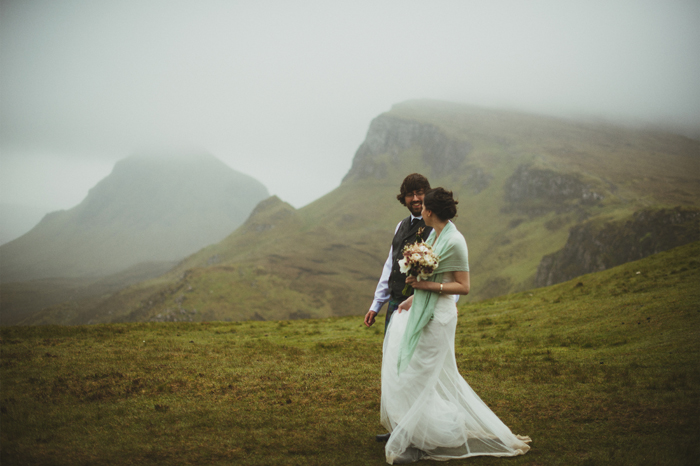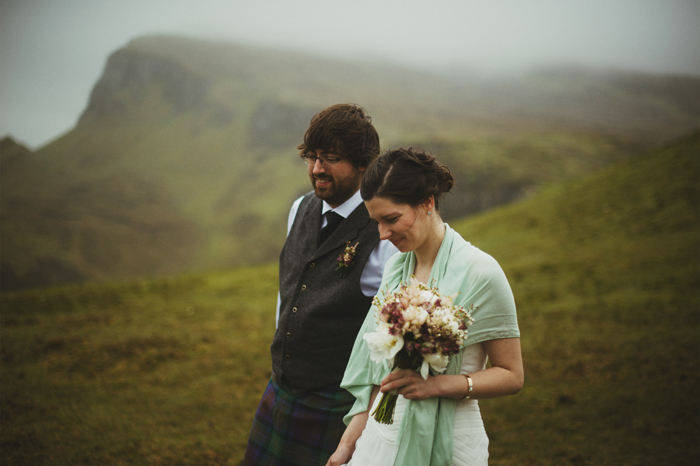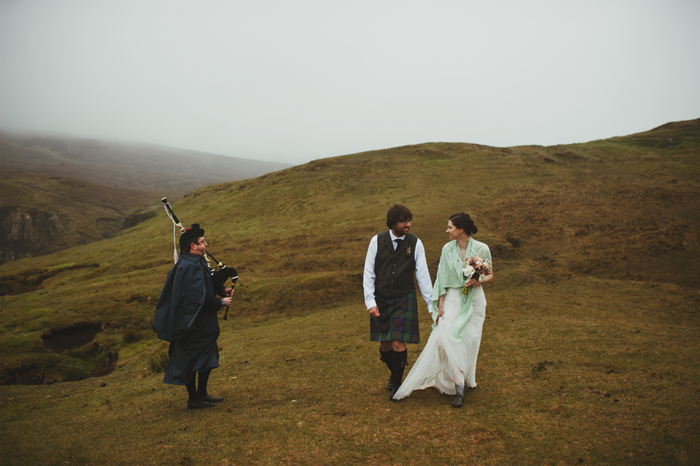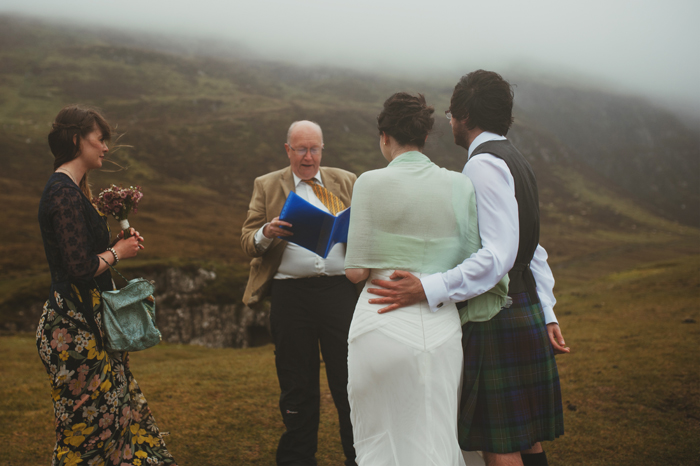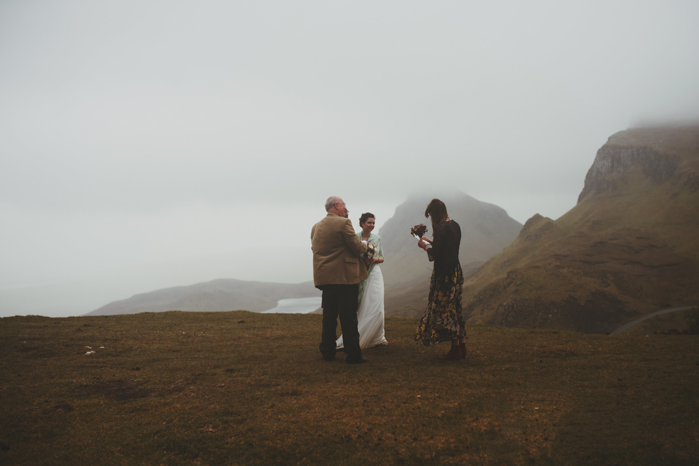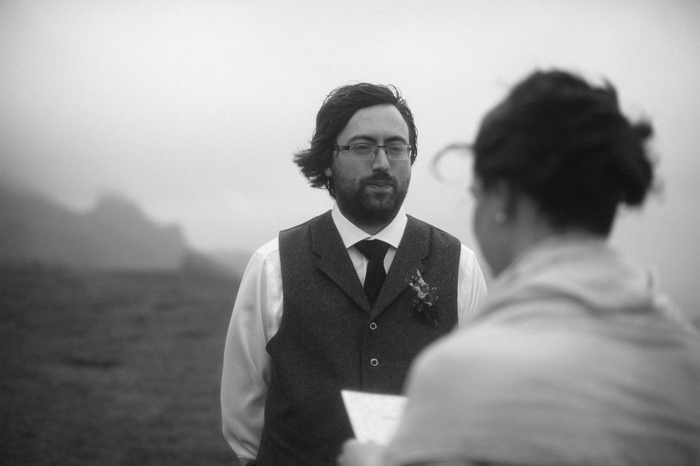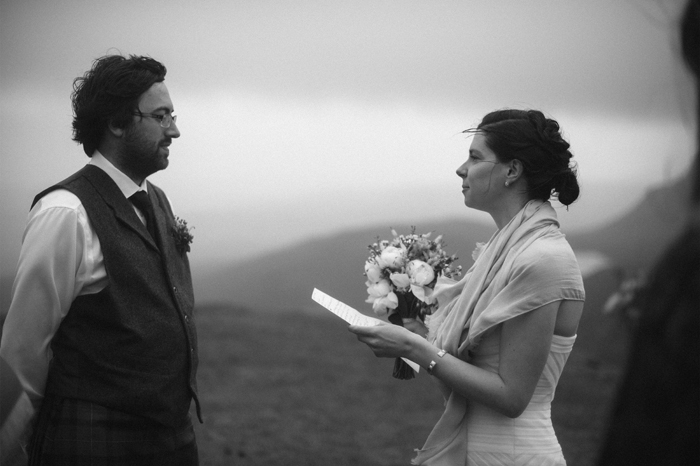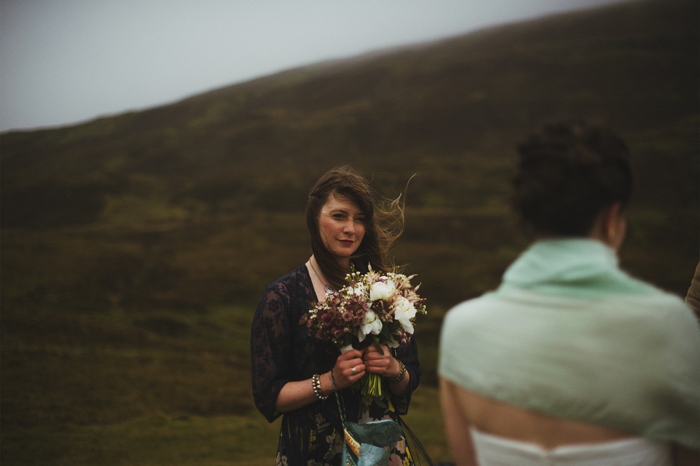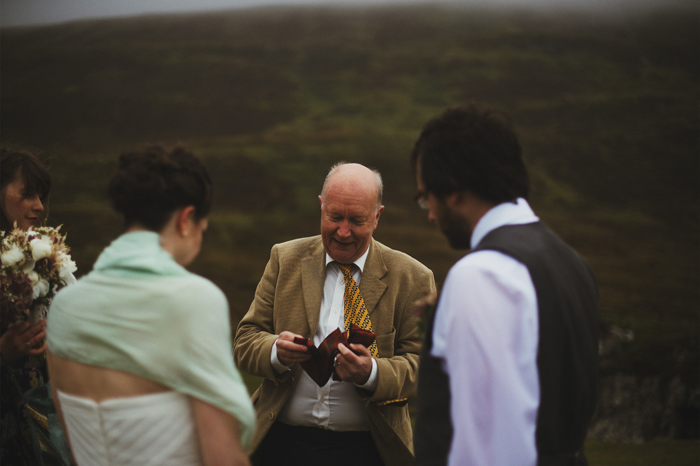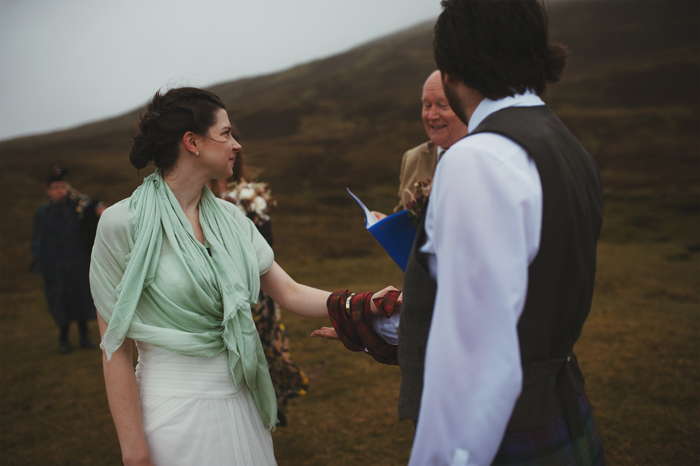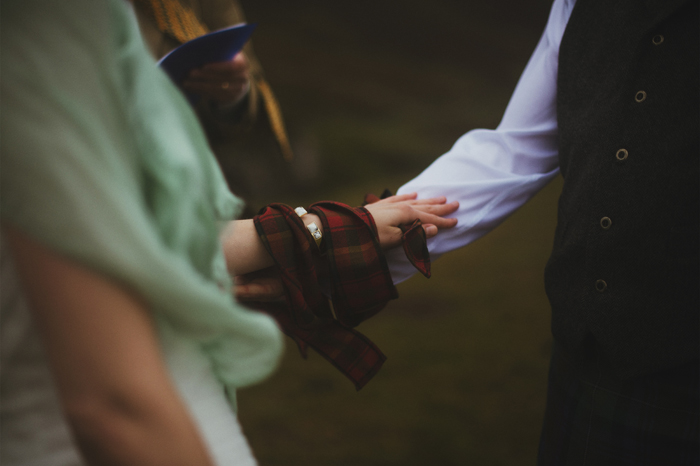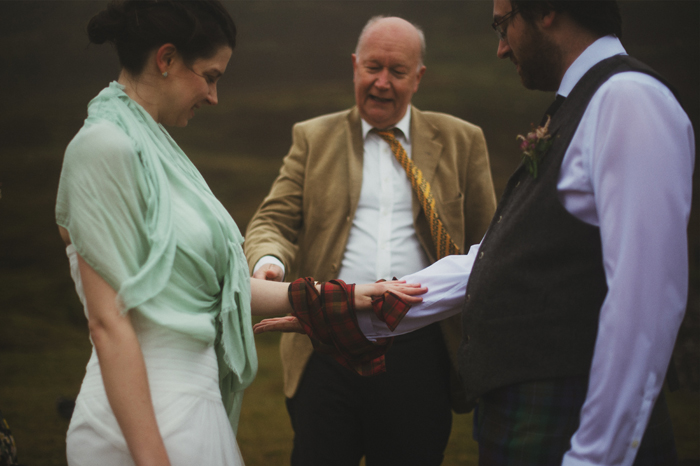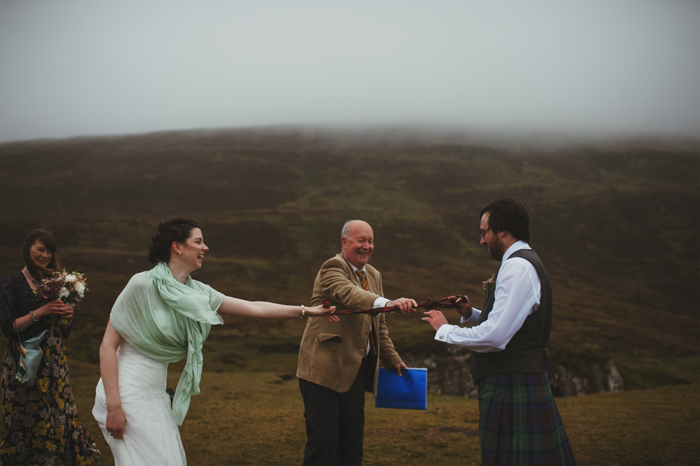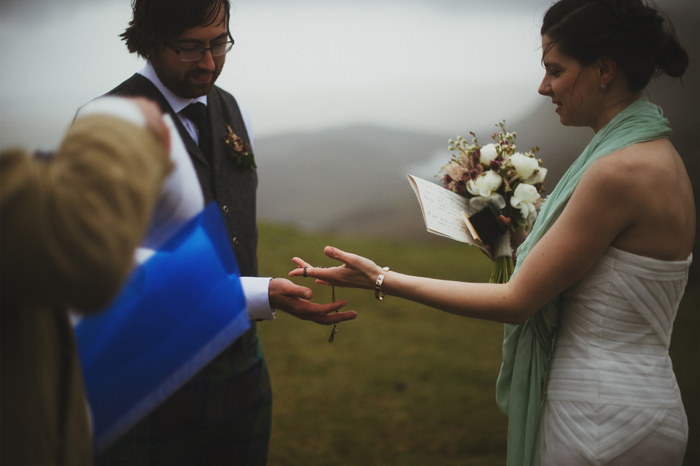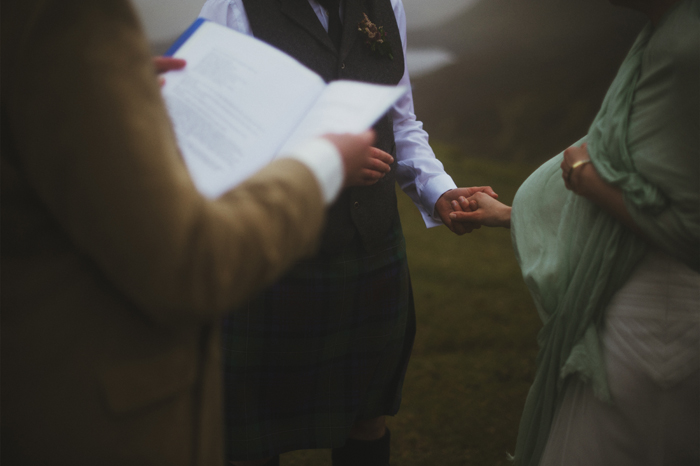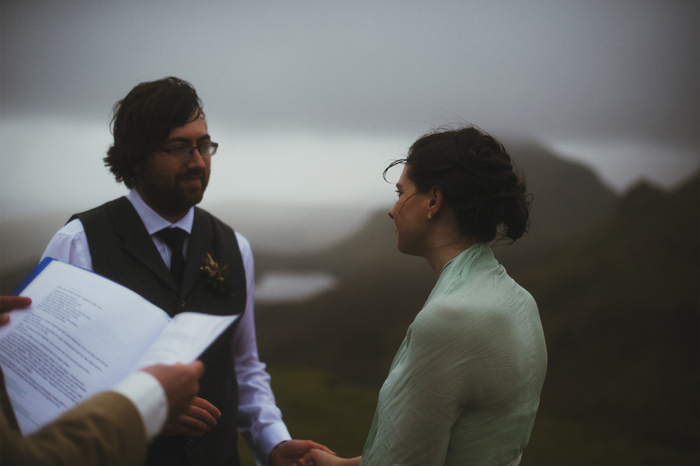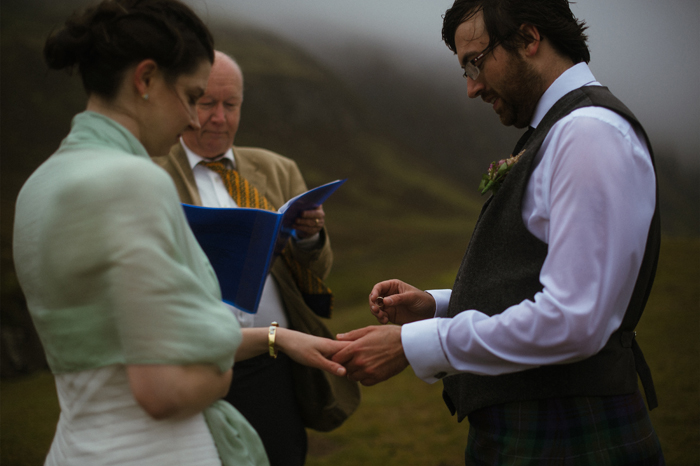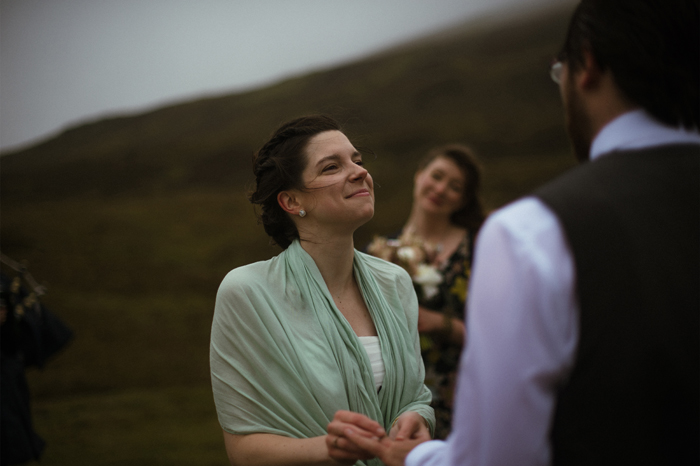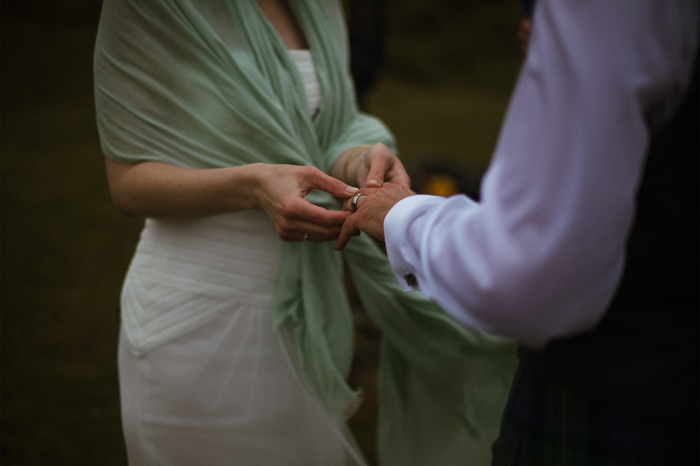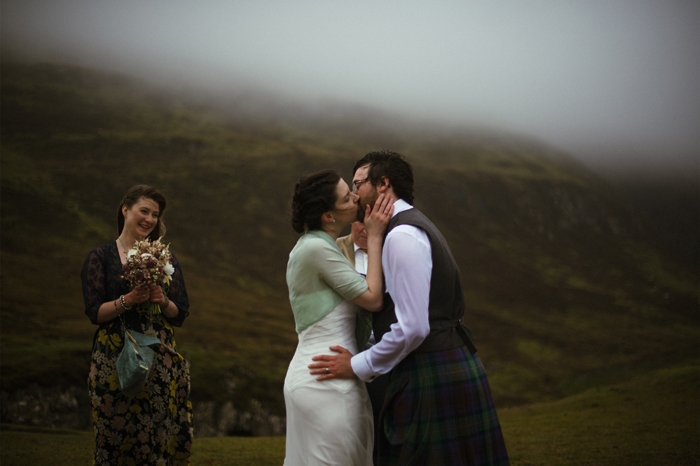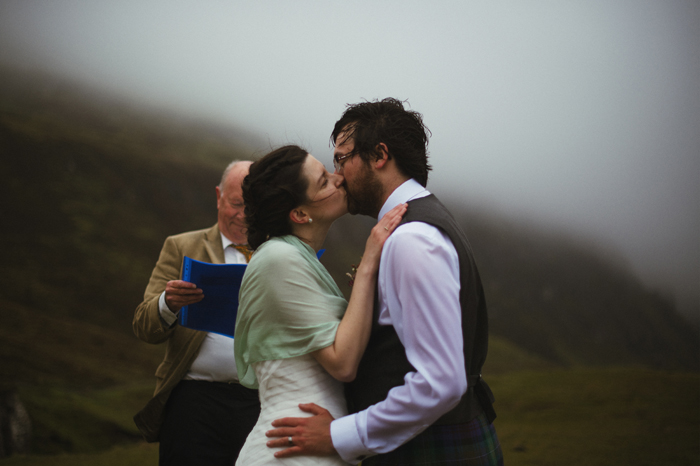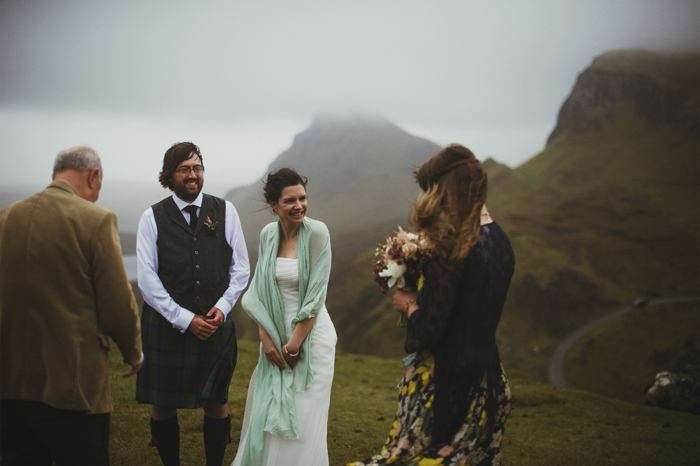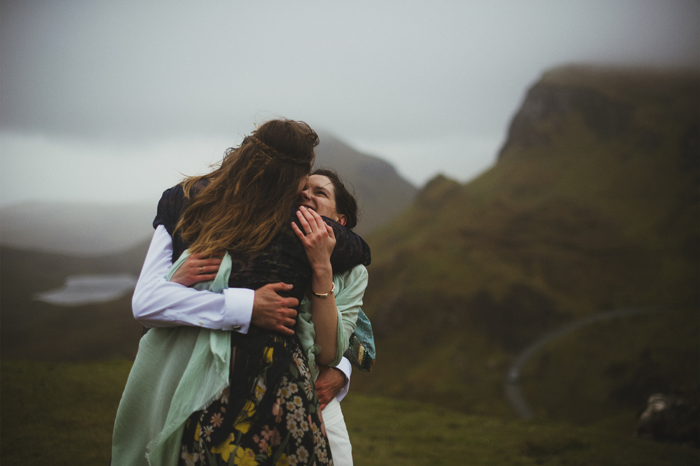 What were the highlights of the reception?
We did not want to do anything cheesy or too formal but our families did want to include some traditions like speeches and cutting the cake. As it turns out, we were really glad to have included them since it made our reception even more special. Hearing a couple close friends and family members welcome your partner into the family so openly was really the icing on the cake. 
Open bar was definitely a good decision! We were nervous about the cost but it was definitely worth it to not limit our guests. We were also really happy with the venue and how amazing the servers were, remembering who ordered what even though people were wandering around. It is stressful hoping everything will be delicious and that people will enjoy themselves so the fact that there was such a professional team organizing everything allowed us to just relax and enjoy ourselves.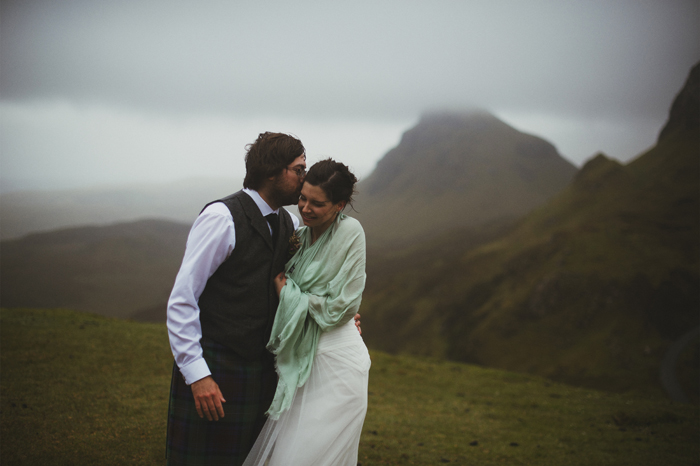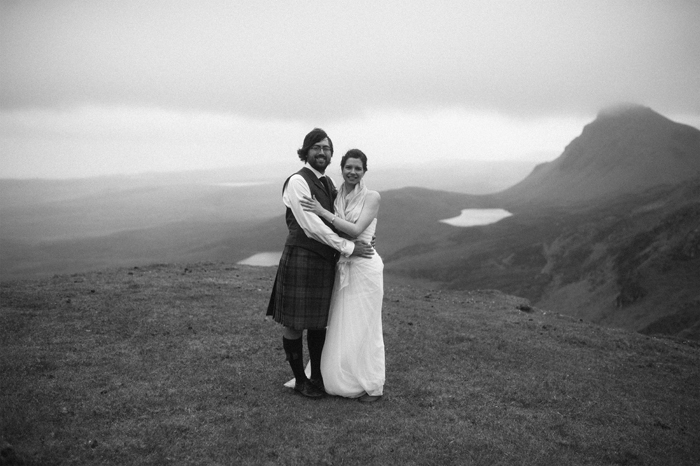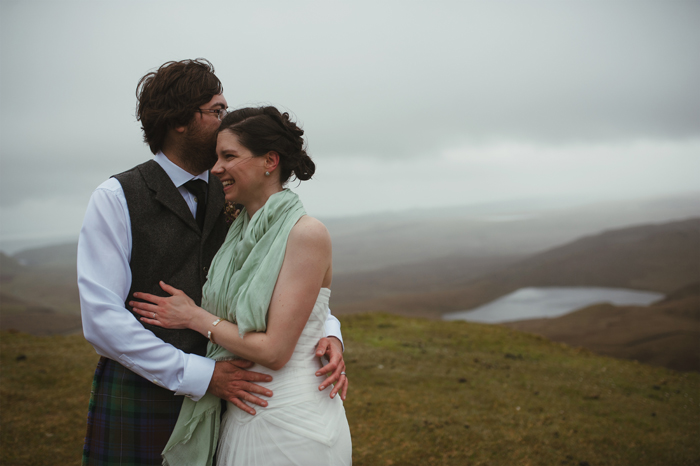 What was the best thing about having an intimate wedding?
Being able to plan it exactly the way you want and not having to be nervous about what other people think or what they wanted. On the day of the wedding you can actually enjoy the little details while getting ready and of the ceremony without all the stress and the pressure that comes with having a big event. We are really happy that we could visit and party with everyone at the reception but we would not change a thing for the very intimate ceremony in Scotland.
There are also those little surprises that happen when planning an event that are so much easier to deal with in an intimate wedding situation, especially on Isle of Skye where everyone was so friendly and helpful. For example, we had some delays while travellng and Carole's Florist was closed for holidays after 3:00pm. We arrived at 3:30 in a panic but Carole had left a note on the door to head up to this wonderful little bakery upstairs that she had left the key to the shop with. We were able to get our beautiful flowers no problem and buy pastries for breakfast the next morning. When it's just the couple having to deal with little hiccups, it is so much easier than having to coordinate a big wedding party and guests.
We also really appreciated our quiet wedding supper that was just the two of us in the Old School Restaurant in Dunvegan. We were dressed nicely but not in our wedding clothes so we went in there like any other couple on a date. It was almost like we had this wonderful secret that made our wedding feel even more private and special between the two of us.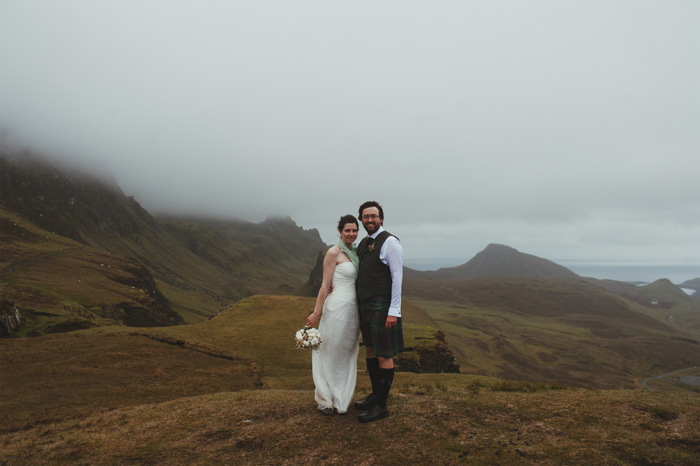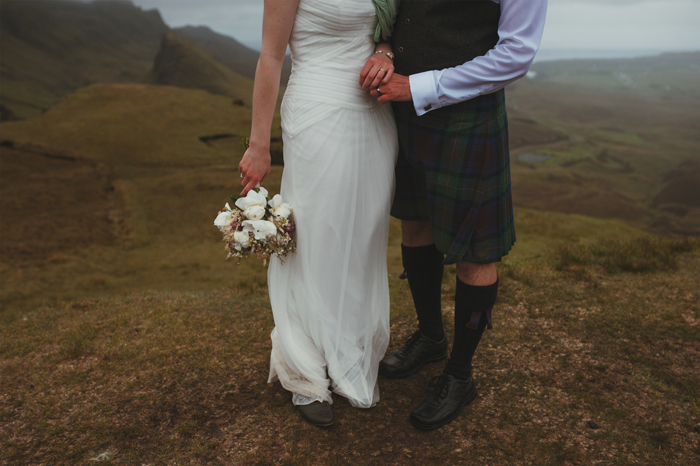 What advice do you have for couples who are considering an intimate wedding? 
This is your day, or two days in our case. You need to be comfortable with everything in your ceremony and reception so plan it the way you want. If after you discuss ideas with your family and realize that there is that one tradition that they would really appreciate but you're not that in to, just do it and move on. After all, you planned the rest the way you wanted and you'll make them happy by just doing that one tradition.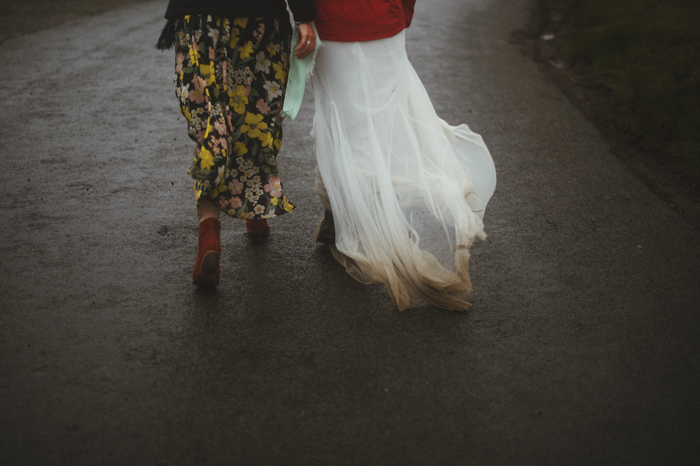 Vendors:
Ceremony: 
Celebrant: John Howieson – Humanist Society of Scotland, based on Isle of Skye
Photographer: Anna Urban 
Piper: Alan Mackenzie – Isle of Skye Pipe Major
Car Hire: Celtic Legend (Arnold Clark)
Self-catering cottage: Tir Nan Og, Waternish, Isle of Skye
Flowers: Caroles Florist & Handmade Gifts
Wedding Dinner: The Old School Restaurant
Dress: Vera Wang at David's Bridal
Kilt: Rendall's of Lochalsh
Tartan ribbons for hand-fasting: House of Tartan 
Groom's vest: Gentleman's Emporium 
Groom's shirt and cuff-links: Moore's 
Bride's jewelry: Melanie Auld Jewelry 
Bride's rings: Diamonds Elinor (engagement)  and Bijouterie Dulac (wedding)
Groom's ring: Madani at Bijouterie Suisse