Marissa and Chris' wedding could not have been any more gorgeous. From the awe-inspiring desert landscape, to the bride's fabulous Rue De Seine gown, the wedding was the perfect mixture of desert authenticity and rustic glamor!
Marissa and Chris chose the talented Sam Arroyo to capture their Cali wedding. For them, great photography was essential!
"Spending a good portion of the budget on the photographer that would capture the happiest day of our lives was a no-brainer. I had asked one of my dearest friends to tell me the one thing she would have changed about her wedding if she could and she said without hesitation, the photographer. She said it was her biggest regret and there was no way we were going to make the same mistake. Friends of mine had gotten married earlier that year and I was obsessed with their wedding photos and video, so I knew exactly who I was going to call for a recommendation. They gave me Sam Arroyo's name and the rest is history!"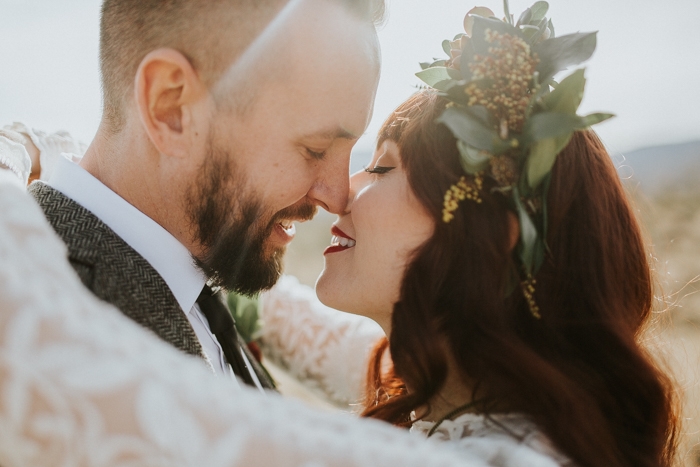 Marissa, 30 & Chris, 33
Location:  Pioneertown, California
Wedding Date: November 12, 2016
Number of Guests: 28
Wedding Cost:  $16,000-18,000. We spent the majority of the budget on location, my dress of course, and our photographer. I had originally imagined spending somewhere closer to $10,000 but we fell in love with  The Ruin Venue that was quite a bit more expensive than I had originally planned and it was worth every penny. The owners of the property, Paul and Tony, were AMAZING. I can't say enough good things about working with them to create our dream wedding. They went above and beyond what we ever expected. As for the dress, I had also planned on spending far less but that all went out the window and when I put on the Rue De Seine dress I had been coveting for over a year. It was just too perfect, and I couldn't imagine getting married in anything else. Spending a good portion of the budget on the photographer that would capture the happiest day of our lives was a no-brainer.
Wedding Ceremony Location: The ceremony took place in front of this incredible rock formation on the The Ruin Venue, right at sunset. We skipped the seats and our friends and family just gathered around us as we said our vows. It was magical.
Wedding Reception Location: The reception took place mainly in the ruins themselves where the original fireplace from the home was warming up the chilly November night. There was a beautiful bar made out of old wine bottles and an ornate fire pit that has to be seen to be believed, so there were plenty of places for people to congregate and chat; it was lovely! We had dinner not long after the sun went down, under a newly constructed pavilion that was adorned with strings of carnival lights. We wanted it to feel like a family dinner we'd have at home so we opted for a family style dining table and a menu of barbeque and comfort foods.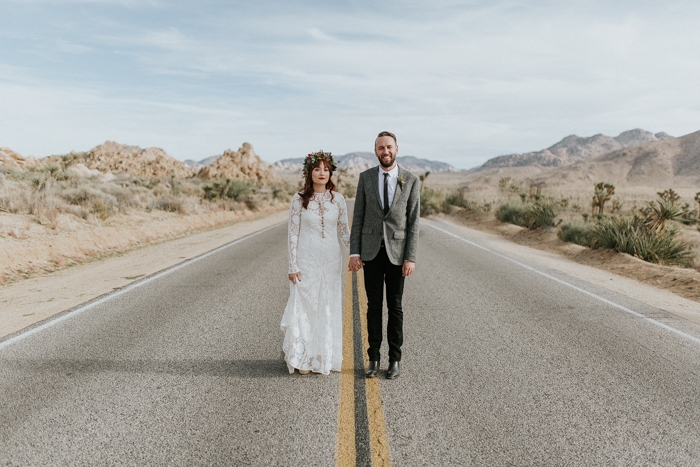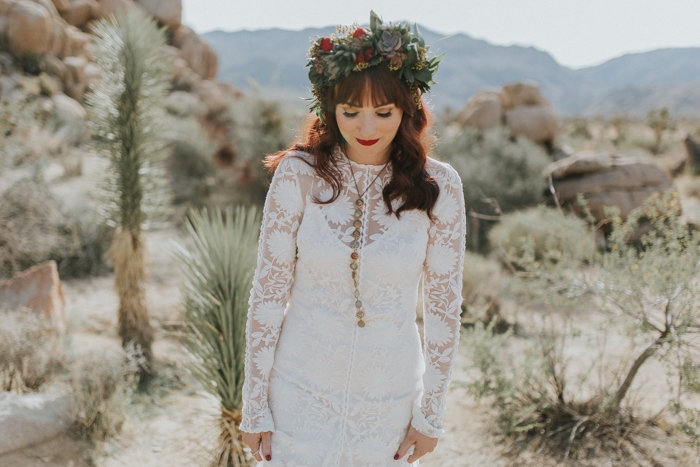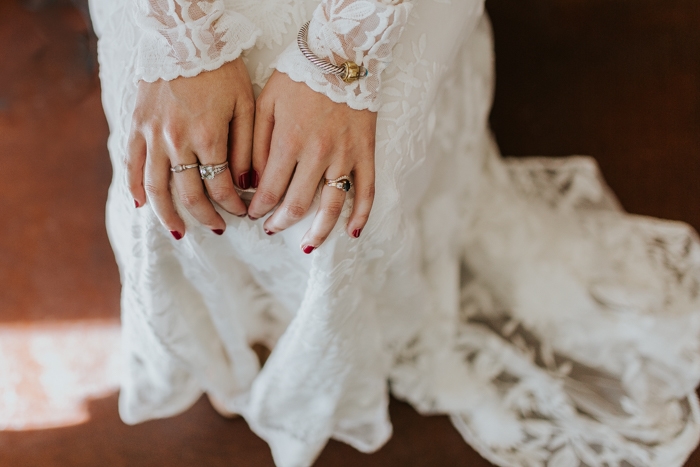 Why did you have an intimate wedding?
We had an intimate wedding for a couple of reasons. First, a large wedding was never what I had in mind. I wasn't sure I ever wanted to be married before meeting Chris, and he's already had one wedding so for us it was really about the marriage more than the wedding and we just wanted to make sure we didn't waste the night only getting to talk to each person for a couple minutes at a time. Second, this might be the only chance we get for all, or most, of our nearest and dearest to meet and spend time together. We wanted them to have the opportunity to get to know each other rather than sit at isolated tables and form familiar cliques, which you often see at larger weddings. We didn't want it to feel like there are friends and then there is family. We wanted everyone to hang out together and that's exactly what happened so it was perfect. Lastly, Chris is from Australia, which meant the majority of his friends and family are on the other side of the world and many of them would be unable to make the big trip. Even for those who could make the trip we rather they come when wedding coordination isn't making life so hectic and we can really take the time to catch up and show them our city. We have plans to have a reception in Australia at the end of this year. So ultimately we chose to have a more intimate U.S. wedding supplemented with a party or two in Australia.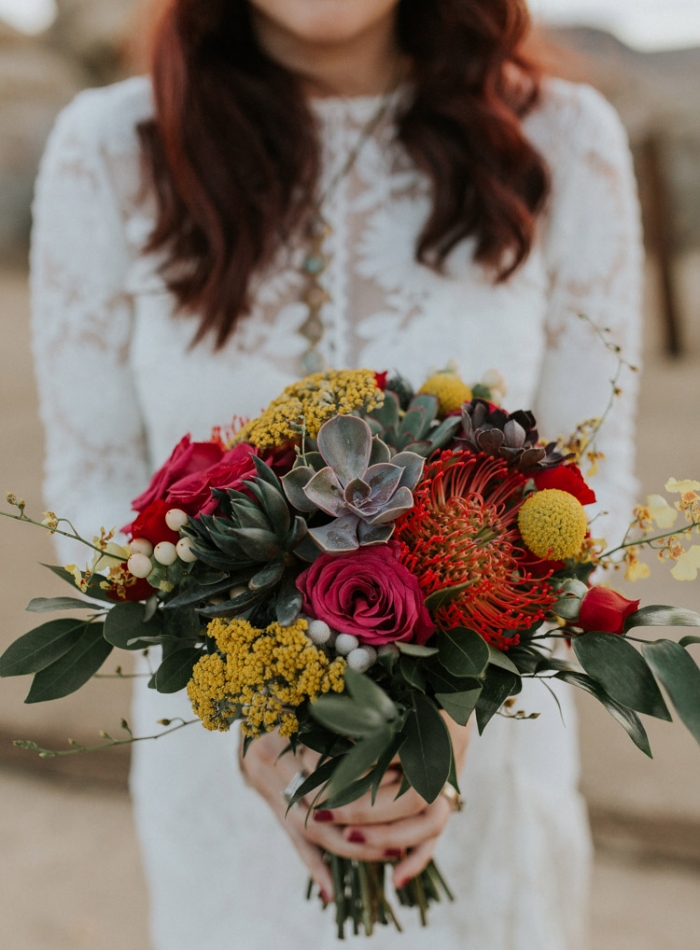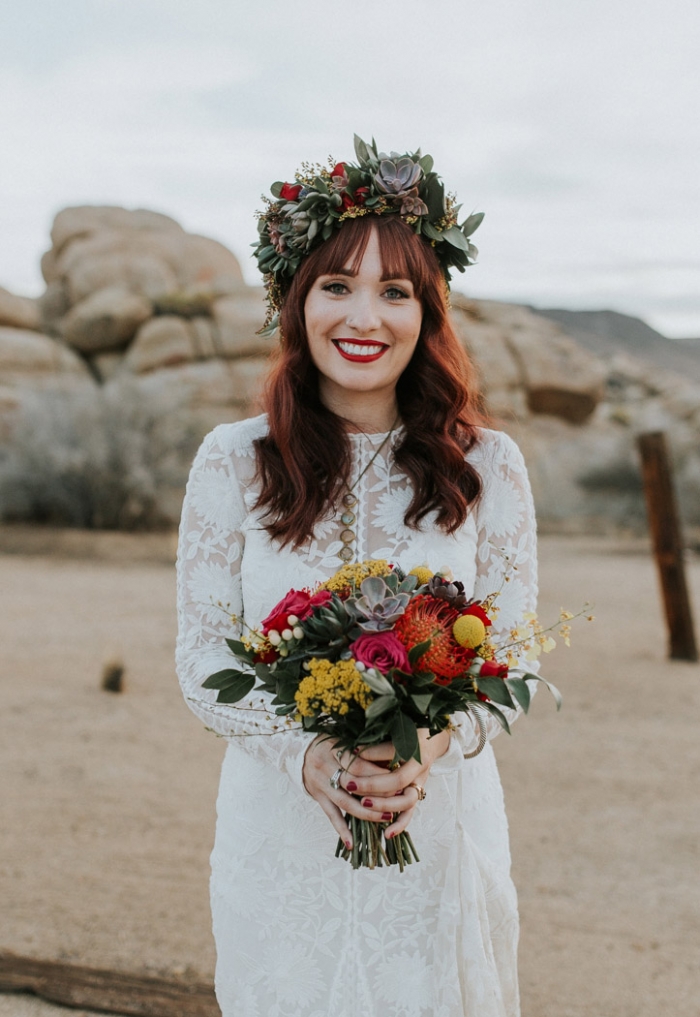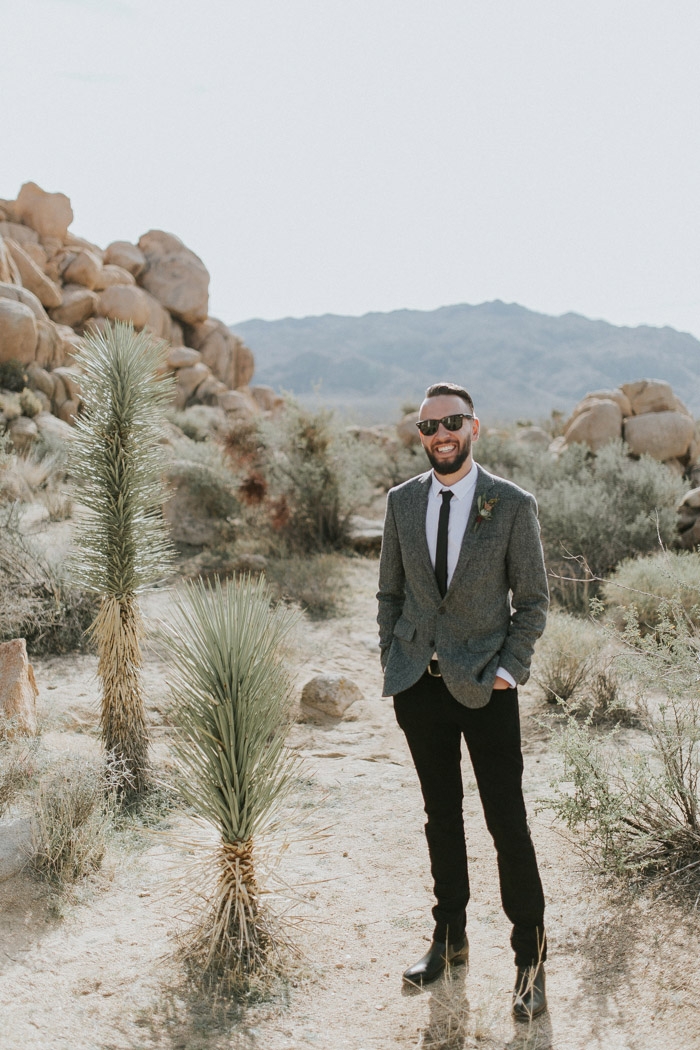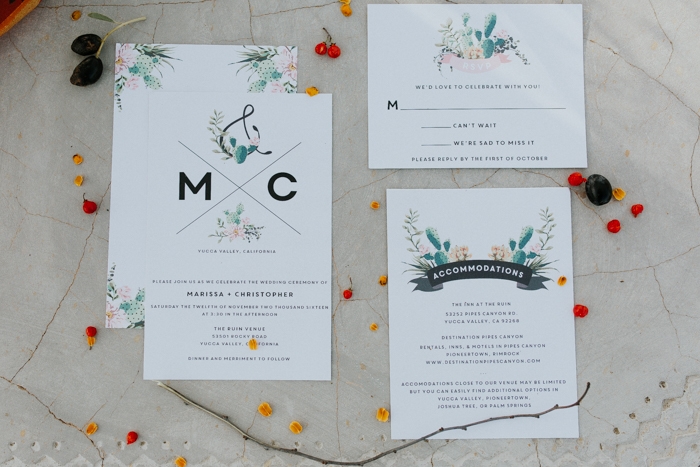 What are some the challenges that you faced planning an intimate wedding?
Guest list! We knew we wanted something intimate but that doesn't make creating the guest list any less painful. I have a really large family on my dad's side and I would have loved to have each and every aunt, uncle, cousin, second cousin, kids etc. at the wedding but it just wasn't possible. We basically had to take on an all or nothing policy and that was really hard. I lost sleep over the guest list. Also we ran into some challenges with rentals in that many of the vendors were not used to catering to such a small event. Sometimes the only option was to rent 500 wine glasses and we just didn't need that many. Even the venue owners said they had never done a wedding as small as ours, so it was a learning curve for everyone. Also we didn't exactly set ourselves up for the easiest time when it came to venue choice. The locations itself was pretty off the grid so trying to get even 30 guests to the location, and to find them accommodations proved to be quite the challenge. Not to mention we had no cell service out there so coordination was difficult! However having only 30 guests worked out to our advantage because I can't imagine how hard coordination would have been with 50 or 100 guests. Also I have to say that being off the grid a bit was one of the best parts of this night. Nobody was on his or her cell phone, scrolling through social media, or uploading pictures; it was just us and the desert sky, great wine, and even better conversation.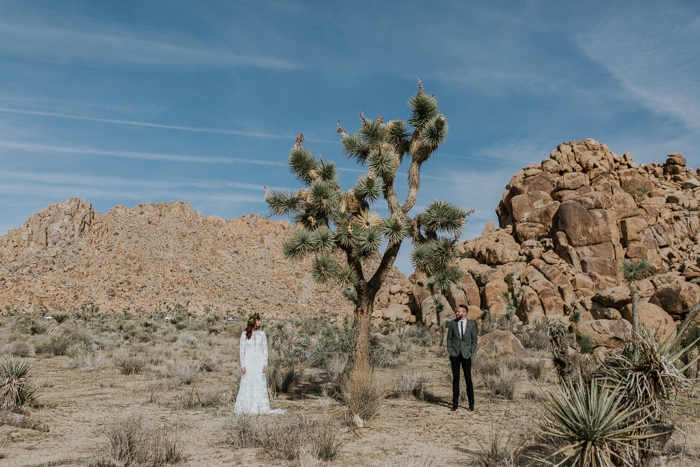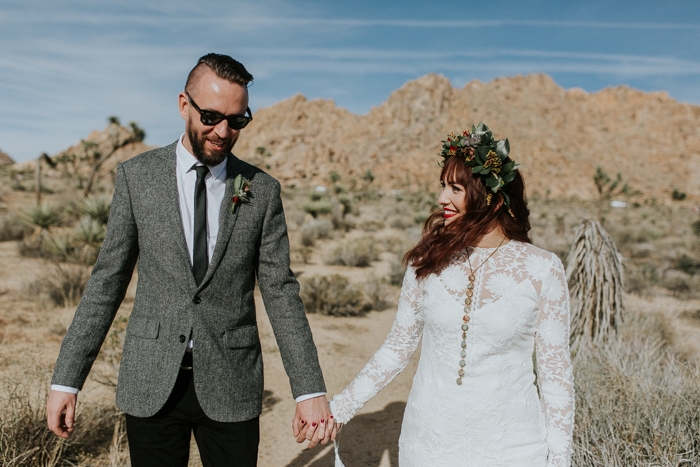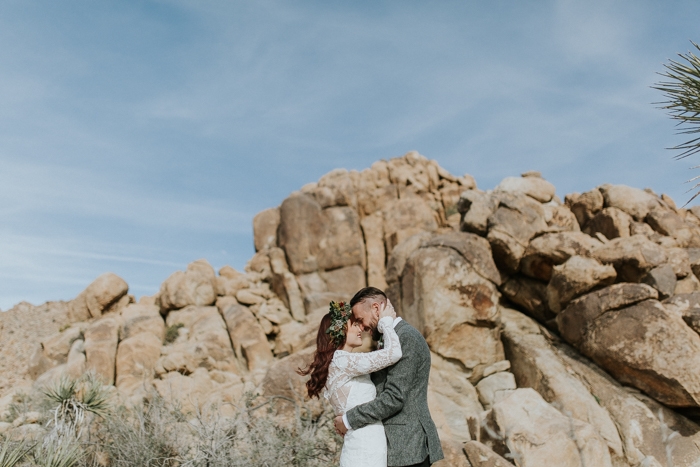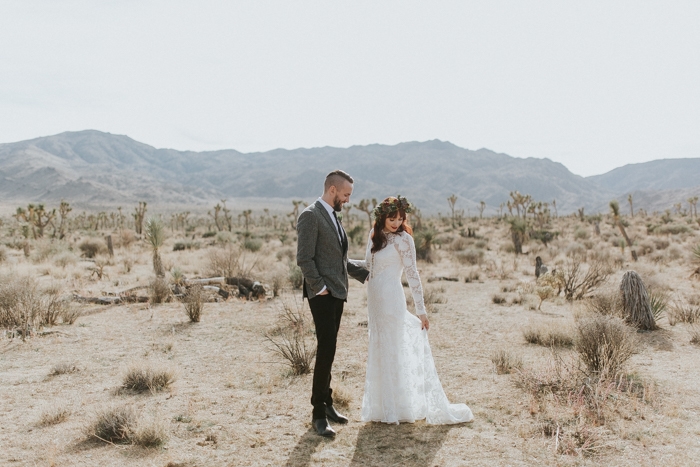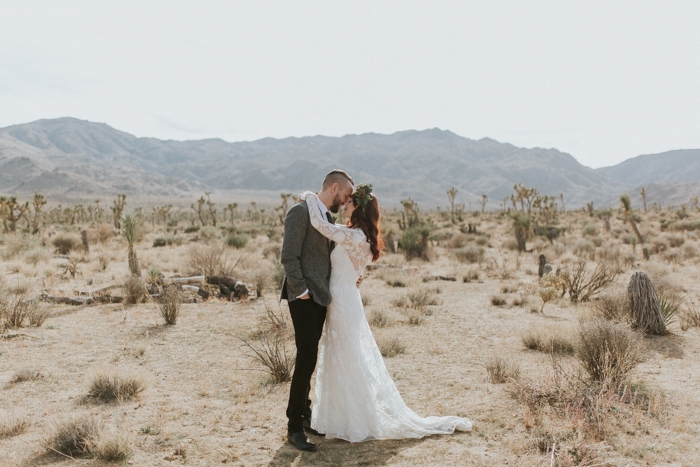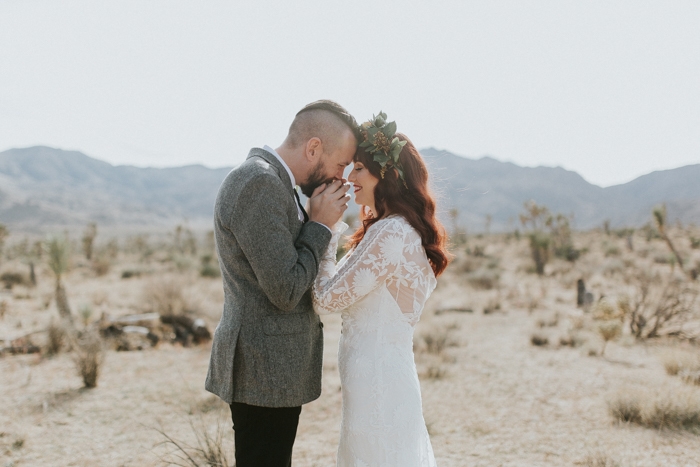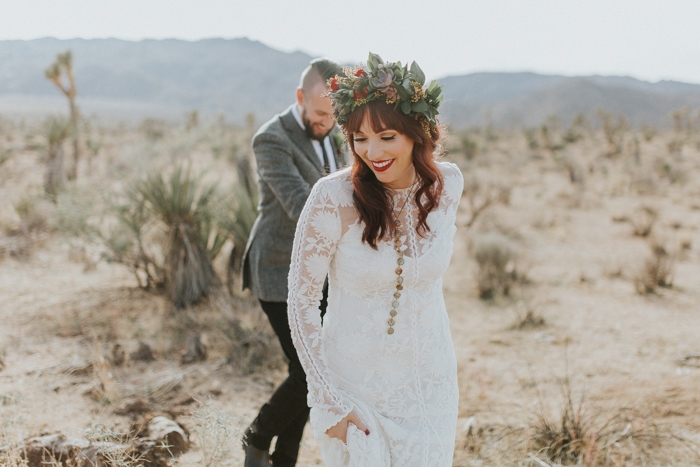 Was it difficult to pare down the guest list?
As I said above it was incredibly difficult and it was the only thing I cried about through the entire process. I didn't want to offend anyone, and I knew deep down that was probably unavoidable. Of course some people understood completely, particularly those who have had to deal with wedding guest lists themselves, but of course there are always a few that take it personally and I can't explain how difficult that was for us. There are so many people we love and cherish deeply that we could not invite and that bothered me up until the day of the event, and even for some time after.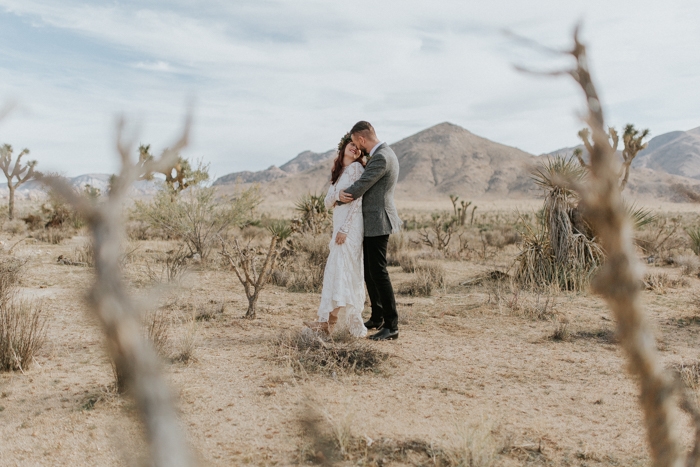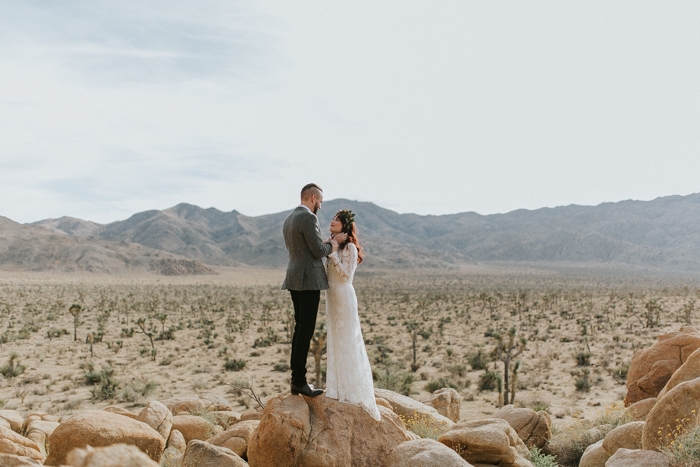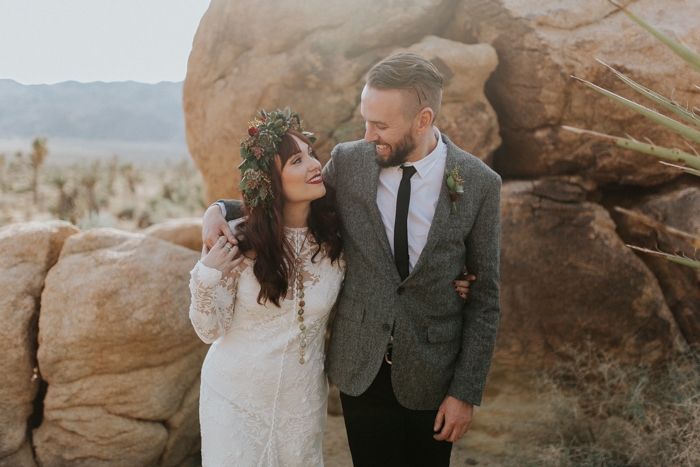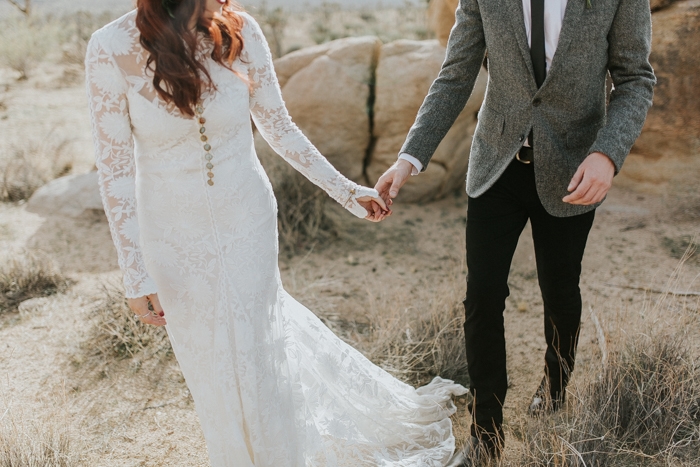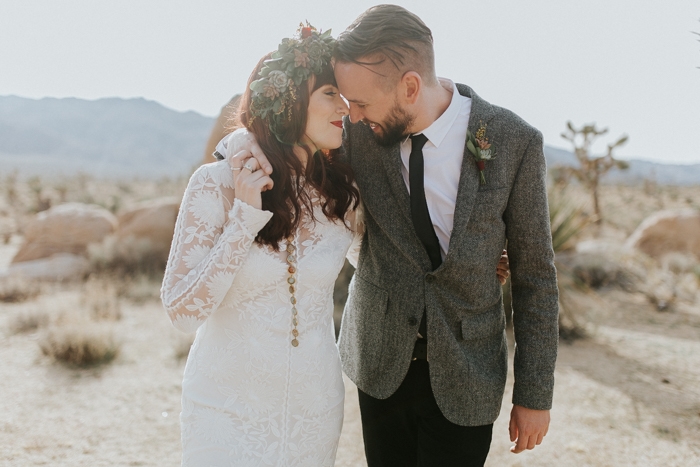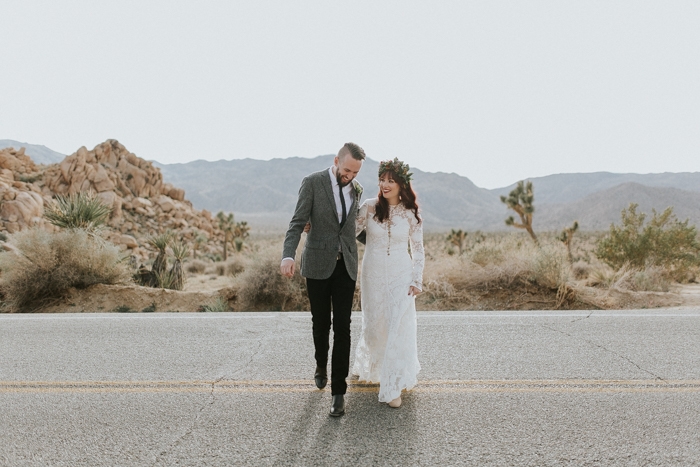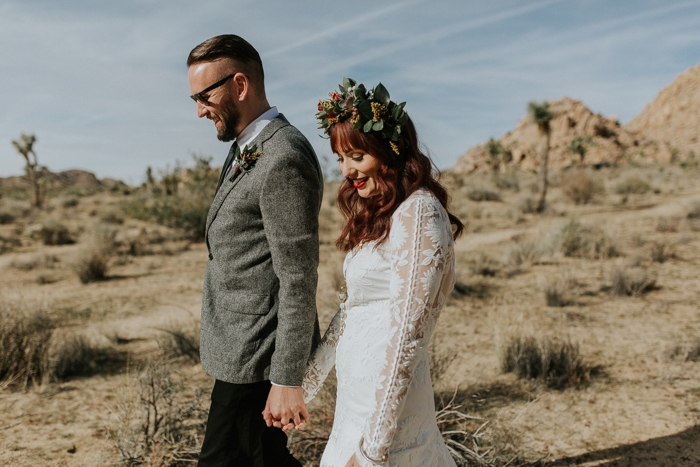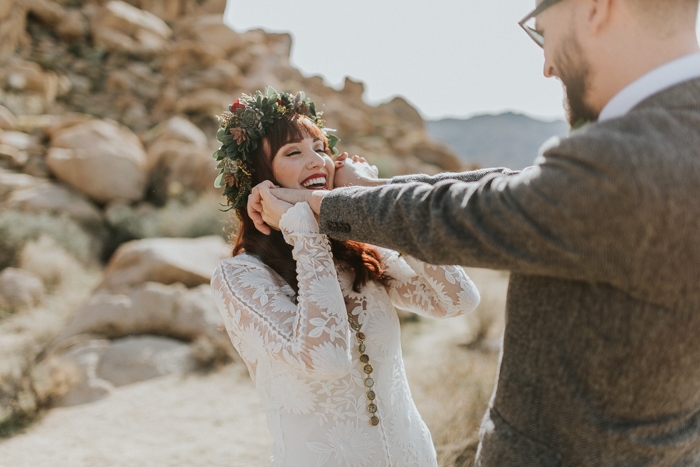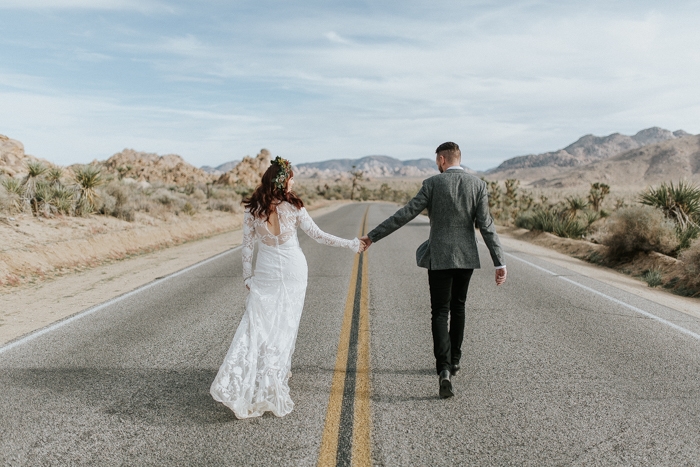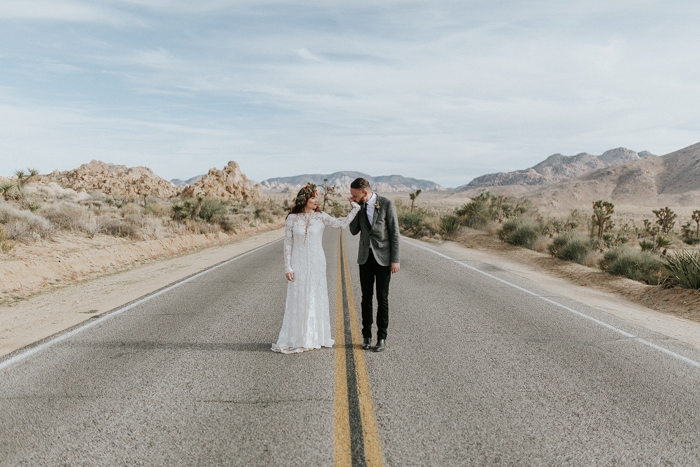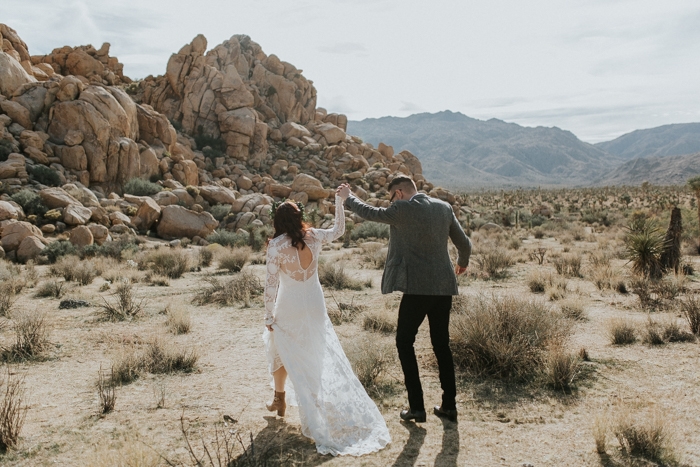 Did you have any 'issues' with the small guest list from friends and family? If so, how did you address them?
No one came right out and said that they were bothered by not receiving an invitation but of course we heard through other people that some had been offended. Honestly, I didn't address it at all. I've heard horror stories about this kind of thing but I was really lucky in that I think at the end of the day the people in my life know that an invitation or lack of one is not a direct reflection of how much I care for them. I feel very secure and confident about the relationships I have in life and I hope they would feel the same.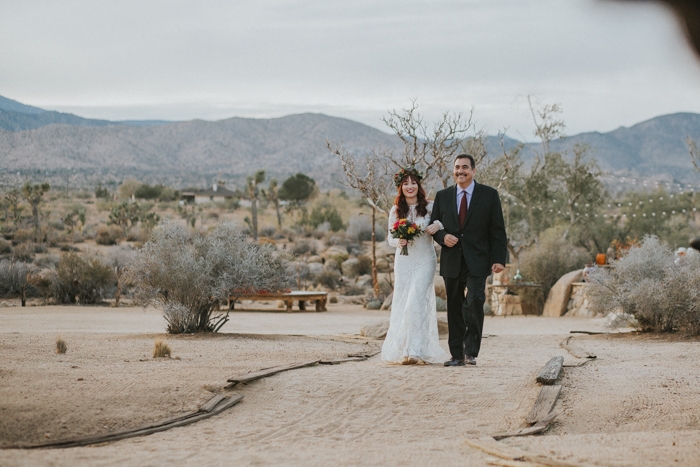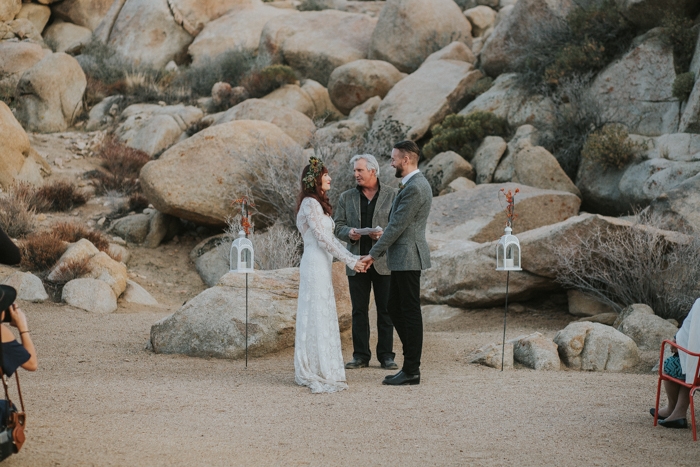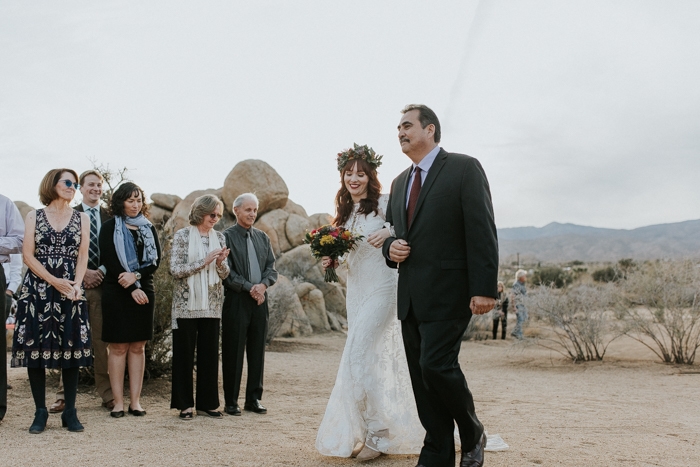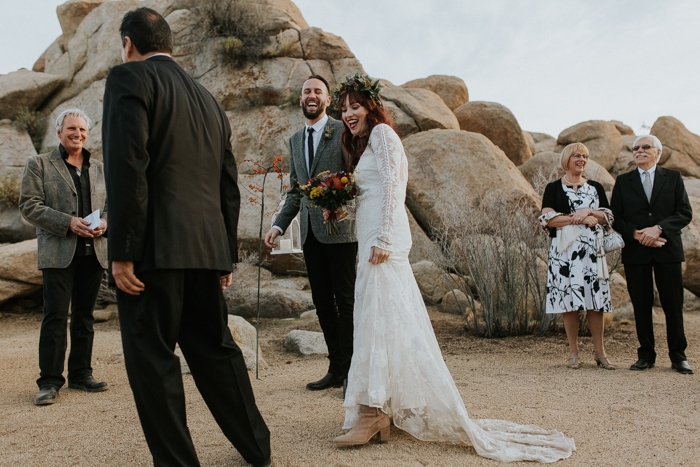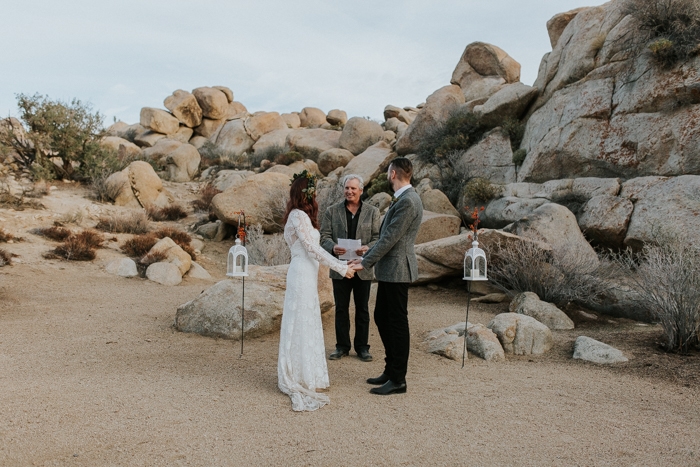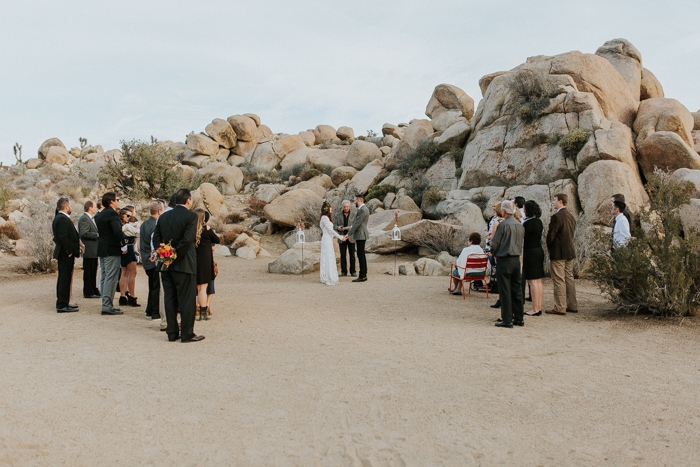 What were the highlights of the ceremony?
Hands down it was walking down the aisle arm in arm with my dad to marry my best friend for the second time. Chris and I didn't have our parents at the first little chapel wedding so having them all there to see us exchange vows was incredibly special and definitely the highlight of the day for me. Having my grandmas there was also really important and brings tears to my eyes now just thinking about it. The only thing that would have made it better would have been to have Chris' grandparents there as well.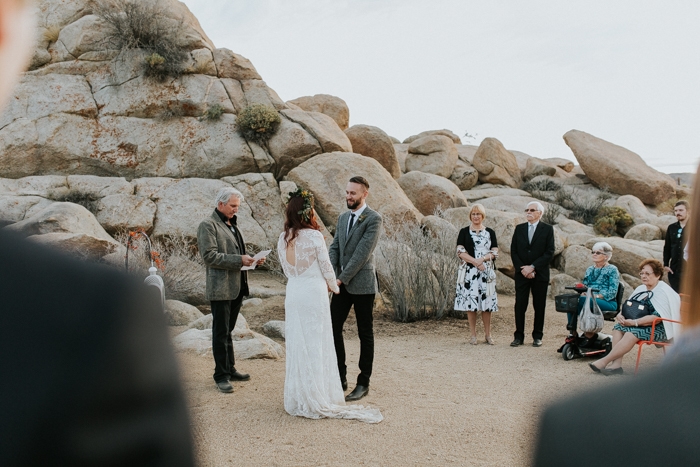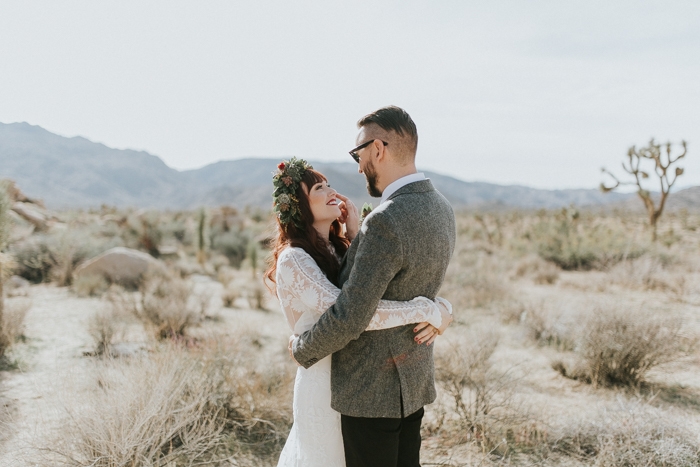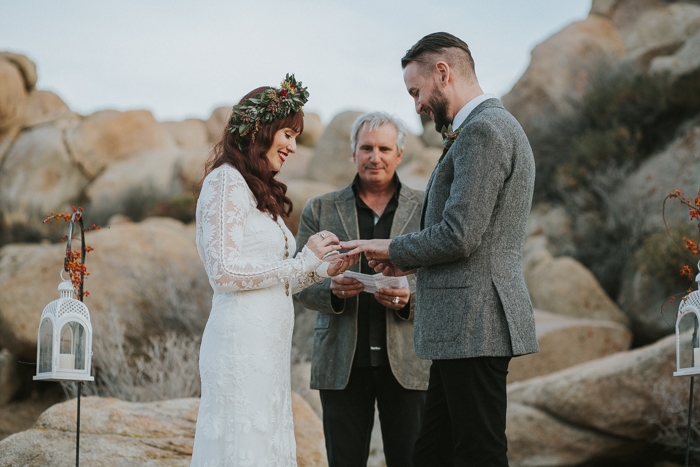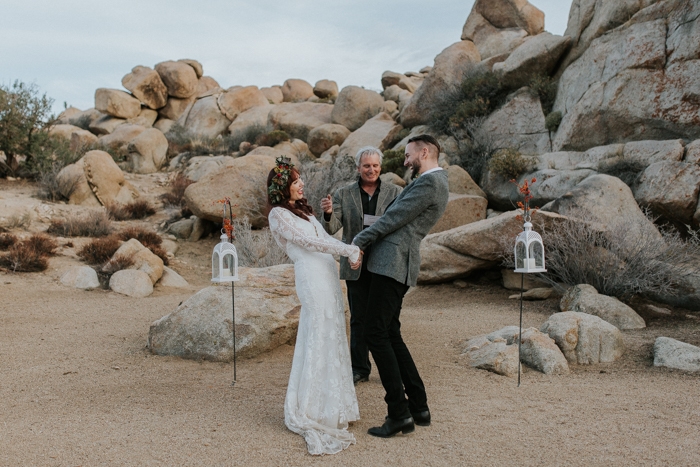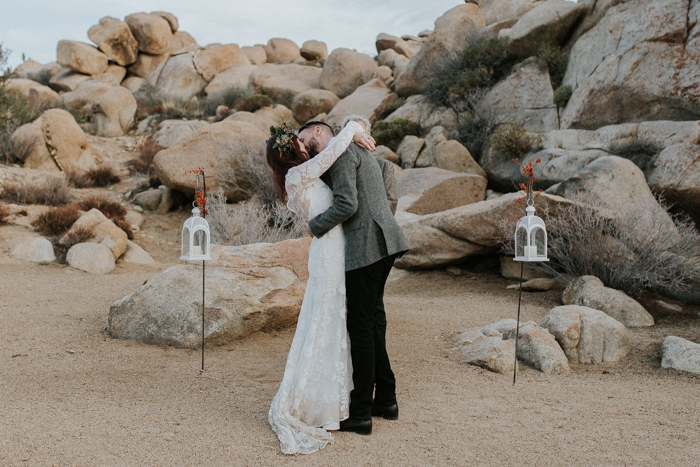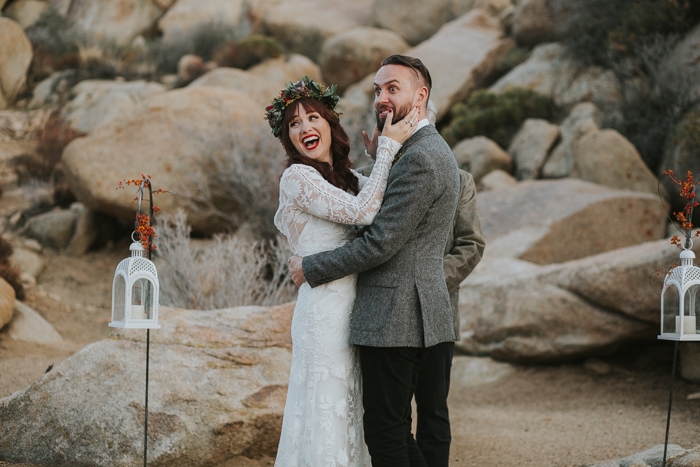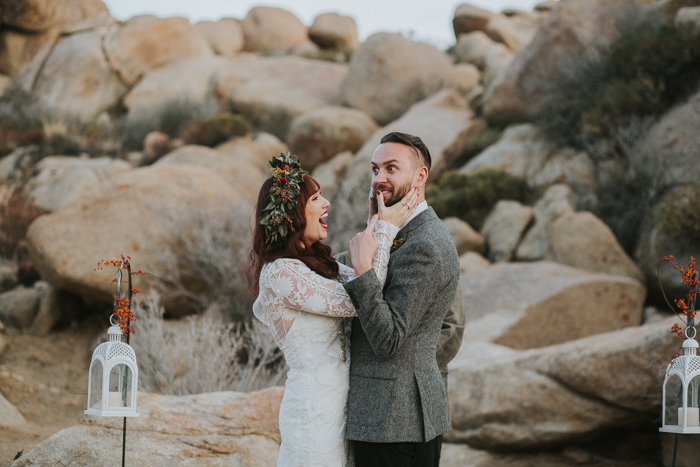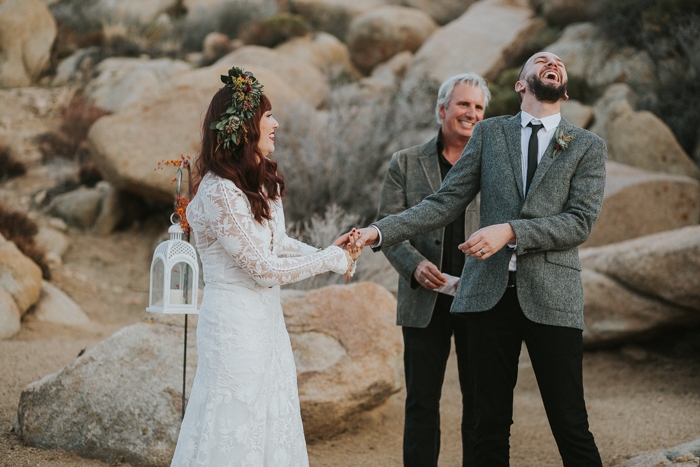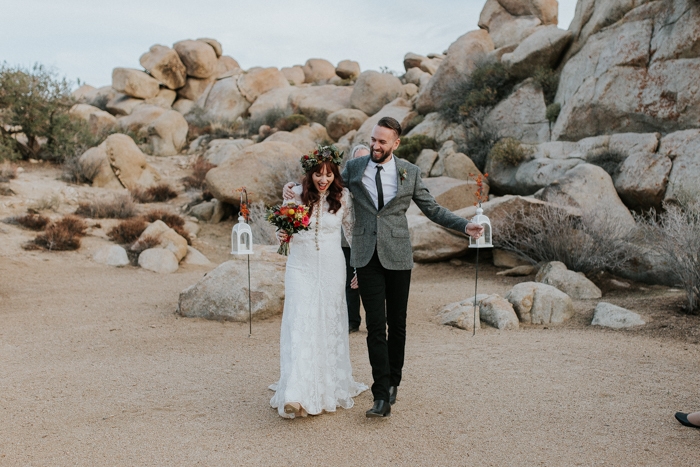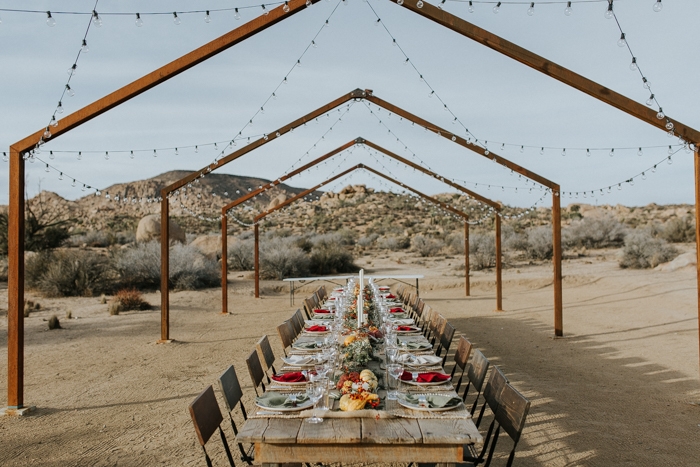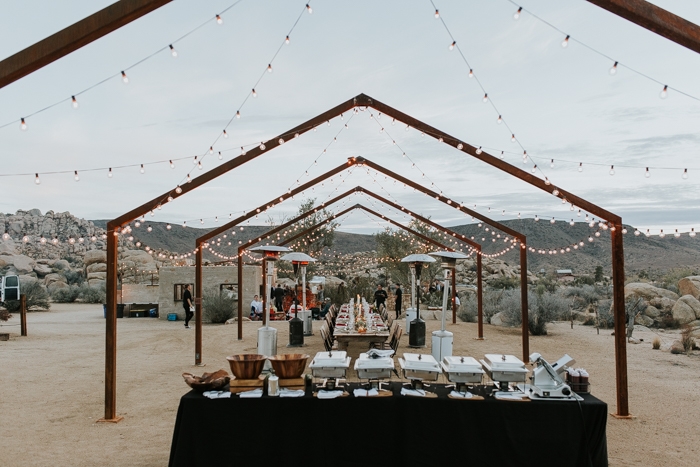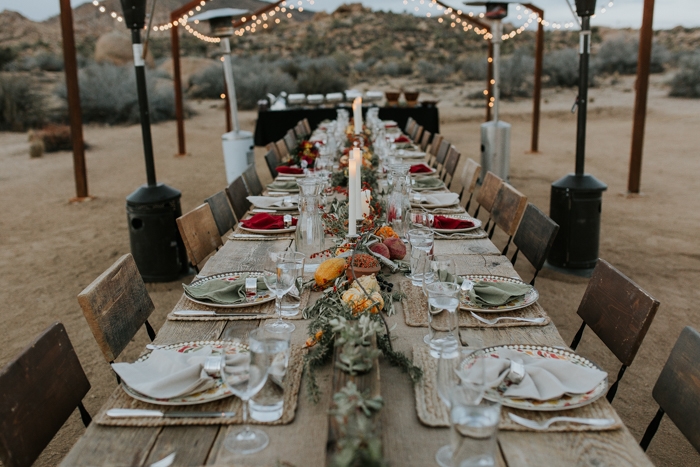 What were the highlights of the reception?
Such a hard question! Family style dinner under the stars, dancing with my dad in the courtyard of the ruin, taking tequila shots with my mom, smoking celebratory cigars in front of the fireplace with my husband and father in law, or reminiscing around the fire pit with my best friends…all of these moments were highlights that I'll never forget. However I think if I had to choose one defining moment it would be dancing with my husband to Kenny Loggins, "Danny's Song" with a glass of red in my hand and tears in my eyes. That's the moment when it all kind of sunk in and the emotion was pretty overwhelming.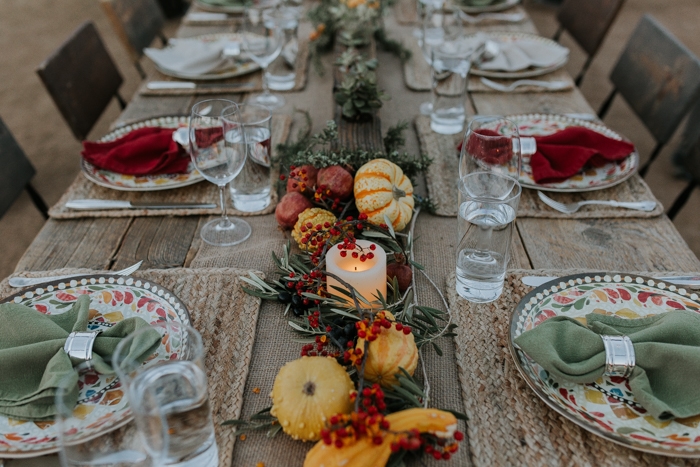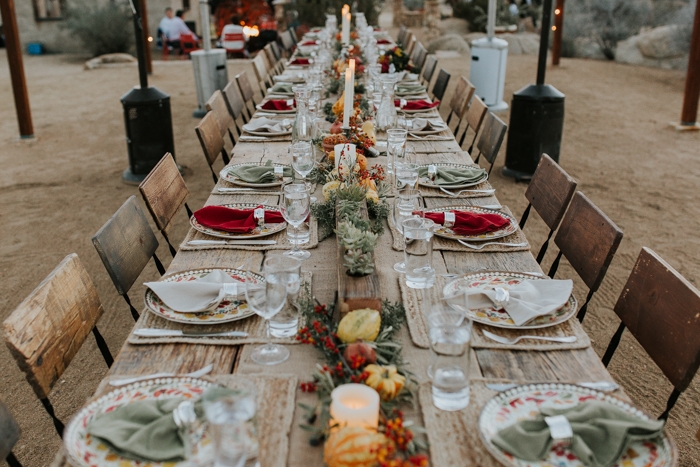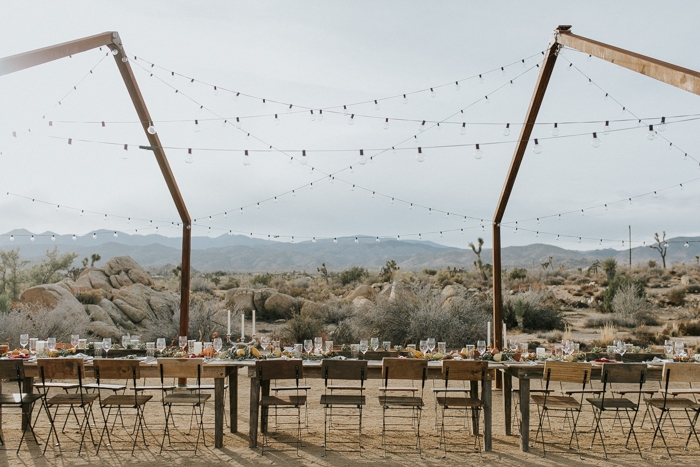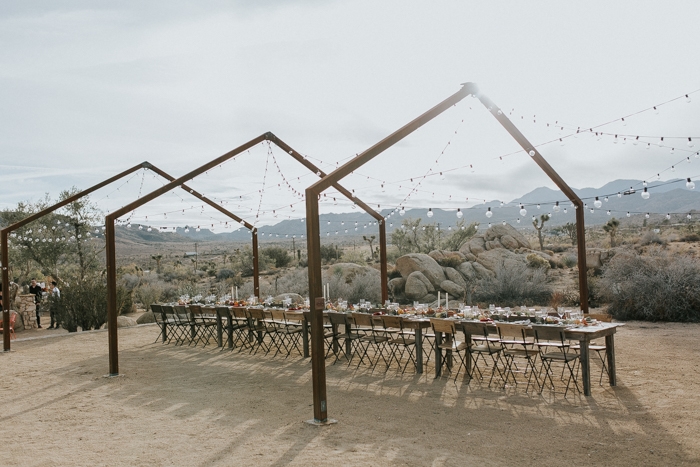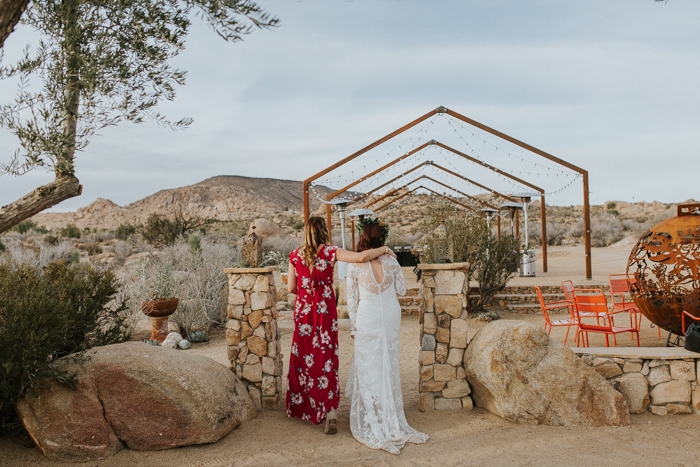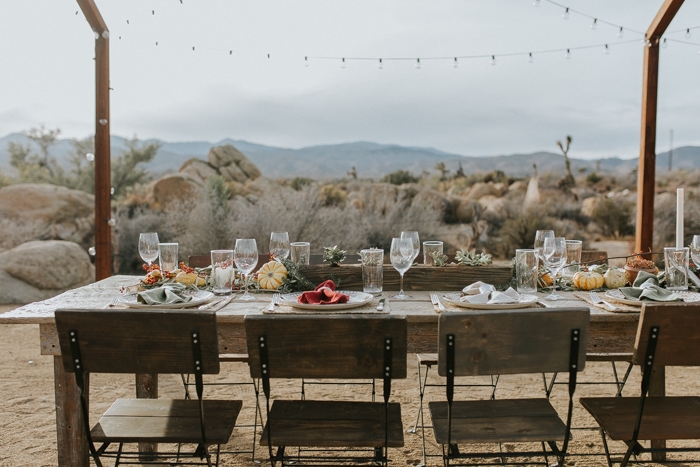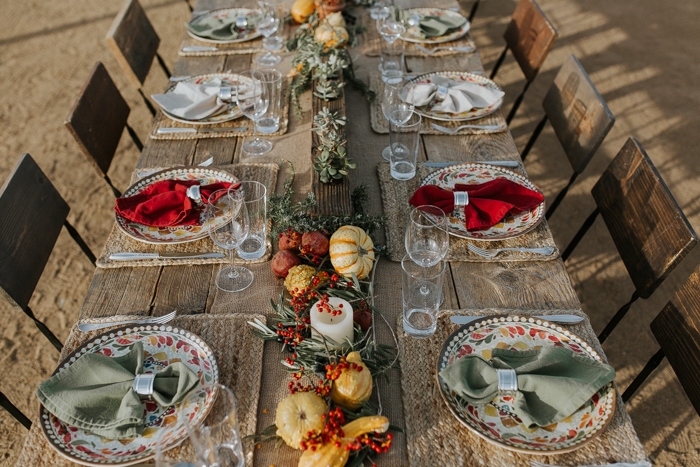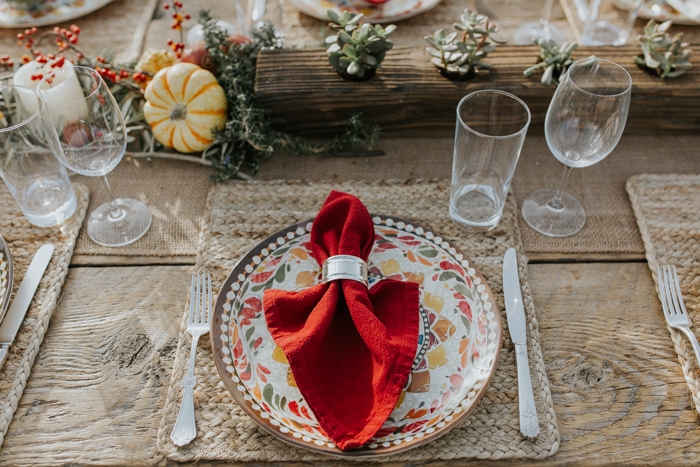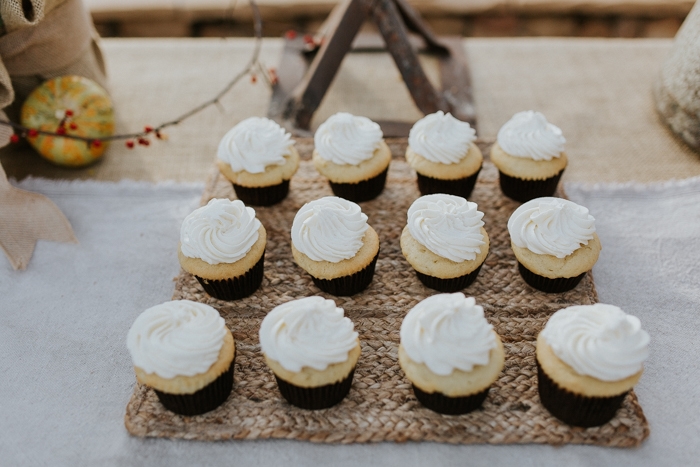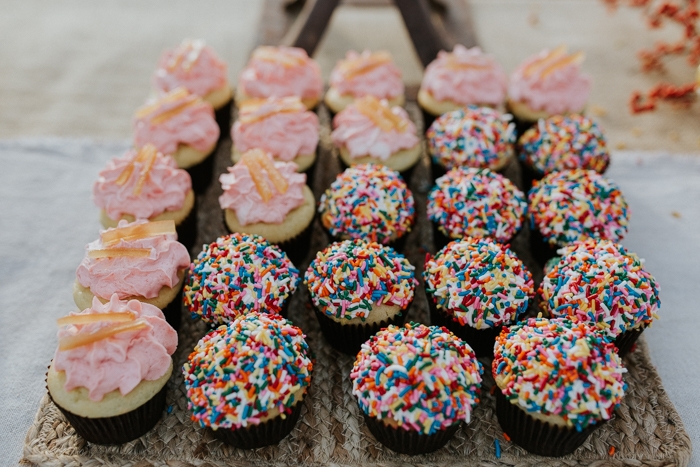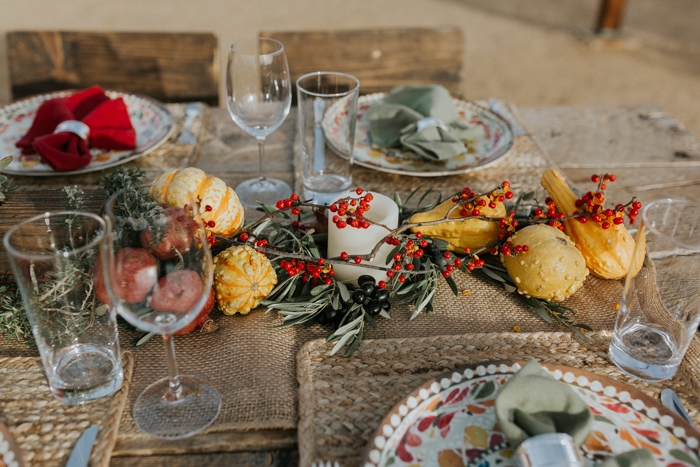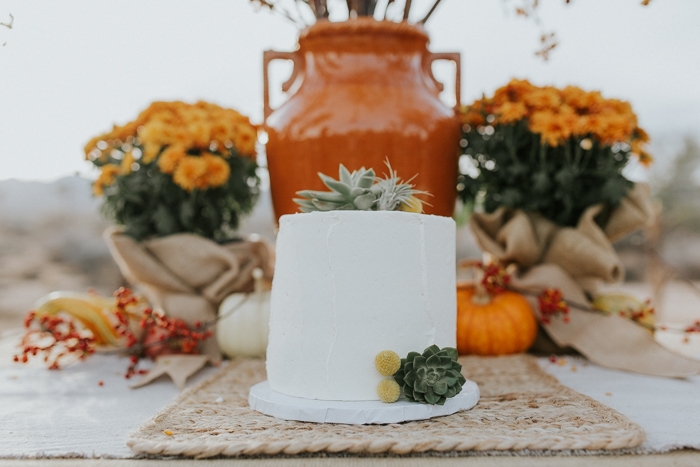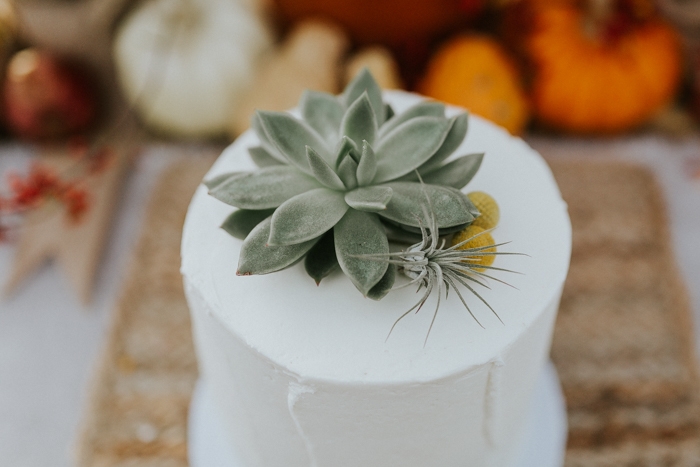 What was the best thing about having an intimate wedding?
Hands down it was having our friends and family get the chance to get to know one another. We had a pizza night rehearsal dinner at a house my family had rented in Pioneertown and I knew after that the following night was going to be a blast. Everyone just clicked so well and it was so wonderful to see my best friend talking to my grandma, and my husband getting to know my sister's fiancé, and my in-laws getting to know my aunts and uncles. Honestly it was surreal. There's just so few times in life where you get to have all these people that you love so deeply in one room together laughing and talking, and acting like they've known each other forever. It was magic. I truly believe that if we had decided to have a wedding of 100 or 200 people these connections might not have happened.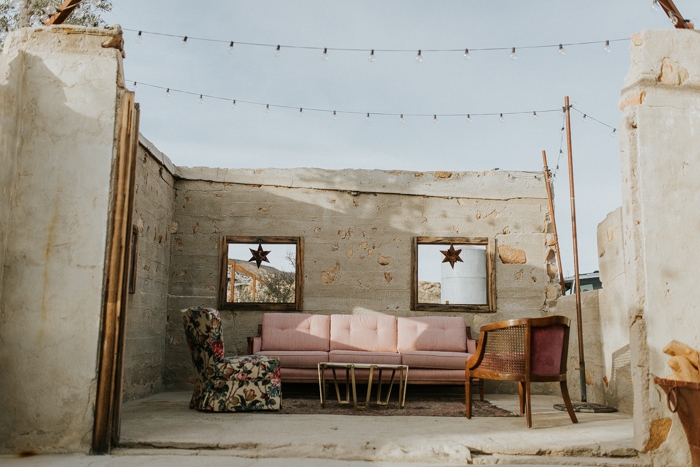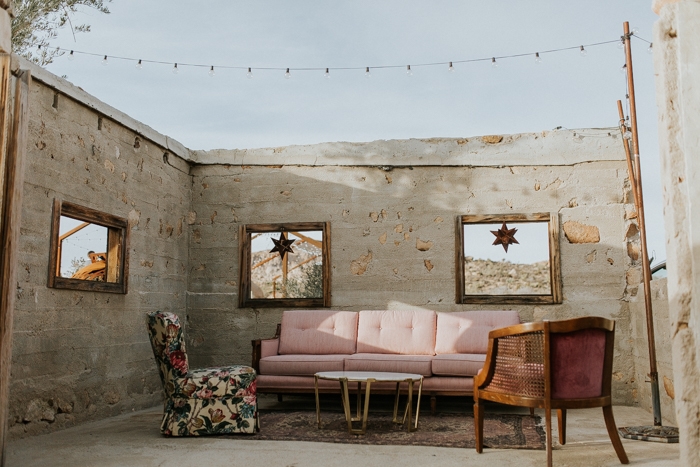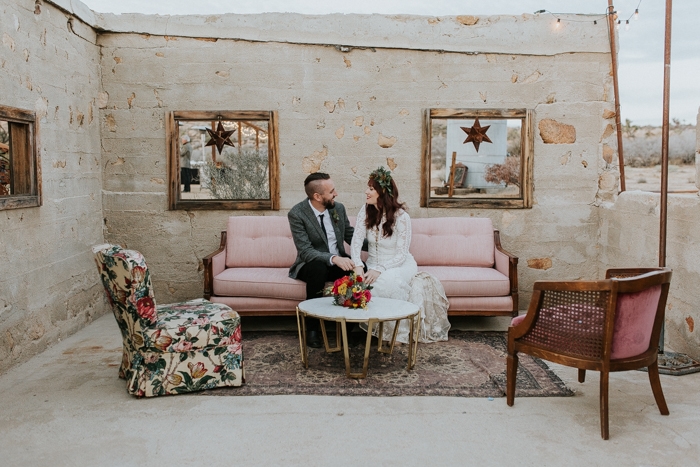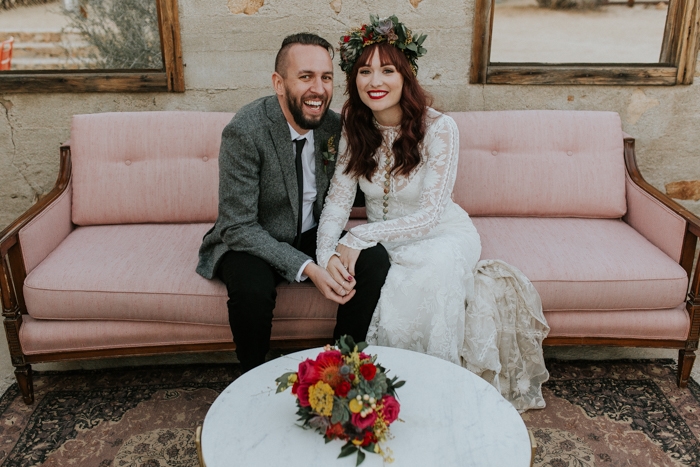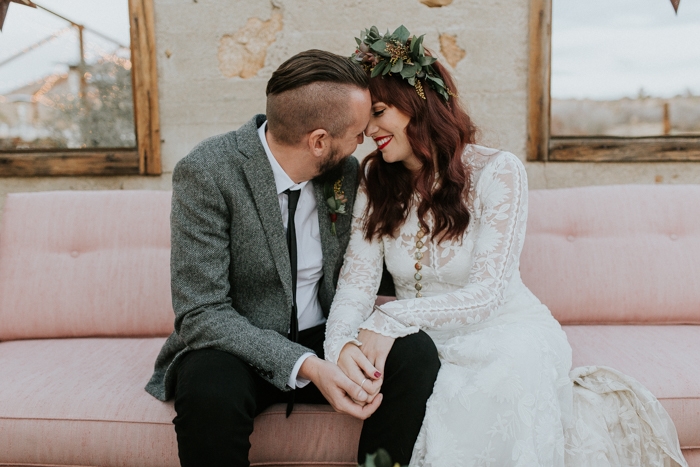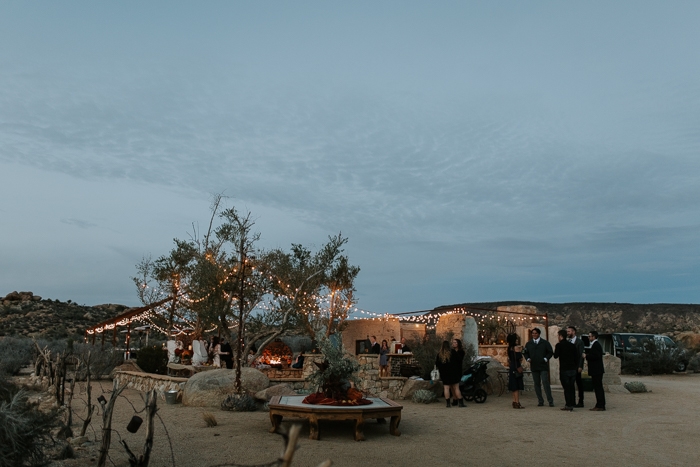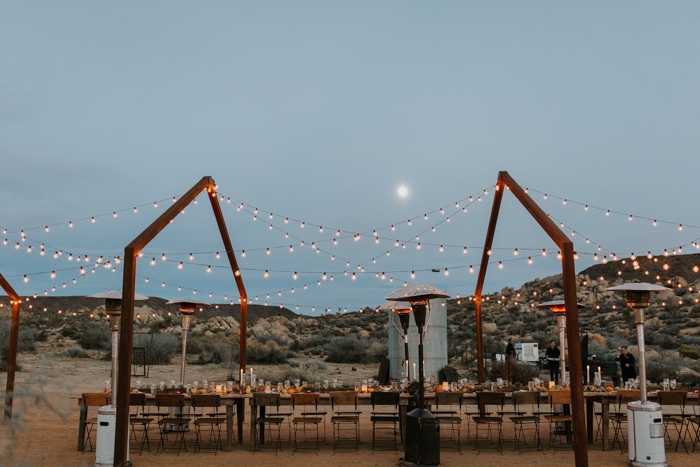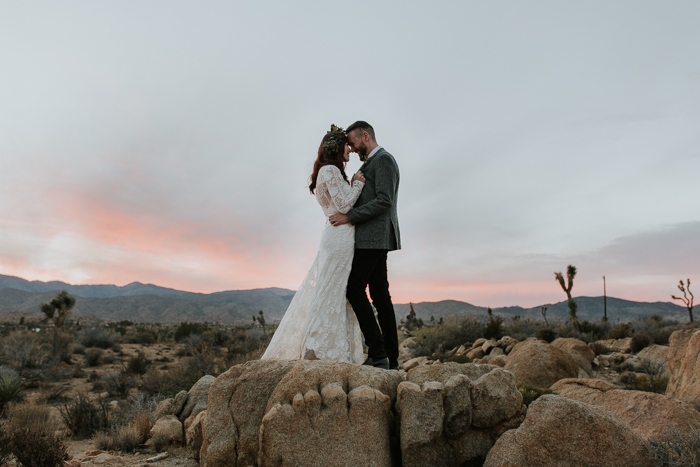 What advice do you have for couples who are considering an intimate wedding?
My only advice would be that once you've decided to go intimate you have to really commit. As the months of planning go buy you are going to think about this person or that person or someone's spouse or boyfriend or girlfriend, or that friend from work, or that second cousin twice removed that you should invite but you have to just come up with your guest list early on and stick with it. You have to accept that not everyone is going to be happy about it but this day is about you and your significant other. Nobody else. So do what's going to make you happy and just trust that it's going to work out. Don't have a big wedding to please other people. If you plan this wedding based on what other people want you'll find yourself broke, disappointed, or both.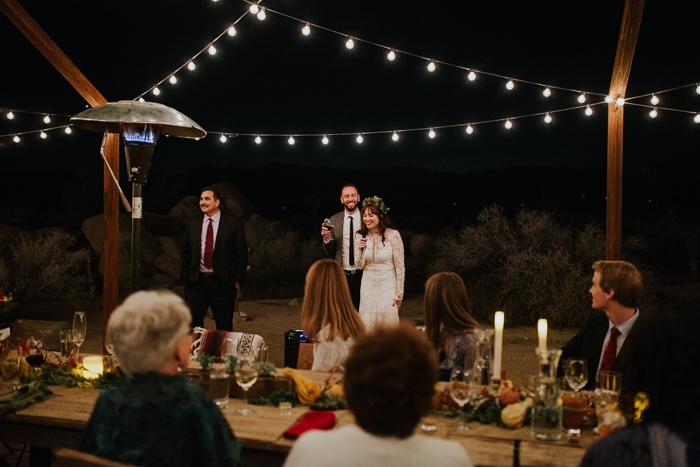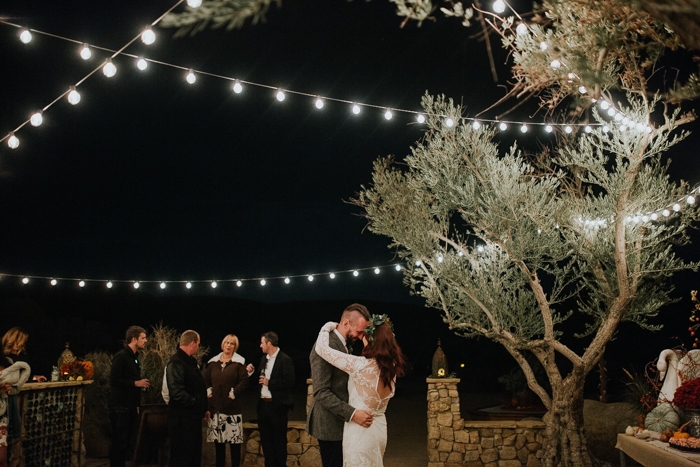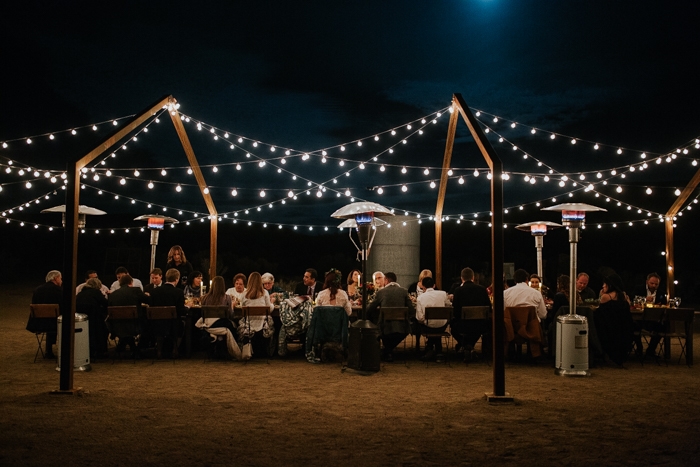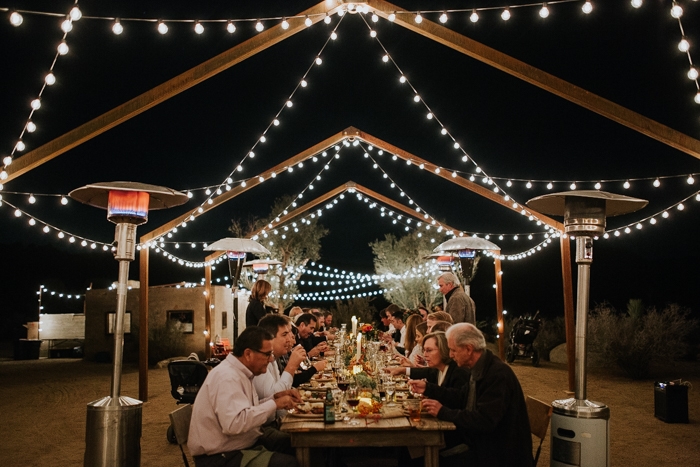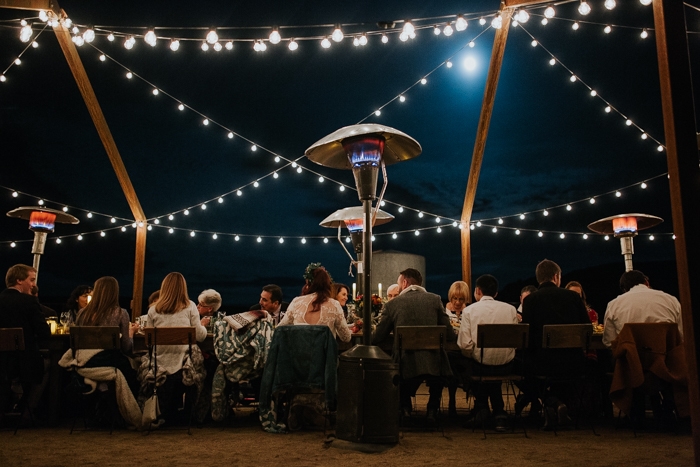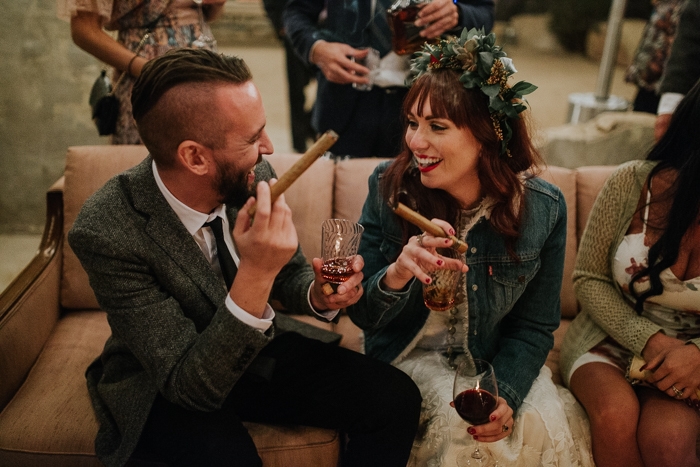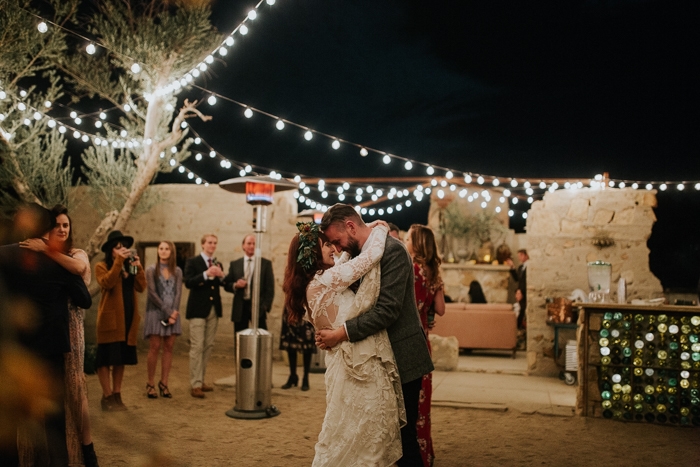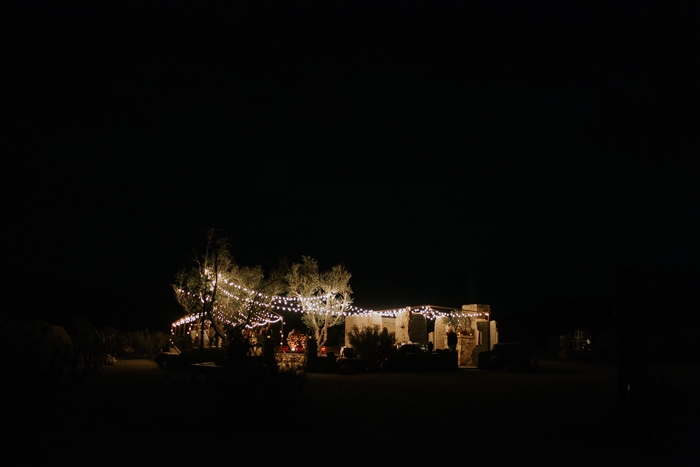 Vendors:
Save
Save
Save
Save
Save