As engaged couples around the world are facing the COVID-19 pandemic, many have found creative ways to tie the knot despite these challenging circumstances. Large gatherings won't be safe for a while yet, and rather than wait indefinitely to make it official, couples are opting for mini-ceremonies and physical distancing-friendly receptions.
For some couples, these alternative weddings are simply stand-ins for the "real deal". They want the certainty of an official marriage certificate, but are saving the real celebration for later. For others, these mini-ceremonies turn out to be as memorable and magical as any larger wedding could have been. Elopements were wildly popular even before this pandemic, after all.
Here are five ways that you and your fiancé can get married right now: 
*Safety should always be the priority when planning your wedding. Be sure to check with local guidelines regarding gatherings, and stay up to date with recommendations from health officials.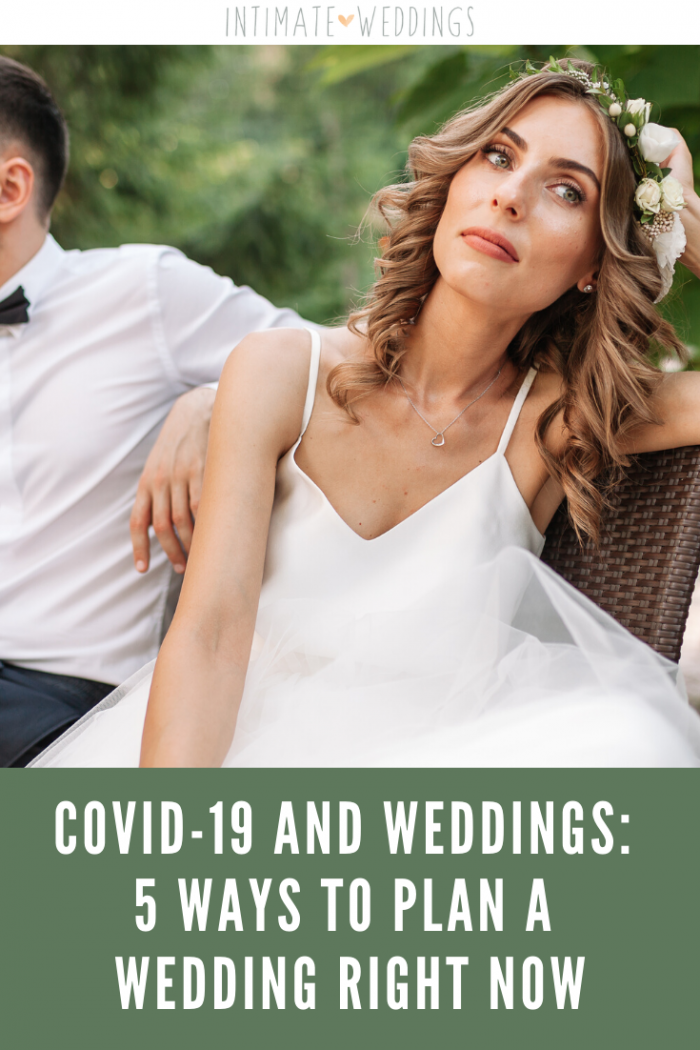 Drive in Weddings:
Bring the magic and charm of drive-in movies dates to your wedding day and tie the knot at a drive-in theater. This trend is so fun, we predict that it will stick around post-pandemic. Here's how it works: the ceremony is projected onto the big screen, and your guests can watch from the safety and comfort of their cars- with popcorn, candy and cake, of course! The beauty of this option is that it allows for a larger guest list, so all of your friends and loved ones can share your special day with you.
Elopement:
Just you, your one true love, the officiant, photographer and a few close friends and family members (or not)- elopements have never been a more perfect option. If you're able to meet with an officiant in your region, elopements remain relatively unchanged. Consider tying the knot on the beach, in a forest, park or any other beautiful natural space in your area.
Virtual Wedding:
Acting as a temporary placeholder for the real deal, virtual weddings are an innovative options for couples looking for the certainty of being officially wed in these uncertain times, consider a virtual wedding. You and your S.O. can tie the knot from the comfort of your own home, (virtually) surrounded by all of your friends and loved ones, and celebrate with a virtual reception -complete with drinks and cake, of course!
Backyard Wedding:
Backyard weddings have long been a favourite of ours- well before this pandemic hit. Whether you're fortunate enough to have a sprawling property with old trees and a lush lawn, or you have a friend or family member who's willing to let you borrow their property for a day, a backyard is easily transformed into a dreamy wedding venue with the help of some pretty wedding lighting, lush florals and DIY decor. Some couples opt to tie the knot with just close family in attendance (who they are already isolating with), while others space seating to allow for physical distancing among a small group of family and friends.
Post-Ceremony Car Parade:
Turn your wedding day into a delightful spectacle for the whole neighborhood with a post-wedding car parade. After tying the knot in a small ceremony, friends and family who weren't able to attend due to distancing measures can line the streets and celebrate- signs and noisemakers in tow. We especially love this option for the joy and positivity it can bring to an entire neighborhood- you may just find that others join in in celebrating your special day too.