We think most people will agree that one of the best parts of planning a wedding is picking out your registry items. Compared to the stress and many tedious aspects of the planning process, registering for gifts is a much welcomed and fun task for many couples.
While it can be tempting to go hog wild when it comes to making your registry selections, adding anything and everything your heart desires is not the best approach- unless, of course, you want to end up with a random assortment of items that don't really work together.
To curate the perfect wedding registry, first consider the look and aesthetic you're going for in your home. Do you prefer modern, rustic or traditional design elements? Do you have a color scheme? What type of materials are you drawn to: wood, stainless steel, granite etc.? It's not necessary for all of your rooms to have exactly the same colors or aesthetic, but it is a good idea to have a cohesive design in mind for your home before you get started. Once you've figured out the exact look you're going for, find some examples online that you can easily reference to keep you on track. Now the fun part! Go on a treasure hunt (within the parameters you've just set, of course) and start adding gifts to your registry!
To give you an example of what curating a great registry looks like, we've put together our own dream kitchen/dining registry with some amazing items from Crate and Barrel.  Since warm metallics are super chic right now, we started with some gorgeous copper pieces and chose to mix them up with some dark wood elements and white marble details for the perfect blend of  industrial elegance, rustic charm, and sophisticated luxury.
We had so much fun putting this registry together, it makes us want to get married all over again! Creating your own Crate and Barrel registry is easy, just click here to get started. Or better yet, why not attend one of Crate and Barrel's Wedding Party Events for exclusive store access and helpful tips from their registry experts?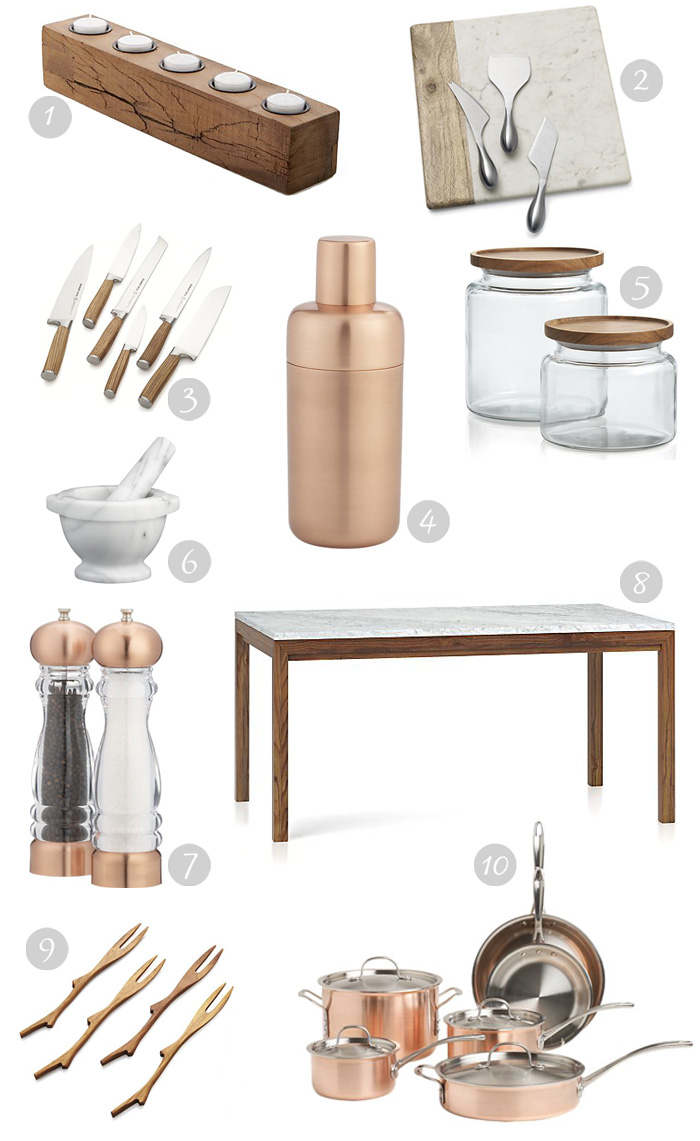 1: Woodsy Candle Holder; 2: Wood-Marble Square Platter; 3: Schmidt Brothers 7-Piece Zebra Wood Knife Block Set; 4: Orb Copper Shaker; 5: Montana Acacia and Glass Jars; 6: French Kitchen Mortar and Pestle; 7: Copper Salt & Pepper Mill; 8: Marble Top/Elm Base Dining Table; 9: Teak branch forks; 10: Calphalon Contemporary Tri-Ply Copper 10-Piece Cookware Set
Sponsored Post.