Warm bath + cupcakes – guilt. Now that's an equation anyone can love!
Although these cupcakes look good enough to devour, they are  DIY Cupcake Bath Bombs that will add fizz, fragrance and moisturizer to your bath water. We think they make perfect wedding shower favors – especially for a spa-themed bridal shower, so we are going to teach you how to make them.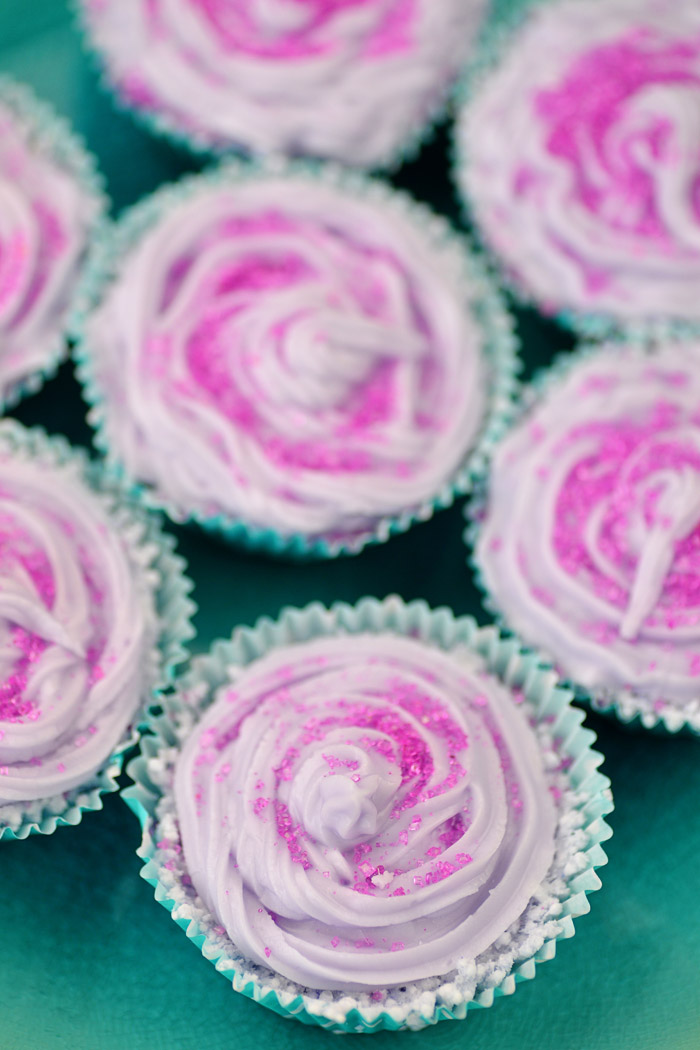 Ingredients for DIY Cupcake Bath Bombs (Adapted from Little Birdie Secrets Bath Bomb Fizzy Recipe. )
Makes 11-12 cupcakes.
For the cupcake you will need:
1 cup. baking soda
1 cup Citric Acid
1 Tbsp. oil (We  used Sweet Almond Oil, but you can also use grapeseed oil or olive oil)
5 drops fragrance/essential oil (we used lavender essential oil)
3-5 drops coloring or Pigment powder (You can use food coloring, but we used soap colorant or Pigment powder)
Witch hazel (poured into a spray bottle)
Colored sugar or sprinkles
Paper cupcake liners
cupcake pan
For the icing you will need:
3 Tbsp. meringue powder
1 lb. (measured by weight) powdered sugar
1/4 tsp. Cream of Tartar
5-6 Tbsp. warm water
Few drops of color or Pigment powder or soap colorant

Few drops essential or fragrance oil
colored sugar
Glass bowl
Hand mixer
pastry bag
Large tip for pastry bag (We had a smallish one… A larger one would have been preferable.)
Place cupcake liners in cupcake pan. Place all dry ingredients in a bowl and give it a stir.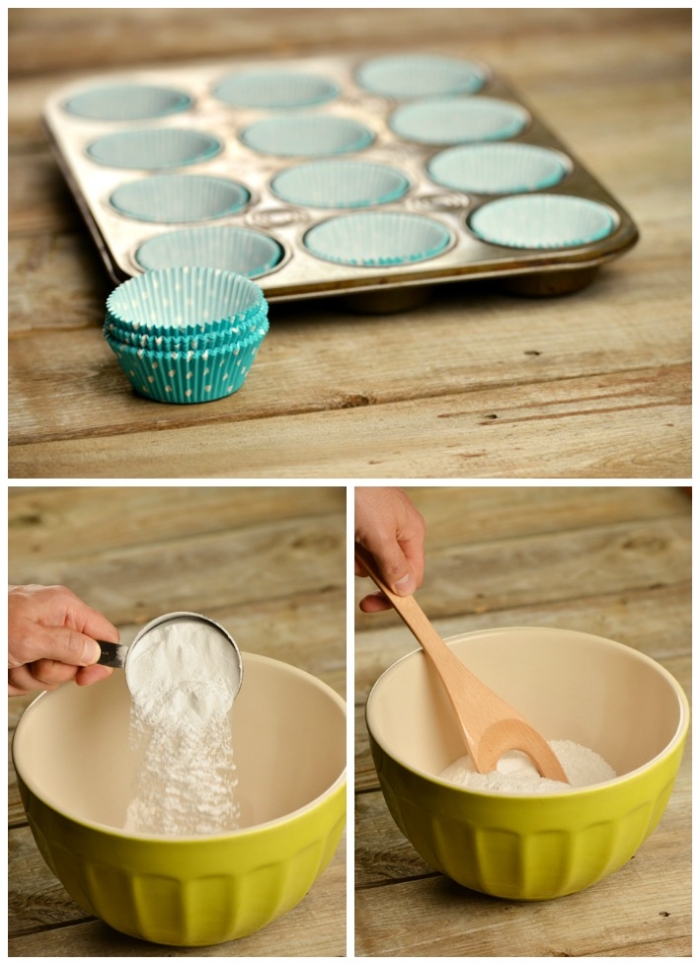 Pour sweet almond oil, essential oil or fragrance oil and color into a small bowl and stir. Add mixture to dry ingredients and stir.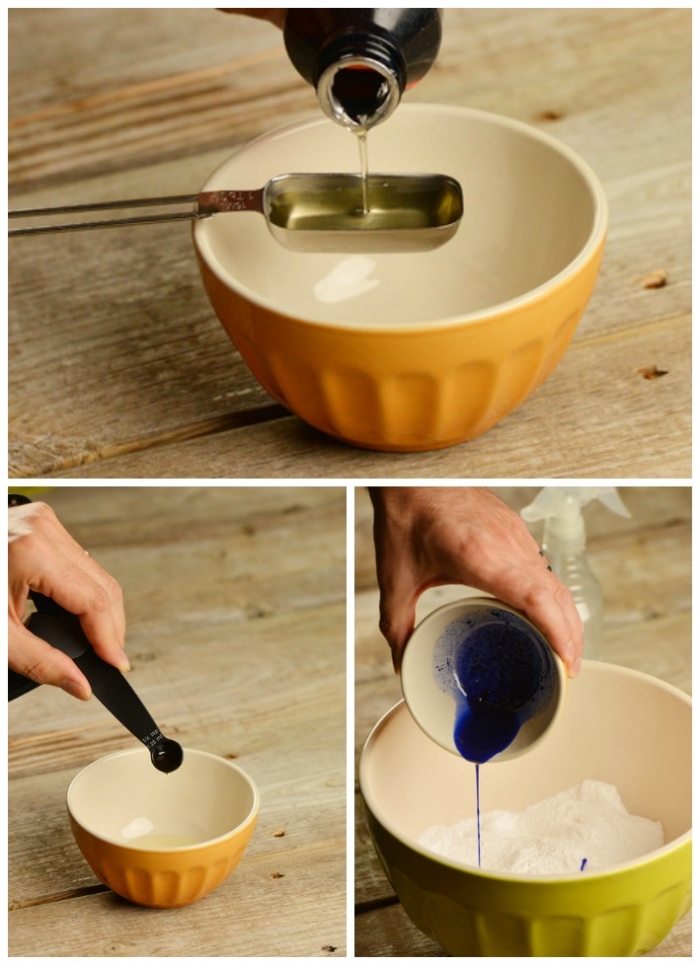 Spray mixture with witch hazel. Mix with your hands. Keep spraying and mixing until the mixture feels like wet sand. When it's ready, the mixture should clump together so that you can form a ball. That said, be careful not to get the mixture too wet because too much moisture could activate the citric acid, ruining your bath bomb.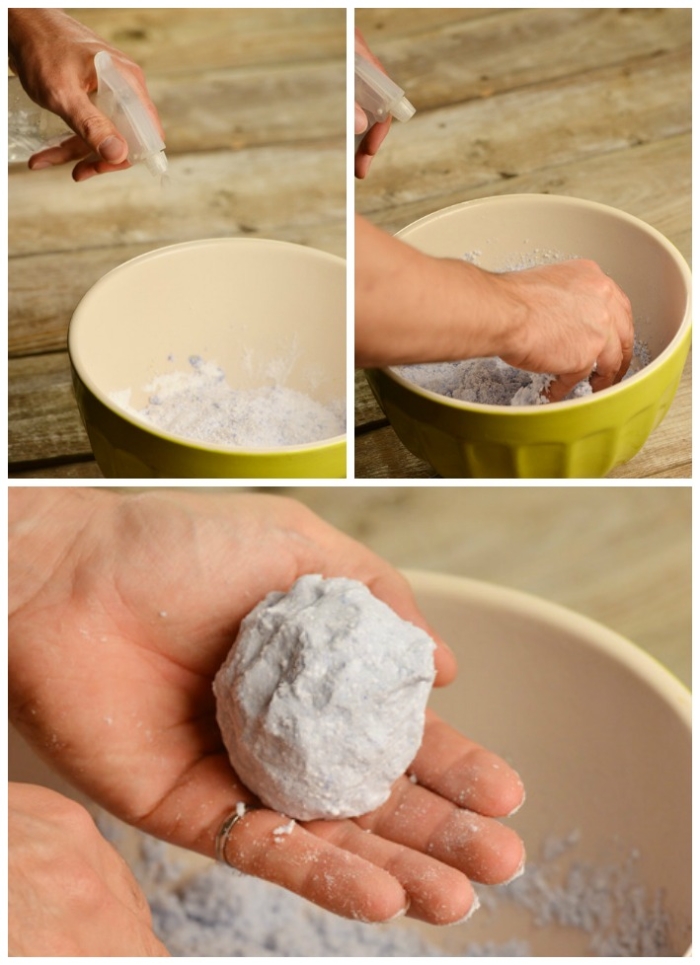 Add mixture to cupcake liners. Fill about 2/3 full. Press down with fingers. Set aside for 10 minutes, then remove from cupcake pan.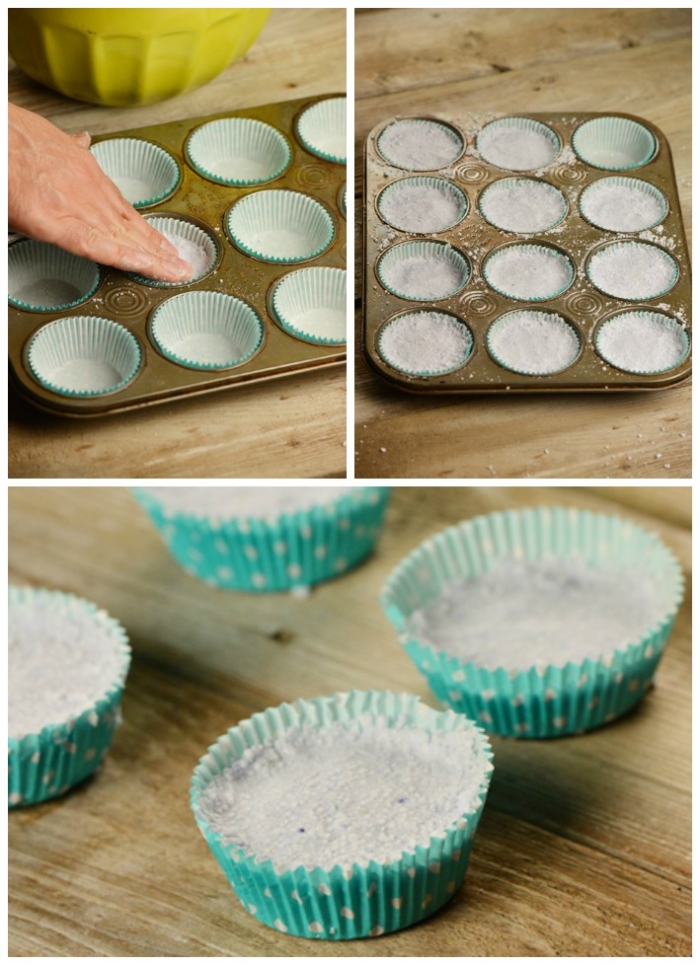 Now it's time to make the frosting. Mix meringue powder with warm water in a glass or ceramic bowl. Add cream of tartar and color.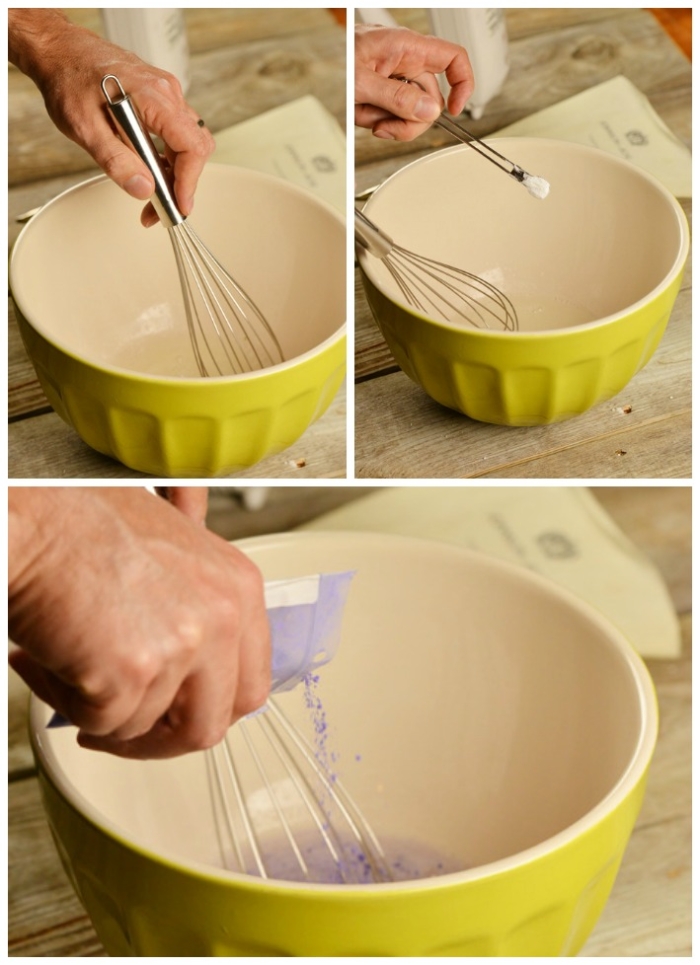 Add powdered sugar. Using a hand mixer, blend on high setting. If your mixture feels too stiff, add another tablespoon of water. Beat for 7-9 minutes. Icing is done when it forms stiff peaks and is thick like, well, frosting. Place inside a pastry bag.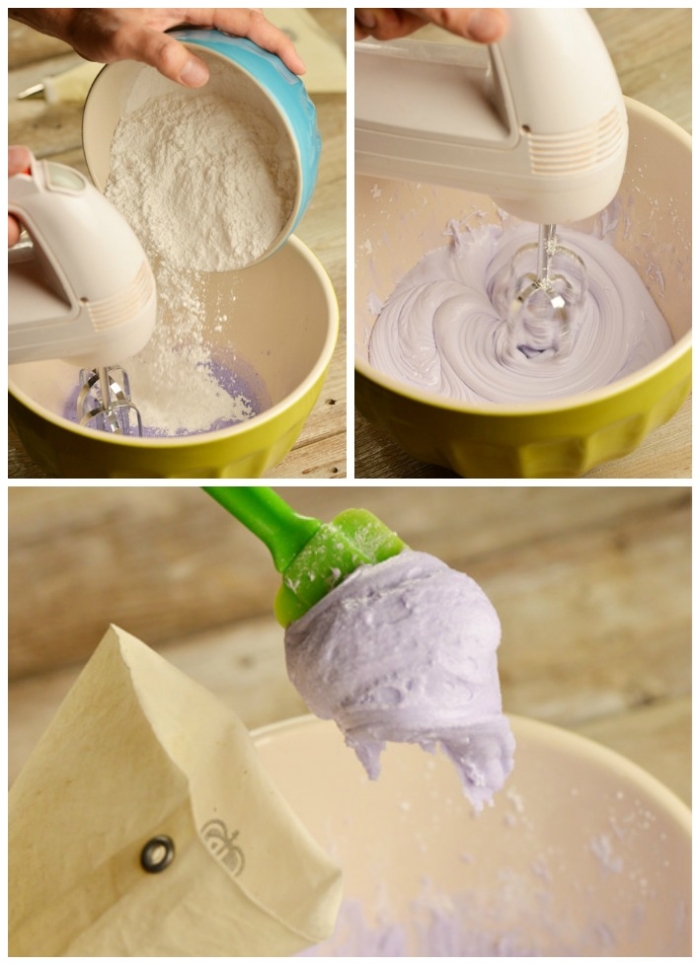 Carefully frost your cupcakes.  Once the cupcakes are frosted, add colored sugar or sprinkles.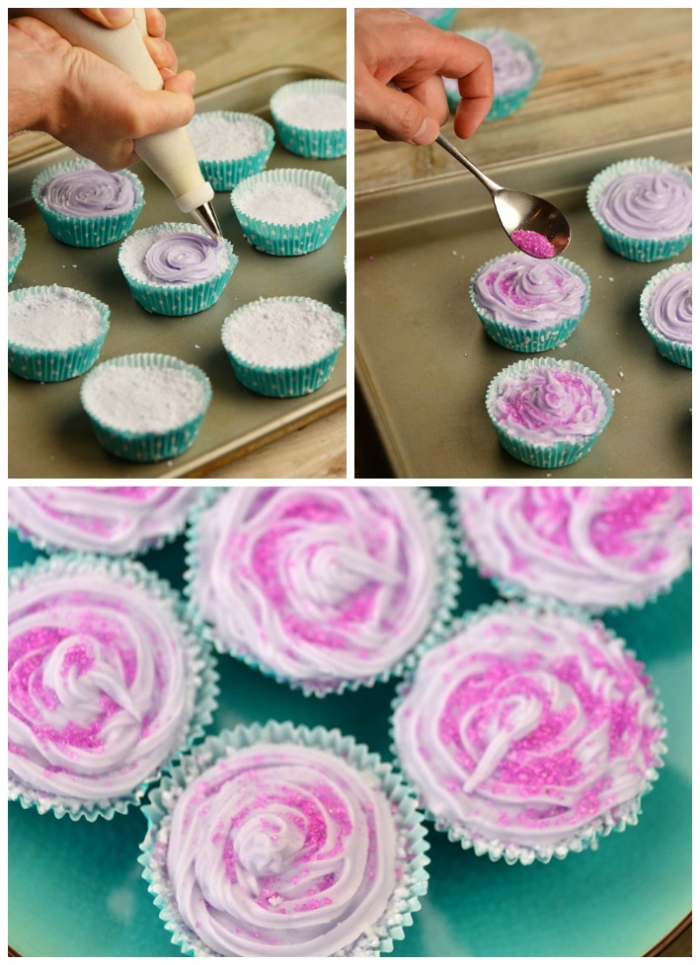 Aren't they lovely?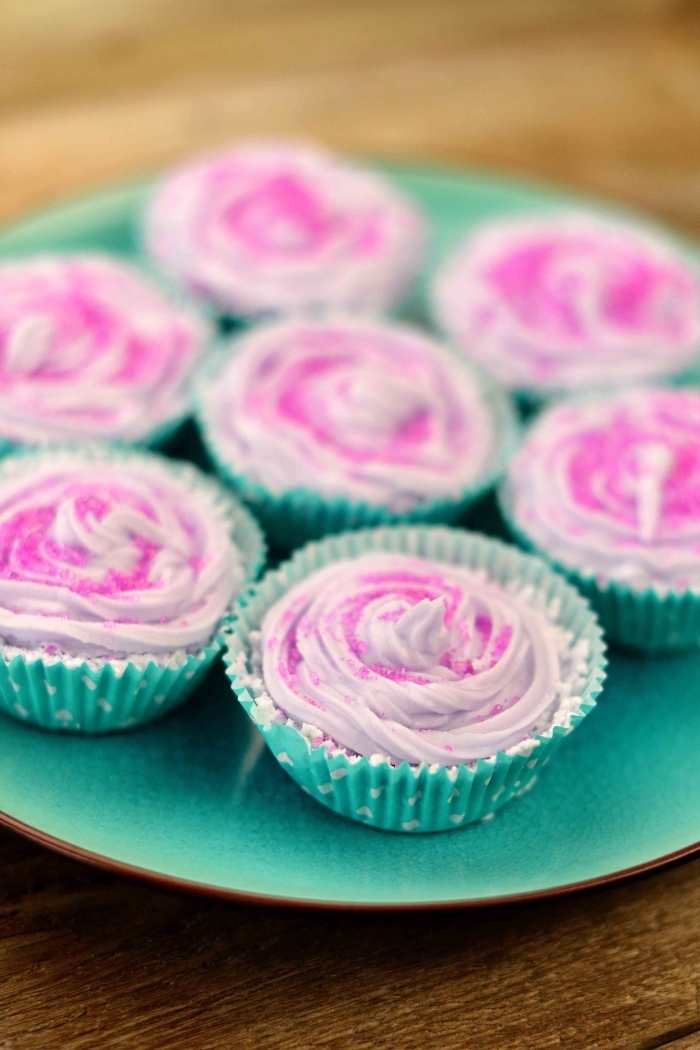 If you are giving these as bridal shower favors, wrap them in cellophane bags or small boxes and add tags. This is how they look when they are unwrapped: