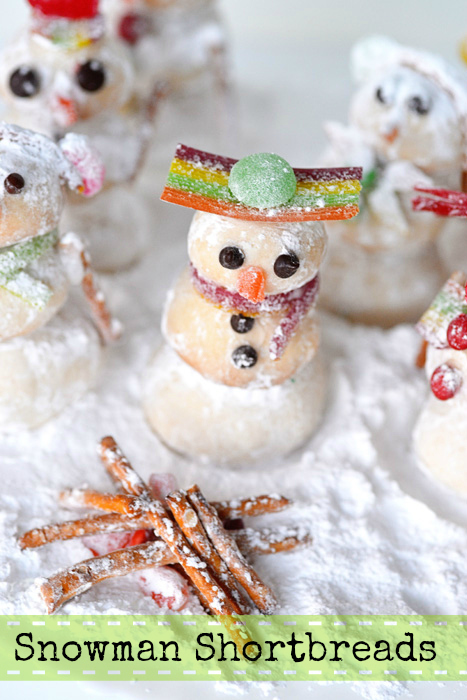 This winter project lets you: a)Relive the childhood bliss of building a snowman  – and stay cozy while you are doing it. b)Reward yourself with melt in your mouth shortbread when you are done. c)Wow your guests with the most adorable snowman family they've ever set eyes on.
Not only is this a perfect DIY for a snowy winter day – it happens to make a pretty fabulous DIY wedding project. Place a snowman at each table setting and add a name card, or make an entire community of snowmen for your dessert table.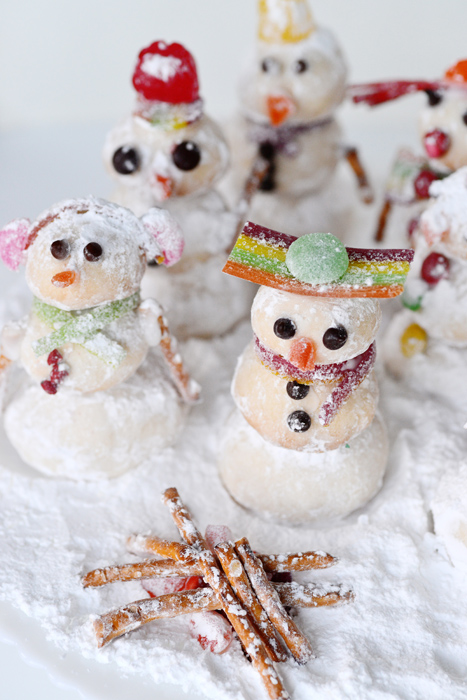 This project is time consuming – you will need to see aside a few hours, but it's also creative, fun and not overly complicated. In fact, all of the snowmen you see were made from start to finish by my daughters (8 and 10) during an afternoon visit with their grandparents.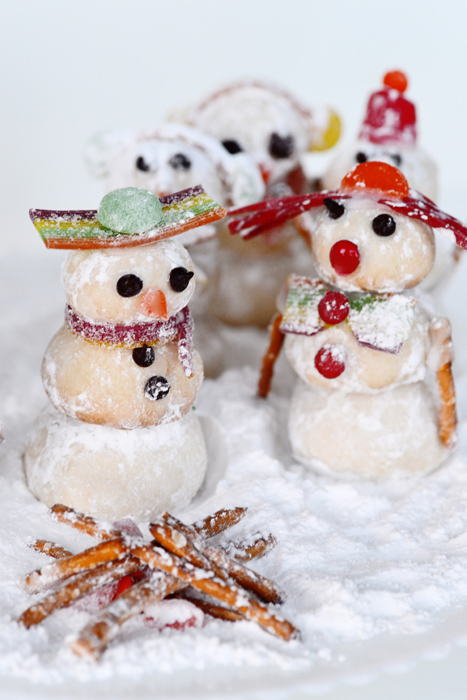 Here is the recipe (from The Toronto Sun):
Ingredients:
1 1/2 cups (375ml) softened unsalted butter
3/4 cup (175ml) icing sugar (plus extra for decorating)
1 1/2 tsp. (7ml) vanilla extract
1/2 tsp. (2ml) salt
3 cups (750ml) all-purpose flour
Mini chocolate chips, gum drops, licorice whips, jelly beans, fruit leather etc.
Directions:
Line 3 rimmed baking sheets with parchment paper. Beat butter with icing sugar, vanilla and salt until fluffy. Add flour and mix well. (Chill if needed until easy to handle). Measure level 2 Tbsp. (30 ml) portions into 8 balls for snowman bases; arrange on prepared baking sheet. Measure level 1 Tbsp. (15 ml) and 2 tsp. (10 ml) portions respectively for 8 bellies and 8 heads of snowmen. Arrange on baking sheets. Chill dough balls for 30 minutes. Preheat oven to 350F (180C). In batches, bake largest balls for 18 minutes, medium balls for 15 minutes and smallest balls for 12 minutes or until balls are golden on the bottom and set. Cool completely. Roll in icing sugar to coat. Create a paste using additional icing sugar and water (see tip); use to stack and assemble balls into a snowman shape. Decorate as desired with candies.
Makes about 8 snowmen.
Tip: Easy Icing Sugar Glue: Stir 6 Tbsp. (90 ml) icing sugar with 1 1/2 tsp (7 ml) water. Spoon a small dab between balls to assemble snowmen. Use toothpicks to help paste on small items such as chocolate chip eyes and buttons.