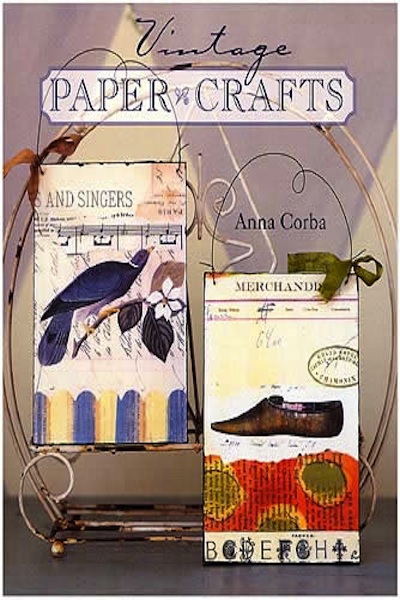 Having a vintage wedding? Why not incorporate some DIY vintage wedding projects!
Vintage Paper Crafts
offers up heaps of inspiration for your paper crafting needs.
Author Anna Corba began as a painter and while scouring flea markets, she fell in love with vintage paper products and began incorporating them into her paintings. From there, the paper obsession spread and she began experimenting with paper craft art from the treasures she brought home from junkin'.
Corba offers tips on where to find the best vintage treasures. She also warns that it can take some serious digging to find the good stuff. In fact, she confesses that some of her favorite paper treasures were found at flea markets and garage sales, buried beneath strange looking bags and in dark recesses below tables.
The best part of wedding decor is the detailing and Vintage Paper Crafts
gives lots of great ideas for vintage finds you can use for embellishing your projects. Ribbons, fabric measuring tapes, chandelier drops and vintage handkerchiefs are some of her favorites. She also suggests great vessels to use for display: muffin tins, glass pudding cups, enamel saucers and jars with or without their lids are all great.
The author shows you how to take an old choral music book and turn it into your guest book or a blank book gift for your bridesmaids and just about every other paper related craft you could imagine.
In Vintage Paper Crafts
you can also find a list of commonly used tools for the crafts and general tips. Corba recommends finalizing collage projects (such as her 'keepsake envelopes' which would be perfect if you included those as part of your invitation suite) with beeswax. Beeswax mutes the colors you're using and adds warmth and depth as well, and unlike varnish (another finishing option) beeswax actually smells good.
Tea dying is a technique she recommends for aging something that isn't quite old enough. This is extremely affordable and a useful technique when you find a piece of ephemera that you love but that just needs to look a little older. Corba recommends adding two tea bags per gallon of water. Simply boil the water and pour it over the tea bags in a flat pan. The desired darkness of the paper will depend on the time that you allow the paper soak. Light stains will take about an hour, for deeper colors you can double the tea bags and the soaking time. This technique would be great for invitations to give them a more aged look!
In the back of the book you can find patterns for creating paper cones (perfect for flowers girls to throw their petals from) project as well as vintage artwork that you can scan or photocopy to use however you like.
While some of the styles in the book may be bordering on "out of date", the ideas and applications are still classic; all it takes is a little imagination to modify the projects to your own liking.
One project that would be perfect for a wedding is the 'gift adornments' project. This is essentially a group of tags with vintage pictures trimmed with vintage ribbon, type-writer keys, ric-rac or vintage buttons. These tags would be amazing as escort cards with a variety of old family photos copied onto each card.
The vintage hanger project would be a great gift (and photo op) for your bridesmaids. This is a super easy project that only needs a set of rubber stamps, some vintage ribbon and an old wooden hanger.
Whether you make a cake stand, gift tags, hangers, a guest book or any of the other projects in Vintage Paper Crafts
, there are great tips and no shortage of inspiration to help your wedding decor look vintage-influenced and personal to you and your spouse.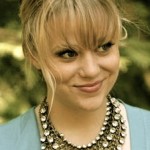 Rebekah is a DIY obsessed, wedding and event design wizard who loves hunting her bay area homeland  for clever craft ideas, vintage gems, bargain buys, new pieces for her vintage rental line  and blogging  inspiration. She and her husband live and write in Oakland. Read her blog.