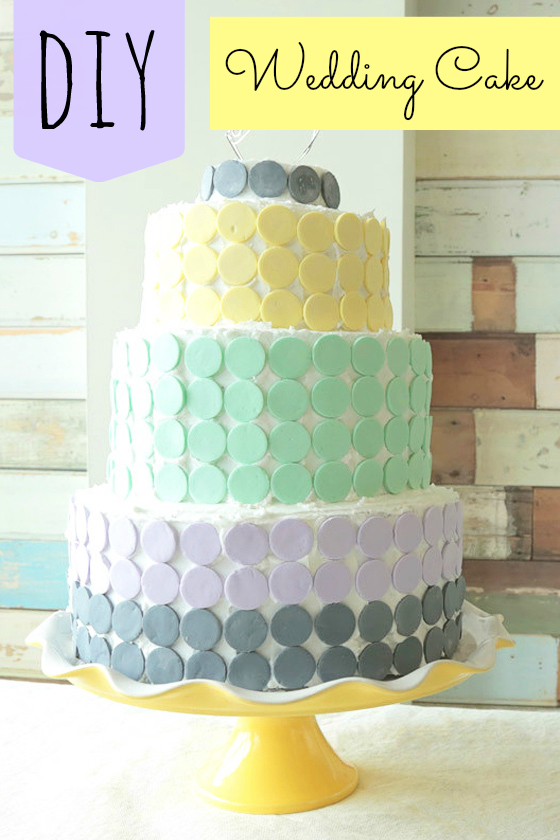 The idea of making your own wedding cake might seem daunting, but if you are having a small wedding, a DIY wedding cake is absolutely doable!! The key to a DIY wedding cake is simplicity. This Candy Wafer Cake from Wayfair.com, for instance, uses candy wafers as a design element.  This DIY cake is not only beautiful, at only $1 per slice it's easy on the pocketbook!
Here's how to make it:
DIY Candy Wafer Cake

Serves: about 60 guests
You will need:

2 12-inch cake rounds
2 10-inch cake rounds
2 8-inch cake rounds
1 4-inch cake round
Buttercream frosting
3 wooden dowels
20-30 packages of candy wafers (such as Necco), or enough to cover your entire cake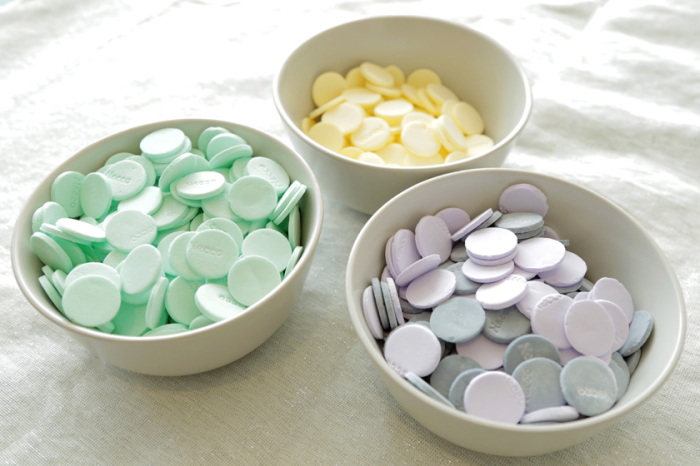 Instructions
Begin by placing one of the 12-inch cake rounds on your cake pedestal. Using an offset spatula, spread a thin layer of buttercream over the top.
Repeat the process with the second 12-inch cake round and then the remaining five layers in descending size.
Once the entire cake is stacked, spread a thin layer of frosting over the entire cake, beginning at the top, and working your way down. This is known as a crumb coat.
Chill the cake to set the crumb coat before moving the the final frosting step.
While the cake is chilling, open your candy and sort out the colors you want to use, removing any broken wafers. For this four-tiered cake, we used four different colors of wafer candy.
After the cake has chilled, spread frosting over the crumb coat, creating as smooth a surface as possible.
When all the layers are complete, cut your wooden dowels to the same length as the height of the cake. Carefully insert them into the cake, through all the layers for support.
Decide how many rows of candy you can fit on each tier, and then use small dabs of frosting to adhere them to the surface of the frosted cake. Create rows of candy both vertically and horizontally at the same time to ensure the rows stay straight.
Keep the frosted and decorated cake cool before serving.
When it's time to display the cake, crown the top layer with your wedding cake topper. To create this monogram, use pliars to twist jewelry wire into the shape of a letter. Be sure to shape a stem to insert it into the cake.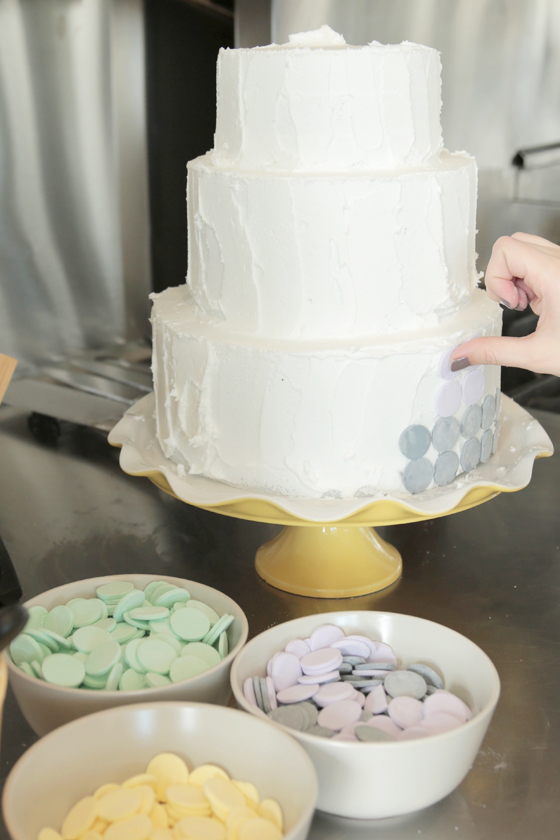 Cake & Frosting Recipes
Try Smitten Kitchen's recipes for Chocolate Butter Cake and Vanilla Buttermilk Cake.
Savory Sweet Life has an uncomplicated recipe for Classic Vanilla Buttercream Frosting. For a snow white version, try substituting the unsalted butter for shortening and adding a 1/2 teaspoon of butter flavoring. Using clear vanilla extract and butter flavoring will also help prevent your frosting from becoming slightly tinted.
For more DIY cake ideas as shown in the photo below, go to Wayfair.com.