When it comes to planning an intimate wedding, choosing who to invite and who not to invite can be a real challenge. Instead of risking the hurt feelings of those who don't make the cut, Liz and Jack, decided to skip the guest list altogether and elope instead. Not wanting to miss out completely on a celebration with family and friends, however, the couple hosted a rooftop brunch reception at the Well in Kansas City after they returned as newlyweds.
Special thanks to From the Hip Photo for capturing all the beautiful details and sharing them with us today!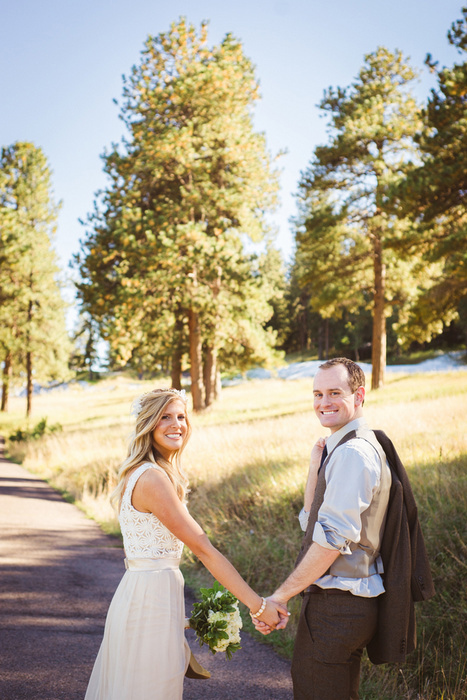 Liz, 29 & Jack, 27
Denver, CO
Wedding Date: October 5, 2013
Number of Guests: This was the tricky part! We knew we wanted the actual ceremony to be really small, so how do you choose who to invite? First we thought about just inviting the couple that introduced us; then maybe 8 close friends, but how do you choose without hurting anyone's feelings? Family? Our families are HUGE, so that number grows quickly; only our parents? No options seemed quite fair, so in the end we decided we wanted the ceremony to just be us. I was terrified to tell our parents, but they ended up being amazingly supportive. His mom had a few gifts ready for us to take with (a journal to write everything down, bride and groom glasses and a lucky Irish coin that everyone in their family places in their shoes for good luck), and when we flew back they actually surprised us at the airport and had a little wedding cake for us. My parents were just extremely happy to see us both in such a good place. I remember calling my mom the night before, telling her the rehearsal dinner went really well, and we laughed and laughed. It was so nice to be there and not be stressed about last minute details. It truly was just about Jack and me choosing to spend the rest of our lives together. Actually, we really ended up only telling our family in advance. The night before we left I sent out a mass email to all of our close friends and family and explained what was happening. I told them we loved them, and couldn't wait to celebrate with them in a month or so when we got back. One of my favorite parts about the trip was reading everyone's responses; it brought me to tears multiple times. I was overwhelmed by how supportive and excited everyone was and I still have all the emails/texts. Even while we were there, complete strangers would come up and tell us how great they thought our idea was. At  dinner that night, we had several people tell us that they did the same thing 25, 37 years ago etc etc. It was amazing.
Wedding Cost: All together it was about $5,000. My husband travels a lot with his job so we were able to use points for our flight, hotel room and car rental. I LOVED my dress, and its story… My best friend had gotten married a month before us and she let each of her bridesmaids pick out their own dress in a nude hue. I loved the dress we picked so much that I was planning on having it altered so I could wear it regularly as a day dress. After her wedding, I started looking for a gown for my big day and just kept thinking about the one hanging in my closet. Jack unfortunately couldn't make Krissy's wedding (he was out of town working) so he had never actually seen me in it. In the end I decided to wear it again. I bought a flower headpiece from Etsy and it completed the look! I planned on getting a manicure in Colorado, but ended up doing my nails myself. We did buy Jack a suit at Nordstroms the DAY BEFORE. We were just walking around shopping in Cherry Creek and loved this look. They were great about doing the alterations that day and we got a really really good deal! It was pretty funny telling them we needed it for our wedding which was in fact tomorrow afternoon. Right before we were leaving for the ceremony, we realized Jack had only brought black shoes that did not match the new suit, so he ran back into the mall and bought shoes on the way as well!
The reception was where the chunk of our money went. We had a full service brunch which was perfect! We rented the rooftop of a local bar and grill and had an open bar for a few hours. It was great because we treated it like an 'open house' so there were no speeches, cutting cake etc. and we just really were able to enjoy time with our friends and family. We did have a huge donut cake that my sister and her best friend put together for us after I saw the idea on Pinterest. After that, we went around to a few bars in the area and day drank with about 35 of our closest friends. I was amazed at how much people loved our idea of a brunch. With only giving people a months notice, it didn't conflict with their evening plans and the weather was perfect.
The other cost was the photographer. Even though our situation was unique, I still wanted those special moments to be captured. I started looking for photographers a few months before we were really certain we were going to elope. I contacted Nina and her husband at From The Hip Photo and explained what we were planning on doing. We hadn't even told our parents/families yet so I told them 'if they aren't okay with this we won't be coming, but if they are, would you be interested'. We also didn't know who, if anyone, would be joining at that point or really where to have the ceremony. Originally I thought we would elope over Christmas break to the beach somewhere, but after seeing some mountain pictures I decided I liked that idea more than all the beach ones. Nina and Danny were AMAZING, I cannot say enough good things about them.  They helped us pick the location, and helped find an officiant. They were so patient with our crazy plan. Nina is the best photographer, and anyone in Colorado who chooses someone else is crazy!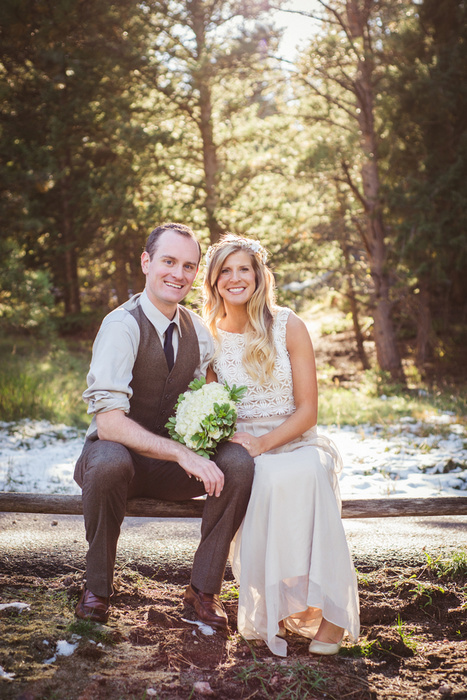 Wedding Ceremony Location: Evergreen Lake. Danny and Nina sent us a list of a few local places that were their favorites to shoot. After looking, we agreed that Evergreen Lake was the perfect spot. We had pictures taken by the birch trees, in the snow, by the water, on a very cool bridge, on the rocks, and at the golf course – so many different neat places at our fingertips. It was incredible.
Wedding Reception Location: The Well in Kansas City, MO. They were great too. I called several places that were known for great Sunday brunches, but most wouldn't do it on a Saturday or they were insanely expensive. The Well let our 'reservation few' go towards food/alcohol which saved us quite a bit. They have a Bloody Mary bar, the food was great, and the service was outstanding. Having it at an actual bar/restaurant was so much better than I realized simply because they are used to handling big crowds. No one had to wait for drinks, and servers walked around clearing plates and getting refills etc. It was perfect.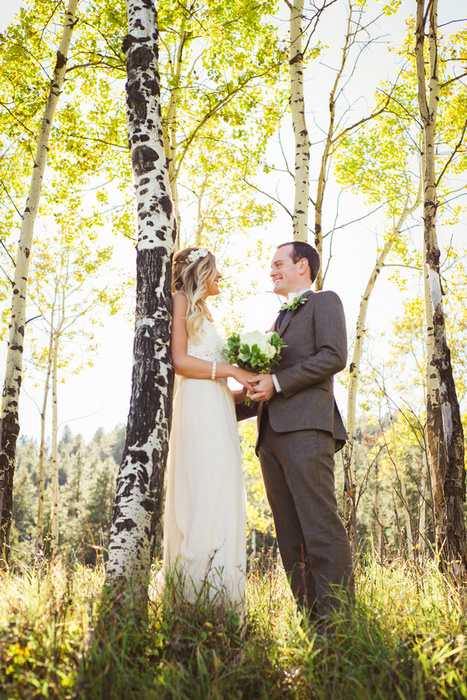 Why did you have an intimate wedding?
I love weddings; I am truly obsessed with seeing how every bride chooses to create her big day, and I love all the small details. I'm a Pinterest freak about checking out wedding ideas. But the thing is, while I love going and observing, I really don't love the idea of what weddings have become. It should be a day full of love and excitement, and too many times I see brides and families stressed/fighting about details that ultimately are irrelevant. What my family envisions in a wedding is different than what I want and what I want is different than what Jack's family wants. In the end, I didn't want to mess with hurting feelings, or people not having it their way. I didn't want to spend 9 months planning and stressing. I just wanted to marry the man I love, and for everyone else to have a good time and be able to share in our joy.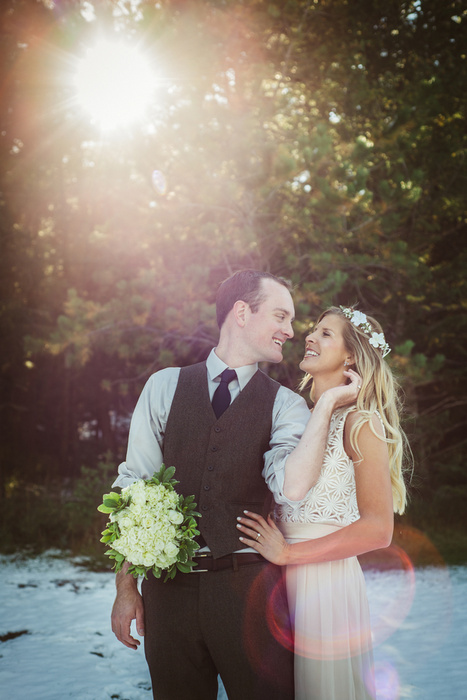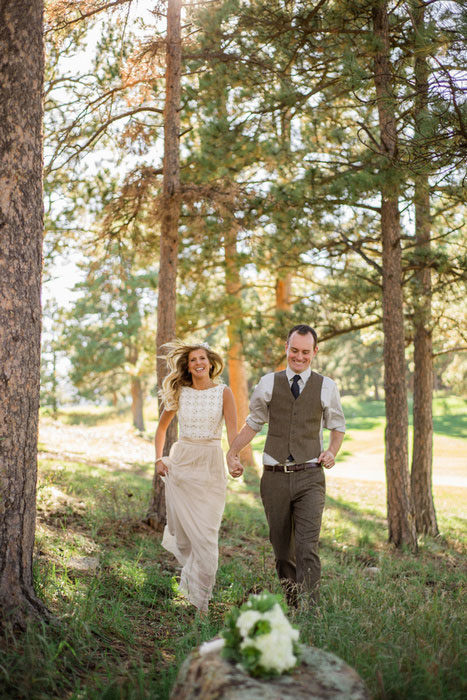 What are some of the challenges that you faced planning an intimate wedding?
Really for me, it was just being scared initially about how people would respond. But I was way way wrong!! We used PaperlessPost.com to send out our invitations, which I loved. They have some really incredible options and it saved time, printing paper, addressing envelopes etc. Plus it helps save the Earth, and I'm all for that!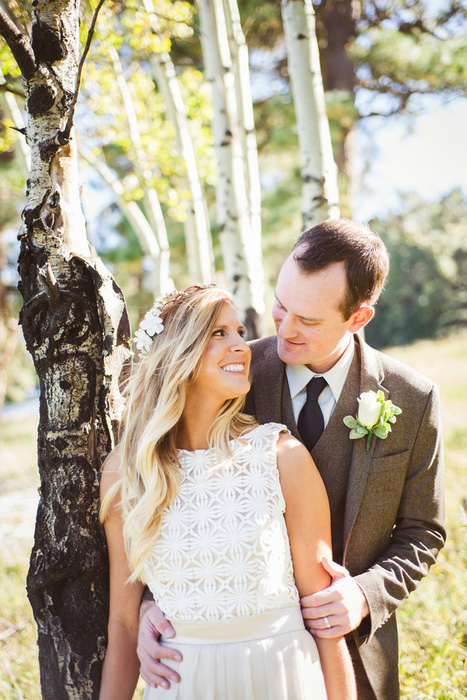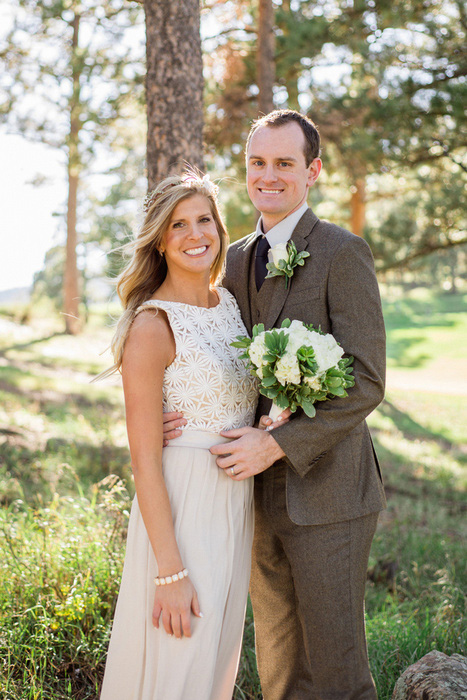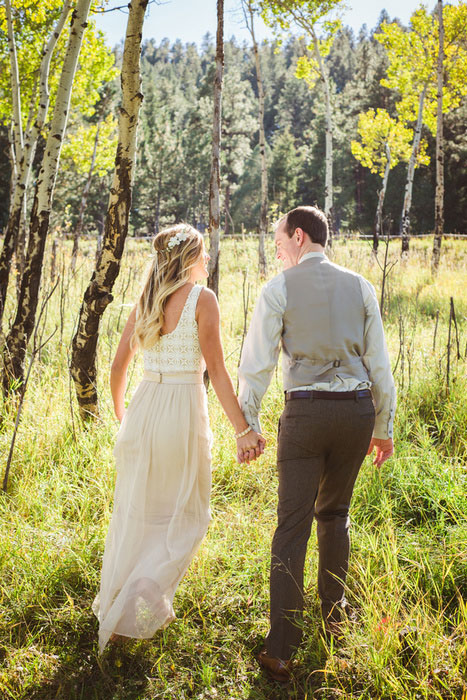 Was it difficult to pare down the guest list?
For the ceremony, it was incredibly hard, which is why we ended up choosing for it be just us. In the end, we ended up realizing what most people care about is the reception anyways. Our ceremony was so intimate and was truly just about Jack and I. Looking back I wouldn't change a thing.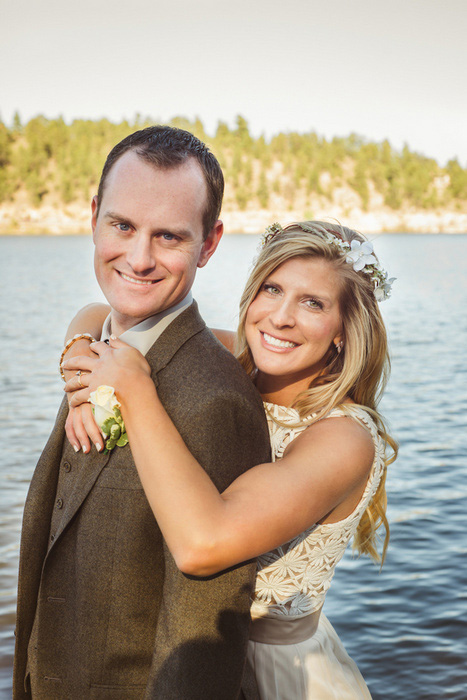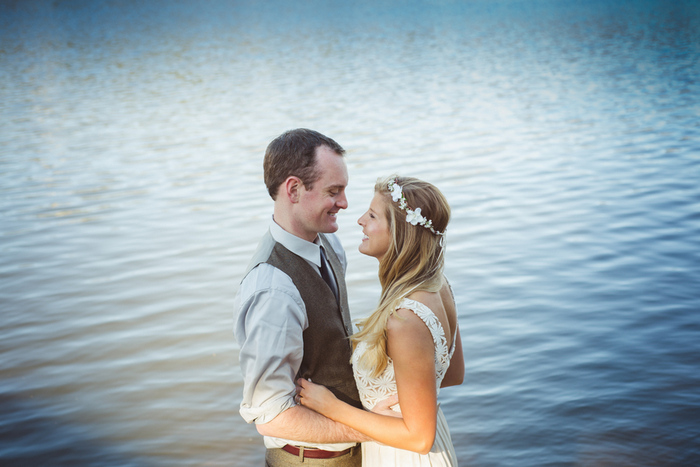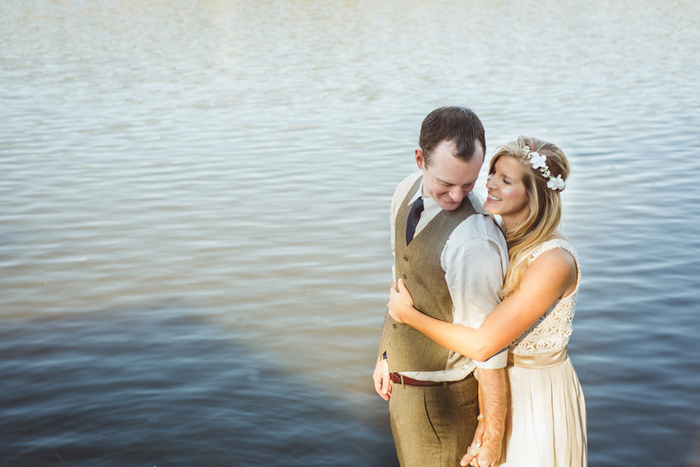 Did you have any 'issues' with the small guest list from friends and family? If so, how did you address them?
We really didn't since we ended up inviting everyone to an open brunch. People came and left at different times which was great because it wasn't a 'rush' of people at once. Most of the younger crowd came a bit later and stayed later which gave us more time early on to talk to our older family/friends/coworkers. I didn't feel like I was pushed from person to person the whole day and instead we were able to sit down with everyone and really have a good time.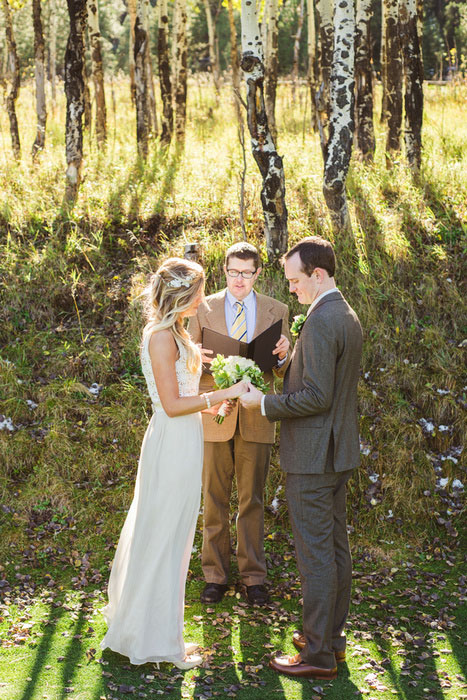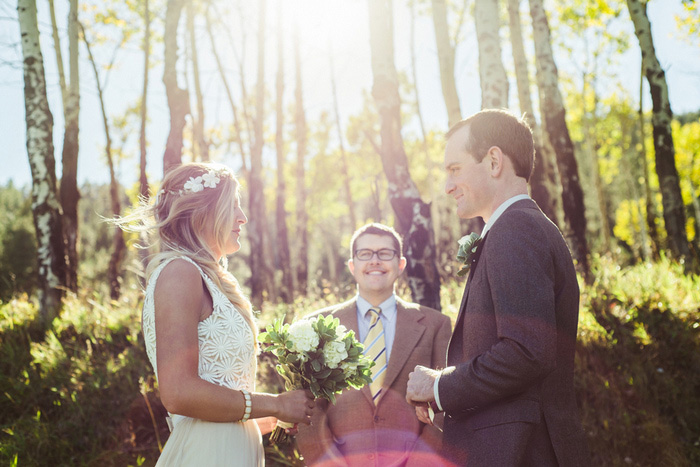 What were the highlights of the ceremony?
We wrote our own vows, and I knew Jack's would trump mine, but I was still a mess while he read them. Really the whole thing was a highlight for me. When we first landed in Colorado (the day before) it was snowing and freezing. Luckily the next day was beautiful; it was in the 60's, sunny, and the scenery was truly stunning. I think just feeling so loved that day was the highlight. I knew I was marrying the right man, a man who is going to be there for me my entire life. I can't explain that emotion. And actually I probably felt that more because there was no else there to worry about.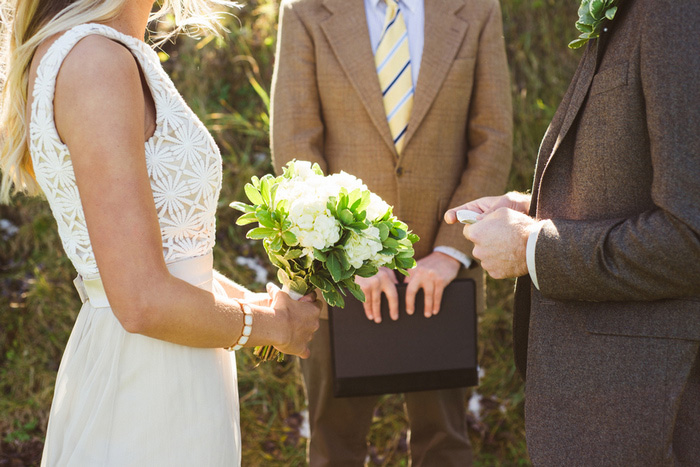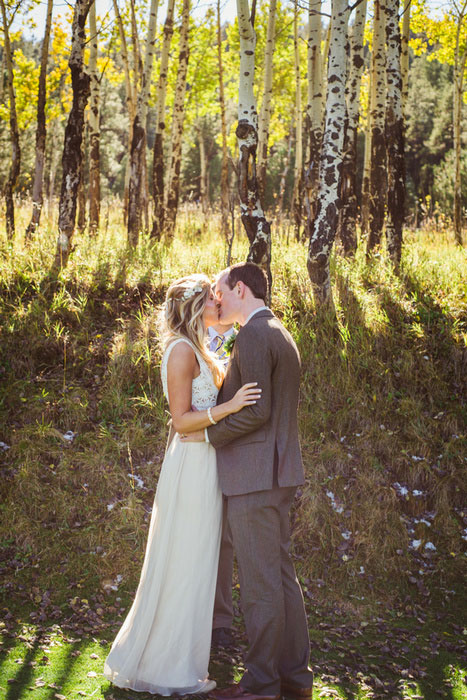 What were the highlights of the reception?
I loved the donut cake. Unfortunately the pic I have is after people had already begun digging in, but you'll get the idea. We also bought pumpkins a few days after Halloween from a local church and spray painted them to put on the tables. The highlight for me was that it was nice, but still casual. It was great seeing all of our friends and family together.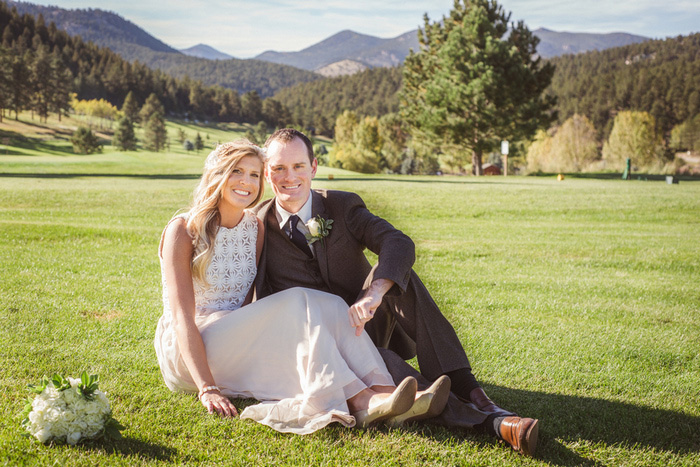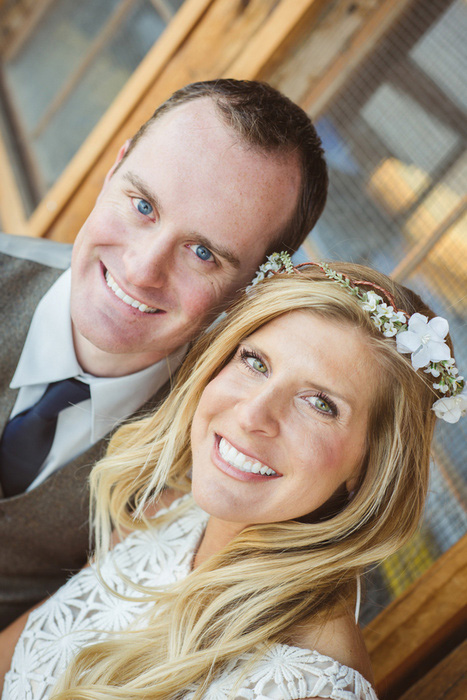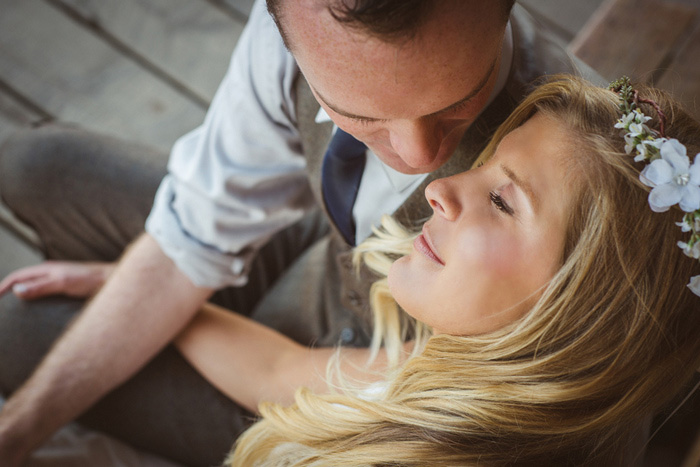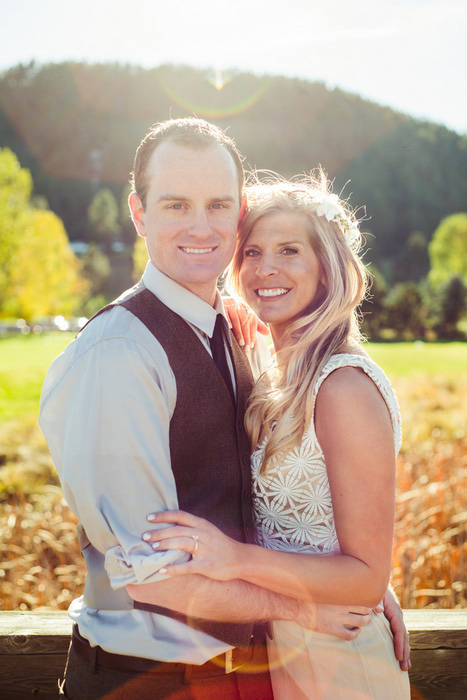 What was the best thing about having an intimate wedding?
Just focusing on the true meaning of marriage, and having all that time with Jack. We didn't get married and then have the craziness where you never see each other for the rest of the night. We got married, took pictures, went to a great dinner, had a few drinks, and just got to enjoy being together. That's what weddings should be about – your other half.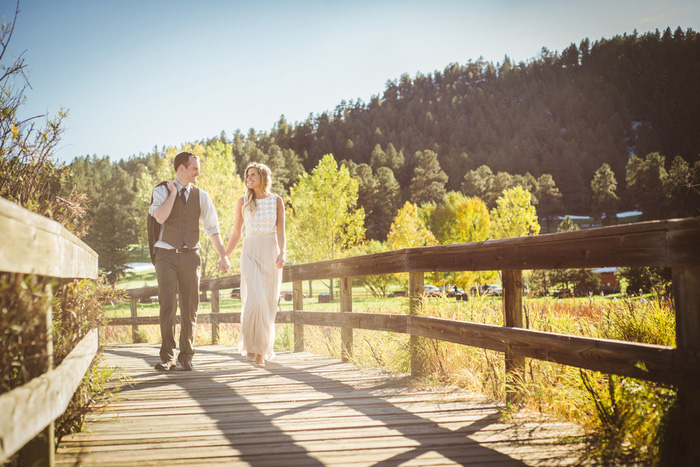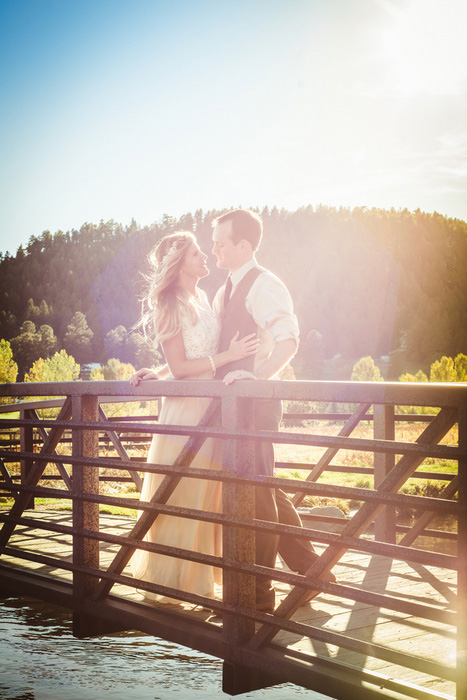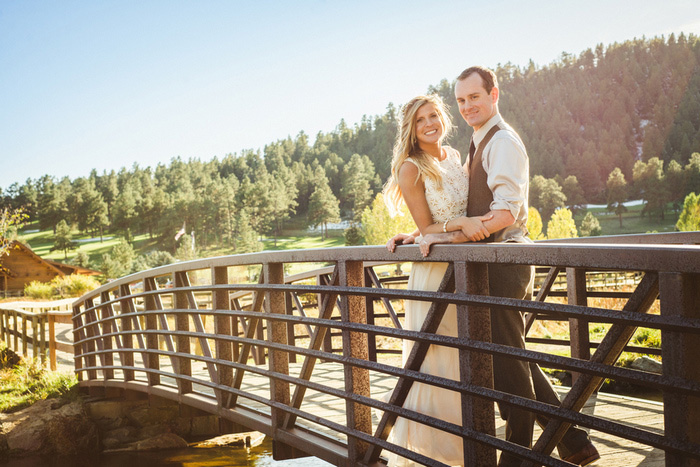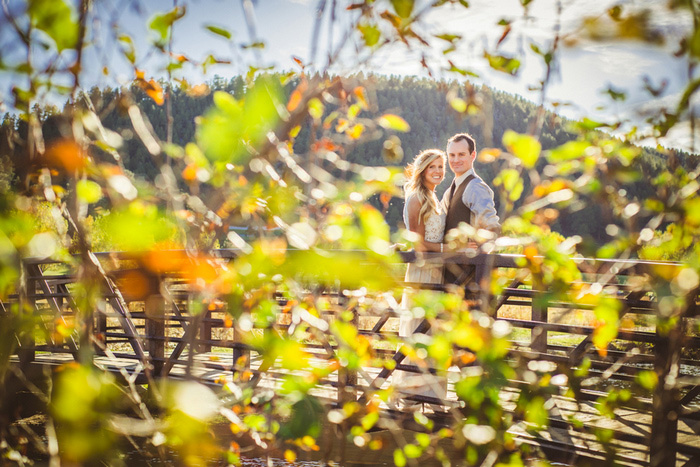 What advice do you have for couples who are considering an intimate wedding?
DO IT!!!!! And don't be afraid what others will think. I'm honestly still amazed at how many people say 'I love how you did everything'. Do what makes you two happy because that's who matters. Getting married is a big decision, one that shouldn't be taken lightly, and if you know in your heart, follow it.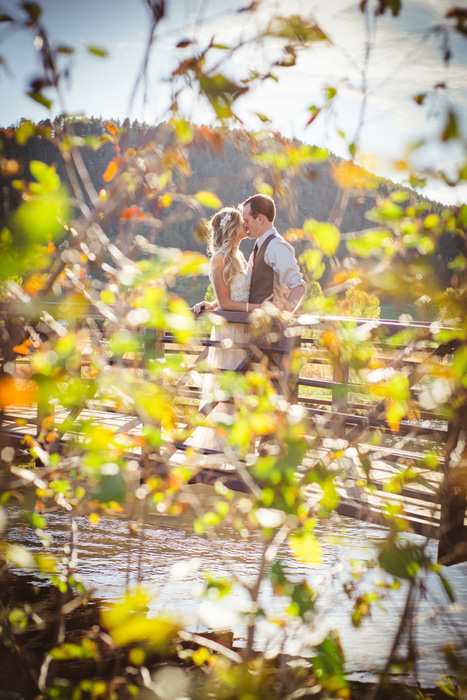 Vendors:
Photography: From the Hip Photo
Reception Venue: The Well
Invitations: Paperless Post
Donuts: Polkadotte Cookies